15 Top-Rated Attractions and Things to Do in Trondheim
Trondheim, Norway's third largest city, is also one of the country's oldest. Founded as a trading post by the Vikings in AD 997, it was Norway's capital until 1217, and new kings are still crowned here. Built on a peninsula and linked to the mainland at its west end, Trondheim is the main town of the county of Sør-Trøndelag in central Norway.
It is a popular stop on the route of the Hurtigruten, the coastal ferry that connects towns from Bergen to Kirkenes, and its location on the Trondheimsfjord makes it a good base for fjord cruises. Like much of northern Norway, Trondheim experiences no darkness from mid-May to mid-July, and while it benefits from a mainly mild maritime climate, there is good skiing in the surrounding areas.
You'll find it easy to decide which places to visit with this handy list of the top attractions and things to do in Trondheim.
See also: Where to Stay in Trondheim
1. Nidaros Cathedral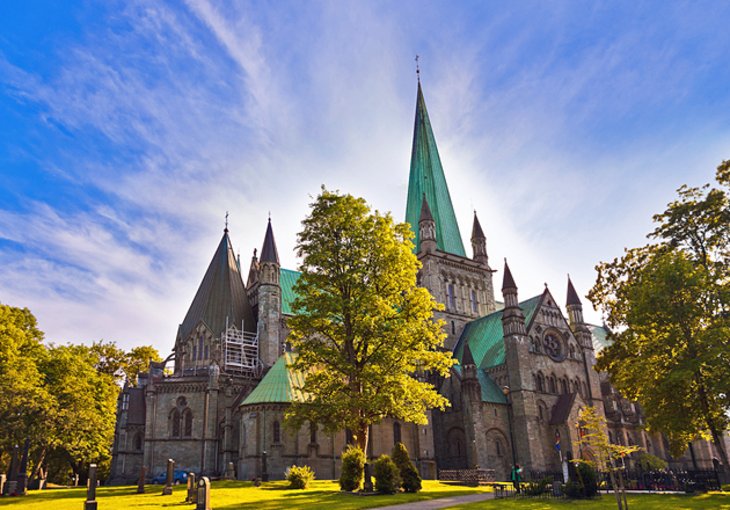 Built by King Olav Kyrre (1066-93) over the tomb of Norway's patron saint, St. Olav, Nidaros Cathedral is widely regarded as the most magnificent church in Scandinavia. The cathedral is the world's northernmost medieval cathedral and one of the city's top tourist attractions. Kings have been christened and buried here, and since 1814 it's been a requirement of the Norwegian constitution that the monarch should be crowned in Trondheim Cathedral.
The transept and chapterhouse are in a late Romanesque style influenced by the Norman architecture of England, while the long choir with its beautiful south doorway was added in the 13th century, along with the massive nave and tower. After being damaged by fire several times, the church was fully restored in the early 1900s.
Address: Bispegt. 5, Trondheim
Official site: www.nidarosdomen.no/en-GB/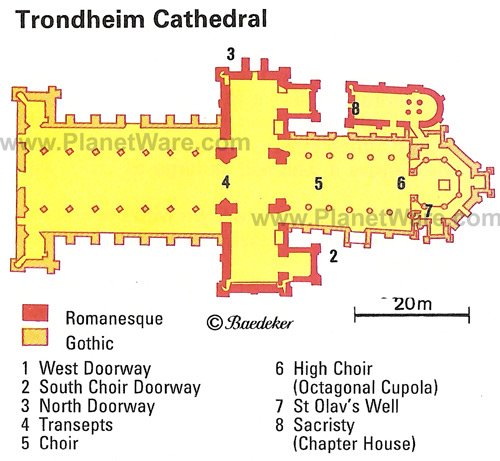 2. Explore Bakklandet and Gamle Bybro (Old Town Bridge)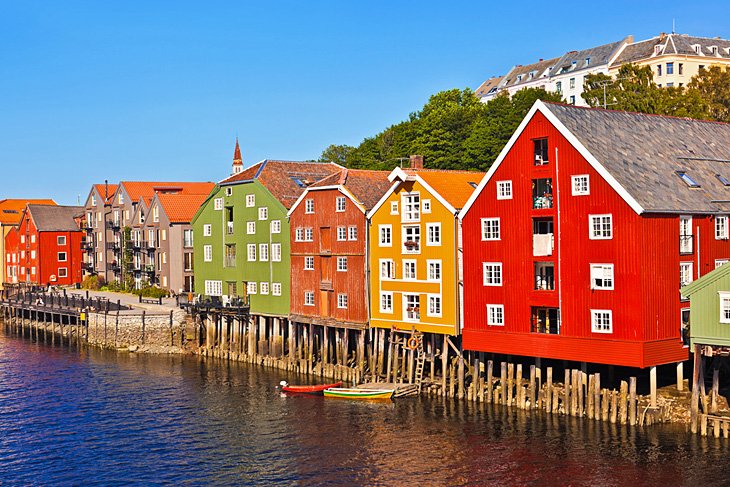 Cross the river Nidelva through the red arches of the Gamle Bybro (Old Town Bridge) to reach the picturesque lanes and colorful old houses of the Bakklandet neighborhood. It feels like a small village, and the historic wooden riverside buildings have become small shops, galleries, coffee houses, and restaurants.
Shopping in the boutiques is one of the favorite things to do here, or stroll along the river for views of the buildings lining the opposite bank. This is Trondheim's most historic and atmospheric neighborhood.
3. Kristiansten Fortress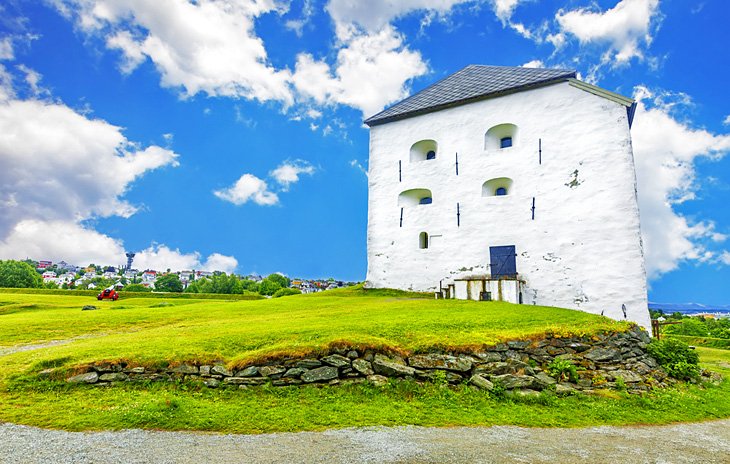 Standing on a hill to the city's east, Kristiansten Fortress (Kristiansten Festning) was built between 1681 and 1695 to protect the city against attack. It is a bit of a climb, but admission to the tower and its small museum is free, and the views across the city are lovely.
Grim reminders of the fortress's 20th-century history are the cells in which the Nazis held members of the Norwegian Resistance during the World War II occupation, and the memorial to those who were executed here.
Address: Rosenborg, Trondheim 7016
4. Rockheim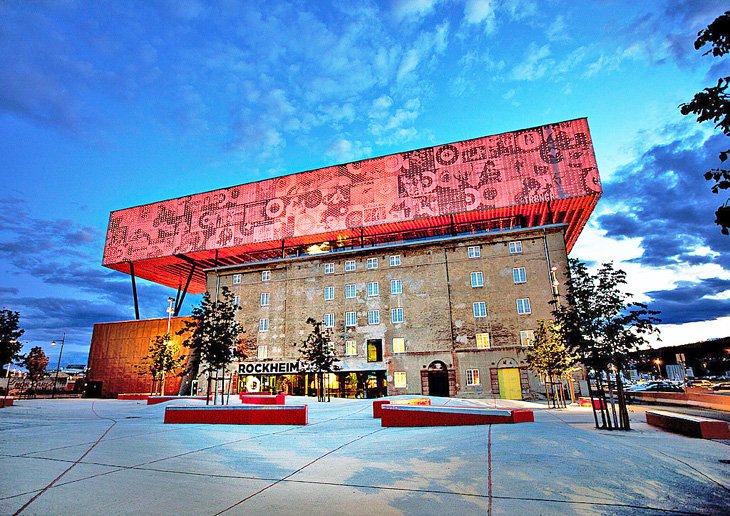 Fans of pop and rock music will enjoy this trip down memory lane and the chance to hear some of Norway's greats. The museum's collections are displayed, along with interactive exhibits, videos, and recordings, so there are plenty of things to do here.
The permanent exhibit, The Time Tunnel, brings modern Norwegian musical and cultural history from the 1950s to the present to life through sounds and performance videos. Changing exhibits focus on particular aspects of music and culture.
This is a museum where you can get actively involved, jamming with popular tracks, releasing your inner graffiti artist, dancing, or creating your own remixes. The museum's restaurant has views across the city.
Address: Brattørkaia 14, 7010 Trondheim
Official site: https://rockheim.no/en
5. Archbishop's Palace and Museum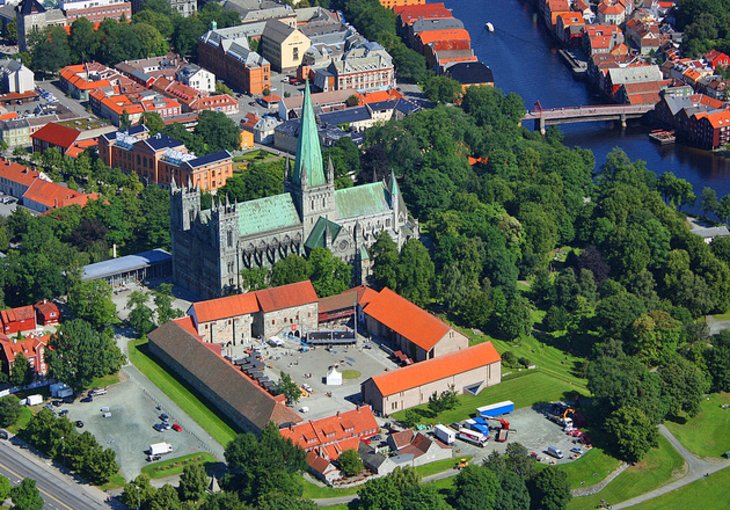 The medieval Archbishop's Palace (Erkebispegården) is not only the oldest building of its kind in Scandinavia, it's also one of the best preserved such palaces in Europe. Dating back to the late 12th century, the palace's west wing now houses a number of historic displays, including the Norwegian Crown Regalia exhibit — a spectacular collection of Norway's dazzling crown jewels.
Here, too, are the Army and Resistance Museums, with their focus on Trondheim's military history from Viking times to World War II. Over in the south wing, the Archbishop's Palace Museum includes original sculptures and archaeological finds from nearby Nidaros Cathedral.
Address: Bispegt. 5, Trondheim
6. Stiftsgarden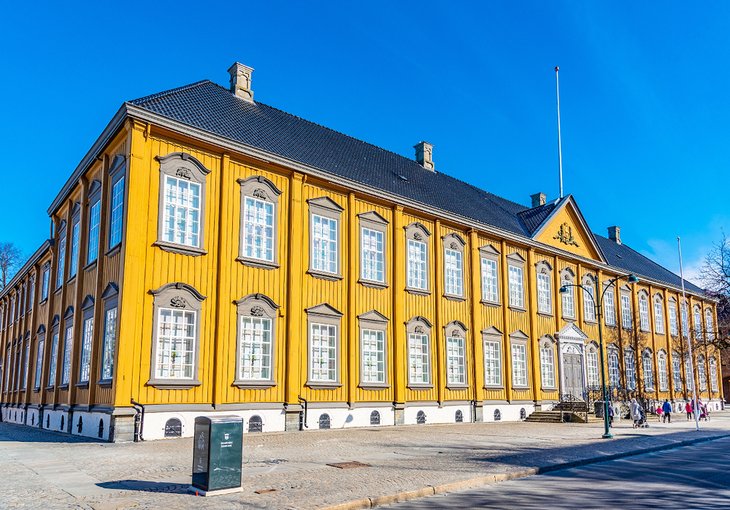 Built as a private home by the wealthy Christine Schøller in 1778, Stiftsgården is used by Norway's royal family as their official residence when they visit Trondheim. One of the largest wooden buildings in Europe, this mansion of more than 100 rooms is an outstanding example of 18th-century Baroque architecture.
The mansion has housed royals and their guests since 1800, and you can get a good picture of how the social elite lived as you explore its opulent rooms on a guided tour.
Address: Munkegata 23, Trondheim
Official site: https://nkim.no/en/stiftsgarden
7. Ringve Museum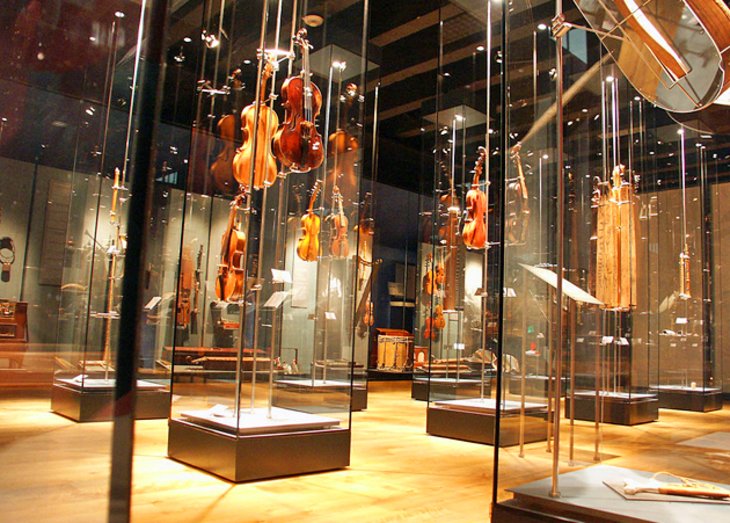 For a longer and broader view of Norwegian and European music, visit the Ringve Museum, Norway's national museum of music and musical instruments. It houses two permanent exhibitions: the Museum in the Manor House, with instruments from the European musical tradition, and the Museum in the Barn with its displays of modern sound and lighting technology.
New for 2021 is the innovative Beethoven Factory exhibit marking the 250th anniversary of Beethoven's birth. In addition to the exciting audiovisual installation, the exhibition uses several interactive features that bring to life Beethoven's long-lasting influence on music, film, art, and even politics. This is an exhibit with something for all ages, and the entire museum is a good place to go for families with children.
Address: Lade Allé 60, 7041 Trondheim
Official site: http://ringve.no/en/
8. Wander around the Harbor and visit the Trondheim Maritime Museum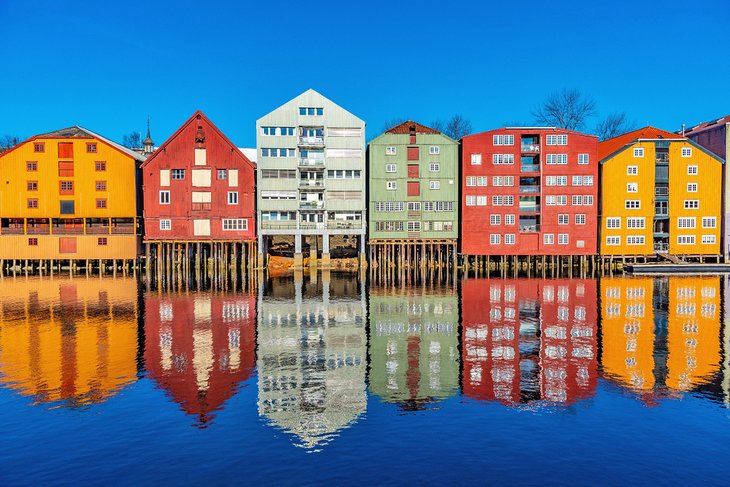 You can spend hours wandering around the city's old port area at the mouth of the River Nidelv. Colorful old wooden warehouses, many of them converted to classy boutiques and high-end homes, are built on piles above the water. The best view of these buildings is from the water, and a wide variety of harbor tour options are available.
The Trondheim Maritime Museum focuses on exploring the city's long and deep-rooted connection to the sea. Housed in a former penitentiary dating from the early 1700s, exhibits include figureheads, models, and pictures of sailing ships, and a variety of marine instruments. This is a good place to go for families, as many of the exhibits are hands-on and encourage young visitors to try on uniforms, climb into hammocks, and learn knot-tying.
Address: Øvre Elvehavn, Trondheim
9. Explore Trondheim by Kayak or Tour Boat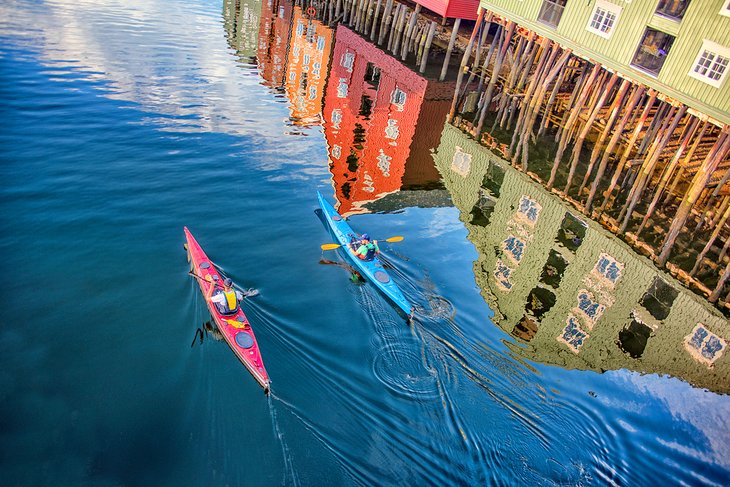 The best view of the colorful harbor buildings is from the water, and a variety of harbor tour options are available. Most tourists opt for the frequent boat tours, such as those on the Trawler Ranja or the traditional Afjordsboat Frøya with Trondheim by Boat. Choices include sightseeing tours with a guide knowledgeable about the wildlife, history, and culture of the Trondheimsfjord; fishing trips; and sunset and even winter cruises.
Or travel under your own power in a kayak to get unique water-level views of the harbor and explore the beautiful Nidelven river. You can rent kayaks or join guided tours year-round with Trondheim Kayak.
Trondheim by Boat
Address: Munkegata 66, Trondheim
www.trondheimbyboat.com
Trondheim Kayak
Address: Bostadvegen 11, Trondheim
10. Tyholttårnet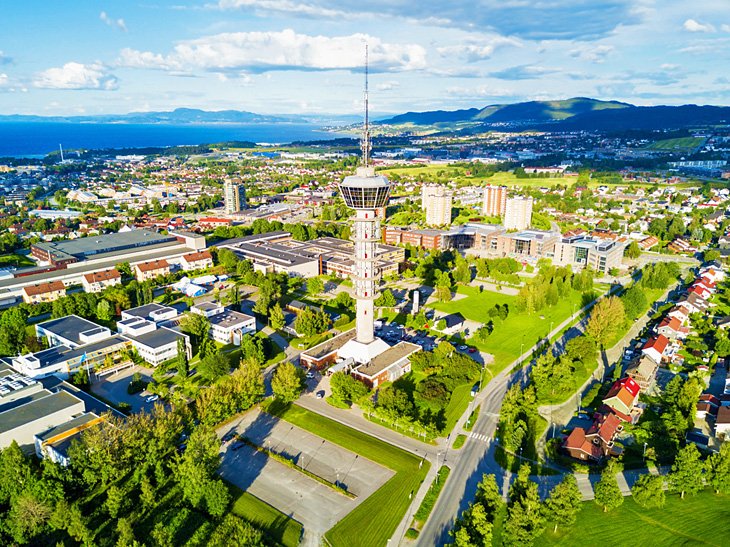 For a bird's-eye view of the entire city, go to the observation deck at the Tyholttårnet, a 124-meter-tall radio tower. At 80 meters high is a revolving restaurant, Egon, where you can spend an hour to get a complete rotation for a 360-degree panorama.
If you are lucky enough to be there at the right time, this is an exceptional place to view the Northern Lights. The aurora borealis is a phenomenon caused by charged particles from the sun striking atoms in the Earth's atmosphere; the energy they release causes the colored moving lights. Trondheim is too far south to have frequent northern lights displays, but they do sometimes happen in the coldest months: December through March.
Address: Otto Nielsens veg 4, Blussuvoll, Trondheim
11. Sverresborg Trøndelag Folk Museum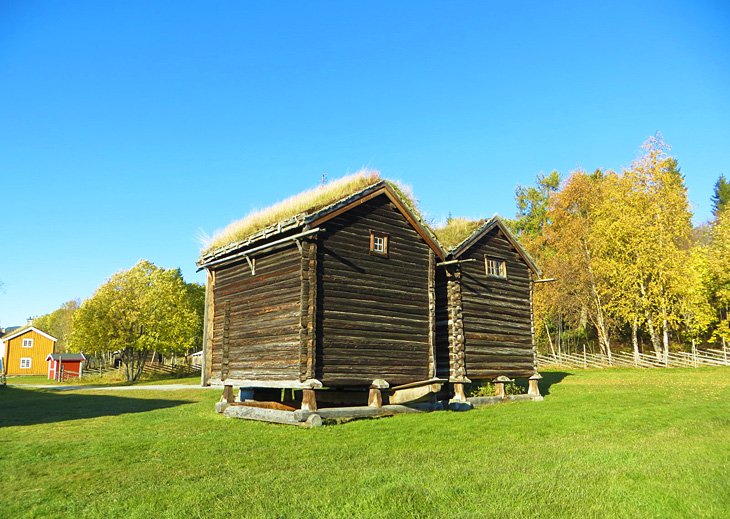 Around the ruins of King Sverre's castle, parts of which date from the 12th century, this open-air museum of Norwegian history and culture includes upwards of 80 buildings representing village and city life, as well as the culture of the native Sami people.
The town center of the museum is made up of wooden houses that were once in downtown Trondheim and include a grocery store, post office, and tradesmen's workshops. One group tells the story of Trondheim's maritime past, with storehouses, boat sheds, and fishing gear. A farming village demonstrates rural life and includes a historic stave church, as well as Sami displays.
Address: Sverresborg Alle 13, 7020 Trondheim
Official site: https://sverresborg.no/en
12. Vitensenteret i Trondheim
Near the train station and within walking distance of the city center, Trondheim's innovative museum/science center makes the physical sciences and principles of physics approachable and engaging to adults as well as children. Hands-on creative projects demonstrate scientific principles, and there are models to operate and other interactive exhibits.
Norway's first and only 3D planetarium and 360 cinema is open most weekends, with shows that include the spectacular film, Hello Earth. More than just an educational experience, this museum is fun to visit.
Address: Kongens gate 1, Trondheim
13. National Museum of Decorative Arts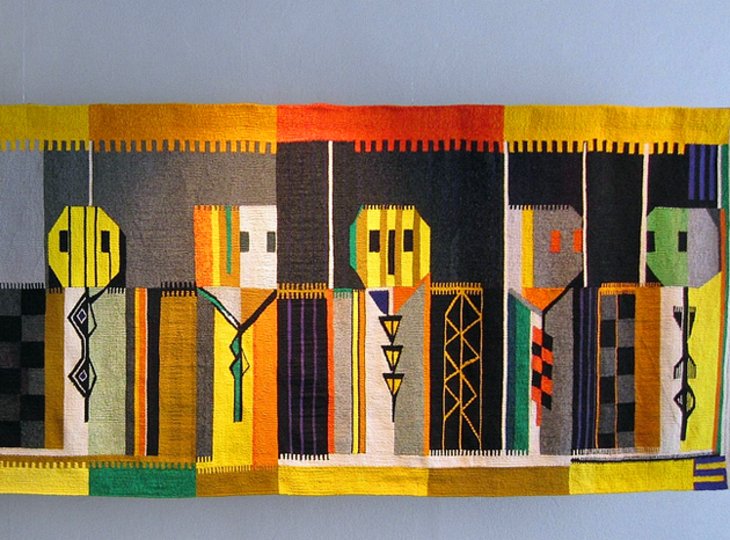 The National Museum of Decorative Arts (Nordenfjeldske Kunstindustrimuseum) is home to a vast collection of historical and modern artifacts including furniture, silver, glass, textiles, ceramics, and designs dating from the 15th century.
The museum itself is a work of art, its interior having been created by famous Belgian architect Henry van de Velde in 1907. In keeping with the architecture, the museum holds an outstanding collection of Art Nouveau works. Art enthusiasts will also enjoy the Trondheim Museum of Art with its collection of Norwegian art dating from the 1850s.
Address: Munkegata 5, Trondheim
Official site: www.nkim.no/english
14. Munkholmen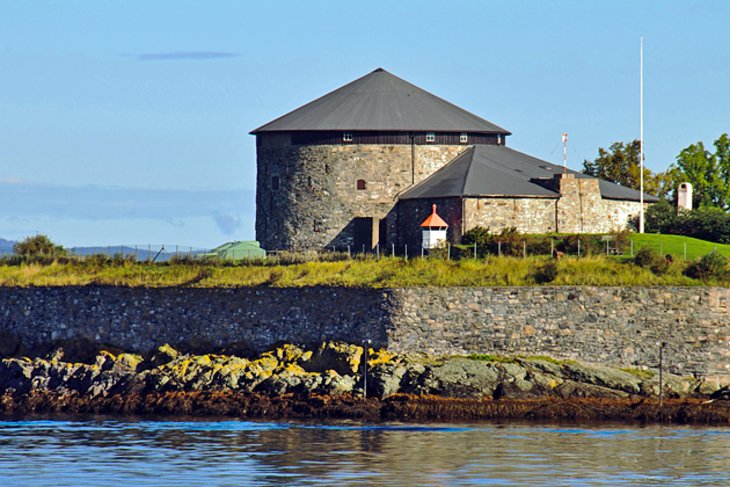 Just over a kilometer outside of Trondheim, in the Trondheimsfjord, is the fortified island of Munkholmen. In the summer, you can take a shuttle boat from Ravnkloa to visit the island, where you can see the well-preserved round tower belonging to the former Benedictine abbey of Nidarholm, founded in the 12th century.
This site is now occupied by a fort built in 1658, the Gammel Festning, as well as more recent fortifications left behind by the German occupiers in World War II, when it was used as an anti-aircraft gun station.
15. Go Skiing at Fjellseter Gråkallen
A pleasant day trip from Trondheim, and one of the most popular things to do in the winter, is to travel five miles west of the city to Fjellseter (367 meters), a popular ski area with a ski-jump.
In the summer, hikers will enjoy the path leading to the summit of Gråkallen (555 meters), with its excellent views of Trondheimsfjord and the mountains along the Swedish frontier. The hill can also be reached on the Gråkallen electric railroad from St. Olavsgata, or by bus.
Where to Stay in Trondheim for Sightseeing
Trondheim's top tourist sites are in the compact city center, and this is the best place to stay for sightseeing. Most of these hotels are within easy walking distance of attractions such as the cathedral, Archbishop's Palace, and harbor, and almost all include breakfast in the rates. Here are some highly rated hotels in this convenient and central location:
Luxury Hotels:
Hosting royalty and dignitaries since its founding in 1870, the Britannia

Hotel

is Trondheim's only luxury grand hotel. A member of the prestigious Leading Hotels of the World, Britannia has four restaurants, one of them Michelin starred. Its 246 rooms include 11 luxury suites, and there is a large spa and indoor pool. For all its grandeur, Britannia is a warm, family-friendly place to stay.
Trondheim lacks any other true luxury hotels, but the popular, light-filled Scandic

Nidelven

has won awards for its delicious, free breakfast. It is near the harbor, as well as Trondheim Central station.
Radisson Blu Royal Garden

Hotel

, located next to the city's Nidelven River, features smart design and colorful accents in its public spaces and 298 guest rooms. The central atrium sits under a glass roof, filling the space with stunning natural light. In addition to the sleek decor, the rooms and suites feature free high-speed, wireless Internet and mini bars. Family rooms are available.
Mid-Range Hotels:
In a classic two-story building that was once a bakery, the Best Western Plus Hotel

Bakeriet

is in a charming Old Town neighborhood, a five-minute walk from the Old Town Bridge. Guests love how the hotel keeps its bakery traditions alive, serving complimentary waffles throughout the day, and a complimentary light evening meal in addition to breakfast.
Overlooking the Nidelva River, the pet-friendly Scandic

Bakklandet

is only a 10-minute walk from the cathedral and other city center attractions. Guest rooms are stylish, with modern furniture and décor. A bountiful breakfast buffet is included.
Also pet-friendly, the bright and cheery Scandic

Solsiden

is close to many cafés and restaurants,. and lends bikes to its guests. Although it is not as close to attractions as some, it is still convenient, with Bakklandet Old Town and Stiftsgarden within easy walking distance.
Budget Hotels:
About six minutes on foot from Trondheim Central Station and a few steps more from the main square, the pet-friendly Comfort Hotel

Trondheim

features an impressive atrium-style lobby and crisp, contemporary rooms.
A few blocks from the cathedral, near shops, restaurants, and cafés, City Living Scholler Hotel &

Apartments

is a great option for extended stays with its apartment-style rooms and communal kitchen and laundry.
Near the harbor and a five-minute walk from town, the sleek and contemporary Clarion Hotel & Congress

Trondheim

hosts large conferences, and features a rooftop restaurant and beautiful views of the Trondheim Fjord. Pirbadet, Norway's largest pool complex, and Rockheim are right next door.
More Related Articles on PlanetWare.com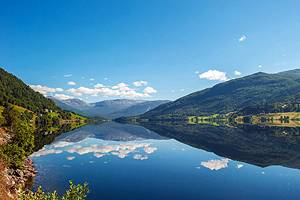 Places to Visit near Trondheim: While you're considering things to do in Norway, you'll certainly want to see one of its famously beautiful fjords. The second biggest fjord in the country, and to many eyes the most beautiful, is the Hardangerfjord, a popular place to go since the 1800s for its dramatic scenery.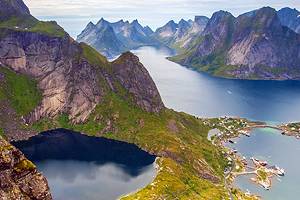 Where to Go in Northern Norway: One of the most popular things to do in Norway is cruise on board the famous Hurtigruten, a coastal transport ship that doubles as a cruise ship for tourists. Highlights of a cruise north from Trondheim are the lively city of Tromsø, Norway's most northerly city, and the beautiful Lofoten Islands, with their snowcapped mountains and colorful fishing villages.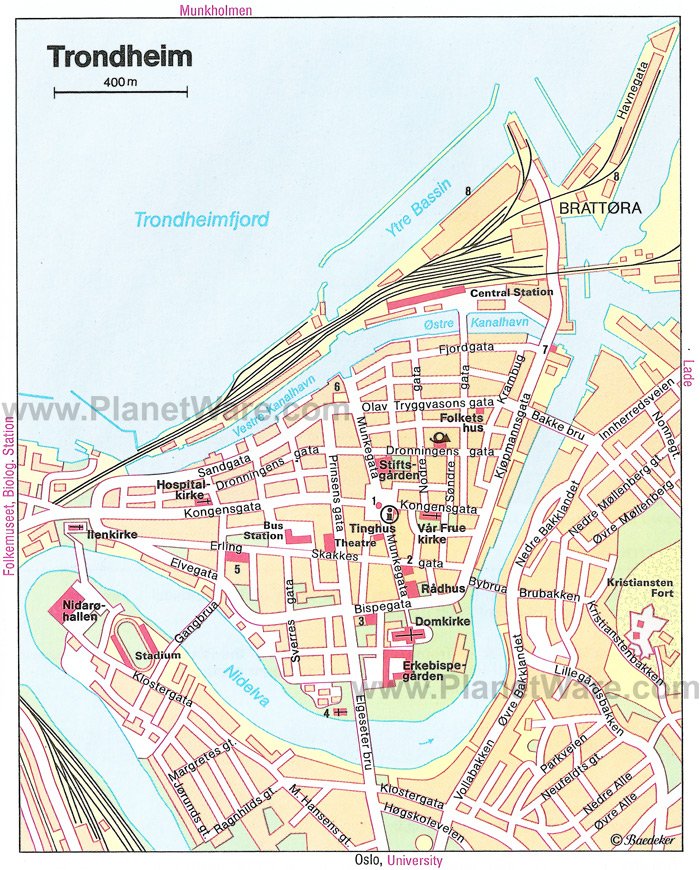 (1) Olav Tryggvason Column
(2) Museum of Applied Art
(3) Art Union
(4) St Olav's Church (ruin)
(5) Royal Society of Sciences
(6) Fishmarket
(7) Maritime Museum
(8) Hurtigrute landing-stage
Stiftsgarden
Cathedral
Kristiansten Fort