9 Top-Rated Attractions & Things to Do in Ålesund
We may earn a commission from affiliate links ()
Famous for its magnificent Art Nouveau architecture, the city of Ålesund is one of Norway's most popular tourist destinations. Not only is it blessed with one of those picture-perfect Norwegian settings, surrounded by fjords and the high peaks of the Sunnmøre Alps, it has also benefited from the addition of many new cultural and entertainment attractions, byproducts of the incredible increase in wealth the nation has experienced in recent years.
Ålesund is also the most important fishing harbor in Norway, and serves as a great jumping-off point for boat tours, fjord cruises, and fishing adventures.
Straddling the islands of Nørvøy and Aspøy, Ålesund's architectural splendor is the result of a massive fire in 1904 that destroyed 800 of the town's old timber houses. Determined that it wouldn't happen again, town officials took measures to rebuild the city in stone, brick, and plaster, a task given to the country's top master builders and architects. This forward thinking led to the construction of more than 320 Art Nouveau buildings in a compact central area, creating Europe's most complete Art Nouveau cityscape.
Plan your sightseeing with our list of the top things to do in Ålesund.
See also: Where to Stay in Ålesund
Note: Some businesses may be temporarily closed due to recent global health and safety issues.
1. Explore Art Nouveau Ålesund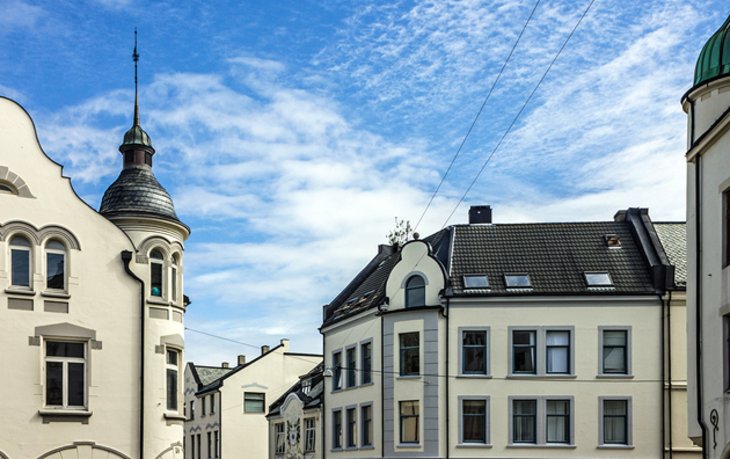 The picture-perfect Art Nouveau heart of Ålesund, with its stunning architecture, towers, turrets, and other imaginative ornamentation, really needs to be explored on foot. For a fascinating insight into the city's architecture, the top things to do here include tagging along with an organized walking tour or picking up an informative guide from a tourist office or bookstore.
Better still, head straight for the interactive displays and exhibits at the Art Nouveau Center (Jugendstilsenteret). Built in 1905 as a pharmacy, the building—the first in Ålesund to be listed—now serves as a visitor center and museum that includes the town's best-preserved Art Nouveau interior, as well as fascinating multimedia exhibitions and displays relating to the town's rich history. Guided tours are available, as well as a great cafe and shop.
The neighboring KUBE art museum is also worth a visit and is home to a number of interesting displays related to the town's architecture, as well as artworks.
2. Ålesund Harbor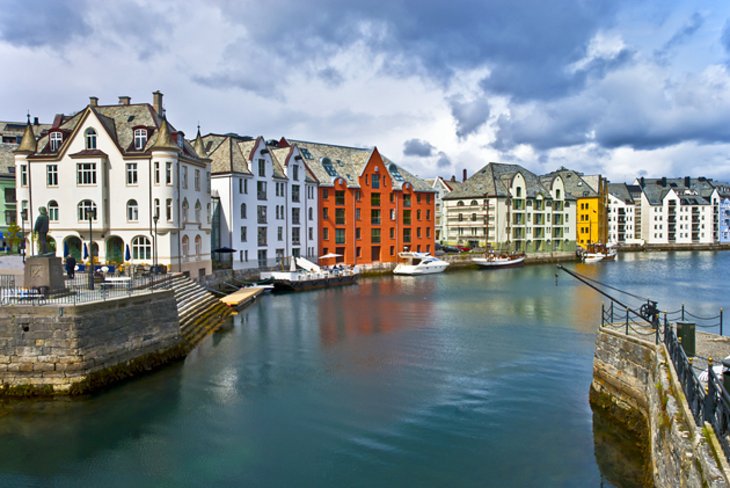 Ålesund's harbor lies between the islands of Nørvøy and Aspøy, and is sheltered by the Skansen peninsula. As wonderful as it is wandering around and admiring the architecture—the picturesque harbor includes many older buildings once used by fishermen—you'll be tempted to sit awhile and simply watch the boat traffic come and go in this busy port area.
Not only is the harbor home to one of Europe's largest fishing fleets, it's also a stop on the Hurtigruten route, the fast coastal service connecting all of Norway. It has also become a popular destination for cruise ships.
Address: Skateflukaia, N-6002 Ålesund
3. Walking around Ålesund's Town Park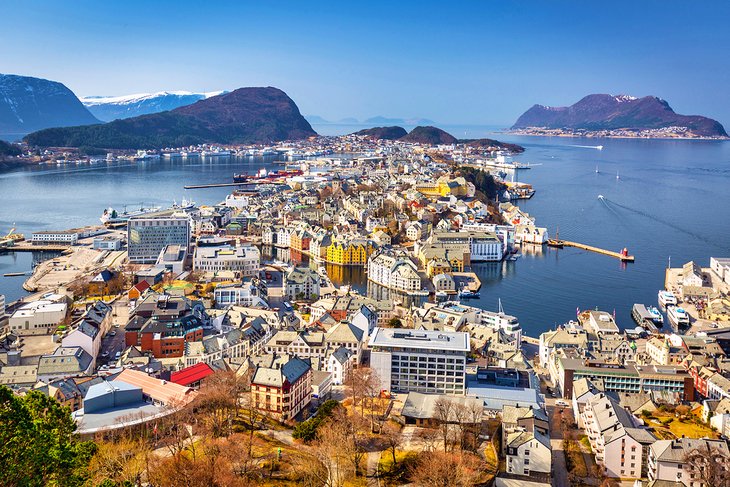 When you're done with all that exploring, take a walk up the 418 steps to the top of Mount Aksla for an unforgettable panoramic view of the city below, an awesome sight and one of the top free things to do in Ålesund day or night. Part of beautiful Ålesund Town Park, the stairs and grounds were laid out in 1885 by a local gardener, who drew inspiration from the area's topography.
The park is also home to two statues of men connected to Ålesund: one portrays Kaiser Wilhelm II and commemorates Germany's assistance after the devastating fire of 1904; the other is of Gange-Rolf, a local Viking hero connected to William the Conqueror and presented to the town by the city of Rouen in 1911.
Address: Town Park, 6002 Ålesund
4. Atlantic Sea-Park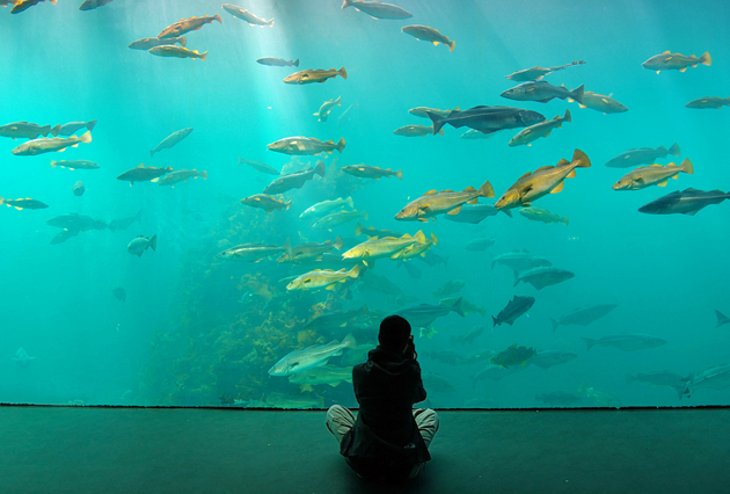 A great place to learn about Norway's diverse marine life, the Atlantic Sea-Park (Atlanterhavsparken)—one of the largest saltwater aquariums in northern Europe—is just a short shuttle bus ride form the town center and provides a fascinating look at life under the sea. Established in 1951 and built into the coastline, this spectacular family attraction is crisscrossed with numerous scenic walking trails allowing many great vistas of its fishy inhabitants.
All told, the facility's exhibition area includes 11 large aquariums, as well as open touch pools and activity pools. If you can, try to time your visit to catch the daily fish feeding in the million-gallon Great Atlantic tank.
If you're traveling with kids, get in on the fun with the public fish feeding experience held each weekend. Another highlight is the four-million-gallon seal tank, Selbukta, the largest of its kind in the world. There's also a gift shop and cafe on-site.
Address: Tueneset, N-6006 Ålesund
Official site: http://atlanterhavsparken.no/en
5. Take a Fjord Cruise in Hjørundfjord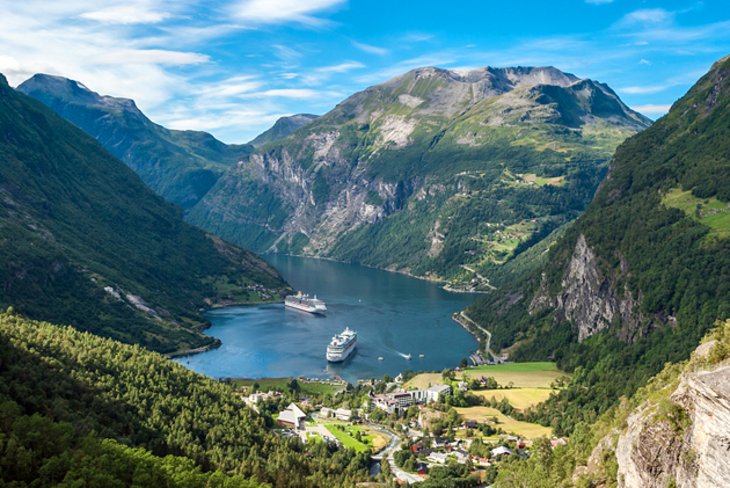 Stretching 32 kilometers south from Ålesund, Hjørundfjord is surrounded by the stunning Sunnmøre Alps mountain range, which in places rises dramatically out of the fjord to heights of 1,706 meters. This heavily wooded fjord's impressive scenery can best be explored by water, whether aboard a boat for a cruise or a fun paddle in a kayak. And if you can find it, grab a photo of you and travel partners enjoying the now famous Hjørundfjord swing, a humble wood affair that just so happens to provide the most remarkable views over the fjord.
A number of fun cruise options are available, stopping at places such as Hotel Union Øye, an exquisitely preserved hotel in the small village of Øye. A favorite since 1891 among Europe's elite, the 27-room hotel has been fully restored and is a great place for a meal or as a base from which to explore attractions such as the Sunnmøre Museum in Borgundgavlen, an open-air collection of historic homes and buildings. Hjørundfjord is also popular among hikers, and offers a variety of great camping options near the shoreline.
Address: Borgundgavlen, 6015 Ålesund
6. Visit Runde, the Bird Island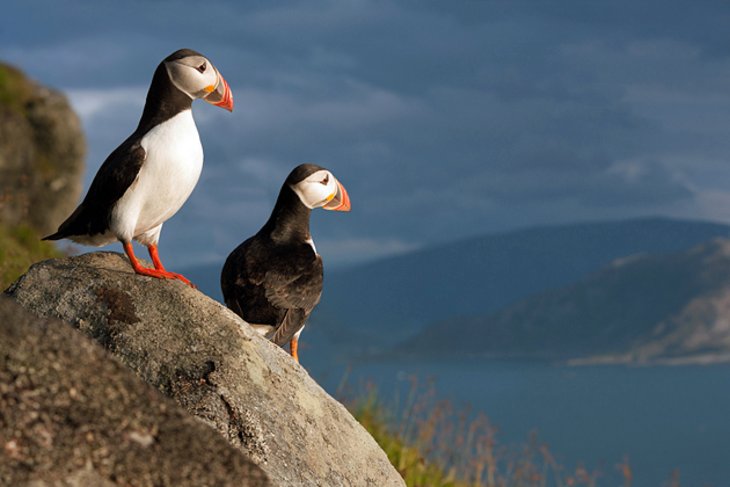 A short distance southwest of Ålesund, on the island of Runde, is the most southerly seabird cliff in Norway. Known to many as "B bird island," this remarkable site serves as the nesting-place for some 500,000 birds. Included in the tiny island's 220 different species of birds are its most famous inhabitants, the puffins, drawn here by the plentiful supply of fish that spawn close to the island each year.
The island also operates an interesting Environmental Center with exhibits related to Runde's bird population, as well as the area's many historic shipwrecks. One of the best things to do is join an organized tour of the island, with options including high-speed boats or more leisurely tours led by experts in the field that allow plenty of time for bird-watching.
Address: Runde Miljøsenter, 6096 Runde
7. Godøy and the Alnes Lighthouse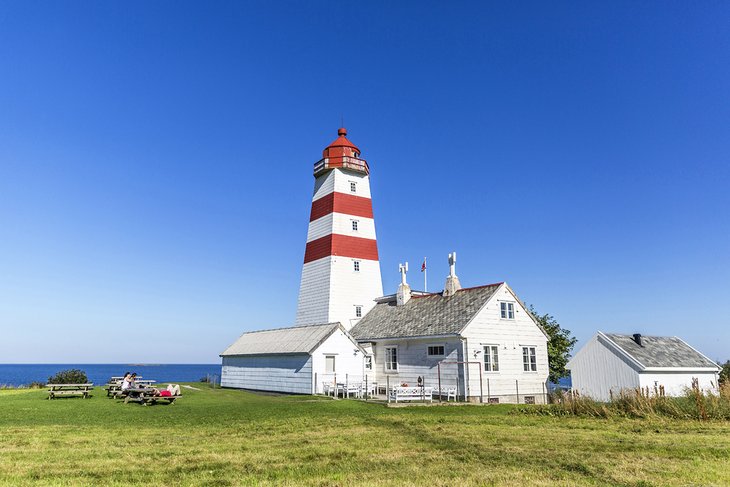 The island of Godøy is a popular excursion just a 30-minute drive from Ålesund, as famous for its 497-meter mountain, Storhornet, as it is for its old lighthouse. One of the top things to do here is visit the Alnes Lighthouse, located near the quaint fishing village from which it takes its name, (Alnes fyr og opplevelsessenter). Built in 1876, the lighthouse's galley and tower are open for tourists from May through October, and the old keeper's house has a museum, café, and an exhibition hall with displays of art by local artists.
While on the island, be sure to also visit the Godøy Coastal Museum, with its archaeological exhibitions and Viking-era displays.
Address: Geilevikane, 6055 Godøy
8. Explore the Sunnmøre Museum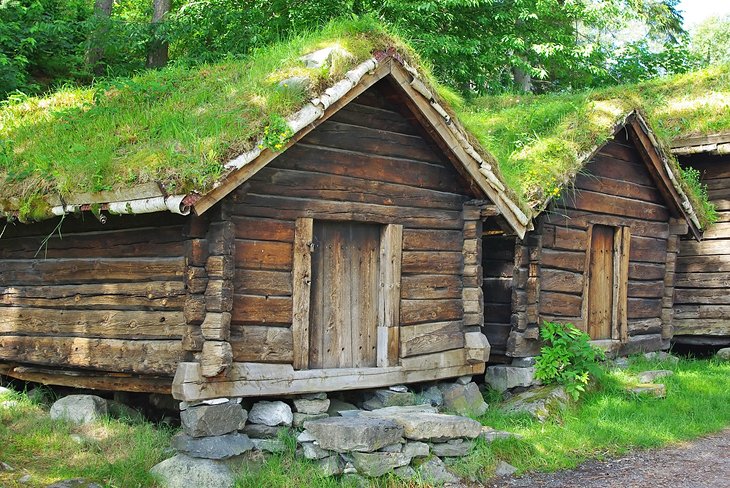 One of the top things to do when visiting Ålesund—and by far the best way to learn more about this lovely region of Norway—is to spend time exploring the many interesting museums dotted around the surrounding region. Topping the list is the excellent Sunnmøre Museum, an open-air museum an easy drive away from downtown Ålesund, which includes a collection of 55 traditional Norwegian buildings, plus a number of boats, including replicas of Viking ships, as well as original artifacts related to the region's cultural and social history.
Also worth a visit, the Ålesund Museum focuses on the town's history as a fishing port, as well as dealing with the fire of 1904 and the German occupation during WW2. Afterwards, head to the Fisheries Museum, notable for its fascinating displays relating to the impact and importance of fishing and fish processing, along with a number of original fishing boats that can be explored.
Other interesting area museums include the Nature Museum in nearby Sykkylven, popular for its displays relating to native animal and plant species, as well as the interesting Furniture Museum, which pays homage to the region's rich history and traditions of furniture making.
Address: Museumsvegen 1, 6015 Ålesund
Official site: www.sunnmore.museum.no/english/sunnmoere-museum/
9. The Ivar Aasen Center
The Ivar Aasen Center (Ivar Aasen-tunet) is located on the very farm where the famous poet/playwright/philosopher was born in 1813. Revered as the creator of Nynorsk—a language based on Norwegian dialects—Aasen's home is now the country's national Nynorsk documentation and experience center.
Designed by architect Sverre Fehn, the building is an attraction in itself, and hosts the annual Festival of New Norwegian Literature, Art, and Music held in the last week of June every year. The site boasts a great cafe plus a gift shop. English language guided tours are available.
Address: Indrehovdevegen 176, 6160 Hovdebygda
Where to Stay in Ålesund for Sightseeing
Luxury Hotels: Offering a quality luxury stay, the 4-star Hotel

Brosundet

is a family-owned hotel set in a lovely historic building boasting water views, antique beams, and relatively large rooms.
Mid-Range Hotels: The Scandic

Parken

hotel offers reasonable mid-priced stays in a bright building with modern décor, along with an excellent complimentary breakfast and amenities such as a fitness center and sauna. Also worth a look is the Quality Hotel Waterfront

Alesund

, popular for its contemporary design, sea views, great breakfast (included with your stay), and friendly staff.



The Scandic Alesund is another good choice, and boasts magnificent water views, comfortable beds in a choice of rooms and suites, and a great free breakfast.

Budget Hotels: Those seeking a reputable budget place to stay should look into the Ytterland

Apartments

, popular for its peaceful setting and choice of one- or two-bedroom units with kitchens. Another affordable option worth considering is Norhostel

Apartment

, with its good-priced rooms and apartment-style units.
Tips and Tours: How to Make the Most of Your Visit to Ålesund
Sea Kayaking Adventures: For a truly unforgettable Norway experience, book a fun sea kayak and hiking adventure from

Ålesund

. This combined excursion departs from Ålesund morning or afternoon and includes the services of a professional tour guide. The fun starts with a breathtaking kayak journey across Aspevågen to the beautiful island of Hessa. From here, it's an easy hike up Mount Sukkertoppen, famous for its magnificent views over the Sunnmøre alps and Ålesund. Included with your tour package is all necessary equipment, as well as a fascinating running commentary from your guide.
Shore Thing: A great choice for those seeking a first-rate shore excursion, the Ålesund Ultimate Sightseeing

Tour

includes the top natural and cultural attractions in and around this popular cruise port. Lasting 4.5 hours and including pickup and drop-off, this fun excursion takes in the lovely island of Giske, where you'll have a chance to explore Alnes Lighthouse, Norway's most famous such structure.
The tour also includes a visit to nearby Godøy, home to the excellent Sunnmøre Museum with its many authentic traditional Norwegian buildings and sailing vessels, including a replica Viking ship. Other highlights include Mount Aksla, as well as time to explore Ålesund's famous Art Nouveau architecture.
More Related Articles on PlanetWare.com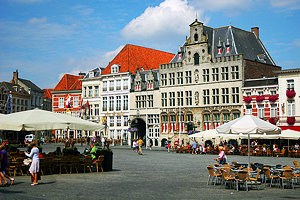 Bergen and Beyond: The port city of Stavanger, located on the southwestern coast of Norway, is an easy day trip from Bergen, especially popular for hikers wanting to scale the country's most famous (and some might say, nerve-racking) scenic rock formation, the Preacher's Pulpit, or Preikestolen. Bergen, of course, is one of the country's most visited destinations, popular as a stopover for cruise ships for its large attractive harbor area and delightful old homes. Equally fun to explore is the lovely Sognefjord region, which is where you'll find Norway's largest fjord, flanked by some of the most dramatic shoreline scenery anywhere.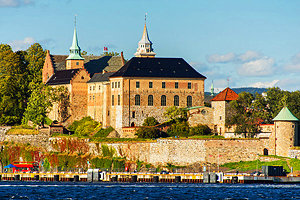 Norway Vacation Ideas: Norway's capital city of Oslo is where most cultural adventures start, with top things to do including exploring the city's amazing sculpture parks and superb museums, its old fortresses, a royal palace, and an opera house. For those wanting to see some of the country's most spectacular fjords, head to Hardangerfjord, home to the country's second largest fjord and a popular tourist destination since the early 19th century. And for those wanting to catch a glimpse of the spectacular northern lights, head to Tromsø, the northernmost city in the country.