17 Top-Rated Attractions & Things to Do in Oslo
We may earn a commission from affiliate links ()
Oslo, the beautiful capital city of Norway, is one of the world's largest capitals in terms of area. But interestingly, only 20 percent of this land mass has been developed. The remainder consists of parks, protected forests, hills, and hundreds of lakes. Parks and open spaces are an integral part of Oslo's cityscape and are easily accessible from almost anywhere in the city.
The city center is a joy to explore on foot thanks to the numerous pathways and trails connecting its public spaces. It also has many pedestrian-friendly areas, including the city's main street, Karl Johans gate. Stretching from Oslo Central Station near the waterfront all the way up to the Royal Palace, this wide avenue passes many of Oslo's tourist attractions, including the palace, the National Theatre, the old university buildings, and Oslo Cathedral.
Regularly ranked as one of the best cities in the world in which to live, Oslo boasts a rich cultural scene and numerous fun things to do, and is famous for its theater, museums, and galleries. To learn more about these and other places to visit in Norway's capital, be sure to read through our list of the top attractions and things to do in Oslo.
See also: Where to Stay in Oslo
1. Explore Vigeland Sculpture Park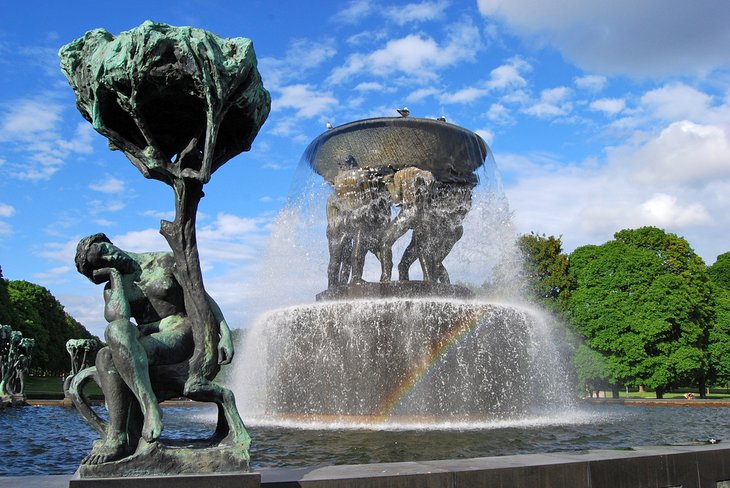 The iconic Vigeland Sculpture Park (Vigelandsanlegget), which sits inside Oslo's famous Frogner Park (Frognerparken), is one of Norway's most famous tourist attractions. Open year-round, this unique sculpture park is Gustav Vigeland's lifework and contains 650 of his dynamic sculptures in bronze, granite, and wrought iron.
The majority of the sculptures are in five themed groups along a 853-meter-long axis. The oldest is the fountain group, depicting the cycle of human life, beyond which can be seen the 16-meter-high Monolith, comprising 121 intertwined human bodies.
2. See the Museums in Akershus Fortress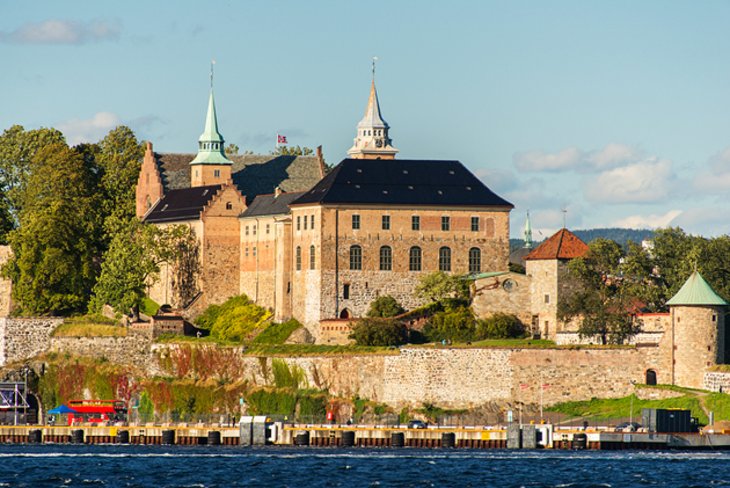 Rising above the Oslofjord, on the promontory of Akernes, sits the majestic Akershus Fortress (Akershus Festning) built by Håkon V at the end of the 13th century. You can easily spend the best part of a day sightseeing here.
Take your time to wander the grounds and ramparts with their wonderful harbor views before exploring the quaint chapel with its tomb of Håkon VII (1872-1957) and the remains of the original medieval castle. Also located in the grounds is the Museum of the Norwegian Resistance, also known as the Norwegian Home Front Museum (Norges Hjemmefrontmuseum). Be prepared to spend a few hours here learning about the German occupation of 1940-45.
3. Norsk Folkemuseum (Folk Museum of Norway)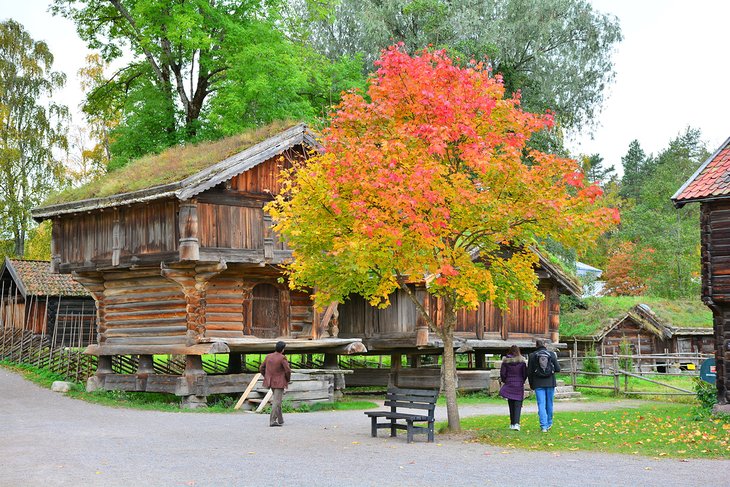 Located in Olslo's Bygdøy area, the Norsk Folkemuseum is an excellent open-air museum that offers a range of permanent exhibits covering 500 years of Norwegian folk culture. The museum's buildings are divided into several areas that highlight various time periods and settings. One of the largest areas is the rural "Countryside" area, which features typical farmhouses from different points in history, including re-creations of goahti, a traditional Sami structure.
4. Get Ready for the "New" National Museum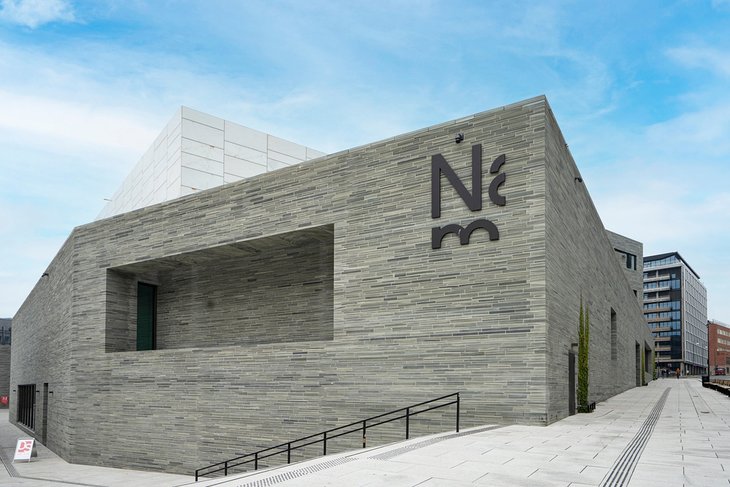 Slated to open in June 2022, Oslo's new National Museum will consist of collections from the National Gallery and the National Museum - Architecture, as well as additional collections of contemporary art and design. The largest such museum in Scandinavia, it will house the country's biggest art collection, featuring the works of Norwegian artists from the 19th century through the present, including J. C. Dahl and several works by Edvard Munch, including his most famous work, The Scream.
5. Visit the Munch Museum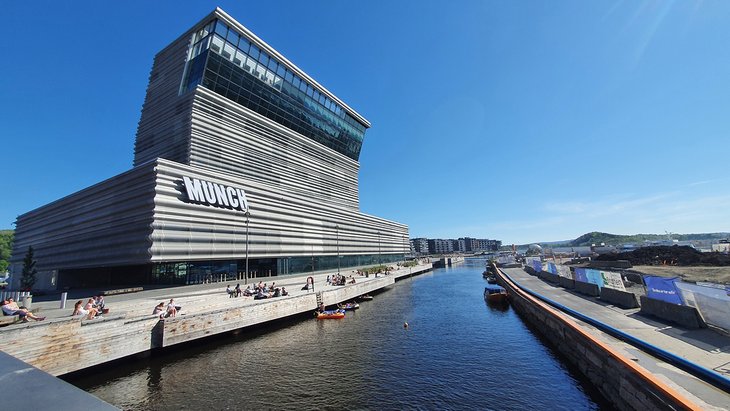 Dedicated to the life and work of Norway's greatest painter, Edvard Munch (1863-1944), the Munch Museum (Munch-museet) contains a vast collection of paintings, graphic art, drawings, watercolors, and sculptures from the great artist's life.
Containing almost 28,000 works of art in addition to personal effects and tools - even his private library - the museum also puts on special exhibits devoted to particular aspects of Munch's work through film screenings, concerts, guided tours, and lectures.
6. Tour the Royal Palace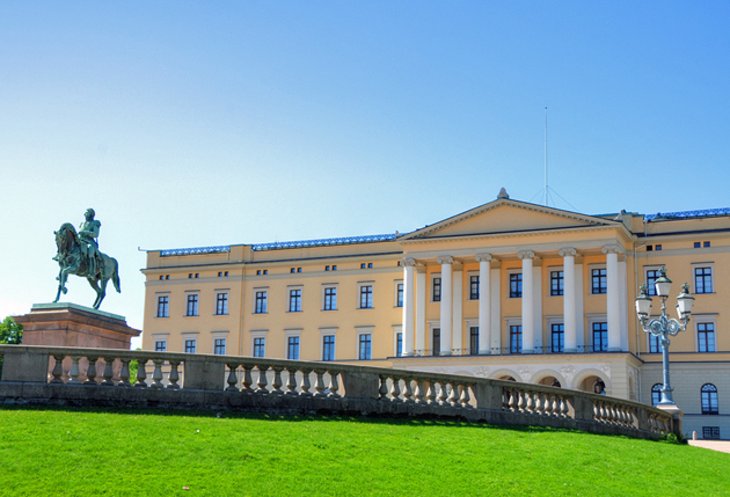 Located high up on the northwest end of Karl Johansgate, the Norwegian Royal Palace (Slottet) was built in 1825 and dominates the cityscape. The impressive 173-room building is open to the public for guided tours during the summer only, with English-language guides available four times daily.
7. Historical Museum at the Museum of Cultural History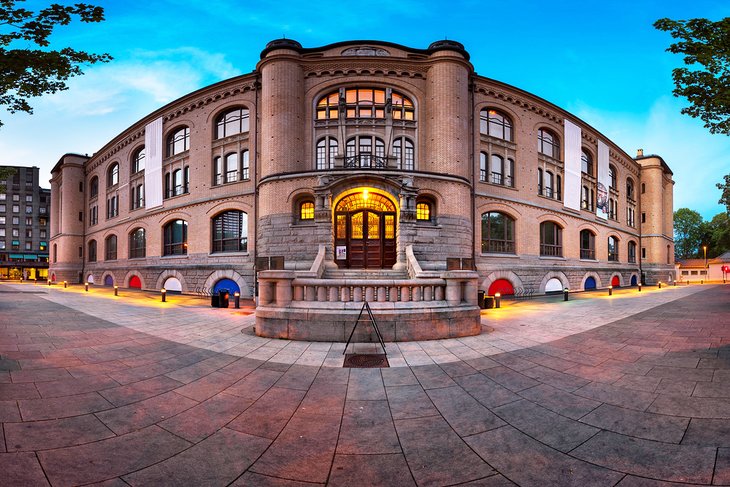 The Museum of Cultural History (Kulturhistorisk museum) oversees the city's Historical Museum, which explores various aspects of human history. It houses the largest assembly of Egyptian artifacts in Norway, including mummies and funerary objects.
The museum's Medieval Gallery is also extensive, exhibiting an impressive collection of daily items, as well as several examples of church art and religious artifacts. There is also a large exhibit dedicated to the history of gold coinage, including examples of coins from the past 2,600 years.
8. Explore Oslofjord by Boat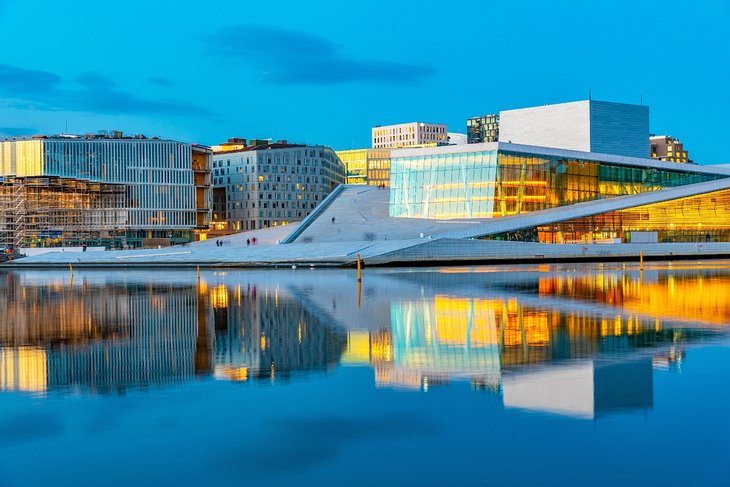 Olsofjord connects the city of Oslo to the North Sea, providing over 750 square miles of protected waterway to enjoy. There are a wide range of cruise options, from fully guided tourist boats with full amenities to more rustic options featuring sailboats.
If you are short on time but still want a chance to see the city's landmarks from the water, consider booking a dinner cruise; some float passively in the Inner Olsofjord around the Bygdøy Peninsula, while others set sail to explore the many islands beyond. Most of these can be found at or near the piers by City Hall .
More adventurous travelers can rent a kayak or canoe and explore the water on their own or hop aboard a less formal "cruise" by riding one of the many ferries that regularly connect to various surrounding towns.
9. The Fram Museum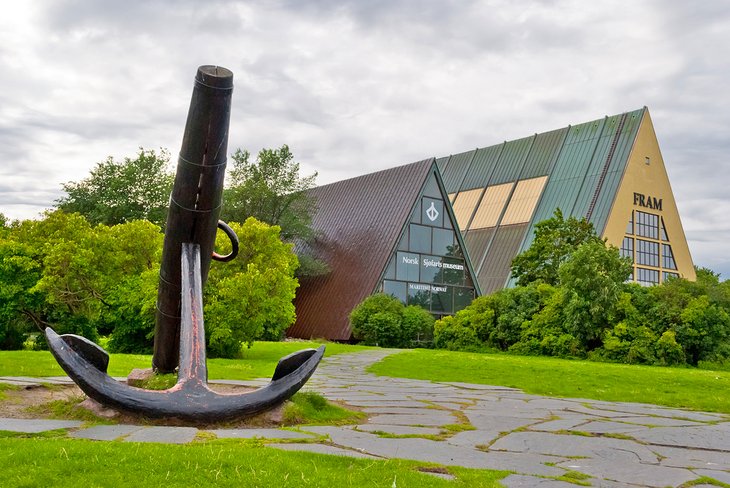 Named after the first Norwegian ship built specifically for polar research, the Fram Museum (Frammuseet) is a must for anyone with an interest in Arctic exploration. The museum's star attraction is the Fram, an icon due to its many successful polar voyages, as well as Gjøa, the first ship to navigate the Northwest Passage.
Visitors can board the Fram and explore its engine room, crew cabins, and other areas which have been preserved and restored to accurately depict life aboard the ship.
10. Norwegian Maritime Museum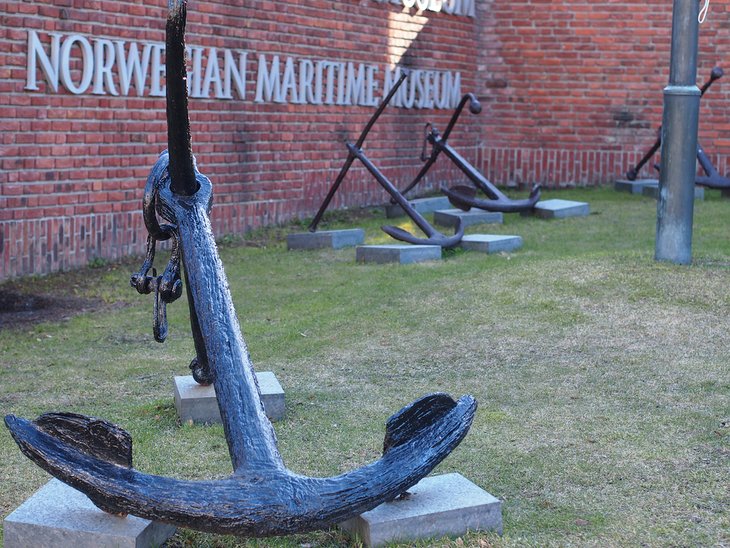 The Norwegian Maritime Museum (Norsk Maritimt Museum) features exhibits geared for all ages, which encourage visitors to step back in time to imagine the lives of seafaring Norwegians over the past thousand years. This includes an expansive section dedicated to Vikings, as well as exhibits dedicated to maritime life during later centuries when pirates roamed the sea.
11. Kon-Tiki Museum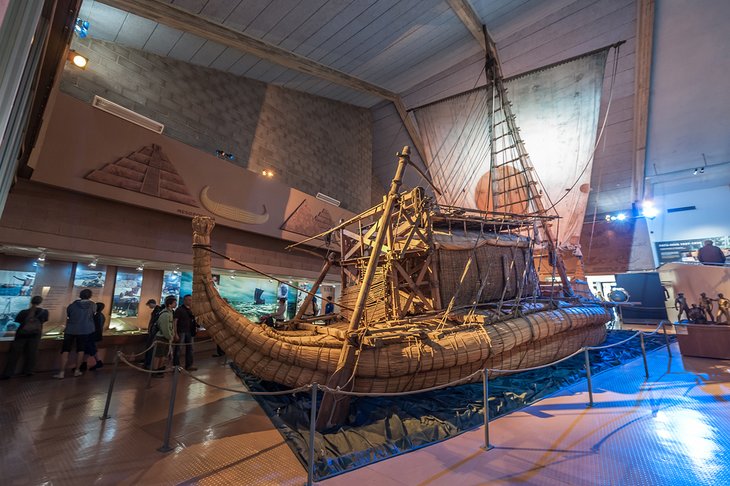 Set in an adjoining building to the Fram Museum stands the Kon-Tiki Museum (Kon-Tiki Museet), with its displays dedicated to Thor Heyerdahl. This Norwegian sailor, explorer, and adventurer captured the hearts and minds of the world when, in 1947, he sailed from Peru to Eastern Polynesia on a raft made entirely of balsa wood to demonstrate how he believed the Pacific region was settled.
Opened in its present location in 1957, this fascinating attraction offers plenty of details both about Heyerdahl and his famous ship. In addition to seeing the famous Kon-Tiki up close, other vessels used by the legendary Norwegian are also on display, including the 14-meter-long Ra II, made of papyrus and in which he sailed across the Atlantic Ocean in 1970.
12. Holmenkollen Ski Jump and Museum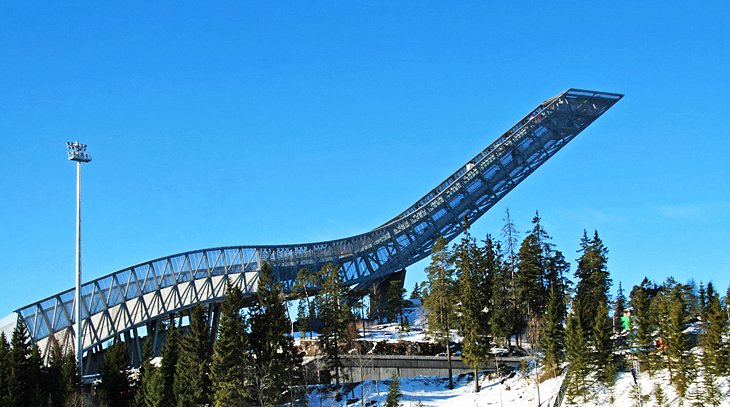 Located at the base of Holmenkollen Ski Jump (Holmenkollbakken), the Ski Museum is the oldest of its kind in the world, open since 1923. Here, ski enthusiasts will find exhibits and artifacts chronicling nearly 4,000 years of ski history and exploring various related topics, including weather and polar exploration.
The oldest ski on display here dates back to AD 600, and there are several other examples, including skis from the 8th, 10th, and 12th centuries. Other skis in the collection represent a wide variety of terrain and uses, from mountain skis to fast skis, and even the longest skis.
13. Oslo Cathedral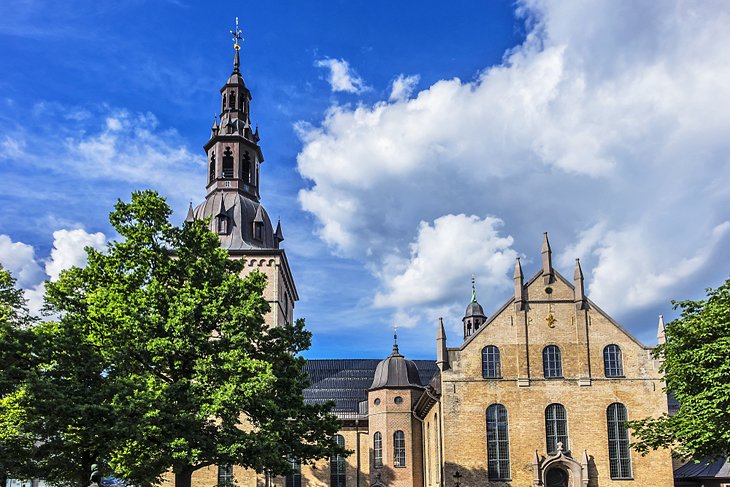 Although consecrated in 1697, Oslo Cathedral (Oslo domkirke) has been rebuilt and renovated numerous times. Its tower was rebuilt in 1850, while its interior was renovated soon after the end of WWII.
14. City Hall (Rådhuset)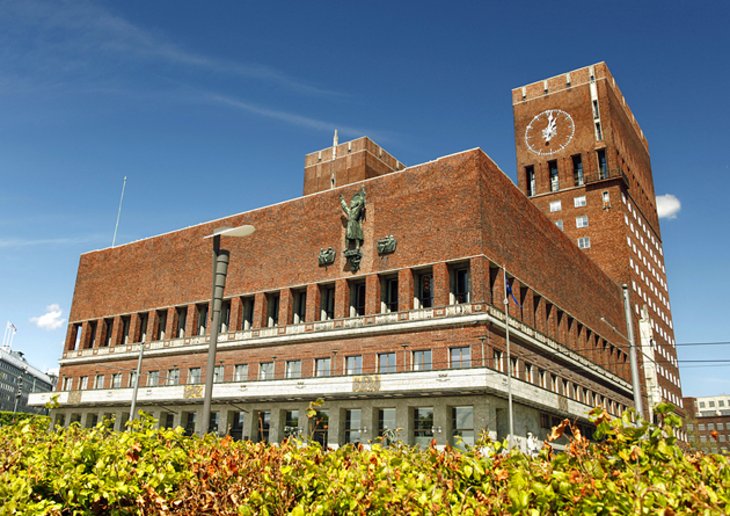 Oslo's enormous City Hall (Rådhuset) is undoubtedly one of the city's great landmarks. This imposing square building, built of concrete faced with brick, was designed by Arnstein Arneberg and Magnus Poulson and has two towers, one of them adorned with a huge clock face. One of the towers houses the 38 bells that can be heard chiming throughout the harbor area.
15. Aker Brygge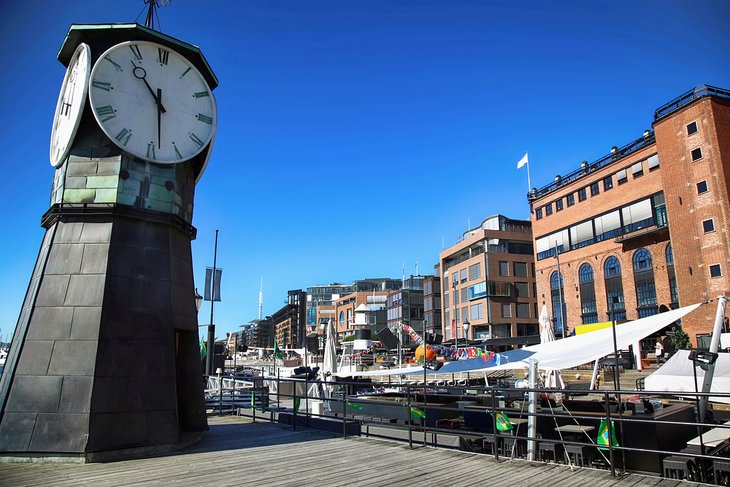 Built around an abandoned shipyard, Oslo's Aker Brygge area is the heart and soul of the city. Bustling and vibrant day and night, its stunning architecture - that magnificent blend of new and old that perfectly compliments Norway's stunning natural beauty - is everywhere on display, and everywhere breathtaking.
It's estimated that 12 million visitors find their way to Aker Brygge every year, drawn by its sea-front boardwalk, fine shopping, great restaurants, and cozy year-round patio bars with their snug rugs and fireplaces.
16. Natural History Museum & Botanical Gardens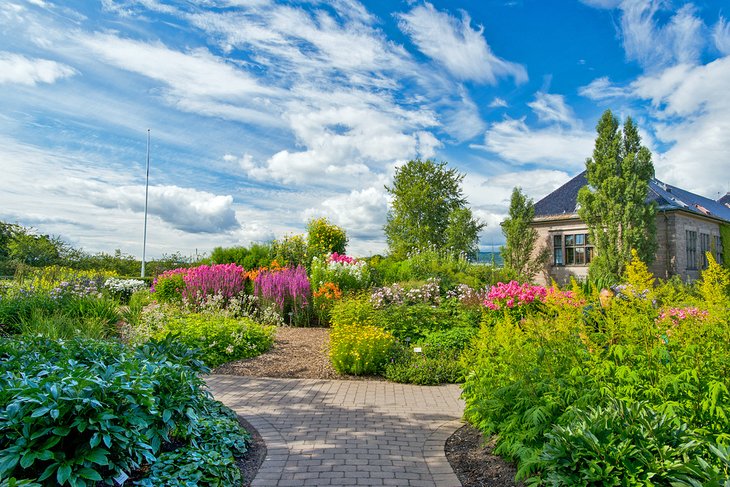 Oslo's Natural History Museum (Naturhistorisk museum) - consisting of the Geological Museum, the Zoological Museum, and Botanical Gardens - is Norway's largest natural history collection. The Geological Museum includes minerals, precious metals and meteorites, plus an impressive collection of dinosaur skeletons, while in the Zoological Museum you'll find dioramas of Norwegian fauna. Best of all, however, is the exquisite Botanical Garden.
17. Oslo Opera House and Annual Music Festivals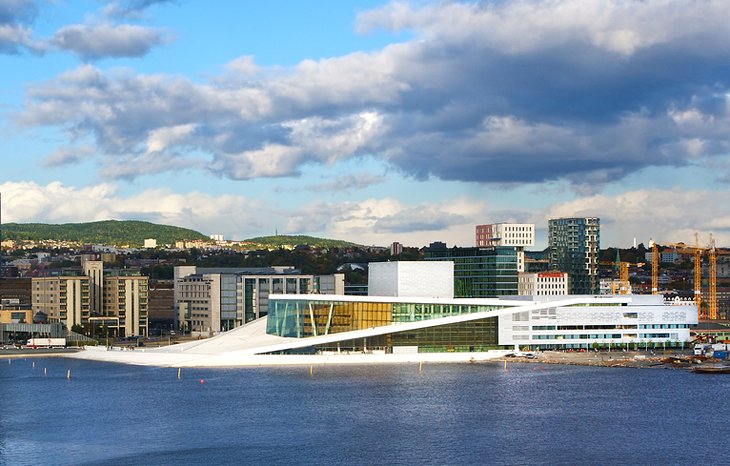 Home to the Norwegian National Opera and Ballet, as well as the National Opera Theatre, the 1,364-seat Oslo Opera House (Operahuset) seems to almost want to slip into the city's harbor, an effect exaggerated by its angled exterior surfaces. Clad in Italian marble and white granite, the Opera House is the largest cultural building constructed in Norway since Trondheim's Nidaros Cathedral in the 14th century.
In addition to its many performances, visitors can also participate in a variety of interesting public programs and behind-the-scenes tours, as well as enjoy the views from a stroll on the building's roof.
If you are visiting Oslo during August, be sure to spend some time enjoying the month-long Festival of Chamber Music, which includes dozens of chamber music concerts drawing internationally acclaimed musicians from around the globe. Performances take place in the spectacular Akershus Fortress, with the stunning Oslofjord as a backdrop.
Where to Stay in Oslo for Sightseeing
If you're visiting Oslo for the first time, the best place to stay is in Central Oslo, preferably close to Karl Johans gate, the city's main street. Here, you'll find attractions such as the Royal Palace, National Theatre, and Oslo Cathedral, as well as an impressive array of museums and galleries. Most of the city's top attractions are within walking distance of each other. Below are some highly rated hotels in this central location:
Tips and Tours: How to Make the Most of Your Visit to Oslo
More Related Articles on PlanetWare.com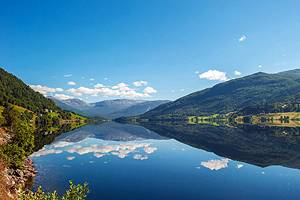 Norway's Biggest Fjords: Located on the western coast of Norway, Sognefjord is the country's largest fjord, stretching for 204 kilometers. Sognefjord is a three-hour drive from Bergen, a picturesque city with plenty of attractions and activities for tourists. Just south of here is the Hardangerfjord area, home to Norway's second-largest fjord. This was Norway's first international sightseeing destination, enjoyed by Victorian travelers as early as 1875.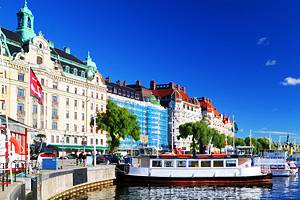 Exploring Sweden: Although it is a six-hour train ride to Stockholm, those staying in Oslo for an extended time may want to plan a day exploring all the highlights of this city, which is often called the Venice of the North. Sweden is also home to many fascinating sites, including Kansen, the world's oldest open-air museum.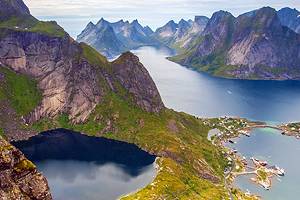 Norwegian Islands: If you are feeling adventurous and have the time, consider visiting the Lofoten Islands, which have an amazingly mild climate despite being inside the Arctic Circle. The country's northernmost city is Tromsø, a major port city, which is visited by tourists hoping to see the aurora borealis, or northern lights, because if its location in the Arctic Circle.