11 Top Tourist Attractions in Aarhus & Easy Day Trips
Denmark's second largest city, Aarhus (or Århus) lies on the east coast of Jutland, where the river Aarhus Å flows into the picturesque bay of the same name. First mentioned in 928 CE as the seat of a Bishop, it received its municipal charter in 1441.
From the Middle Ages onwards, it served as an important commercial, seafaring, and fishing center, a tradition that lives on due to the area's popularity among sports anglers. The wealth generated by merchants during the city's early heyday is clear today in the many well-preserved Renaissance buildings you'll see as you explore its many tourist attractions.
To find evidence of an even earlier era, stroll through Klostergade, Volden, and Borggade in the Latin Quarter. This interesting neighborhood replaced the old Viking fortifications in the late 14th century. But this quarter is far from frozen in time. Today, it's a lively enclave, with boutiques, cafés, and restaurants lining its narrow stone-paved streets.
An important cultural center with an outstanding fine arts museum, Aarhus is also well known for its vibrant music scene. Frequent concerts and festivals embrace everything from folk, jazz, rock, and pop, to chamber music and operatic performances held in historic venues and churches.
To make sure you find all the very best places to visit in this vibrant Danish city, follow our list of the top tourist attractions in Aarhus.
1. Den Gamle By (The Old Town)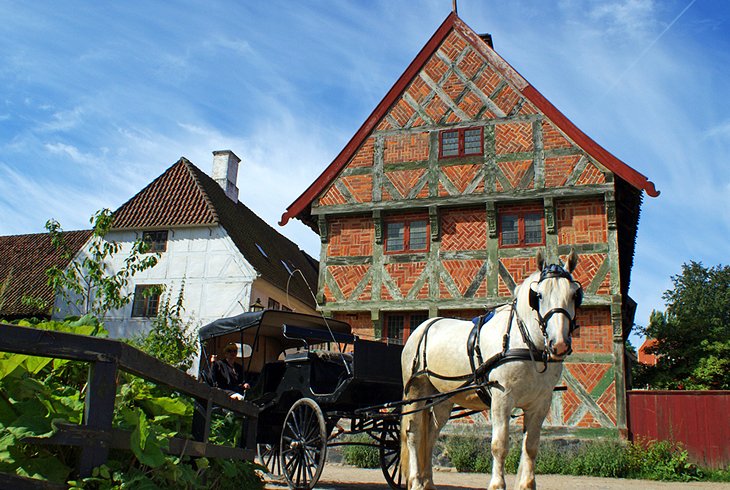 Den Gamle By, or "The Old Town," is a fascinating open-air museum consisting of more than 75 historic buildings collected from across Denmark. Each of them were dismantled and reassembled in Aarhus for preservation.
Dating from the 16th to the early 20th century, this remarkable collection has been assembled as if it really was an authentic "old town." The effect is further enhanced by the fact these superb old houses, shops, workshops, and windmills still function just as they did in the past and serve as a time capsule preserving a bygone era.
Highlights of a visit include seeing the former Burgomaster's house from 1597, a remarkably well-preserved building that is home to a fine collection of furniture. Also notable are the merchant's house, a stilt-house, a two-storied stone house, and a storehouse. The largest building is the majestic Coin Master's Mansion, a newer "old" addition erected on the site in 2009.
A toy museum, textile museum, and historical musical collection are also worth seeing. So, too, are the bicycle museum; the apothecary's shop, complete with healing herbs; and the workshops once belonging to candlemakers, coopers, and shoemakers. The museum also holds special exhibitions of historical costumes.
Five restaurants and cafés are located here, some serving traditional hearty foods. English language guided tours by costumed guides are also available.
Address: Viborgvej 2, 8000 Aarhus C, Denmark
Official site: www.dengamleby.dk/en/den-gamle-by/
2. ARoS Aarhus Art Museum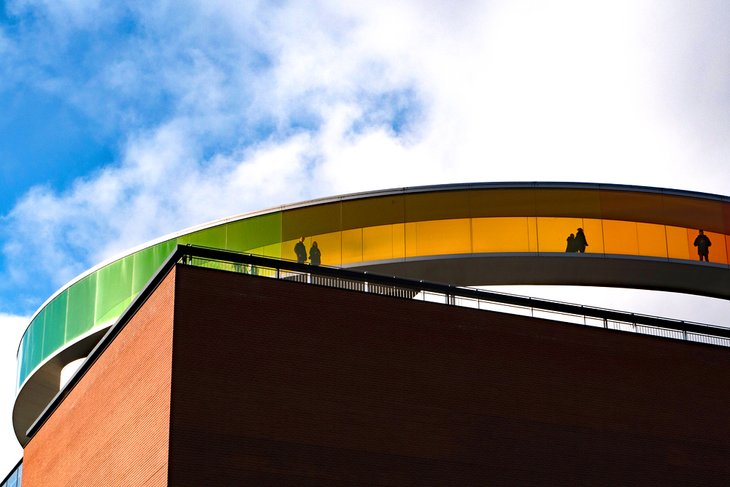 The ARoS Aarhus Art Museum (ARoS Aarhus Kunstmuseum) is one of the largest art museums in Europe. Housed in an impressive 10-story building that is itself a work of art, the museum's most remarkable architectural work of art is Your Rainbow panorama.
This remarkable circular walkway is surrounded by glass in a spectrum of colors, created by Danish-Icelandic artist, Olafur Eliasson. Mounted on columns 3.5 meters above the roof, the walkway is 150 meters long and three meters wide. As you walk around it, you'll get views of the city and bay in rainbow colors. You can access Your Rainbow through the 310-square-meter Roof Pavilion.
Highlights of the Kunstmuseum collections include artwork from the Danish Golden Age (1770 to 1900), Danish Modernism (1900 to the 1960s), and contemporary art. Works span all genres and mediums, including sculpture and installations.
Afterwards, stick around for a little sustenance at the on-site café or restaurant. You can also take in a show, enjoy a lecture or workshop, or join an English language guided tour.
Address: Aros Allé 2, 8000 Aarhus, Denmark
Official site: www.aros.dk/en/
3. Moesgård Museum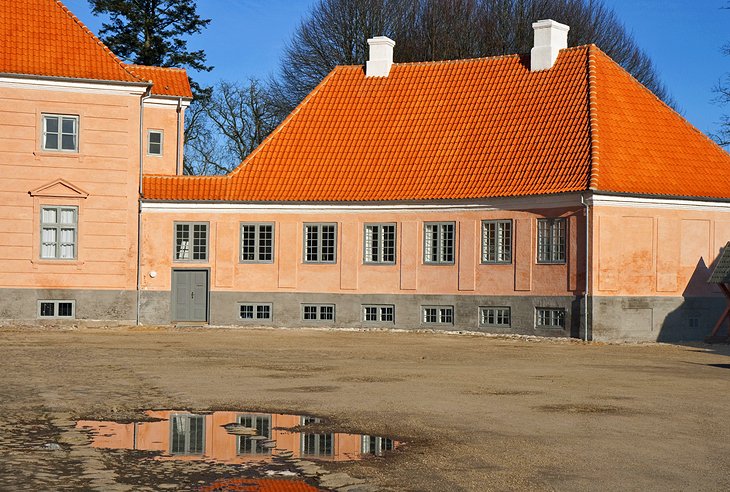 A short drive south of Aarhus is the superb Moesgård Museum, or MOMU. Built on the grounds of the historic Moesgård manor house, where the original museum was housed, this well-designed attraction opened in the autumn of 2014 and offers a comprehensive account of Denmark's history from the Stone Age right up to Viking times.
A particularly popular attraction is the Grauballe Man (Grauballemann), a body dating back more than 2,000 years that was found perfectly preserved in a nearby bog. A café and gift shop are also located on the premises. English language guided tours are available.
In the open-air section of the museum is the fun Prehistoric Trail (Oldtidssti). This fun trail meanders through the woods and fields of the estate, passing replicas of prehistoric houses and burial mounds.
Address: Moesgård Allé 15, 8270 Højbjerg, Denmark
Official site: www.moesgaardmuseum.dk/english/
4. Aarhus Cathedral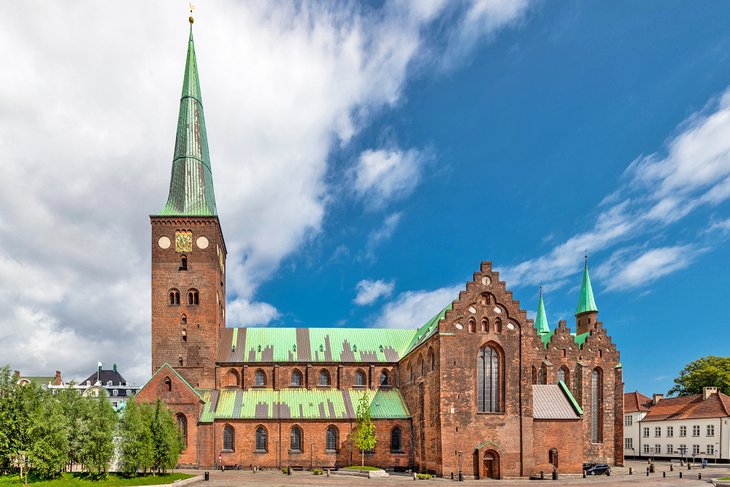 The picturesque inner city of Aarhus consists of a semi-circle enclosed by a ring road (Ringgade). At its heart lies the Great Market (Store Torv) in which stands Aarhus Cathedral (Sankt Clemens Kirke) dedicated to St. Clement.
While the original structure was begun in the 12th century, the current church dates largely from the early 1500s. Some Romanesque features can still be found in the external walls, and the chapels on the east side of the transepts also date from this time. The present façade, with its single tower and anchor motif, dates from the same period.
Highlights of the cathedral's bright interior include the winged altar from 1497 with its rich array of figures. Also worth seeing are the beautifully carved 16th-century pulpit, two organs, and a font. The vault paintings date from the 15th century and portray St. Clement as the patron saint of the church and Christ sitting in judgment.
English language guided tours can be arranged with advance notice, and are available during and outside of normal visitor hours.
Address: Kannikegade 12, 2 8000 Aarhus C, Denmark
Official site: http://aarhusdomkirke.dk/english/
5. Viking Museum and Festival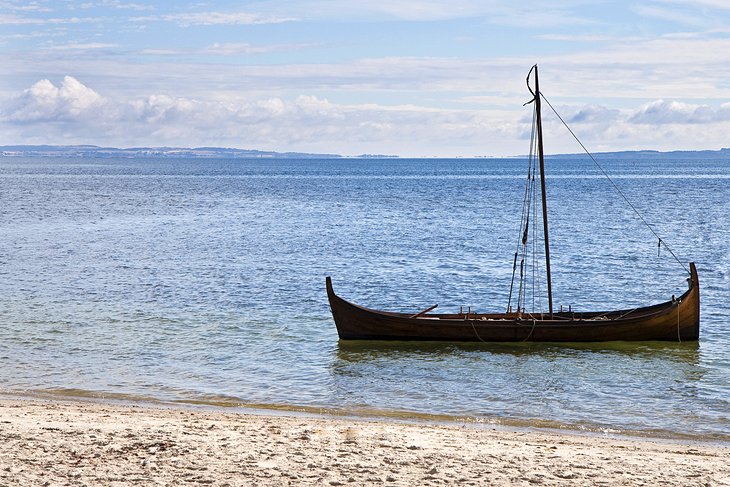 Located in the basement of a large bank in the city center, the Viking Museum (Vikingemuseet) consists of collections based upon the discoveries made by builders when excavating the building's foundations in the 1960s.
The museum paints a fascinating picture of the Viking community that made Aarhus its home some thousand or more years ago. Highlights are remains of the ramparts that once surrounded the settlement, a reconstruction of a typical house from the Viking period, and ancient tools and artifacts.
Try to plan your visit to coincide with the famous Viking Moot at Moesgård Beach event. This fascinating weekend event is held in July, and attracts would-be Vikings from across Europe to share in the culture and lore of this fascinating period of Danish history. The festivities feature battle reenactments and displays of horsemanship, along with traditional Viking boat building and sailing displays.
Address: Skt Clemens Torv 6, 8000 Aarhus, Denmark
6. Aarhus Botanical Gardens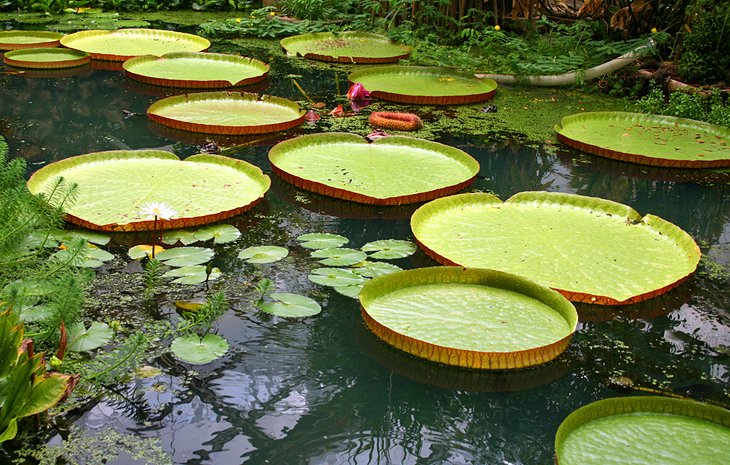 Aarhus Botanical Garden (Botanisk Have) was founded in 1875 and covers an impressive 53 acres. Highlights are the large hothouses with subtropical plants from around the world.
Recently renovated with the addition of a large tropical dome, visitors can enjoy large plant collections from all over the world that can be grown in four different climate zones. Kids have fun here in the summer, when they can find plenty of things to do, including special children's programs, and concerts and shows in the garden's amphitheater.
The gardens are also a pleasant place for a stroll or a picnic. Numerous paths crisscross the property, along with two small lakes and plenty of open green space.
Address: Møllevejen 10, DK-8000 Århus, Denmark
7. Tivoli Friheden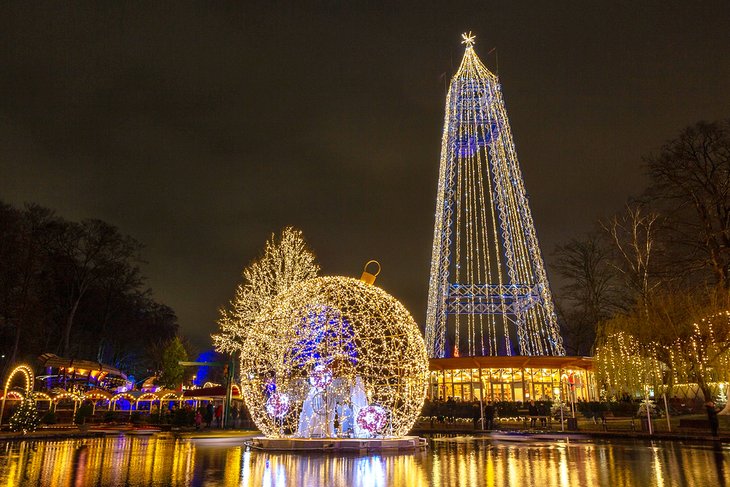 Kids are guaranteed to have fun at Tivoli Friheden, a fun, family-focused theme park located only two kilometers from the center of Aarhus and within walking distance from Marselisborg forest. Its more than 40 attractions include themed rides, games, playgrounds, and a 5D Cinemagic cinema.
There are also restaurants and vendors selling souvenirs as well, and the park is also a venue for concerts featuring Danish and international artists. Holiday festivals bring new themes and decorations for Halloween and especially Christmas, when the lights display is spectacular.
Address: Skovbrynet 5, Aarhus, Denmark
8. Marselisborg Palace and Park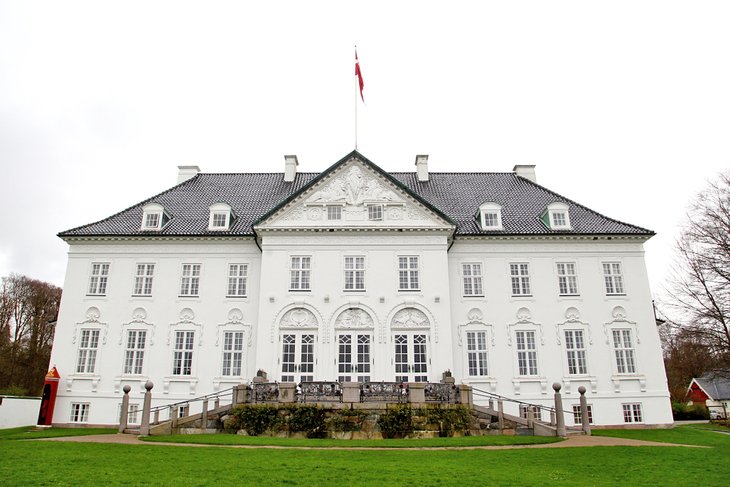 The impressive Marselisborg Palace (Marselisborg Slot) was built in 1902 as a gift from the Danish people and has since been the summer residence of Danish royalty. While the palace itself isn't open to the public, the surrounding gardens and parklands are.
Highlights of a visit to this 32-acre park are its large lawns with their many sculptures and ponds, as well as flourishing rose and herb gardens. When the queen and her family are in residence, the Changing of the Guard ceremony takes place at noon every day, and it's a spectacle that's worth seeing.
Also of interest is the nearby Memorial Park (Marselisborg Mindepark). Laid out in memory of the Danes who fell in World War I, it's a pleasant place to reflect and spend time.
Address: Kongevejen 100, 8000 Aarhus C, Denmark
9. Aarhus City Hall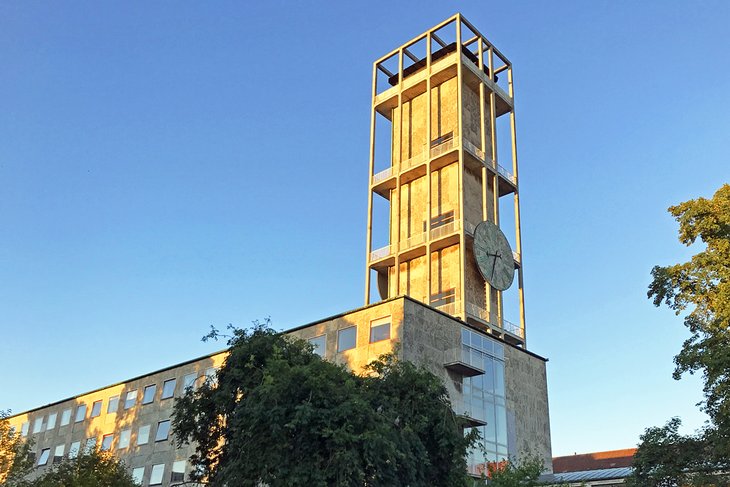 On the south side of busy Rådhus Plads stands the City Hall (Rådhus). Built in 1941 to plans by architects Arne Jacobsen and Erik Moller, it's notable as one of only a handful of such municipal buildings ever built in Denmark.
Faced with Norwegian marble, the highlight of the building is its stunning 60-meter-high tower with fine views of the city and bay. Interior tours include a visit to the Civic Hall, the Council Chamber, and the Marriage Room, each beautifully designed and edged in sumptuous wood trim and accents.
Look for the nearby Pig Fountain, or Grisebronden. It's nicer looking than it sounds, and makes for a great selfie backdrop. At the foot of the City Hall tower is a lovely fountain called Agnes and the Water Carrier.
Address: Rådhuspladsen 2, 8000 Aarhus, Denmark
10. Kvindemuseet: The Women's Museum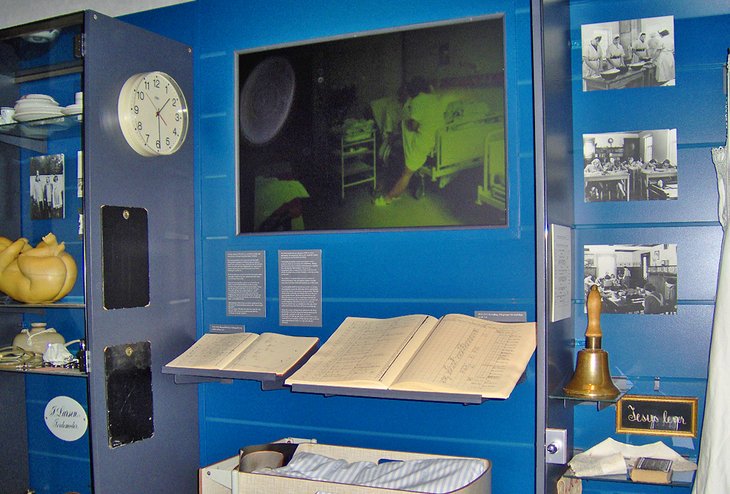 Founded in 1982, the Women's Museum (Kvindemuseet) in Aarhus is a unique organization designed to gather and preserve information pertaining to the lives of the country's women and their role in society and culture.
Although its primary orientation is toward research, the museum has historical and topical exhibits that reflect such themes as women's roles in the workplace, women at home, and their role in the arts.
The collections include such diverse artifacts as wedding dresses, household equipment, paintings, handcrafts, cooking utensils, home decoration, and other objects that have been part of women's daily lives.
The exhibits also explore the changing attitudes of society over the centuries. These and the archive of documents, photos, and biographies documenting women's lives and work explore the evolving changes in women's lives.
Address: Domkirkepladsen 5, 8000 Aarhus, Denmark
Official site: http://kvindemuseet.dk
11. The Church of Our Lady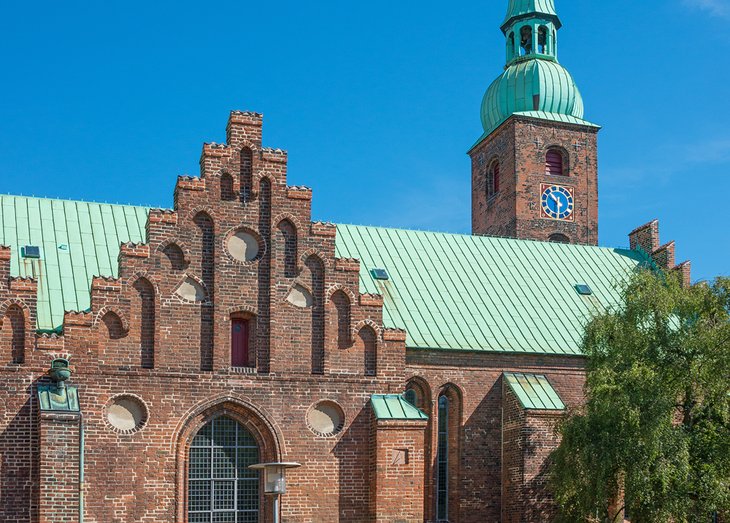 Built between the 13th and 15th centuries, the Church of Our Lady (Vor Frue Kirke) was originally part of a Dominican priory and remains one of the largest churches in Denmark. Now a purely Gothic building, it contains many fine frescoes and a magnificent altarpiece dating from 1520.
An even older church was discovered during excavations in 1955. Dating to the mid-11th century, this little stone church has been carefully restored and can be seen when visiting the Church of Our Lady. Also of interest is the Chapterhouse, dedicated as a church and notable for its medieval wall paintings.
Address: Vestergade 21, 8000 Århus C, Denmark
Map of Tourist Attractions in Aarhus & Easy Day Trips
Day Trips from Aarhus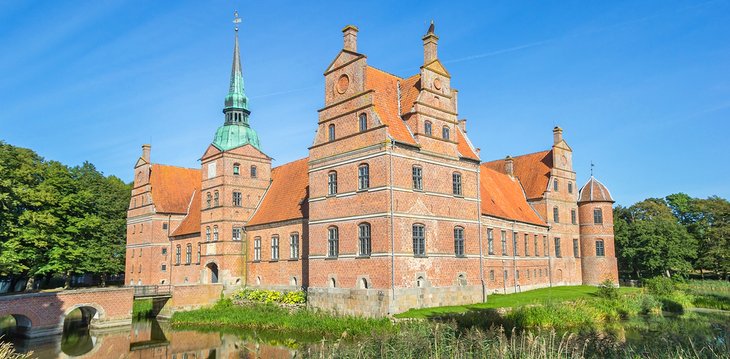 While there's no shortage of fun things to do in Aarhus, two especially interesting tourist attractions are outside the city. Rosenholm Castle is a lovely 16th-century Renaissance building that's been owned by the same family for more than 400 years. Highlights include its many beautifully furnished rooms decorated with paintings and tapestries, as well as a lake and Renaissance pavilion in the park.
Another historic attraction worth seeing is the famous church in Thorsager, Jutland's only surviving Round Church. Parts of this two-story building date from the early 13th century. The upper story is accessed by an old winding staircase and was once used as a gallery for local nobility.