14 Top-Rated Tourist Attractions in Greenland
Greenland, an autonomous nation within the Kingdom of Denmark, can truly be said to be a world apart. Icebergs and glaciers are the most famous of Greenland's natural attractions, and the Ilulissat Ice-fjord in Disko Bay is a popular place to visit if you want to see the colossal shapes of blue and white float on an azure sea.
Green mountains with beautiful wildflowers, breathtaking fjords, precipitous cliffs, hot springs, and crystal-clear skies perfect for viewing the northern lights are all waiting to be discovered. Seals and whales flourish in the sea, and impressive animals like polar bears and reindeer roam the land.
Nature isn't all Greenland has to offer tourists, though. The nation's weather and isolation have helped preserve evidence of cultures long past, allowing tourists to visit sites like a 2,000-year-old Eskimo village and several Norse Viking settlements.
Because of the unique topography, there are virtually no roads between towns, so if you want to explore, it will be by boat, airplane, sled, or snowmobile. In fact, you'll find that some of the best things to do in Greenland are active ones — dogsledding, snowmobiling, hiking, walking on the ice cap, and traveling its waters by boat.
Explore this fascinating land with the help of our list of the top attractions and things to do in Greenland.
1. Ilulissat Ice-fjord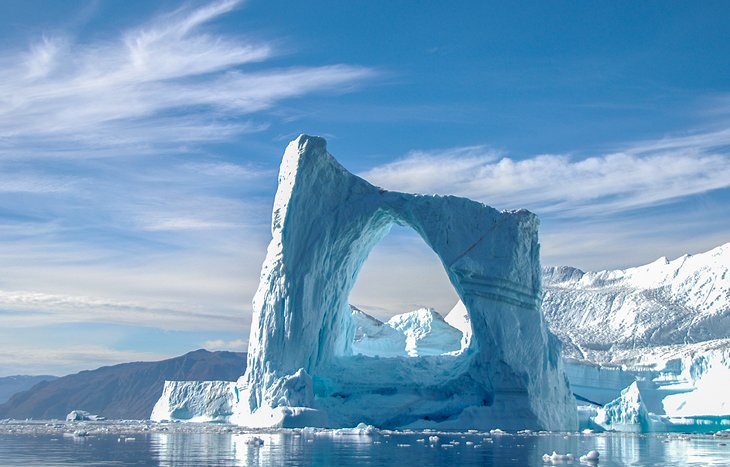 Justifiably Greenland's most visited area and a UNESCO World Heritage Site since 2004, this amazing berg-strewn section of coast in Disko Bay is where huge glaciers "calve," an expression meaning that icebergs break off from the glaciers and float out into the coastal waters.
This is the perfect place to visit, if you're lucky enough to get the timing right, to witness this awe-inspiring natural spectacle. Unlike other ice fjords in Greenland, it can be watched from land.
The immense glacier Sermeq Kujalleq, more than five kilometers wide and one kilometer thick, feeds into the bay and flows at a rate of about 25 meters (82 feet) a day. Be prepared for stunning vistas and nature at its most majestic. Disko Bay is also notable for its historic significance; it's the site of Norse Explorer Erik the Red's 985 CE settlement.
While in Ilulissat, stop to see the collection of Greenland landscapes in the Emanuel A Petersen Art Museum.
Read More: Best Winter Holidays with Snow
2. Whale Watching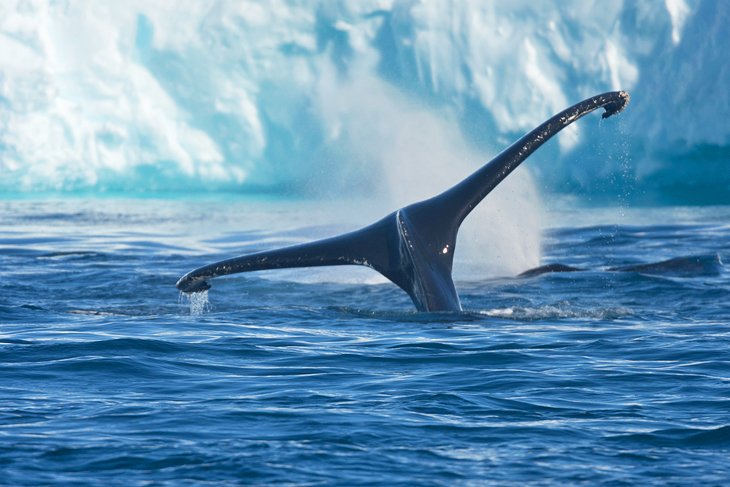 One of the top things to do for visitors in Greenland is to experience an up-close encounter with whales. Most of the fjords melt by May, so June and July are usually the best months for cruising among icebergs and whale watching along the breathtaking coastline.
Tours usually depart from towns such as Qeqertarsuaq, Nuuk, and Aasiaat and are offered by operators like Disko Line. Typical encounters are with humpback, minke, and fin whales, but occasionally also blue whales, killer whales, narwhals, beluga whales, sperm whales, and pilot whales. Patience is required but richly rewarded.
3. Nuuk and the Greenland National Museum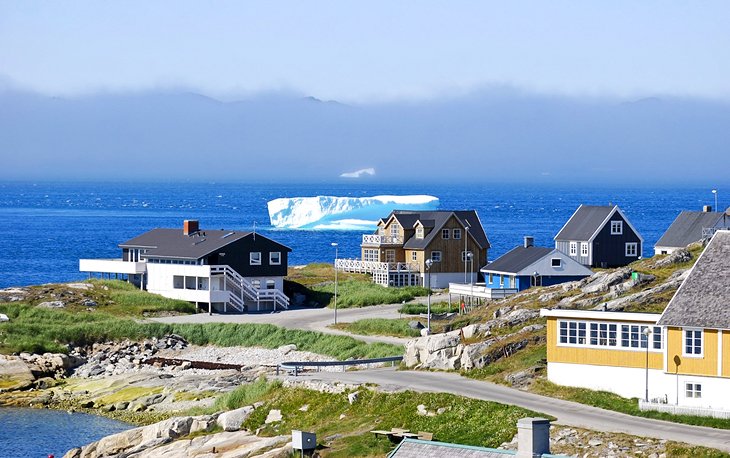 Nuuk, the capital and administrative center of Greenland, has a population of around 16,000 and is especially popular with visitors thanks to the Greenland National Museum. Its collections of hunting equipment, kayaks, carvings, and Viking finds paint a vivid picture of life here from the earliest times.
The 500-year-old mummies of women and children (discovered in 1978) are so well preserved that some of the facial tattoos and various colors of the clothing material are still recognizable. The museum also hosts regular exhibitions of geology and the arts.
Nuuk is the departure point for tours of the Godthåb Fjord, one of Greenland's most beautiful regions, and the atmospheric buildings of the old colonial harbor are well worth seeing.
Address: Hans Egedes Vej 8, Nuuk
4. The Northern Lights (Aurora Borealis)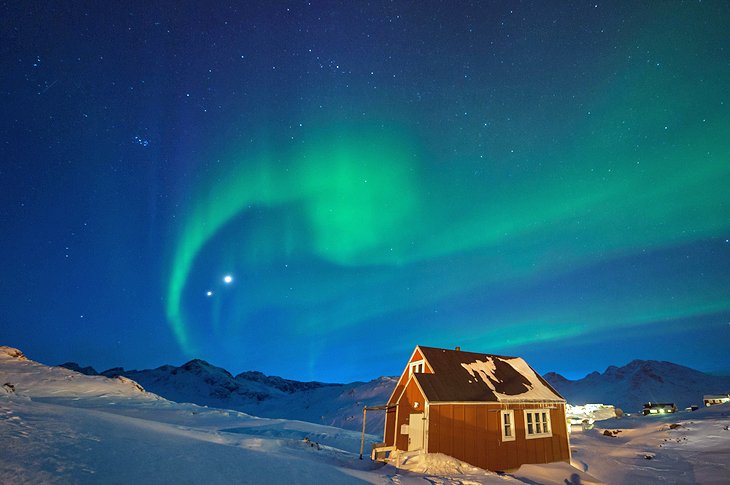 The northern lights are often referred to as "the biggest light show on earth," and during your visit to Greenland, you shouldn't miss this incredible natural spectacle. If you're planning to visit for the sole purpose of seeing the aurora borealis, then make sure you travel in winter.
There's a good chance of seeing the northern lights anytime between November and March, although December through February are the best months because the nights are clearer. The Northern Lights are visible across Greenland. Qaqortoq (south), Ittoqqortoormiit (east), and Kangerlussuaq (west) provide the best views.
5. Uunartoq Hot Springs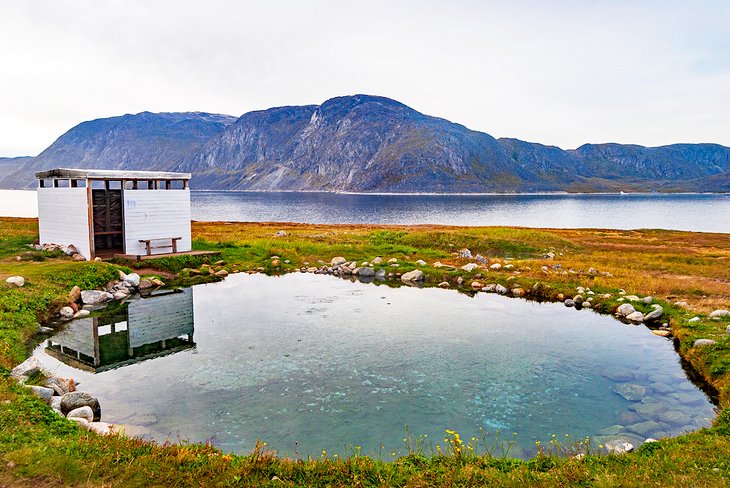 Hot springs are found throughout Greenland, but on the uninhabited island of Uunartoq, the springs are the perfect temperature for bathing. Here, three naturally heated springs merge into a small pool, where you can immerse yourself surrounded by icebergs and stunning mountain peaks.
Uunartoq is a short boat ride from the town of Ilulissat. There are literally thousands of springs elsewhere in Greenland, most notably on Disko Island, whilst on the easterly side of the country there are around a hundred more.
6. Qaqortoq Museum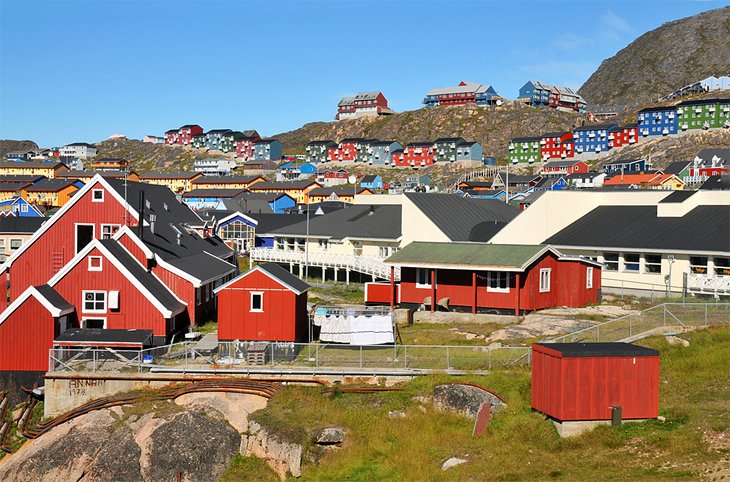 Qaqortoq is a rock-bound fishing village of brightly painted houses climbing a hillside above the harbor. Set in an 1804 building that was once the Julianehåb colony manager's house, the Qaqortoq Museum displays artifacts from the Dorset, Thule, and Norse cultures, each with its separate exhibits and interpretation.
Norse history is especially well-represented with artifacts that include harpoons and kayaks, along with an authentic replica of a peat hut. There is also a replica umiac, a traditional Greenland boat.
On the top floor are the beautifully reconstructed "Blue Room" and "Red Room," where the explorer Knud Rasmussen and aviator Charles Lindbergh respectively stayed. Lindbergh was here when he was scouting sites for a Pan Am stopover airport.
Address: Torvevej B 29 3920, Qaqortoq, Greenland
7. Viking Ruins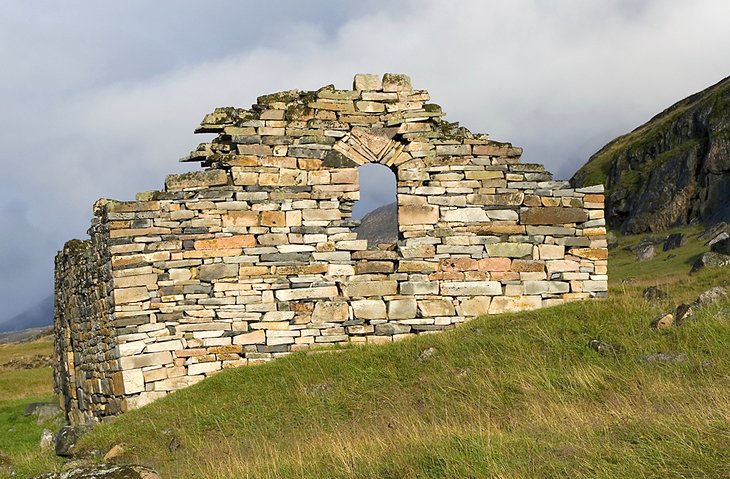 Among the most popular things to see in southern Greenland are the remnants of Eric the Red's thousand-year-old Norse colonies. At their peak, it's estimated that something around 5,000 Norsemen lived throughout Greenland. Why the settlements died out remains a mystery.
A visit to the sites of the ruins is a fascinating journey back in time into the lives of these hardy hunter-gatherers. There are several Viking ruins found in the region including the Hvalsey Fjord Church (the oldest in Greenland and highly recommended) and Brattahlid near the town of Qassiarsuk (a 20-minute boat ride from Narsarsuaq international airport).
8. Sermermiut Eskimo Settlement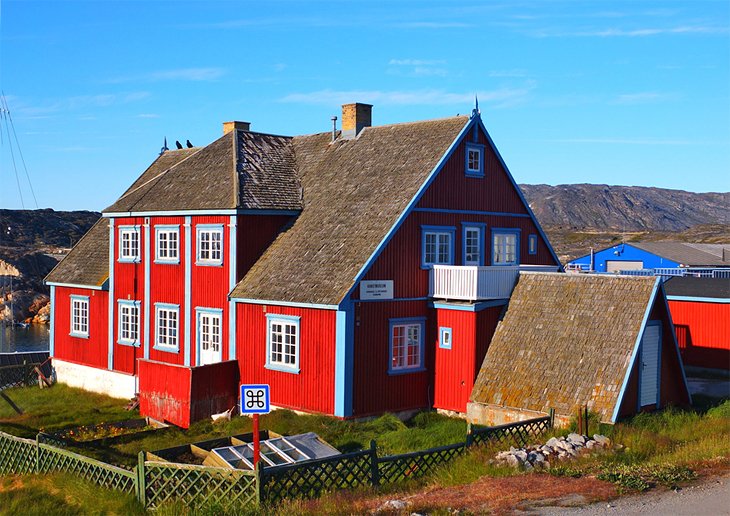 Roughly two kilometers from the town of Ilulissat, you'll find this ancient Eskimo settlement, first excavated at the beginning of the 20th century, which has some of the best-preserved remnants of indigenous Eskimo cultures in the Arctic. The ancient village is abandoned, but you can still see artifacts from the inhabitants who lived here more than 2,000 years ago.
To get to Sermermiut by foot takes roughly an hour. From the center of Ilulissat, walk south to the old Heliport and then follow the boardwalk a further 1.2 kilometers south to the shore of the Icefjord. Finds from the site are displayed in the Ilulissat Museum.
9. Exploring by Boat and Ferries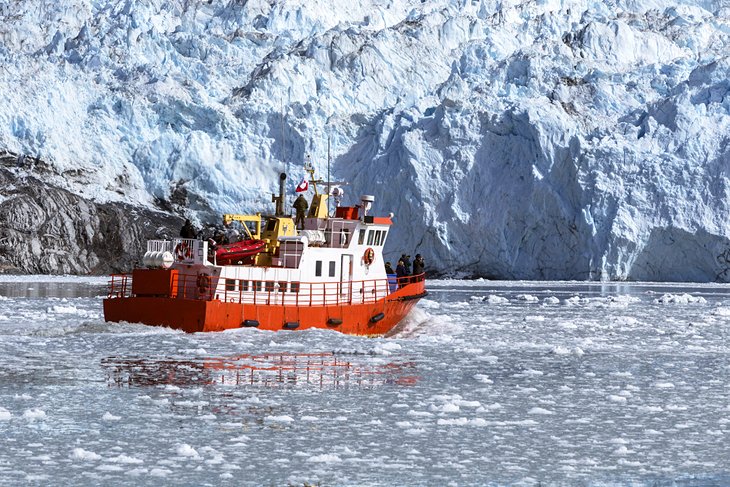 Whether you take a short afternoon cruise among the icebergs to a glacier or a multi-day cruise into the bays and fjords, boats are the best way to get a look at most parts of Greenland. Most of these mighty walls of ice are visible only from the sea, and boats are such a vital part of Greenland life that wherever you go there will be opportunities for sea excursions.
Small excursion boats have the advantage of no set itinerary, so in addition to the icebergs and glaciers, you may see waterfalls and wildlife, like an eagle guarding her nest. You can also find tour operators like Blue Ice Explorer in Narsarsuaq that offer custom tours to suit your interests and your schedule.
You can also take a longer multi-day cruise to see more of Greenland's wonders or get a feel for local life by joining Greenlanders on one of the many ferries that ply the small coastal ports. The Arctic Umiaq Line operates ferries that are the local transport, so unlike the cruises designed especially for tourists, these ferries give you a chance to meet and mingle with Greenlanders.
10. Dogsledding and Snowmobile Tours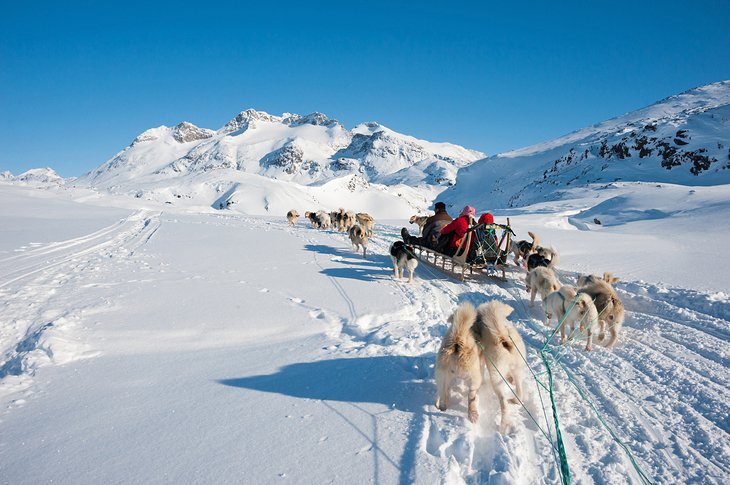 Without a doubt, exploring the wild landscape is one of the top things to do in Greenland, and the best way to experience the country's unique natural environment when snow is on the ground is on a tour by dogsled or a snowmobile excursion.
Naturally, the winter months are the time for dogsled tours and snowmobile trips. Some of the most popular areas to explore are Disko Bay, Tasiusaq Fjord, Qaanaaq, and Thule. You'll find numerous tour operators all over Greenland offering trips to suit different budgets.
11. Tasiilaq, East Greenland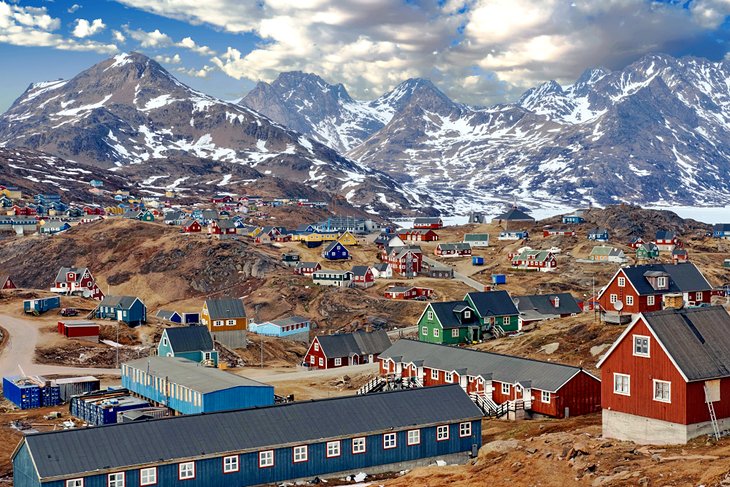 Although it has just 2,000 inhabitants, Tasiilaq is the largest town in East Greenland. It lies on the island of Ammassalik, about 100 kilometers south of the Arctic Circle. Set amid breathtaking scenery on a fjord surrounded by soaring mountains and bisected by a small river, Tasiilaq should be high up on any visitor's agenda.
The Flower Valley behind the town is a popular place to visit for short or long hikes. Popular winter activities are skiing trips and dog-sled tours. In summer, activities include hiking, climbing, helicopter rides over the ice sheet and glaciers, sea kayaking between icebergs on the fjord, whale watching, and fishing. As Tasiilaq remains one of the most isolated settlements on Earth, expect an experience like no other.
12. Walking on the Ice Cap from Kangerlussuaq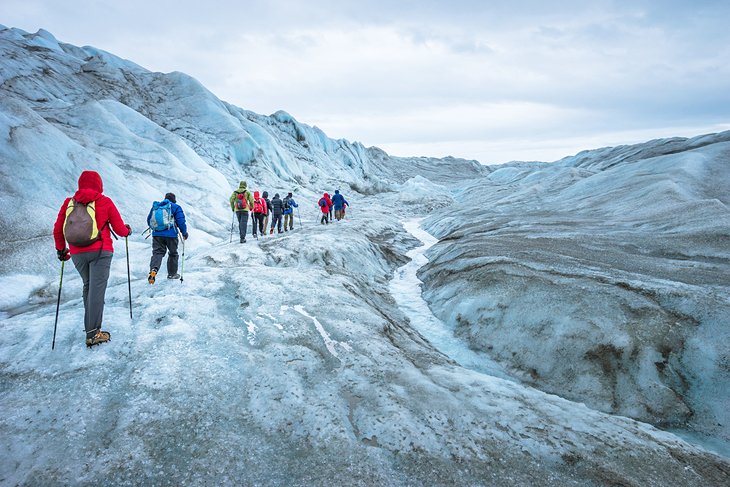 Kangerlussuaq is a small town of about 500 people that has two reasons for a visit: it's the favorite starting point for hiking the 200-kilometer (124-mile) Arctic Circle Trail and it has the closest access to the Greenland ice sheet. You can book a half-day tour to the ice sheet, which is only about 30 kilometers away, and once there, walk on its surface.
This is one of the few places the ice cap can be reached without a helicopter. It's like no other experience-ice stretching to the horizon, cut by blue rivers of meltwater. Hikers looking for something shorter and less demanding than the Arctic Circle Trail can climb the nearby Sugarloaf Mountain for sweeping views that include the ice cap.
13. Katuaq Cultural Center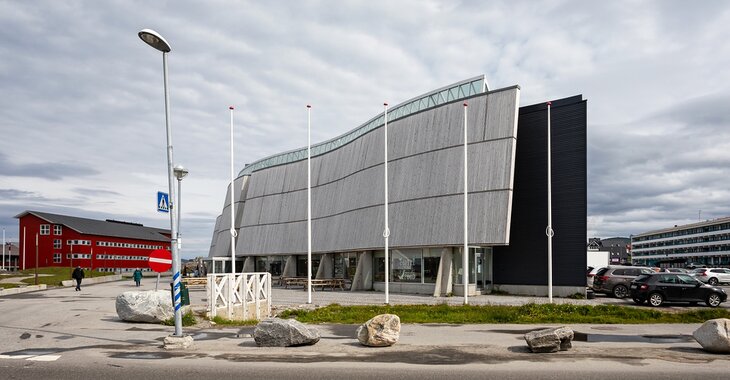 The Katuaq Cultural Center is located in Nuuk, housed in a beautiful modern building that was designed to emulate the movements of the northern lights. For tourists, the highlights of this attraction are its art exhibits and variety of live performances.
Visual arts exhibits change every one to two months and highlight the work of Greenland creators, both well-known and emerging artists. Performances include not only musical and theatrical productions, but also comedy shows and lecture series.
The center also has a very nice restaurant that features international food made with locally sourced ingredients.
Address: Imaneq 21, 3900 Nuuk
14. Nuuk Art Museum (Nuuk Kunstmuseum)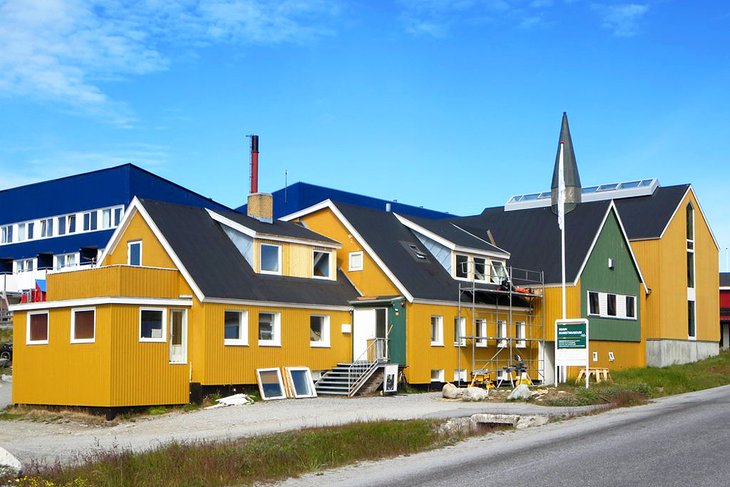 The Nuuk Art Museum began as the private collection of Svend and Helene Junge, which represented their love of all things Greenland. The collection includes paintings of Greenland and works by those who lived and stayed here, as well as a variety of craft-art pieces.
Tourists interested in local handcrafts can see the process of traditional Greenlandic costume-making up close at the Kittat Economusée, also located in Nuuk. It is a working museum, giving visitors the opportunity to watch as the skins are prepared, designs are drafted, and the art form is implemented. Visitors can also touch and examine the work and can purchase items made on-site.
Address: Kissarneqqortuunnguaq 5, 3900 Nuuk
More Related Articles on PlanetWare.com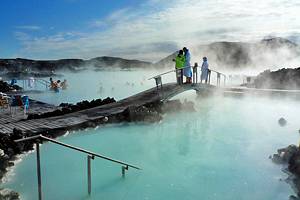 Where to Go from Greenland: Most visitors flying here from North America connect to Greenland through Reykjavik, the capital of Iceland and the closest international airport to Greenland. A stopover here gives you a chance to explore the tourist attractions of Iceland.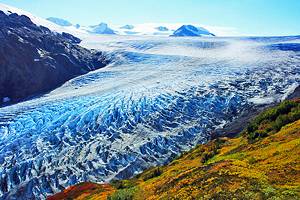 More Arctic Regions to Explore: If glaciers, icebergs, Arctic landscapes, and the midnight sun fascinate you, then you'll enjoy the fjord-cut coastline of the Kenai Peninsula and 700-square-mile Harding Icefield, south of Anchorage in the US state of Alaska. You might also like to explore the Arctic reaches of northern Finland.