Denmark in Pictures: 20 Beautiful Places to Photograph
Quaint fishing villages, colorful harbors, historic towns, Renaissance castles, and rolling sand dunes create Denmark's most photo-worthy backdrops. Add in a few tourist must-sees like Copenhagen's fantastical Tivoli Gardens; Grenen's soft, sandy beach; and the Faroe Islands' deep and luxurious Sørvágsvatn Lake, and you've found a country worth revisiting.
A great mix of culture and dramatic scenery, Denmark perfectly combines bustling cosmopolitan cities with breathtaking landscapes and charming small towns. Whatever you're looking for (from a vibrant night out to a serene hike through a twisted forest), you'll find it here.
It's easy to get inspired with our list of the most beautiful places to visit and photograph in Denmark.
Note: Some businesses may be temporarily closed due to recent global health and safety issues.
1. Nyhavn, Copenhagen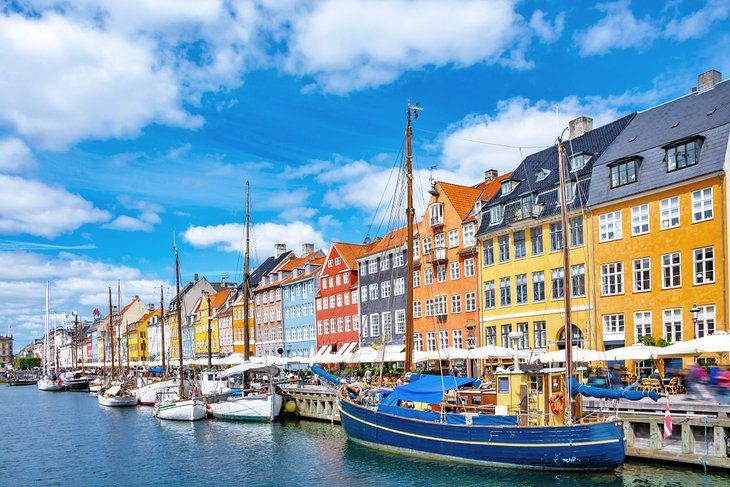 It's hard to feel blue when faced with the bright and colorful buildings that frame Copenhagen's bustling Nyhavn Harbour. A view worthy of a thousand postcards (and it's been replicated many more times than that), the narrow harbor presents a photographer's dream: pristine wooden boats adorned with bright flags and gently flapping sails float quietly upon the sparkling azure water. Some of the tall ships double as museums.
Your pictures won't be marred by unsightly yachts or fishing boats since only vessels associated with the Association of Wooden Ships or those of special historical interest are allowed here.
Accommodation: Where to Stay in Copenhagen: Best Areas & Hotels
2. Gásadalur Village, Vágar, Faroe Islands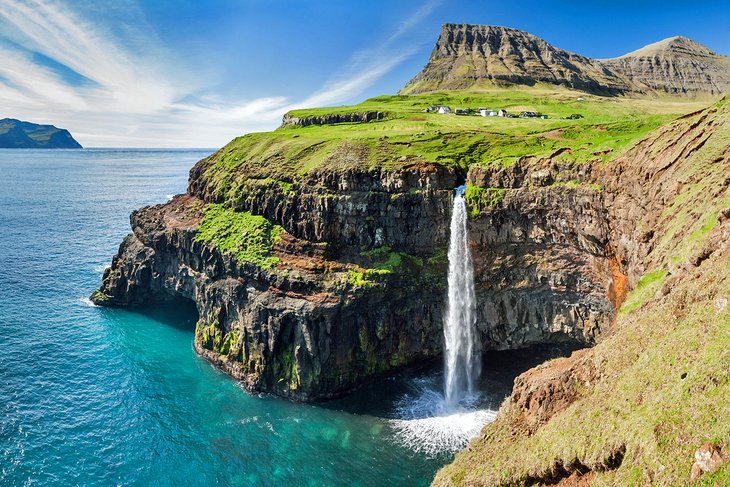 Just above (and a little bit behind) an idyllic crashing waterfall lies the small Danish Village of Gásadalur. Sitting on the west side of Vágar, one of the 18 islands that make up the Faroe Islands archipelago, this isolated village is now easier to reach thanks to a tunnel that was blasted through the rock in 2004. Before that, brave sailors climbed ladders to this tiny spot, and hikers climbed over the surrounding mountains.
3. Grenen, Skagen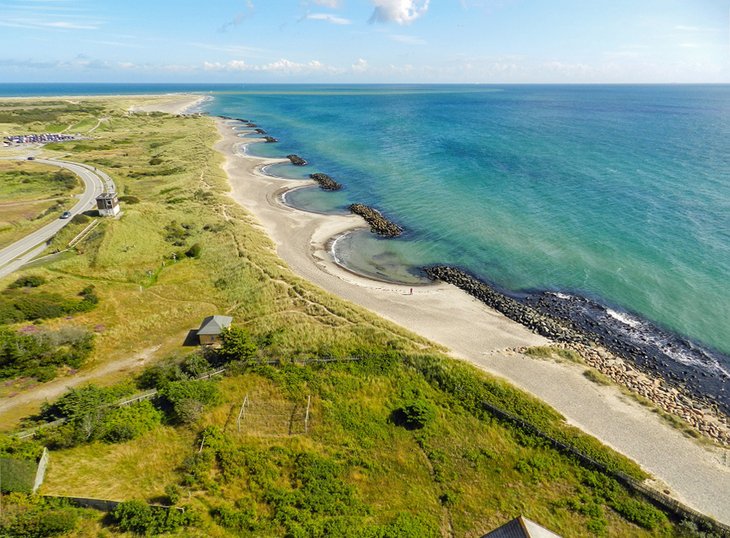 The soft, white sand of this beautiful, four-kilometer-long stretch of beach lies on Denmark's most northerly point. Standing at the tip of Grenen (a.k.a. "land's end" or "the branch"), you can have your feet in both the Skagerrak and Kattegat Seas. To get here, ride on the Sandormen, a tractor-pulled vehicle that transports adventurers to this turbulent sandbar, or walk from the car park at nearby Grenen Art Museum.
4. Møns Klint, Moen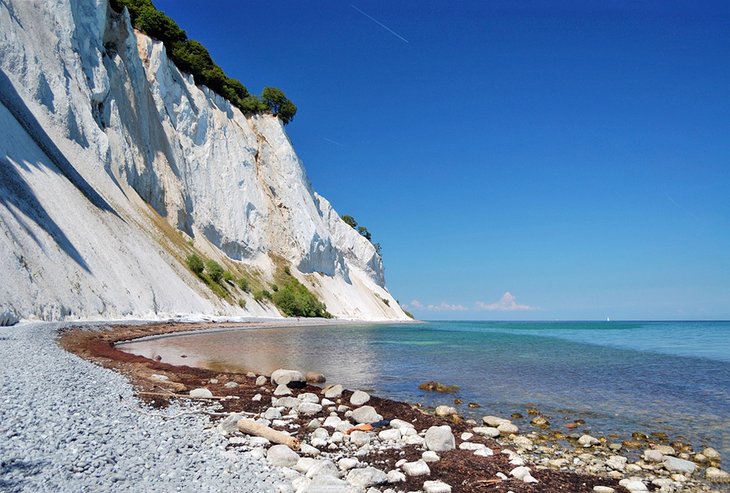 A spectacular series of chalk cliffs, Møns Klint, rises 128 meters above sea level and stretches for nearly seven kilometers. In its wake, the cliffs leave fascinating fossils. Constantly eroded by the elements, the water butting up to this natural marvel is marked by a unique turquoise color. To get down to the beach, you can descend over 990 man-made steps. Just remember, you have to climb back up when you're finished.
5. Tivoli Gardens, Copenhagen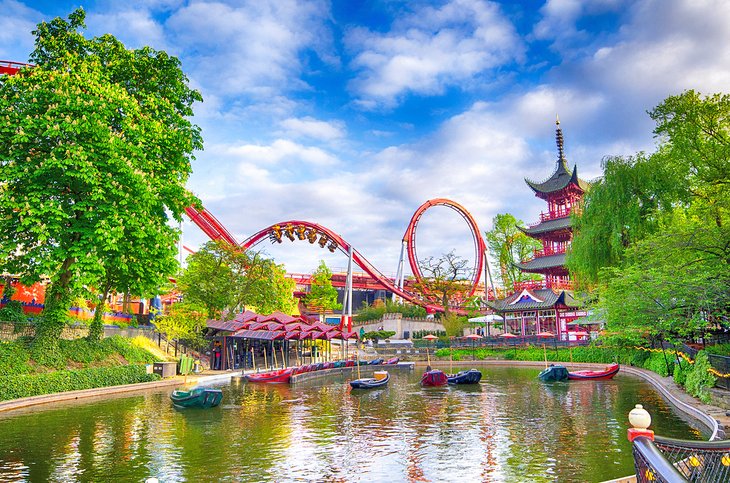 An amusement park set in the heart of Copenhagen, Tivoli Gardens is favored by locals and tourists of all ages. One of the oldest amusement parks in Europe, it served as a model for America's Disneyland. Whether you choose to dine on-site, shop, wander the gardens, or ride a roller coaster, you're in for a treat.
6. Aarhus City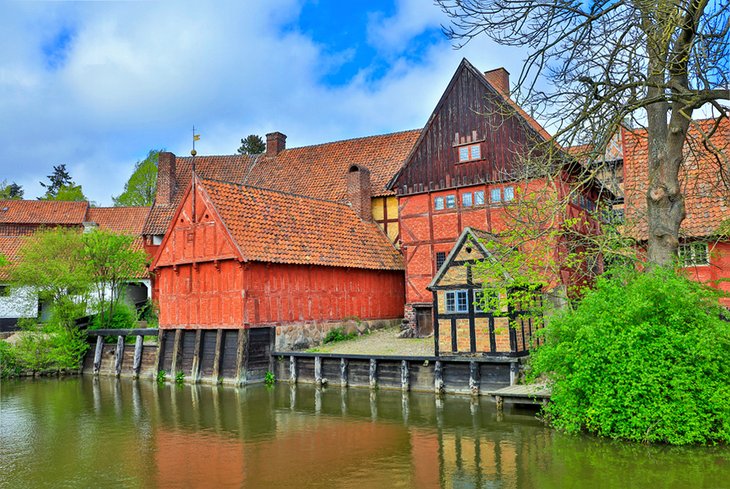 The second largest city in Denmark, Aarhus is home to many photo-worthy attractions, including the living history museum, Den Gamle By. In this bustling metropolis, you can expect to find award-winning restaurants and impressive galleries, like the innovative ARoS Aarhus Art Museum (one of the largest in Northern Europe). Like Copenhagen, Aarhus features a festive theme park, Tivoli Friheden, at its center.
7. Den Gamle By, Aarhus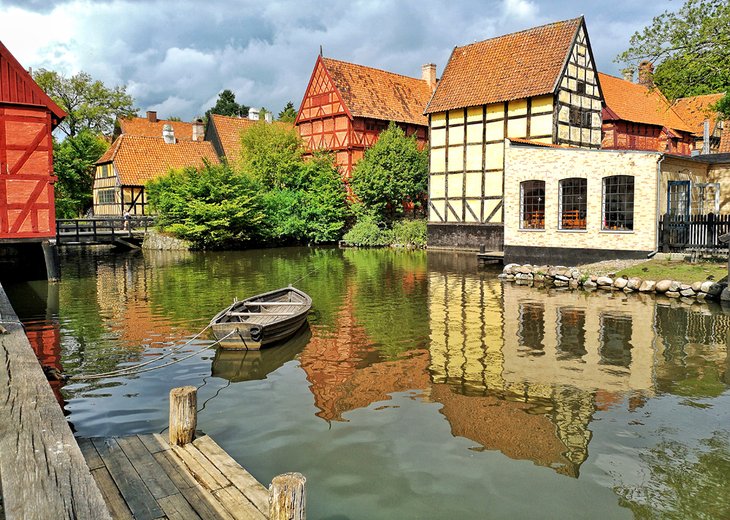 Den Gamle By translates to "The Old Town," a perfect name to describe this beautiful open-air museum offering visitors a trip back through time. Actors roam the shops, dressed in 19th-century garb, imparting historical knowledge about everything from ancient house plants to the most popular jobs in the early 1920s. They also make great photo subjects.
Traditional buildings were moved here from elsewhere in the country to help recreate three distinct decades in Danish history - the 1900s, 1920s, and 1970s.
8. Sørvágsvatn Lake, Faroe Islands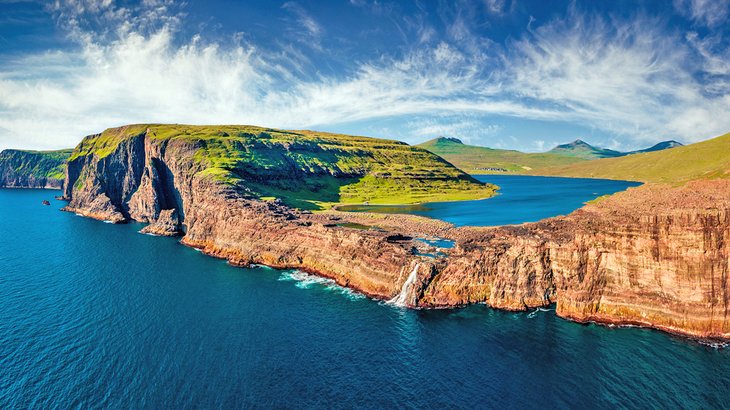 Glistening Sørvágsvatn Lake rushes above the Atlantic Ocean on the island of Vágar. A fascinating natural wonder, this lake, also known as Leitisvatn, is the largest lake in the Faroe Islands. A trick of the eye makes this optical illusion famous. While only 27 meters above sea level, the conveniently placed (and very steep) cliff makes the lake seem to rise much higher than the neighboring Atlantic.
9. Råbjerg Mile, near Skagen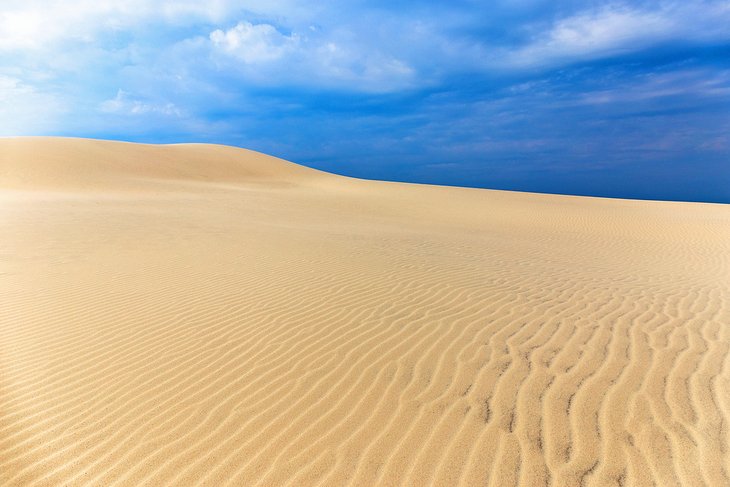 At times, walking along the Råbjerg Mile is more akin to traipsing through an Egyptian desert than a migrating sand dune in Denmark. An incredible natural phenomenon, these large, drifting dunes have existed on Denmark's west coast since the 16th century. Over time, they slowly make their way northeast. Measuring one-kilometer wide by one-kilometer long, this is the largest moving sand dune in the country.
10. King's Garden, Copenhagen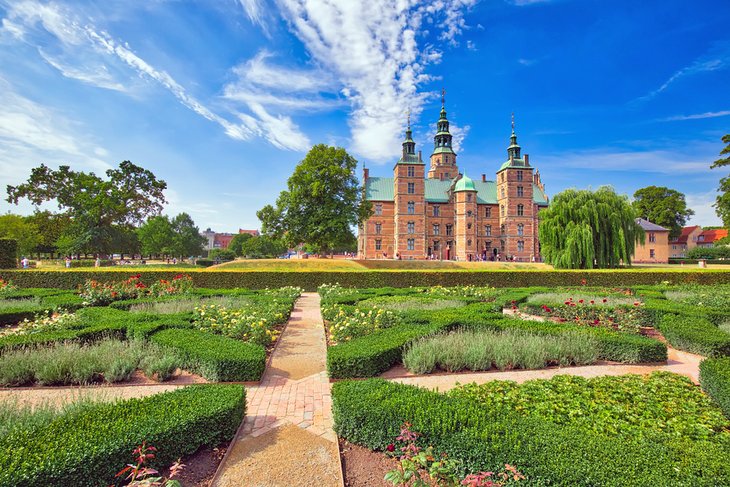 If you're looking for peace and tranquility, you'll find it in spades at Copenhagen's King's Garden. Also known as Rosenborg Garden (for its location on the grounds of Rosenborg Palace), this beautiful spot was designed during the early 1600s by King Christian IV. Its crowning features include the Hercules Pavillion, a rose garden, a statue of Hans Christian Andersen, and the newly (2001) developed "symmetrical Renaissance garden," Krumspringet.
11. Frederiksborg Palace, Hillerød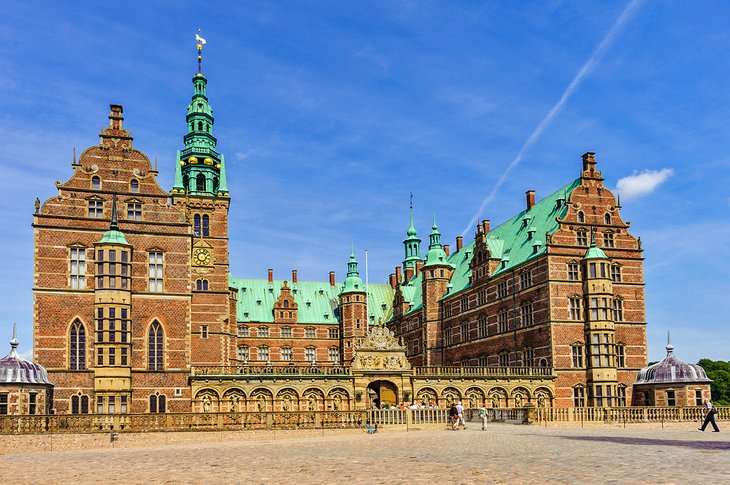 Built in the early 17th century, this resplendent palace is sometimes referred to as the "Versailles of the north." Also home to The National Museum of History, the palace is surrounded by perfectly manicured gardens. Within them lies King Frederick II's Bath House Palace (a.k.a. Badstueslot), which is sometimes still used by the Royal Family to host "hunt lunches."
12. Egeskov Castle, Kvaerndrup, Funen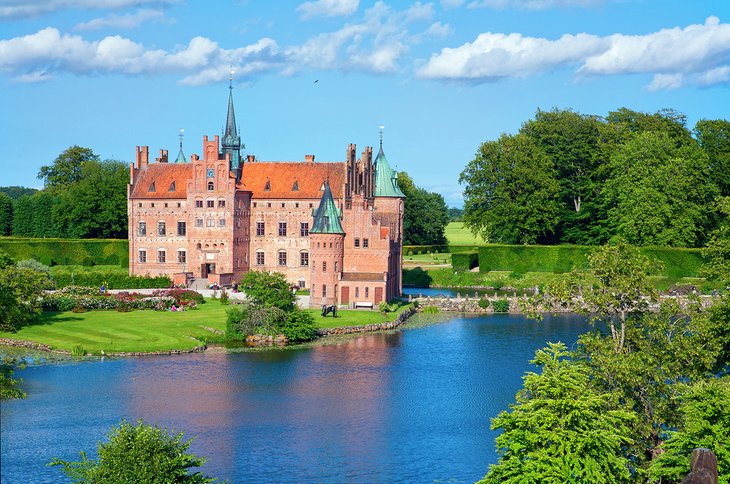 What is a castle without a moat? This glorious Renaissance beauty has stood just outside Kvaerndrup, in the south of Funen Island, for 460 years. This impeccably preserved structure is home to the descendants of once-owner Henrik Bille, who purchased the property (and castle) in 1784. Its phenomenal garden has been voted "One of the most fabulous gardens in the world."
13. Kronborg Slot, Helsingør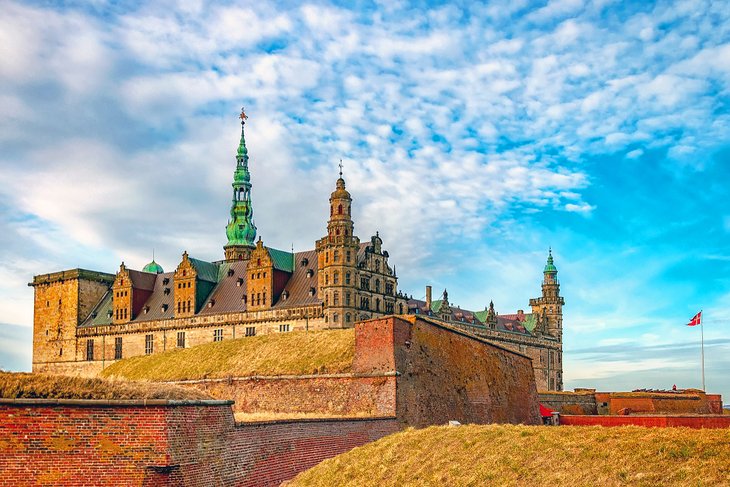 A UNESCO World Heritage Site, Kronborg Slot is a magnificent castle topped by Baroque copper spires. Ringed by a unique star-shaped bastion, this lovely palace was the inspiration for William Shakespeare's Elsinore Castle of Hamlet fame. An entry ticket gets you a close-up view of some of the palace's inner rooms, including a creepy and dark underground maze of passages. On a clear day, you can see clear across to Sweden from the Flag Bastion.
14. Hans Christian Andersen Museum, Odense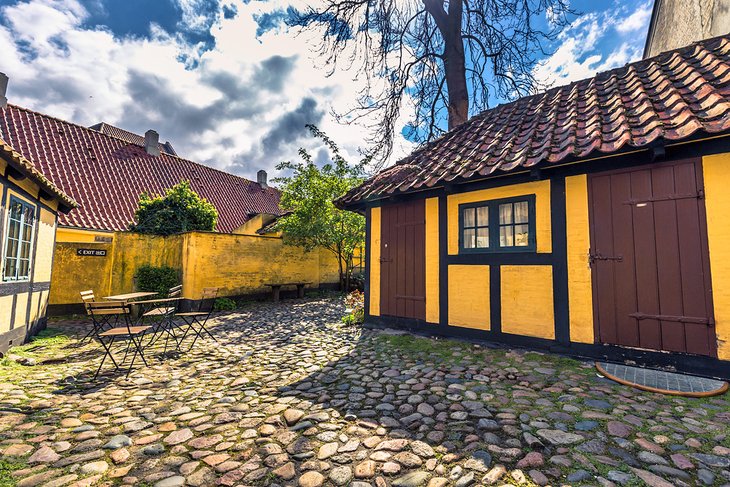 This adorable building comprises one part of the popular Hans Christian Andersen Museum in Odense, a village so adorable you'll swear you've stepped foot in one of the famed author's tales. The home itself proffers a welcome jolt of yellow, brightening the corner of what was once a slum. This historic area is now filled with charm and the requisite cobblestone streets.
15. Christiansborg Palace, Copenhagen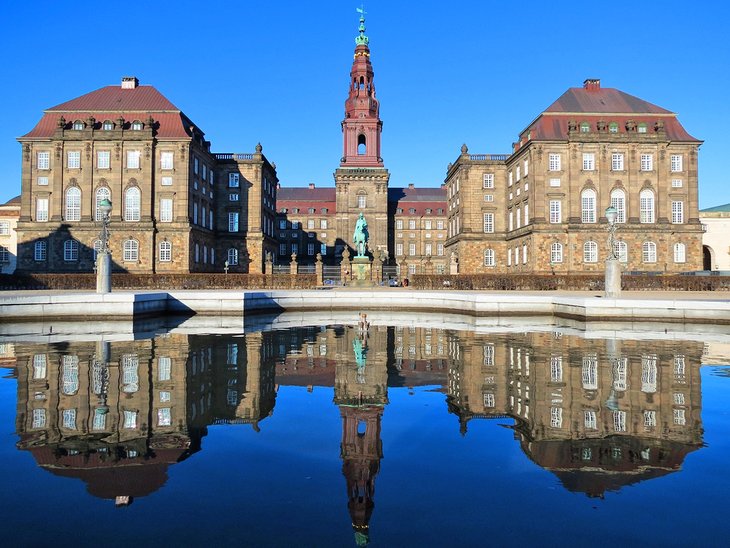 This impressive, 800-year-old palace is the epicenter of Denmark's political world. Home to the Danish Parliament Folketinget, Prime Minister's Office, and Supreme Court, the iconic building lies on a tiny island called Slotsholmen. Some areas of the palace are also used by the royal family to host functions. Danish monarchs are avowed on a balcony located off the Throne Room.
16. Thy National Park, Jutland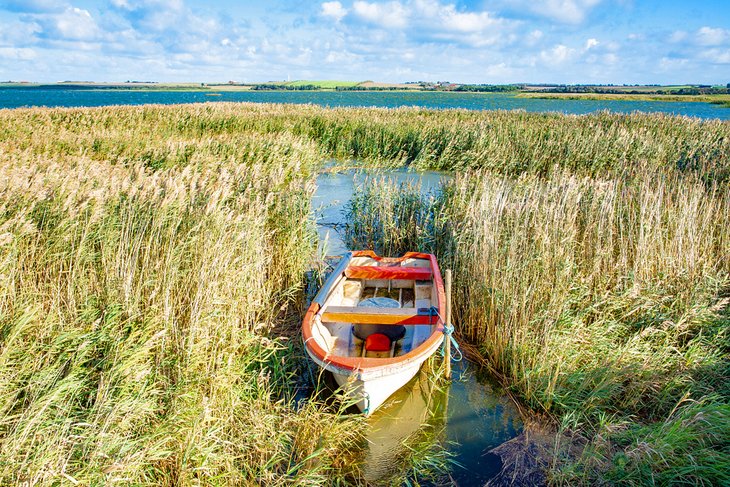 Denmark's oldest national park is wild and wonderful. Its best features include vast rolling hills, sandy dunes, and gnarled forests, while the rugged landscape begs adventurers to discover its every crevice. With over 200 kilometers of trails to travel (via foot, bike, or on horseback), there's plenty of space to explore. Don't miss a visit to Stenbjerg, a historic fishing village oozing with charm.
17. Ny Carlsberg Glyptotek, Copenhagen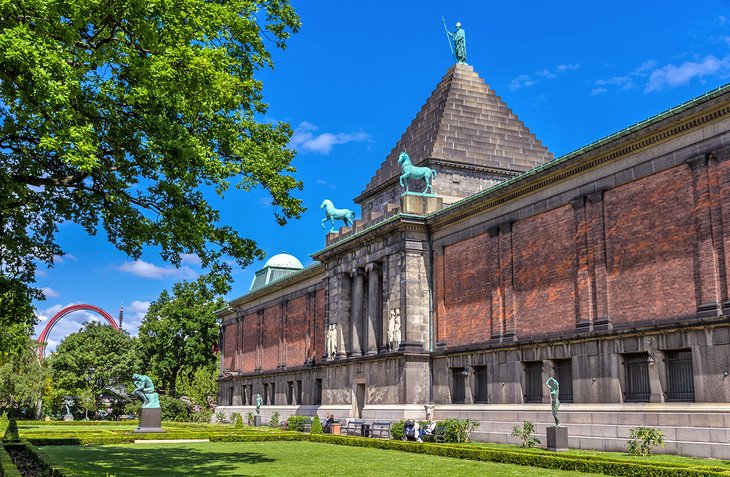 Ny Carlsberg Glyptotek is a magnificent art museum built to house the personal collection of Carl Jacobson. Inside, you'll find over 10,000 pieces ranging from Post-Impressionist paintings by Paul Gaugin to sculptures by Auguste Rodin. Located beside Tivoli Gardens, the museum's location couldn't be more central, and there's a comfortable café on site.
18. Øresund Bridge, Copenhagen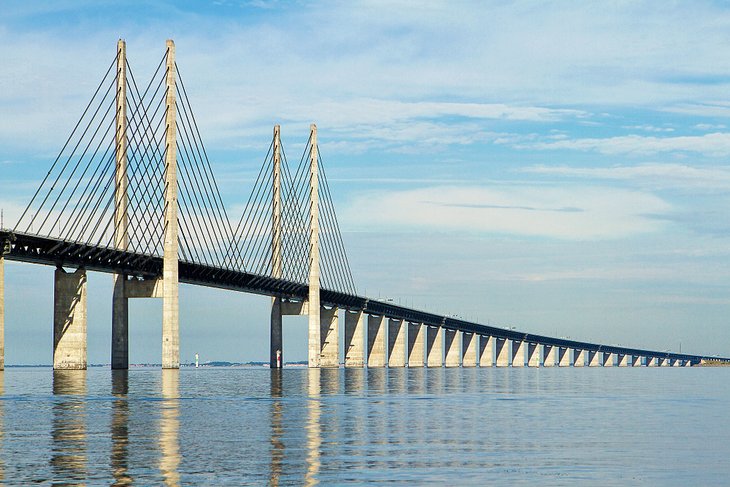 This remarkable feat of engineering has been transporting vehicles and trains across the Oresund Straight from Copenhagen in Denmark to Malmö in Sweden since 2000. Spanning 16 kilometers, the bridge was designed by architect Georg K.S. Rotne and includes a four-kilometer-long underwater tunnel, as well as a man-made island named Peberholmen. It has become even more famous due to its prominence on a popular Nordic television show called The Bridge.
19. Ribe, Jutland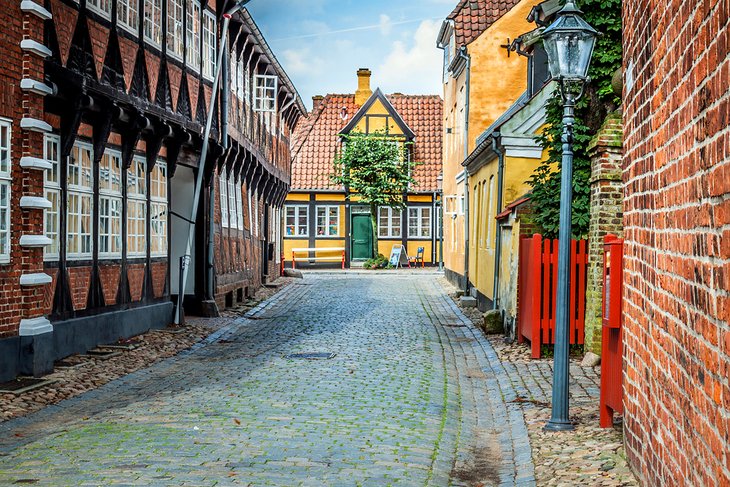 If you're looking for a place to take postcard-worthy pics filled with charm and character, this is it! A sweet small town in southwest Jutland, Ribe dates back to the late 9th century. Its historic vibe is accentuated by the stone walls, cobblestone streets, and winding laneways. Ancient buildings greet visitors with a crooked smile, seemingly about to fall over but never quite giving in.
20. Dragør Village, Copenhagen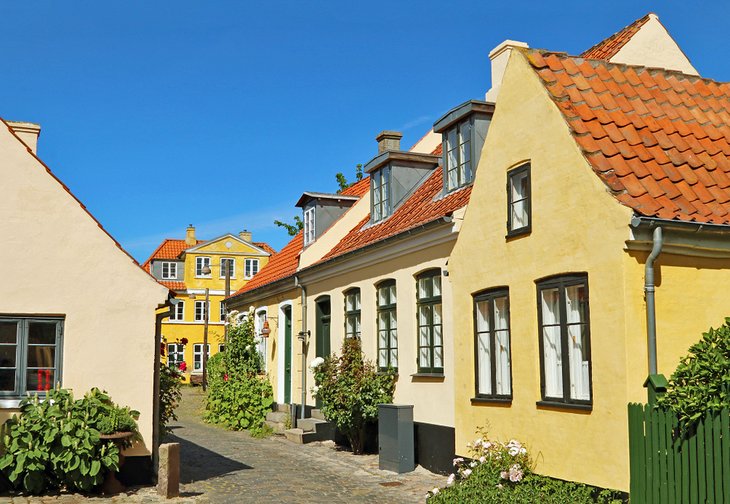 Step back in time, or into the pages of a storybook in Dragør, a well-preserved village harking back to the days when horses were the preferred mode of transportation. The old town consists of adorable, orange, clay-shingled buildings circa the 18th and 19th centuries. Alongside them lie winding, narrow streets that eventually lead to the town's historic port.