11 Top-Rated Attractions & Things to Do in Malmö
Sweden's third-largest city, Malmӧ has everything you'd look for in a Scandinavian holiday. Charming squares, pretty parks, exciting museums, diverse restaurants, and an iconic castle are just a few of the places to visit.
From historic buildings in the Old Town to avant-garde creations lining the waterfront, tourists are welcomed by beautifully contrasting designs and enough things to do to please everyone. Malmӧ is also home to some of Sweden's top landmarks, like Turning Torso and Oresund Bridge, linking Sweden to Denmark.
Located over 610 kilometers south of Stockholm, this isn't the place to visit for a day trip, so it's best to plan a long weekend if you're traveling that far. Those touring Copenhagen, on the other hand, can easily visit Malmӧ in a day trip — the drive is a mere 50 minutes.
Use our list of the best things to do in Malmӧ to plan your trip.
1. Europe's Longest Road/Rail Bridge: Oresund Bridge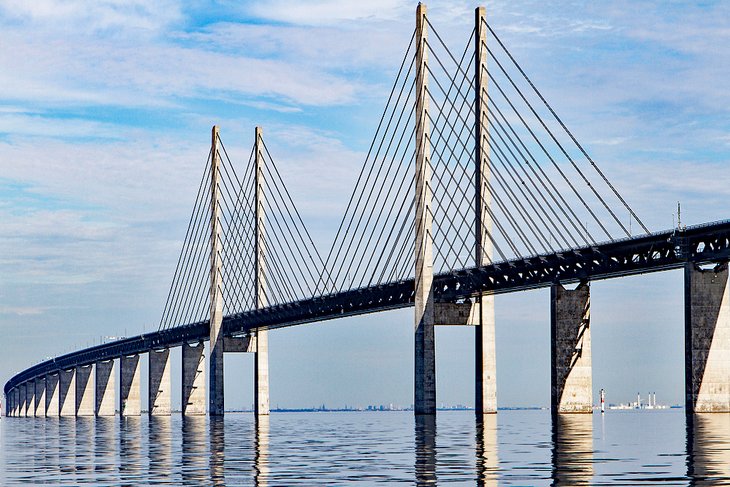 It's a long way down to the water from the top of the magnificent Oresund Bridge (Øresundsbroen), and an even longer way from one side to the other. Running about 16 kilometers from Sweden to Denmark, this landmark is one of the most recognizable structures in the country, and it transports both cars and trains, connecting them to the rest of Europe.
The bridge lies a 15-minute drive from Malmö city center and consists of three sections — a bridge, a man-made island (Peberholm), and a tunnel. The bridge itself stretches about eight kilometers to a tunnel of four kilometers, constructed so as not to impact the incoming aircraft to nearby Copenhagen airport.
Decades in the planning, and famous throughout the world since opening in 1999, this spectacular bridge has gained further infamy as the central focus of the smash hit Danish/Swedish TV drama The Bridge.
If you get the chance, take a trip across the bridge and through the tunnel to Sweden's neighbor, Denmark. After all, a day or even an hour spent in the lively city of Copenhagen is never wasted.
2. Turning Torso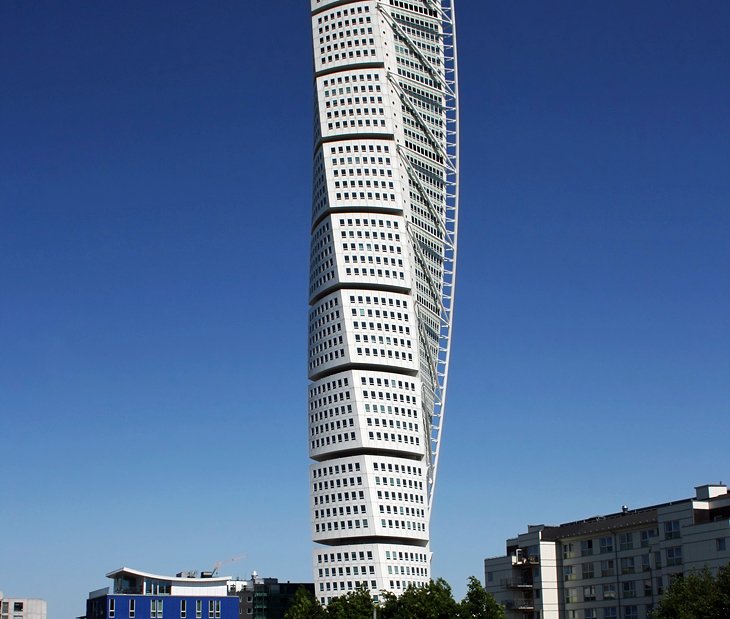 The Turning Torso is Sweden's most talked-about building; you'll understand why when you see it up close. First, it's tall enough to force your neck all the way back to see the top (it is the tallest building in Scandinavia, after all). Second, it's twisted. The world's first "twisted skyscraper," this architectural masterpiece is fascinating from all angles.
Reaching 190 meters high, it combines residential, office, and conference space. Not a bad place to spend a day of work! Another bonus, it lies about 2.7 kilometers from Malmö Central Station and is easily reached by bus or car.
The skyscraper is based on a sculpture by designer, artist, and architect Santiago Calatrava called the "Twisting Torso," which featured in the competition brochure for the design and construction of Oresund Bridge. The cutting-edge building took four years to complete. Opened in 2005, it is supplied with locally produced renewable energy.
This eye-catching and iconic structure has put Malmö firmly on the architectural map. The views from the observation deck on the 49th floor are must-sees when in the area (the top floors, 53 and 54, are only open to the public on certain days — check ahead for availability, or ask when you pick up your tickets).
Address: Lilla Varvsgatan 14, 211 15 Malmo
3. Lilla Torg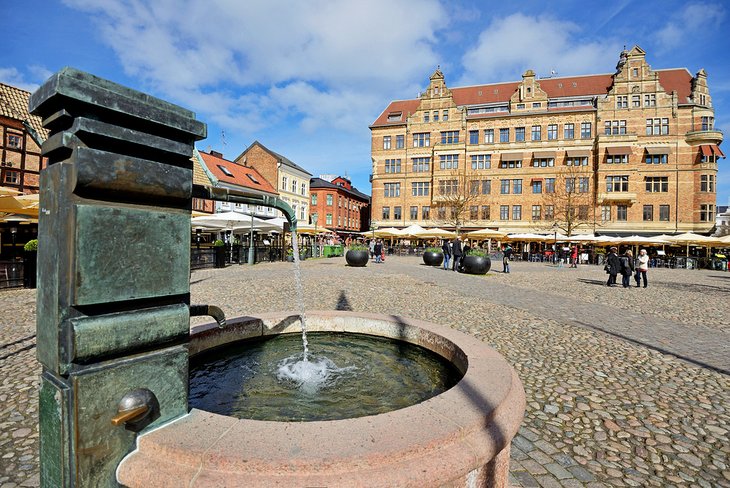 Lilla Torg — literally translated as "Little Square" — is one of Malmö's busiest spots, no matter the season. It's able to trace its heritage all the way back to the 1500s with the establishment of a medieval market here.
Today it's the best spot in Malmö to enjoy a coffee, relax, and people-watch. Numerous terraced cafés overlooking the town square jostle alongside one another. All serve a range of food, from traditional Swedish to sushi.
If the hustle and bustle gets too much, the restaurant at the Elite Hotel Esplanade offers sedate fine dining. Lilla Torg is also famous for its picturesque merchants' or burghers' houses dating from the 16th, 17th, and 18th centuries.
Address: Lilla torg, 211 34 Malmö, Sweden
4. Explore Historic Malmö Castle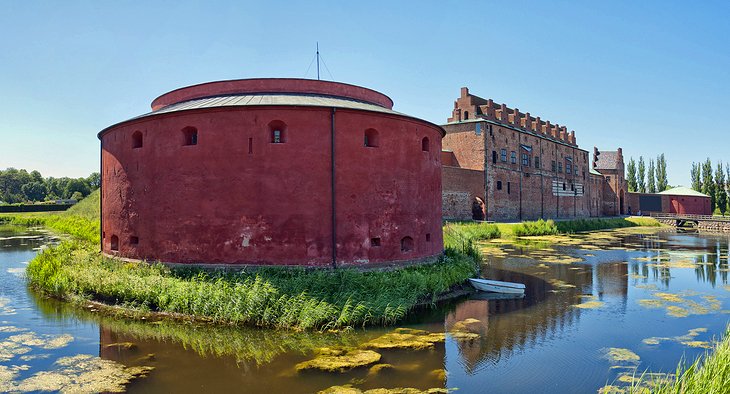 Malmö Castle (Malmöhus) is more than just a photo-worthy icon. A must-see for any visitor, this impressive attraction houses several of the city's major museums within its historic walls. These include Malmö Museum of Art, the City Museum, the Natural History Museum, a small aquarium, and the Science and Maritime House.
Permanent exhibitions here feature topics such as natural history, ocean voyages, and technology, and the museum hosts several temporary exhibitions each year. Opening hours are from 11am to 5pm or 6pm, depending on the day. It is closed Mondays.
The castle itself was originally a minor citadel dating from 1434. Denmark's currency was coined here in the Middle Ages, and during the 19th century, the castle served as a prison. Today, the restored Malmöhus Castle transports visitors back to the 16th century. It is the oldest preserved Renaissance castle in the Nordics.
Location: Malmöhusvägen, Malmo
5. Take a Stroll in the City Parks: Kungsparken and Slottsträdgården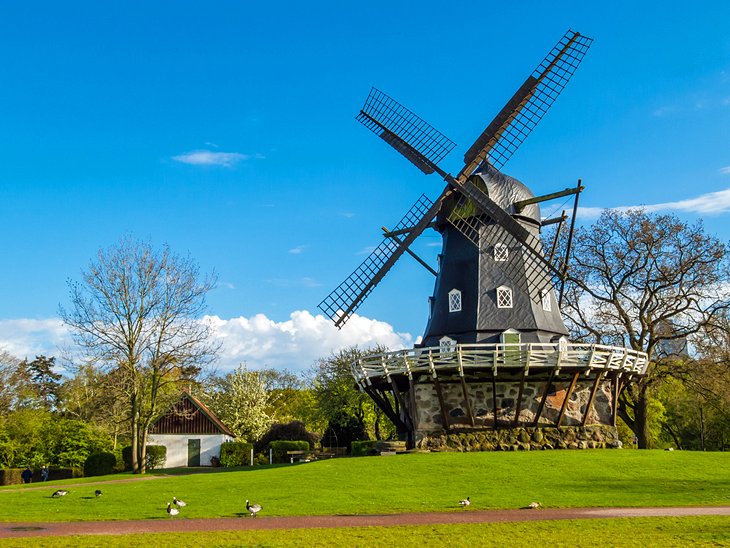 Hoping to enjoy a picnic? You're in luck. Malmö is well-known for its beautiful city parks. In the heart of the city, right by Malmöhus Castle, the 8.4-acre Kungsparken (The King's Park) is Malmö's oldest park. It was originally called King Oscar's Park after it was opened in 1872 by the Swedish monarch and is inspired by English gardens. Pack a lunch!
Ponds and exotic old trees punctuate this peaceful oasis in the city, and you can relax on the lush lawns, feed the ducks, and explore a vaulted cave. The beautiful cast iron fountain at the center of the park dates from 1882 and was the city's first piece of public artwork.
Across a little bridge from Kungsparken is another beautiful park, Slottsträdgården. Highlights are the castle windmill and seasonal plantings, including vegetables and colorful flowers like tulips, primrose, and sweet peas. Don't miss the sculpture Pegasus by Carl Milles, one of Sweden's most famous sculptors.
About a 20-minute walk away from Kungsparken, Pildammsparken is another city park, with more than 10,000 flowers planted in its "flower alley" and plenty of ducks to feed. It's particularly beautiful in Autumn when the leaves are changing colors.
Kungsparken
Address: Slottsgatan 33, 211 33 Malmö, Sweden
Slottsträdgården
Address: Malmöhusvägen 4, 211 18 Malmö, Sweden
6. Malmö Art Gallery (Malmö Konsthall)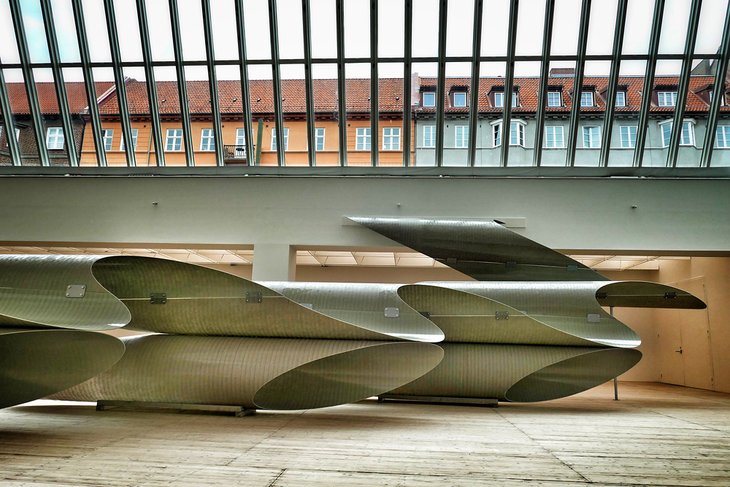 Hosting rotating exhibitions of national and international contemporary art, Malmö Art Gallery (Malmö Konsthall) opened in 1975 and has one of Europe's largest exhibition halls. The construction materials are light and simple: concrete, glass, wood, and aluminum. Constructed of 550 domes, the ceiling in the gallery varies in height and incorporates plenty of natural light.
The result is a structure that is almost as interesting as the thought-provoking exhibits it hosts. If visiting on a Sunday, you can enjoy a great brunch (a particular favorite with trendy locals) at Restaurant Wega, which also serves lunch daily. Entry to the museum is free, and it is closed Mondays. A bookshop is located on-site.
Address: St. Johannesgatan 7, 20580 Malmö
7. Experience a Slice of Swedish Hospitality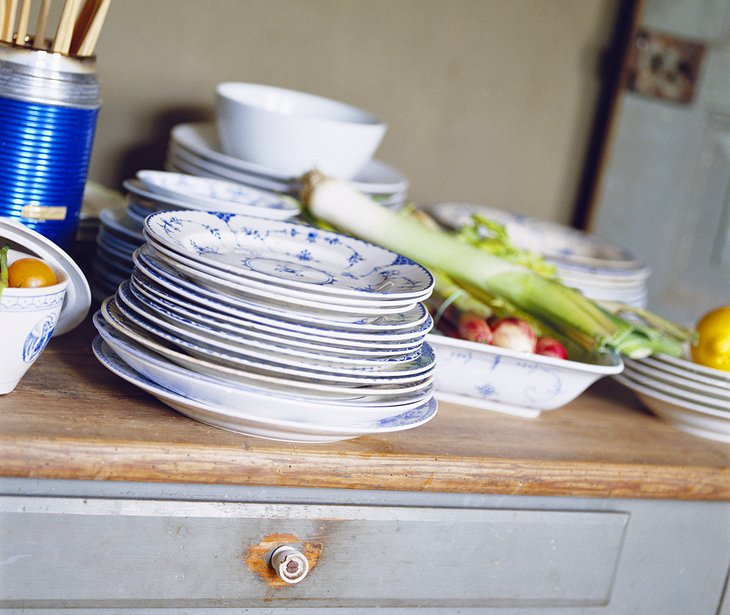 Meet the Malmö locals with A Slice of Swedish Hospitality. This is your chance to mix with Swedes behind the scenes. Locals share their homes and advise visitors how to enjoy the sights, make the most of shopping, experience authentic Swedish food, and discover the hidden treasures Malmö and the region have to offer.
All are welcome, including single travelers, families, or friends, with a maximum of five people per group. A meal with a local family includes two courses, generally a main followed by dessert, and afterward a chat or possibly a stroll, weather permitting. A word to the wise: be on time, Swedes are extremely punctual, particularly at meal times.
8. Visit Moderna, the Museum of Modernism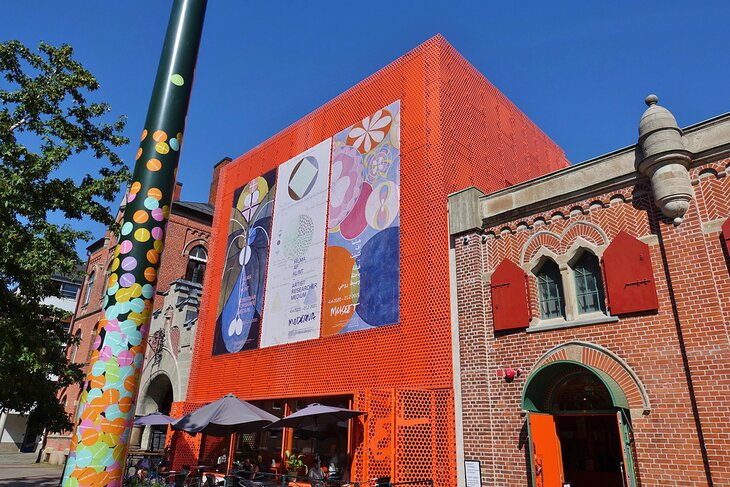 An easy eight-minute walk from St. Peter's Cathedral (St. Petri Kyrka), the Museum of Modernism (Moderna Museet Malmö) is known as a little piece of Stockholm in Malmö. The museum opened in 2009 as a branch of the state-owned Moderna Museet (Stockholm), and it also runs courses and seminars.
Formerly an electricity plant with a striking new orange-red annex, the building houses modern and contemporary works of art. Installations include film, photography, design, and paintings. Entry is free. After touring the exhibits, you can enjoy coffee or lunch in the café.
Address: Gasverksgatan 22, Malmö
9. St. Peter's Church (Sankt Petri Kyrka)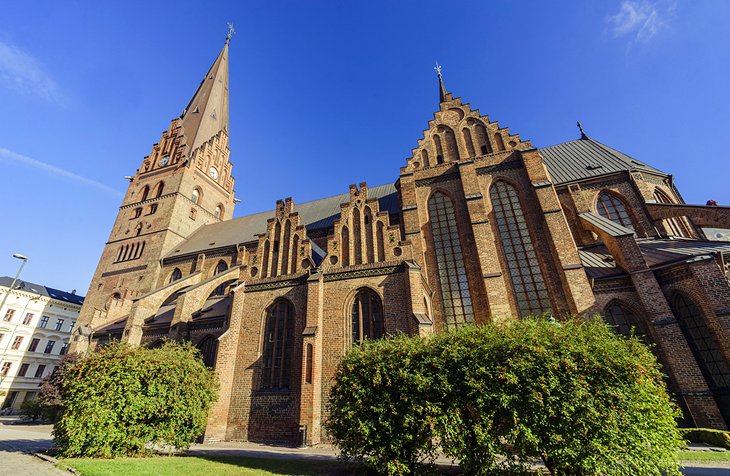 Located near Central Station, St. Peter's Church (Sankt Petri Kyrka) dates from the 14th century and is Malmo's oldest church. This imposing brick Gothic building is known for its impressive wooden retable, the largest such piece in Northern Europe, and its 17th- and 18th-century gravestones.
In the early 20th century, ceiling murals in the Krämare Chapel were restored, providing a glimpse of the intricate art that once adorned the walls and ceilings elsewhere in the church before it was whitewashed in later years. It's worth wandering through this distinctive landmark to soak up some of its rich medieval ambience.
Address: Göran Olsgatan 4, 211 22 Malmö
10. See the Gardens of Katrinetorp Country House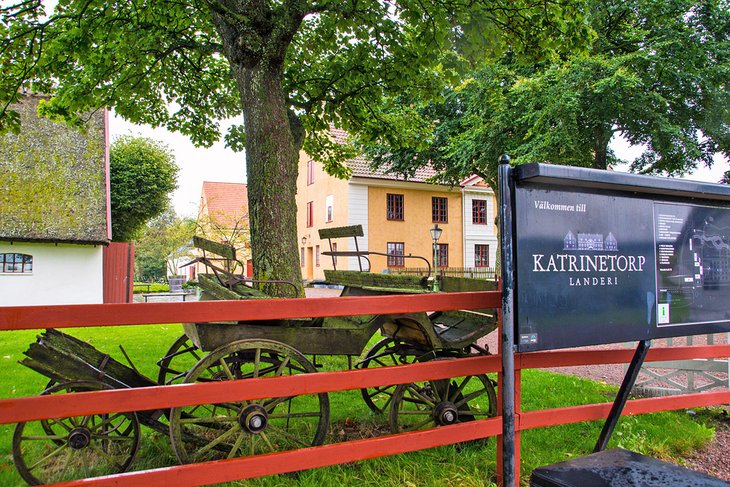 Katrinetorp Country House (Katrinetorp Landeri), located on the outskirts of Malmö about a 15-minute easy drive, is one of the best-preserved Empire-style manor houses (Herrgård) in Sweden. Originally built in an idyllic location for one of southern Sweden's richest families, the 19th-century home is surrounded by magnificent landscaped gardens.
Also on-site are a garden café and antique store. During the year, Katrinetorp hosts a harvest fair, various exhibitions, and evening concerts. Guided tours are available during the summer on select days. Its annual Christmas market helps to make Malmӧ one of Europe's best places to spend Christmas.
Address: Katrinetorps allé 1, 215 74 Malmö
11. The People's Park (Folkets Park)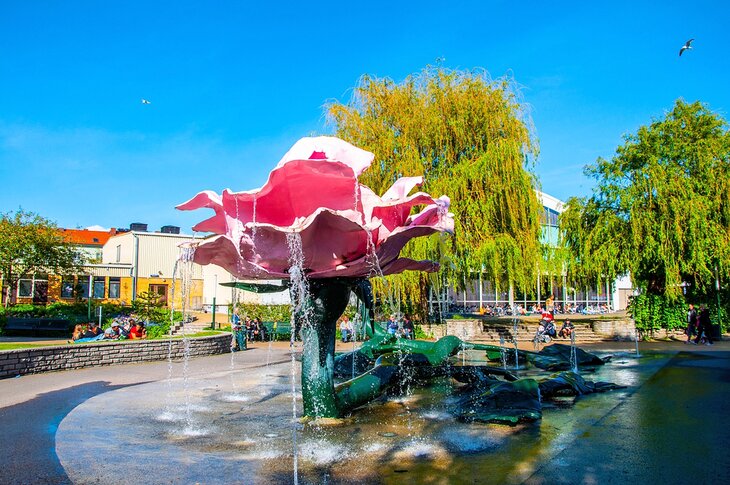 Malmö's People's Park (Folkets Park) is a favorite destination for locals and visitors — especially families with young children. For more than a century, people have come here to unwind. Among other tourist attractions, you'll find a green area with ponds, a popular children's playground, miniature golf, and a half-pipe for skateboarding.
Ice-cream stands and cafés are on hand if you need a snack, and in winter, the wading pool is converted into a small ice rink for skating. The park also serves as a venue for festivals and events.
Address: Amiralsgatan 35, 214 37 Malmö
Malmo, Sweden - Climate Chart
Average minimum and maximum temperatures for Malmo, Sweden in °C
J
F
M
A
M
J
J
A
S
O
N
D

3

-1

2

-2

5

0

9

2

16

7

19

11

21

13

21

12

16

10

12

7

7

3

4

0

PlanetWare.com
Average monthly precipitation totals for Malmo, Sweden in mm.

43

25

36

41

43

53

66

74

51

53

53

51
More Exciting Swedish Cities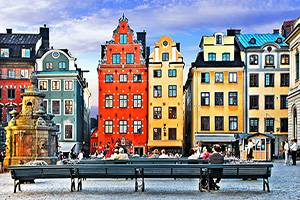 Malmö is not the only Swedish city near Denmark. About 65 kilometers north of Malmö the busy port city of Helsingborg lies a short hop across the Oresund strait from the similarly-named Danish town of Helsingor, home to Hamlet's castle, the majestic Kronborg. More than 200 kilometers to the north of Helsingborg, Gothenburg exudes a laid-back, European vibe. For things to see and do in and around the pretty capital of Sweden, check out our article on Stockholm as well as our page on fun day trips around the city, which includes the medieval university town of Uppsala. Only a 35-minute flight away from Stockholm, the island of Gotland is a hot vacation destination for Swedes and international visitors alike.