10 Top-Rated Attractions & Things to Do in Helsingborg
It's easy to fall in love with Helsingborg. Sitting serenely at a narrow section of the Øresund strait, this pretty coastal town seamlessly blends old-world charm with modern amenities and interesting things to do. Enjoy a picnic in one of the lush parks, dine in an upscale restaurant, and visit a few of Sweden's best tourist attractions.
The ideal time to visit Helsingborg is during summer, when the weather is pleasant, the colors are dazzling, and the city is bustling with activity. This is when tourists can best enjoy the Fredriksdal Open-Air Museum & Botanical Garden, eat on outdoor patios, and stroll easily along the vibrant waterfront.
Feeling extra energetic? A 395-kilometer-long bicycle path called Kattegattlede runs along the coast, leading cyclists from Helsingborg to the charming town and attractions of Gothenburg.
Discover the best places to visit with our list of the top things to do in Helsingborg.
1. Visit the City's Most Famous Landmark: Kärnan (The Kernel)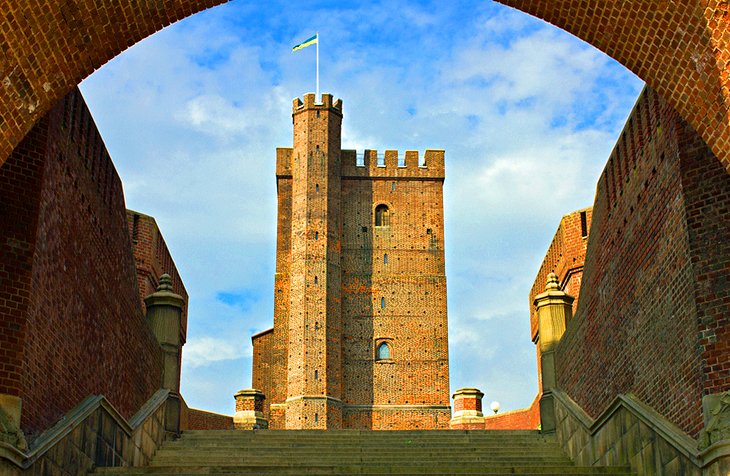 It's impossible to miss Helsinborg's most famous landmark, the "Kernel," or Kärnan, especially if you arrive by sea. This iconic brick tower stands 35 meters high and occupies the upper end of the long market square (Stortorget). Get your camera ready, because it's a fab backdrop for travel pics.
At the end of the square, two towers frame a broad flight of steps that lead up to Konung Oscar II's Terrass, where the old medieval defensive tower stands. Again, this is a perfect place to visit for snapping pictures.
Originally part of a Danish fortress, the Kernel was built in the 1300s as the central feature of a stronghold that was itself erected on the site of an even earlier timber fortress, probably dating from the 10th century. The rest of the castle was destroyed in 1680, leaving only the tower standing.
From the top — a climb of 190 steps — you can enjoy superb views of the town and over the Oresund to Denmark. Beyond Kärnan is Slottshagen, a beautiful park with a sculpture by Christian Eriksson, The Hunt, as well as the remains of the old fortress.
Address: Slottshagsgatan, 250 07 Helsingborg
2. Fredriksdal Open-Air Museum & Botanical Garden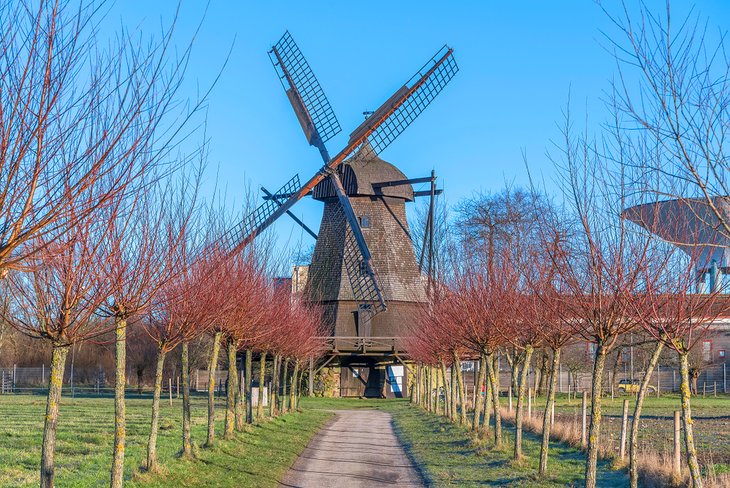 Traveling with kids? Take them to the Fredriksdal Open-Air Museum & Botanical Garden (Friluftsmuseum). This must-see attraction is a hit with families and a haven for historians.
Tourists can stroll around the expansive grounds and experience a real working Skåne farm, along with numerous old yet well-preserved countryside houses and outbuildings. Other highlights include the old 18th-century Fredriksdal Mansion, a Music Museum, a Botanic Garden, Grafiska Print Museum, and an open-air theater.
Kids will love all the farm animals, and in the old town quarter, you can buy traditional sweets or even roses in the flower shop. In essence, Fredriksdal is the rural Skåne of old, spread across 360,000 square meters of an utterly unique setting. Food and drink concessions are located on-site, as is a well-stocked gift shop.
Address: Gisela Trapps Väg 1, 254 37 Helsingborg
3. Sofiero Castle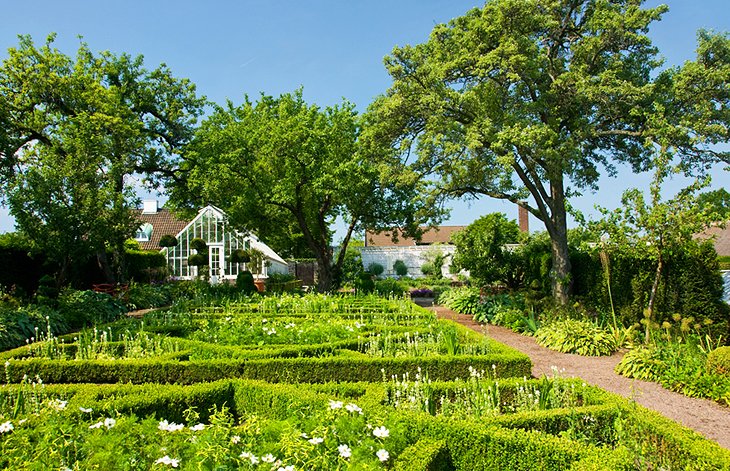 Be honest, who doesn't love a good castle tour? Located about five kilometers north of Helsingborg, Sofiero Castle (Sofiero slott) lies in one of Europe's most beautiful parks, boasting a truly regal history.
It was built in the 19th century, and once served as a summer getaway for Swedish royalty. In the spring and summer, the flower and kitchen gardens are simply magnificent, and you can enjoy informative exhibitions and a variety of exciting events and activities here.
Another ideal place to visit for families, this castle holds particular appeal for children, as they can take part in activities such as gardening and storytelling. Imaginative and safe play areas are on hand for all ages, and colorful blooms, such as rhododendrons and dahlias, provide beautiful photo opportunities.
Guided tours are available in English. A restaurant and café are located on the premises and offer a variety of seasonal dining experiences, including the always popular Christmas dinner.
Hours change depending on the season, so it's best to view the opening hours on their website.
Address: Sofierovägen 131, 251 89 Helsingborg
4. See the Animals at Tropikariet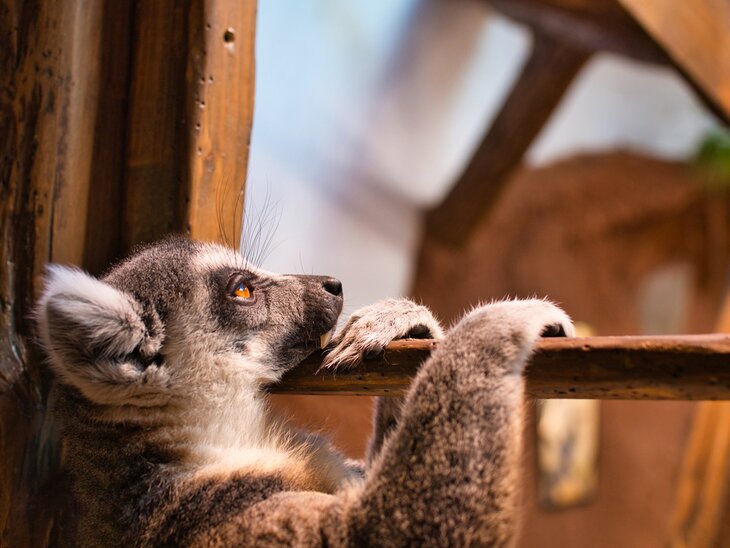 Ever pet a crocodile? You can do that, and so much more (including feed a lemur), at Helsingborg's most popular family attraction, Tropikariet. While the animal encounters rank as the most exciting things to do at this fun indoor zoo, wandering around the various exhibits is something tourists won't forget.
Unlike many other zoos, the exhibits here have few barriers; bats and birds fly freely around, and for an extra fee, you can hold a snake, touch a shark, or feed a lemur. Exotic animals including lemurs, monkeys, meerkats, bats, and birds are just some of the creatures in this recreated tropical rainforest, and a small aquarium displays sharks and a coral reef.
Rain or shine, this fun attraction allows tourists to immerse themselves in another world. After all those entertaining animal adventures, stop by Café Masai Mara for refreshments and snacks. Guided tours are also available.
Address: Hävertgatan 21, 254 42 Helsingborg
5. The Town Hall (Helsingborgs rådhus)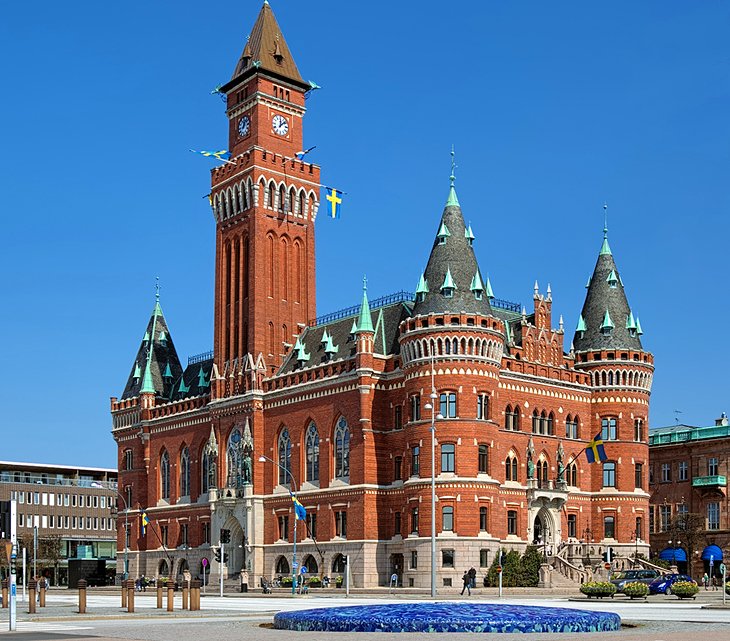 At the lower end of Stortorget, Helsingborg's attractive neo-Gothic town hall (Helsingborgs rådhus) dates from 1870 and is one of the city's most eye-catching landmarks. The building features a 65-meter-high tower and stained-glass windows depicting events in the history of the town. Guided tours are available.
In front of the town hall are Norwegian and Danish memorial stones, commemorating the assistance given by Sweden when these countries were occupied by the Germans during the Second World War, and opposite is the well-known statue of the Swedish General Count Magnus Stenbock (1664-1717)
Address: Järnvägsgatan 35, 252 25 Helsingborg
6. Dunker Culture House (Dunkers Kulturhus)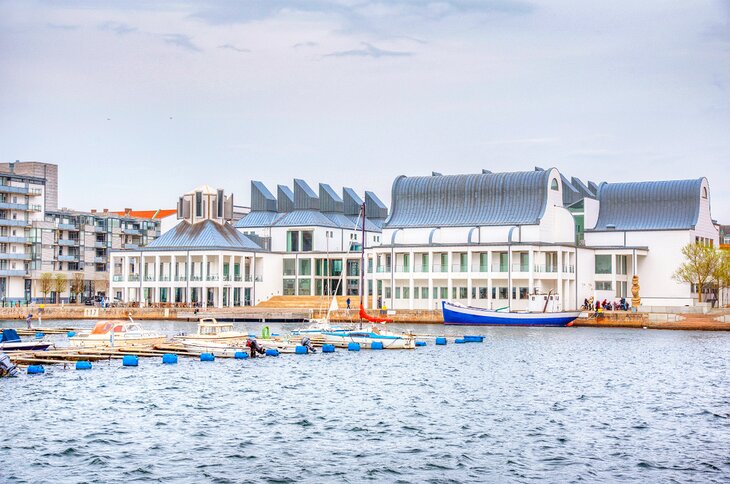 Filled with art galleries and special exhibitions, the Dunker Culture House (Dunkers Kulturhus) hosts international music, theater, dance, and cultural activities for young people. Inside is a restaurant, bistro, and the Helsingborg Tourist Information Center, so this is a good place to visit for information about the town and area.
A multimedia exhibit provides an interesting overview of the town's history, and in the Reading Room, you can browse through journals and books on diverse topics, including theater, music, history, art, archaeology, architecture, and film. The restaurant offers great views out over Öresund.
Interestingly, the building was designed by Danish architect Kim Utzon, son of Jörn Utzon, who designed the iconic Sydney Opera House.
Address: Kungsgatan 11, 252 21 Helsingborg
7. St. Mary's Church (Mariakyrkan)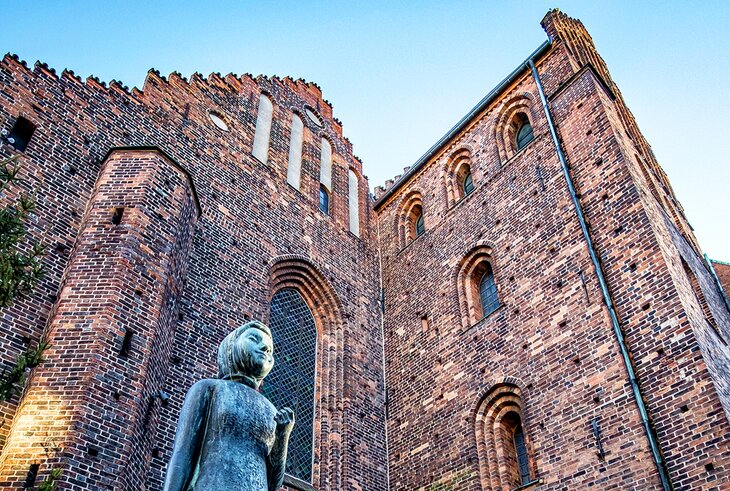 The pretty Gothic church of St. Mary's Church (Mariakyrkan) is one of Helsingborg's oldest buildings. It dates from the 12th century, when it was built in the Romanesque style, and was renovated in the 15th century in Gothic style.
Swedish places of worship are noted for their simplicity both internally and externally. However, notable features of the interior here are the elaborate reredos (c. 1450); the pulpit dating from 1615, with intarsia decoration; a historical chart from 900 CE to modern times; and the beautiful stained glass.
Address: Södra Storgatan, Helsingborg
8. Take a Day Trip to Helsingor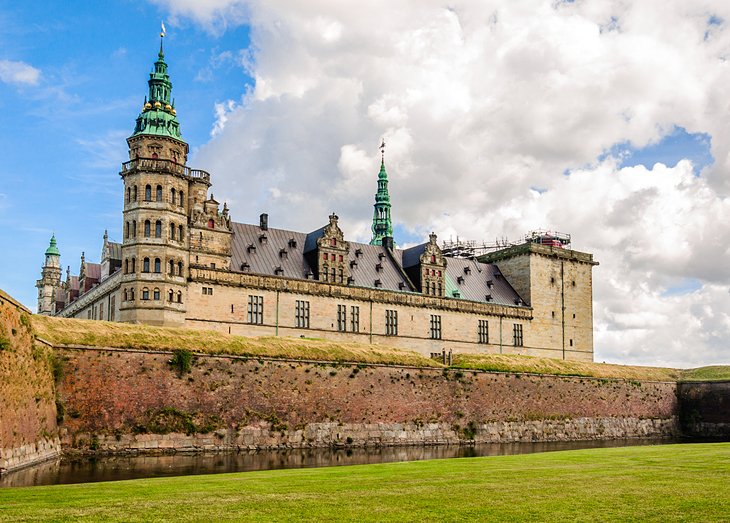 Helsingborg lies only four kilometers across the Øresund strait from the captivating attractions in the medieval Danish city of Helsingor, so it's easy to squeeze a day trip to Denmark into your itinerary. You can take your car on the ferry or travel on foot, and the total journey is only about 20 minutes.
Once you arrive, don't miss the mighty Kronborg, best known as Hamlet's Elsinore Castle and now a UNESCO World Heritage Site. Also, take time to explore the labyrinth of cobblestone streets and half-timbered houses in the medieval quarter, and stop by the well-preserved Carmelite Monastery (Karmeliterklostret) attached to St. Mary's Church (Sankt Mariæ Kirke).
9. Helsingborg Concert Hall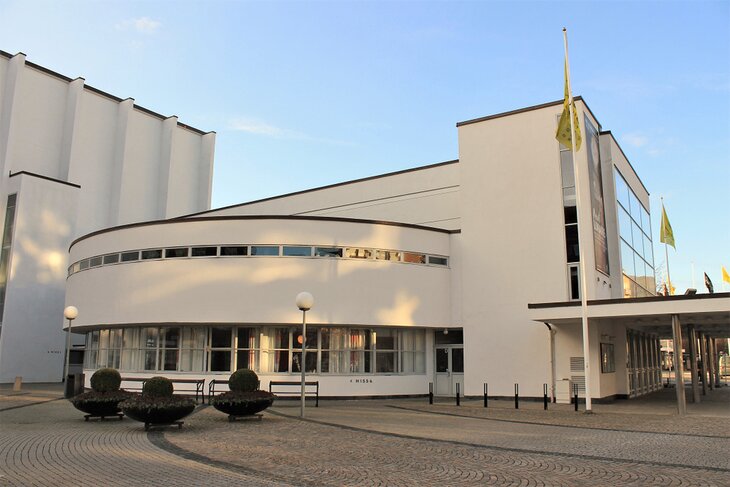 Situated between Drottninggatan and Kungsgatan, you'll find the Concert Hall (Helsingburg Konserthus). Designed by Sven Markelius in 1932, the building is one of the finest examples of Swedish functionalism and has been declared a historic structure.
The hall is known for its particularly fine acoustics and is home to the Helsingborg Symphony Orchestra (HSO). Lovers of classical music should check out the varied program on offer.
Address: Drottninggatan 19, S-25067 Helsingborg, Sweden
10. Helsingborg Print Museum (Grafiska Museet)
Located in the old town quarter of Fredriksdal Open-Air Museum, Grafiska Museet Helsingborg is the largest working print museum in Scandinavia. This is a surefire stop on a tour of Helsingborg for lovers of the printed word.
Inaugurated in 1995, the museum's mission is to preserve the proud craft and history of printing in the Skåne area. More than 50 volunteers demonstrate the workings of printing presses dating back hundreds of years.
Address: Fredriksdal Museums and Gardens, Gisela Trapps väg 5, S254 37 Helsingborg
More Must-See Destinations near Helsingborg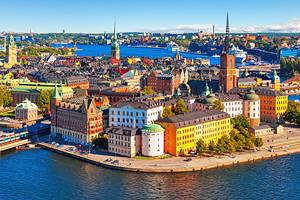 A mere four kilometers across the Oresund strait from the Danish city of Helsingor, Helsingborg is not the only Swedish city close to its European neighbor. About 65 kilometers south lies multicultural Malmö, where the iconic Oresund Bridge connects Sweden to Denmark. North of Malmö, Gothenburg is also relatively close to Denmark and has a distinctly European feel.
Any trip to Sweden should also include a visit to the beautiful capital, Stockholm, often called "the Venice of the North" thanks to its many waterways. From here, you can explore some exciting destinations in the surrounding countryside on fun day trips, including the medieval university town of Uppsala. Only a 35-minute flight away from Stockholm, the beautiful island of Gotland attracts many vacationing Swedes and international visitors alike.