10 Top-Rated Attractions & Things to Do in Gotland
It's easy to see why Gotland has become such a hot spot for summer vacationers. The largest of the Baltic Islands, this Swedish paradise is magical, tranquil, and wildly beautiful. Here, tourists will find plenty of interesting things to do, like visit the fairy-tale town of Visby, lounge on a pristine beach, and tour the Botanical Garden.
If seeing ruined churches is your thing, you're in luck. Visby is home to a former Dominican monastery. For even more ancient excitement, visit during Medieval Week, an annual celebration each August that includes jousting, live shows, and delicious treats.
Bring the kids along for a fun-filled getaway from Stockholm, which is a mere 35-minute flight away. They'll love swimming in the Blue Lagoon, walking on Visby's ancient walls, and soaring on rides at Kneippbyn Amusement Park.
Find more worthwhile places to visit on our list of the best things to do in Gotland.
1. Visit Historic Visby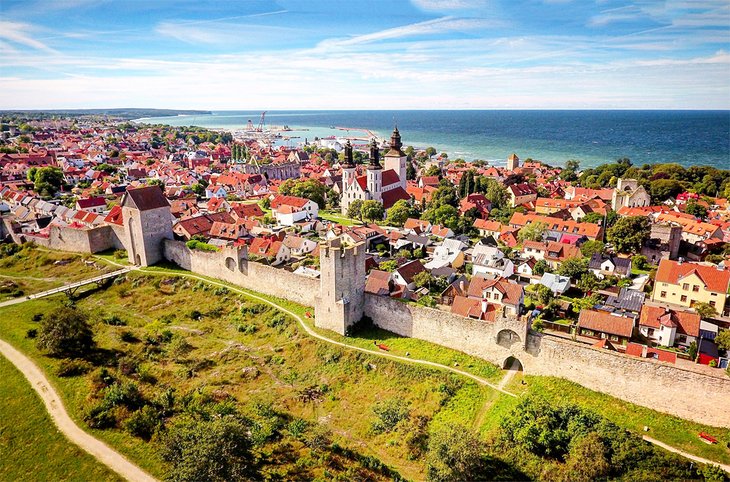 Visby is to Gotland as Nice is to Italy; an unmissable city filled with historic charm, tasty restaurants, and impressive tourist attractions. If arriving on the island by ferry, visitors will dock at this famed medieval town, so beautifully preserved that it's been deemed a UNESCO World Heritage Site.
Ringed by 13th-century walls, it's one of the most picturesque, postcard-perfect towns in Scandinavia and one of the most popular places to visit in Sweden.
Expect to be greeted by quaint cottages, old turrets and towers, and countless church spires. In summer, they'll be adorned with blooms, adding to their allure. Add to this the town's leafy bowers and its serpentine cobblestone streets and cute shops, and you will never want to leave.
Settle in at one of the many cafés and eateries and soak up the medieval surroundings. A speciality in Gotland is saffranspannkaka, a saffron pancake smothered with red berries and dollops of cream. It's utterly delicious.
Other popular things to do in Visby include strolling around town to see the many medieval sights and a walking tour along the 3.5-kilometer-long medieval city walls. See St. Mary's Cathedral (Visby Domkyrka) and St. Nicholas' Church to admire some architectural features from the 13th century, and visit the Gotlands Museum for a dose of island history.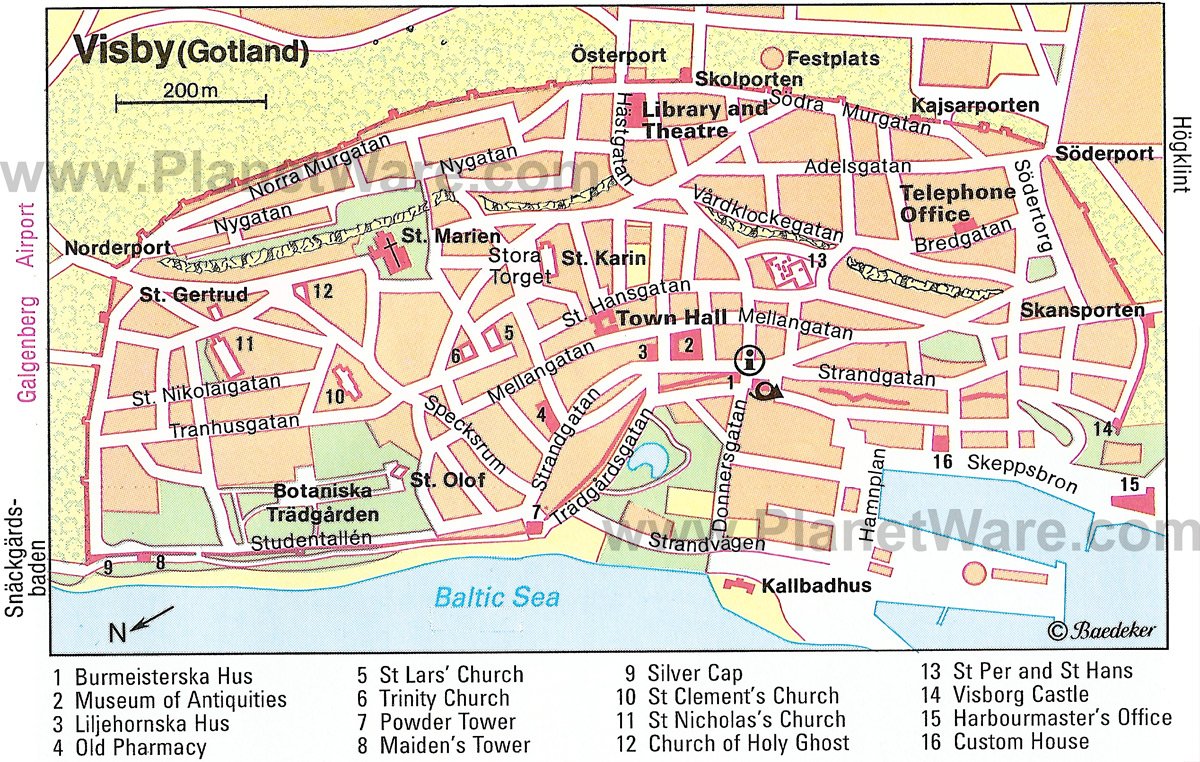 2. Walk Visby's Town Walls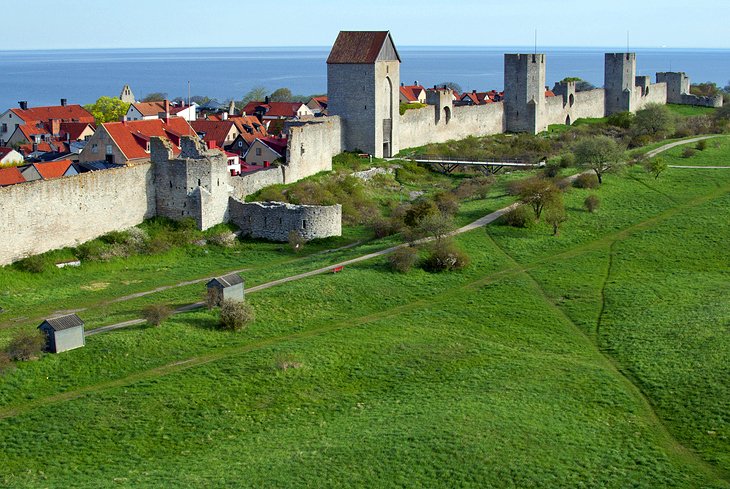 There's something magical about walking along the 13th-century limestone walls of Visby. Stretching over 3.5 kilometers, these ancient walls transport guests back in time, while presenting them with remarkable views of the town and the sparkling Baltic Sea.
Dotting these formidable medieval walls are 44 towers standing 15 to 20 meters high. Near the north end stands the Maiden's Tower (Jungfrutornet), where legend has it that the daughter of a Visby goldsmith was walled up alive for betraying the town to the Danes out of love for the Danish King, Valdemar Atterdag.
From here, the walls run east to the line of cliffs, turn south at the town's main gate (Norderport), follow the edge of the cliffs to Söderport (South Gate), and finally veer west to end at the ruins of Visborg Castle overlooking the harbor.
Regular walking tours in English are available; check with the Tourist Office for details.
3. Gotland Museum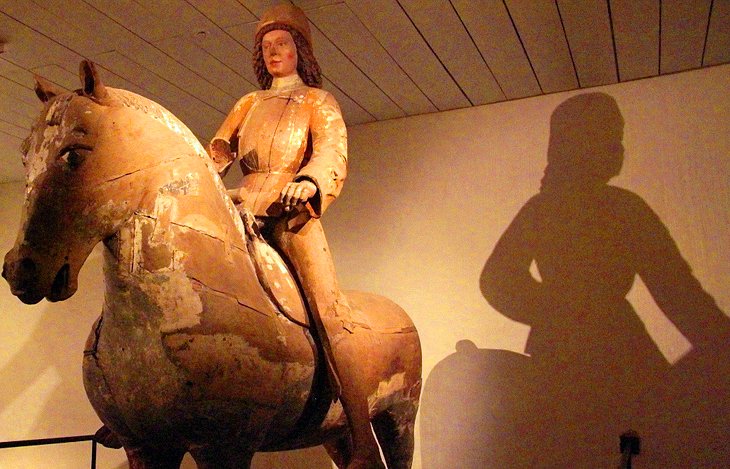 Attention history buffs — Gotland Museum is a must-see for those wishing to immerse themselves in the island's history and culture. Founded in 1875, this museum is filled with interesting exhibits that are packed with information on the town's storied past. Not surprisingly, it is one of the top attractions in Visby.
Permanent exhibitions include not only antiquities and artifacts dating back some 8,000 years from the Stone Age to Viking times, but also natural history and art. Highlights include fossils unique to the shores of the Baltic, the world's biggest hoard of Viking silver, and priceless runic stones.
Guided tours of the museum are available (in English), as are informative guided walks around the town.
Address: Strandgatan 14, Visby, Gotland
4. DBW's Botanical Garden (Botaniska Trädgården)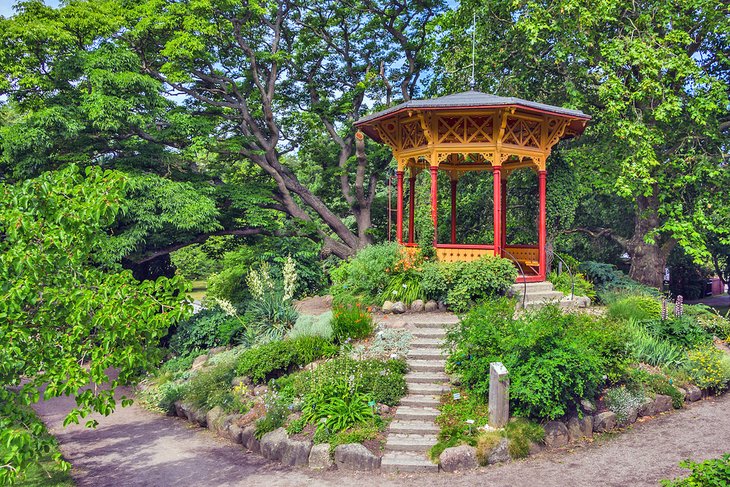 Even if you aren't a horticulturist, you'll want to spend time in the majestic DBW's Botanical Garden (Botaniska Trädgården). Located a short stroll from the town walls, this beautiful 150-year-old attraction is both breathtaking and rejuvenating. Just inhaling the sweet scents and ogling the lush flora and fauna is enough to decrease stress levels.
History mingles with nature at the garden's south end, where the ivy-cloaked ruins of the Romanesque St. Olof's Church (ca. 1200) stand. The garden is full of rose beds for which Visby, known in Sweden as "the town of roses and ruins," is renowned (rose blooms adorn many of the town's buildings throughout the summer).
Apple, fig, walnut, mulberry, and magnolia trees thrive here in Visby's relatively mild climate, as well as magnificent giant redwoods and Chinese sequoia.
The garden's busy summer program includes outdoor jazz (a Swedish favorite), farmers markets, classical recitals, guided tours, and children's activities. Entry is free, and English-language guided tours are available.
Address: Strandgatan, 621 55, Visby
5. Explore the Ruins of St. Nicholas' Church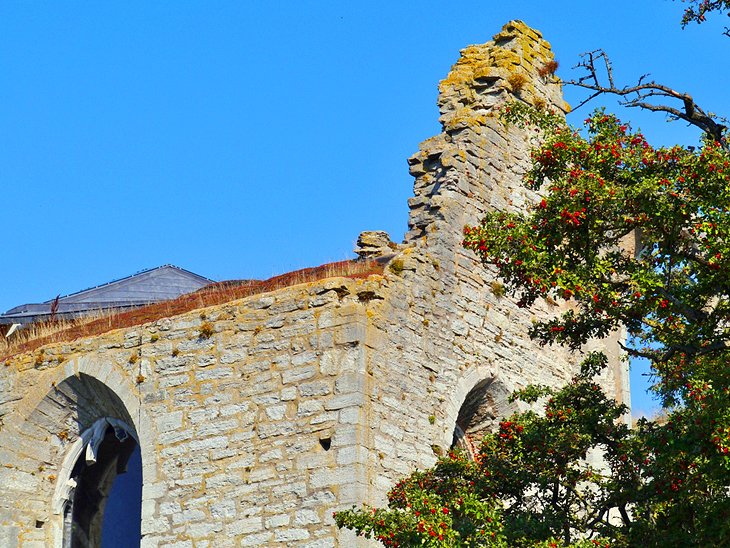 From Visby's Church of the Holy Ghost, a side street runs past the remains of the little 15th-century chapel of St. Gertrude to the ruins of St. Nicholas's Church (Sankt Nikolai), the largest in Visby. Once part of a Dominican monastery, the church was built around 1230, and the Lübeckers destroyed it in 1525.
Two beautiful rose windows adorn the gable end. This hauntingly beautiful church now makes an evocative setting for music and theater performances. That said, the ruins are closed for tours, so tourists can only get a good look during pre-organized events.
Address:Smedjegatan 19, 621 55 Visby
6. Visby Cathedral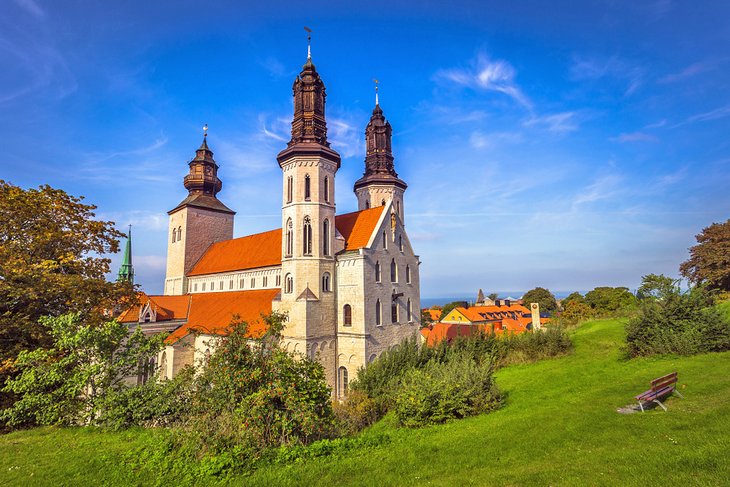 To the west along St. Hansgatan you'll find St. Mary's Cathedral (Sankta Maria Domkyrka). Also commonly referred to as Visby Cathedral, it's the only one of the town's old churches that's still in use. Built by German merchants and consecrated in 1225, it was much altered in later centuries (restored 1899-1907 and again in 1945).
Now one of Visby's most visited tourist attractions, its most notable features include the massive square tower on the west front and two smaller towers at the east end. The south chapel commemorates Burgomaster Swerting, who was executed in 1350. The church contains a fine carved pulpit of walnut and ebony from Lübeck (1684) and a 13th-century font of red Gotland marble.
Address: Västra Kyrkogatan, 621 56 Visby, Gotland
7. Take a Hike in Högklint Nature Reserve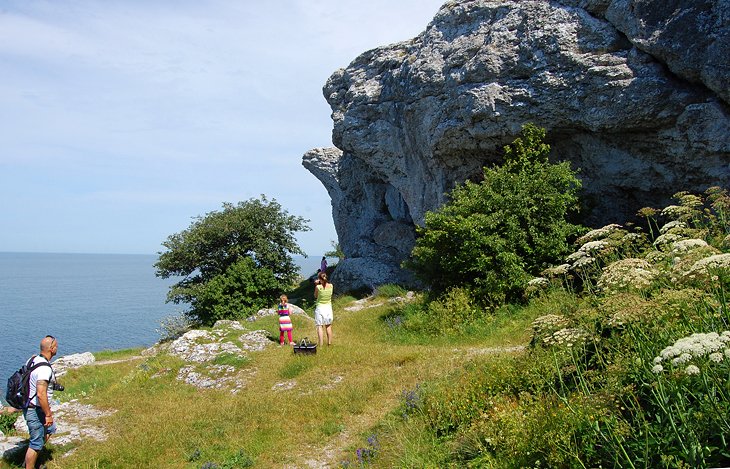 Located about 10 kilometers south of Visby, Högklint Nature Reserve (Hogklint Naturreservat) is a wonderful spot for a hike as you soak up breathtaking views of Visby, the beautiful blue Baltic Sea, and the rocky west coast from Gotland's highest sea cliffs. You can follow a short hike along the rugged cliffs to a path that winds down to some shallow sea caves and the pebbly beach below.
If you continue south, you'll end up at Ygne, a small fishing village. Climbers like to scale the knobby rock formations jutting along the coast. Sunset is a particularly beautiful time to visit, but take extra care walking along the steep cliffs as there are no guardrails. Many visitors like to rent a bike in Visby and cycle out here with a picnic, although biking up the hills can be a challenge.
8. Take a Ferry to Fårö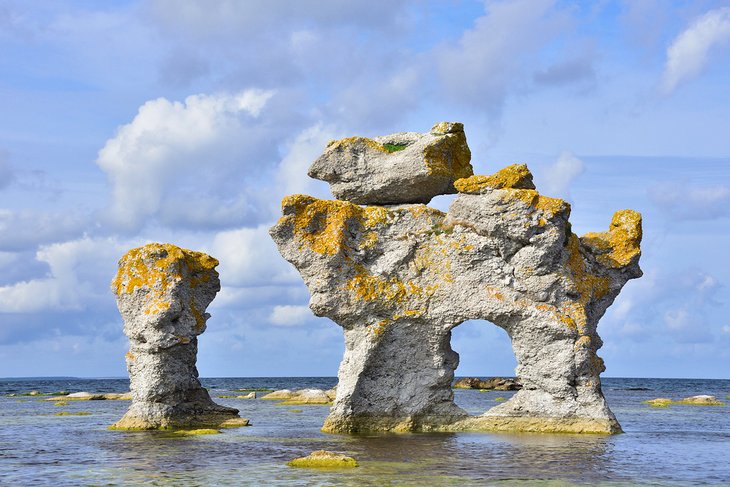 The beautiful island of Farö boasts unique scenery that's different from the rest of Gotland, even though it only takes seven minutes by ferry to cross the strait. The landscape is more barren, and the sand on the beautiful bare beaches seems even finer.
While you're visiting, be sure to see the incredible Langhammars Sea Stacks and Helgumannen fishing village. Tiny fields and buildings dot the landscape, and many structures unique to the island are roofed with sedge, a tradition that has been abandoned elsewhere. Farö's most famous resident was Swedish Film Director Ingmar Bergman, who died at his home on the island in 2007.
A free ferry runs to Farö continuously during the summer and half-hourly at other times of the year.
9. Have Family Fun at Kneippbyn Amusement Park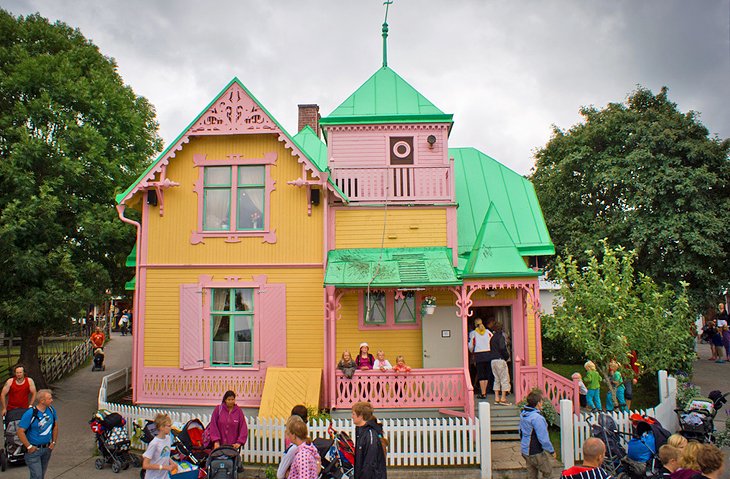 If you're traveling with younger children this colorful amusement park is worth a visit, especially if the kids are fans of Pippi Longstocking. Among other attractions, Kneippbyn Amusement Park is home to a replica of Pippi's Villekulla Cottage; a rollercoaster; go-karts; trampolines; and a gigantic water park suitable for all ages, with plenty of fun slides and pools.
You can also stay here at the Kneippbyn Resort Visby. Accommodation ranges from tents and hotel rooms to holiday cottages, and plenty of other facilities are on-site, including a café, restaurants, shops, tennis courts, and mini-golf. On summer evenings, concerts and activities are staged here for all ages. Regular shuttle buses take visitors to and from Visby several times daily during peak season.
Address: Kneippbyn 15, 622 61, Visby
10. Take a Dip in the Blue Lagoon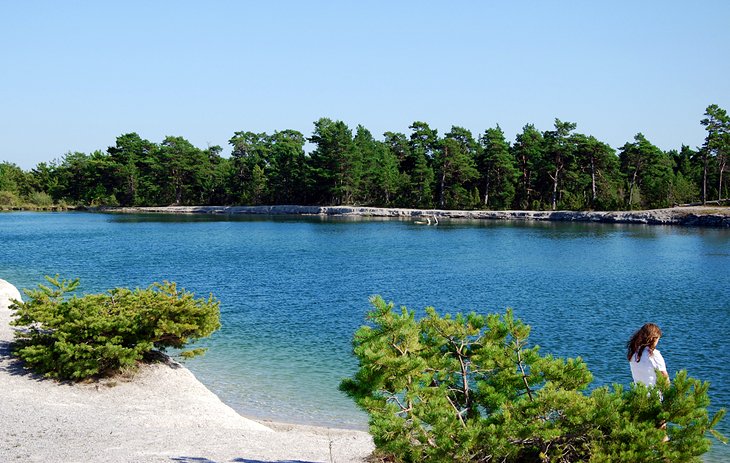 Why is it that the most spectacular places to visit seem to boast a blue lagoon? For instance, one of Fiji's top attractions is a lagoon of this nature, the Bahamas has an island dedicated to its blue wonderland, and Iceland boasts a stunning resort at its Blue Lagoon.
Gotland's Blue Lagoon (Bla Lagunen) is just as impressive. Located on the island's north coast, this pretty place is a popular spot for a cool dip during the summer months. Fringed with white sand and filled with clear blue water that shimmers in hues of turquoise in the sunlight, the lagoon was once a limestone quarry.
It tends to trap the heat, so it's usually a pleasant temperature for a swim in the warmer months. You can also explore the area's walking paths. There are restrooms on-site.
Map of Attractions & Things to Do in Gotland
More Exciting Destinations in Sweden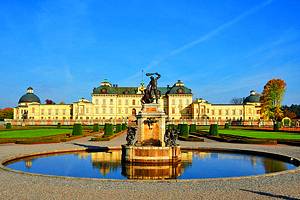 Sweden is full of exciting things to see and do. Less than a 40-minute flight from Gotland, you can see all the top sights in the country's capital, Stockholm, and explore the surrounding countryside on fun day trips. From Stockholm, the picturesque university city of Uppsala is only 70 kilometers away. On the western side of the country, laid-back Gothenburg has a more temperate climate than Stockholm and is a top spot for foodies, while to the south of Gothenburg, both Helsingborg and Malmo lie only a short hop from neighboring Denmark, across the Oresund strait.