14 Best Places to Visit in December
We may earn a commission from affiliate links ()
After summer, December is one of the busiest times of year to travel. People are flying home or to exotic locales for the holidays. Others are getting a jumpstart on ski season. And wanderlusting workaholics are making the most of their time off work to squeeze in one last trip before the end of the year.
But despite the crowds, December is a magnificent time to take a vacation. Christmas markets abound in Europe, especially in Nuremberg and Strasbourg. St. Lucia proves to be the perfect tropical getaway for snow birds up north. December brings some of the best weather of the year to Patagonia. And there's nowhere like New York City for the holidays.
For more ideas on winter travel, check out our list of the best places to visit in December.
Note: Some businesses may be temporarily closed due to recent global health and safety issues.
1. Nuremberg, Germany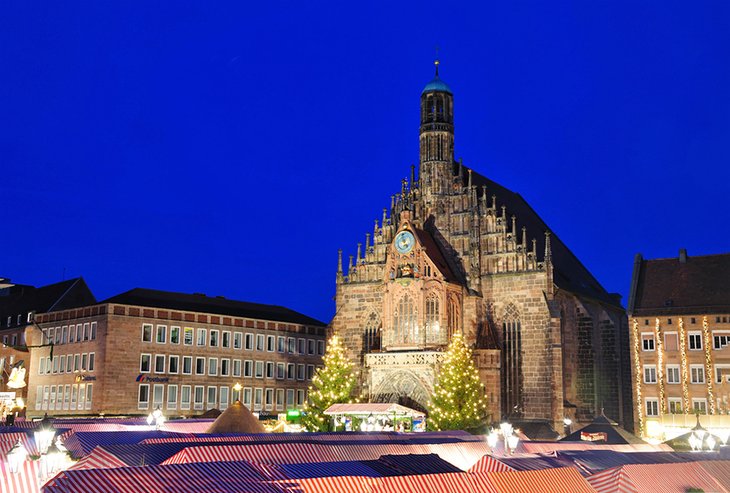 The Christmas markets of Europe are one of the biggest attractions in the world in December, and no other city decks the halls quite like Nuremberg. The small Bavarian city is home to one of Germany's oldest Christmas markets, which has been an annual event at the Hauptmarkt since at least the 1500s.
If you can swing it, try to arrive in Germany in late November, so you can see the highly anticipated Nuremberg Christkind (a gift-giving sprite from German Christmas fables) deliver a prologue in the Main Market Square to mark the opening of the market on the Friday before the first Sunday of Advent.
But even if you miss that event, you'll still be able to enjoy all the charm of the Nuremberg Christmas market during the month of December. Chow down on the city's signature bratwurst and gingerbread, shop for traditional wooden toys and knit hats, and collect a few ornaments for your Christmas tree. There's also a delightful carousel for little ones (and the young at heart).
Accommodation: Where to Stay in Nuremberg
2. Bangkok, Thailand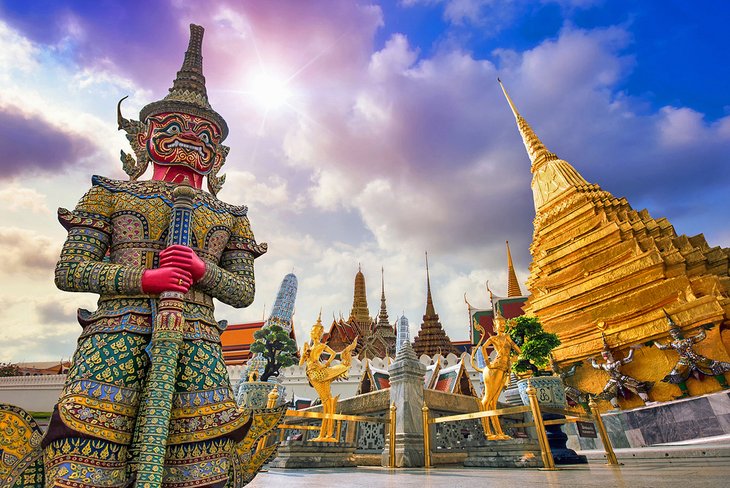 December is the best time of year to visit Bangkok. The monsoon downpours taper off in November, bringing about relatively cool, dry weather to the Thai capital the following month. Expect evening temperatures in the low 20s Celsius, with the mercury hitting 32 degrees Celsius at its highest point during the day.
Take advantage of the pleasant sightseeing weather to explore some of Bangkok's top attractions. The Grand Palace is a must-visit. The nearly 250-year-old palace served as the home for many Thai kings and their royal courts, and features astoundingly ornate architecture. It also houses the sacred Emerald Buddha.
Head just south of the royal compound to see Wat Pho, the oldest temple in Bangkok, where you can marvel at the famous 45-meter-long reclining Buddha statue.
After seeing the attractions, soak up the atmosphere of this bustling city. The backpacker district of Khao San Road is a swirl of color and action, with blaring music, street vendors hawking souvenirs, and guesthouses galore. You can also find the best street food in Bangkok in this area. Don't miss the mango sticky rice.
Accommodation: Where to Stay in Bangkok: Best Areas & Hotels
3. New York City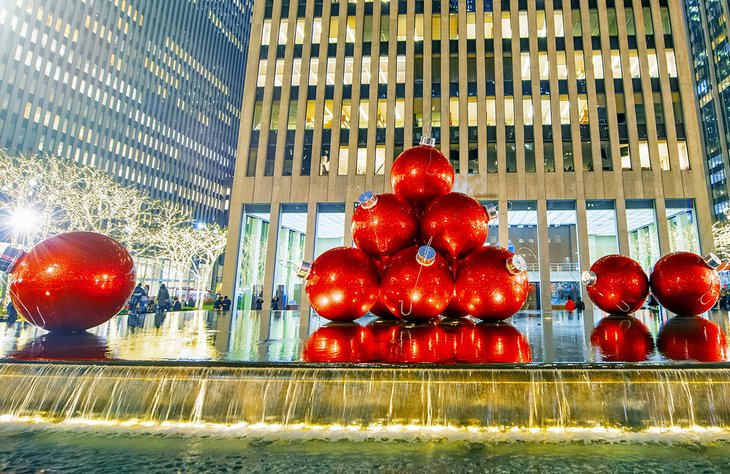 There's no other place like New York City in December. The glass-and-concrete metropolis takes on a winter wonderland feel when the trees are draped in twinkle lights and there's a dusting of snow on the sidewalk.
One of the quintessential attractions in New York City this time of year is Rockefeller Center. It's home to the Big Apple's iconic Christmas tree and a seasonal ice-skating rink that's been an annual tradition since 1936. At nearby Radio City Music Hall, you can watch more than 140 members of the world-famous Rockettes perform their high kicks in unison during the Christmas Spectacular holiday stage show.
Shopping in New York hits its peak in December, as well. Stroll down Fifth Avenue to see the festive holiday window displays in storefronts, and visit department stores like Bloomingdale's and Macy's to pick up gifts for all your loved ones.
Accommodation: Where to Stay in New York City
4. Strasbourg, France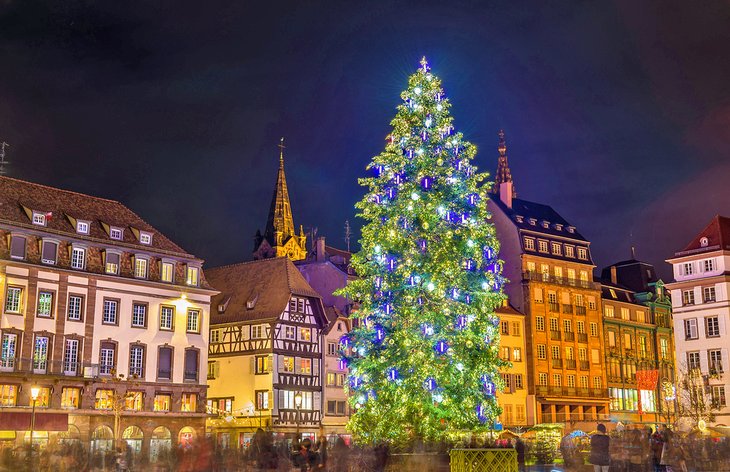 Just over the border from Germany in France, tourists can find another one of the best places to visit in December: Strasbourg. Like its neighbors in the Black Forest, this historic city also throws a renowned Christmas market that swirls with both French and German traditions.
The destination's half-timbered buildings along pristine waterways serve as a fairy-tale-like backdrop for the annual Christkindelsmärik, one of the oldest markets in the city. Shopping from international vendors and sipping on a warm drink while snowflakes dance down on the twinkling market is an experience you'll never forget.
Continue your yuletide sightseeing at Place Kléber, where you'll find the Great Christmas Tree. The massive arbor towers at least 30 meters over the city and features some seven kilometers of twinkling lights, 240 illuminated cherubs and 400 baubles. It's sure to get you into the holiday spirit.
Accommodation: Where to Stay in Strasbourg
5. Hokkaido, Japan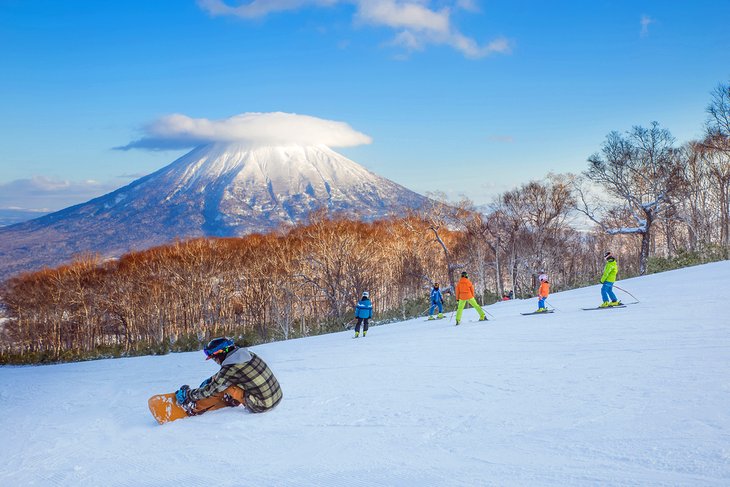 If you're looking to visit legendary ski slopes in December, head to Hokkaido. The northernmost island in Japan, Hokkaido has become one of the world's ultimate places for snow. And this isn't just any snow - it's a special kind of dry, fluffy snow called "Ja-pow" that's earned a cult-following among powder hounds. Ski season kicks off in mid-December, potentially earlier if the weather is right.
You've got plenty of ski resorts on Hokkaido to choose from for your December ski vacation. Ever-popular Niseko gets over 1,500 centimeters of snow every year. Sahoro caters well to international guests and has great tree skiing. Those looking to go off-the-beaten-path might consider Tomamu, which exudes kitschy Japanese culture.
6. St. Lucia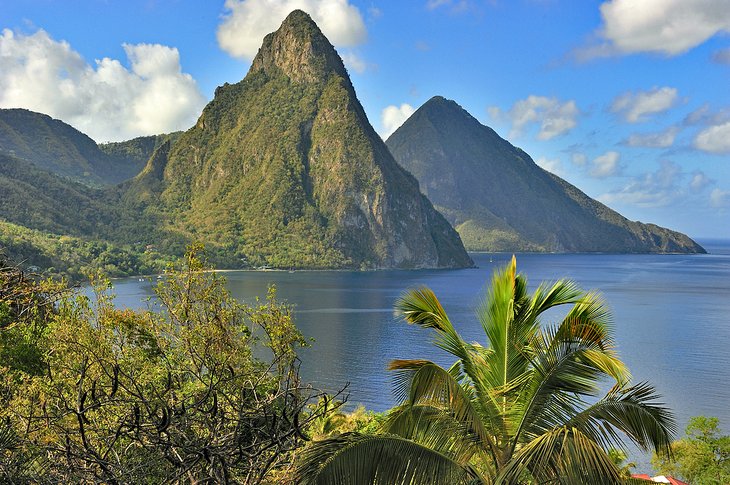 One of the most attractive islands in the world, St. Lucia is an incredible escape from the cold climates up north in December. Simply relaxing at one of the destination's resorts, like Windjammer Resort & Beach Club, will prove to be a memorable way to wind down before the New Year. Spend your days lounging on the beach, taking part in water sports, and going on excursions before settling in and watching the rainbow-streaked sunsets.
St. Lucia also has plenty of things to do for more active travelers looking for some action on their December getaway. Experienced hikers could embark on a challenging trek of the soaring Pitons (although most tourists will simply want to admire their beauty from afar). You could also dive along the Anse Chastanet coral reef, check out views of Martinique and St. Vincent on the Tet Paul Nature Trail, and go sightseeing in the chilled-out fishing village of Soufrière.
No matter how tight your schedule is, make sure you reserve an hour to take a mud bath at Sulphur Springs. Your skin will thank you.
Accommodation: Top-Rated Resorts in St. Lucia
7. London, England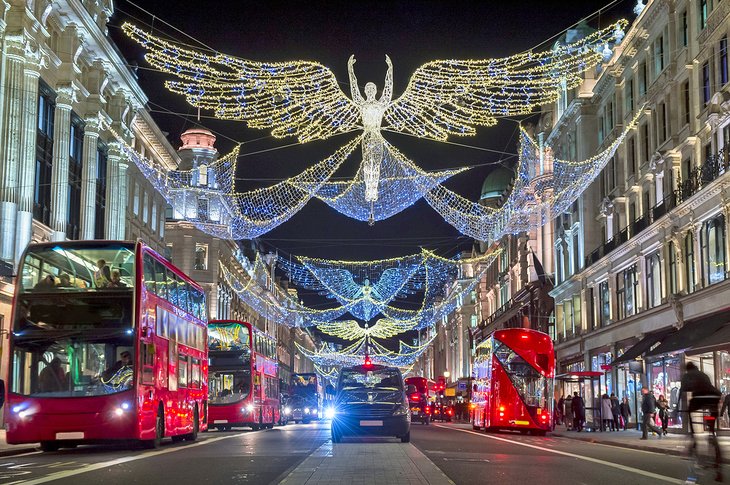 London sparkles in December - literally. The entire city, especially Oxford Street, Regent Street, and Covent Garden, is decked out in twinkle lights and decorations for the holidays, giving it a romantic, almost magical feel. But it's the packed events calendar that makes London one of the best places to visit in December.
On the first Thursday of December, tourists can watch the Trafalgar Square Christmas Tree Lighting Ceremony. Winter Wonderland in Hyde Park is a favorite experience among locals and tourists alike for its observation wheel, amusement park rides, ice-skating, and gift market.
Stroll a mile-long trail that's illuminated by more than a million lights for Christmas at Kew at the Royal Botanical Gardens. And of course, the city hosts its famous New Year's Eve Fireworks on Dec. 31 at the London Eye. Book tickets well in advance to make sure you get a great view.
Accommodation: Where to Stay in London: Best Areas & Hotels
8. Banff, Alberta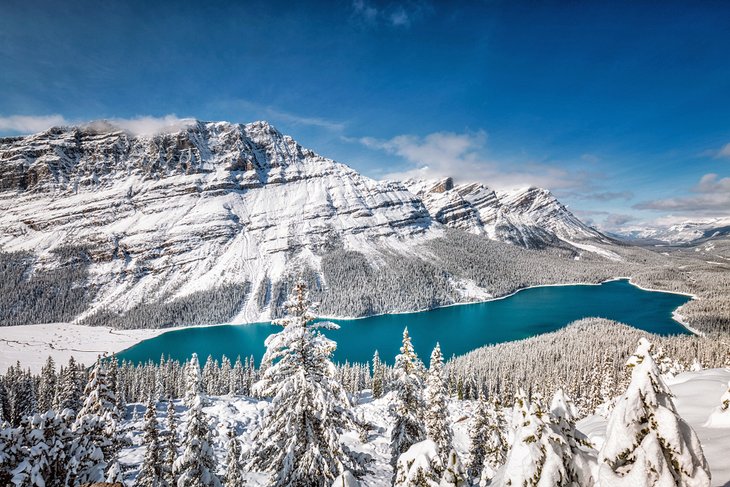 Even if you dread winter now, you'll learn to love it after a trip to Banff in December. This glorious mountain town offers wondrous ice-skating on Lake Louise and some of the best skiing and snowboarding in Canada, along with a lively après ski scene.
But winter activities in Banff don't stop there. Tourists can also go mushing with a rambunctious team of huskies in the Rockies and trek from hut to hut across the Wapta Icefields.
If all that time zooming down and hiking through the mountains has you feeling sore, you can restore your aching joints and muscles in the famous Banff Hot Springs. Cap off your trip with a stay at the historic Banff Springs Hotel.
9. Jackson Hole, Wyoming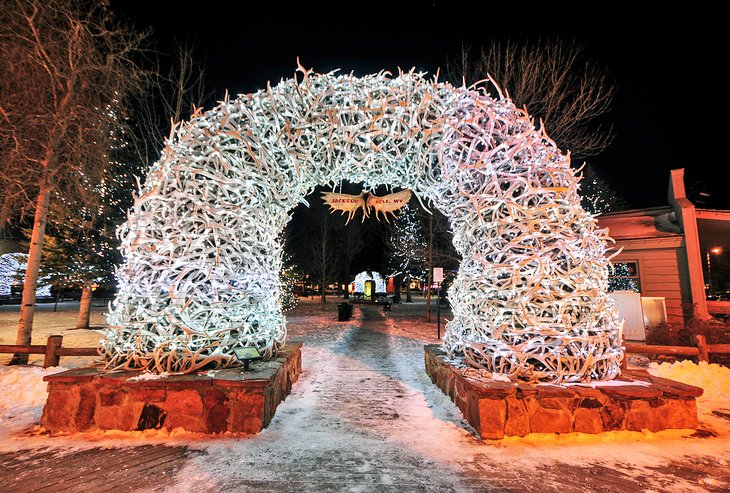 Equal parts luxe and rugged, Jackson Hole is the place for snow bunnies in the winter. Ski season starts in mid-December, giving tourists the chance to tackle some of the most celebrated ski trails in North America. However, it's not all black diamond runs - Jackson Hole Mountain Resort also has a newly refreshed beginner's hub, where world-class instructors offer engaging lessons to first-timers.
No matter your skill level, you'll be able to appreciate the stunning views of the entire Teton Range and Yellowstone National Park on clears day - along with a soak in your hotel's outdoor hot tub.
Accommodation: Top-Rated Places to Stay in Jackson Hole
10. Maldives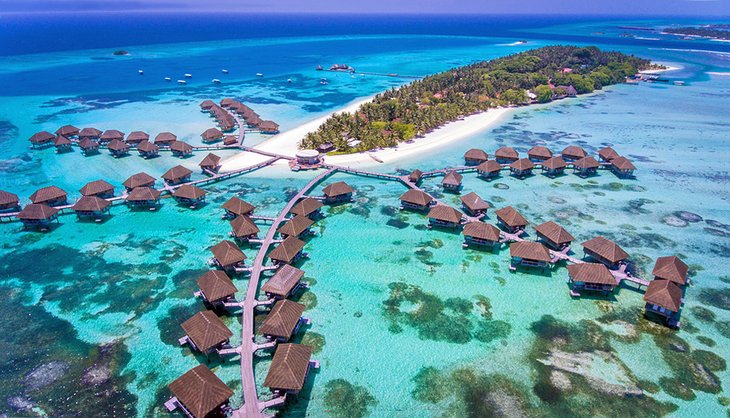 The Maldives are among the most beautiful islands in the world, especially in December, when there's ample sunshine, warm temperatures, and little rain. This honeymooner's paradise is known for its high-end resorts and hotels. If you've ever dreamed of staying in an underwater suite or a private overwater bungalow with a plunge pool, you can make it happen (for a price!) at one of the Maldives' 26 natural atolls.
One of the top things to do in the Maldives is go diving and snorkeling. The aquamarine waters surrounding these islands are filled with a vibrant array of sea life and reefs. The dry December weather will give you excellent visibility on your underwater excursion.
The Maldives are also a great place for families looking to spend some time at the beach. An all-inclusive resort is a wonderful way to enjoy some rest and relaxation.
11. Patagonia, Chile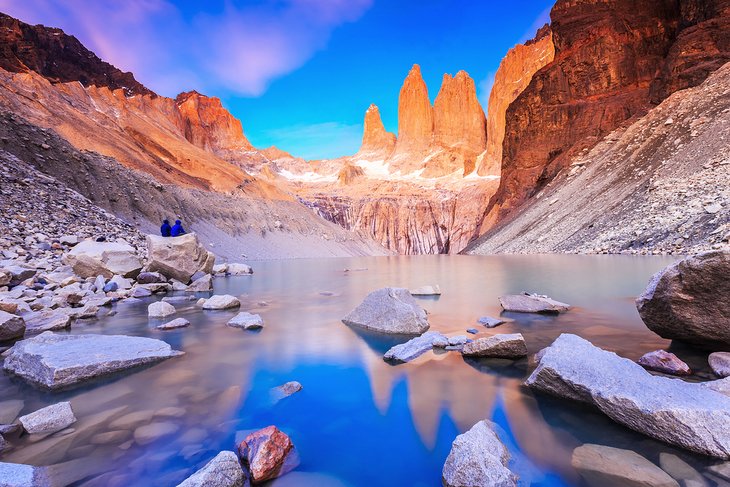 If your ideal December vacation has you reconnecting with nature in one of the most incredible landscapes on Earth, head to Chilean Patagonia. This untouched natural expanse will impress even the most experienced adventurers. Picture windswept steppes, azure glaciers, twinkling emerald lakes, and Andean peaks that kiss the sky.
December falls right in the middle of the South American summer, and the weather is perfect for exploring places like Tierra del Fuego, Cape Horn, Perito Moreno, and Torres del Paine National Park. Make reservations with outfitters and guides well in advance, as this is high season.
12. Cape Town, South Africa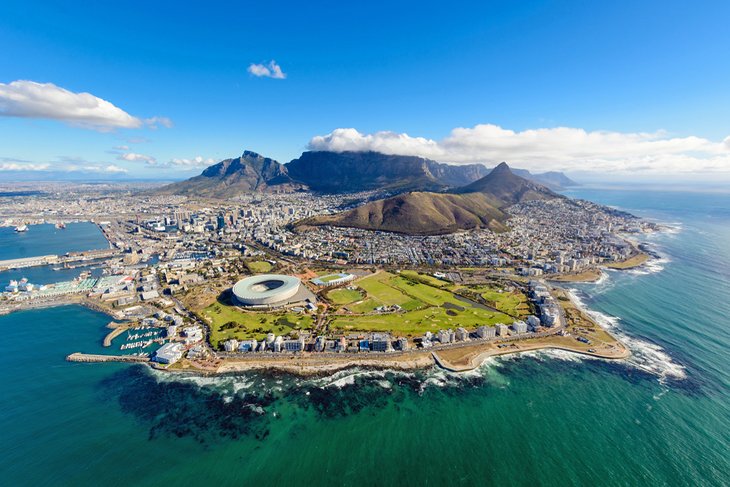 Tourists from all around the world flock to Cape Town in December, and for good reason: the Southern Hemisphere's summertime brings perfect sightseeing weather to the city - not too hot, not too cold, and virtually no rain whatsoever. You'll want to make your arrangements well in advance if you want to go to South Africa during high season, though.
While in the destination, take the aerial cableway to the top of Table Mountain for the most epic views of Cape Town and the sea. You can also head to Boulders Beach to see the resident penguins, get up close to around 7,000 indigenous plant species at the Kirstenbosch National Botanical Gardens, and snap selfies in front of the candy-colored houses of Bo-Kaap.
Accommodation: Where to Stay in Cape Town: Best Areas & Hotels
13. Costa Rica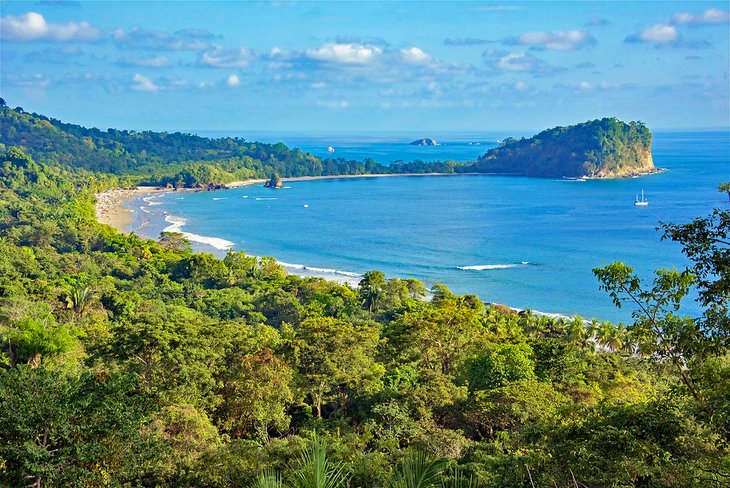 Want to experience Costa Rica at its very best? Plan to touch down in the Central American country in mid-December, just after the wet season has ended. The landscape will be lush, and waterfalls will still surge from the downpours of the previous months, but you'll have little chance of rain and ideal temperatures for exploring the diverse terrain.
You have a few options for vacation varieties in Costa Rica. Beach aficionados can enjoy palm-fringed stretches of golden sand on the Nicoya Peninsula. Hikers should stay near the Monteverde Cloud Forest Reserve for easy access to nature. And wildlife lovers will feel right at home among the birds at the Caño Negro Wildlife Refuge or the howler monkeys at Corcovado National Park.
Accommodation: Top-Rated Beach Resorts in Costa Rica
14. Jukkasjärvi, Sweden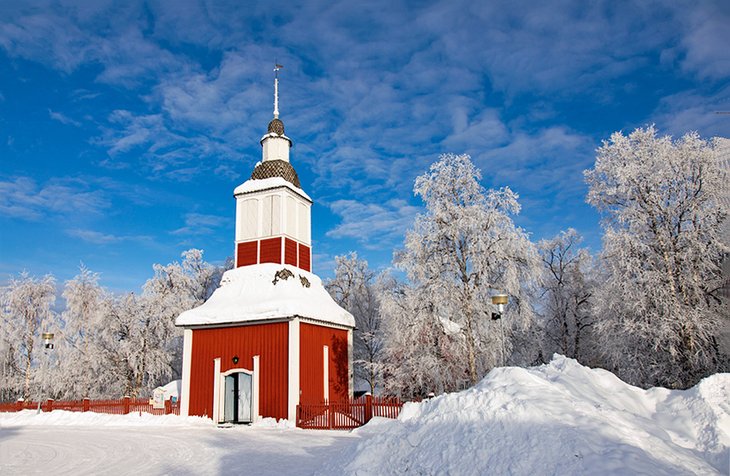 You won't find much sunshine in Jukkasjärvi, Sweden, this time of year - and that's part of its appeal. The village, which is located 200 kilometers north of the Arctic Circle, is an amazing place to see the aurora borealis.
It's also home to the original Ice Hotel, where you can spend the night in a room made entirely of ice. Don't leave without checking out the Jukkasjärvi Kyrka - the wooden church is one of the oldest in the area, and a celebrated landmark of the town.
Accommodation: Where to Stay in Jukkasjärvi