30 Top-Rated Tourist Attractions in Dubai
We may earn a commission from affiliate links ()
Glitzy Dubai is the United Arab Emirates' holiday hot spot.
This city of high-rises and shopping malls has transformed itself from a desert outpost to a destination du-jour, where tourists flock for sales bargains, sunshine, and family fun.
Dubai is famous for contemporary sightseeing attractions such as the Burj Khalifa (the world's tallest building) and shopping malls that come complete with mammoth aquariums and indoor ski slopes.
But this city has many cultural highlights and things to do, as well as all the glamorous modern add-ons.
Take a wander around the Al Fahidi quarter, and you'll discover the Dubai of old, then cruise along Dubai Creek in a traditional dhow, and you'll soon realize there's more to this city than its flashy veneer.
Learn more about the best places to visit with our list of the top attractions and things to do in Dubai.
See also: Where to Stay in Dubai
1. See Dubai's Famed Cityscape at Burj Khalifa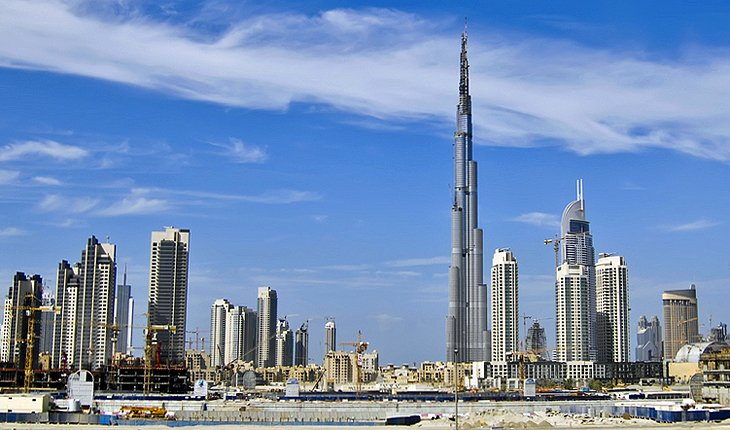 Dubai's landmark building and major tourist attraction is the Burj Khalifa, which at 829.8 meters is the tallest building in the world and the most famous of the city's points of interest.
For most visitors, a trip to the observation deck on the 124th floor here is a must-do while in the city. The views across the city skyline from this bird's-eye perspective are simply staggering.
The slick observation deck experience includes a multimedia presentation on both Dubai and the building of the Burj Khalifa (completed in 2010) before a high-speed elevator whizzes you up to the observation deck for those 360-degree views out across the skyscrapers to the desert on one side and the ocean on the other.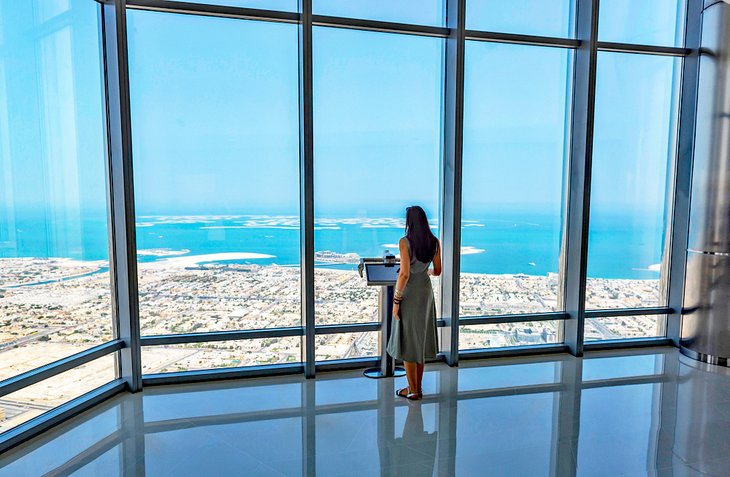 Nighttime visits are particularly popular with photographers due to Dubai's famous city-lights panoramas.
Buy your Burj Khalifa "At the Top" Entrance Ticket in advance to avoid long line-ups, especially if you are planning to visit on a weekend.
Back on the ground, wrapping around the Burj Khalifa, are the gardens of Burj Park, with walkways dotted with modern art sculptures.
2. Visit an Underwater World at Dubai Aquarium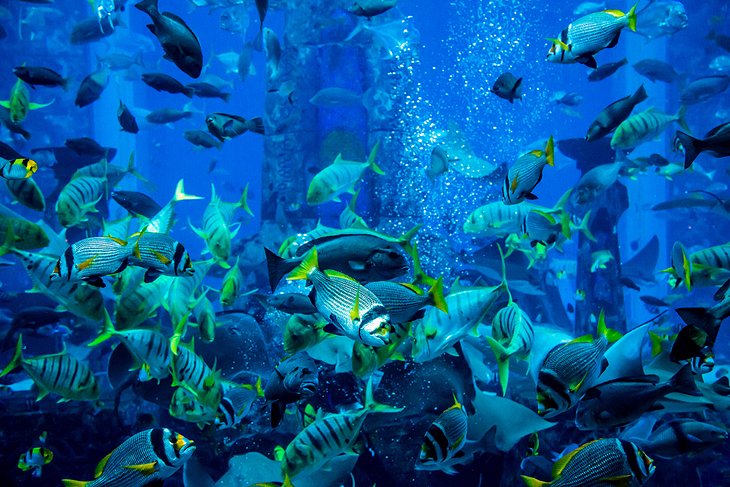 One of the city's top tourist attractions, the Dubai Aquarium houses 140 species of sea life in the huge suspended tank on the ground floor of the Dubai Mall.
Although there is free viewing from the mall, the highlight of a visit here is entering the Underwater Zoo, with its three-story high, 270-degree views along the length of the glass-panel tunnels.
3. Soak Up the Sun at JBR (Jumeirah Beach Residence) Beach

This long, wide strip of sandy white bliss is the number one beach destination for Dubai visitors.
Some of Dubai's most popular beach resorts are strung out all along its length, making this one of the most popular places to stay for visitors who want to make hitting the beach a major part of their Dubai stay.
The large public areas of the beach have excellent facilities, with plenty of sun loungers, restaurants, lifeguards patrolling the stretches designated for swimming, and water sports operators offering jet skiing, kayak rental, parasailing, and boat rides.
4. Head Out into the Desert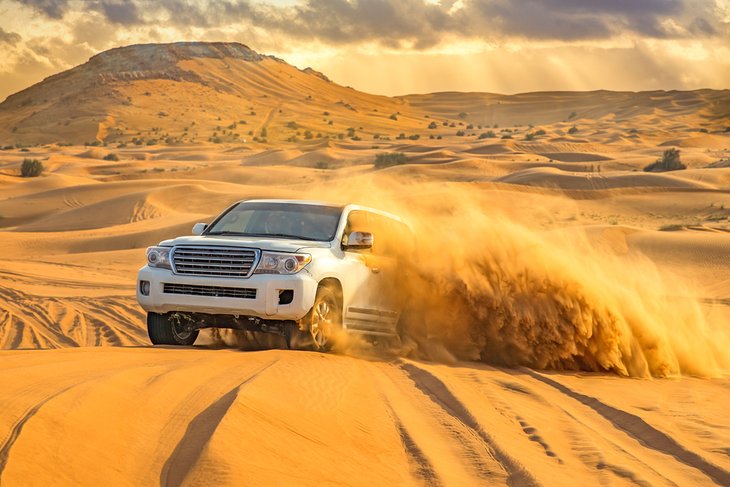 You don't have to travel far from Dubai's coastal skyline of skyscrapers to reach some of the UAE's desertscapes of rippling dunes.
Both the dune fields and desert of the Dubai Desert Conservation Reserve and the orange-hued dunes of Maleha (actually in the Emirate of Sharjah) are within day-tripping distance of the city.
Desert adventure tours can combine a range of activities, from sandboarding, camel rides, and 4WD safaris to traditional Arabian falconry displays and desert dinners under the stars. There are also options for overnight camping under the stars.
The typical tour itinerary, giving visitors a taster of desert life, is easily slotted into even a short trip to Dubai, taking around six hours door to door, with a mid-afternoon departure from the city.
The Dubai Desert 4x4 Safari offers a half-day desert adventure and includes a camel ride, sandboarding lessons, a sunset barbecue, and a belly dancing show.
For a less rushed tour experience, choose one of the companies that operate inside the Dubai Desert Conservation Reserve, where trips can include wildlife drives to spot the reserve's free-roaming herds of gazelles and, if you're lucky, Arabian oryx.
5. Walk through History in Al Fahidi Quarter (Old Dubai)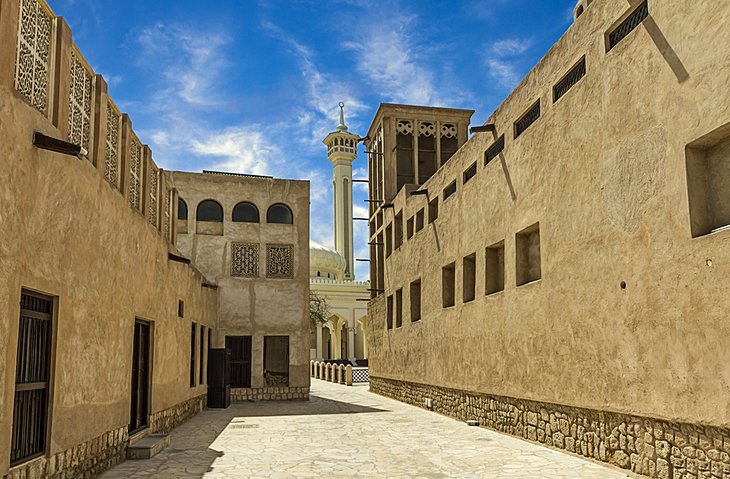 The Al Fahidi Quarter (previously known, and sometimes still referred to as the Bastakia neighborhood) was built in the late 19th century to be the home of wealthy Persian merchants who dealt mainly in pearls and textiles and were lured to Dubai because of the tax-free trading and access to Dubai Creek.
Al Fahidi occupies the eastern portion of Bur Dubai along the creek, and the coral and limestone buildings here, many with walls topped with wind-towers, have been excellently preserved.
Wind-towers provided the homes here with an early form of air conditioning - the wind trapped in the towers was funneled down into the houses. Persian merchants likely transplanted this architectural element (common in Iranian coastal houses) from their home country to the Gulf.
Lined with distinct Arabian architecture, the narrow lanes are highly evocative of a bygone, and much slower, age in Dubai's history.
Inside the district, you'll find the Majlis Gallery, with its collection of traditional Arab ceramics and furniture (housed in a wind-tower), and the Al Serkal Cultural Foundation with a shop, café, and rotating art exhibitions (located in one of the historic buildings).
6. Ski then Shop at Mall of the Emirates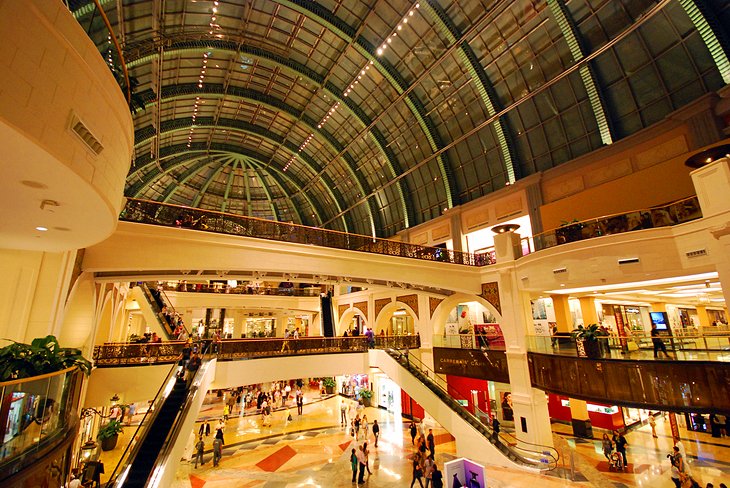 Mall of the Emirates is one of the city's most famous malls, with the spectacular (and surreal) Ski Dubai facility inside.
The indoor ski slope is complete with chairlifts and a penguin enclosure, all at a continuous temperature of -4 degrees Celsius.
There's also a cinema complex and a family entertainment center with a whole host of rides aimed at both the big and small.
7. Snap Sunset Pics at Dubai Frame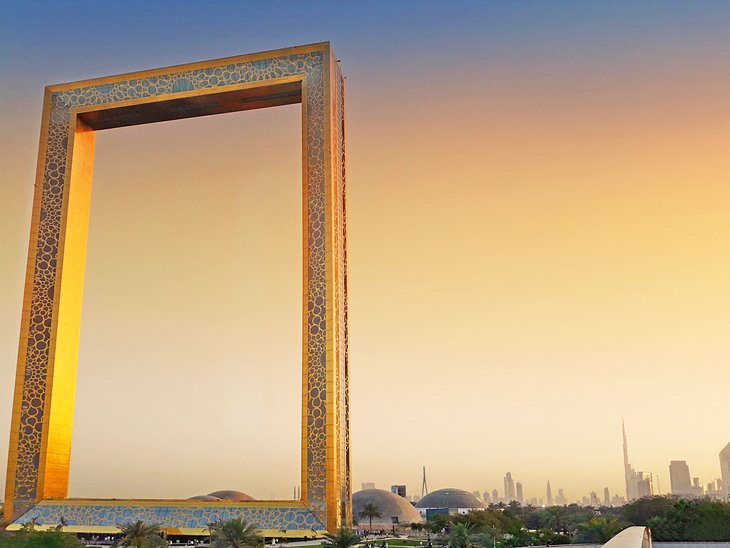 Sitting slap-bang between Dubai's older neighborhoods clustered around the creek and the city's modern sprawl, this ginormous 150-meter-high picture frame is one of Dubai's latest sights.
Inside, a series of galleries whisk you through the city's history and explore Emirati heritage before you travel up to the Sky Deck, where there are fantastic panoramas of both old and new Dubai to be snapped on the viewing platforms.
8. Take to the Water at Kite Beach & Umm Suqeim Beach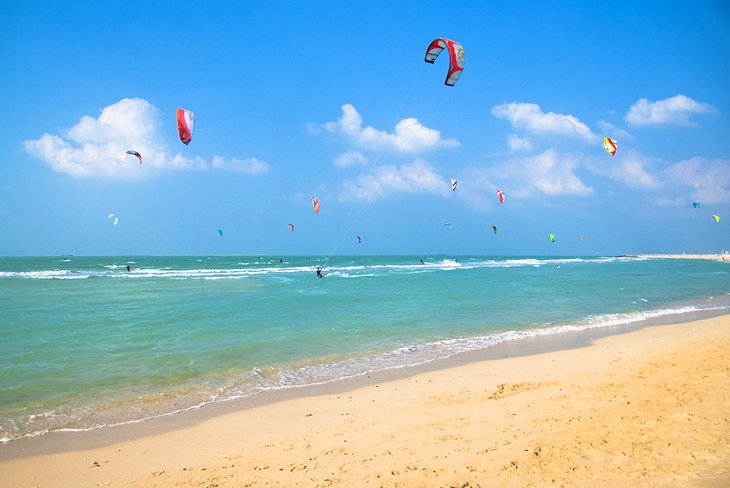 Thanks to its surf and prevailing wind, the northern section of Umm Suqeim Beach is Dubai's top spot for kitesurfing.
The beach is home to an array of water sports operators offering equipment hire, as well as kitesurfing lessons, along with paddleboarding and kayak rental.
This long stretch of yellow-sand beach sweeps south along the coast (becoming Umm Suqeim Beach), with plenty of space for sunbathers looking to lap up a lazy day of swimming and soaking up the rays on the sand and excellent facilities and dining choices. There are good views of the Burj Al Arab from the southern end of the beach.
While in the Jumeirah area, it's well worth brushing off the sand for an hour to visit the Majlis Ghorfat Um Al-Sheef just a three-kilometer hop from the beach. Built in 1955, this was the summer residence of the late Sheikh Rashid bin Saeed al-Maktoum.
The residence, made out of gypsum and coral-block, has been restored and maintains much of the original beautiful decor, giving you a better understanding of the opulent lifestyle of Dubai's rulers.
9. Explore Dubai Creek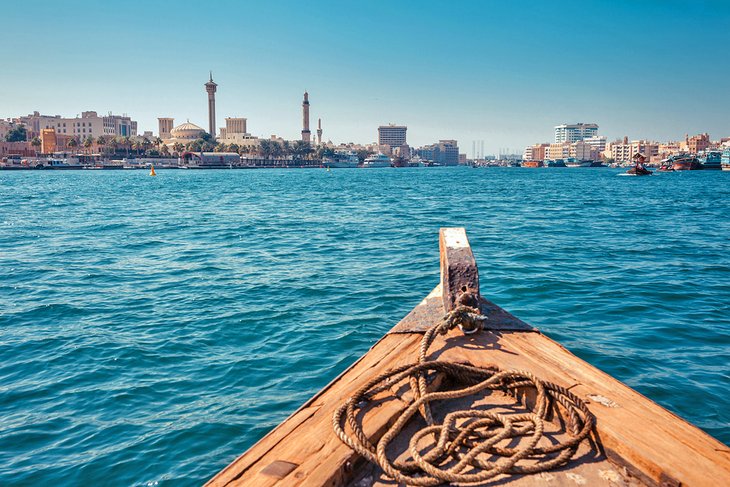 Dubai Creek separates the city into two towns, with Deira to the north and Bur Dubai to the south.
The creek has been an influential element in the city's growth, first attracting settlers here to fish and pearl dive.
Small villages grew up alongside the creek as far back as 4,000 years ago, while the modern era began in the 1830s when the Bani Yas tribe settled in the area.
The creek is where you come to capture city views from the water, either by taking a trip on one of the many dhows that have been restored as tourist cruise boats or by hopping on an abra (small wooden ferry) between the ferry points on the creek's Bur Dubai and Deira banks.
On the Bur Dubai side of the creek, rubbing up against the Bastakia neighborhood, the waterfront has been regenerated as the Al Seef district, with a waterfront promenade backed by traditional coral-block and limestone buildings, a floating market, and shops selling crafts. It's a great place for a stroll with excellent water views.
Farther southeast down the creek, on the Deira bank just north of Al-Maktoum Bridge, is the Dhow Wharfage. It's still used by small traders from across the Gulf who sail their dhows onward to Kuwait, Iran, Oman, India, and down to Africa's horn.
This tiny remnant of Dubai's traditional economy is a fascinating place to wander around and watch cargo being loaded and unloaded on and off the dhows.
At the southeastern end of Dubai Creek, just before the creek joins with Dubai Canal, is the newly developed Dubai Creek Harbor with a waterfront marina walkway, which offers excellent vistas of the city skyline.
10. Skydive over Dubai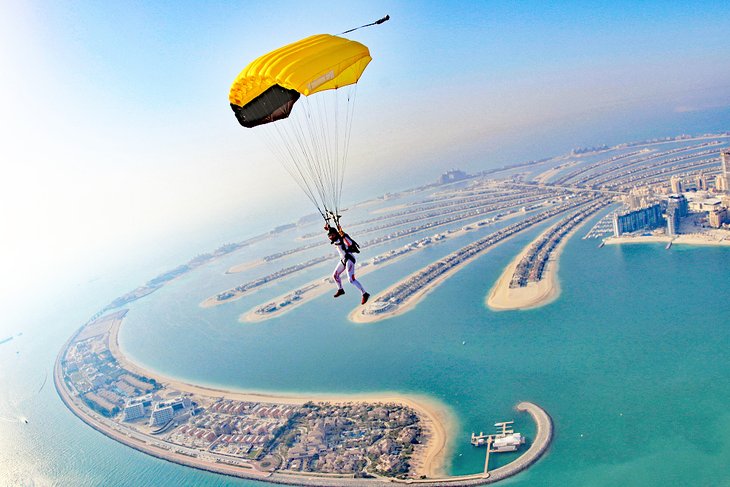 For the ultimate sightseeing adrenaline rush while you're in the city, tandem-skydive over Dubai from Skydive Dubai's Palm Drop Zone.
There are bird's-eye views of the city's skyscraper coastline, Dubai Marina, and the artificial islands of Palm Jumeirah, all the way down the 3,900-meter-high plunge.
The entire experience takes around 90 minutes and includes the flight; an instructor you'll be harnessed to during the skydive; and a skydiving camera operator, who'll take pictures during your dive.
If you prefer desert dune scenery, Skydive Dubai also operates a separate tandem-skydiving experience in the desert, about 35 kilometers out of the city.
11. Haggle in the Souks of Deira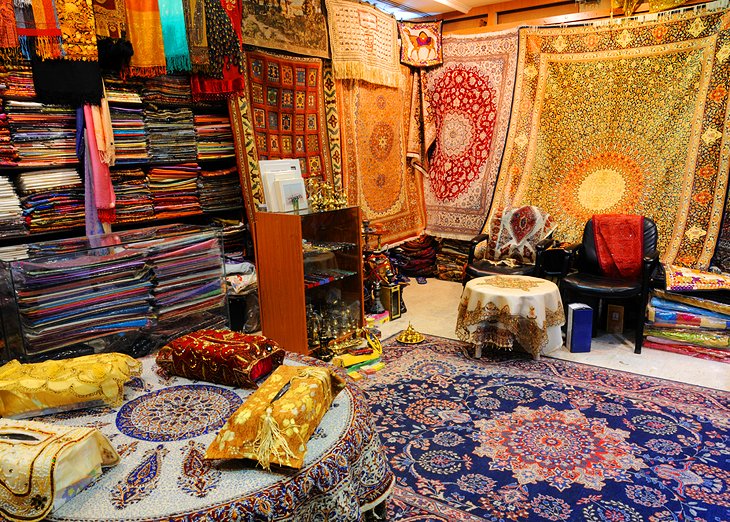 Deira lies on the northern bank of Dubai Creek and the winding streets here unveil the melting pot of different nationalities that have come to call Dubai home.
On the shore, ancient dhows load and unload with modern banks, hotels, and office buildings as a backdrop.
For travelers, Deira is most famous for its traditional souks (markets), which bustle with shoppers at all times of the day.
Deira Gold Souk is world-renowned as the largest gold bazaar in the world.
The Deira Spice Souk sells every imaginable spice, with stalls overflowing with bags of frankincense, cumin, paprika, saffron, sumac, and thyme, as well as the fragrant oud wood, rose water, and incense.
The fish market provides a much less touristy experience.
While in the district, culture lovers shouldn't miss two of Deira's finely restored architectural gems.
Heritage House was built in 1890 as the home of a wealthy Iranian merchant and later became the home of Sheik Ahmed bin Dalmouk (a famous pearl merchant in Dubai). Today, it's a great chance to see the interior of a traditional family home.
The Al-Ahmadiya School, constructed in 1912, is the oldest school in Dubai and is now a museum of public education.
12. Tour Jumeirah Mosque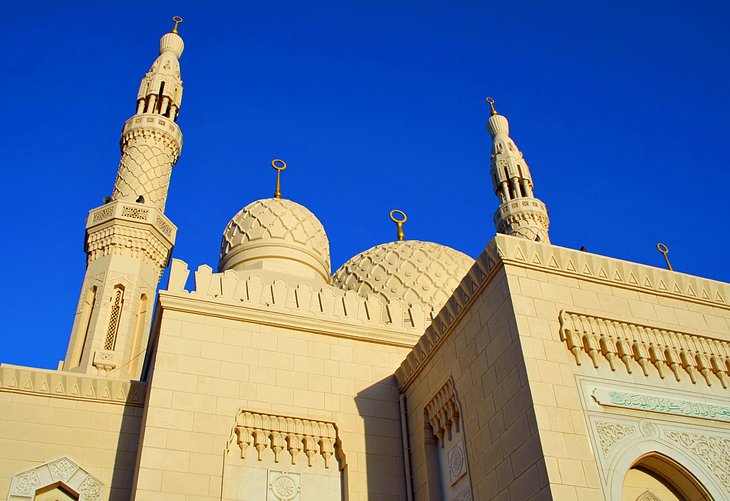 Jumeirah Mosque is considered by many to be the most beautiful of Dubai's mosques.
An exact copy of Cairo's Al-Azhar Mosque, which is eight times its size, the Jumeirah Mosque is a fine example of Islamic architecture.
This stone structure is built in the medieval Fatimid tradition, with two minarets that display the subtle details in the stonework. It is particularly attractive in the evening when lit with floodlights.
The Sheikh Mohammed Bin Rashid Centre for Cultural Understanding (which also runs a program of tours, lectures, Arabic classes, and cultural meals) organizes guided tours of the mosque designed to try to foster a better understanding of the Muslim faith.
13. Plan Family Time at Dubai Parks and Resorts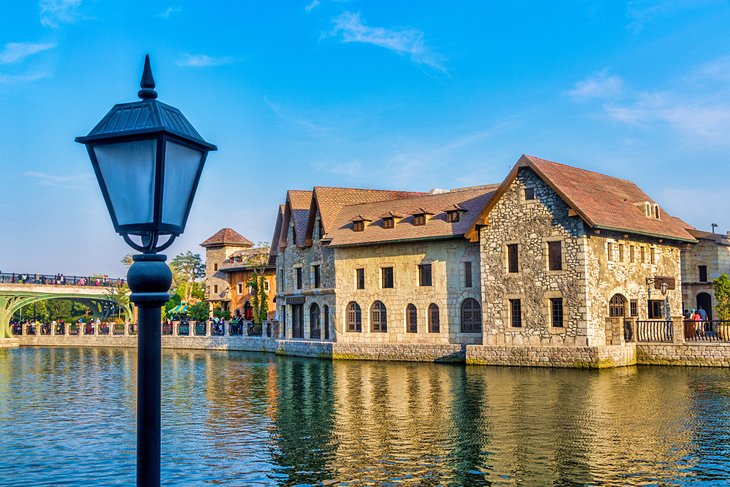 At Dubai Parks and Resorts, your entertainment needs are all rolled together into one location. The only problem here is choosing what you want to do.
This mammoth project incorporates a swag of world-class theme parks providing something for everyone, whatever your age.
Motiongate takes its theme from Hollywood productions, with rides based around movie blockbusters; Bollywood Parks brings the world of India's famous movie industry alive on its rides; and Legoland Dubai and Legoland Waterpark provide younger visitors with a fun-packed day out on its interactive rides, water slides, and wave pool.
14. Take Afternoon Tea in the Burj al-Arab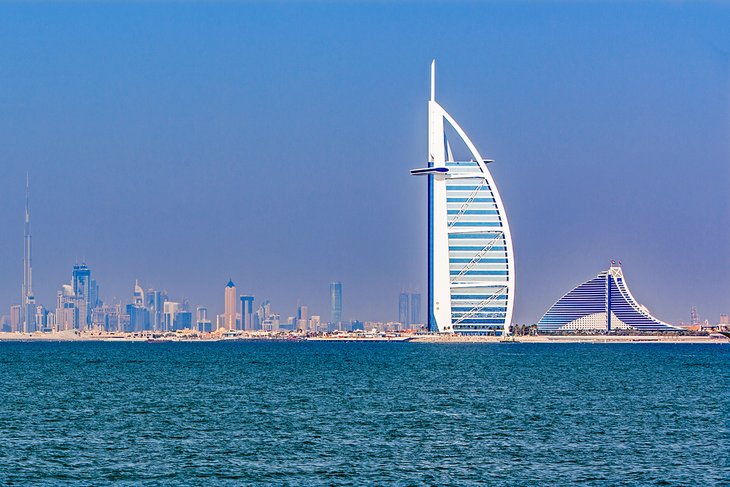 The Burj Al-Arab is the world's tallest hotel, standing 321 meters high on its own artificial island on the Dubai coastline.
Designed to resemble a billowing dhow sail, the exterior of the building is lit up by a choreographed, colored lighting show at night.
Decadent in every way possible, the Burj Al-Arab is one of the most expensive hotels in the world, with the most luxurious suites costing more than $15,000 for one night.
For those without unlimited credit, the way to experience the over-the-top opulence is to book afternoon tea at the Skyview Bar (a minimum spend is required) on the 27th floor.
15. Fuel up on Thrills & Spills in IMG Worlds of Adventure
This theme park, near Global Village, is immersive entertainment at its finest and has thrills and spills for both kids and big kids.
With one zone devoted entirely to Marvel's iconic characters; another to dinosaur-themed rides; and a zone where the Cartoon Network takes the helm, with gentler rides and activities for younger children, there's something here for every age.
16. Sneak in Some Shopping at Dubai Mall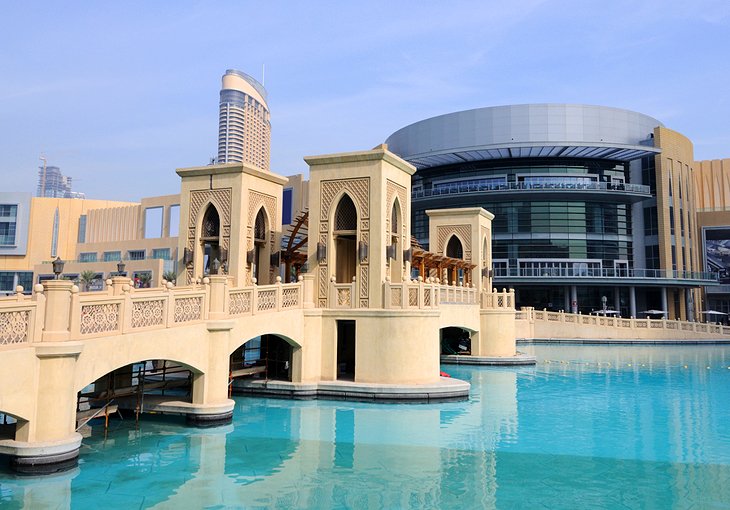 Dubai Mall is the city's premier mall and one of the city's best places to visit for a day of shopping and indoor activities to keep the kids busy. It provides entry to the Burj Khalifa as well as the Dubai Aquarium.
There is also an ice-skating rink, gaming zone, and cinema complex if you're looking for more entertainment options.
The shopping and eating is endless, and there are nearly always special events such as live music and fashion shows within the mall. The most famous of these are the annual Dubai Shopping Festival in January and February and the Dubai Summer Surprises Festival in July and August.
17. Splash & Swim at Aquaventure Waterpark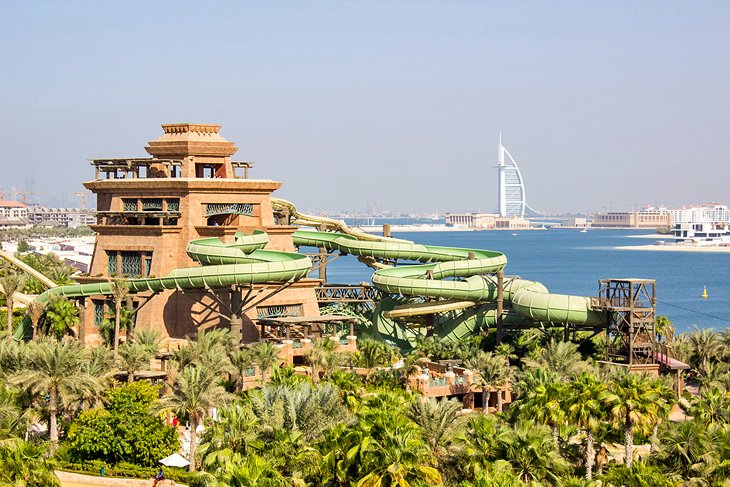 This water park, based at Atlantis, The Palm on the Palm Jumeirah – Dubai's famous man-made island development – is a great place to cool off after a few days of hectic shopping and sightseeing.
The waterslide action here is excellent and world-class, with the Aquaconda, the world's longest water slide; a nine-story-tall slide, aptly named the Leap of Faith; and water coaster rides.
18. La Mer Beach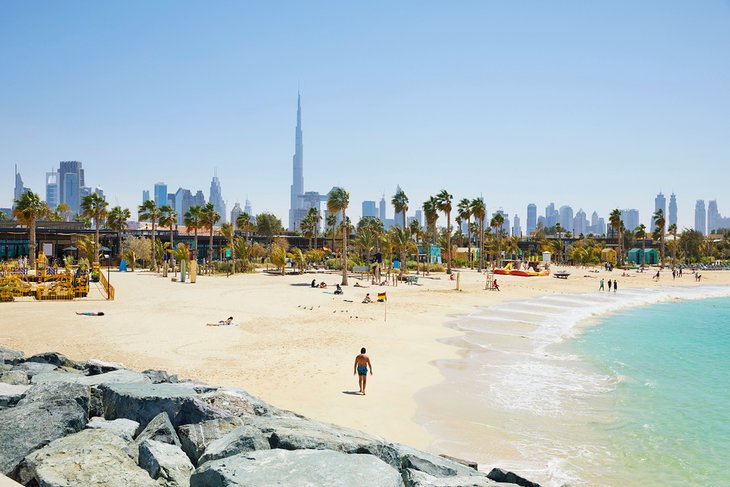 Backed by a fringe of palm trees, the stretch of La Mer Beach in Jumeirah is an easygoing spot for a full day of sun and sea.
Water sports operators here offer Jet Ski trips, boating, fly-boarding, and kayaking for beachgoers who itch to get off the sand, but for those who simply want to sloth out between swimming, there's plenty of sun lounger rental and a wide variety of cafés and restaurants just a hop from the sand for snacking and full meals.
La Mer is a sheltered bay with tranquil water, so it's a safe choice for both families and less-confident swimmers. Like all of Dubai's main beaches, it is regularly patrolled by lifeguards during the day.
19. Experience Global Village's Culture & Entertainment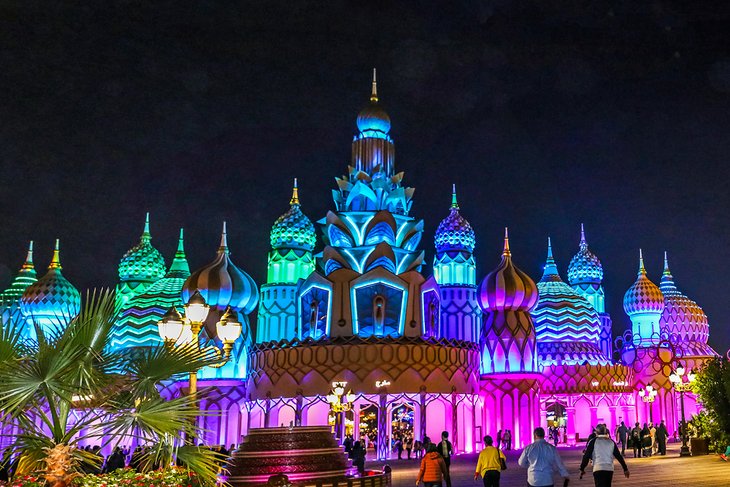 From October through April, this entertainment park provides family-friendly entertainment themed around taking visitors on a journey around the world.
Global Village's 26 country pavilions, ranging from Iraq to Japan and Russia to South Korea, each offer an individual experience of that country's culture, entertainment, and heritage. It's a unique option in the city for evening entertainment for families with little ones in tow.
20. Cruise around Madinat Jumeirah on an Abra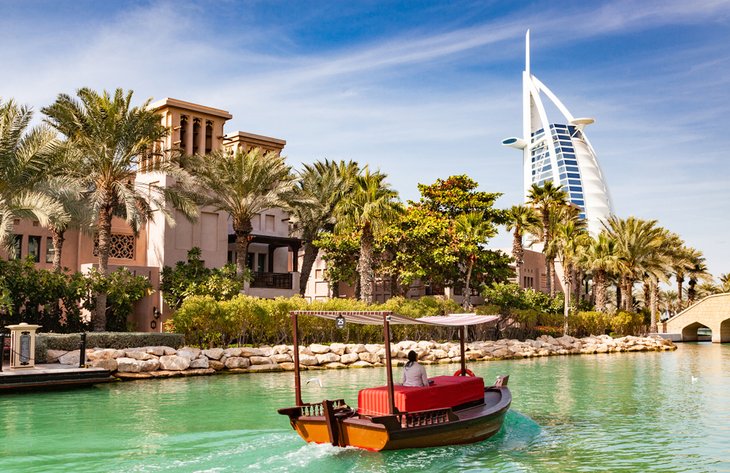 The development complex of Madinat Jumeirah is a dining and retail district with a couple of five-star hotels, all set along the palm-tree-fringed banks of an artificial canal network.
All of Madinat Jumeirah has been styled to mimic traditional Gulf architecture, with wind towers and mashrabiya detailing.
Souk Madinat Jumeirah here offers easygoing shopping, with a large variety of traditional craftwork and souvenirs from the Gulf and across the wider Middle East, but the main reason to head here is to hop on an abra (small wooden ferry) and cruise down the canal.
21. Discover UAE History at Dubai Museum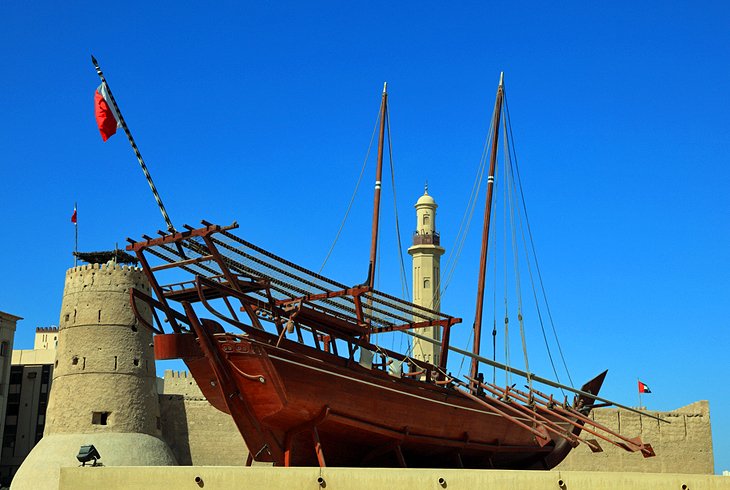 Dubai's excellent museum is housed in the Al-Fahidi Fort, built in 1787 to defend Dubai Creek. The fort's walls are built out of traditional coral-blocks and held together with lime. The upper floor is supported by wooden poles, and the ceiling is constructed from palm fronds, mud, and plaster.
In its history, the fort has served as a residence for the ruling family, a seat of government, garrison, and prison. Restored in 1971 (and again extensively in 1995), it is now the city's premier museum.
The entrance has a fascinating exhibition of old maps of the Emirates and Dubai, showing the mammoth expansion that hit the region after the oil boom.
The courtyard is home to several traditional boats and a palm-leaf house with an Emirati wind-tower.
The right-hand hall features weaponry, and the left-hand hall showcases Emirati musical instruments.
22. View Traditional Architecture at Sheikh Saeed Al-Maktoum House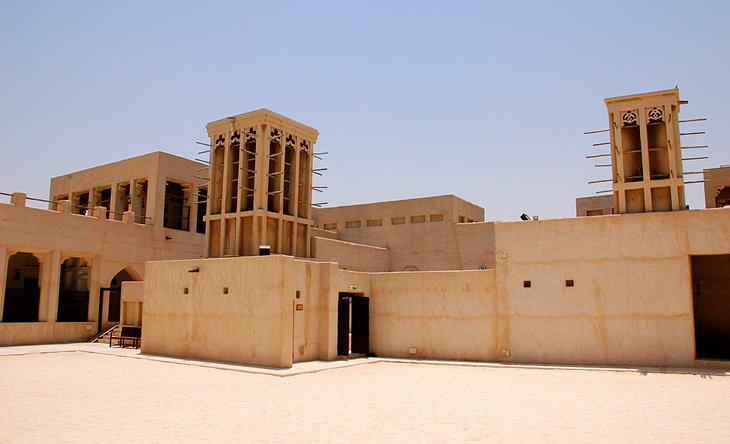 Sheikh Saeed Al Maktoum was the Ruler of Dubai from 1921 to 1958 and grandfather to the current ruler. His former residence has been rebuilt and restored as a museum that is a fine example of Arabian architecture.
The original house was built in 1896 by Sheikh Saeed's father, so he could observe shipping activity from the balconies.
It was demolished, but the current house was rebuilt next to the original site, staying true to the original model by incorporating carved teak doors, wooden lattice screens across the windows, and gypsum ventilation screens with floral and geometric designs.
Thirty rooms are built around a central courtyard with wind-tower details on top.
Inside are the exhibits of the Dubai Museum of Historical Photographs and Documents with many wonderful old photographs of Dubai from the period between 1948 and 1953.
The marine wing of the museum has photos of fishing, pearling, and boat building. Throughout the building there are many letters, maps, coins, and stamps on display showing the development of the Emirate.
23. Wander through Colorful Dubai Miracle Garden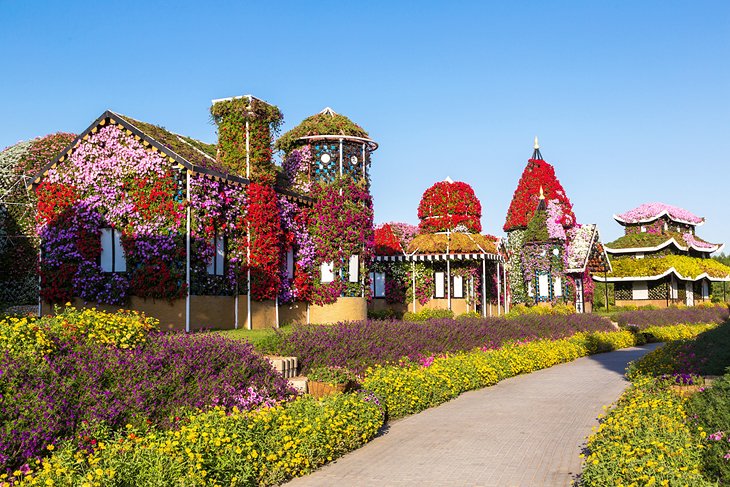 This is the zaniest garden ever. Not content with constructing the world's largest buildings and malls, Dubai has created the world's largest flower garden, spanning 2,000 square meters and home to a reputed 100 million flowers.
Everything that can be covered with flowers has been, from twee English-style cottages to windmills and trucks. There's even a flower version of the Burj Khalifa.
24. Stroll Sheikh Zayed Road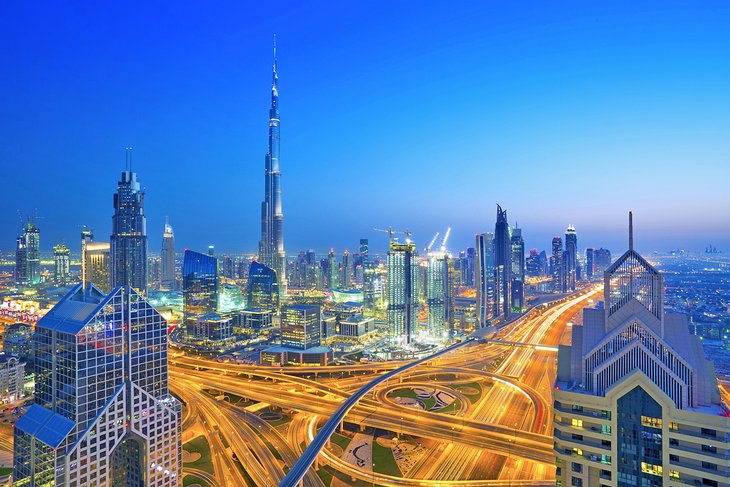 Sheikh Zayed Road is the main thoroughfare running through Dubai's modern downtown business district.
This wide, eight-lane highway is rimmed with towering glass, chrome, and steel high-rises along its entire length. It's one of the best on-the-ground vantage points for Dubai's famed skyscraper views.
Main attractions are along, or just off, the strip between the roundabout and the first intersection, and most of Dubai's famous malls are located along the road's route.
The Dubai World Trade Tower has an observation deck on its top floor, which offers visitors panoramic views (a cheaper option than the Burj Khalifa), and the Gold and Diamond Park (Sheikh Zayed Road) is a one-stop shop for jewelry lovers, with 118 manufacturers and 30 retailers all under one roof.
25. Explore Local Culture in the Heritage and Diving Village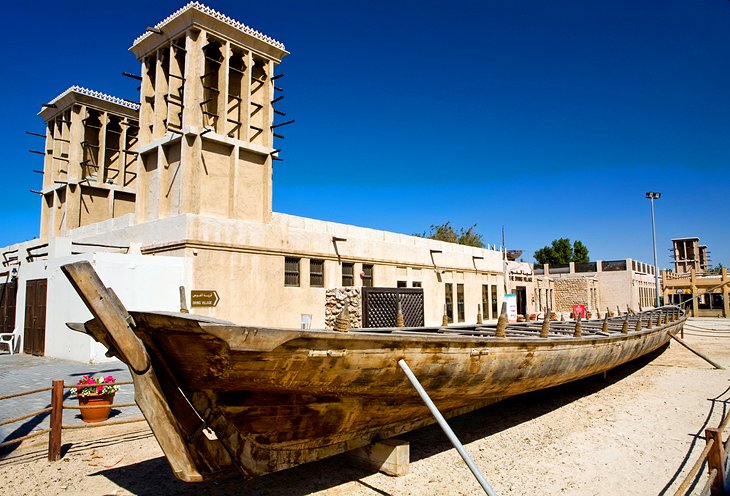 Dubai's architectural, cultural, and maritime heritage is showcased at the Heritage and Diving Village, with displays related to pearl diving and dhow building - two of old Dubai's historic economic mainstays.
There are also recreations of traditional Bedouin and coastal village life, with Persian homes, a traditional coffeehouse, and a small souk where potters and weavers practice their handicrafts at the stalls.
Local music and dance are performed from October to April, and visitors can get advice from practitioners of traditional medicine.
Location: Shindagha, Bur Dubai
26. Spot Flamingos at Ras Al Khor Wildlife Sanctuary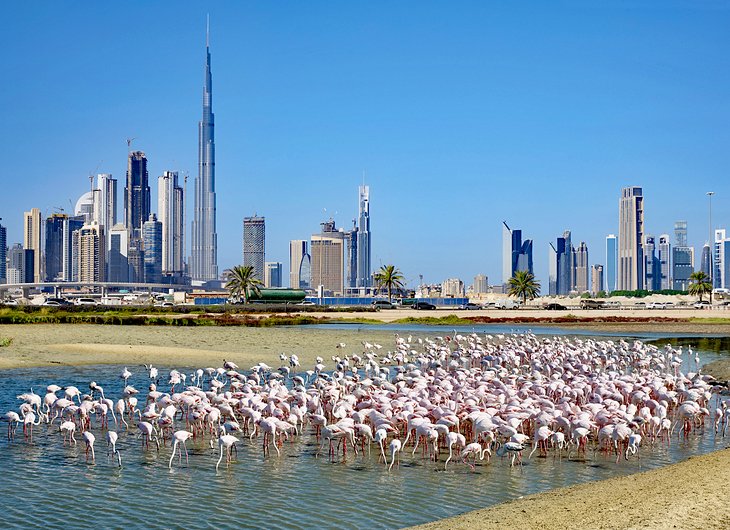 You don't have to go too far away from the skyscrapers to soak up a more natural vista.
The Ras Al Khor Wildlife Sanctuary incorporates the mangrove forests and wetlands of Dubai creek.
An important stop-off on the migration routes, it's a prime place to spot flamingos in winter when massive flocks of these majestic pink birds wade through the lagoons, backdropped by soaring high-rises.
27. Ponder Ancient Trade Routes in the Crossroads of Civilizations Museum
This museum explores the United Arab Emirates' historic role as a trading center between Asia, Africa, and Europe long before oil became this region's most prominent industry.
Located inside the old residence of Sheikh Hashr bin Maktoum Al Maktoum, who was a member of Dubai's ruling family, the exhibits trace this coastal area's history as part of the global trade routes, with displays of artifacts and manuscripts.
28. Enjoy World-Class Theater at Dubai Opera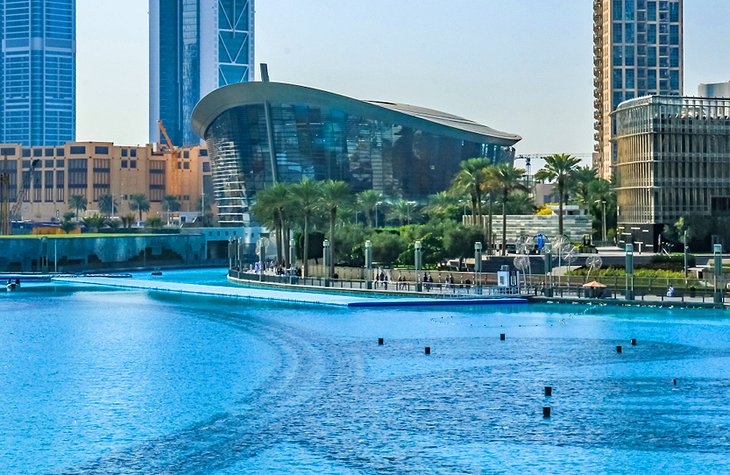 For nighttime attractions, look no further. Opened in mid-2016, Dubai's classy new opera building is the centerpiece of the waterfront Opera District in downtown Dubai and is a major cultural hub and main entertainment venue.
The Dubai Opera hosts a year-round program of famous musical theater productions, concerts by world-class musicians, opera, ballet, and classical music, as well as smaller productions, comedy nights, and concerts.
29. Browse Cutting-Edge Art in Alserkal Avenue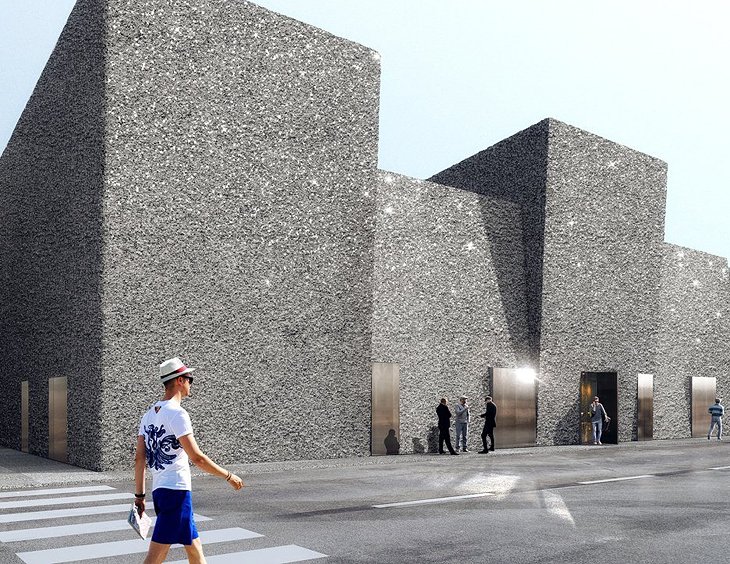 Part of the old Al Quoz industrial district, Al Serkal Avenue has been regenerated to become Dubai's main arts hub and is home to some of the city's most important contemporary art galleries.
Established gallery names such as the Green Art Gallery, The Third Line and the Ayyam Gallery have made their home here, while a host of smaller gallery start-ups have also moved in.
The district's program of rotating collections focuses both on the work of major artists, as well as highlighting new Middle Eastern talent.
30. Savor a Nature Break in Dubai Butterfly Garden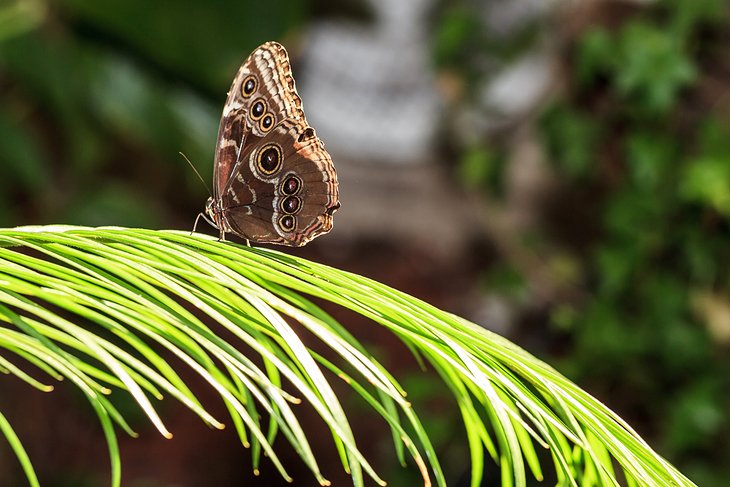 Escape the city's skyscrapers for an afternoon here. For a slice of nature, this vast butterfly garden, with around 15,000 butterflies flitting under the domed enclosures, can't be beaten.
It's a great chance for kids to get close-up views of butterflies as they often land on visitors' shoulders and hands.
Best Things to Do with Kids in Dubai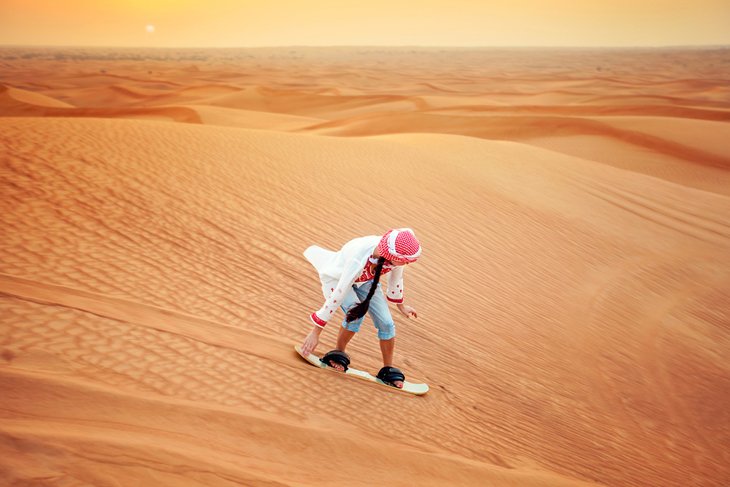 As well as Dubai's glut of theme parks, a stay in the city can incorporate plenty more active things to do.
There are plentiful desert tours which head out beyond the skyscrapers if you want the kids to sample more natural scenery. Many of the tours include sandboarding or camel riding.
To stick to the coast, the beaches and resorts offer kayak hire, as well as a bundle of other water sports to get the kids working off some energy in the sea.
And for those who enjoy the complete oddity of having some snow-fun amid the heat, the indoor ski run at Mall of the Emirates can't be beaten.
Where to Stay in Dubai for Sightseeing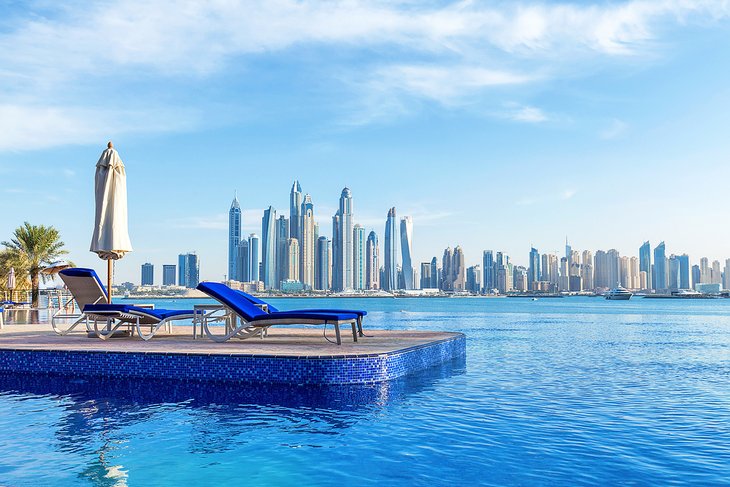 For easy access to Dubai's top tourist attractions, the best place to stay is Downtown Dubai.
Prime attractions nearby include the landmark Burj Khalifa, the world's tallest building; Dubai Mall; and the Dubai Fountain. You'll also find plenty of shops, restaurants, and art galleries in this vibrant precinct.
If you're seeking some sun, sand, and sea, Jumeira and Dubai Marina lay about 15 minutes by car from Burj Khalifa and are also popular bases for tourists.
Below are some highly rated hotels in convenient and central locations for touring the city:
Tips and Tours: How to Make the Most of Your Visit to Dubai
More Related Articles on PlanetWare.com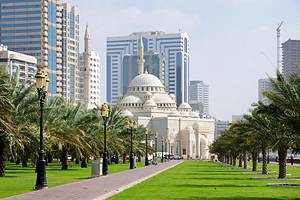 Beyond Dubai: To dive into the UAE's other cities, check out our articles on things to do in Abu Dhabi and Sharjah. If you want to learn about the beach resorts beyond Dubai, have a look at our feature pieces on Ras Al Khaimah and Ajman.