18 Top-Rated Attractions & Places to Visit in Costa Rica
Costa Rica is a wonderland of natural attractions, with volcanoes, beaches, cloud forests, and wildlife. This is a country that appeals as much to bird-watchers and luxury travelers as it does to surfers and backpackers.
The busy city of San Jose is home to the country's best museums, lovely squares, and cultural attractions, but the real treasures lie beyond the capital, in the forests and small coastal towns and villages.
Endless stretches of beach line the Pacific Coast, with small towns that cater to surfers and sun seekers. The province of Guanacaste in Costa Rica is considered the best place to visit for beautiful beaches and beach towns.
Inland, the forest-covered mountains offer their own adventures, from volcanoes and waterfalls to ziplining and extraordinary wildlife viewing. Although wildlife is prevalent throughout the country, the lush south is where tourists tend to head if they are looking to find animals. The areas south of Jaco down to the Osa Peninsula are some of the best places to visit for wildlife.
For something completely different, check out the Caribbean coast with its calm waters and unique cultural vibe.
Discover the best places to visit with our list of the top tourist attractions in Costa Rica.
1. Manuel Antonio National Park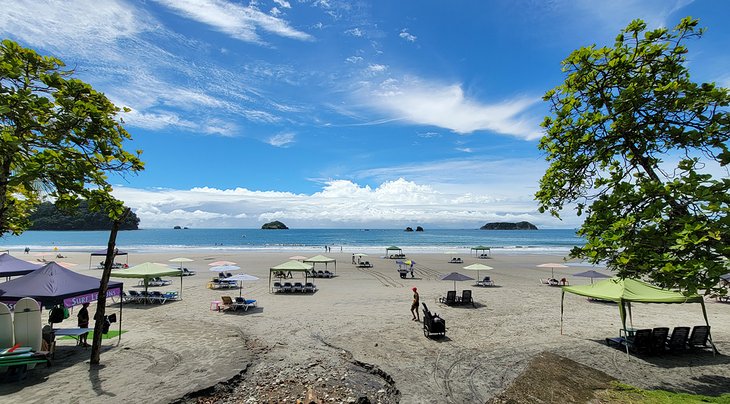 Set on the edge of the town of Manuel Antonio, Manuel Antonio National Park is one of Costa Rica's top destinations for wildlife viewing. It also has the added bonus of being home to beautiful soft-sand beaches.
Some of the usual wildlife sightings in the park are howler monkeys, squirrel monkeys, sloths, white-nosed coatimundis, and the hard-to-miss capuchins. You can also expect to see iridescent butterflies and a myriad of colorful birds flitting about. You can walk the trails on your own, but for a more in-depth experience consider joining a Manuel Antonio Park Nature Guided Tour. Guides often know exactly where the animals are and carry tripods and telescopes, ideal for wildlife viewing and photography.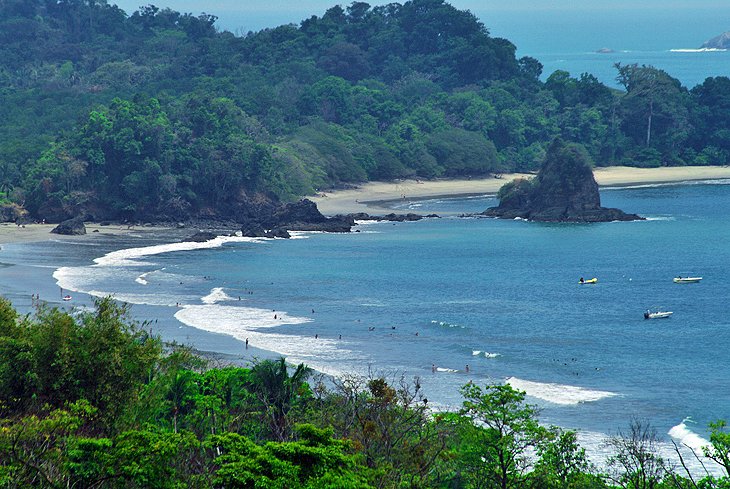 Part of the attraction of Manuel Antonio National Park is its proximity to the town of Manuel Antonio. In town, you can find hotels within easy walking distance of the park, as well as restaurants and other retail.
Most of the action in town is centered around the beautiful oceanfront beach, where umbrellas and beach chairs line the sand and surfers enjoy the usually gentle waves. This is a popular place for beginners to take surf lessons. Across the road from the beach and higher up on the hillside are restaurants and stores, some of which can get loud in the evenings.
If you want to linger here for a few days and treat yourself to a luxury stay, Manuel Antonio is home to one of the top beach resorts in Costa Rica.
2. Arenal Volcano (Volcan Arenal)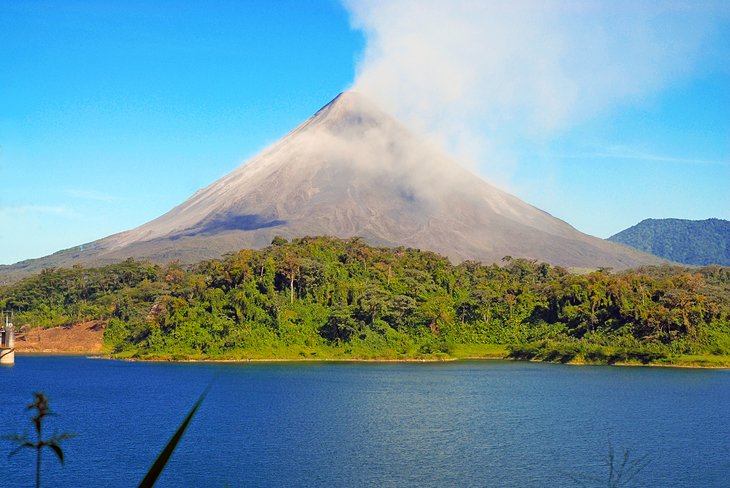 The Arenal Volcano National Park, found in the rugged Cordillera de Tilarán, is one of the top volcano viewing areas in the country. The main attraction here is the Arenal Volcano, a cone-shaped mountain with huge ash columns frequently streaming from the crater.
Arenal was dormant from AD 1500 until a massive eruption on July 29, 1968, which killed 82 people and destroyed two villages. Since then, it has seen regular activity and, depending on the day or week, visitors can expect to see anything from a cloud of ash to glowing red lava flowing down the mountain.
The park is also known for its wide range of biodiversity, with approximately half of all Costa Rican birds, reptiles, amphibians, and mammals represented somewhere within its boundaries.
The Arenal Observatory Lodge, originally a private observatory established in 1987, is the only lodge within the Arenal Volcano National Park boundaries. It is located on a macadamia nut farm on the south side of the volcano. From the lodge, check out the excellent views of the volcano and Arenal Lake in the opposite direction. Numerous hiking trails are in the area; many lead to waterfalls and old and recent lava flows.
3. Monteverde and the Cloud Forests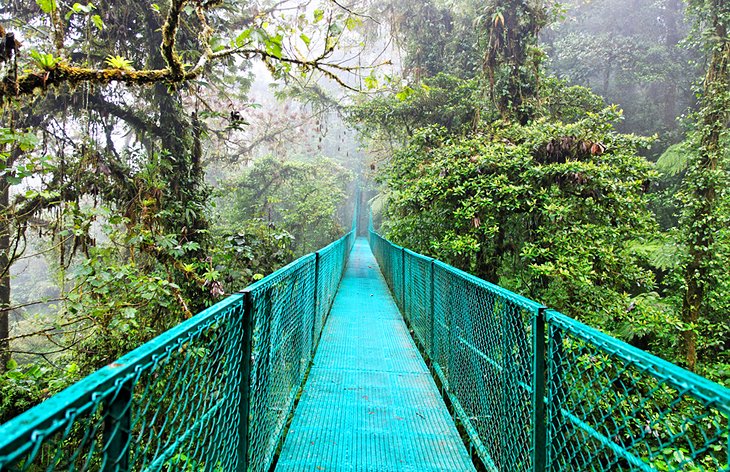 The Cloud Forests near Monteverde and Santa Elena are some of the best places to visit in Costa Rica for ecotourism. If you are itching to immerse yourself in nature and see unique plants and wildlife without venturing too far off the beaten path, this is definitely the place to come.
The clouds covering these forests provide the moisture necessary to sustain the area's unique habitats. While many people come simply for the bird-watching, the Monteverde Cloud Forest Reserve and the Santa Elena Cloud Forest Reserve sustain various mammals, amphibians, and reptiles. Keep an eye out for colorful frogs and howler monkeys. Jaguars and pumas are more elusive. Organized hikes are one of the best ways to see the forest. Another option are canopy tours that may involve ziplines or bridges and even cable cars.
Monteverde and Santa Elena are the two main tourist centers in the region, with accommodation, restaurants, and even shops and artists' galleries. This area, located northwest of San Juan, is a little more than four hours by bus. It can be cold up here, so be sure to bring warm clothes.
4. Tamarindo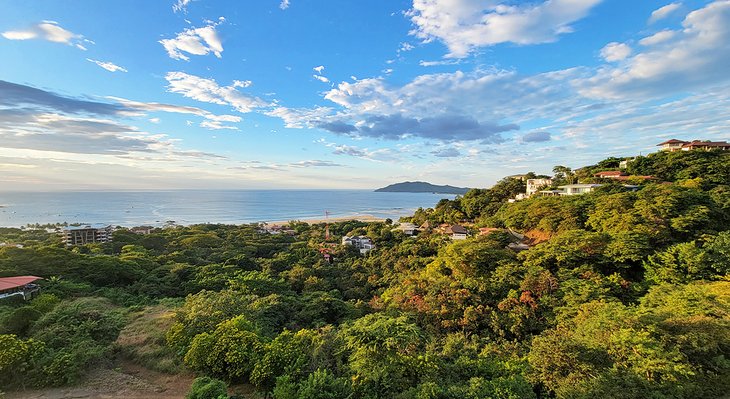 If you're looking for an action-packed beach town to settle in to for a while, Tamarindo is just the place. Located on the Nicoya Peninsula in Guanacaste, Tamarindo is a top destination for surfing, beaching, and fun. Once a quiet fishing village, the town has grown into a tourist haven, where you can find a good assortment of restaurants and hotels.
The town is spread along Tamarindo Beach, a beautiful wide crescent that runs for approximately 1.5 kilometers. The area is known for surfing, with a range of breaks ideal for both experienced surfers and learners. The biggest waves are generally found here in November and December.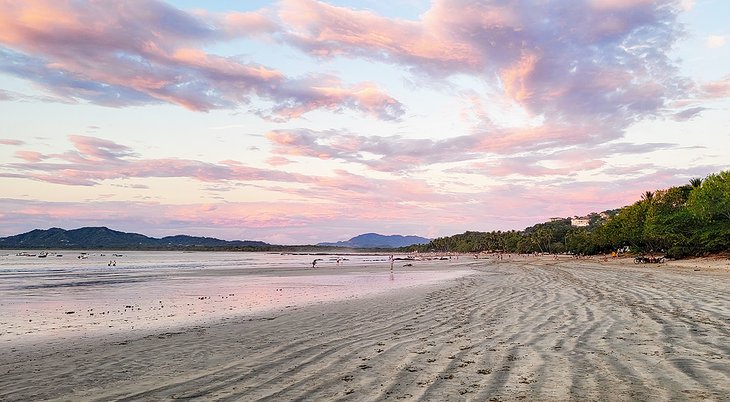 The area around Tamarindo offers eco-friendly adventures and activities that include snorkeling, diving, horseback riding, ziplining, and turtle watching in season. Nearby Playa Grande is one of Costa Rica's most important nesting grounds for leatherback turtles. Throughout October and March, more than 100 turtles can be seen nesting and laying their eggs overnight.
5. Dominical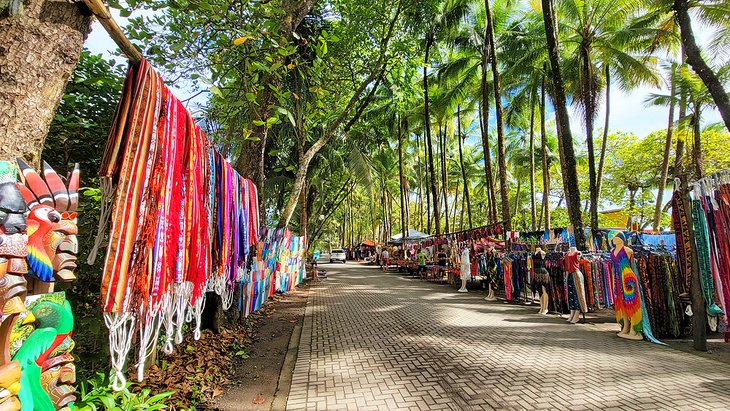 Dominical is a tropical backpacker's haven and one of the best places in Costa Rica for surfing. Lovely beaches, cheap accommodation, casual open-air restaurants, and a great bohemian vibe are what this town has long been known for. But, in the surrounding mountains, resorts, small inns, and luxury rentals attract an upper-end crowd.
A long stretch of beach fronts the town and in behind, under the shady trees, vendors set up tables and sell crafts and other items. In recent years, the once dirt streets have been paved, sidewalks have been bricked, and what was formerly a dusty beach town has become a much more refined tourist destination. Outside of town are quieter beaches, where it's possible to find your own special place.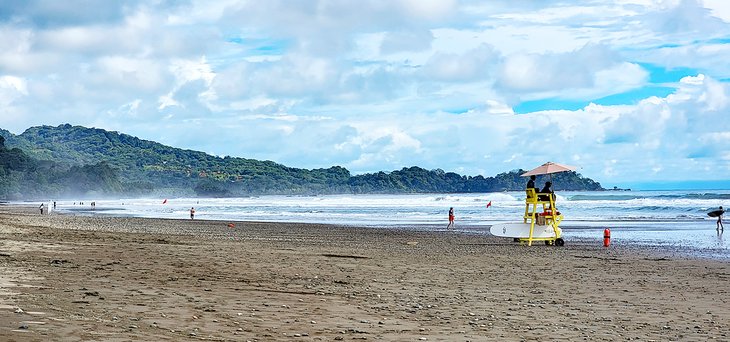 Dominical is a fantastic place to spot wildlife without venturing too far from civilization. Toucans, monkeys, sloths, and scarlet macaws are common sights even right in the town of Dominical.
The annual Envision Festival draws a crowd to Dominical in late February or early March. This event focuses on music, arts, wellness, sustainability, and includes things like yoga and other workshops.
6. Mal Pais and Santa Teresa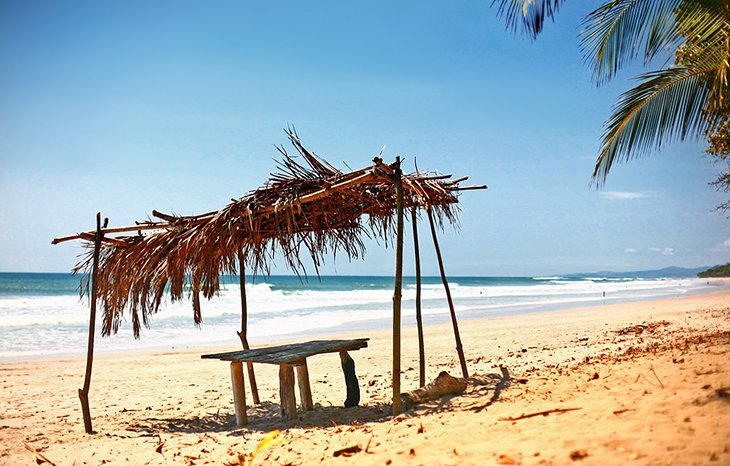 Mal Pais on the Nicoya Peninsula, is an area along the coast known for great waves that attract surfers from around the world. The town of Santa Teresa is the main hot spot in the area, however a chain of villages and beaches lie along the Mal Pais, including the villages of Mal Pais and Manzanillo.
Today, the area is a mix of backpackers, surfers who never managed to leave, and tourists who wish they had planned a longer vacation. The area is more trendy and has more of a scene than places like Dominical, and development in the area has turned it more upscale.
7. Jaco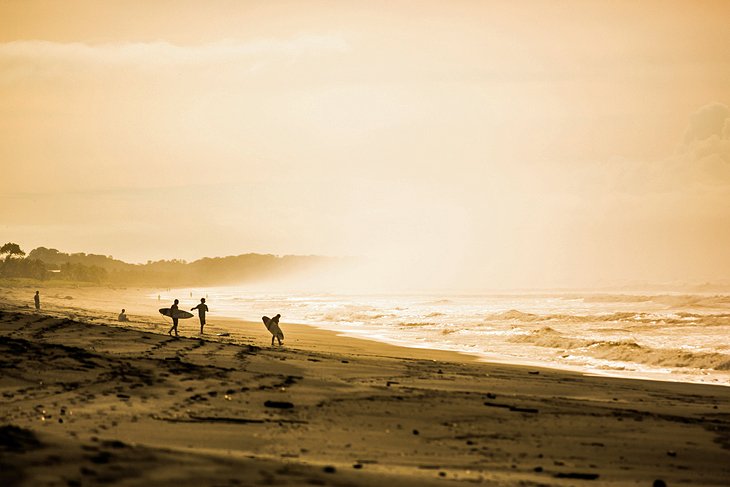 Jaco is a good choice for anyone looking to get out of San Jose but still wanting the comforts and amenities of a larger town or city. The beach here is spacious, pleasant, and has an active vibe.
The surfing and swimming here are both very good, with smaller waves than other areas along this section of coast. What Jaco does have that sets it apart from the numerous coastal towns along this stretch of the Pacific is modern apartments and stores, a strong selection of good restaurants and hotels, and other modern conveniences that have made it a popular choice with expats and retirees.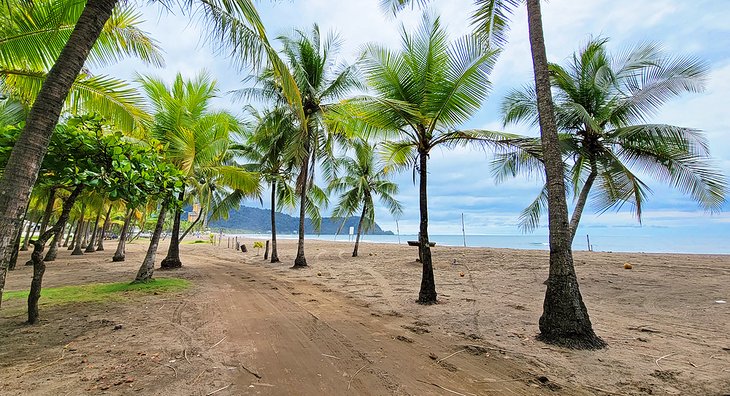 Jaco is less than a two-hour drive from San Jose. If you are arriving in San Jose and want to get out of the city right away but don't want to drive too far your first day, this is an easy destination to reach. You can also base yourself here and explore nearby beaches and attractions on day trips.
8. Wildlife Viewing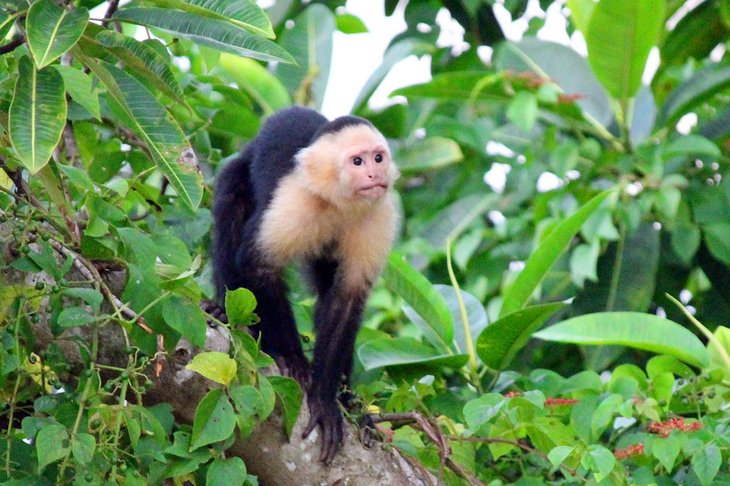 Costa Rica is one of those rare countries where the wildlife alone can be worth the trip. What the country may lack in cultural attractions, it more than makes up for with interesting and prevalent wildlife experiences.
You rarely need to search out animals. Monkeys make regular appearances around the towns, cappuchins hang out around restaurants, scarlet macaws soar through the skies, and toucans rustle in the branches nearby.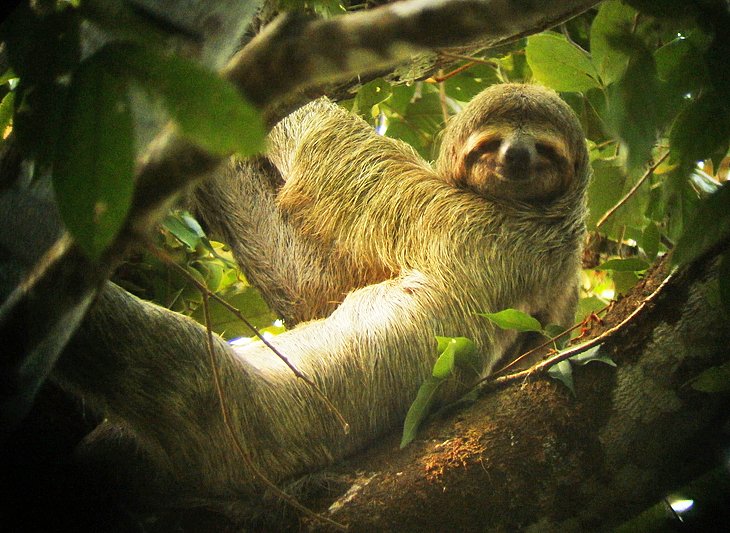 Opportunities to see wildlife are not limited to any one area, but visiting the parks or taking organized tours with knowledgeable guides will improve the chances of seeing some of the more elusive species.
As a general rule, you may have better luck seeing a wider variety of animals in the south of Costa Rica. A guided walking tour through Manuel Antonio National Park will almost guarantee you sightings of sloths and different types of monkeys, along with a variety of other animals. Plan a stay at an eco-lodge in the Osa Peninsula or stay at a small mountainside resort or inn around Dominical, Uvita, or Ojochal, and the wildlife will likely to come to you.
But the north is also full of wildlife. Even if you are staying in downtown Tamarindo, howler monkeys are a common sight in the trees and on overhead wires along the streets. Keep your eyes peeled, and you're sure to see some interesting critter.
9. Diamante Eco Adventure Park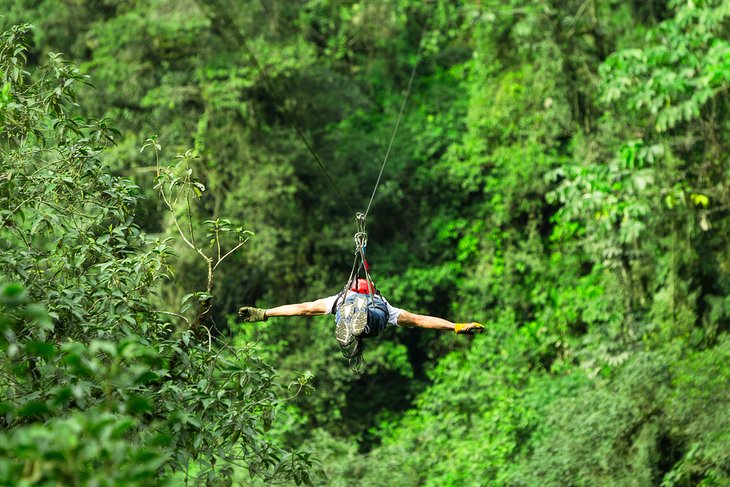 If traipsing through the jungle in the heat is not your idea of fun, head out on a trip to Diamante Eco Adventure Park. Here, the animals, including monkeys, sloths, jaguars, and pumas, are easily spotted in their natural habitat. On-site biologists care for these non-releasable animals and are also on hand to answer any questions you may have. In addition to the large animals, a butterfly enclosure is available to walk through. If you are lucky, one of these gentle and colorful creatures may even land on you.
It wouldn't be Costa Rica if there wasn't an opportunity to go ziplining, and if you want to try it, this is one of the best places to strap in and fly. The most popular zipline at the Diamante Eco Park is the Superman course. You literally jump off the top of a mountain and zip down one mile towards the ocean – head first! Get a Diamante Eco Park Day Pass with Lunch for all day access and enjoy the park at your own pace.
If you'd rather learn about Costa Rican culture and immerse yourself in the country's rich biodiversity, take the Costa Rican Cultural Experience tour. Here, the friendly guides showcase Tico life, food, and culture while teaching you about the local plants that surround you.
10. Osa Peninsula and Corcovado National Park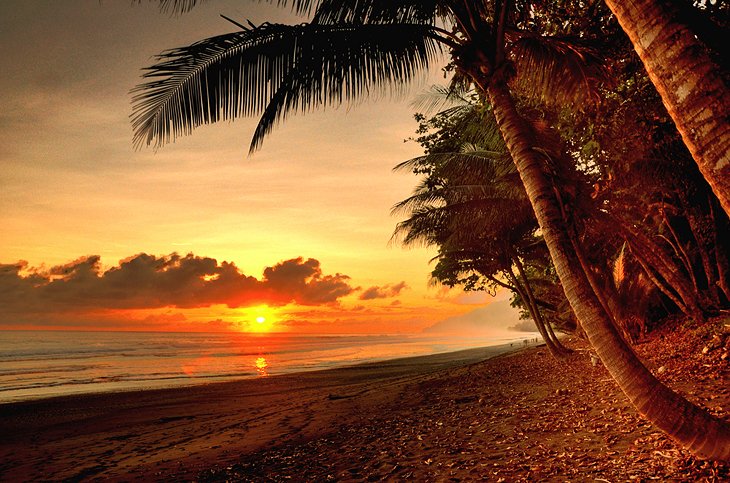 In southern Costa Rica, beyond the beautiful beaches of Dominical, is the remote Osa Peninsula and Corcovado National Park
The park, established in 1975, protects what is considered to be the best remaining stretch of Pacific coastal rainforest in Central America. It has an extensive trail system and is popular with travelers who enjoy long-distance hikes.
In addition to surfing, other popular activities in the region are diving, snorkeling, and fishing. Puerto Jiménez is the area's largest town, and several fine lodges are found in the Drake Bay area.
11. Tortuguero National Park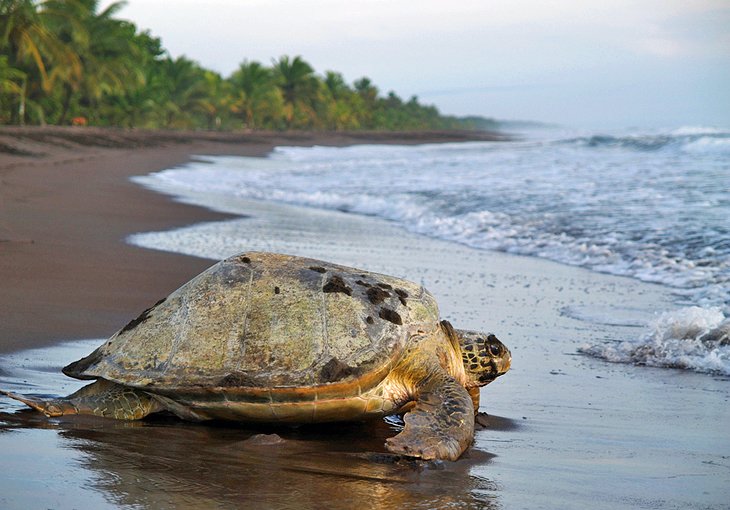 For something a little different and a little off the beaten path, visitors may want to head to Tortuguero National Park on the Caribbean Coast. This area, accessible only by boat or plane, is one of the wettest areas in the country and offers something different than the rest of Costa Rica. The park is an important breeding ground for the green sea turtle and as a result, turtle watching is the main activity here.
While there are many beaches, the coastal area is not suitable for swimming as the surf and currents are rough and strong. Sharks are common. Hundreds and even thousands of green and leatherback turtles can be viewed (guides are necessary) nesting and laying eggs on the beaches overnight. Recent conservation efforts have increased the number of turtles nesting in the area.
From the hiking trails or boat rides along the canals, it's possible to spot monkeys, sloths, and kinkajous. Peccaries and tapirs are also present but more difficult to see. Freshwater turtles, lizards, snakes, frogs, toads, and other amphibians are also common.
12. The National Theater in San Jose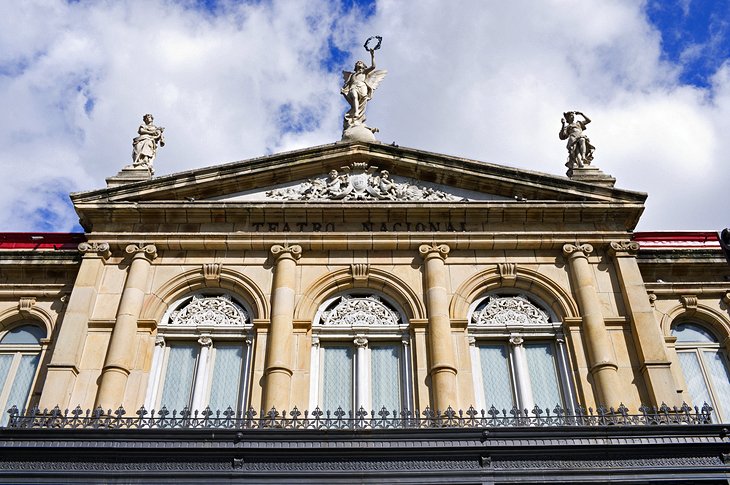 Costa Ricans take pride in the National Theater, which is considered to be the most impressive building in San José. In the 1890s, the ruling coffee barons voted for a tax on coffee exports in order to fund the construction of the theater, and European artisans were imported to design the building.
Completed in 1897, the building features a classical Renaissance columned façade topped by statues symbolizing Dance, Music, and Fame. Inside, the pink marble foyer features allegorical figures of Comedy and Tragedy, and painted murals depicting themes in Costa Rican life.
The most famous of the paintings is one showing coffee harvesting and export painted by Arturo Fontana in Milan in 1897.
13. Irazu Volcano National Park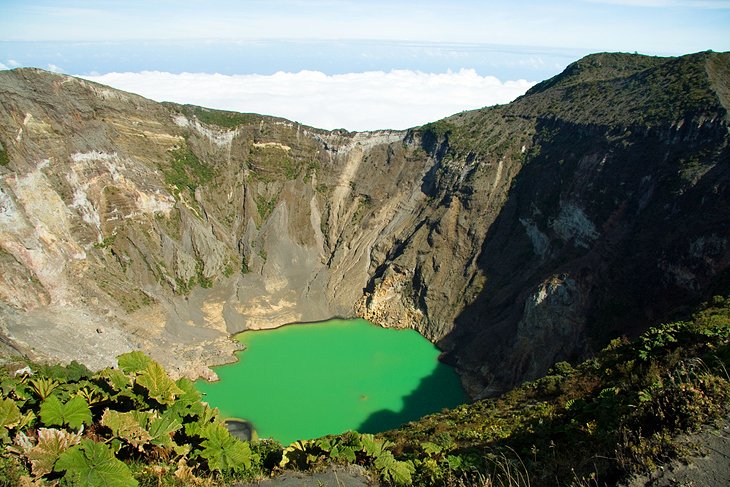 The Irazú Volcano is the highest active volcano in Costa Rica at 3,342 meters. The summit of the volcano is a lunar-like landscape with craters. Irazú's Principal Crater is 1,050 meters in diameter and 300 meters deep, and the Diego de la Haya Crater is considerably smaller and contains a small lime-green lake that sometimes appears red.
Marked trails lead to these craters and two other smaller ones, one of which also contains a lake. A pyroclastic cone can also be seen, which has been formed from fragmented volcanic rock. From the summit, it's possible to look out to the Pacific and Caribbean on clear days.
14. Braulio Carrillo National Park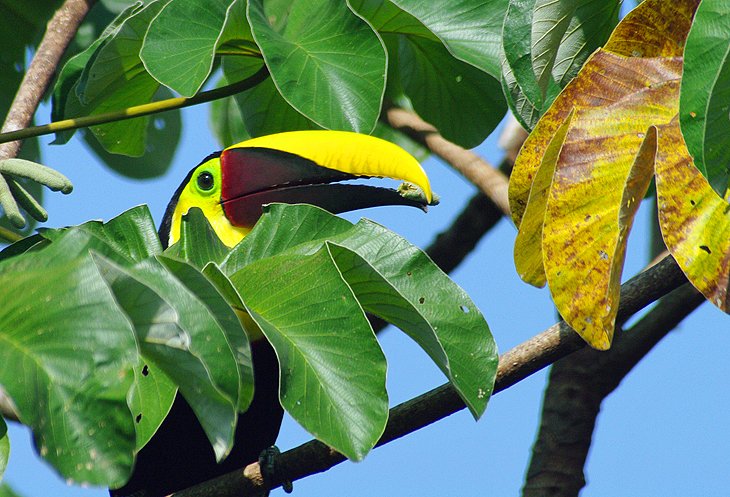 Braulio Carrillo National Park, a 30-minute drive from bustling San Jose, encompasses rugged mountains, waterfalls, canyons, dormant volcanoes, and virgin rainforest. The park's proximity to the country's main gateway means it is an easy way to see some of Costa Rica's unique plants and wildlife.
Many different habitats exist in the park due to the variety in elevation, which ranges from the top of the Barva Volcano (2,906 meters) to less than 50 meters in the Caribbean lowlands. The park is home to mammals such as jaguars, pumas, tapirs, sloths, and monkeys, but easier to see and hear are several species of birds including the Quetzal (national bird), toucans, and eagles.
15. Rincón de la Vieja National Park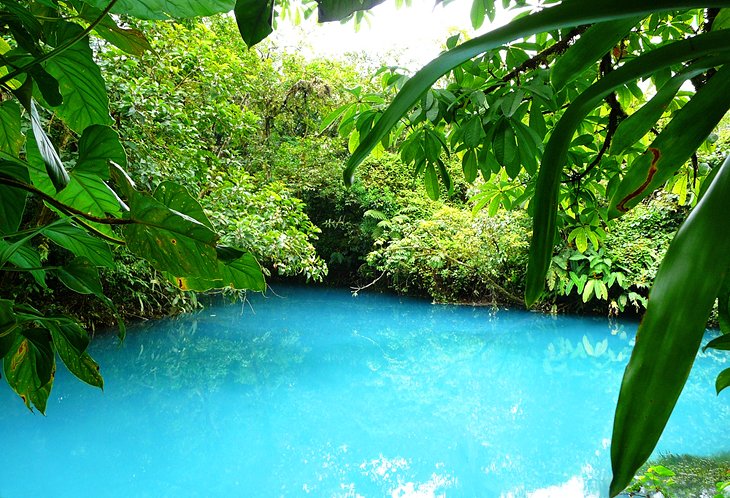 The Rincón de la Vieja Volcano is the main attraction in this park. One of the most popular things to do is a hike to the summit. This 9.6-kilometer trail leaves from Las Pailas and passes through a variety of ecosystems as it climbs to the top. The views are spectacular. You can see the Nicoya Penisula, and on a clear day, right into Nicaragua.
Other less strenuous trails lead to waterfalls and hot springs. The park is also home to a wide variety of wildlife, with tapirs; sloths; monkeys; and large cats such as the jaguar, puma, and ocelot inhabiting the park.
16. The Crocodile Bridge on the Tarcoles River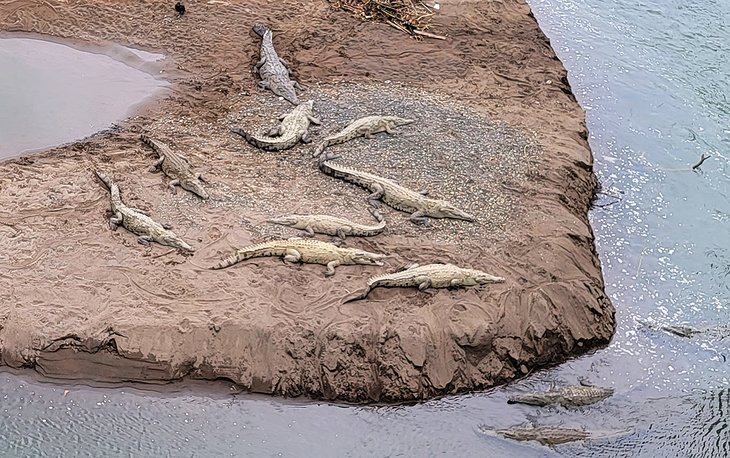 If you want to see a crocodile in Costa Rica, a stop at the Crocodile Bridge will almost guarantee your success. Located about 25 minutes north of Jaco along Highway 34, this is a quick, fun, and easy stop. The Crocodile Bridge spans the Tarcoles River, which is known for having a huge population of American crocodiles.
You'll find a parking area on the north side of the bridge, along with some stores, souvenir sellers, and a Pops ice-cream shop. The bridge has a pedestrian area to walk out on, with railings on the river side and a barrier on the traffic side, so you don't have to worry about traffic. Viewing the crocodiles couldn't be easier, as they bask on the muddy riverbed below.
17. La Paz Waterfall Gardens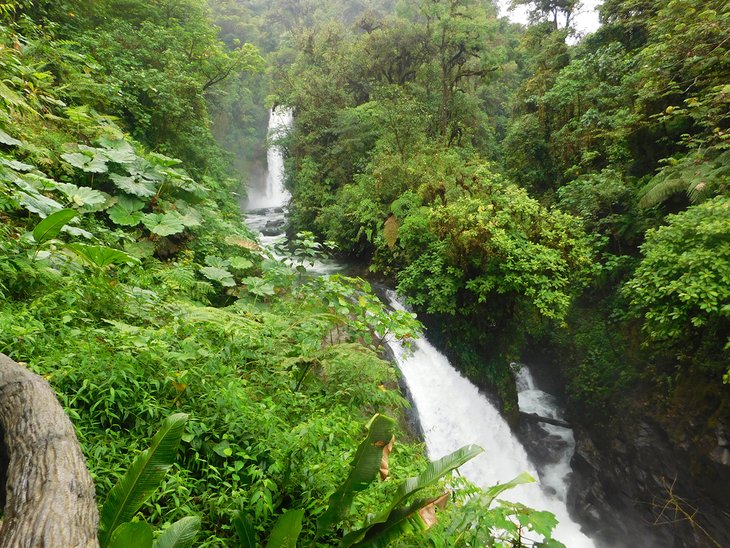 This privately owned nature park is a must-see attraction in Costa Rica. Spread out over 70 acres, the park is home to a wide variety of wildlife including monkeys, butterflies, hummingbirds, and others.
The highlight of the park is La Paz waterfall. Rainwater from the cloud forests tumble off a high ledge, dropping 37 meters into a pool below. In addition to the waterfall, your admission ticket includes access to the serpentarium, butterfly observatory, jungle cat exhibit, and ranarium (frog exhibit).
Official site: www.waterfallgardens.com
18. Kiteboarding in Costa Rica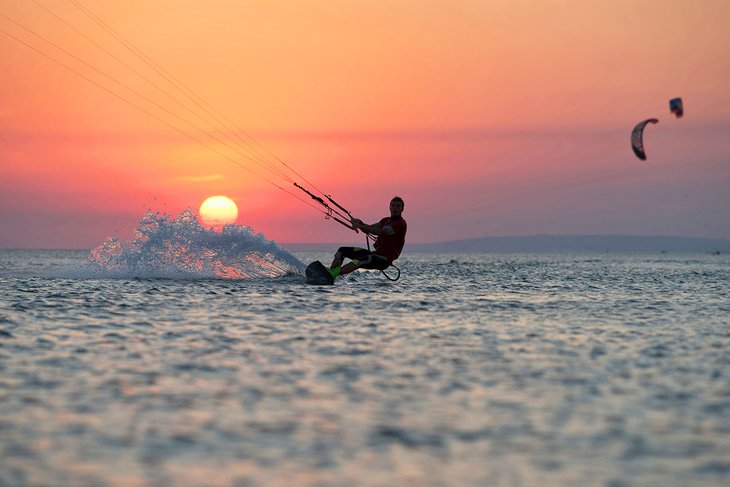 Costa Rica is becoming one of the "go-to" places for kiteboarding travelers. On the far northwestern coast near the Nicaraguan border is a place where the winds are strong and consistent.
Each day, the wind blows down from the massive Lago Cocibolca in Nicaragua and across the beautiful Salinas Bay. Bring your full quiver of kites, but it's likely that your seven-, nine-, and 11-meter sizes will get the greatest workout. Get the arms and legs tuned up, as it can be quite gusty at times.
Comfortable, but basic accommodation is either on the beach or up in the hills from Salinas Bay. If you'd like a more luxurious set of 5-star digs, head to the Dreams Las Mareas.