11 Top-Rated Beaches in Belize
The only English-speaking country in Central America, beautiful Belize is home to breathtaking stretches of sun-kissed beaches that dip into the turquoise hues of the Caribbean Sea.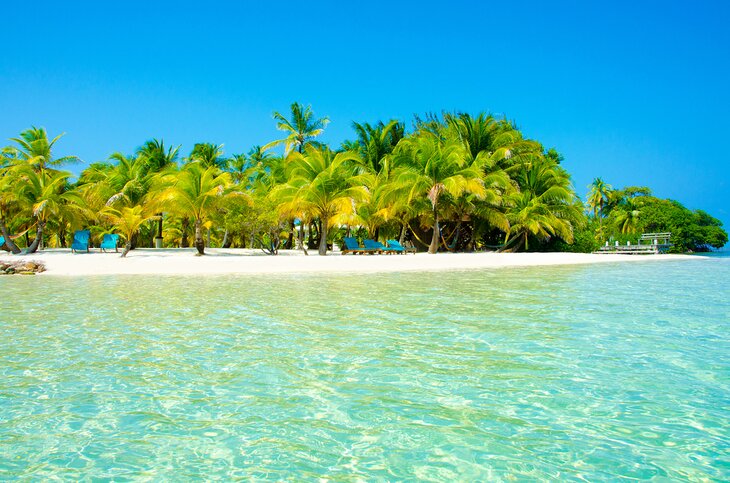 Belize's beaches are not limited to its mainland. There are also more than 200 offshore islands and cays, like South Water Caye, where more pristine stretches of beach await. Only about 10 percent of the islands are inhabited, however, which means as long as you have boat transport, there are many secret places to live out your deserted island fantasies — at least for a day.
And while some places like Ambergris Caye, which is Belize's largest island, and Placencia, on the mainland, are relatively well-known beach vacation destinations, much of Belize's coastline is still undiscovered by your average tourist.
There are many places, including Hopkins Village Beach, where you'll find the majority of visitors are still anglers or divers — Belize is known for its world-class saltwater fly fishing, as well as amazing scuba diving in its thriving barrier reef.
From the obscure to the popular, find the best stretches of coast, both on the mainland and the offshore cays, with our list of the best beaches in Belize.
1. Placencia Peninsula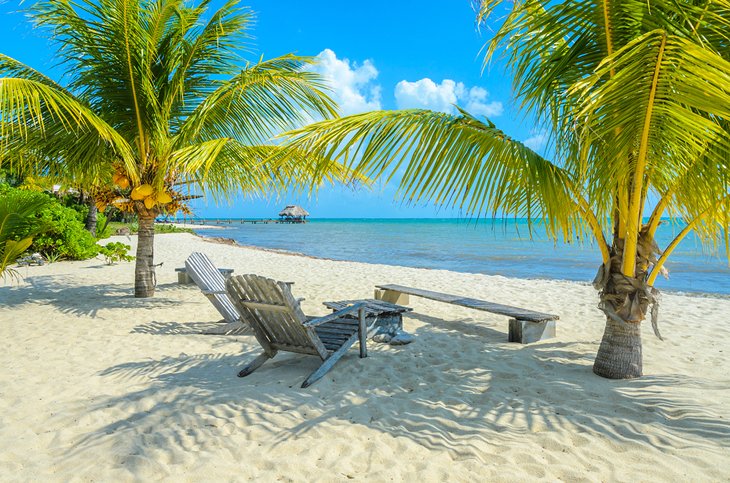 Highlight: Placencia Beach at the peninsula's southernmost tip has a fun vibe with shops and restaurants in the vicinity
With 16 miles of gold sand meets emerald-hued waters, the Placencia Peninsula is a laid-back beach resort destination. There are three adjacent beaches, beginning with Maya Beach and continuing south to Seine Bight and then Placencia Beach at the southernmost tip of the peninsula.
Here, you'll also find Placencia Village, which is filled with cute boutiques, excellent restaurants and coffee shops, and guesthouses and hotels. It is popular with American expats as well.
You can also charter boats for diving, fishing, or just visiting a deserted beach on an outlying cay from Placencia. You can also organize a cruise through the mangrove swamp to Monkey River, where you can spot howler monkeys and crocodiles.
Accommodation: Top-Rated Beach Resorts in Belize
2. Ambergris Caye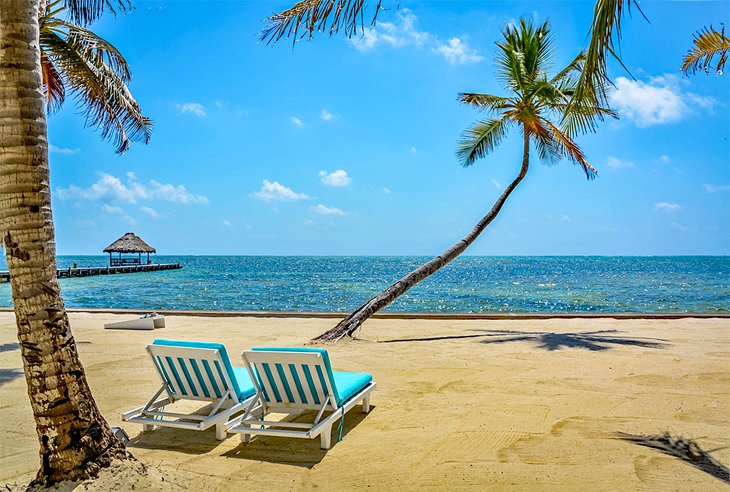 Highlights: Gorgeous beaches to the south and north of San Pedro; great snorkeling and diving in the Hol Chan Marine Reserve just offshore
Belize's largest island, Ambergris Caye has a well-established reputation as an island vacation paradise. The very best beaches are found to the south and north of the tourist town of San Pedro. Head south from San Pedro and look for the beautiful beach-facing Banyan Bay Suites.
Closer to town, the beach across from Ramon's Village Resort is one of the most popular around. The water here is clear and turquoise and deep enough to swim. There are more beaches on the island's northern tip, but you'll need to organize a boat charter to reach them.
Ambergris Caye is also home to a diverse hotel scene with everything from ultra luxe resorts to budget guesthouses strewn along private stretches of white-sand beach.
Ambergris Caye is also a prime diving and snorkeling destination-just offshore is the Hol Chan Marine Reserve. There are a number of top dive sites, but if you like close encounters of the fin kind then request Shark Ray Alley, where you can swim with nurse sharks and southern stingrays.
If you fish, Ambergris is known for its saltwater fly fishing for bonefish, tarpon, and barracuda.
Accommodation: Best All-Inclusive Resorts in Belize
3. South Water Caye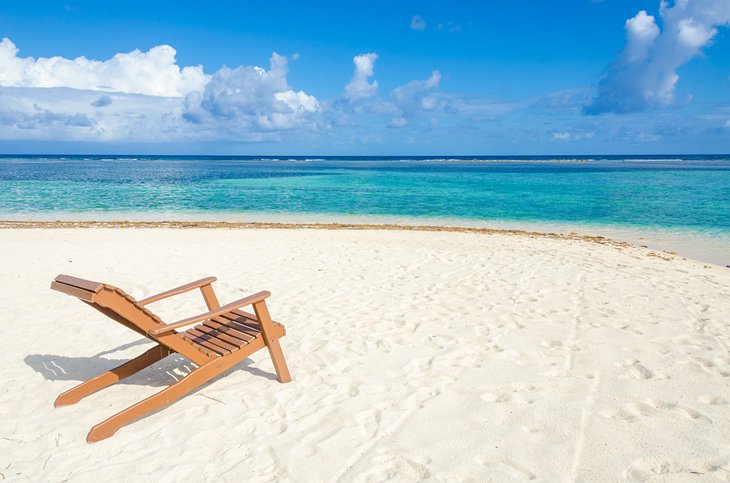 Highlights: Relaxing on dreamy Pelican Beach; snorkeling or diving the barrier reef just offshore
Pelican Beach on South Water Caye is about as picture-perfect as a beach gets. Here, the sand resembles powdered sugar, the water is emerald and turquoise blue, and there is a barrier reef just offshore with some great snorkeling and diving.
The entire island, about 11 miles off the Dangriga coastline and part of the larger South Water Caye Marine Reserve, is fun to explore. Still relatively undeveloped, the island is home to just two resorts.
4. Hopkins Village Beach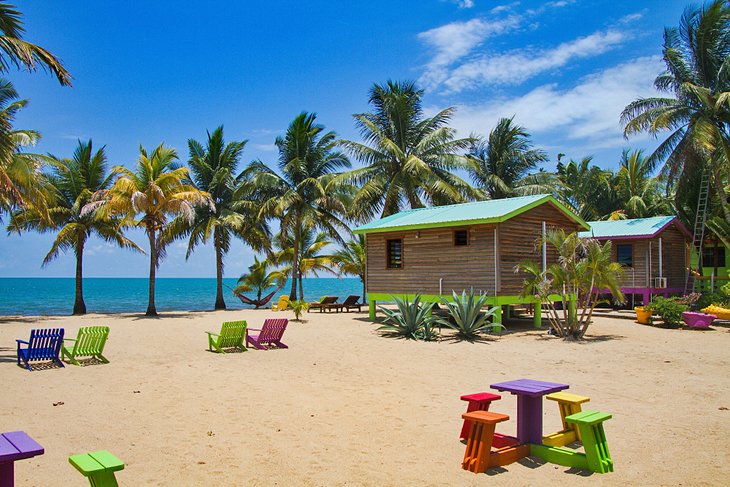 Highlights: Partaking in a drum lesson or tasting local specialties in the village just beyond the beach
If you want to experience a slice of local Garifuna culture along with a pretty stretch of sand and excellent fishing, head to Hopkins Village Beach on the southeastern coast. It is about a 45-minute drive south of Dangriga town and is a five-mile-long beach backed by swaying coconut palms.
The water here is not that gorgeous turquoise hue you'll find along the Caribbean coastline, but it is clear, and what the ocean lacks in color, the village makes up for-you'll find bright-hued inns and some local dining spots like Innie's Restaurant that does an excellent hudut, a traditional Garifuna coconut fish stew served with mashed plantains. You can also immerse yourself in a drum lesson at the Lebeha Drumming Center.
There is also excellent fishing, from saltwater fly fishing to big game sportfishing, around here. As such, Hopkins is a popular vacation destination for anglers with plenty of boat charters available.
5. Half Moon Caye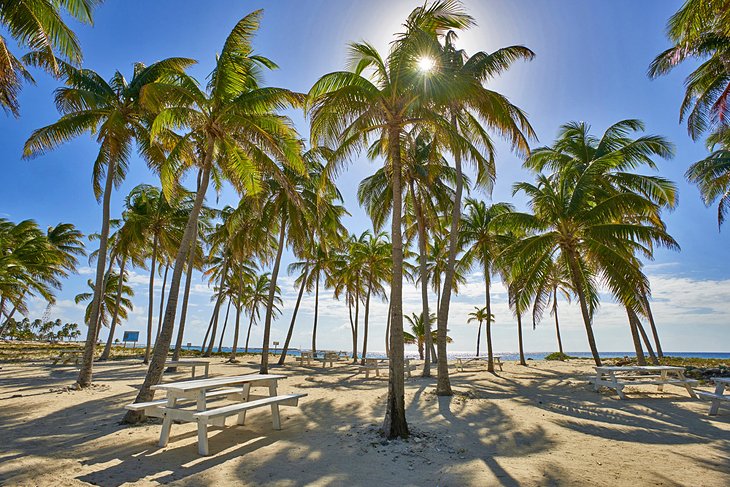 Highlight: The beach here is a protected sea turtle nesting site
The beach at Half Moon Caye stays true to the island's name with a gorgeous, crescent-shaped stretch of powder-soft white sand backed by coconut palms and fronted by the turquoise waters of the Caribbean.
Even more special? The beach is protected as a sea turtle nesting site. In fact, the entire island is protected as Half Moon Caye Natural Monument. It can be visited on a day trip from other islands.
The turtles are the only animals to nest here. Beyond the beach, you'll find a lush forest that is the nesting ground for the rare red-footed booby. Around 4,000 boobies call this island home, and there are also around 98 other bird species living here. You can keep an eye out for all kinds of birds by climbing to the top of the observation tower between the beach and the forest.
6. Southwest Caye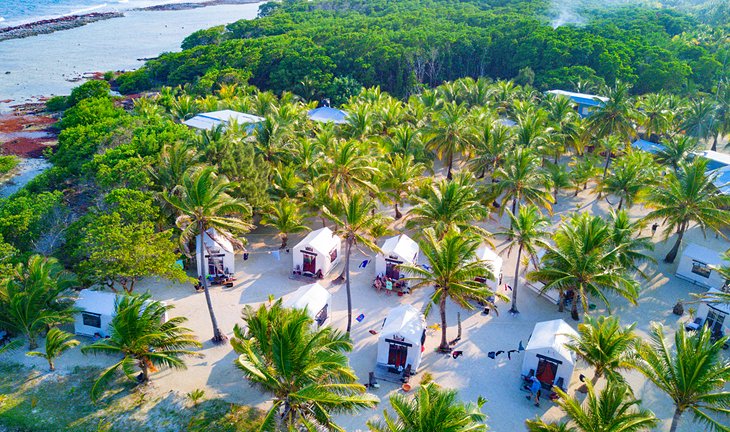 Highlight: Exploring Glover's Reef, home to fabulous snorkeling and diving
A part of the Glover's Reef coral atoll, which is home to excellent snorkeling and diving, Southwest Caye also has long white-sand beaches fronting the two resorts on the island. Choose from the safari-style Glover's Reef Basecamp for an adventure experience with Island Expeditions or Isla Marisol Resort for laid-back relaxing. Both work well for couples and solo travelers.
7. Caye Caulker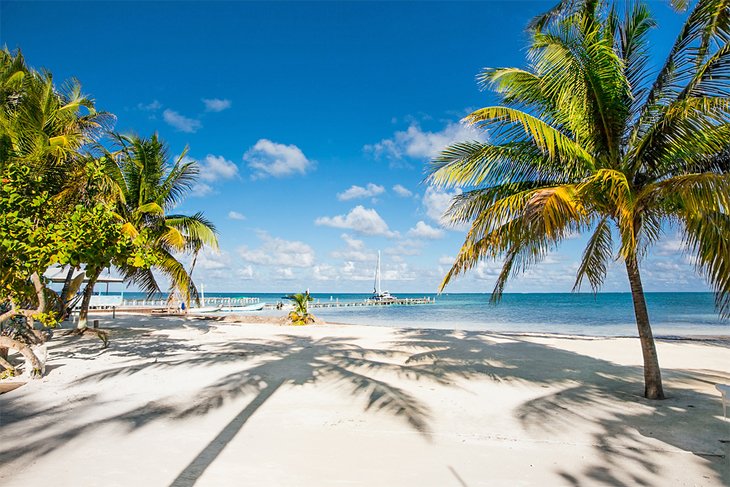 Highlights: Laid-back beaches; good snorkeling on the reef just offshore; adventure activities like cave tubing
There are no cars on Caye Caulker, which is accessible only by water taxi or ferry from Belize City. The island has long been popular with budget travelers and is filled with backpacker hostels, although you'll also find a few more luxury-focused hotels in the mix these days.
The beaches here are laid-back, and most people head to the spot in front of their hotel for a day of chilling in a hammock or snorkeling on the reef just offshore. Inland from the beach, you'll find adventure opportunities including cave tubing.
8. Silk Caye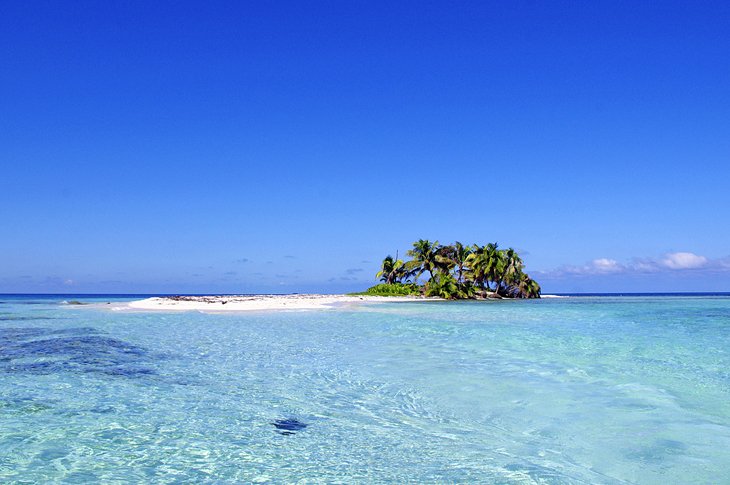 Highlights: Snorkeling and diving the reef off this uninhabited island — if you are lucky, you might see whale sharks!
If you like to snorkel and dive, Silk Cay is where to head for a day trip. Also referred to as Queen Caye, Silk Caye is not inhabited and can only be visited on a day trip via charter boat from Placencia Village.
As such, the powder-soft, white-sand beaches are pristine and usually empty. But the most beautiful wonders lie beneath the sea. The coral formations here are beautiful, and you'll see all sorts of colorful fish, as well as possibly Hawksbill turtles and, if you're lucky, whale sharks.
9. Glover's Reef Atoll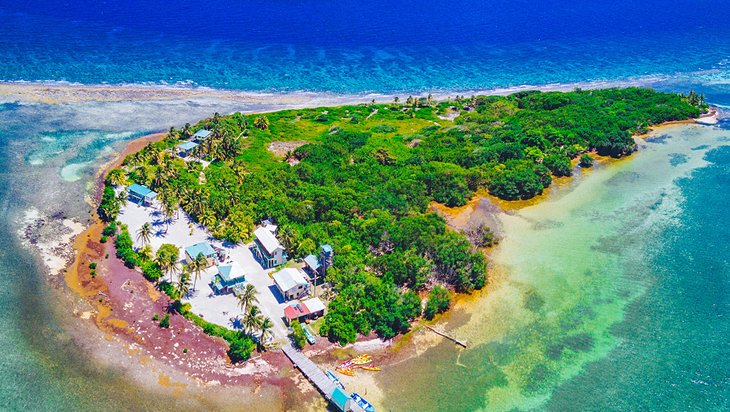 Highlights: Snorkeling and diving the Belize Barrier Reef in Glover's Reef Atoll; relaxing on Long Caye Beach
Glover's Reef Atoll is also one of three atolls that make up the Belize Barrier Reef. The reef is about an hour's boat ride from Dangriga. Many people visit on a day trip, but there are places to stay scattered about-most are of the beach hut and fishing lodge variety.
We mentioned Southwest Cay earlier in this article, but there are four other major cays making up the stunning Glover's Reef Atoll, which is home to some of the best snorkeling and diving in Belize, as well as beautiful beaches. Middle Cay, Northeast Cay, Long Cay, and Manta Island are also part of the marine reserve and World Heritage Site named after English pirate brothers John and Rodger Glover.
An excellent beach can be found on Long Caye. Head to the leeward side of the island to experience the 800-foot Long Caye Beach, which is shaded by coconut palms and not cluttered by boat traffic. Some of the best snorkeling in Belize is actually accessible with a swim from the beach. You can also stay at a guesthouse on the beach.
10. Sapodilla Cayes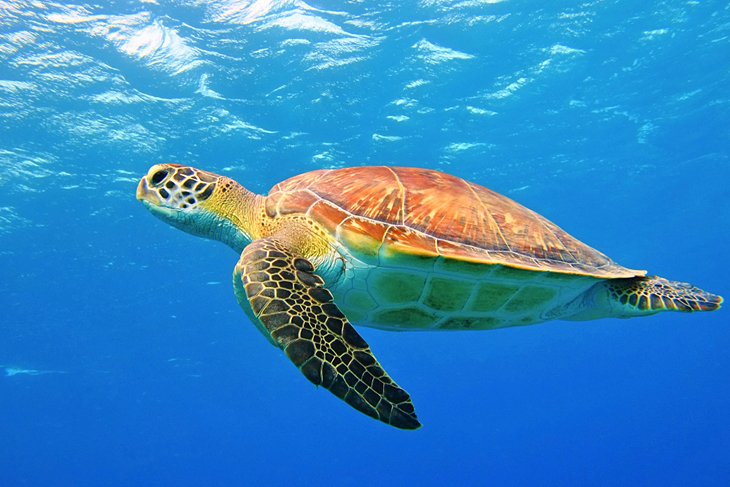 Highlight: Diving in the reef offshore; whale sharks, manta rays, sea turtles, and many species of fish can all be seen
This uninhabited atoll is comprised of 14 sand and mangrove cays along the southern tip of the Belize Barrier Reef. The location is remote, about 40 miles east of Punta Gorda, but it is worth the effort to reach.
Beyond some stunning white- and gold-sand beaches on which it is easy to play deserted island castaway, there is some truly amazing diving in the surrounding reef. Here, you'll see a huge variety of marine animals, from whale sharks to manta rays and sea turtles. Dolphins are often seen frolicking just offshore from the beaches as well.
11. Laughing Bird Caye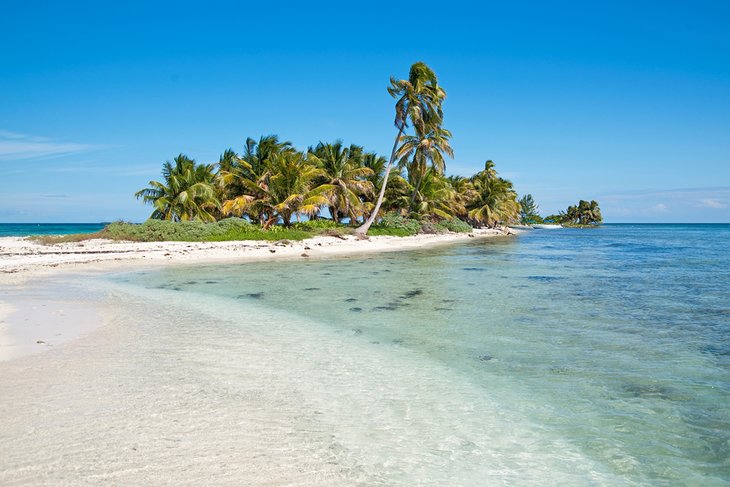 Highlight: One of Belize's most stunning and pristine beaches is located on tiny Laughing Bird Island
Declared a national park in 1991 and a UNESCO World Heritage Site a few years later, Laughing Bird Caye is a 1.8-acre island just a stone's throw from the above-mentioned Silk Caye.
Named for the laughing gull bird population that was bred on the island at one time, Laughing Bird Caye is an easy day trip from Placencia. It takes about an hour to reach via boat, and you can only visit for the day via a tour or charter boat. There are no public facilities on the island other than restrooms, although the park rangers do stay here year-round.
The tiny island is home to one of Belize's most beautiful and still pristine beaches. Here, you'll find a long stretch of sugar-white sand backed by swaying palm trees and then clear, calm water. The waves here are very gentle and the clear turquoise water is shallow, which makes it a great choice for kids. There is also excellent diving and snorkeling in the area.
Laughing Bird Caye is no longer home to its original laughing gull residents, but it is home to other species of birds. Look out for brown pelicans, green herons, melodious black birds, and many others. You can also keep an eye out for turtles, lobsters, and stingrays.
Map of Beaches in Belize
Belize - Climate Chart
Average minimum and maximum temperatures for Belize City, Belize in °C
J
F
M
A
M
J
J
A
S
O
N
D

27

21

27

22

28

23

29

24

31

26

31

26

30

26

30

26

30

25

29

24

28

23

27

22

PlanetWare.com
Average monthly precipitation totals for Belize City, Belize in mm.

114

66

48

43

102

218

206

178

241

254

178

170
Average minimum and maximum temperatures for Belize City, Belize in °F
J
F
M
A
M
J
J
A
S
O
N
D

80

70

80

71

83

74

85

76

87

79

87

79

86

79

86

78

86

77

84

75

82

73

80

71

PlanetWare.com
Average monthly precipitation totals for Belize City, Belize in inches.

4.5

2.6

1.9

1.7

4.0

8.6

8.1

7.0

9.5

10

7.0

6.7
Late November to mid-April is the best time to go to the beach in Belize. This is the dry season, and you can expect clear blue skies, plenty of sunshine, and comfortable temps in the low 80s. There is also less humidity.
The months of December, January, February, March, and the early part of April are also peak tourist season months, however, so expect more crowded beaches and higher rates at resorts.
Belize gets hot and uncomfortably humid in late April and May, and during these months, temps can soar into the 90s. Showers arrive in June and last through mid-November. This is also when you have the greatest chance of experiencing a hurricane.
Strong winds also prevail during June, July, August, September, and October, which does cool things down a bit. September and October are the rainiest months and are considered the off-season. Some businesses do close during these months.
More Related Articles on PlanetWare.com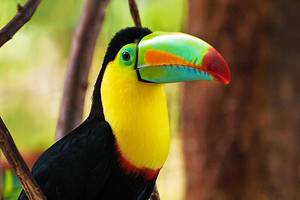 The Best of Belize: The best way to enjoy the beach is from the comfort of a luxury resort. For ideas and inspiration, have a read through our list of the Best Beach Resorts in Belize.
If you want to continue your Belize journey beyond the beach there is more to see and do in this eco-tourism-focused country than lay on the sand. Check out our Top-Rated Tourist Attractions in Belize article for more on what to see and do in Belize. You'll find that there is also a rich cultural heritage to explore, as well as inland jungles filled with wildlife.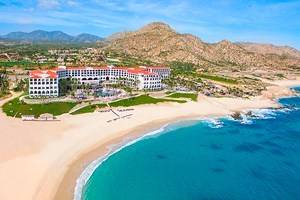 Explore Mexico's Beach Resorts: Belize shares a border with Mexico to its north and the Caribbean Sea with Mexico's Yucatan Peninsula, which is home to some of the country's best beach resorts. Our Top-Rated Beach Resorts in Mexico article introduces you to resorts in popular destinations like Cancun on the Caribbean Sea, as well as Cabo San Lucas in the Baja Peninsula, among other areas.