15 Best Beaches in Cozumel
Mexico has some of the world's most spectacular islands, but none is more famous than Cozumel. Located just offshore from Playa del Carmen, this breathtaking Caribbean jewel is known for its sugary soft sand and electric-blue water. It's also one of Mexico's largest cruise ports, which makes it an interesting combination of tourist playground and natural paradise.
Being an island, Cozumel is all about its coastline, and has some of the most interesting beaches on this coast of Mexico. From the tourist-friendly beaches of the western coast to the more rugged, quiet, and local-friendly beaches along the eastern shore, there's an endless amount of opportunity and a different vibe for every mood.
Cozumel is also close to one of the most beautiful reef systems in the world, making it a top spot for snorkeling and diving. In fact, from many of its beaches, it's entirely possible to snorkel directly from the beach for spectacular views of coral, tropical fish, and even stingrays and nurse sharks.
The best way to make the most of your time is to rent a motor scooter for the day, load up a backpack, and beach hop your way along the coastal circuit. Find the beach that speaks most to you, set up shop for the day, and slip into the island life with our list of the best beaches in Cozumel, Mexico.
1. Playa Punta Morena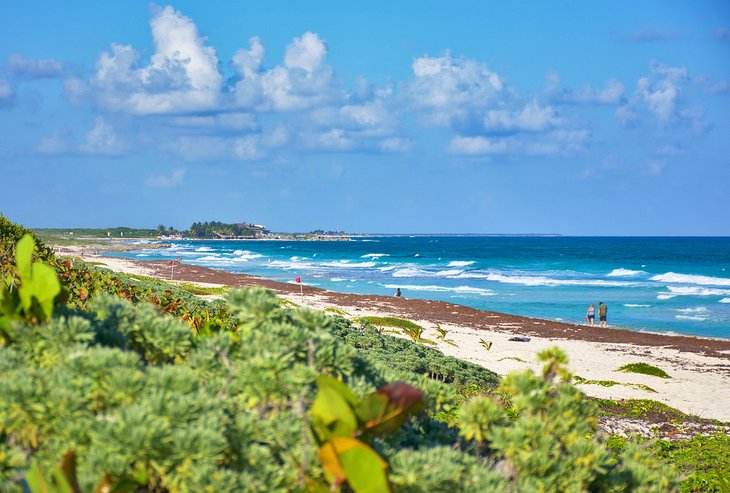 The eastern coast of Cozumel is, arguably, the most beautiful on the entire island. The cruise port is on the western coast, facing the mainland, so the majority of tourist traffic tends to stay on the western and southern shores. But the eastern coast is much more rugged, raw, untouched, and local.
Playa Punta Morena is about halfway along the eastern coast and offers a stunning stretch of powder-soft sand. The eastern beaches, because they are exposed directly to the sea, can be a lot of fun for surfers, especially since surf culture isn't as big on the Caribbean Sea side of Mexico. But Playa Punta Morena hosts surf events during peak wave season.
A small beach club is available, which has beach loungers and some refreshments for sale. There's even a pool should you feel the need for a refreshing dip.
Address: Costa Este km. 44, San Miguel de Cozumel, Q.R.
2. Playa El Cielo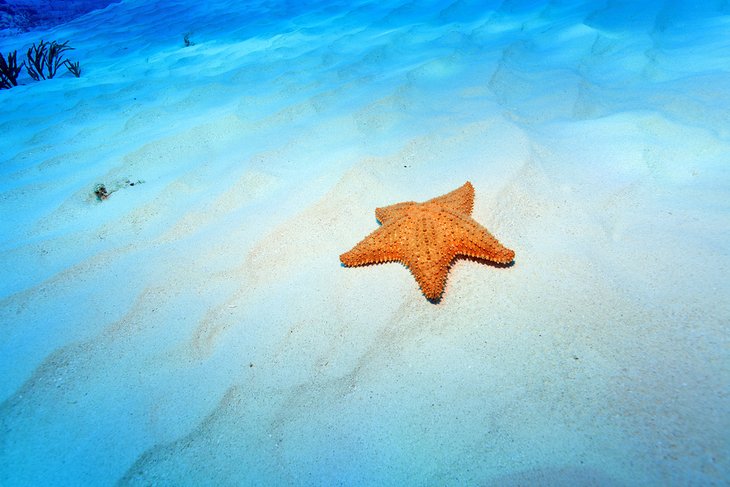 If heaven really is a place on Earth, then it most certainly is found on Playa El Cielo. At least, it's heaven for snorkelers and divers. This picture-perfect swatch of sugary sand is famous not only for its crystal-clear water, but for the thousands (yes, thousands) of starfish that can be found underneath the water's surface.
El Cielo, located at the southern tip of Cozumel, is at the gateway of the Columbia Reef, which is teeming with tropical fish and coral.
The secret of El Cielo is that it can't be reached by car. No roads lead directly to the beach itself, and it's difficult to reach on foot. Those who want to discover "heaven," however, can do so by boat.
If you're visiting from Playa del Carmen, you can easily find tours that offer this perfect beach. Another option is to hire a water taxi to take you from many of the more accessible beaches nearby.
Address: Carretera a Punta sur salida el cielo, 77600 San Miguel de Cozumel, Q.R., Mexico
3. Playa Chen Rio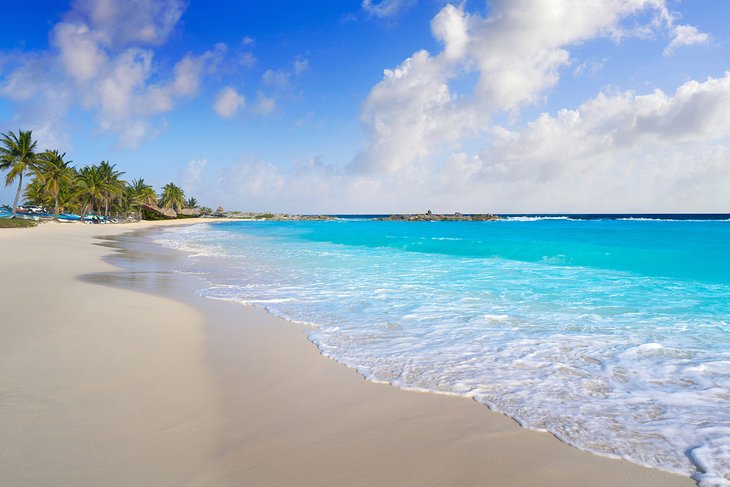 Playa Chen Rio's top selling point is that it is one of the calmer beaches on the windward eastern coast, making it wonderful for swimming. In fact, there's even a sweeping natural tide pool, which makes it a perfect family beach. Lifeguards are also on duty at this beach, which cannot be said for all of them.
That said, its reputation as a family-friendly, swimmable beach means it tends to be one of the more crowded. Still, it's no less beautiful, with sparkling turquoise water and a blinding stretch of bleached sand.
A smattering of restaurants are available for snacks and refreshments along the shore, as well. A small shop sells handicrafts, but they aren't much different from the tourist items you'll find closer to the cruise port.
Address: Costera Este Highway 3.5 miles north, Cozumel
4. Passion Island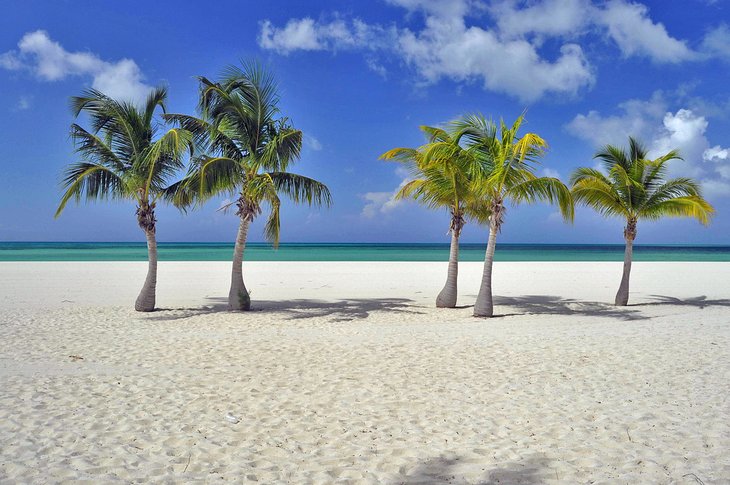 Passion Island takes your Cozumel island experience to the next level. Just off the north coast sits this smaller, even more undeveloped, slice of paradise. Ringed in white-sand beach, peppered with palm trees, with nothing but endless views of turquoise water, Passion Island takes the Cozumel island experience and raises the bar to an even more idyllic Robinson Crusoe fantasy.
The best (and most affordable) way to reach Passion island is from the Punta Langosta cruise terminal, where Passion Island guides can arrange transportation to the smaller pier that has boats to the island. It's about a five-minute crossing from Cozumel to Passion Island.
If you have your own car, you can drive yourself to the ferry at Bahia Ciega, which is about a half hour from downtown. Visitors can also book a full-service tour, which often includes lunch and activities.
Address: Avenida 5 Sur s/n, Centro, 77600 San Miguel de Cozumel, Q.R.
5. Playa San Juan
Located at the northern tip of the western coast, Playa San Juan is one of the more popular family beaches on Cozumel. Its proximity to resorts and shopping makes it convenient, easily accessible, and full of things to do. Keep in mind that when cruise ships are in port, it tends to be one of the more crowded beaches.
Snorkeling is popular at this particular beach, and plenty of shops are available from which to rent snorkel equipment. Windsurfers love this stretch of coast as well, because it has calm water and great conditions. You can rent equipment from the shops nearby.
If you're looking for more full-service, check into Buccanos Beach Club, which has its own pool, restaurant, and lounge space.
Address: Carretera San Juan Kilometro 4.5, Zona Hotelera Nte., 77600 San Miguel de Cozumel, Q.R., Mexico
6. Playa Palancar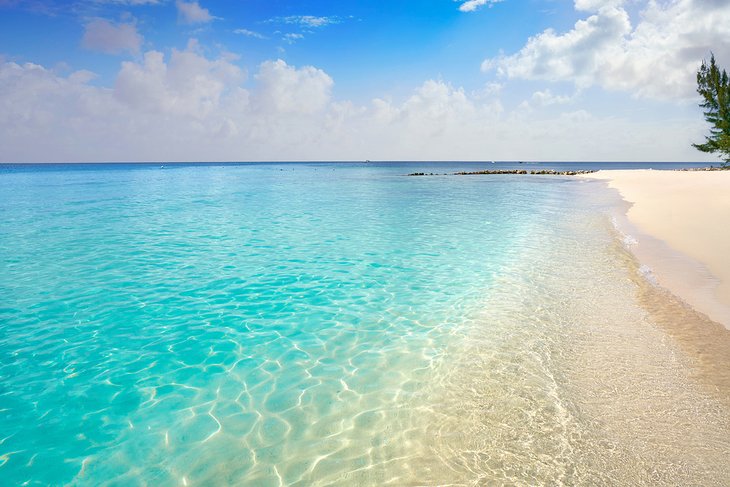 At the southern end of Cozumel is this unbelievable stretch of pristine, powdery sand. Playa Palancar is one of the most visually stunning beaches on the island, with clean white sand, turquoise water, and a rustic-style palapa restaurant that is known for its fresh fish tacos.
Like most beaches on this coast of Cozumel, snorkeling reveals a treasure trove of fish, turtles, and lobster. You can also find a guide who will take you farther out to the reef, where there is a lot more to discover below the water's surface.
Because Playa Palancar is closer to the more rustic Cozumel coast, it retains a sleepy vibe and manages to keep the majority of crowds at bay.
Address: Carretera Costera Sur Kilometro 19.5, Cozumel
7. Playa Dzul-Ha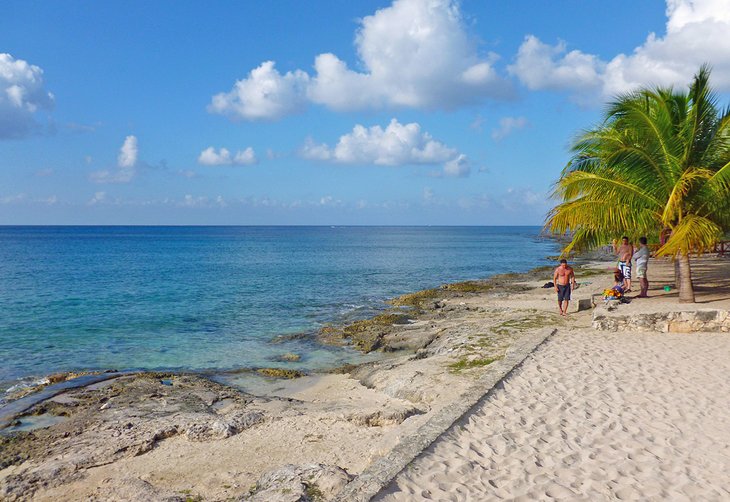 Playa Dzul-Ha is one of the best snorkeling beaches on the island of Cozumel. The beach itself is a bit rocky, compared to other soft and powdery beaches on the island, but if you're looking for a spot from which to explore the famous surrounding reef, Dzul-Ha is a great beach to set up shop.
You won't need a boat or a guide to explore the treasures offshore here. The reef is accessible directly from the beach - but make sure to wear water shoes to avoid stepping on sharp rocks.
One of the best places for snorkeling here is at the Money Bar, which rents gear and lockers. When you're done exploring, you can grab a snack and enjoy the beautiful views.
Address: Carretera Costera Sur Km 6.5, Zona Hotelera Nte., 77600 San Miguel de Cozumel, Q.R., Mexico
8. Playa Mia Grand Beach Park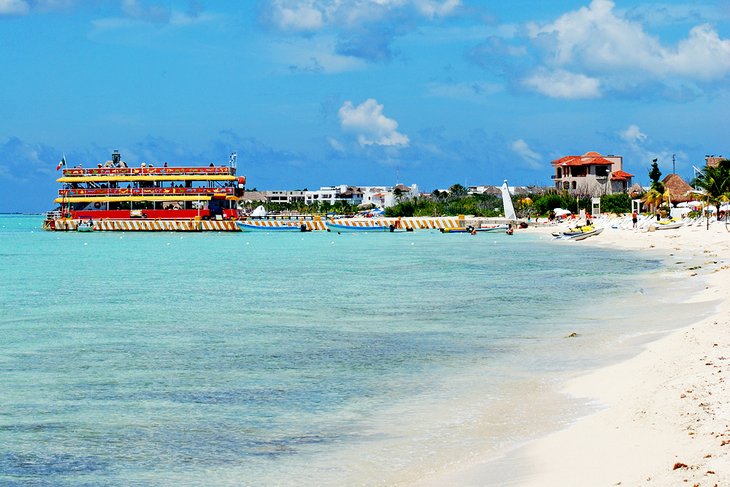 This beachfront water park is one of the largest of Cozumel's beaches. Located on the western coast, it's a popular spot for cruisers, day-trippers, and people staying on the island.
Jam-packed with things to do, Playa Mia has water park activities, dining, spa treatments, and, of course, a white-sand beach. It's not uncommon to find guests booking a snorkel tour, hopping on an ATV, or taking a jet boat ride across the turquoise water.
Families will love the Floating Park as well, which includes a 500-foot-long adventure circuit with bouncing structures, trampolines, and other obstacles.
One of the more popular attractions is the underwater "Mayan city," a replica of a submerged lost city. Snorkelers love to get lost among the "ruins," which pay tribute to Cozumel's Mayan heritage.
Address: Carretera Costera Sur Km 15, 77600 San Miguel de Cozumel, Q.R.
9. Paradise Beach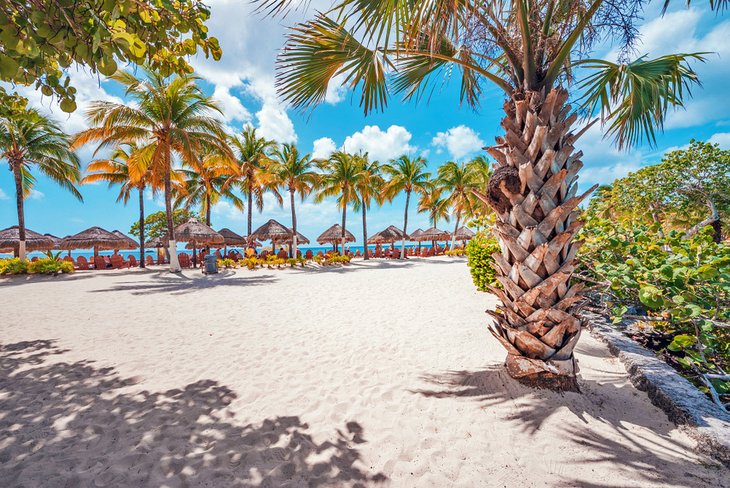 Five miles from the cruise ship pier, Paradise Beach packs in a day's worth of fun for families. It's a sheltered area, meaning the waters are calm and perfect for swimming.
A beach club offers refreshments and a pool, as well as lounge chairs. Guests can rent kayaks, snorkel equipment, and paddleboards. There's a family-friendly floating adventure park as well.
The beach club is all-inclusive in terms of refreshments, pool, and facilities. The additional Fun Pass grants access to the water park, kayaks, snorkel gear, and more. For an additional fee, visitors can indulge in beach massages, henna tattoos, Jet Skis, and parasailing.
Address: Carretera Costera Sur, Zona Hotelera Nte., 77600 San Miguel de Cozumel, Q.R.
10. Stingray Beach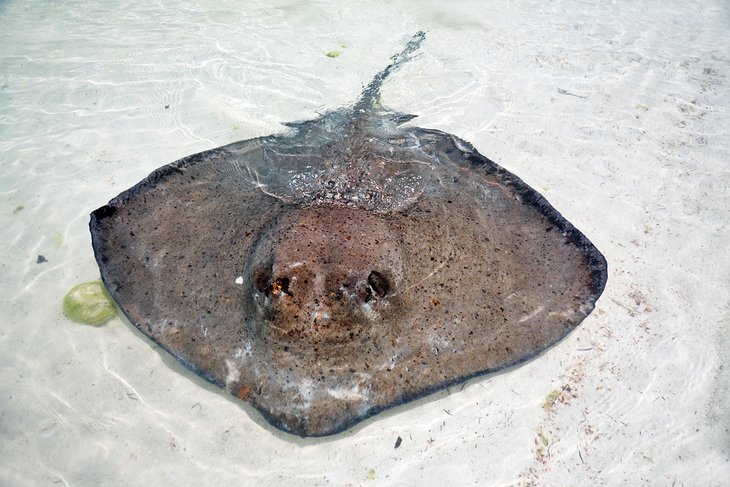 Close to San Miguel, this west coast beach gets its name from - you guessed it - the stingrays that are always swimming just offshore. These gentle creatures glide effortlessly through the crystal-clear water, and are always friendly and welcoming to visitors.
The most popular excursion is the Rays & Sharks experience, which allows visitors to feed and hold the stingrays. You also have the potential to interact with small nurse sharks and colorful fish, surrounded by more than 800 different kinds of colorful coral.
Stingray Beach has many other activities, in addition to snorkeling with stingrays. Visitors can book stand up paddleboarding tours, chocolate workshops, open-sea snorkeling tours, and tours of Cozumel.
The beach has an entrance fee, so be sure to make the most of it and take advantage of all the activities it has to offer.
Address: Km. 2.8, Av. Rafael E. Melgar S/N, Centro, 77600 San Miguel de Cozumel, Q.R.
11. Playa Uvas
Two adjacent beaches make up Playa Uvas - Playa Uva Norte and Playa Uva Sur. Popular among locals and cruisers alike, these convenient beaches are beautiful, but can get a little busy, especially when a ship is in port.
Of the two beaches, Sur is the more developed one, with a beach club that has a restaurant, hammocks, a pool, sun loungers, a small spa, and facilities. The atmosphere is heightened by the sugary sand, translucent water, and endless views out to sea.
Playa Uva Norte is just as picturesque, but travelers will have to rely a little bit more on self-service, as there aren't many facilities. Still, it's wonderful for a picnic and a more DIY experience.
Address: Carretera a Chankanaab Km 8.5 s/n Zona Hotelera Sur, 77600 San Miguel de Cozumel, Q.R.
12. Playa Corona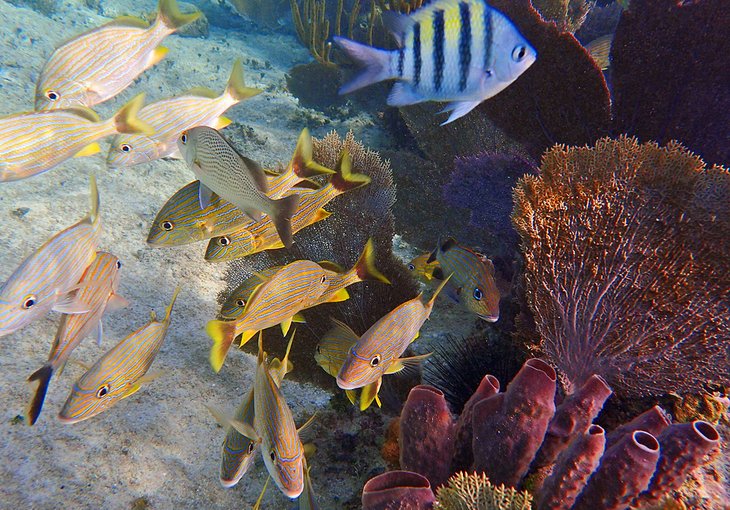 It may be small in size, but it certainly packs a punch. The beach itself isn't much to look at, but it is one of the best jumping-off points from which to explore the surrounding reefs.
Snorkeling off Playa Corona is nothing short of spectacular. The reef you'll be exploring is Chankanaab, which is part of Chankanaab National Park.
The beach itself may be short on sand, but there is a beach restaurant that offers lounge chairs and refreshments. Visitors can rent snorkeling equipment, play beach volleyball, or simply lounge under the sun. But if it's snorkeling you're after, Playa Corona is one of the best spots on the island.
Address: Carretera costera sur km 10, 77600 San Miguel de Cozumel, Q.R.
13. Mr. Sanchos Beach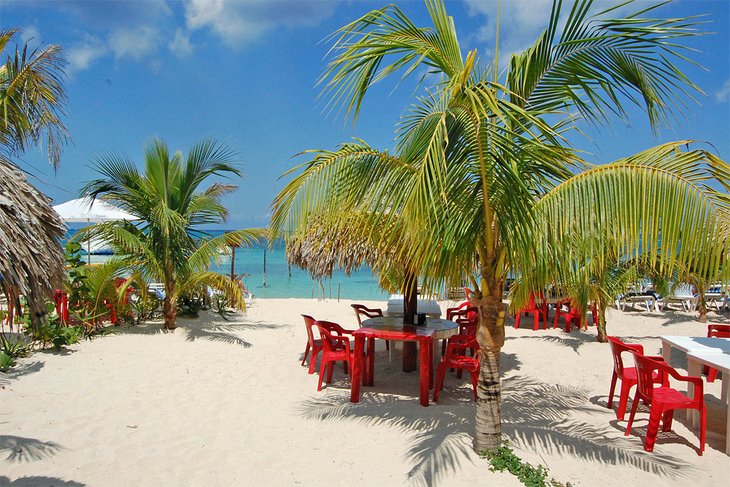 Mr. Sanchos Beach is named for the largest beach club that sits on it. Fifteen minutes from San Miguel, this west coast hot spot is a big draw for families.
The beach itself has no charge, but there is a day pass to use the beach club for a small fee. This opens up swimming pools, hammocks, a spa, changing facilities, and a restaurant. You can sign up for WaveRunners, horseback riding, parasailing, and other popular activities.
Whether or not you opt for the beach club, there is plenty to enjoy along Mr. Sancho's Beach. The sand is picture-perfect, as gentle, stunning waves slowly lap up on shore.
Address: Carretera Costera Sur Km. 15, 77600 San Miguel de Cozumel, Q.R.
14. Playa Bonita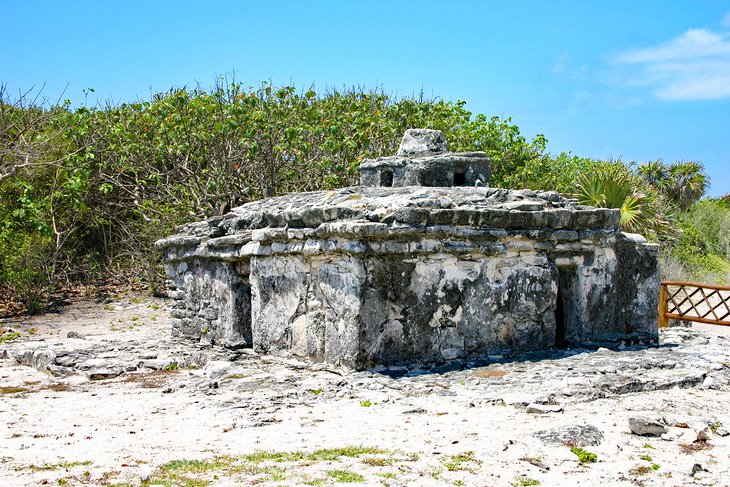 Cozumel's Playa Bonita will appeal to you if you like words like "remote," and "pristine." This quiet stretch of coastline is along Cozumel's rugged eastern coast. While many beaches along the eastern coast of Cozumel are choppy, Playa Bonita remains calm and gentle, with turquoise water and beautiful views.
Not far from the beach, you'll also find some Mayan ruins, which are absolutely worth a visit. These ruins were deeply important to the Mayan people because they believed that this point was the farthest end of their world. Lounging on the beach at the edge of civilization is not a bad way to spend an afternoon.
15. Playa Azul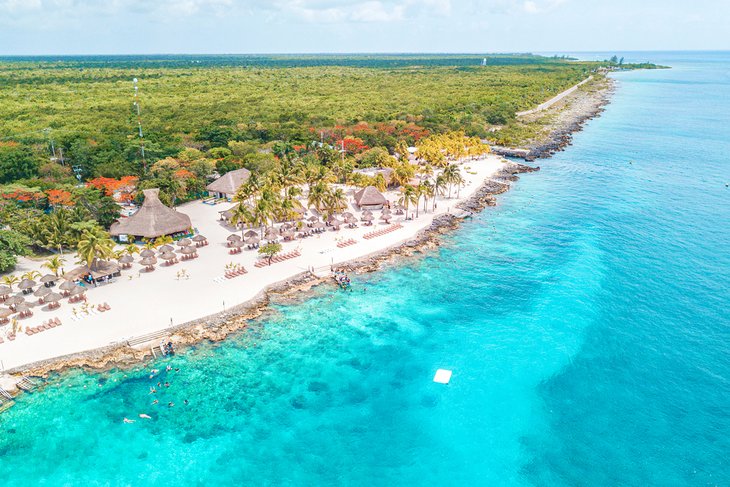 What's great about Playa Azul is its location: it's both conveniently located to things to do, yet feels like another world. This beautiful beach is located on the northwest corner of the island, not far from San Miguel, but still rather secluded.
Tourists who spend the day here can choose from a variety of activities, whether it's sunbathing, snorkeling, kayaking, or swimming. The waves here are perfectly calm, and the water is gorgeous.
Showers and refreshments are available for visitors, and you'll also find a few hotels in the area, should you want to stay a little longer. In fact, the restaurant at Playa Azul Beach Club is popular among residents and visitors. The food is delicious, and the prices are very reasonable.
Map of Beaches in Cozumel
Cozumel, Mexico - Climate Chart
Average minimum and maximum temperatures for Cozumel, Mexico in °C
J
F
M
A
M
J
J
A
S
O
N
D

28

20

29

20

29

20

31

22

30

23

31

23

31

23

32

23

31

23

30

23

28

22

28

20

PlanetWare.com
Average monthly precipitation totals for Cozumel, Mexico in mm.

97

122

51

173

208

379

145

122

361

94

89

64