14 Best Beaches in Cancun
Mexico has more than 5,800 miles of coastline. That's more than 5,800 miles of beaches, and each section of the country offers a beach scene with a different vibe. Arguably some of the most picture-perfect beaches in Mexico can be found in Cancun.
Cancun, and the surrounding areas, are part of the Mexican Caribbean, which rewards travelers and locals with electric turquoise water, sugar-colored sand that is as fine as powder, and some of the best resorts and restaurants in the entire country. From Cancun down to the border of Belize, this part of the country is truly blessed with spectacular beaches.
Keep in mind that most beaches in Mexico are public, but often resorts will have private sections of the beach that are exclusive for guests. Still, it's highly common to see locals and tourists mixing and mingling on the beaches of Mexico, which adds such a richness to the travel experience. On certain crowded beaches, however, it's not unusual to have an endless stream of beach vendors roll by, offering to sell you tours or souvenirs. The lesser known beaches in the more remote areas offer a decidedly more tranquil experience.
Are you ready to explore? Grab a lounge chair, pack your sunscreen, and check out our list of the best beaches in Cancun.
1. Playa Delfines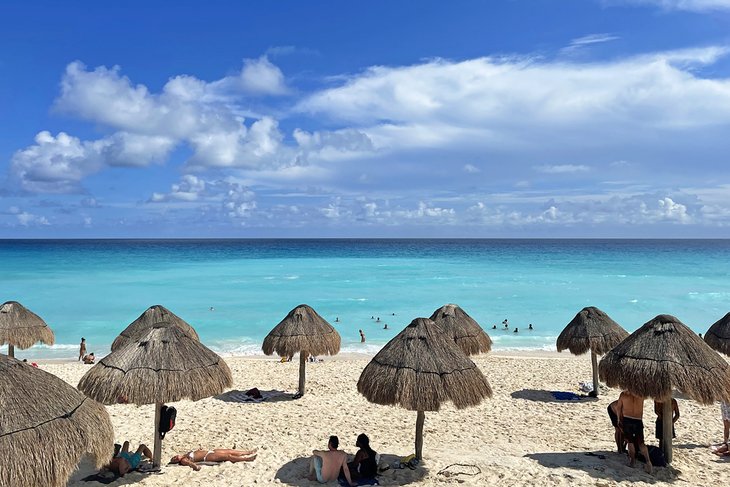 Sandwiched on either side by sweeping stretches of resort-dominated beach, Playa Delfines is Cancun's largest, most popular, and arguably most beautiful public beach. Picture blindingly bleached sand backed by the most electric blue water. Along the sand, you'll find umbrellas for rent, thatched palapas, and restrooms.
You may also hear Playa Delfines known as El Mirador because it has a hilltop deck that overlooks the waves and surrounding area. Note the colorful Cancun sign, which is always a favorite for Instagram shots. Playa Delfines is near the Hotel Zone, as well, so you'll have a nice mix of resort guests and locals.
Keep in mind that the waves can be a bit choppy here, so proceed with caution if you're not a strong swimmer. Still, this remains one of the best beaches in Cancun.
Address: Punta Nizuc - Cancún 335, Zona Hotelera, 77500 Cancún, Q.R., Mexico
Read More: Best Tourist Attractions in Cancun
2. Costa Mujeres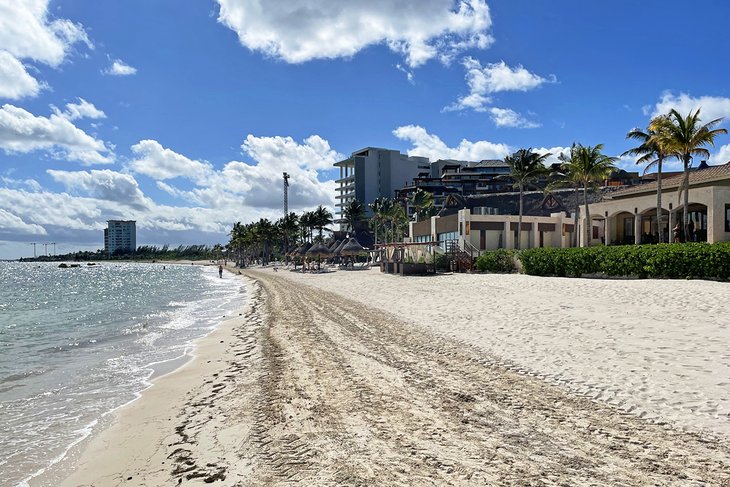 About 30 minutes north of Cancun's Hotel Zone is a new, gated luxury development perched on a swath of sun-drenched sand. Costa Mujeres is a gated community with several all-inclusive resorts, restaurants, golf, and more.
Costa Mujeres has its own impressive natural landmarks to explore, as well, like the Isla Blanca beach, archaeological sites, the Chacmuchuc lagoon, and more. Note: Isla Blanca beach is often regarded as the best beach in the area.
Unless you're staying at one of the hotel's nearby, you'll need to rent a car, but it will absolutely be worth the trip. You will also need to come prepared. No public restrooms or restaurants are offered here. But the lack of development is what helps keep this beach so pristine and beautiful.
3. Playa Norte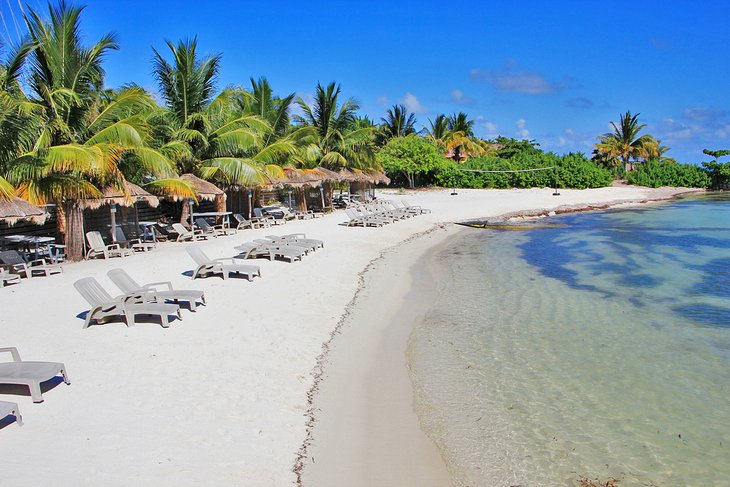 Just off the coast of the Hotel Zone is one of Cancun's best-kept secrets: Isla Mujeres. And on Isla Mujeres is one of Cancun's best beaches: Playa Norte, known for its string of hotels and energetic beach restaurants.
This beach is the one that postcards are made of, from crystalline, shallow waters to powder soft, sugary sand. Playa Norte is surely where visitors can go to make friends, as the endless string of beach hangouts have rentable lounge chairs, umbrellas, and menus serving delicious beach cuisine.
Stroll the pedestrian streets not far from the beach for endless souvenir stalls, or rent a golf cart for the day to go explore the rest of the island.
Address: Rueda Medina 130, SM 001, Centro, 77506 Isla Mujeres, Q.R., Mexico
Read More: Top-Rated Things to Do on Isla Mujeres
4. Sian Ka'an Biosphere Reserve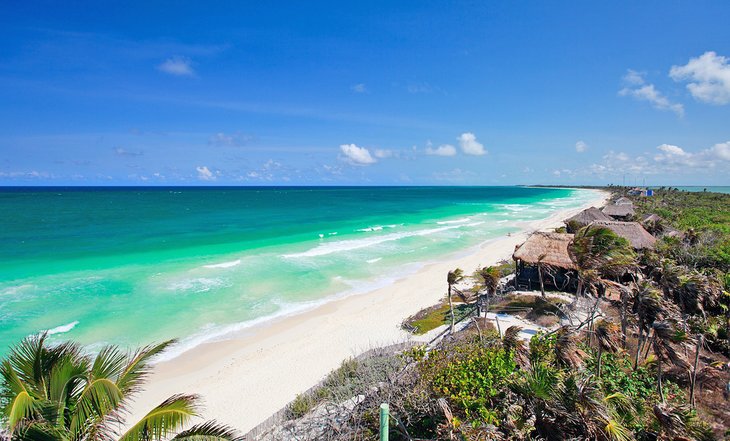 Daniel Defoe (author of Robinson Crusoe) would be hard-pressed to find a more idyllic, storybook beach than the ones in the Sian Ka'an Biosphere Reserve. South of Tulum, this UNESCO World Heritage site is one of the best preserved habitats in Mexico, home to 23 archaeological sites, and among the most pristine and undeveloped beaches in the world.
Access to the beaches are typically through the jungle to an opening, usually with the help of a guide. But visitors can drive down the Quintana Roo coastline from Tulum down to Punta Allen to find rugged exposures. Very few beaches have parking lots, and most beach areas are BYO-everything.
Arrange for a tour through the Biosphere and make a day of it. You'll be able to spot remarkable wildlife and see a side of this part of Mexico that is usually skipped on the main tourist trail.
Address: Felipe Carrillo Puerto, Quintana Roo, Mexico
5. Playa Chac Mool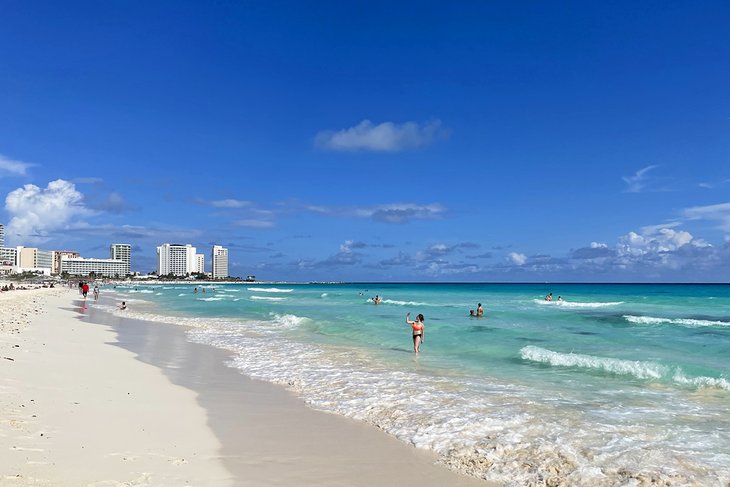 While still the same stretch of sparkling sand as other more popular Cancun beaches, Playa Chac Mool is heralded for its under-the-radar status. Just next to the more boisterous Playa Gaviota Azul (Playa Forum), Chac Mool is the perfect place to plant yourself under an umbrella with a good book. (But bear in mind, Playa Forum is rather raucous, and there can be the occasional spillover.)
Playa Chac Mool is also one of the best Cancun beaches from which to actually dive into the jewel-toned water. Visitors will find beach-side rentals for water equipment right on the sand. The waters are also calm and perfect for wading.
Address: Boulevard Kukulkan Km 10, Zona Hotelera, Benito Juárez, Q.R.
6. Playa Maroma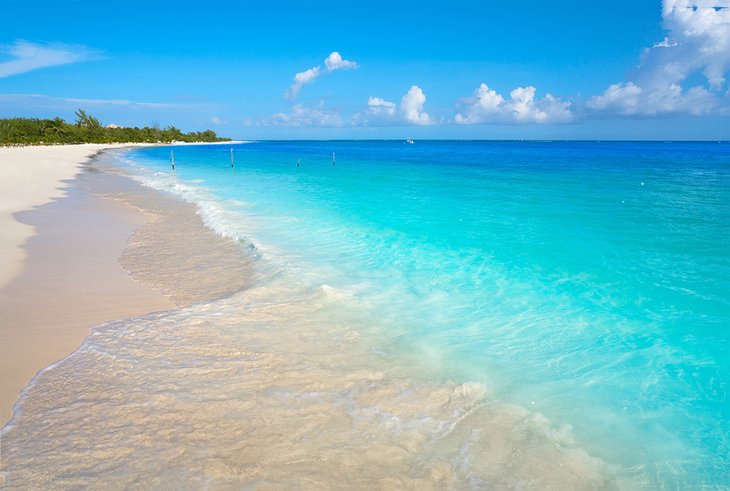 One of the region's most popular (and photographed) beaches is Playa Maroma, between Cancun and Playa del Carmen. Home to several of the area's most exclusive resorts, this beach is known for its wide stretch of bone-colored sand and many different hues of turquoise water.
A small marina can be found on the sand, from where visitors can arrange snorkeling or fishing trips. But some of the best snorkeling can be found right offshore, so it's not necessary to splurge on an excursion.
One of the best resorts on this beach is the El Dorado Maroma, which is known for its overwater bungalow rooms - the only ones in Mexico. But you don't have to be a resort guest to use the sand. Plenty of beach hangouts pepper the shore, or you can bring your own supplies.
7. Playa Paraiso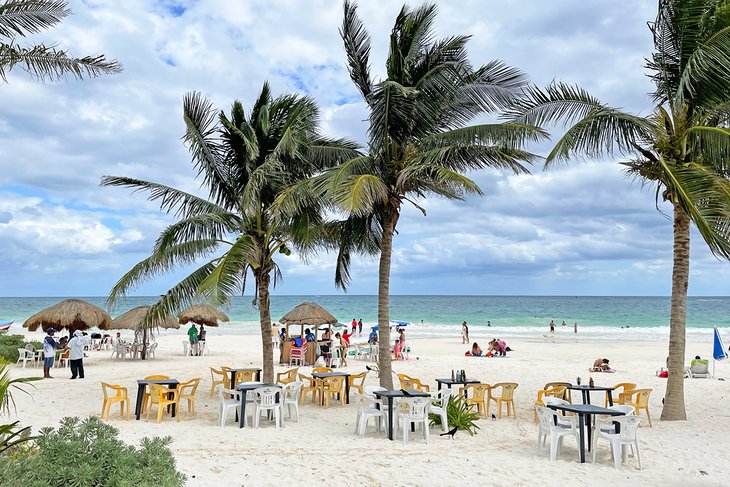 Absent of high-rise hotels, Playa Paraiso in Tulum is often said to be one of the most beautiful beaches in the world, not to mention one of the best beaches in Cancun. The beach is long and seemingly endless, giving visitors the impression that, despite its popularity, they are one of the few there.
Playa Paraiso is a place to see and be seen, as it's popular among well-heeled travelers, Instagram influencers, and celebrities from around the world. When passing by the palapa roofs on the sand, keep your eyes peeled for A-listers.
Playa Paraiso is straight out of a film set, with nothing but palm trees, white sand, and a smattering of beach hangouts from which to rent a lounge chair or grab a delicious fruit juice to drink.
8. Playa Akumal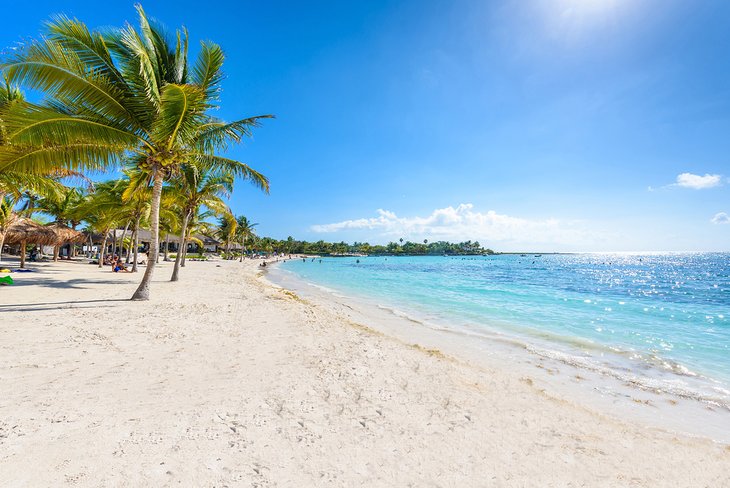 South of Cancun, travelers can stumble upon the quaint beach town, Akumal, and the beach of the same name. In addition to the powder-soft sand and sweeping turquoise bay, travelers come to Akumal to snorkel with the sea turtles.
At night from April to October, hundreds of turtles migrate ashore to lay their eggs on the beach. As such, it's a stunning habitat for snorkelers and divers to frolic under the waves with these beautiful creatures.
Even if you're not interested in snorkeling, the calm waters and sheltered cove makes this one of the best beaches in Cancun for swimming. Not far from the central beaches are sand-powdered streets with shops, restaurants, dive shops, and beachfront accommodations.
9. Playa Xpu-Ha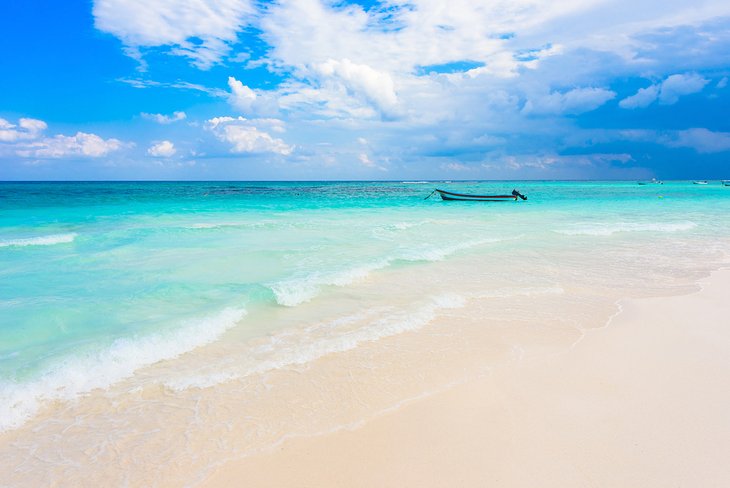 Locals and tourists are both obsessed with the sugary shores of Playa Xpu-ha in Puerto Aventuras, just south of Cancun. This quiet haven is much more private than the crowded beaches in Cancun, though visitors will be asked to pay a small entrance fee.
The easy-going beach is all about laid-back vibes, easily attained by the lack of development and crowds. Nestled in a cove, the surf is calm and the sand is soft. Restaurants spill onto the sand, serving up local beach favorites, but many locals opt to bring their own picnics.
On many days it's common to see people playing beach soccer or holding beach yoga sessions.
10. Playa Playacar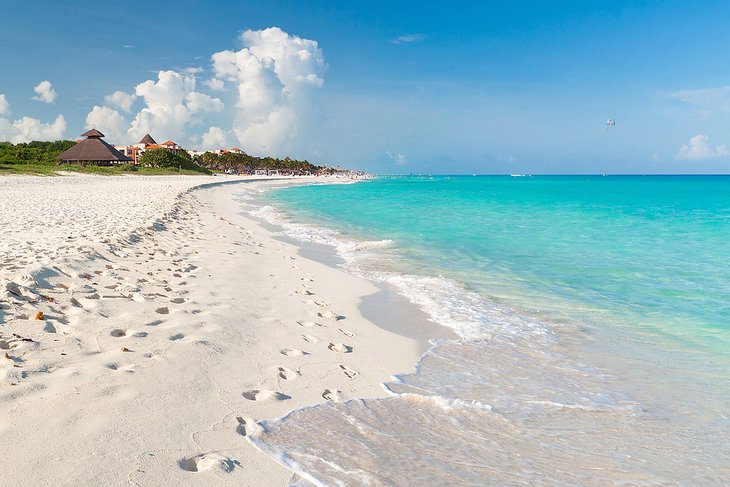 Just south of Playa del Carmen is the gated community of Playacar. This high-end residential and hotel area is guarded from the main throngs of Playa del Carmen's bustling Fifth Avenue. But since all beaches in Mexico are public, it's easy to just walk down the sand to reach the picture-perfect shores of Playacar.
Playacar is one of the widest, whitest beaches you'll find in the Cancun area. The expansive stretch of sand is lined with all-inclusive hotels and private homes, so unless you're staying at one of these, you'll have to bring all your own essentials. No restaurants or beach hangouts here, except for those at the resorts.
Still, it's worth the walk for one of the very best beaches in the Cancun area, and you're never very far from the action and services in Playa del Carmen.
11. Playa X'cacel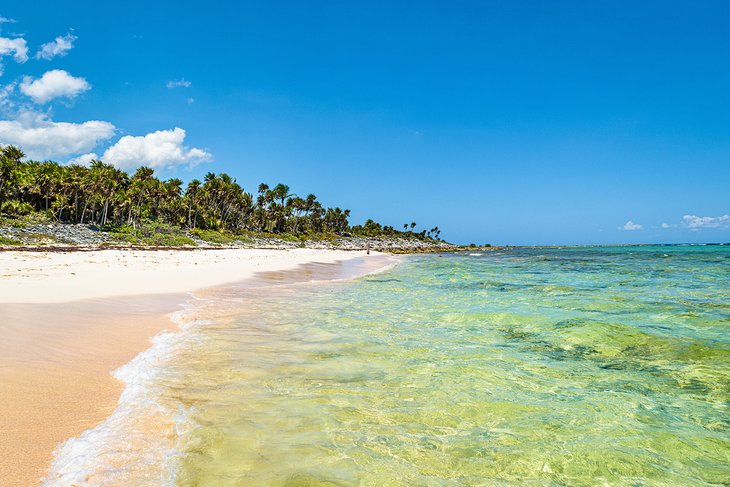 If you thought Akumal was turtle paradise, wait until you feast your eyes on Playa X'cacel. With the finest Caribbean sand, X'cacel is one of the very best spots to view turtles near Cancun and the Riviera Maya.
In fact, every spring and summer, hundreds of turtles nest on the powder-soft sand. There is a local sanctuary that protects the turtle nests and the eggs, and they request a donation of about 10-20 pesos per person to help keep the program going. In addition to the beach, the donation gets you access to a small cenote in the area.
It's easy to miss this best-kept secret. Look for it between Chemuyil and Xel-Ha water park off the main highway. It truly is a special beach and one that's completely designed for those "in the know." But remember - because it's off the beaten path, you're going to want to bring everything you need for the day.
12. Playa Tortugas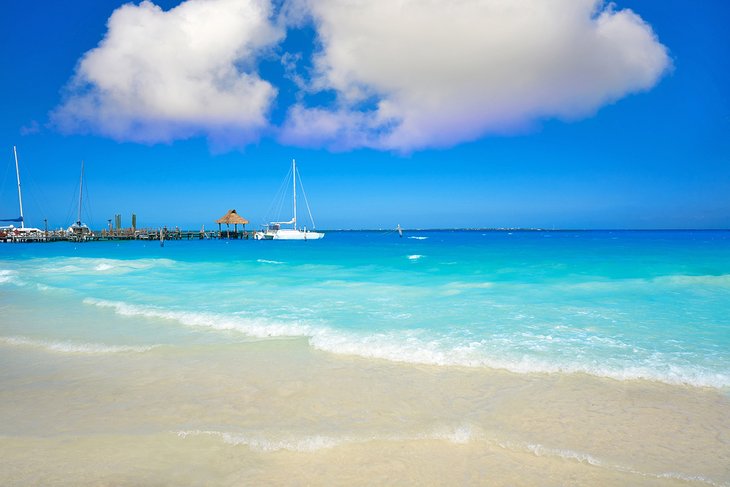 If you are searching for that slice of local Cancun, look no further than Playa Tortugas. Known as a top beach spot for locals, it's popular for its chill vibe, pristine sand, and many beachfront restaurants.
Just north of the Hotel Zone, the beach is a popular jumping-off point from which to visit Isla Mujeres. A pier has a daily ferry service that shuttles tourists and locals across the calm, turquoise water.
The calm conditions at the beach make it an excellent spot for swimming and snorkeling. Public restroom facilities, souvenir shops, and lounge chair rentals make it a convenient spot to camp out for the day, as well.
13. Playa Forum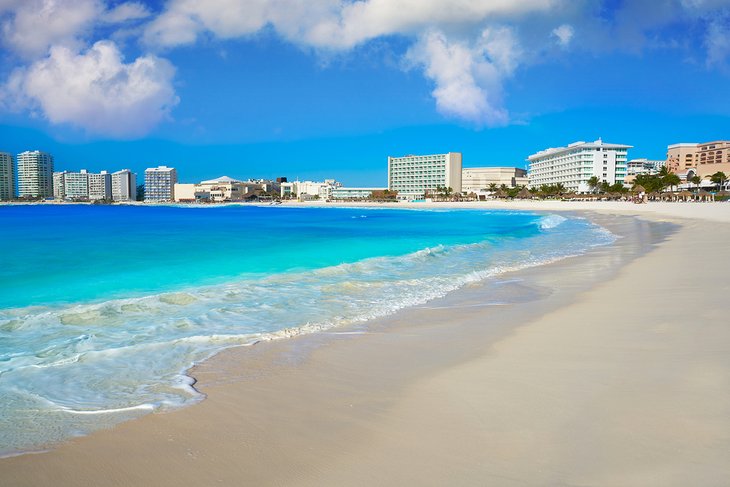 If you're looking for the best beaches in Cancun that are in the heart of the action, look no further than Playa Forum, otherwise known as Play Gaviota Azul. Located smack dab in Cancun's Hotel Zone Beach strip, this stretch of powder-soft sand is within steps from the pulsing heartbeat of Cancun's tourist zone.
The great part about Playa Forum is its social atmosphere and proximity to so many hotels, restaurants, and beach hangouts. But those who are looking for a tranquil experience should probably look elsewhere. You won't be getting much R&R when you're setting up camp at Playa Forum.
14. Playa Langosta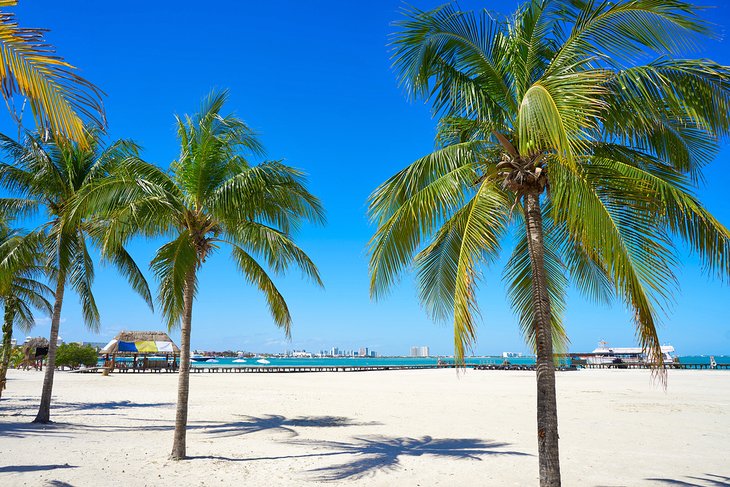 Playa Langosta is conveniently located among the many high-rise all-inclusive hotels in the Cancun Hotel Zone. That means it's easy to get to, either on foot, public transportation, or by taxi.
Locals absolutely adore this beach for its sun-bleached sand and the fact that it still flies under the tourist radar. The beach itself is cut by a long pier, but the water is calm and shallow and perfect for splashing around.
Beach chairs are often limited, but families don't mind bringing their own. Kids love the beach for the playground. Public restrooms are available on-site, as well.
Cancun, Mexico - Climate Chart
Average minimum and maximum temperatures for Cancun, Mexico in °C
J
F
M
A
M
J
J
A
S
O
N
D

27

19

28

20

29

22

29

23

31

25

32

26

32

26

32

25

32

24

31

23

29

22

28

21

PlanetWare.com
Average minimum and maximum temperatures for Cancun, Mexico in °F
J
F
M
A
M
J
J
A
S
O
N
D

81

67

82

68

84

71

85

73

88

77

89

78

90

78

90

77

89

76

87

74

84

72

82

69

PlanetWare.com