21 Top-Rated Attractions & Places to Visit in Mexico
We may earn a commission from affiliate links ()
Long a favorite vacation destination for North Americans, Mexico is also becoming increasingly popular with tourists from Europe seeking to enjoy the country's seemingly endless sunshine, stunning scenery, and beautiful sandy beaches, not to mention its astonishingly rich cultural heritage.
So important are Mexico's ancient Aztec and Mayan sites and historic colonial cities that many have been designated as UNESCO World Heritage Sites, ensuring they'll remain unchanged for generations to come. Interestingly, these Mayan ruins – including places like Guanajuato, Chichén Itzá, and Uxmal – are often as popular as traditional beach vacation spots like Cancún, Puerto Vallarta, and Playa del Carmen.
Topping the whole experience is the country's rich culture, a fascinating mix of native people, as well as colonial influences from Spain, that shows up in everything from the country's culinary creations to its vibrant musical and dance traditions. It's also a country rich in flora and fauna, as it is spread across climate zones that encompass everything from arid deserts to lush tropical rainforests. To ensure you plan the very best Mexican travel itinerary possible, check out our list of the best places to visit in Mexico.
1. Cancún and the Mayan Riviera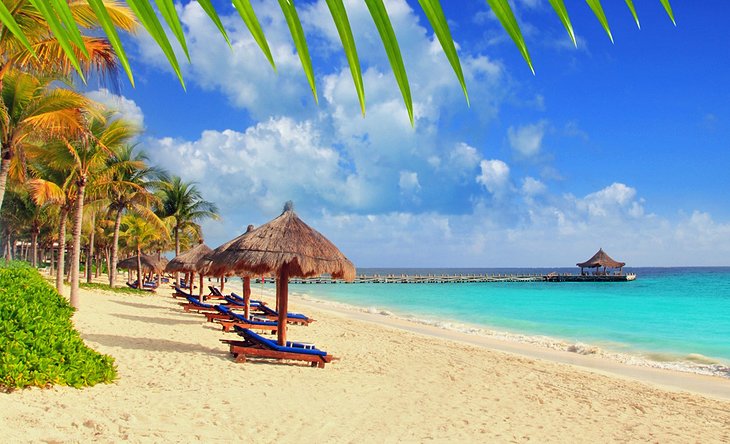 Lying along a beautiful stretch of coastline on the Gulf of Mexico are the resort destinations of Cancún, Playa del Carmen, the island of Cozumel, and beyond. Collectively these are known as the Riviera Maya.
This magnificent area along the eastern edge of the Yucatán Peninsula attracts some five million visitors each year, in the process generating huge tourist revenues. Despite these numbers, you're unlikely to feel like a part of a crowd due to the Riviera's wide beaches, endless crystal-clear water, and plethora of best all-inclusive resorts.
The area also boasts numerous fun things to do, such as dolphin and stingray swims; snorkeling among reefs and tropical fish; as well as scuba diving in the world's largest underwater museum, a spectacular collection of sculptures submerged at depths of up to eight meters.
2. Puerto Vallarta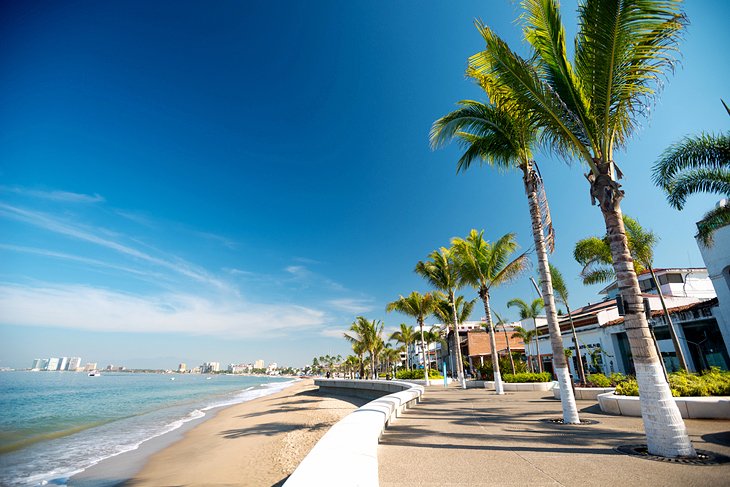 Another of Mexico's increasingly popular beach destinations is the Pacific coastal city of Puerto Vallarta. Often shortened to just "Vallarta," the city first appeared on the vacation radar in the 1960s as a playground for North America's social elite and has since become extremely popular among foreigners looking for second homes in a sunny, warmer climate. Many parts of it remain untouched by modern development.
Nowadays, thanks to the many things to do in Puerto Vallarta, the city is as likely to attract an older cruise ship audience looking to swim with the dolphins as it is younger travelers looking for adventure, found here in activities as diverse as paragliding and jet skiing.
For those who like vacationing at a little slower pace, the city also boasts many locations to shop for arts and crafts or to simply stroll along pleasant beachside promenades with their many green spaces and sculptures.
3. Cabo San Lucas and the Los Cabos Corridor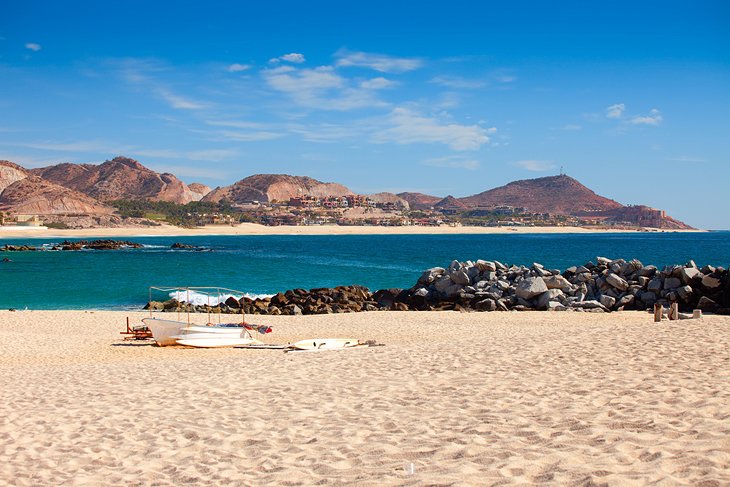 At the southern tip of the beautiful Baja Peninsula, Los Cabos – often referred to simply as "Cabo" – is one of Mexico's top beach destinations. Consisting of a large stretch of coastline that extends from the towns of Cabo San Lucas and San José del Cabo and known as the Los Cabos Corridor (Corredor Turistico), this 30-kilometer stretch of pristine beaches attracts visitors the world over for its clear waters, diving, snorkeling, and fishing (it also hosts the world's largest marlin contest).
Numerous resorts have sprung up that cater to all tastes and budgets, from luxurious spas to golf-centered properties offering some of the best courses in North America. For the most part, however, Los Cabos most appeals to big-budget travelers. It is one of the luxury capitals of Mexico.
4. Copper Canyon: Mexico's Grand Canyon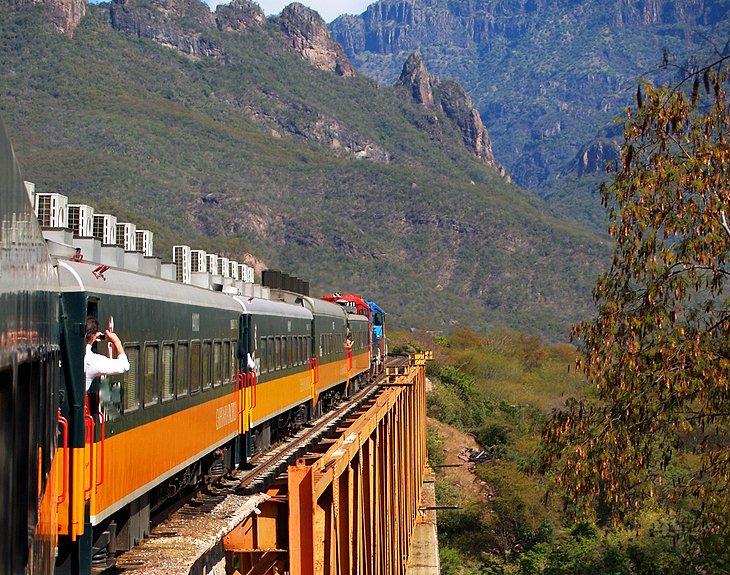 Chihuahua, one of Mexico's most northerly states – it shares the border with New Mexico in the US – is home to one of the country's most visited natural attractions, the stunning Copper Canyon (Barranca del Cobre).
Located in a region known as the Sierra Madre Occidental and consisting of a spectacular group of deep canyons, Copper Canyon is in fact larger and deeper than its better known cousin, the Grand Canyon. Taking its name from the distinctive copper green coloring along its steep canyon walls, these amazing natural structures were formed by six rivers that converge in the Rio Fuerte before draining into the Gulf of California.
Thanks to the area's increased popularity as a travel destination, there are numerous options available to those wanting to explore this area of outstanding natural beauty, from scenic rail trips aboard the Ferrocarril Chihuahua al Pacífico to more adventurous excursions by bike or even on horseback.
5. Mexico City's Historic Center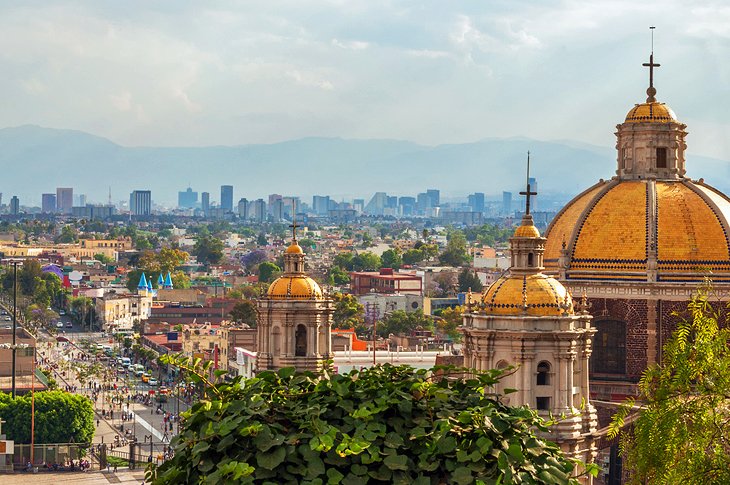 Mexico City (Ciudad de México) is not only the capital of the country and the seat of government, it is one of the country's most popular alternative travel destinations thanks to its many world-class museums, art galleries, and attractions. Don't be put off by its size. Instead, focus your efforts on the historic city center (Centro Histórico de la Ciudad), a 15-square-kilometer UNESCO World Heritage Site boasting more than 1,400 important colonial buildings from the 16th to the 19th centuries.
6. Chichén Itzá: The Mayan Metropolis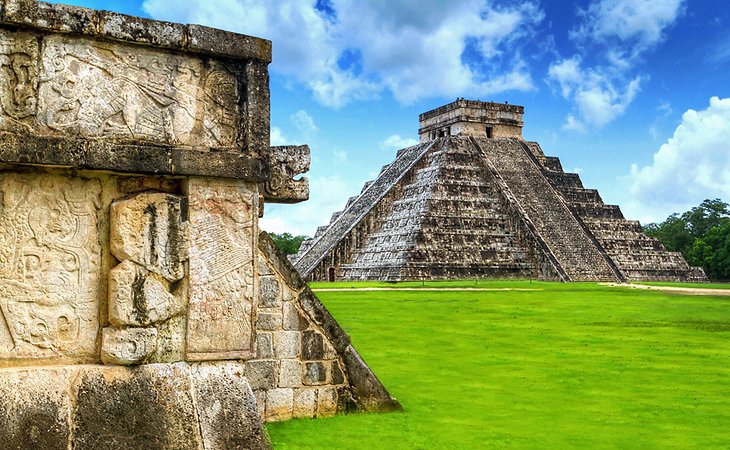 A popular day trip for those visiting Cancún and Playa del Carmen or the Yucatán capital of Mérida, the magnificent Mayan city of Chichén Itzá is one of Mexico's most visited archaeological sites, as well as one of the biggest and best restored. Highlights of a visit to this UNESCO World Heritage Site are numerous. A must-see here is the massive El Castillo, also known as the Pyramid of Kukulkán, and at 30 meters high, the site's tallest structure.
7. Guanajuato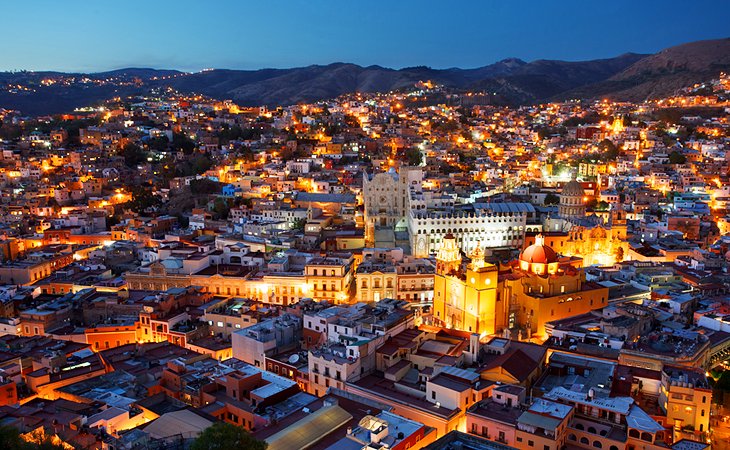 Designated a UNESCO World Heritage Site thanks to its many old colonial buildings, winding lanes, and narrow alleys, Guanajuato is a city that just begs to be explored on foot. A particularly pleasurable experience is visiting its many plazas, including the delightful Jardin de la Union, the city's main square with its splendid old architecture. It's here, you'll find the beautiful old San Diego Church and the majestic Juárez Theater, along with fountains and flower beds, cafés, and restaurants.
Afterwards, head underground to the city's subterranean streets, part of a network of tunnels that once carried a river but are now used by cars and pedestrians wanting to get around the city quickly.
8. Ixtapa and Zihuatanejo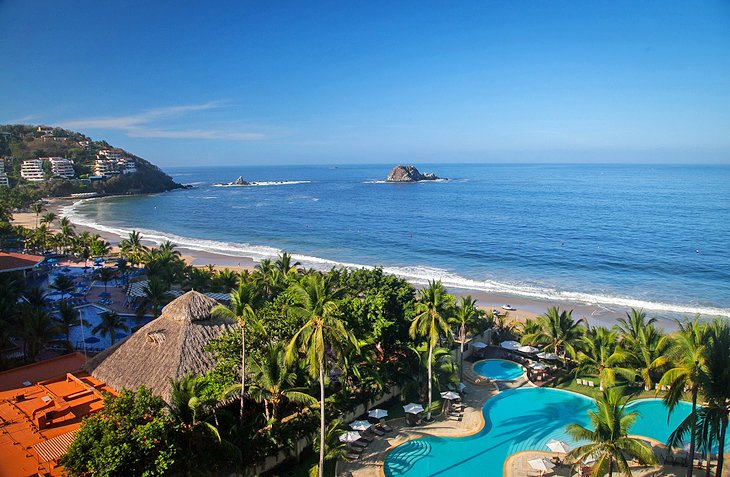 While there's no denying the appeal of Mexico's larger beach resorts, there's much to be said for paying a visit to some of the country's many smaller vacation destinations. Two of the very best are the towns of Ixtapa and its neighbor, the much smaller former fishing village of Zihuatanejo on the country's Pacific coast.
Although the larger of the two, the former coconut and mangrove producing town of Ixtapa has been carefully master-planned as a tourist hub to good effect – its streets and beaches are uncluttered and easy to get around. Be sure to book one of the best all-inclusive resorts in Ixtapa.
9. The Ancient Fortress of Tulum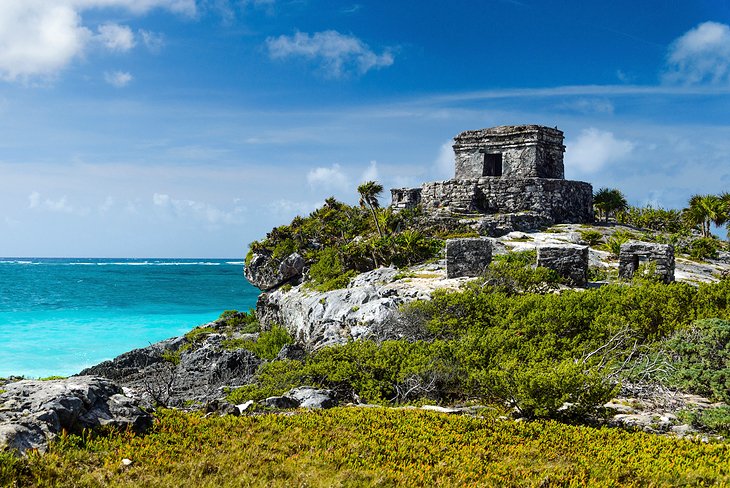 Famous as the only fortified Mayan settlement located on the coast, the ancient city of Tulum is one of the Yucatán Peninsula's most visited attractions. In the Mayan Riviera and within easy reach of the beaches of Cancún, Playa del Carmen, and Cozumel, the site's well-preserved ruins can be seen for miles around due to their location atop 12-meter-high cliffs overlooking the beautiful Caribbean Sea.
10. Cozumel: Island Life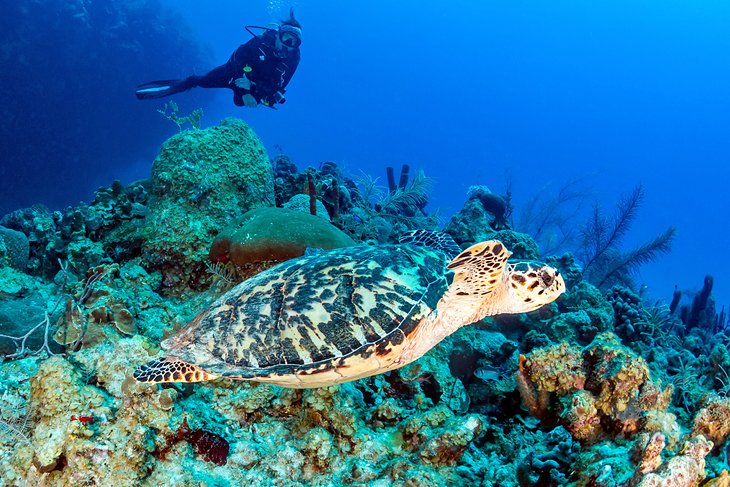 The island of Cozumel has pretty much everything needed for a perfect Mexican getaway. Located 20 kilometers from the Yucatán Peninsula, this lush tropical paradise takes its name from the ancient Mayan, "Ah-cuzamil," which translated means "land of the swallows," and has long been inhabited. And while the first visitors to the island were reputedly Mayan pilgrims, followed by European smugglers and pirates, modern-day travelers are drawn here by the promise of endless sunshine. The top beaches for these sun-seekers are Playa San Juan, Playa San Francisco, and Playa Santa Rosa, to name but a few.
Many are attracted to Cozumel by the superlative diving experiences to be enjoyed around its coral reefs. These beautiful locations are rich with fish and other marine life, and it's relatively easy to include at least a little underwater activity by booking a diving experience through your resort (or ahead of your travel), or simply grabbing a pair of flippers and a mask when you get here.
If you're into serious diving, head to the Palancar Reef on the southwest tip of the island. Here, you'll be rewarded with an undulating seabed that plunges from its shallow spots to depths of 80 meters. A relatively new experience includes diving around man-made landmarks, including sculptures and bronze figures, as well as structures deposited to encourage coral growth.
11. Guadalajara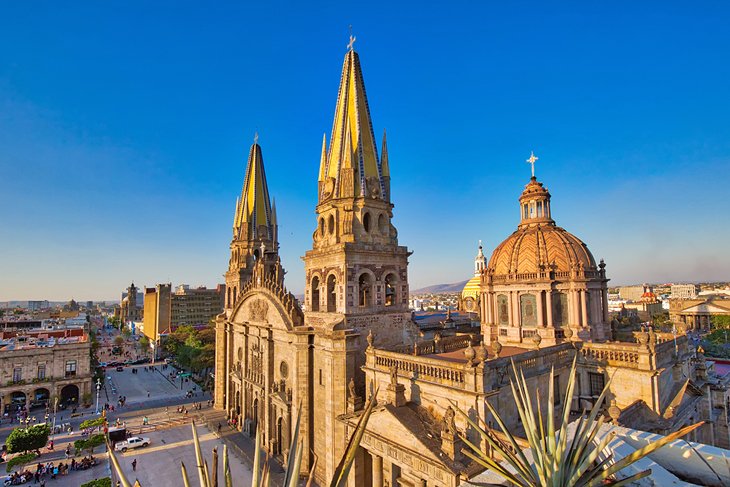 Second only to Mexico City in size, Guadalajara, capital of the state of Jalisco, has successfully conserved its unique mix of colonial and native Tapatíos influences. Famous for its broad avenues flanked by picturesque parks and fine old buildings notable for their European flair, Guadalajara is a hotbed of traditional Mexican culture, from the mariachi music that seems to emanate everywhere, to its fascinating Charreadas, a type of rodeo that is usually accompanied by festivities such as dancing, singing, and plenty of great food.
12. Mérida: Yucatán's White City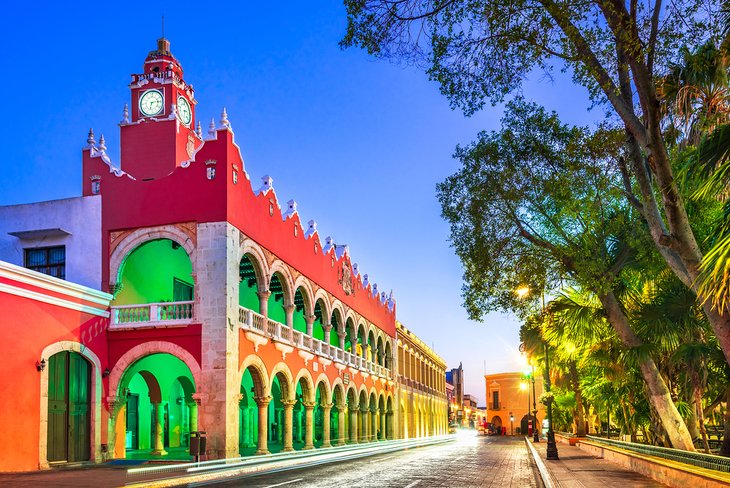 The capital of Yucatán, Mérida is one of Mexico's finest old colonial cities and is perfectly located to serve as a base from which to explore the region's many fine Mayan sites, including Chichén Itzá and Tulum. It's an equally popular day trip or overnight stopover from the resorts of the Mayan Riviera. Established in 1542 by the Spanish, Mérida is laid out on a grid pattern, making it easy to explore its numerous attractive parks and fine old buildings.
13. Oaxaca: A Taste of Real Mexico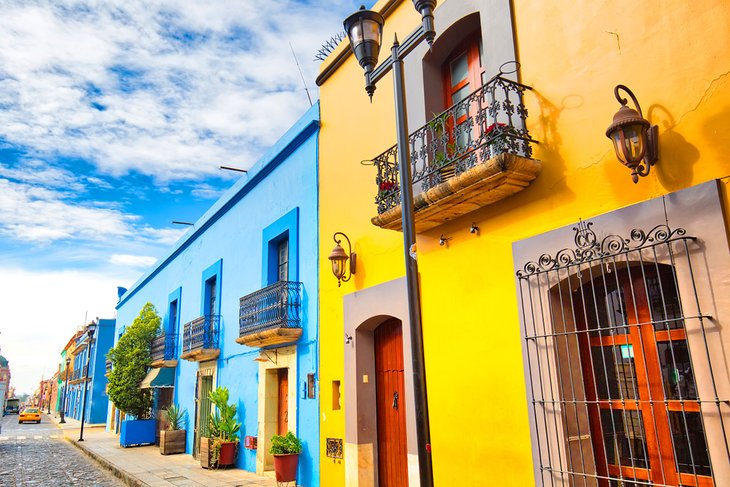 Capital of the state of the same name, Oaxaca is one of the most popular city destinations for travelers interested in sampling a taste of the real Mexico. An interesting mix of native Indian and Spanish elements, the city has remained largely untouched by the kind of large developments that have sprung up in some of the country's other popular destinations, and as a consequence, it has been declared a UNESCO World Heritage Site.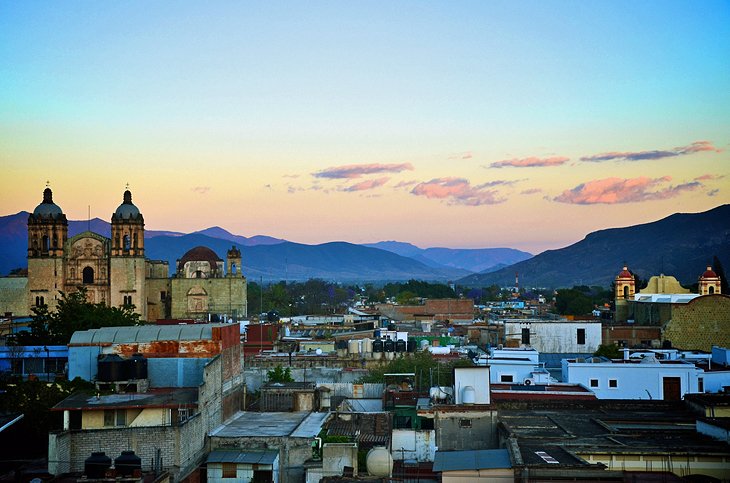 In addition to its unspoiled city center and old architecture, the city has become a cultural hub that draws crowds for its numerous events and festivals, including the spectacular Guelaguetza, an indigenous festival that takes place each July and includes traditional dancing, costumes, music, food, and crafts. The city also makes a great jumping-off point to explore the splendid surrounding scenery, along with numerous ancient ruins such as those of the Monte Alban.
14. Historic Morelia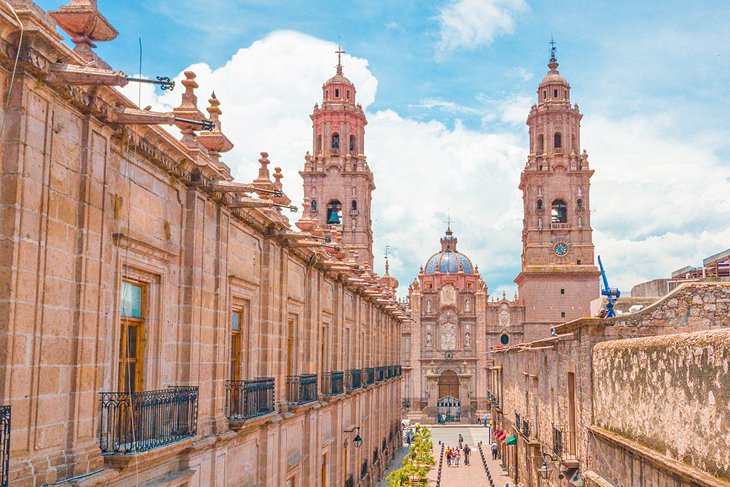 A gem of a city, the colonial-era Morelia is a delightful place to linger in Mexico, whether you're here for a few days or longer. Little change has been made to the layout of this historic city, founded in 1541, and thanks to the more than 200 well-preserved buildings that date back many hundreds of years, the entire downtown core has been designated as a UNESCO World Heritage Site.
A highlight of a visit is spending time in the magnificent Plaza de Armas. Laid out nearly 500 years ago, this large public square is perfect for those who like to explore on foot. In addition to its many great cafés, restaurants, and shopping opportunities, here you'll find everything from statues of revolutionary heroes to attractive stretches of gardens and pleasant fountains, making for one of the prettiest cityscapes in all of Mexico.
15. Riviera Nayarit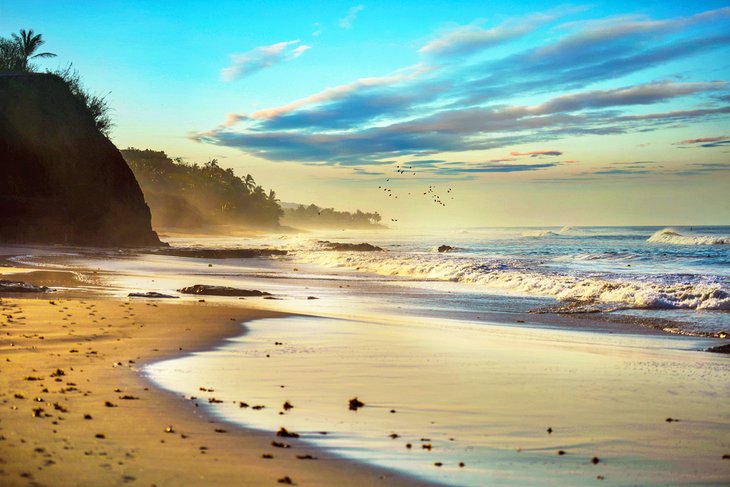 If you haven't heard of it yet, chances are you will very soon. Riviera Nayarit is the stretch of coastline north of Puerto Vallarta that begins in the neighboring state of Nayarit. Familiar towns that stick out might include Sayulita, or the luxury enclave peninsula that is Punta Mita. But Riviera Nayarit has so much more to explore and is practically overgrown with natural beauty.
While Puerto Vallarta was building and expanding, surfers for decades have been flocking to the jungle-beaten paths and virgin beaches to the north. The picture is a little different these days, as once-fishing villages have turned to sleepy boutique hotel towns. Five-star resorts and villas dot the hillsides, and former surf towns have been reinvented as havens for yoga retreats and boho-chic galleries. The ultra high-end luxury is well on its way.
16. Mazatlan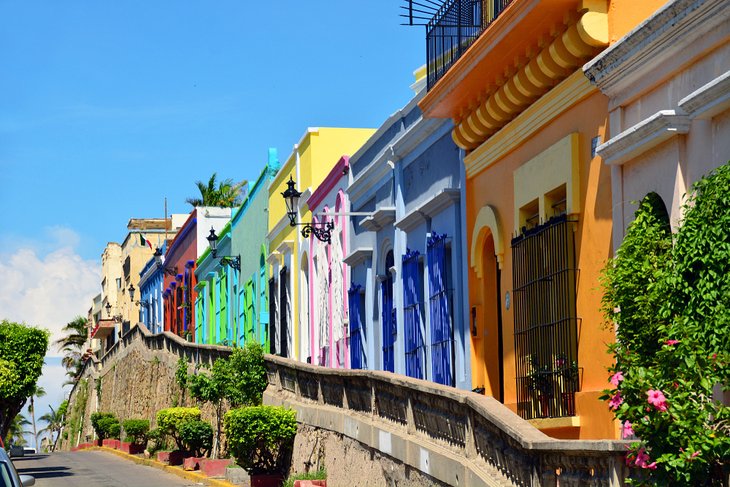 Mazatlan is one of the most underrated places to visit in Mexico. It's one of the only historic cities on the sea, which means visitors to Mazatlan have the best of both worlds. Starting from the Centro Historico, you can walk the cobblestone streets of Mazatlan's history. The Spanish colonial architecture reveals beautifully decorated cathedrals, broad plazas, and buildings bathed in bright, almost vibrating, colors.
The Centro Historico is where you'll find the charming, boutique hotels of Mazatlan, as well as its best restaurants. Directly across the main street from the historic downtown is a stretch of beautiful shoreline, which is a rarity in Mexico's historic cities.
17. Cenotes, Yucatan Peninsula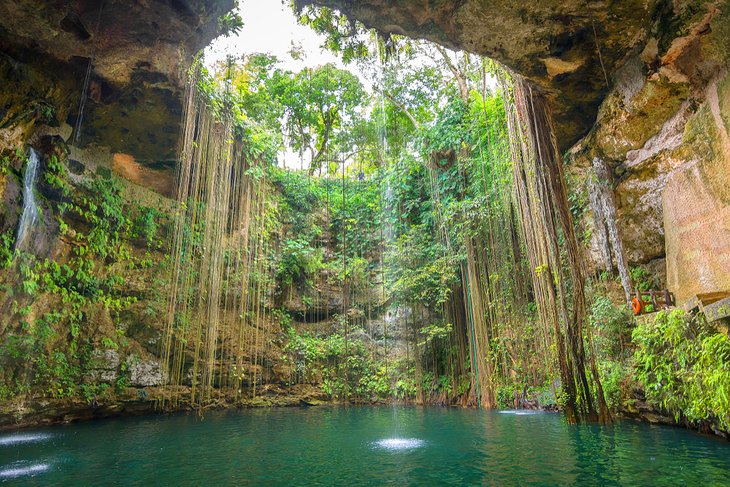 One of the best things to do in Mexico is to head underground into its mysterious world of cenotes. Most prevalent on the Yucatan peninsula, Cenotes are large sinkholes in the earth that give entrance to a web of underground rivers and caves carved out of the ancient limestone bedrock. You can find more than 6,000 cenotes in this part of Mexico.
The Mayan people believed that cenotes were the entrance to the underworld, and are still considered to be sacred spots. Many of them are on privately owned land and are protected, but visitors can explore them through organized tours. The gorgeous, crystal-clear pools of water are mesmerizing, and can be wonderful places to visit for snorkeling or scuba diving.
Exploring the caves underneath the earth's surface is another popular activity, with centuries-old stalactites and stalagmites that give these cavernous spaces an eerie, other-worldly vibe.
18. Costa Oaxaquena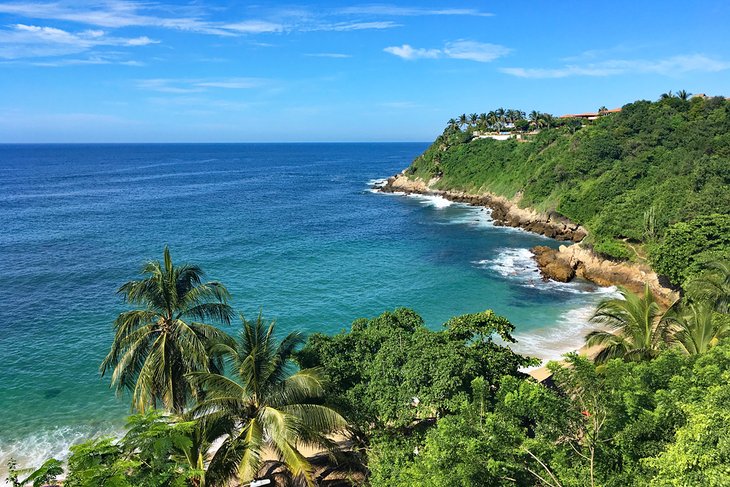 Down from the mountains of Oaxaca City – a 10-hour bus ride, to be exact – the elevation descends rapidly towards the stunning coast of Oaxaca. This stretch of Pacific is one of the last wild coasts of Mexico. Over the years, it has managed to evade mass development, remaining one of the truest, raw and wild places to experience undeveloped beaches.
The main town along the Oaxacan coast is Huatulco, a series of nine bays carved out of the coastline. Here is where you will find the majority of hotels and restaurants, as well as a port. As you go farther north, things become much more rugged and remote. You'll pass through the hippie beach havens of Mazunte and Zipolite, before you reach the surf mecca of Puerto Escondido.
19. Palenque, Chiapas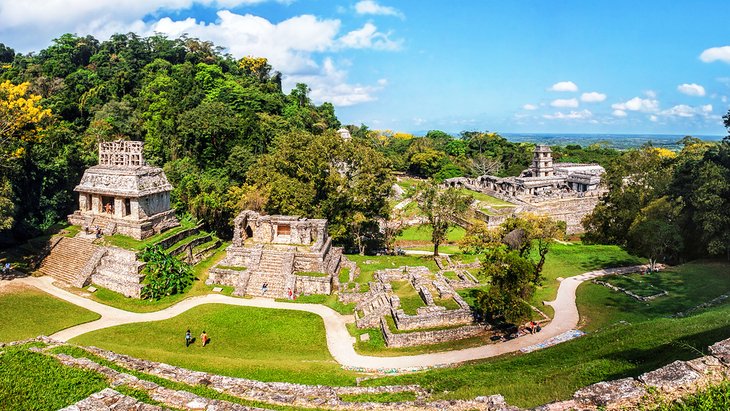 The beauty of Mexico's Mayan ruins is that many remain tucked away in thick, lush jungle. Coming upon them only helps to set the tone of these "lost" cities. Palenque, located in the jungles of the southern state of Chiapas, is one of the most magical Mayan archaeological sites. And seeing as it's not as easy to get to as Tulum or Chichen Itza, you'll feel like you've stepped into another world when you visit.
The ruins of Palenque date back more than 1,000 years and are thought to be one of the rival cities with other Mayan cities like Calakmul and Tonina. The site is most famous for its Temple of the Inscriptions, a pyramid temple with hieroglyphics that have been integral in helping archaeologists interpret the Mayan language.
A huge portion of the city remains unexplored, the rest shrouded in the surrounding jungle. Still, what has been uncovered is breathtaking to explore.
20. Isla Holbox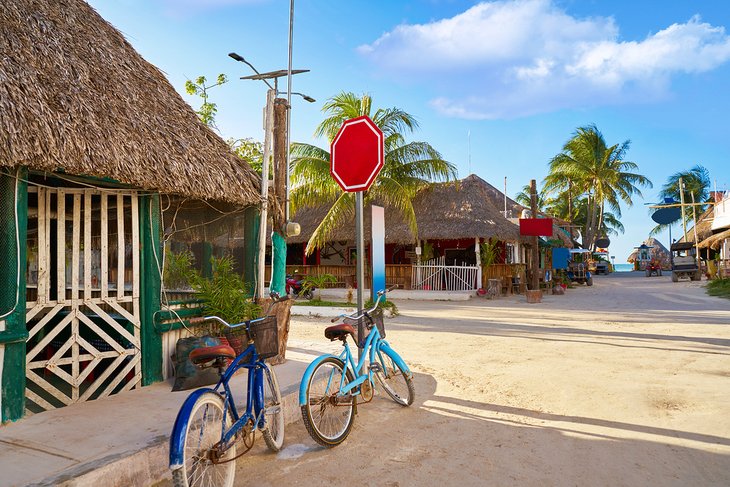 Flecked off the northeastern corner of the Yucatan peninsula, Isla Holbox is about as close as Mexico gets to its own Caribbean island. The car-free, skinny barrier island is accessed via a very quick ferry ride from the port town of Chiquila.
Once on-island, visitors will find the pace slows way down. Sandy roads run the length of the island, from the small main town all the way to the farther, palm-fringed reaches. This island is all about taking it slow, from the daily yoga activities to the laid-back beach restaurants and the boutique hotels.
Barefoot and casual, this island has long been on the backpacker and digital nomad trail. It started to gain serious traction in the last few years, and more brand hotels are taking interest in it. But for now it still remains one of the best-kept secrets along the Mexican Caribbean.
21. Huasteca Potosina, San Luis Potosi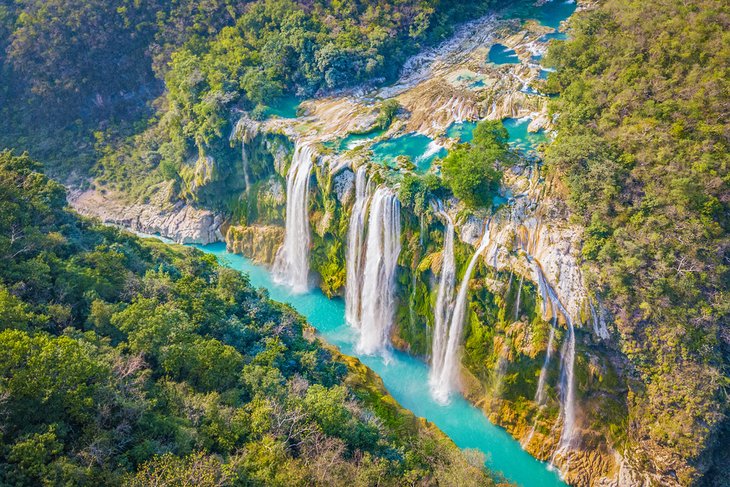 Mexico has many deep canyons and raging rivers, but none is as beautiful as the La Huasteca Potosina region. The Huasteca region of Mexico is the area home to the Indigenous Huasteca people, and it spans many states. But the region in the state of San Luis Potosi is particularly known for its epic waterfalls.
This hot and humid jungle is simply bursting with tropical flowers that explode from the thick, green foliage. Its veins are coursing with bright blue water, which give way to beautiful ribbons of gushing falls – and swimming holes to go along with them.
Huasteca Potosina is not terribly convenient to get to, but it is particularly appealing to adventure travelers who want to see a side of Mexico that few international travelers get to experience.