14 Best Beaches in Puerto Vallarta
Author Meagan Drillinger has visited Puerto Vallarta since 2013. Today it is a second home for her.
Here's a secret: the best beaches in Puerto Vallarta are not actually in Puerto Vallarta. While the beachfront resort town is one of the most visited places in all of Mexico, the city's best beaches take a little more effort to find.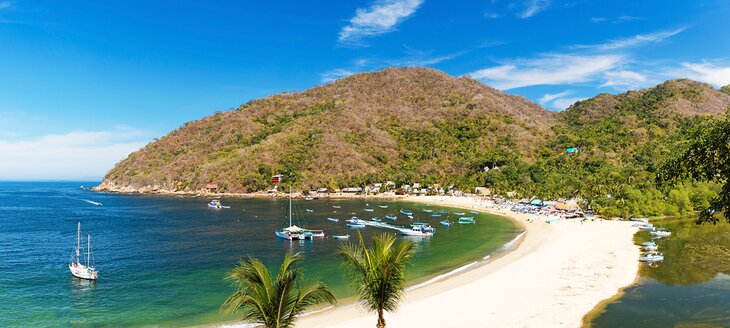 That's because Puerto Vallarta is a living, breathing city, with a lively population that lives and works close to town. The city was built almost directly up to the waterline, meaning the beaches in Puerto Vallarta itself can be a little crowded, often to the point of feeling overrun. But that doesn't mean Puerto Vallarta should be written off for its beaches. Quite the opposite, actually.
While a few of the best beaches in Puerto Vallarta are close to Centro, the majority of the spectacular beaches and all inclusive resorts are just out of town. South of the city's historic Zona Romantica, along Highway 200, the southern end of the Bay of Banderas is strewn with stretch after stretch of pristine beach.
Some beaches are better outfitted than others, while a few still require travelers to BYO-everything. But what they all have in common are uninterrupted views of the rolling, jade-colored peaks, and the expansive stretch of the Bay of Banderas.
Pack your towel and sunblock, and plan your day with our list of the best beaches in Puerto Vallarta.
1. Playa Los Muertos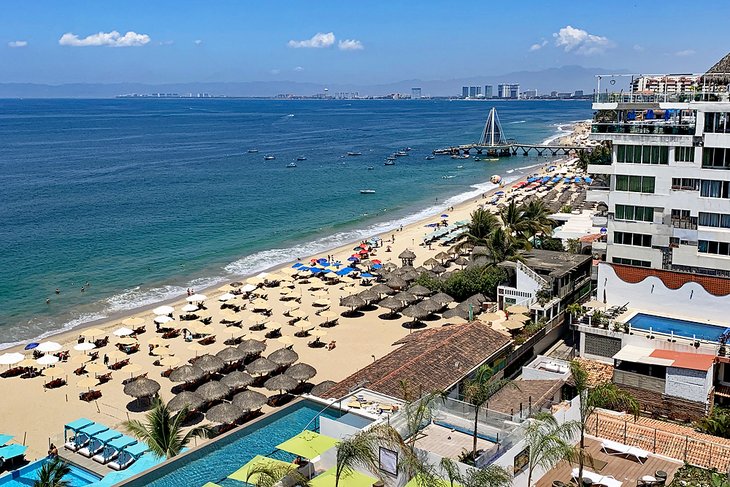 If you're hearing the steady thump of bass, and all you see are groups of young, energetic beachgoers, you're probably on Playa Los Muertos. One of the most popular beaches in Puerto Vallarta's Zona Romantica, marked by Puerto Vallarta's iconic sailboat-shaped pier, Playa Los Muertos is one of the liveliest beaches in the entire region.
You'll recognize it from the dozens of beach restaurants and lounges that spill out onto the sand, and the groups of happy travelers and locals that seem to fill each one.
While Puerto Vallarta certainly has more beautiful beaches in the surrounding area, when it comes to being centrally located, you can't do much better than Playa Los Muertos. It's one of the best beaches in Puerto Vallarta for visitors who want to be in the heart of the action — steps from restaurants, shopping, and hotels, but also directly in front of the Bay of Banderas.
2. Playa Conchas Chinas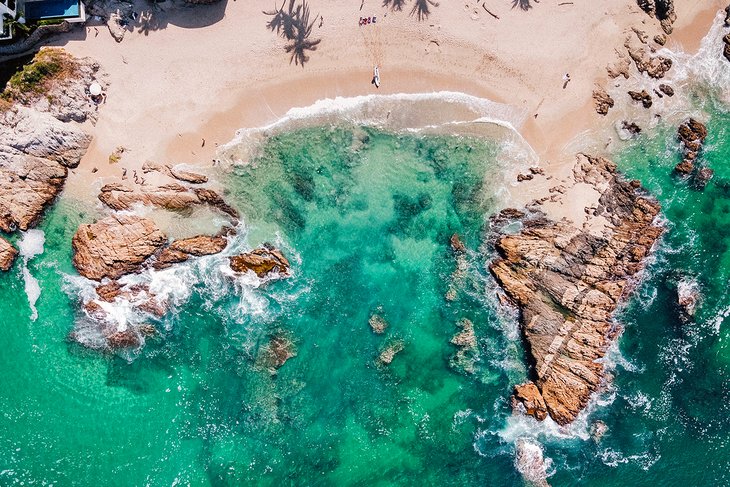 You may have to be a Puerto Vallarta veteran to recognize Playa Conchas Chinas - but that's exactly how the locals and die-hards like it. Playa Conchas Chinas is one of the most beautiful, and lesser known, beaches that is still close to downtown.
Located at the south end of Los Muertos Beach, Conchas Chinas sits perched between forest and mountains, showing off a color palette on the water that is rarely seen this close to downtown. The rock formations on the beach create natural tidal pools, which are fun for gentle swimming and exploring. Plus, you'll find many beach restaurants and plenty of places to sign up for water activities.
The villas and hotels that are scattered up the cliffs are among the most coveted in the city. They have the best views of the bay and are usually quite exclusive.
3. Playa Palmares
Like we said before, you won't find Puerto Vallarta's best beaches in Puerto Vallarta proper. You'll have to do a bit of leg-work to find them. But when you do, it will be tough to leave them.
Take Playa Palmares, for instance. This beach is located about three miles south of the Zona Romantica along Highway 200. This stretch of coast along the southern curve of the Bay of Banderas is home to some truly spectacular, off-the-beaten-path beaches. Fortunately, Ubers are readily available, and Puerto Vallarta has a solid city bus system that always makes stops along the coast. Playa Palmares is a narrow stretch of beach, but you'll find sugary, powder-soft sand and shallow, turquoise waters that make it a top choice for locals looking to take a dip.
4. Playa Colomitos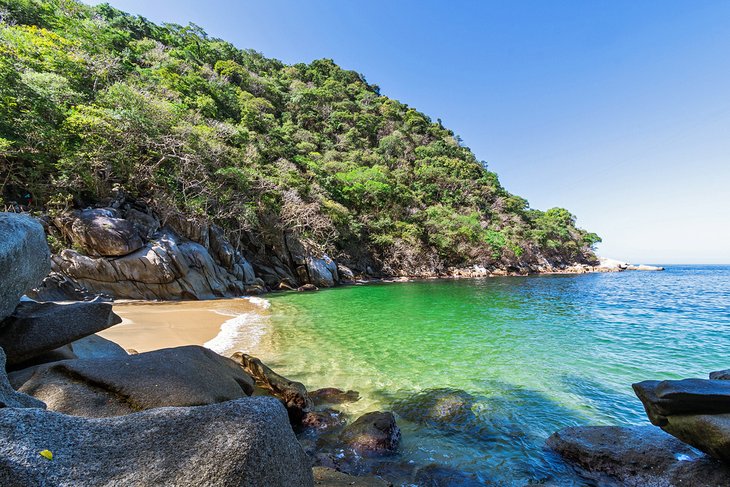 If you've ever driven south from Puerto Vallarta along what is known as the Cabo Corrientes, you've surely passed the small fishing village of Boca de Tomatlan. Just outside the village (about 1,000 yards, to be exact) is a small, rock-shrouded cove that hides one of the best beaches in Puerto Vallarta.
Playa Colomitos is 11 miles from downtown Puerto Vallarta, but feels like an entirely different planet. The small, golden-sand beach is backed by a plunging waterfall that flows from a jungle-covered mountain. The beach is only accessible on foot from Boca de Tomatlan, or five minutes in a water taxi.
You'll have to bring everything you want in with you, as there are no services on this beach. But you can easily stock up in Boca de Tomatlan and take the water taxi over. Or, if you're interested in hiking, you can take the jungle path that runs from Boca de Tomatlan all the way south to farther-flung beaches, like Las Animas, and plenty of others along the way.
5. Yelapa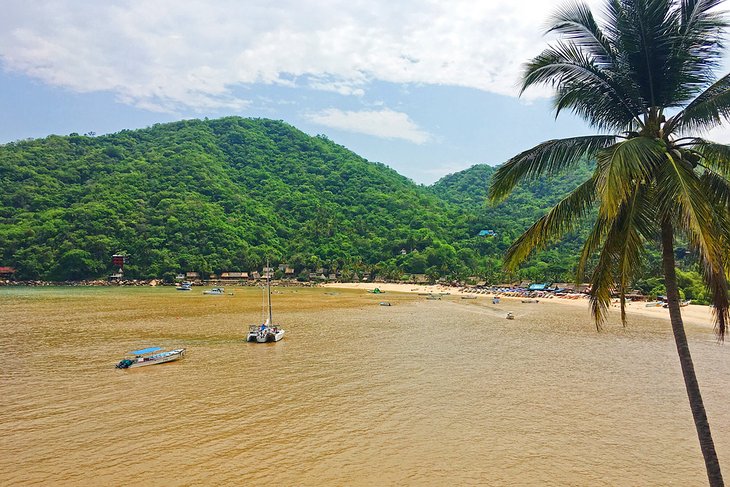 It's about as far as you can go from Puerto Vallarta while still being recognized as part of Puerto Vallarta. At the southernmost end of the Bay of Banderas lies one of the best beaches in Puerto Vallarta - and it's only accessible by boat.
About 45 minutes from Los Muertos pier is the secluded fishing village known as Yelapa. It's the southernmost beach from town and sits in a turquoise-green bay that looks like it leapt right off the pages of a storybook. The beachfront is lined with palapa-covered restaurants, whose menus are packed with the local catch of the day. In fact, you'll see many of the fishermen heading out to work right from the beachfront, or fishing off the pier. The village homes climb up the rocky hills that protect the bay, and you'll be able to find a fair amount of comfortable - albeit rustic - accommodations, or cozy Airbnbs.
You can opt to stay the night, or simply grab a water taxi back to Boca de Tomatlan or Puerto Vallarta.
6. Playa Las Gemelas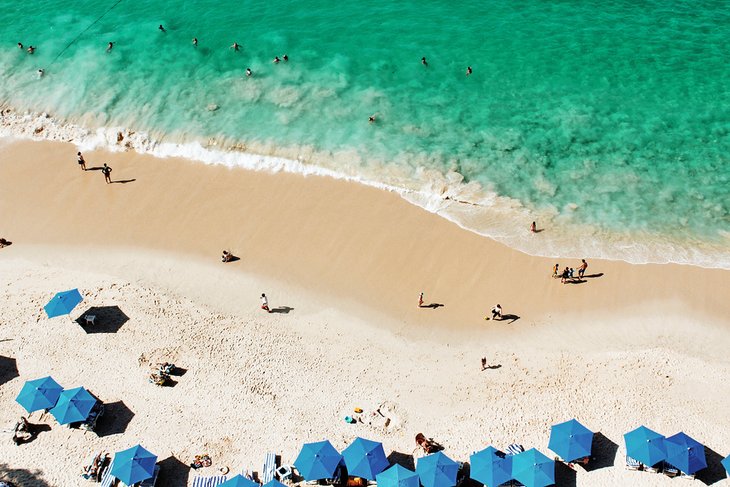 Gemelas, which means "twins" in Spanish, is the perfect description for this pair of beaches just south of Puerto Vallarta. The beaches are far from the main fray of downtown Puerto Vallarta, and locals love to take the quick bus trip here to play in the turquoise-colored, calm water.
The two beaches are relatively small and are separated by the Condominios Girasol Sur, so if it's high season, expect to be sharing the space with a lot of other beachgoers. The best tip is to visit during the week, or to arrive in the morning, so you get the best plot of beach real estate. The beach doesn't have any vendors, either, so you'll want to bring what you need for the day.
Like the other beaches outside of town, this one is accessible via bus or with a taxi or Uber.
7. Playa Las Caletas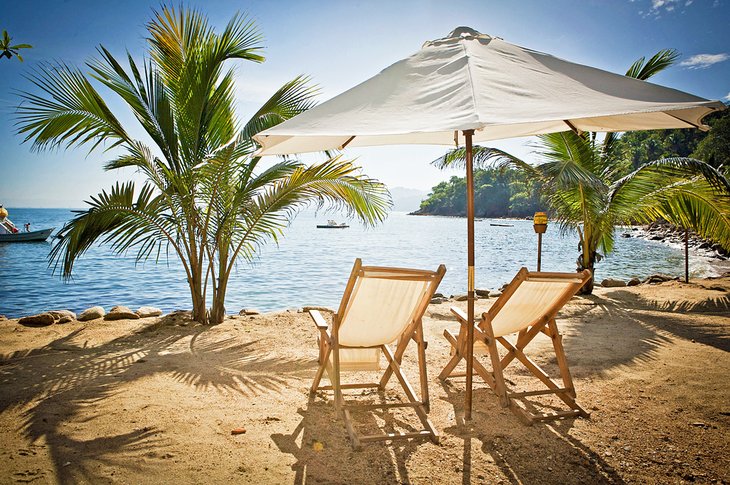 Cruising by motorboat down the south curve of the Bay of Banderas, you may notice something particularly intriguing. One stretch of beach is dotted with white, swaying, hand-woven hammocks. Amid the palm trees, you'll see thatched palapa roofs, and dirt paths that wind their way back into the hills. This is Playa Las Caletas, the once-home to director John Huston, and today the setting of one of the top attractions in Puerto Vallarta - Rhythms of the Night.
Owned by Vallarta Adventures, Rhythms of the Night is an evening live performance with Cirque du Soleil-level acrobatics, fire dances, and more. The entire experience begins with a boat cruise out from Puerto Vallarta's marina and over to Playa Las Caletas for a torch-lit, beachfront dinner. Not only are you experiencing one of the best beaches in Puerto Vallarta, you'll also get to see one of it's most popular shows, as well.
8. Playa Madagascar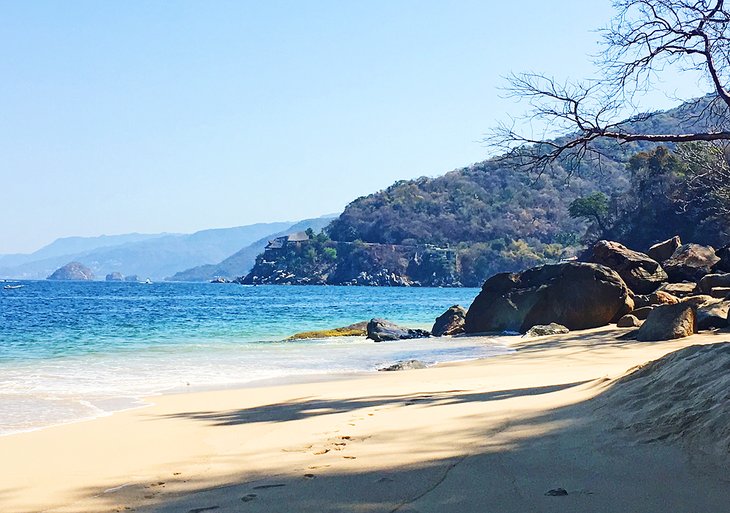 Playa Madagascar doesn't look like it should have a name. That's because it looks like it's a beach that has yet to be discovered. A short hike past Playa Colomitos along the Cabo Corrientes, Playa Madagascar is a rugged, untamed stretch of shore, where visitors can plunge directly into clear, turquoise water with nothing but endless views of the bay or rolling mountains.
It's an adventurer's beach, meaning it takes some effort to get here, and you'll have to bring all of your essentials in and out with you. But those who make the journey are rewarded with one of the calmest, most beautiful beaches in all of Puerto Vallarta.
9. Playa Camarones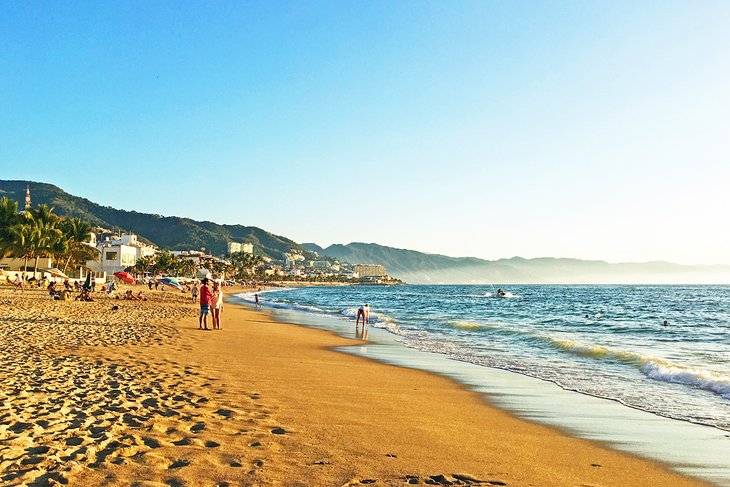 Zipping back to the hustle of Puerto Vallarta, Playa Camarones is one of the most important beaches on the tourist trail. The beach starts from the Villa Premiere Boutique Hotel south to the beginning of the beachfront Malecón walkway.
The beach is the most important in the Cinco de Diciembre neighborhood and is flanked with some of the city's favorite restaurants and beach lounges. Just a couple of blocks back from the beach is Avenida Mexico, one of the main thoroughfares in Puerto Vallarta, which runs the entire length of the city. The beach itself is clean, energetic, centrally located, and has some of the best views of the surrounding mountains.
10. Playa Quimixto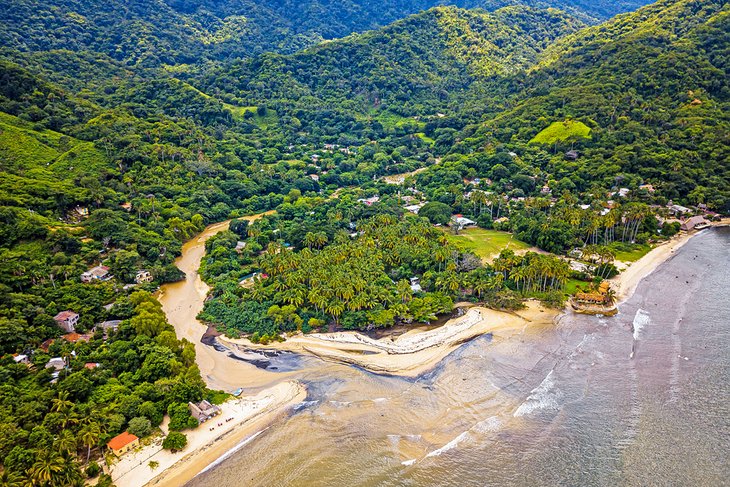 Similar to Yelapa, Quimixto is another village along the Cabo Corrientes in the southern curve of the Bay of Banderas. While most travelers are going past Quimixto to Yelapa, few travelers hang back and stay in this small village that boasts clean, beautiful, clear water and a laid-back attitude.
One of the most popular activities in Quimixto is to head back from the beach along a small hiking trail to discover the waterfall that is hidden within the jungle. That said, Quimixto is a very popular beach among locals, so don't expect that you'll have the beach or waterfall all to yourself. Still, it's a lovely escape from the fray of the city and a chance to explore one of the smaller communities that lives within arm's reach of Puerto Vallarta.
11. Playa Caballo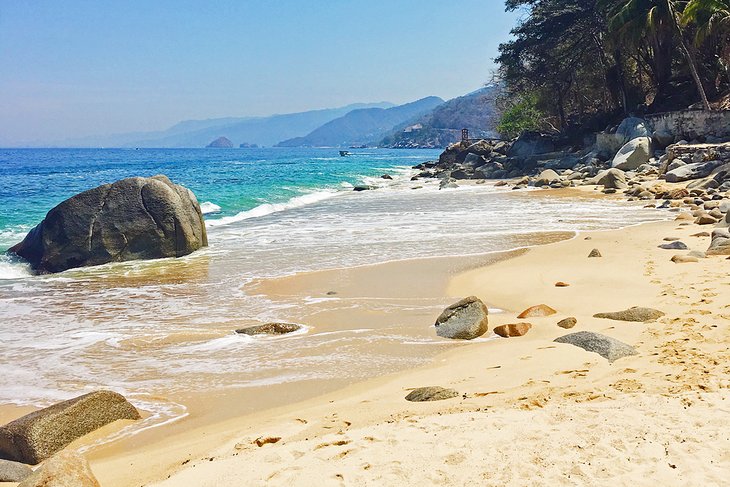 For most travelers hopping a water taxi from Los Muertos pier, their goal is Playa Las Animas - more on that later. Hop off the boat and take a left down a path that leads to Playa Caballo - one of the best beaches in Puerto Vallarta and the most tranquil, to boot.
What is great about Playa Caballo is that it is within walking distance to one of the most well-equipped beaches, but feels like it's another world away. The virgin beach is backed with a wall of lush, green jungle foliage that stops as it approaches the golden, powdery sand. The green-turquoise water gently laps against shore, making it a perfect spot for swimming.
Nearby are several beach bungalow-style resorts, like Hotelito Mio and Casitas Maraika. But the beach itself is completely undeveloped, and you'll likely be one of the only ones here.
Unlike other remote beaches, however, when it's time to go, you're just a few hundred feet from the pier, where water taxis will whisk you back home.
12. Playa Garza Blanca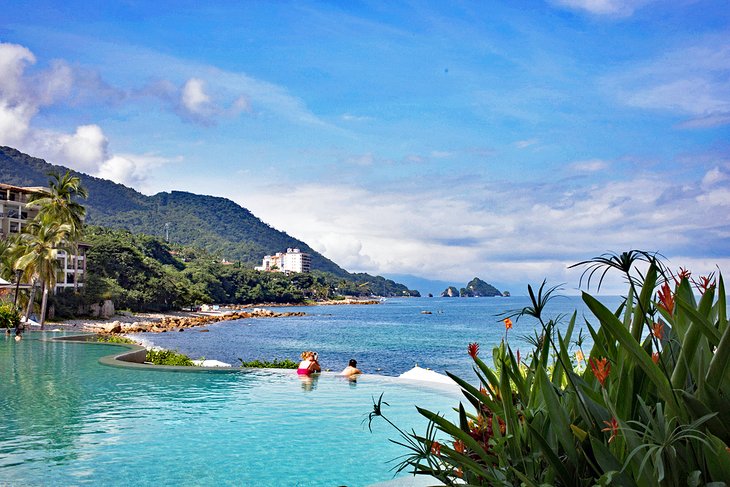 After storms and erosion ate away much of the beach a few years ago, an effort was made to restore the beach and protect it from future weather. It was a success - today Playa Garza Blanca is one of the best beaches in Puerto Vallarta.
The lovely beach is now protected by a breakwater of boulders. Today, the beachfront is a blanket of soft sand onto which gentle, blue-emerald waves roll in. Garza Blanca is a certified Blue Flag beach in Mexico, which is the highest rating a beach can earn.
Garza Blanca is about five miles south of Puerto Vallarta, and easily accessible via taxi or bus. In fact, you'll be relatively close to many of the other beaches on this list, like Playa Palmares and Playa Las Gemelas.
If you like the beach enough to stay, you can check into the popular Garza Blanca Resort, or splurge at the boutique Hotel Mousai, which is just up the hill.
13. Playa Las Animas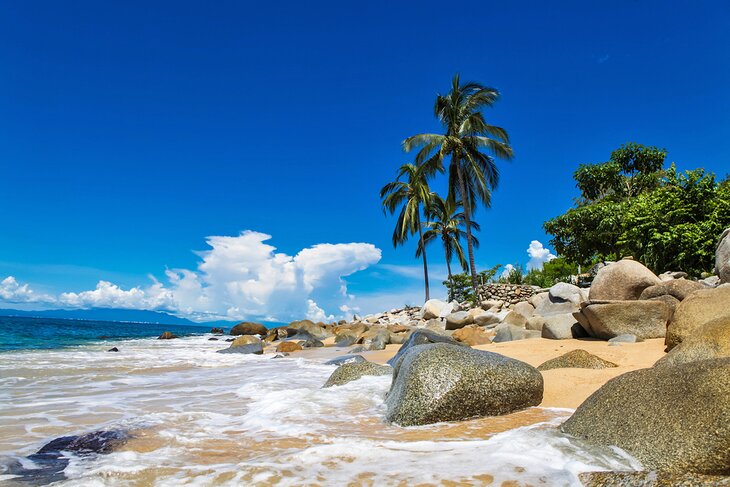 One of the most popular day trips from Puerto Vallarta, Playa Las Animas is only accessible via water taxi or a cliffside hike, both of which leave from the small fishing village of Boca de Tomatlan. For more convenience, however, you can catch a water taxi from the Los Muertos pier in the Zona Romantica to take you directly to Las Animas.
The beach here is one of the most popular beaches in Puerto Vallarta for residents looking to get out of the city. It's one long stretch of thatched-roof beach restaurants, which rent chaise lounges for the day. You can also set up shop directly on the sand if you want to save a few extra pesos.
The water here can be crowded with tourists and locals, since it's such an easy trip from Puerto Vallarta. For the best experience, avoid going on weekends or holidays. If the scene becomes a little too hectic, you can always walk east along the shore to hit Playa Caballo.
14. Playa Iguana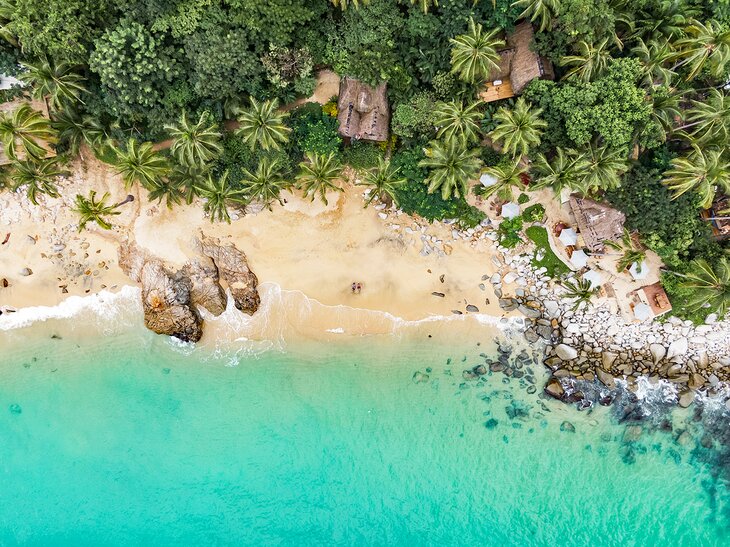 On the other side of Playa Caballo, to the east, is Playa Iguana. This small beach is protected on either end by rocky outcrops, and the large boulders that scatter the shore give it an almost prehistoric look, especially with the lush jungle behind you.
This beach is dominated by Casitas Maraika, a small boutique hotel and restaurant known for its chill atmosphere, fantastic food, and bohemian-style bungalows. You can use the beach if you're not staying at the hotel, but to get a table, you'll have to make a reservation. Sometimes, in low season, you can just show up and get lucky, but better to plan ahead just in case.
Puerto Vallarta, Mexico - Climate Chart
Average minimum and maximum temperatures for Puerto Vallarta, Mexico in °C
J
F
M
A
M
J
J
A
S
O
N
D

27

17

27

17

27

17

28

18

29

21

31

24

32

24

32

24

32

24

32

23

29

20

27

18

PlanetWare.com
Average minimum and maximum temperatures for Puerto Vallarta, Mexico in °F
J
F
M
A
M
J
J
A
S
O
N
D

80

62

80

62

81

63

82

65

85

70

88

76

89

76

90

76

90

76

89

74

85

68

81

65

PlanetWare.com