11 Best Small Towns in Mexico for Tourists
Author Meagan Drillinger spends several months each year in Mexico, visiting destinations throughout the country.
Mexico is a country built for exploring. From its sunny beaches, towering mountains, and cultured cities to its sprawling resorts and Indigenous culture, it could take a lifetime to explore everything Mexico has to offer. Aside from its thriving metropolises, like Mexico City and Guadalajara, Mexico also has spectacular small towns.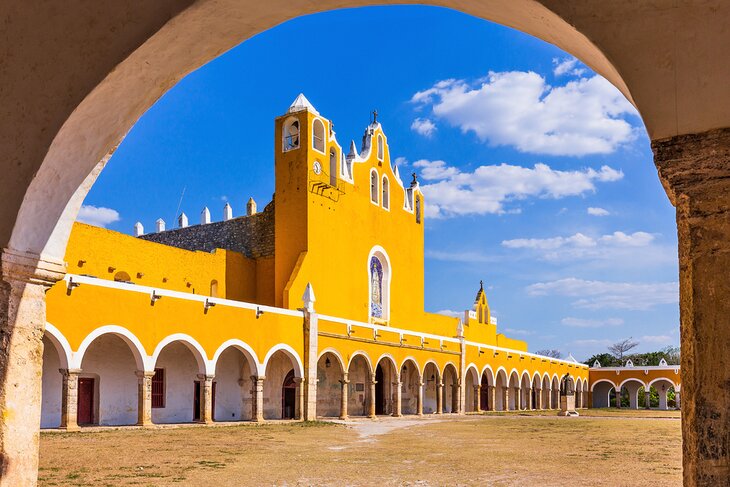 These small towns in Mexico are known for their authentic culture, Indigenous roots, artisan colonies, and uncharted beaches. From Mayan cities turned Spanish colonial monastic towns like Izamal to boho chic surf paradises like Sayulita, and mystical mountain escapes like San Cristobal de las Casas, Mexico is peppered with hundreds of stunning storybook small towns.
Shop handmade artisan goods in Todos Santos, or learn the perfect tree pose overlooking the ocean in Mazunte. Wander the mountain roads in Taxco while looking for centuries-old silver, or sip a fresh fruit smoothie on the powder-soft beaches of Tulum.
If you're ready to discover the top places to visit for a more local side of Mexico, check out our list of the best small towns in Mexico for tourists.
1. Todos Santos, Baja California Sur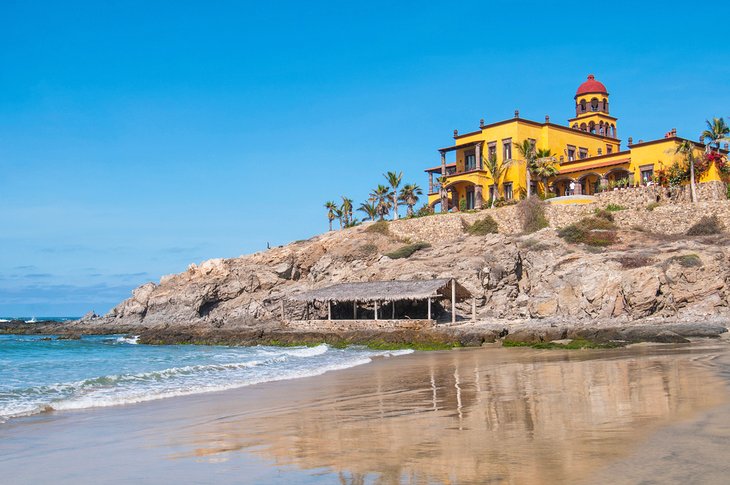 Todos Santos is one of those storied beach towns south of the border that seems to spring from literature. Imagine beatniks and bohemians fleeing conventional life for a simpler, more tranquil life by the sea. Todos Santos is straight out of the pages of John Steinbeck or Jack Kerouac. And while it is certainly gaining popularity along the tourist path, its laid-back ethos continues.
Cobblestone streets are padded by locals and international surfers alike. New Age hippies have left their mark, as well, with art galleries and gourmet restaurants and cafés. It's not far from Cabo, but it seems another world away.
Todos Santos is about an hour away from Cabo San Lucas, so ready yourself for the same dramatic desert-meets-sea landscape but a far more tranquil vibe. Culture vultures roam the streets popping into artisan workshops, or snacking on organic cuisine underneath flowering bougainvillea trees.
But cultural offerings aside, Todos Santos is a prime Baja spot for adventurers, from kayakers and snorkelers to scuba divers and surfers looking for the best beaches in Baja California. Hiking trails wind through the desert and beach areas, as well. But while Todos Santos has managed to retain its sleepy, bohemian vibe for years, the secret is out and, like most small towns in Mexico, development is coming.
2. Izamal, Yucatan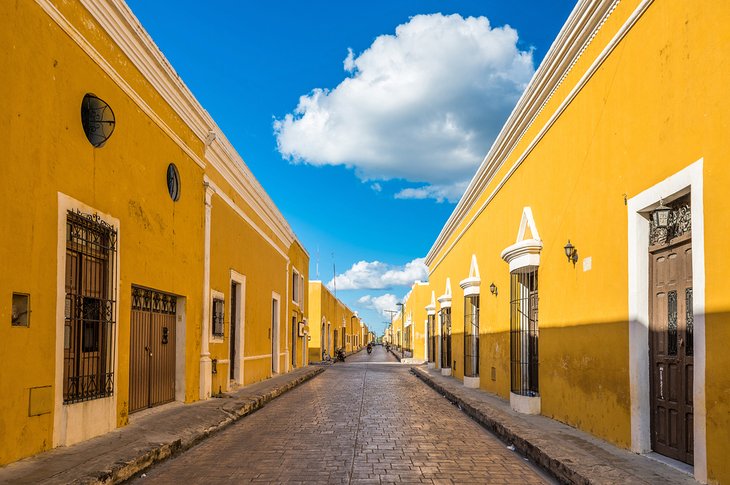 You're going to want to cue the Coldplay when you stumble at the doorstep of the town of Izamal—because it really is all yellow. Not far from the state capital, Merida, Izamal is a town splashed in shades of yellow and ochre. Cobblestone streets are flanked with low-rise colonial-style buildings that seem to radiate with warmth, both in feeling and in canary yellow color.
The city was once a center of worship for the Mayan people, packed with temples dedicated to Mayan gods. In the 16th century, the Spanish colonized the town and built a sprawling Franciscan monastery, the Convento de San Antonio de Padua, which is still the centerpiece of the city today.
Remnants of the Mayan past can still be found, even though the Spanish made every attempt to overwhelm the centuries-old Mayan heritage. The Kinich Kakmo Pyramid sits to the north of the city, blanketed in moss, and stands as a tribute to the nearly forgotten past. A quick ascent to the top of the crumbled structure makes way for views over the town, and its base is one of the largest in Mexico.
3. Sayulita, Nayarit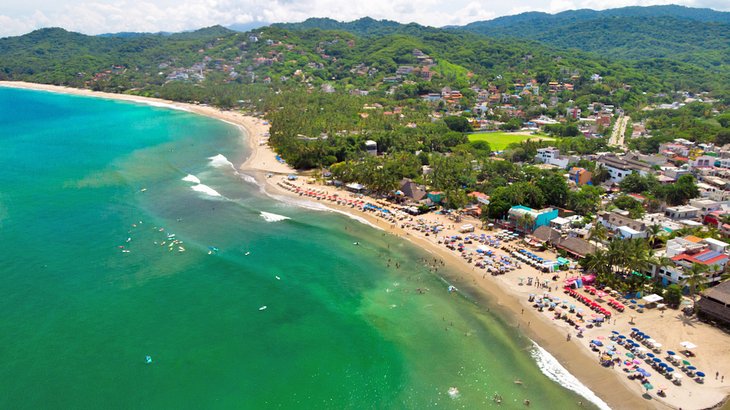 Salty surfers and leathery sun worshipers remember Sayulita—back in the 1990s when it was a jungle-shrouded crescent of beach and solid surf, a few taco shacks, and a dusty road. Today's Sayulita is by no means a big town in Mexico, but it has certainly grown a long way from its sleepy fisherman village roots.
Today, Sayulita is full of things to do and places to visit—a boho chic paradise of a few small streets, center square, and small stretch of beach. It's a haven for haute hippies, whose turn on words include "organic," "yoga," and "artisanal." It's also a great spot for photographers looking for interesting places to photograph in Mexico.
Hotels swing boutique, and yoga retreats are a dime a dozen. You can still manage to score a room at a surf bungalow or two, but accommodations these days do come at a premium.
Today, restaurants are more along the lines of elevated brick oven pizza and small plates, rather than the dirt cheap fish tacos of yesteryear, but the bustling small town in Mexico's Riviera Nayarit is still a welcome escape from the frenetic energy of Puerto Vallarta to the south.
4. San Cristóbal De Las Casas, Chiapas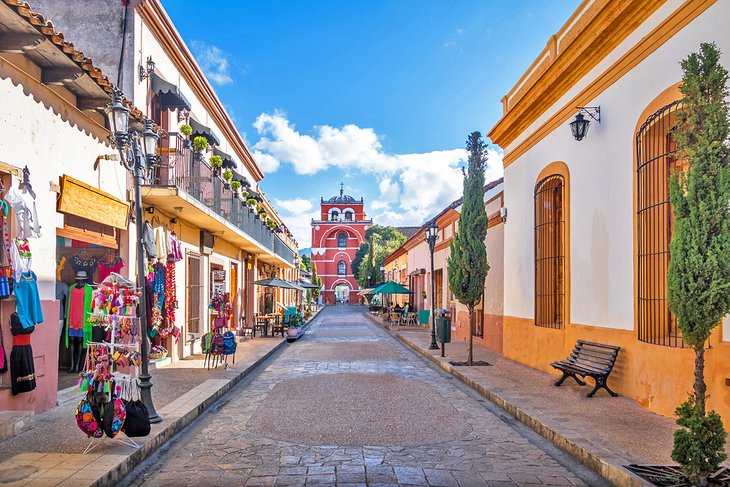 Perched atop a mountain in Mexico's southern highlands, San Cristobal De Las Casas rises out of the mist. Steeped in ancient shaman traditions, the colonial mountain city is a far cry from any other place you've seen in Mexico. The Tzotzil Maya tribe is indigenous to this part of the country, who are masters at textiles and shaman mysticism.
As is common for small towns in Mexico, the road is paved with cobblestones, which are lined on either side with low-rise, colonial buildings that pop with bright colors. Markets hum with activity, and the faint scent of incense seems to hang in the air.
A main tourist drag is lined with buzzing restaurants, serving everything from traditional Tzotzil and local hot chocolate (a delicacy in the state of Chiapas) to Lebanese cuisine and tea.
San Cristobal is a popular stop on the backpacker route around southern Mexico. The state of Chiapas itself is packed with Mexico's sightseeing gems, from the ruins at Palenque to the Sumidero Canyon. The state is one of the most beautiful in Mexico and can be a vacation entirely on its own.
5. Mazunte, Oaxaca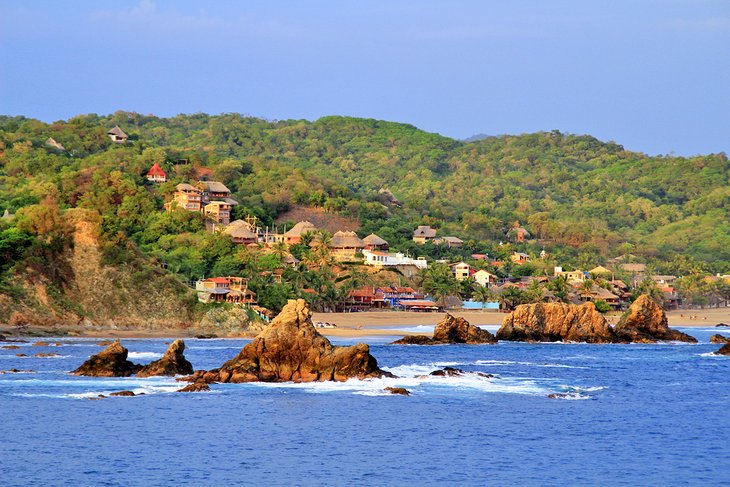 Oaxaca's rugged and wild coastline is among the most beautiful in Mexico, from secluded bays to craggy cliffs, rolling mountains, and strings of sleepy beach towns waiting to be discovered. While tourists are more familiar with Oaxaca's more popular hot spots, like Huatulco and Puerto Escondido, there are stunningly beautiful, far less-traveled beach towns all in between, like Mazunte.
Mazunte is clustered around two Oaxaca beaches: Playas Rinconcito and Mermejita. Backpackers and surfers have flocked to these quieter shores for years, creating a hippie enclave that is all about fresh-pressed juices, dreamcatchers, yoga, and tarot cards.
But beyond the New Age vibe, Mazunte is a haven of natural beauty and wildlife, sea turtles in particular. In fact, it has a research center right in town.
6. Valle de Bravo, México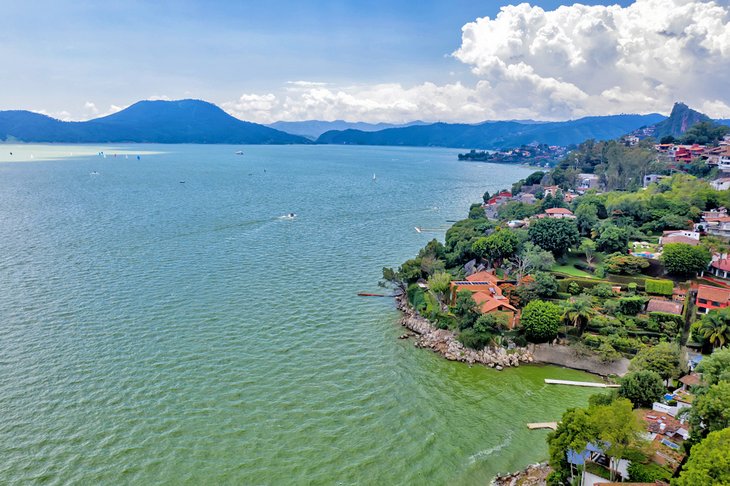 Mexico City is one of the largest cities in the world, with a population of more than 20 million people. But, just two hours away, travelers can transport themselves to an entirely different, entirely more tranquil slice of lake paradise.
Valle de Bravo, one of Mexico's Magic Towns, is a lake town perched on Lake Avandaro and a top pick for day trips from Mexico city. Shrouded in thick forest and surrounded by smoky mountains, the colonial town is famous for being a getaway of the Mexico City elite.
The lake, believe it or not, is manmade, but that does not make the views any less spectacular. The colonial center is dotted with red terra-cotta roofs and veined with cobblestone streets. So although it is a tourist town, it exudes a decidedly Mexican character and charm.
Visitors spend their days hiring boats on the lake, hiking in the hills, or camping for the more adventurous. Gorgeous homes with lake views are available for rent, as well.
7. Zihuatanejo, Guerrero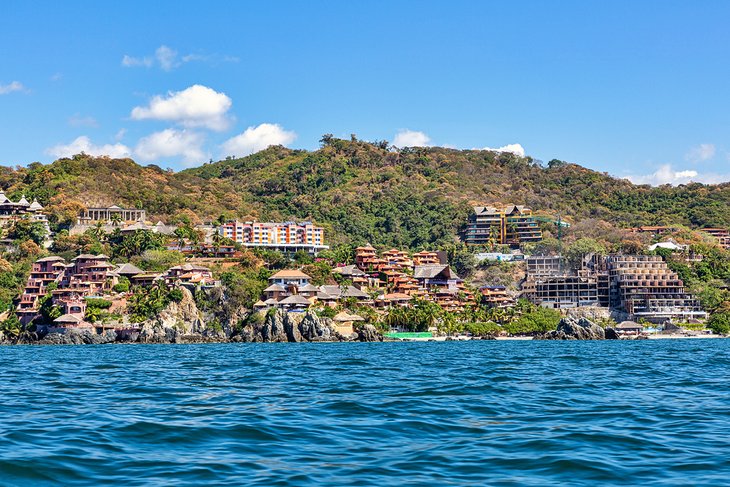 Any Shawshank Redemption fan is familiar with the place, "Zihuatanejo." And while the portrayed Mexican town isn't exactly where Red and Andy reunited in the film, it is based on a very real place on Mexico's Pacific coast.
Zihuatanejo is the sister city to the Pacific coast resort town of Ixtapa. Up until the 1970s, Zihuatanejo, or "Zihua," to locals and surfers, was a peaceful little fishing village tucked in a rocky bay lined with a few choice beaches. And while Zihua certainly has retained its sleepy vibe compared to its resort-forward neighbor, it's been infused with a vibrant and colorful soul all its own.
Narrow cobblestone streets run back from the beachfront, lined on either side with things to do, like dining in Zihuatanejo's local restaurants, shopping in boutiques, and browsing galleries.
And then there are the beaches—three, to be exact. Playa La Ropa is the most famous in Zihuatanejo and tends to draw the most crowds. It's a bit outside the downtown area and is located near many of the hotels. Closer to downtown is Playa la Madera, which is lined with beach restaurants and is where many of the locals come to relax for the day. Playa Contramar is yet another beach area, but is much smaller.
While Zihua is very much a tourist town, especially when the cruise ships come in, it's still a thriving fishing village, where fishermen head out to sea each and every day to return with their daily catch. By night, the town square comes alive with live music, street food, and entertainment.
8. Tulum, Quintana Roo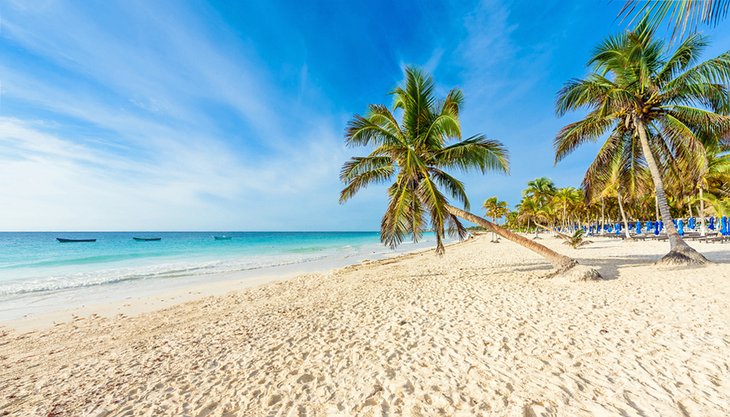 Tulum may be splashed across the covers of various international travel magazines, but it is still very much a town—one of Mexico's most famous towns.
Most visitors are coming to Tulum for its stunning beaches and A-list boutique hotel scene. There is also the world-famous, eponymous archaeological site. But venture off the beach road, and you'll discover a living, breathing town, as well.
The truth is, the main drag where all the cheap restaurants and budget accommodations are, is along the main highway. But this is where the heart and soul of Tulum lives, from the busy, frenetic side streets lined with taco joints, to the town squares and markets. Rent a bicycle and get exploring.
Of course, there is the beach, too, which is one of the best beaches in all of Mexico. Tulum's beaches are powder white, and the vibe that has been crafted is pure boho-luxury.
Boutique eco resorts dot the sand, while the beach road is flanked with gourmet organic restaurants, artisan shops, and yoga studios.
Nearby, visitors will find the Tulum ruins, as well as the lesser known Coba ruins, cenotes, and lagoons.
Accommodation: Top-Rated Resorts in Tulum
9. Tlacotalpan, Veracruz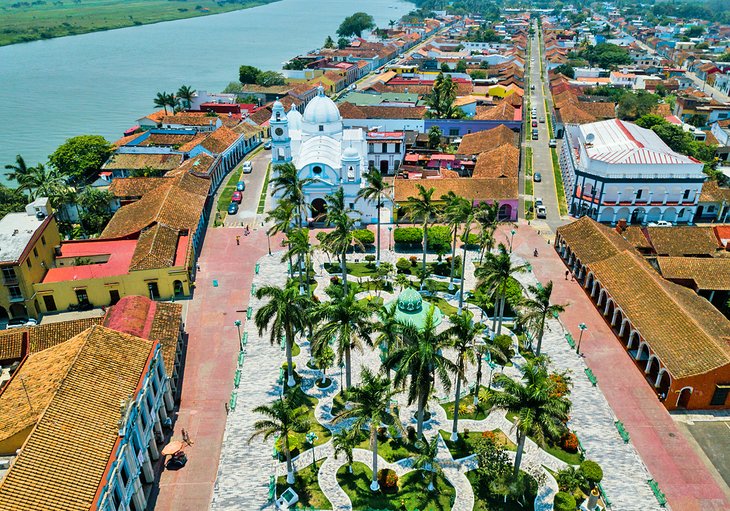 The riverside Tlacotalpan is a gorgeous colonial town in the Gulf state of Veracruz. It's officially a UNESCO World Heritage town, and not much has changed since the early 19th century. With bold- and pastel-colored low-rise colonial houses, tropical weather, and palm trees everywhere, Tlacotalpan brings Caribbean visions to a Mexican world.
This Spanish colonial city was founded in the mid-16th century and still boasts the colonnaded houses and gorgeous gardens. It also has a high concentration of historic buildings, showing off arcades of arched porticoes, regal columns, and ornate detail. The bulk of the action centers around Parque Hidalgo and Plaza Zaragoza.
One of the best times to visit Tlacotalpan is during the Fiesta de la Candelaria, which is a 100-year-old festival that lasts from the end of January until February 9. The streets are lined with explosions of colorful flowers, and the locals are always outside with music and celebration.
10. Taxco, Guerrero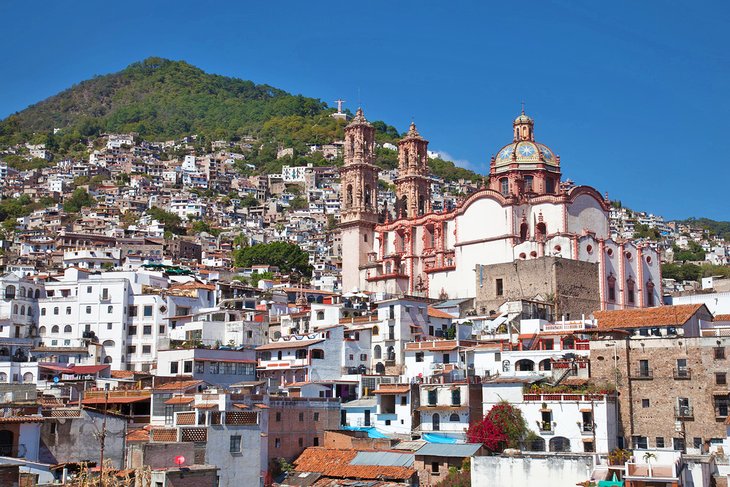 From the moment you feast your eyes on Taxco, you will know you have found something truly special. The hillside town is surrounded on all sides by steep mountains, making it a preserved jewel of a colonial city, with white-washed walls, red terra-cotta roofs, and the gorgeous Santa Prisca cathedral with a truly magnificent dome.
Taxco, about 100 miles from Mexico City, is known for its silver trade. Since the 16th century, the town has been put on the map as a silver mining city. Though now the silver is all gone, Taxco is a veritable tourist hot spot—but yes, you can still buy silver here. Historic architecture, stunning natural views, museums, galleries, and restaurants keep it a humming and historic getaway from Mexico's capital city.
Today, the thing to do in Taxco is to absorb its history and architecture. Wander the Santa Prisca church, visit the Museo de la Plateria (the silver museum), and even take a cable car ride up to the Monte Taxco Hotel, which offers a great bird's-eye view for photos.
11. Bacalar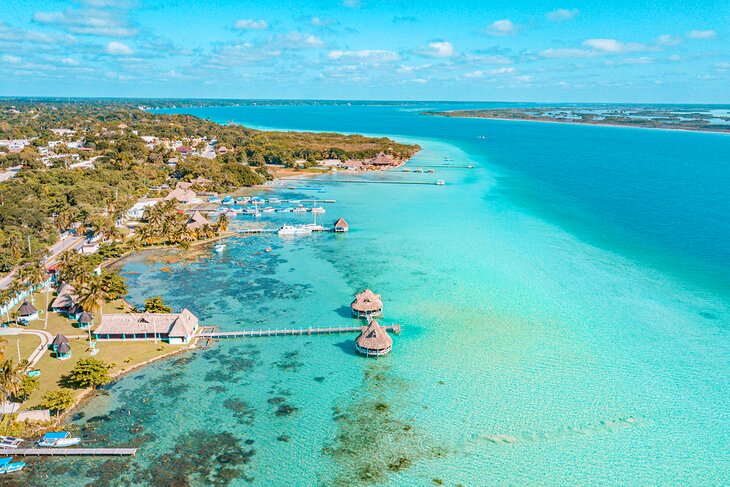 Bacalar is a breath of fresh air along an otherwise overcrowded coastline, making it a popular place to visit on the Mayan Riviera.
Tucked at the very southern end of the state of Quintana Roo—not far from the border with Belize—this lake village has been luring visitors of all varieties for centuries. From the Maya to the Spanish explorers and pirates, and later from backpacking bohemians to wealthy second-homers from Mexico City, Bacalar has a little bit of something for everyone.
The sleepy village sits on a lake of the same name, Laguna de Bacalar. The jewel-toned lake is the top selling point for the destination and a visit here is one of the top things to do in Mexico. The lake is known as the Lake of Seven Colors for the gradient of blues that dance across the surface throughout the day.
Bacalar is big on eco-tourism, with limited development, boutique hotels, locally owned and operated restaurants, and fiercely protective residents who want to keep the lake pristine. The barefoot backpacker vibe of the town remains intact, though luxury hotels are starting to crop up more and more.
Some of the best things to do in Bacalar include kayaking or sailing on the lake, visiting the nearby Mayan ruins, dining at the low-key restaurants in town, or shopping for artisan crafts in the village. Don't miss the historic Spanish fort, which has beautiful views out across the 60-mile-long lake.
Map of Mexico - Best Small Towns for Tourists