11 Top-Rated Things to Do in Sayulita, Mexico
North of the iconic beach resort destination, Puerto Vallarta, sits a once-sleepy fishing village turned boho, chic hideaway. Sayulita has long been a favorite escape from the more bustling, frenetic Puerto Vallarta. Once a hippie hideaway for surfers, the town today has gentrified, evolved, and expanded to be one of Mexico's most beloved beach getaways.
Sayulita has everything: stunning beaches, fabulous restaurants, a thriving art scene, boutique shopping, and a wonderful selection of hotels including everything from budget bungalows to five-star yoga retreats.
Today, the destination can be seen splashing the pages of luxury travel glossies. But once you hit the cobblestone streets, it's easy to see that this is still just as much of a laid-back destination as it always was, only now with a few more high-thread-count options, and far more things to do beyond catch a wave.
If you're ready for sightseeing around this Pacific Mexico jewel, check out our list of the top places to visit and fun things to do in Sayulita, Mexico.
1. Surf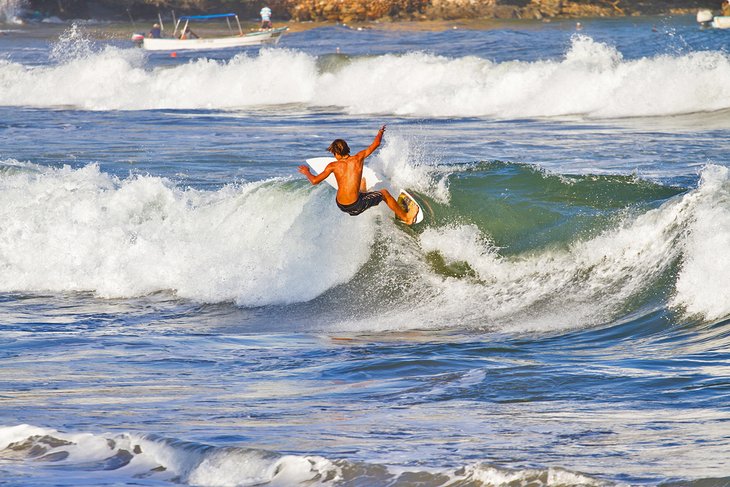 While Sayulita has certainly elevated its travel status, it still pays homage to its surf culture roots. The waves in Sayulita are typically mellow, which makes it a perfect spot for beginners who want to get their feet wet (pun intended) surfing.
Sayulita faces north, which means it gets solid northern swells. If you're surfing the main beach in Sayulita (Playa Sayulita), remember that the left side is best for beginners and the right has a point break, meaning it's better for more advanced surfers.
Whether you're new to surfing, or a seasoned pro, a healthy amount of surf schools are nearby to take travelers out and show them the best spots. One of the top-rated surf schools in Sayulita is Lunazul Surfing. They have board rentals, surf lessons, and even organize surf tours in and around Sayulita.
2. Yoga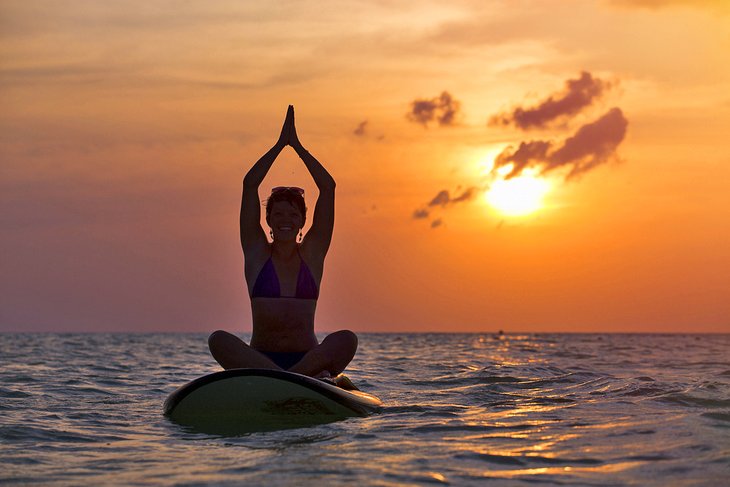 The vibe of Sayulita swings laid-back, barefoot casual, and unplugged. As such, it is a popular getaway for aspiring yogis and those who are experienced in their practice. A variety of yoga classes, as well as fully dedicated yoga retreats, can be found in and around Sayulita. For those who are really serious about yoga, several of Sayulita's studios have teacher certification programs, as well.
If you're looking for a fabulous pop-in class, it's hard to beat Paraiso Yoga. The studio has a schedule of yoga and pilates, and classes are held tucked amid its verdant garden. They also have massage, which is a sublime treat. Those who want to earn their yoga teacher certifications can look into their courses, which have both a 200-hour training and 500-hour training.
If you'd like to commit more than a day or two to practice, Sayulita's Haramara Yoga Retreat is one of the best in the region. The artfully designed resort sits on 12 acres of jungle, with 360-degree-view yoga pavilions, a restaurant, pool, and sleeping cabanas. The retreat can host up to 50 guests and is available for buyouts or for individuals and friends looking to join hosted retreats.
3. Islas Marietas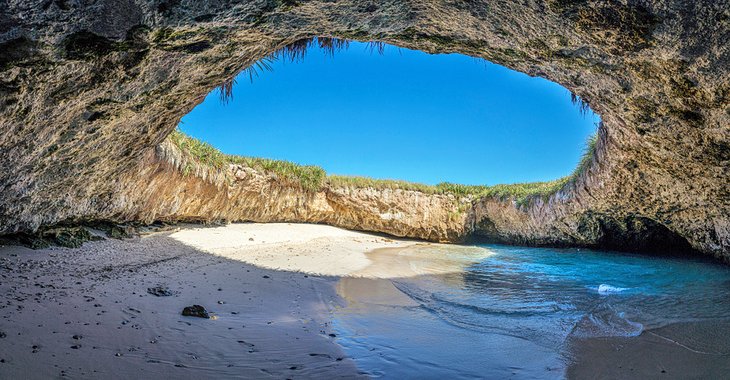 Islas Marietas are a string of unpopulated islands off the coast of Punta de Mita and Sayulita in the northern end of the Bay of Banderas.
Today, the islands are a protected area, home to more than 40 different species of plants and wildlife, including blue-footed boobies, manta rays, sea turtles, and more. Together the islands, known as Islas Marietas National Park, are part of a UNESCO MAB Biosphere Reserve.
The islands are protected, meaning humans can't actually walk on them, but it's possible to take a boat tour out to sail around them. Snorkelers and scuba divers love the island for the variety of reef fish species, as well as the coral that lives around them. Only a few tour companies are legally allowed to visit the islands, as well.
Visitors love Islas Marietas for the hidden beach that can be found on one of them. When the tide is right, a short swim through a small channel leads to a secret beach that is tucked within an open-air cave. The secluded spot is a perfect place to visit to enjoy the powdery sand, silence, and perhaps a spotting of some of the indigenous wildlife.
4. Hiking and Nature Adventures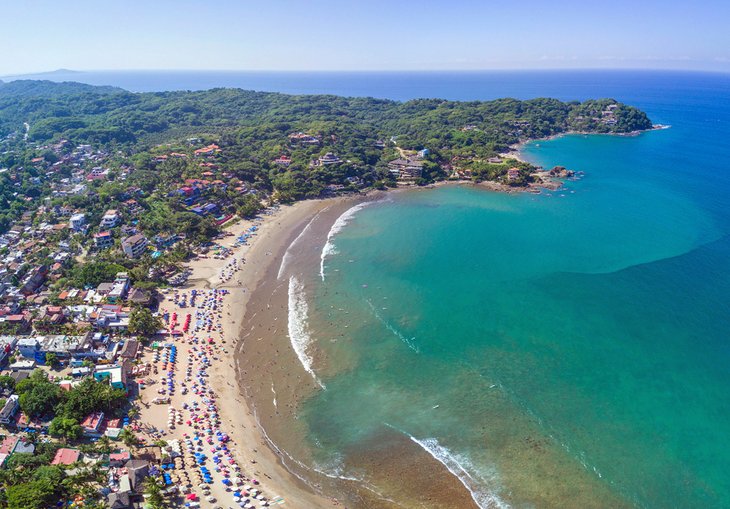 Sayulita enjoys the benefits of being tucked between the ocean and jungle-covered mountains. As such, it affords ample opportunity to get outside and enjoy nature, especially if you're interested in low-impact adventure.
Hikes typically lead between neighboring beaches, with the opportunity to see tons of natural wildlife, especially when trails weave through the jungle.
One of Sayulita's most popular and challenging hikes is the hike up Monkey Mountain. Monkey Mountain is the largest of the southern hills behind Sayulita and has a relatively imposing cliff face. But with the right guide, summiting the mountain is a challenging adventure that awards sweeping views over the state of Nayarit and the Pacific Ocean. Tip: Most visitors prefer to travel with WildMex.
Or, if you prefer to explore on four legs rather than two, Sayulita offers beachfront horseback riding - a must for sunset. Rancho Mi Chaparrita is a great local option. Tip: Rancho Mi Chaparrita also has a jungle canopy zipline tour, with 13 lines and four suspension bridges.
5. Shop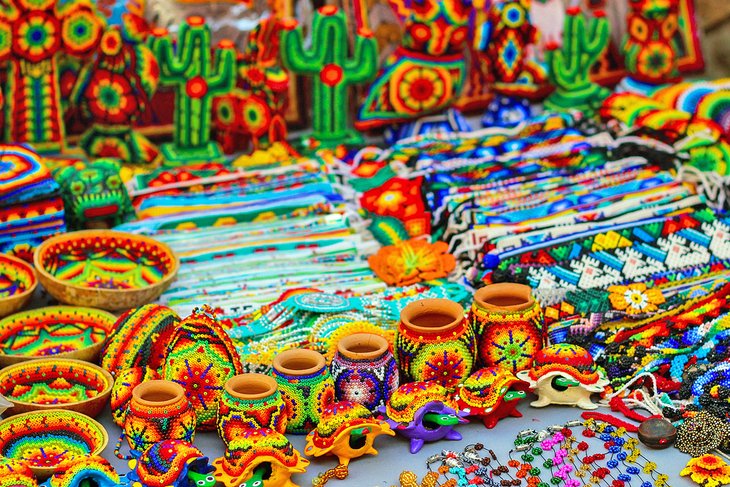 Sayulita is, if nothing else, a boutique shopper's paradise. From boho beachwear to upscale fashion, all the way down to budget surfer style, there is something for everyone. Plus it's a gold mine for handmade goods and crafts.
One of the most popular boutiques in Sayulita is Evoke The Spirit, which sells handcrafted products that have been made following local techniques, like beeswax-covered ceramics, textiles, and wall hangings.
For accessories, hand-made dresses, and lovely souvenirs to bring home, visit Pacha Mama, part of the Casa Love hotel. The shop is located just off the beach. It's here that visitors can purchase the seductive black pearl jewelry that is ubiquitous on every surfer in Sayulita.
The state of Nayarit is home to one of Mexico's indigenous tribes, the Huichol people, who are known for their vibrant and intricate bead art. Sayulita is one of the best spots in Mexico to pick up pieces designed in the Huichol style. The Huichol Center, for example, sells vibrant local pieces, as well as gives back to the local community.
6. Art Hop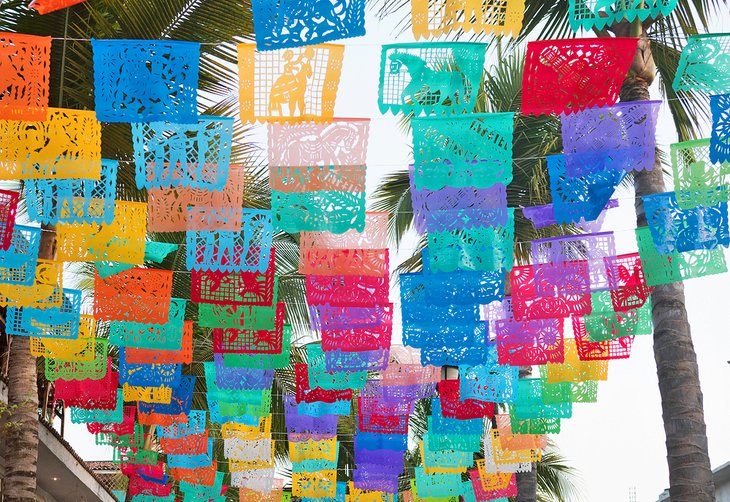 Speaking of art, Sayulita has a thriving art scene - one that draws admirers and creatives from all over the world. It's an aesthetic town in general, from the cobblestone streets and brightly painted buildings to the colorful flags that flutter overhead.
From indigenous Huichol art, to fine art pieces, handmade pottery, textiles, and leather goods, Sayulita is one of the best tourist spots to take in local creations. Plus, the town is splattered with brilliantly colored murals.
Visit Cori Jacobs Gallery, founded and run by Cori Jacobs herself, who moved from Oregon to Mexico in 2002. Her work is all about color and celebrating life, with explosive paintings, ceramics, and textiles. The gallery is a kaleidoscope of color and one that truly pays homage to the dynamic and vibrant spirit of Sayulita and Mexico.
7. Visit San Pancho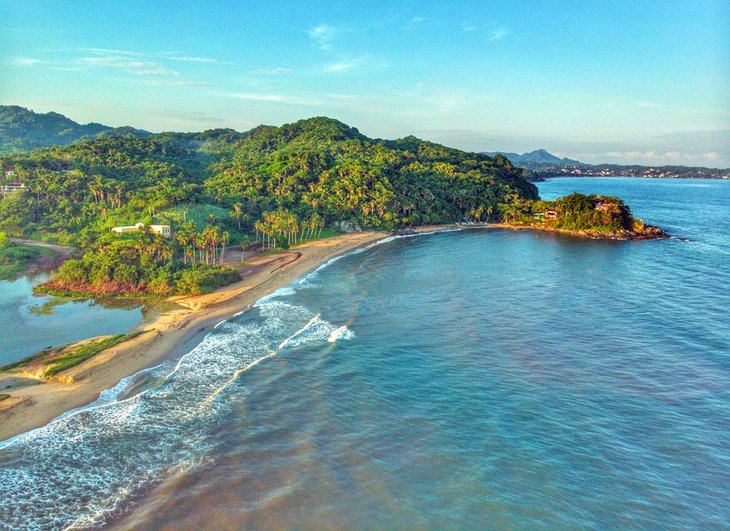 For years, Sayulita was the premiere sleepy fishing village escape from the resort-heavy Puerto Vallarta. But today, Sayulita is a bustling tourist destination all on its own. To escape the activity in Sayulita, these days a little peace and quiet can be found in neighboring San Pancho.
Technically San Francisco (everyone knows it as San Pancho) is what Sayulita used to look like a decade ago. The tiny town oozes laid-back fishing-village vibes, with just a few streets to explore, a smattering of restaurants, and one of the prettiest beaches you'll find in the state of Nayarit.
San Pancho is just a 10-minute drive from Sayulita, or you can take the four-mile hike through the jungle. It's a safe and pretty trail that is good for all levels.
San Pancho sits on its own tranquil stretch of beach to the north of Sayulita – and one that is relatively free from vendors. Surfing is great in this spot, too, and you're guaranteed to have more waves to yourself, unlike in Sayulita.
8. Beach Hop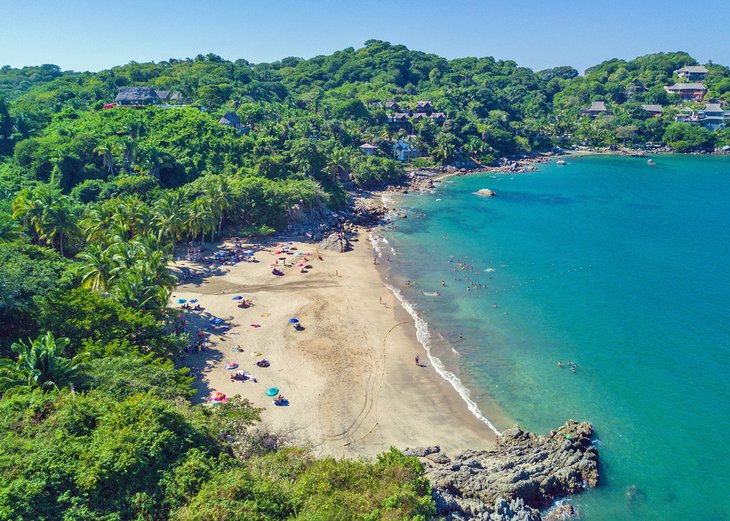 The main beach in Sayulita, Playa Sayulita, is certainly convenient. But it's definitely not the prettiest beach in the area. Playa Sayulita is where a lot of the action happens: palapa restaurants, vendors, surf lessons, and loud music. If you're into the scene, this is definitely the beach to be at. Keep in mind, however, that busy times of year, like New Year's or Easter week, will leave you elbowing your way for a spot on the sand.
A short walk to the south of Sayuilta (past Villa Amor), will lead to Playa de Los Muertos - not to be confused with Playa Los Muertos in Puerto Vallarta. Playa de Los Muertos is a popular local beach, with mellow, lapping waves that are perfect for swimming.
Just a short hike from Los Muertos will bring you to Carricitos Beach, which feels like another world away. A five-minute walk through the forest brings you to an isolated stretch of sand, which is the perfect spot to quietly while away a few hours. There aren't any restaurants or facilities on this beach, but it is a wonderful spot to bring your own picnic. Keep in mind that riptides can be fierce here, so always keep your wits about you.
If you crave even more isolation, consider Playa Patzcuaro and Playa Patzcuarito. These beaches are a little more challenging to reach, but reward you with genuine tranquility and silence. The beaches are about an hour walk, or a 10-minute taxi ride.
Finally, to the north of Sayulita you will find Playa Las Cuevas and Playa Malpasos. Brace yourself for sparkling, clear water and powdery white sand, which is uncharacteristic for the west coast of Mexico. You can visit these beaches via a small walk from Sayulita's main beach along a jungle road.
9. Admire the Wildlife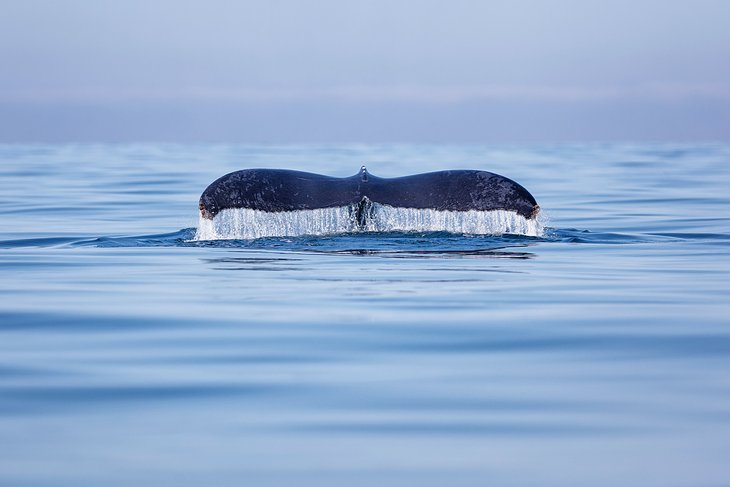 Sayulita sits facing the Pacific Ocean, just around the point from one of the largest bays in Mexico, the Bay of Banderas. The waters in the Bay of Banderas are known for their abundant marine life, and throughout the year, it's possible to spot various species of dolphins, as well as humpback whales.
Humpback whales arrive in the Bay of Banderas from the waters of western Canada and the United States to birth and mate, and while they're in town, they can often be seen breaching the water, swishing their tails, and making tremendous sights for viewers both on land and in boats. Whale watching season runs from mid December to March.
For the best whale watching or dolphin sighting excursions, there are a variety of tour operators that leave from Sayulita. La Orca de Sayulita, for example, has whale watching trips, as well as private whale watching excursions, led by biologists. These boat trips are non-invasive and come equipped with marine microphones, so you can listen to the whales while on board.
10. Eat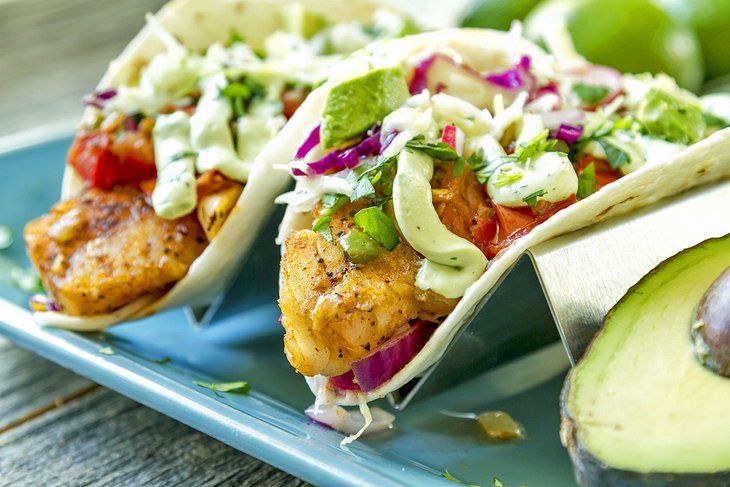 No trip to Mexico is complete without a few fabulous meals. Fortunately, Sayulita is brimming with phenomenal foodie options, from succulent street tacos to scrumptious health-conscious eats.
For the real-deal local cuisine, at a very eye-catching price, Naty's Kitchen is a fan favorite near the beach. These plump tacos are packed with veggies and a choice of meat, like beef, smoked marlin, or chicken with mole. Mary's is another traditional spot known for its fish tacos and handmade tortillas.
Fuel up for a day of catching waves at ChocoBanana, a small café on the main square that has been serving full breakfasts for years. Load up on fluffy pancakes, huevos rancheros, fresh salads, and more. At any time of day, this centrally located restaurant is slinging some of the best, and most filling, plates in town.
If you're tired of Mexican food, be sure to scope out La Rustica, which is known for its top-notch Italian food, particularly the wood-fired pizzas.
Finally, for barefoot beachfront dining, try La Terrazola, which serves up classics like ceviche and guacamole, all with an ocean view.
11. Drive the Riviera Nayarit Coastline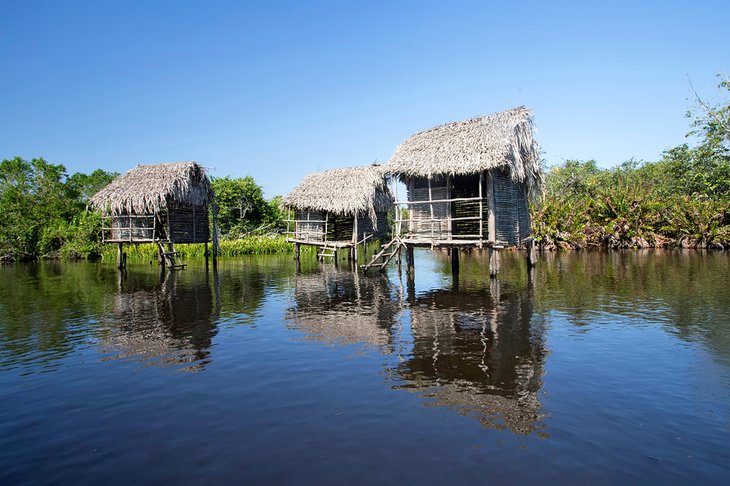 Sayulita may be the most famous beach town on the coast of the Riviera Nayarit, but it's just the beginning when it comes to exploring this stunning destination in Mexico. From Sayulita traveling north, visitors can explore so many of the other smaller, lesser-known beach towns that make this part of Mexico so special.
We already told you about San Pancho, which sits right next door. But from there, you can continue on to Lo De Marcos, another sleepy town that is evocative of what San Pancho must have been like years ago. It's starting to gain a small following, with the opening of newer fresh and fun restaurants. But the beach still remains quiet and off the tourist trail.
Other beach towns up the coast include Rincon de Guayabitos – a popular fishing village among Mexican and Canadian travelers. It's certainly far more developed than Lo De Marcos, but not quite as busy as Sayulita.
After Guayabitos you will come upon San Blas, which is a paradise for nature lovers. This pristine jewel on the Pacific is a jumping-off point for bird enthusiasts, who come to scope the special species that nest here.
Off the shores of San Blas are great opportunities to spot marine life, particularly off the newly opened Islas Marias. This island chain used to be a federal prison but has been reimagined and reopened as a sanctuary for observing marine life and birds.
Map of Things to Do in Sayulita, Mexico