11 Best Places to Visit on the Riviera Nayarit
Mexico's Riviera Nayarit is one of the last strongholds of true, unspoiled coastal beauty.
While Puerto Vallarta has taken its residency in the tourism spotlight for decades, Riviera Nayarit has been quietly growing in the shadows and is positioned to become one of the top places to visit in Mexico. In fact, springing up each year are more places to visit on the Riviera Nayarit that travelers likely have never heard of before.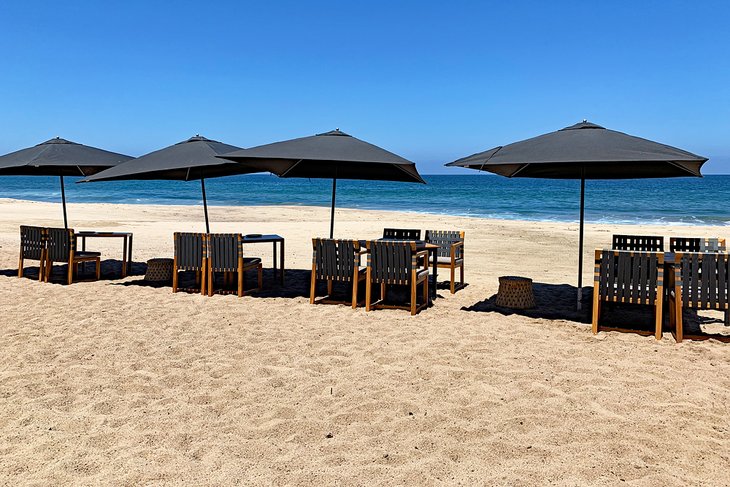 This stretch of coast runs from just north of Puerto Vallarta all the way up the coast almost to the border of the next state, Sinaloa. Along the way, travelers are drawn in by jungle-covered mountains blanketed in sea mist, sleepy fishing villages, top Mexico beaches, bohemian enclaves, and surfers' secrets.
But the secrets won't stay that way for long - they never do. If you're looking for places to visit on the Riviera Nayarit, now is the time to do so. The destination has been discovered by large-scale investors, and development is underway to turn this slice of paradise into the next big luxury destination for top beach resorts in Mexico. Now is one of the rare opportunities to see the Riviera Nayarit as it has been for decades.
Plan your travels with our list of the best places to visit on the Riviera Nayarit.
1. Nuevo Vallarta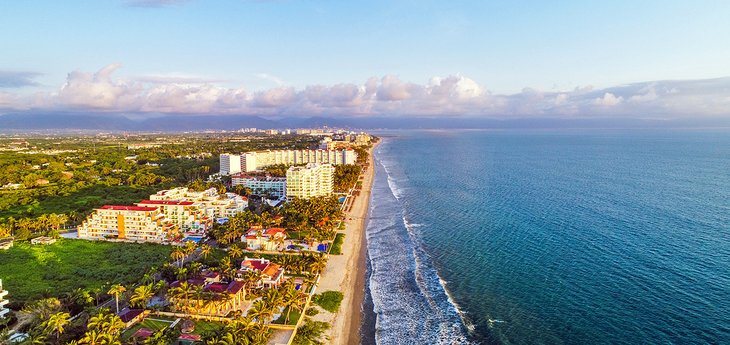 While you may be flying into Puerto Vallarta in the state of Jalisco, it won't be long before you've crossed over into the neighboring state of Nayarit, where the Riviera Nayarit begins. Just over the bridge near the airport, the state of Nayarit kicks off, and you'll find yourself immediately in Nuevo Vallarta.
Nuevo Vallarta (or "Nuevo," as the locals call it) began as a master-planned resort community with all new-build homes and beachfront hotels. In fact, while Puerto Vallarta may be in the spotlight most of the time for its tourist attractions, it's Nuevo Vallarta that offers among the highest number of hotels in the country. Some of the top hotels in Mexico can be found here, like the Grand Velas Riviera Nayarit, the Marival Distinct Luxury Residences, and the Hard Rock Hotel Vallarta.
But more than hotels, it also has golf courses, luxury restaurants, spas, condominiums, marinas, and a sizable chunk of golden Bay of Banderas beachfront. Plus it's only about 30 minutes from Puerto Vallarta if you're interested in going to check out that other highly rated beach resort in Mexico.
2. Bucerias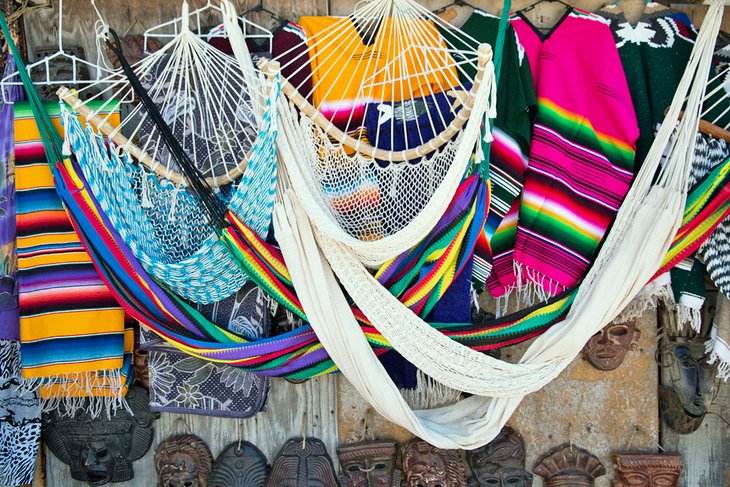 It may be a tourist-trodden beach town, but you can still hear the heartbeat of Mexico through the cobblestone streets of Bucerias. Located just north of Nuevo Vallarta, this once-sleepy fishing village was quickly discovered (and beloved) by travelers and has become a bustling beachfront community.
Bucerias is still a small town, but it is thriving with boutique beachfront hotels, restaurants, art galleries, and shopping. Pick up a souvenir at the Tianguis de los Domingos or learn about the town's art and culture with the weekly Art Walks, held on Thursdays from April to November.
Families will have a lot to do in Bucerias, as well. The beach is expansive and safe for swimming, plus just off the coast is an over-water, inflatable play park that is a lot of fun for families.
Adults will have a lot of fun on the water, too, as Bucerias is a top spot for kitesurfing, windsurfing, and boogie boarding. The beach is a bit too packed for serious surfers, but they'll find plenty of breaks along the nearby beaches.
3. La Cruz de Huanacaxtle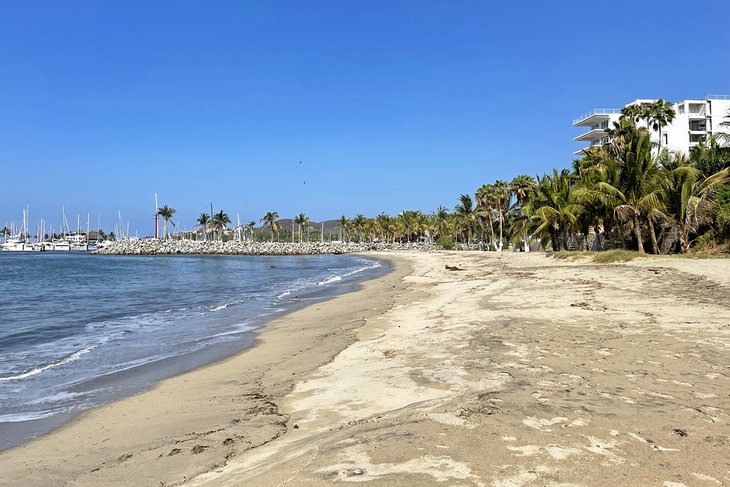 This sleepy (albeit luxurious) fishing village, La Cruz de Huanacaxtle, sits between Bucerias and the highway exit for the ultra-luxe Punta de Mita peninsula. The high-end hideaway is popular among the boating and yacht crowd, thanks to its renovated marina, which has more than 300 slips for vessels up to 400 feet.
Here is where you'll find striking villas with waterfront views, but still, that laid-back village charm permeates throughout, thanks to swaying palms, cobblestone streets, and local galleries and cafés. The local beach here is La Manzanilla and is known for its lovely palapa restaurants and tranquil waters.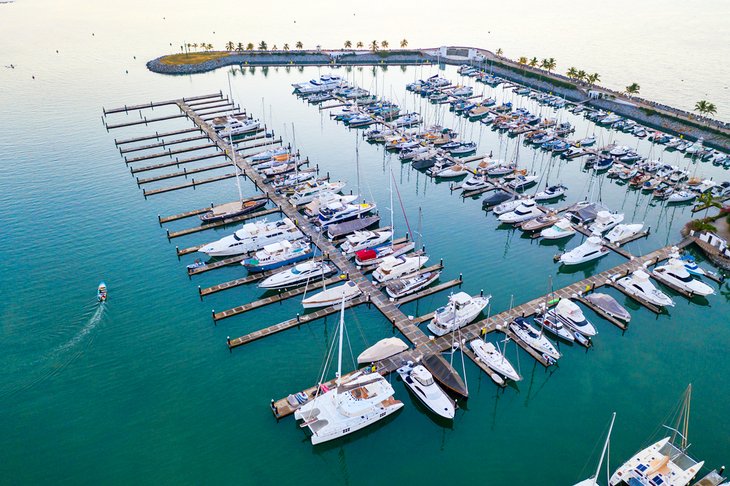 One of the best hotels in Riviera Nayarit can be found here, as well: Grand Matlali Hills Resort & Spa. Though the resort has seen many changes over the last five years, it is still regarded as one of the premiere options, with a beautiful hilltop perch that overlooks the sea.
4. Punta Mita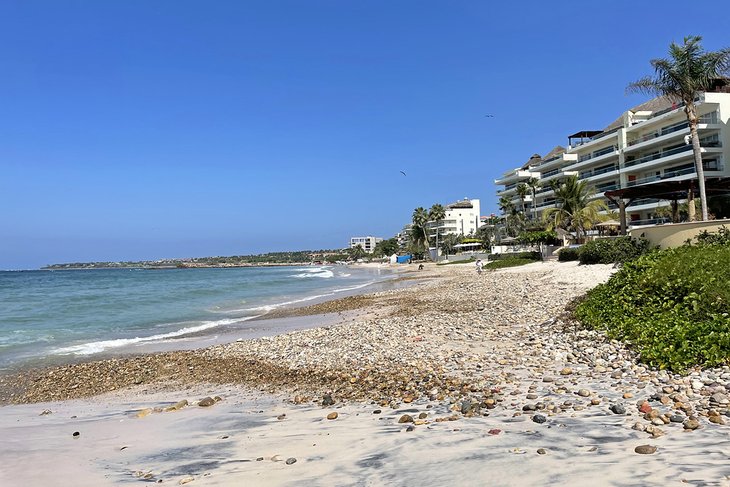 The landmass that makes the northernmost tip of the Bay of Banderas is known as Punta de Mita, and it is one of the most exclusive, high-end places to visit in all of Mexico. The peninsula was marked for its rugged, wild beauty – much of which it manages to maintain, though a large portion of the land has now been groomed and sectioned off into exclusive resorts, like The St. Regis and Four Seasons Resort.
The village today largely acts to service the high net-worth clientele that tend to stay in these resorts, roam the golf courses, or rent the uber-luxe villas. Still, a host of beachfront restaurants cling tightly to the essence of the old Punta de Mita, even if the rest of the peninsula is dripping with understated glamour.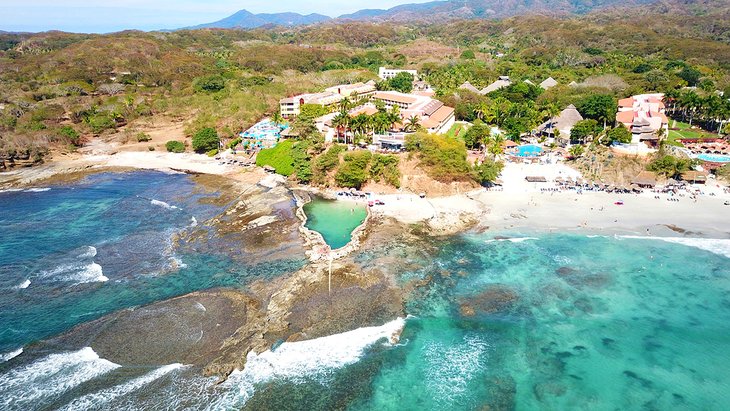 If you're traveling to Punta de Mita, you may as well splurge on the luxury resorts or villas that put this place on the map. In addition to the St. Regis and Four Seasons, newer resorts, like the W Punta de Mita and the Conrad Punta de Mita, opened less than two years ago.
5. Litibu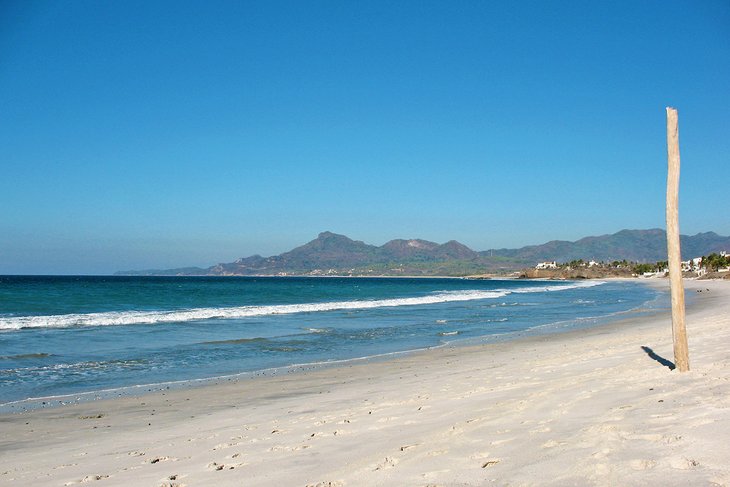 Moving north off the Peninsula to the Pacific Ocean-facing coast of Nayarit is the community of Litibu. Litibu sits between Punta Mita and Sayulita. The location is truly enviable and has been in the eyes of tourism developers for quite some time.
In fact, the virgin beaches and rugged, jungle-covered peaks are part of a master-planned development that has brought resort hotels, residences, restaurants, and a golf course. It's less of a village than the other destinations on this list, but Litibu has some of the most spectacular scenery on the Riviera Nayarit.
Perhaps one of the best resorts in Litibu is Imanta Resorts, which has been one of the top resorts in Mexico for many years. But a more budget-friendly accommodation would be the Iberostar Selection Playa Mita, which opened in 2013.
6. Sayulita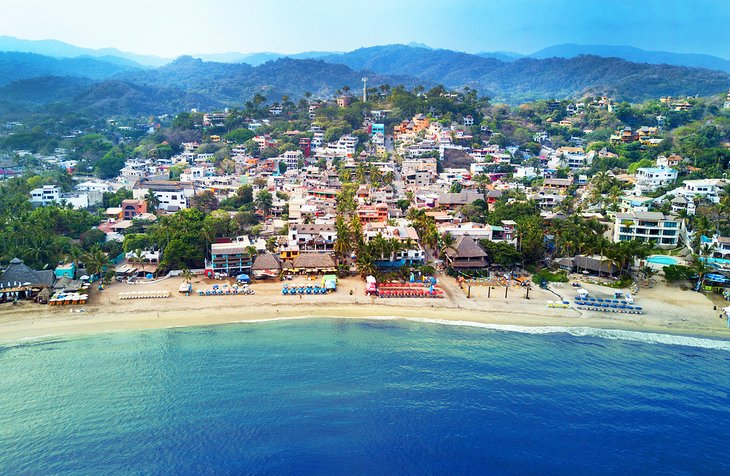 If there's one town on the Riviera Nayarit you've heard of, it is likely Sayulita. The once-jungle-shrouded surf haven has been splashed across the glossy pages of high-end travel magazines for the last few years, and has built a reputation as being the boho-chic paradise on the Pacific Coast. It's the Tulum of the west, if you will.
What sets it apart from Tulum, however, is that there exists a clear balance between budget and the barefoot luxury. The crowd is equal parts leathery surfers and bangled Bohemians. While the former is opting for eco-friendly jungle huts, the latter are signing up for the elevated yoga retreats and eclectic, design-forward boutique hotels.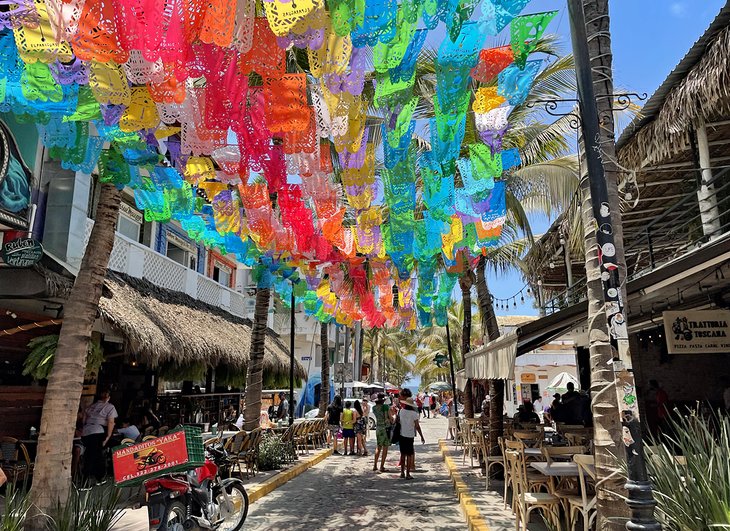 What you're paying for in Sayulita is the ambience. Because it is decidedly gorgeous, with a spirit that is all its own: sandy, cobblestone streets crisscross back from the small beach, where surfers warm up before heading to the bigger breaks outside town.
Boutique hotels, yoga retreats, wood-fired pizza restaurants, art galleries, and artisan shops flank the narrow streets, and it's just as easy to get a taco from a truck as it is to have a lavish Italian meal.
But Sayulita is certainly a far cry from the quiet backpacker destination that it used to be. Prepare yourself for loud music, even louder tourists, and a ton of traffic – particularly on weekends or holidays.
Read More: Top-Rated Things to Do in Sayulita
7. San Pancho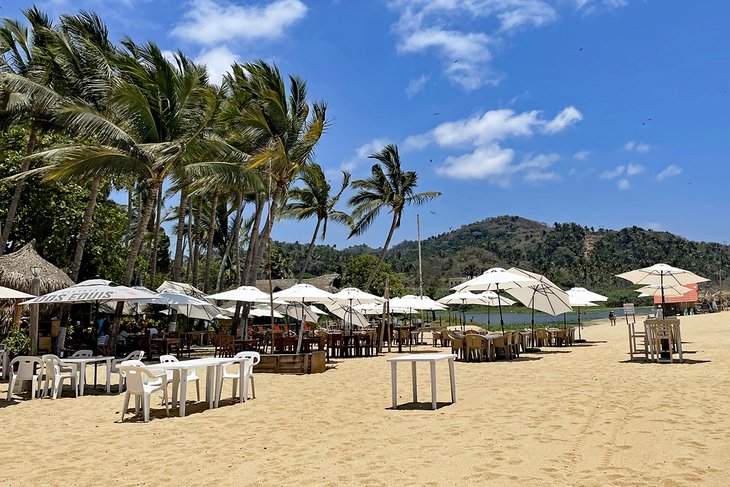 Technically this beach town is called San Francisco, but everyone in the area only refers to it as San Pancho. If you're looking for what Sayulita used to be, this is the spot. Step back in time nearly a decade to get a flavor of what the beach towns of Riviera Nayarit used to look like before it was well on the tourist trail.
A stretch of golden sand surrounded by green, rolling hills gives way to a sleepy, backpacker town with sandy streets, laid-back restaurants, budget-friendly hotels, and open-air markets. It's one of the rare places in Mexico where you can be close to a major city (Puerto Vallarta) and still feel like you've escaped to a tropical hideaway. It's only 10 minutes from Sayulita, too, if you want to experience a little bit of both.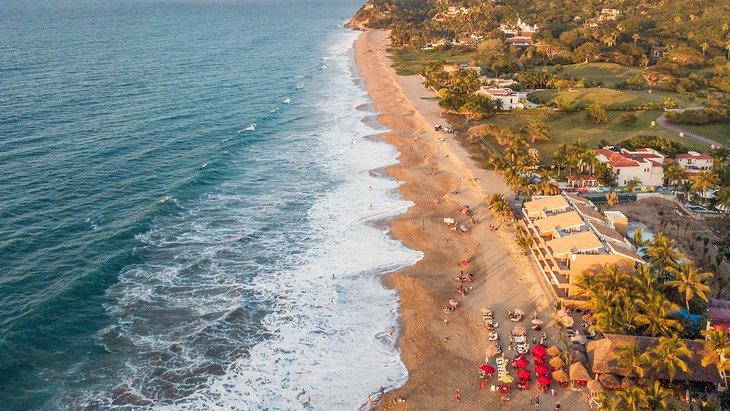 It's much smaller than Sayulita, too, which, if you've been to Sayulita, is saying something. Most visitors to San Pancho are coming over from Puerto Vallarta or Sayulita for the day, or they work in one of the resorts nearby.
Residents are wary of San Pancho turning into Sayulita, so be sure to keep this hidden jewel to yourself. It's already growing quickly, so it's only a matter of time, but for now those who love it are trying to keep it as sleepy as possible.
8. Lo de Marcos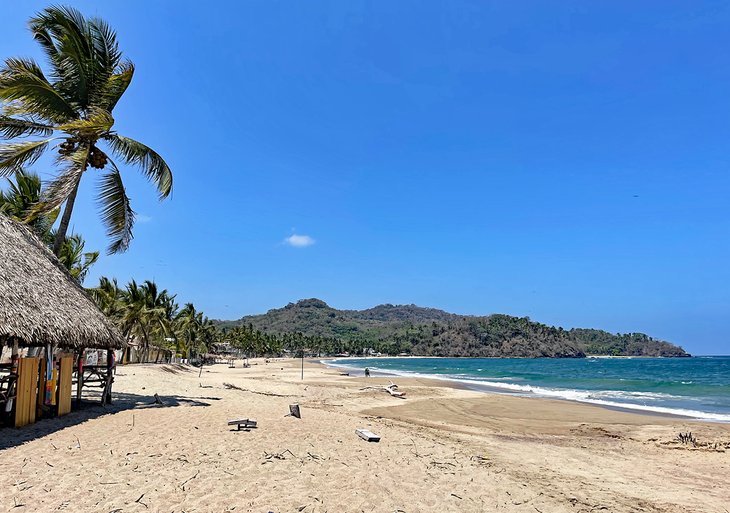 Lo de Marcos sits well below the radar on the typical Riviera Nayarit trail. But that is precisely why it is one of the best places to visit in Riviera Nayarit. If you think San Pancho is a sleepy version of Sayulita, get ready to meet the even more dream-struck sister to San Pancho.
A smattering of brand-new restaurants and boutiques are starting to breathe tourist life into this otherwise small, undeniably shy beach town. A sweeping swath of golden sand (that is by and large considered undeveloped and empty) is a prime destination for residents, and visitors in the know, to escape the tourist fray.
The "downtown" is sporting a newly remodeled gazebo, and it's around the square where you'll find the blossoming restaurants. You'll also find plenty of affordable bungalows and villas to rent here.
As for beaches, Lo de Marcos has one main beach that is at the edge of town. Look back in the distance for the glimpses of the undulating green hills that make Nayarit simply spectacular.
9. Rincon de Guayabitos
After leaving San Pancho, the real adventure begins. This stretch of Riviera Nayarit is truly for those "in the know," though that will change dramatically in the next few years, as luxury hotels are starting to open. It already has with the recent opening of the One&Only Mandarina, not far from Guayabitos.
But for the moment, towns along the northern stretch of Riviera Nayarit remains its most laid-back and less developed. The first of these is Rincon de Guayabitos, a small town that hugs a long stretch of beach – more than a mile long, to be somewhat exact. The fun-loving town is always humming with energy, whether it's a breakout beach volleyball game or live music that spills out into the streets. It's predominantly a local spot, but travelers who have become enamored with the original soul of Mexico's Pacific Coast have discovered it, as well.
If in Guayabitos, hop a boat across the water to visit Isla Coral, one of the top things to do in Riviera Nayarit. The short ride takes travelers to this green-covered island whose crystal-clear waters are perfect for snorkeling and swimming.
10. Chacala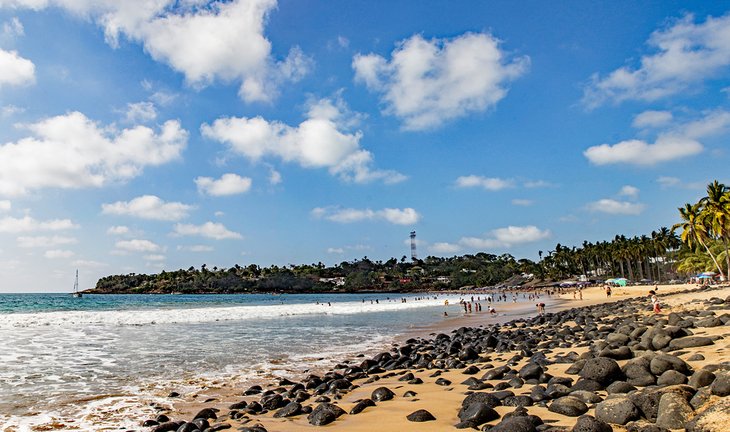 Located within a small, calm bay, Chacala is one of the most important beach destinations on the Riviera Nayarit. In fact, it was discovered in the 16th century by Francisco de Cortes de San Buenaventura.
Today the town manages to retain its untouched vibe, with pristine beaches, narrow streets, and thatched-roof hut restaurants. Still, you'll find it is well equipped for visitors, and often many of the same visitors, as those who come to Chacala have likely been doing so for years.
Some of the top beaches here are Las Cuevas, Chacalilla, and La Caleta. It's not uncommon to find surfers roaming the streets of the town waiting to catch the next big break. No big-name resorts are here. Instead, you'll have luck with Airbnbs, smaller boutique hotels, and eco hotels. Bring your binoculars, too, as Chacala has an abundant amount of birdlife.
Less than eight miles away is the town of Las Varas, a community designed as an estate but which became a town in the 1930s. Surrounded by the Sierra de Vallejo mountains, Las Varas was the meeting point for all inland travelers who were heading to the beaches of Nayarit. Today it is a city that holds its folk traditions dearly, like the Virgen de Guadalupe festival or Mojigangas, which is a Carnival-style celebration.
11. San Blas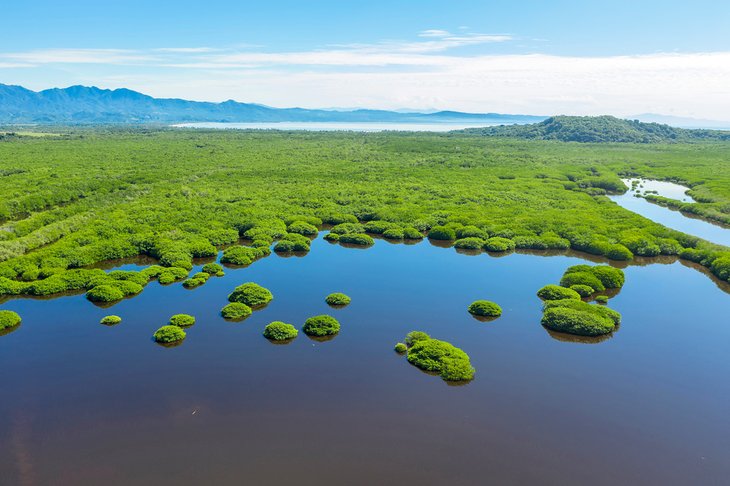 The northernmost point of Riviera Nayarit ends (or begins, depending on where you're coming from) with San Blas. As you leave Rincon de Guayabitos, the ratio of people to wildlife shifts dramatically, and soon you'll feel like it's just you, the windy road, and nothing but jungle.
San Blas is a bit of an oasis among the wild beauty that surrounds it. The tranquil fishing village has a splash of backwater vibe, but that's what visitors love: pristine beaches, epic surf, and wildlife.
San Blas was an important port for the Spanish conquistadors from the 16th century to the 19th century. A fortress was here to protect Spanish investments from pirates. Today the village feels almost forgotten in time, but that is what makes it so wonderfully charming. You'll earn your stripes among Mexico experts if you take the time to journey up to the beauty of San Blas.
One of the newer attractions in San Blas is the excursion to Islas Marias. Up until recently, the islands were home to a prison. In 2019, Mexico's President Andres Manuel Lopez Obrador closed the prison, and the archipelago of four islands has reopened as a tourist attraction.
In 2010, the islands were dedicated as a biosphere reserve, and now guests visiting San Blas can take the ferries out to the islands to experience their rich natural beauty. A new port terminal in San Blas is the departure point from which to reach the islands.
The largest of the islands is Isla Maria Madre. The others are Isla Maria Magdalena, Isla Maria Cleofas, and San Juanito. They are home to a wide variety of flora and fauna, particularly birds and a special type of raccoon and rabbit. In the waters, researchers have found 21 species of sharks, 10 species of rays, as well as sea turtles and coral reefs.
Map of Places to Visit on the Riviera Nayarit