Mexico in Pictures: 15 Beautiful Places to Photograph
With beautiful beaches on its Pacific Ocean and Caribbean Sea coastlines, as well as vibrant cities like the capital and foodie favorite Mexico City, jungles home to ancient civilizations like Chichen Itza, and desert and mountain landscapes, Mexico is a beautiful country.
From the famed rock formations in the Sea of Cortez off Cabo San Lucas to the underwater world of the Mesoamerican Barrier Reef System off the Mayan Riviera between Cancun and Tulum, there are so many beautiful images associated with Mexico.
Note: Some businesses may be temporarily closed due to recent global health and safety issues.
1. Cabo San Lucas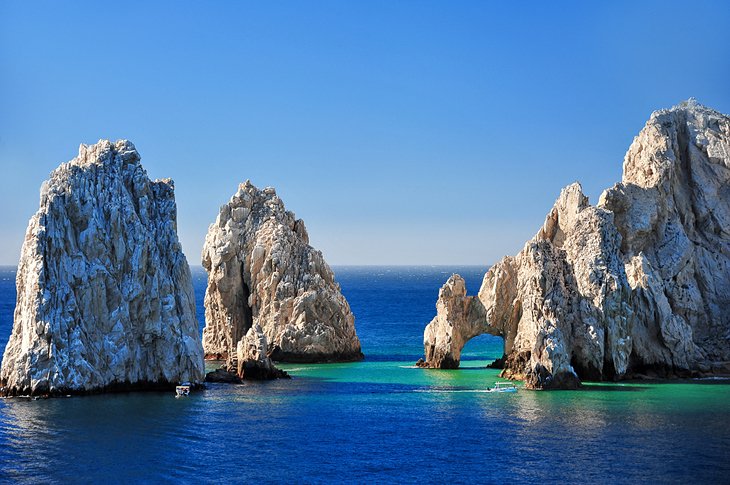 The rock arch pictured with the beach at Land's End here is Cabo San Lucas' most famous natural landmark. It can also be seen from the sea. Book a boat trip at sunset that will take you past El Arco and other rock formations rising up from the Sea of Cortez. These trips usually stop for snorkeling as well.
Accommodation: Best Beach Resorts in Cabo San Lucas
2. Tulum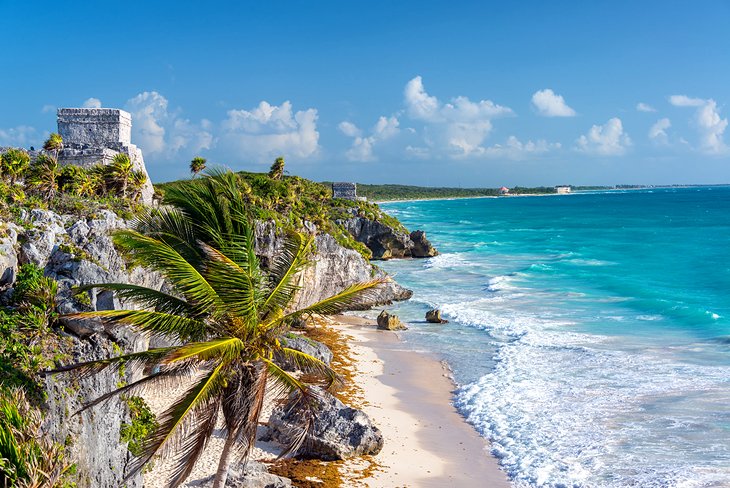 With both ancient ruins and stunning white-sand beaches backed by the turquoise hues of the Caribbean Sea, Tulum is a favorite vacation spot on the Riviera Maya in Mexico's Yucatan Peninsula. Tulum's Mayan ruins are well preserved, and unlike many other sites are very accessible—as this photo shows, you can see them from the beach.
Accommodation: Where to Stay in Tulum: Best Areas & Hotels
3. Mexico City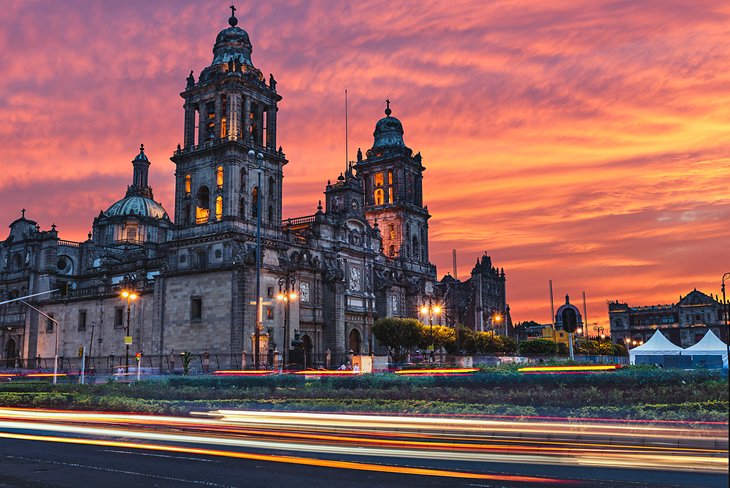 Catching the sunrise over the Metropolitan Cathedral in Mexico City's Zocalo Square is a magical sight.
In recent years, Mexico City has become known especially for its food scene. It draws an international foodie crowd, who flock to its numerous acclaimed fine-dining restaurants; many do elevated twists on local staples. The street food here is also delicious.
Accommodation: Where to Stay in Mexico City: Best Areas & Hotels
4. Chichen Itza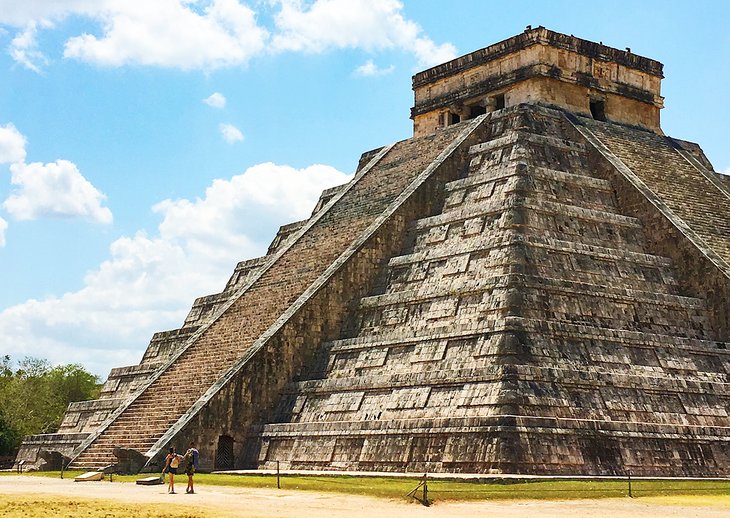 At sunset, El Castillo (Kukulkan Temple, pictured above) at Chichen Itza takes on a serene glow. Between AD 750 and 1200, Chichen Itza, about 2.5 hours' drive inland from Cancun, served as the center of the Maya empire. Today, you can tour the temples, stepped pyramids, and other stone structures on a day trip from any of the Mayan Riviera towns.
5. Cozumel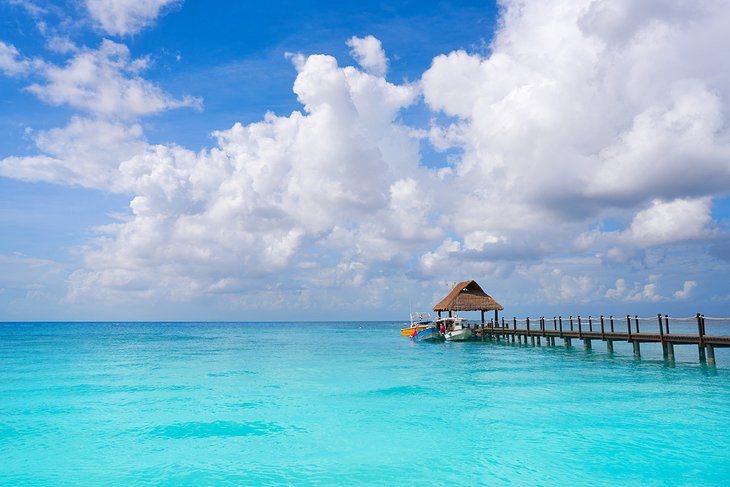 Most people visit Cozumel on a day trip from the Mayan Rivieria. This mostly undeveloped island in the Caribbean Sea is home to some pretty beaches and a protected lagoon with underwater caverns.
Cozumel is also known for its excellent diving along the Mesoamerican reef. The Museo Subacuático de Arte is another popular underwater attraction comprised of submerged sculptures.
6. Cancun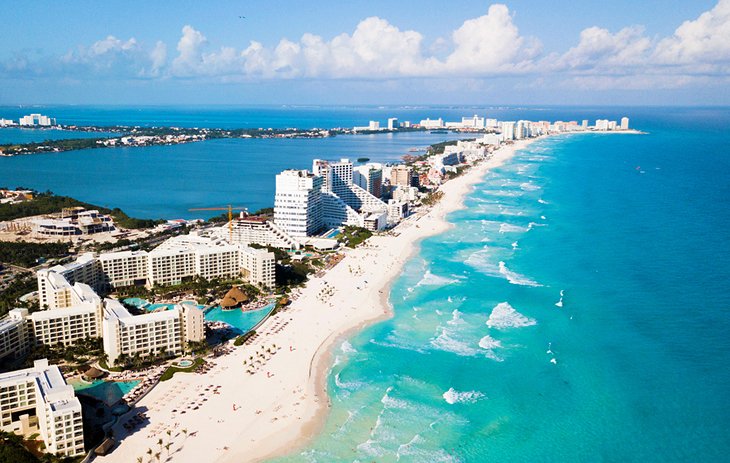 7. Hierve el Aqua, Oaxaca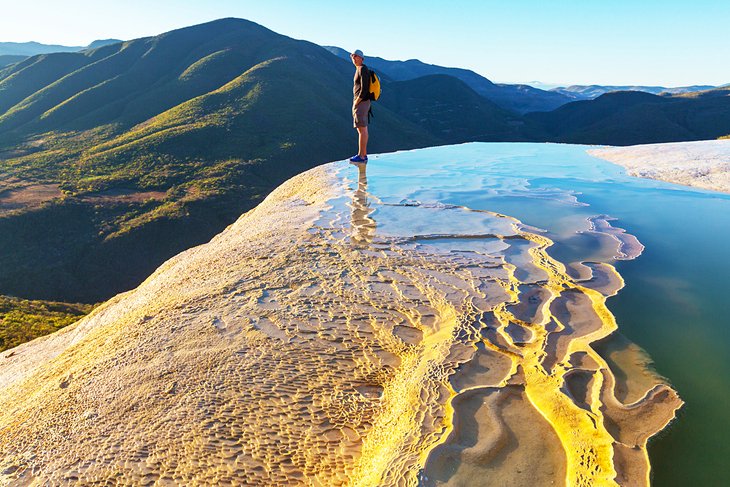 Hierve el Agua in the state of Oaxaca is a really amazing set of natural rock formations that are actually comprised from petrified waterfalls. Best visited on a day trip from Oaxaca City (about an hour's drive away), they are one of the trippiest natural sites in Mexico and perfect for an Instagram photo shoot.
8. Offshore Riviera Maya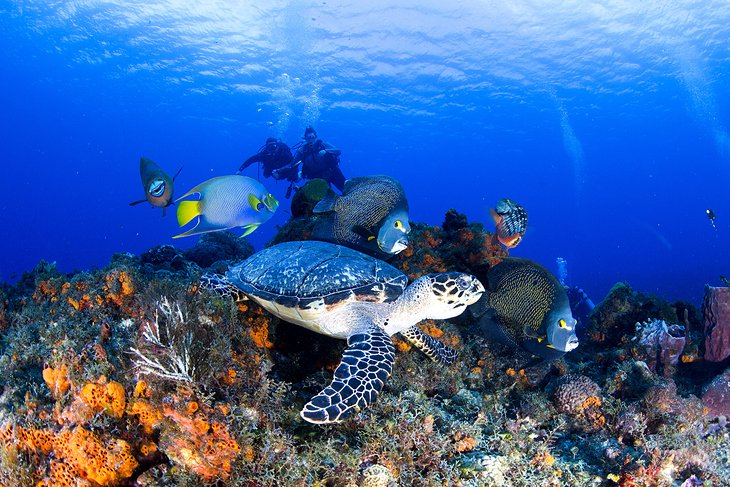 Just offshore from the Mayan Riviera coastline is the Mesoamerican Barrier Reef System, which provides a lifeline to numerous animals, including this hawksbill sea turtle pictured in the above photo. The reef offers some excellent dive and snorkel opportunities as well, where you will swim through schools of colorful fish and past living coral.
Accommodation: Top-Rated Family Resorts in the Riviera Maya
9. Puerto Vallarta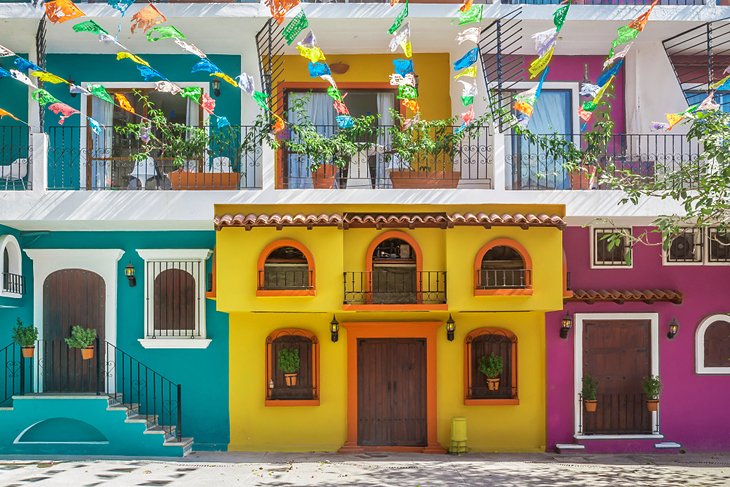 Stroll past brightly painted houses like the ones pictured above in Puerto Vallarta's colorful Old Town. In the state of Jalisco, Puerto Vallarta is best known as a beach destination on the Pacific Ocean, with resorts for all budgets. But the Old Town features cobblestone streets lined with numerous restaurants, cafés, boutiques, and art galleries.
10. Riviera Maya Cenotes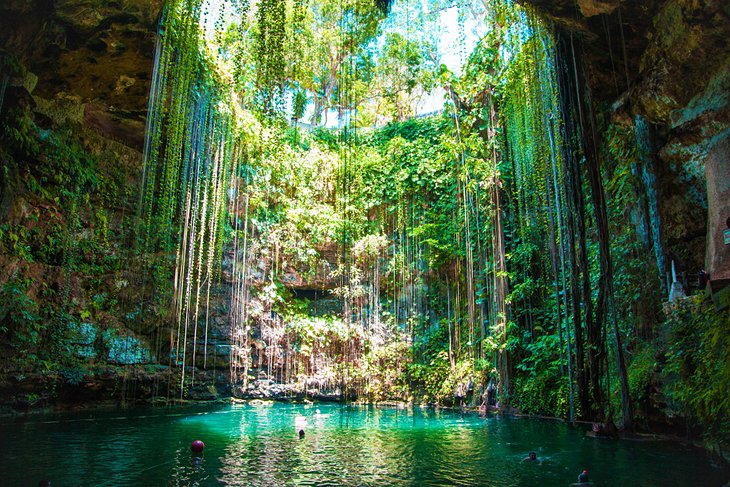 The Riviera Maya is famous for its cenotes—limestone sinkholes that formed natural caves, filled with fresh water in the jungle. There are literally thousands of cenotes around this part of the Yucatan, some more known than others. The most famous cenotes, like Rio Secreto, are all well-developed and usually visited on day trip tours.
Accommodation: Top-Rated Family Resorts in the Riviera Maya
11. Sayulita, Riviera Nayarit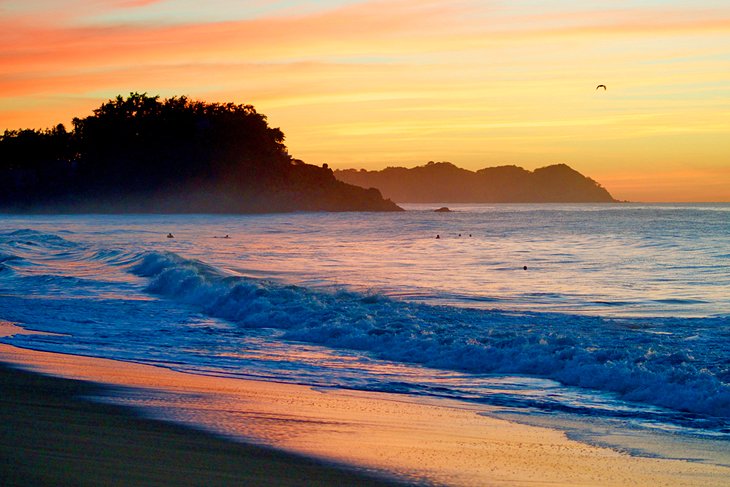 On the Riviera Nayarit on Mexico's Pacific coast, Sayulita is a fun little beach town with a surfing vibe and a large ex-pat population. It is also home to endless sunsets, like the one pictured here. Besides surfing, Sayulita has some great restaurants, boutique shops, and galleries selling indigenous artwork.
12. Puebla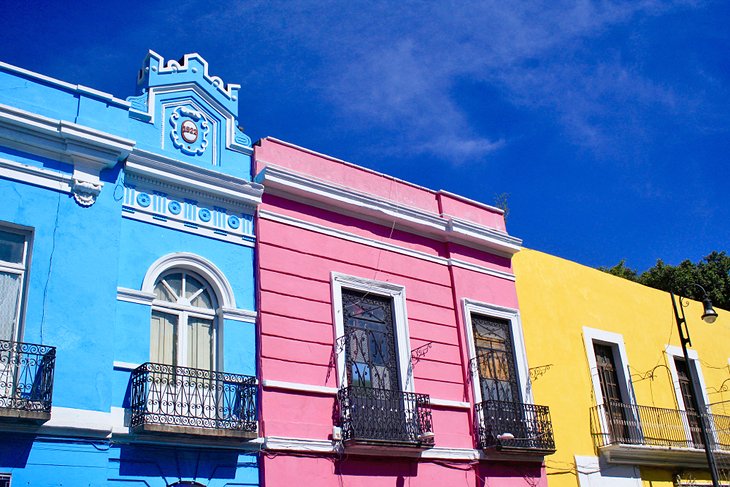 Located southeast of Mexico City, Puebla is another city with a famed culinary scene. It is also home to colorful colonial architecture. The town is known especially for its pottery, which can be purchased at one of numerous ceramics shops.
13. Palacio De Bellas Artes, Mexico City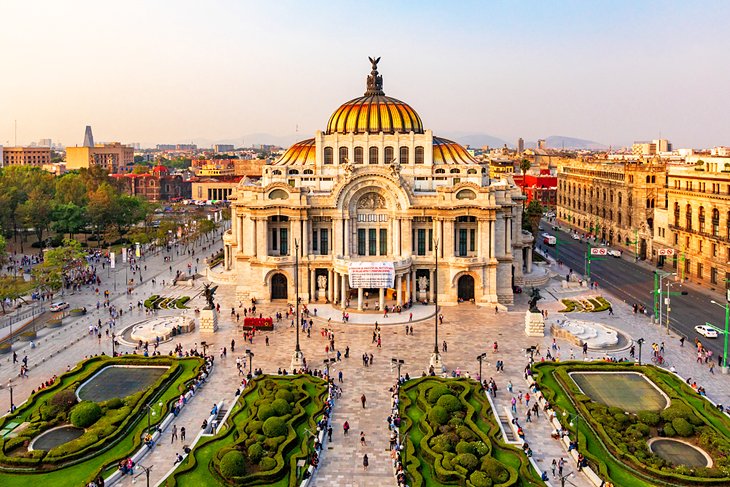 Pictured here, Palacio De Bellas Artes is one of the most famous Mexico City landmarks. The cultural center hosts concerts and events in its white marble environs. Check out the giant murals by renowned Mexican artists covering the top three floors of the spectacular Art Nouveau meets Neoclassical building by early 20th-century Italian architect Adamo Boari.
Accommodation: Best Hotels in Mexico City
14. San Miguel de Allende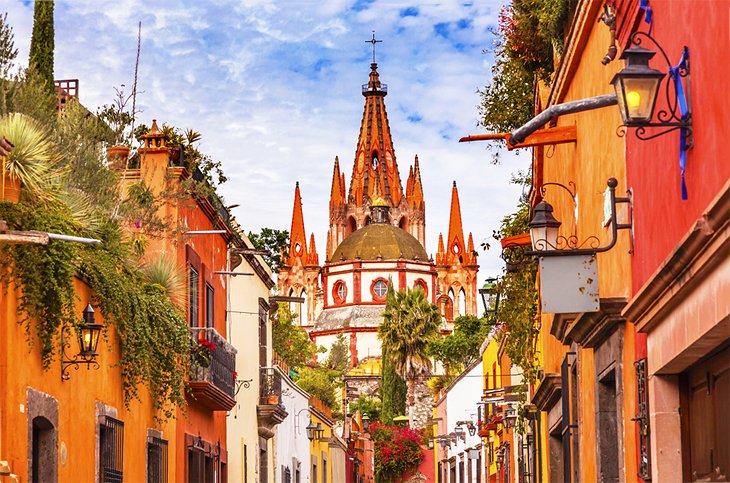 The Neo-Gothic church pictured here dates back to the 1600s. It is located in the cobblestone, historic old town of San Miguel de Allende, a charming city in the central highlands. The colonial-era city is known for its cultural festivals and arts scene with numerous galleries. The city is also known for its natural beauty and fantastic weather, which feels like spring most of the year.
15. Traditional Dance Show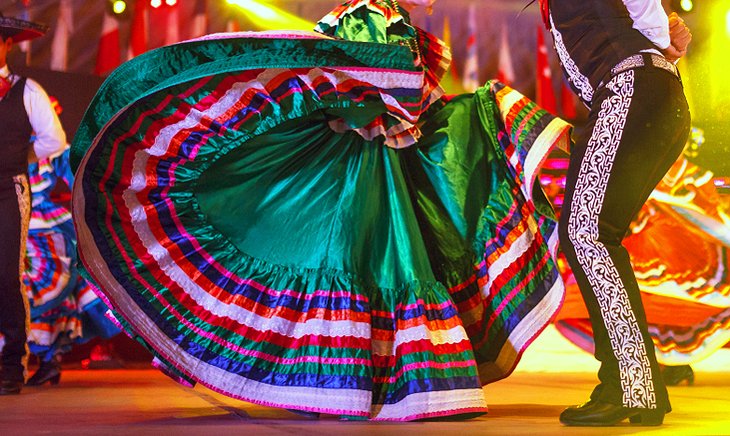 Regardless of where you are visiting, while in Mexico try to catch a traditional dance show like the one pictured above. The dancers are dressed in the Mexican national costume for "ballet folklorico," which is a term used to describe the style of Mexican dance that combines local folk culture with highly choreographed elements of ballet.