12 Top-Rated Things to Do in Cabo San Lucas, Mexico
While your college travel experiences might have brought you to Cancun for spring break, and your wanderlust spirit may have inspired you to explore the history and vibrance of Mexico City, perhaps it's time to indulge in your upscale side. For all its Instagram-worthy destinations, many couples and groups set their sights on the top things to do in Cabo San Lucas, Mexico — especially when their interests swing more luxe.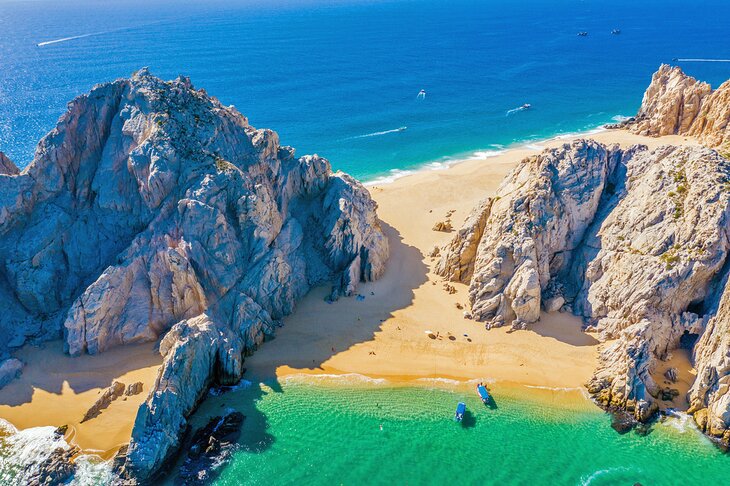 Cabo San Lucas is one of two parts that make up Los Cabos — a destination at the tip of the Baja peninsula that also includes the resort area of San Jose del Cabo. Perched at the convergence of the Pacific Ocean and the Sea of Cortez, this small stretch of Mexico's beaches is known for hosting a plethora of five-star resorts, fresh seafood, whale watching opportunities, and other tropical adventures. Learn more about the best places to visit and top things to do in Cabo San Lucas Mexico.
1. Watch a Sunset from Land's End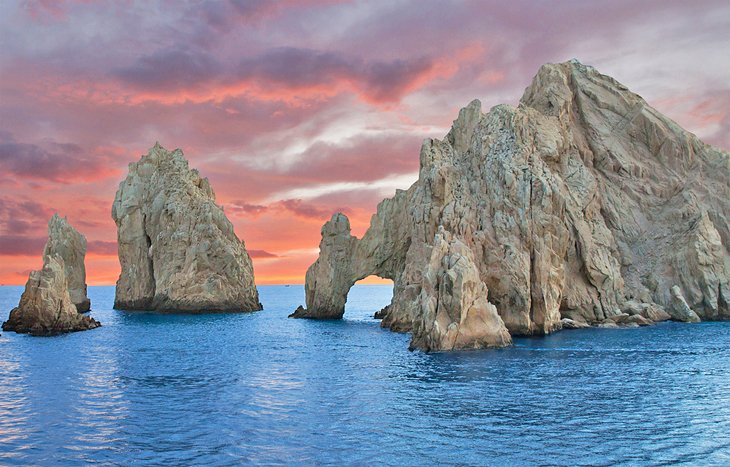 Nope, we're not talking about the area in San Francisco, although the rock formation in Cabo San Lucas is somewhat similar. You'll find this breathtaking and famous view in the southern area of Cabo, where two of its most iconic — and strategically named — beaches meet: Playa del Amor and Playa del Divorcio.
Most travelers who enjoy a sandy vacation will stay in this area since it offers the most shoreline to sunbathe or swim. Couples are often spotted capturing sunset selfies here, since the view from between the rocks is unparalleled with any other viewing spot. If you want to get up close and personal, you can take a water taxi or a boat tour to see Land's End from the sea.
2. Visit San Jose del Cabo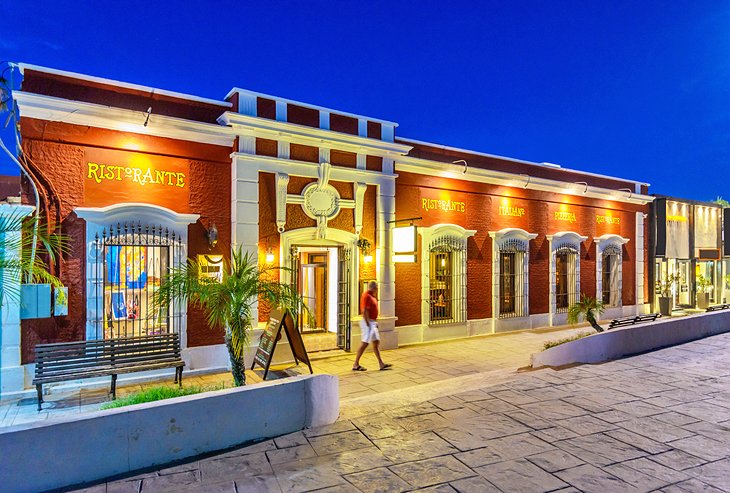 If you've ever explored European cities, you know how important it is to explore the "Old Town" before you head back home. Though not the official name of Cabo San Lucas' city region, San Jose del Cabo offers a glimpse into the history of Mexico. While it is a 20-minute taxi ride away, the trek will be worth it - especially if you have an appetite for cultural immersions.
Once a week on Thursdays, the streets are filled with talented vendors selling artisan crafts and goods, giving you ample opportunity to shop for souvenirs for friends and family. Featuring a quaint plaza and countless restaurants serving local fare this area is a real tourist attraction and is ideal for those who need a break from the pool or the beach and want to learn more about this region's unique traditions.
3. Play on Playa Del Amor and Playa Del Divorcio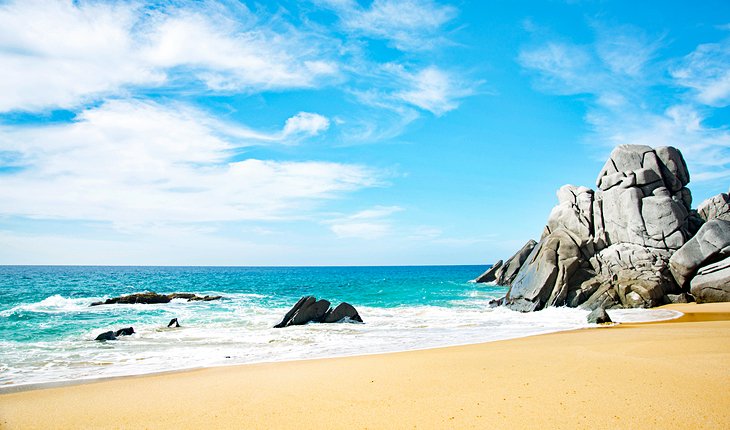 If you know a lick of Spanish, then you might be able to guess the name of one of the top rated beaches in Cabo San Lucas. Near Land's End and south of the downtown area, this shoreline is one of the busiest, so set your alarm early to scope out the scene. In addition to the ideal, beautiful spot to celebrate the next chapter of your relationship, this beach location offers a special geographical experience, too.
There are two sides with two bodies of water: one on the Sea of Cortez and another in the Pacific Ocean. Once you cross over to the ocean side, you're on the "divorce" side. You can hike between the two — and trust us, you'll know when you're in lover's land and when you're in the middle of a marriage fallout. How so? The Sea of Cortez has relatively calm waters, much like the start of a new love affair, while the Pacific has big swells and dangerous waters for swimming — much like a breakup.
It is worth it to explore both — but plan your vacay mostly around the Playa Del Amor, since hey, depending on the season, you might see a sea lion bathing on the rocks or plenty of tropical fish in the blue, clear waters.
4. Tour the Church of Saint Luke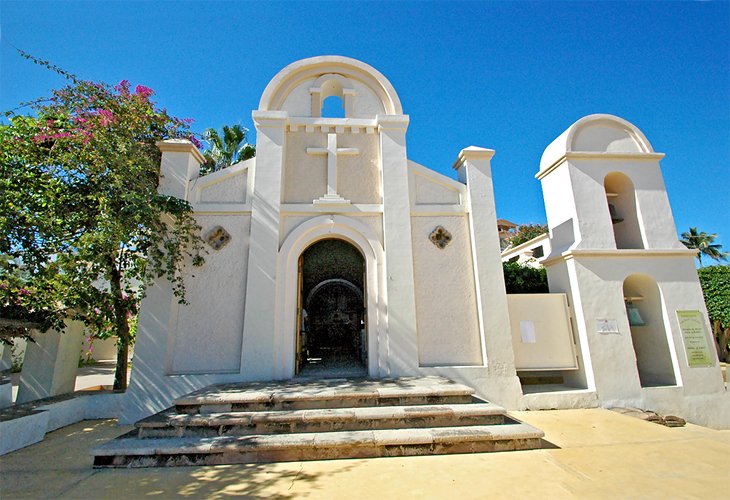 If part of traveling for you is sightseeing and exploring historical landmarks, make sure to add a quick visit to the Iglesia de San Lucas while you're in Cabo. Though not quite as touristy or tropical as other things to do, this church has a deep, interesting history dating back to the 1700s. In addition to admiring the structure itself - featuring two ancient bells at the top - there are also other activities to explore.
Because the city renovated this slice of history to preserve its roots, they constructed a plaza featuring restaurants and boutiques, giving some modern touches to the area. If you'd like to attend mass, they offer a bilingual service on Saturday evenings and Sunday afternoons. As a bonus, it's only a 15-minute walk from the marina, so you can fit it into your sightseeing day seamlessly.
Address: Calle Cabo San Lucas 415, Centro, San Lucas, 23450 Cabo San Lucas, Baja California Sur
5. Walk through Marina Cabo San Lucas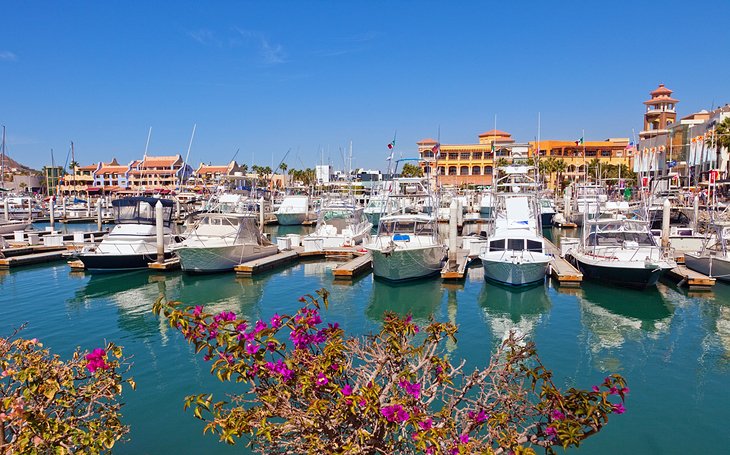 Is any beach town complete without a trip to the local marina? We think not! The marina is super accessible from plenty of the top-tier resorts, so grab your travel buddies and spend the day browsing through shops and snacking at local and national chain eateries, all while admiring the view. In the harbor, you'll count endless yachts and find yourself sampling every type of ethnic cuisine imaginable and scoring great deals on swimsuits, souvenirs, and more.
If you forgot something at home - drat! - and need to restock, stop by the Puerto Paraiso Mall, if you're on a budget, or Luxury Avenue for a splurge-worthy beach bag or pair of sunnies. If you plan on booking one of the many aquatic adventures in Cabo San Lucas, most cruises and ships depart from this marina.
6. Stay at an All-Inclusive Resort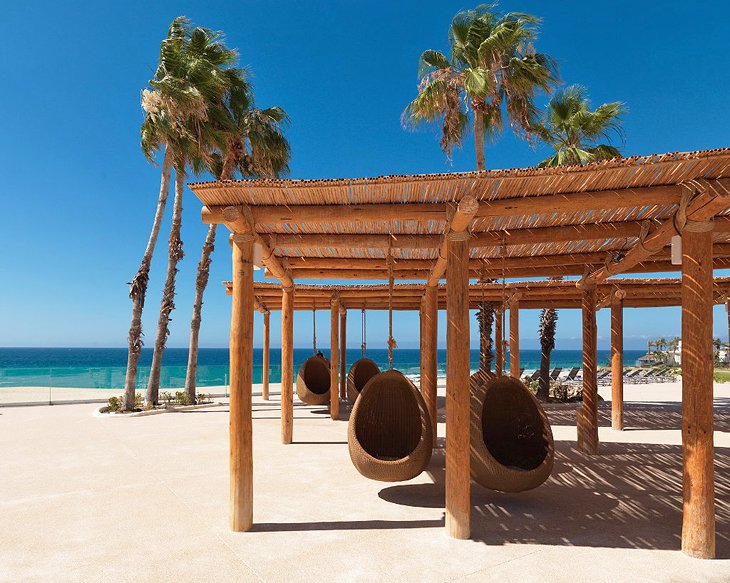 Some vacations are full of hopping on and hopping off tour buses to see countless "must-see" attractions, while others are about focusing on zen. If you're looking for the latter when you visit Cabo San Lucas, consider booking an all-inclusive resort experience for your getaway. The area is home to plenty of luxury resort brands you'll recognize - from the One & Only Palmilla and Melia to the Thompson - and other smaller boutique experiences, too.
If you want an all-inclusive package, consider a few nights with your family at Paradisus by Melia Los Cabos, part of the Melia portfolio. This is just 20 minutes from the airport. Here, everything is included but not in the traditional all-inclusive way you're used to. With a focus on wellness, expect smaller portion sizes and higher-end attention to detail. If you're a foodie, make sure to book a reservation at the Gastro Bar by Martin Berasategui - who has eight Michelin stars under his chef's hat.
7. Sign Up for a Deep-Sea Fishing Adventure on the Sea of Cortez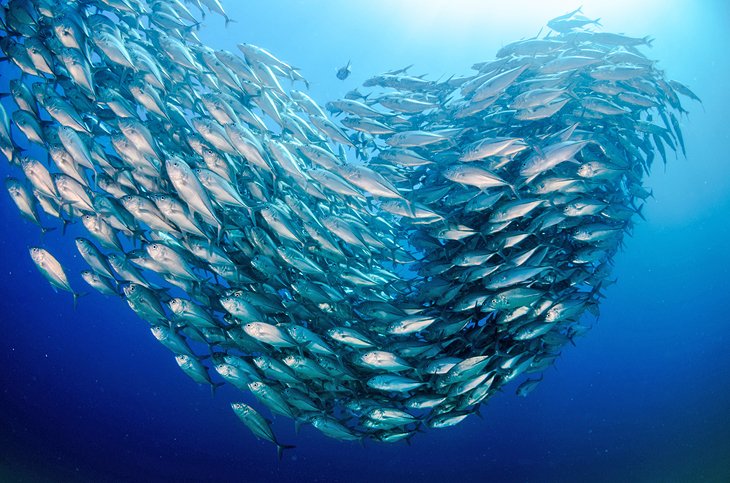 If you can't get enough of freshly caught seafood, you'll be in heaven in Cabo San Lucas. Here, countless species are locally caught and sourced- from mahi mahi and mackerel to yellowfin tuna and snapper. Though most restaurants will offer these fillets seasoned, fried, grilled, or blackened, you can also try your hand at catching these wonders of the sea, too!
One of the most popular things to do while in this area of Mexico is to hop aboard a deep-sea fishing expedition. Often departing around sunrise, a plethora of companies offer adventures on open waters for fish-finding tourists.
8. Go Whale Watching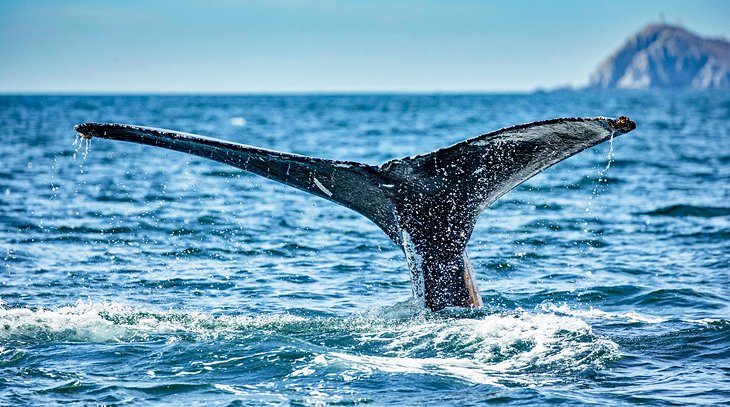 Between the months of October and March, you can cross a big one off your bucket list. And by "big," we mean huge - seeing a whale! The Baja Peninsula happens to attract the sea's largest creature because of its position on the map and the many lagoons that are scattered around the area. When whales are in their migration period of the year, tourism tends to flourish, making it a more expensive time to visit. How do you see one of these massive swimmers?
You can sign up for a whale watching tour to hopefully put you in the heart of the action. Some travelers (and surfers) are able to distinguish a whale from a few yards away as they scan the sea. Keep in mind, during these months you'll also experience milder weather, making it ideal for destination weddings.
9. Take a Day Trip to Todos Santos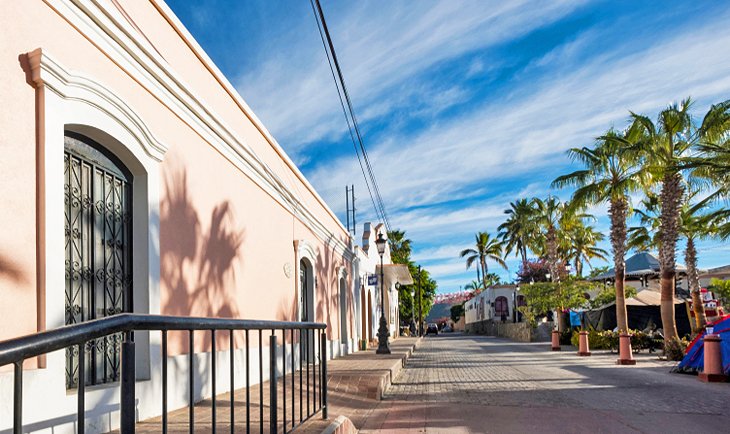 If you're an art lover, there's no better day trip than Todos Santos. It's a bit of a contrast from the beach life since the Sierra de la Laguna mountain range is tucked behind the area, but it features beauty in a different way. The town is most famously known for the original Hotel California, for which the song by the Eagles was written. You can stay at this iconic destination for a night or two, or just visit, making your way through cafes and other attractions.
Those who have an eye for fine art will enjoy browsing countless galleries and visiting the Professor Nestor Agundez Martinez Cultural Center, which offers a bit of historical immersion. Todos Santos is still considered a hidden gem, with small beaches and local experiences, so you might not battle too many tourists as you explore.
10. Santa Maria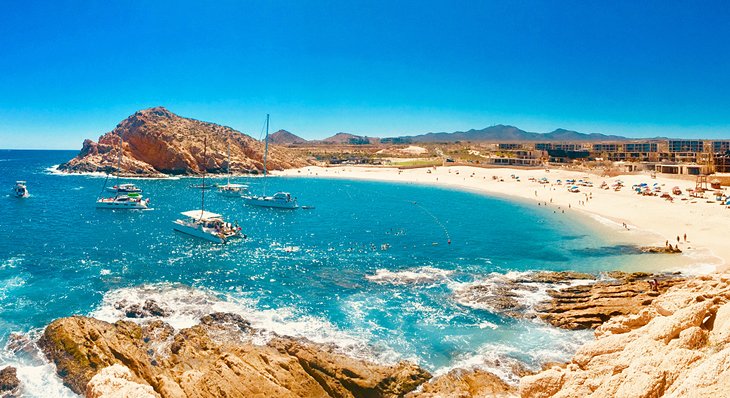 If you prefer your beach experiences to be less crowded, skip Playa del Amor and its counterpart and set up shop here instead. It's a bit farther away but worth the drive if you enjoy a secluded shoreline over a busy one. Because it's a protected marine sanctuary, you'll not only enjoy the R&R, but you have the chance to see many harmless (and colorful) species of fish in the water. Many tourists will take advantage of the robust sea life and rent snorkels for an afternoon of peeking below the surface of the water.
11. Play One of the World's Greatest Golf Courses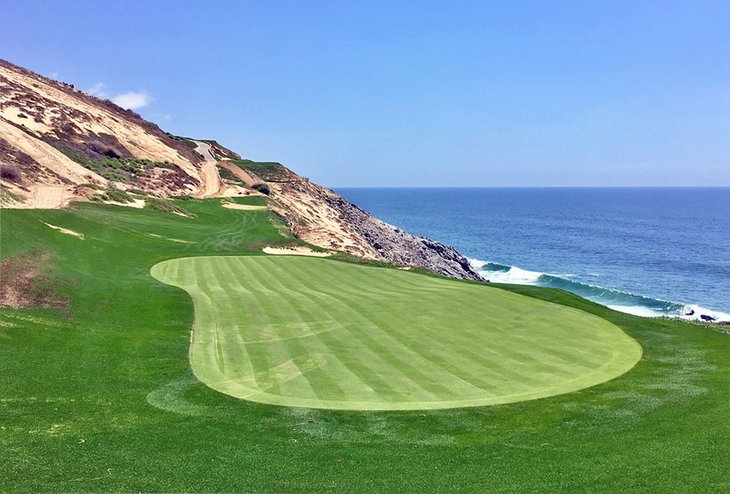 As of 2020, three of Golf Digest's World's 100 Greatest Golf Courses are located in Los Cabos. If you've got a golf course bucket list, it would be easy to cross three off in one location. Even if you're a golf newbie, you'll earn considerable bragging rights to say you've set foot on these greens. The courses that currently rank are the Diamante Dunes Course, the Cabo del Sol Ocean Course, and Querencia.
Diamante, located in Cabo San Lucas, is Mexico's first true links and was designed by Davis Love III. It is beloved for its set of white dunes, as well as its cacti decor, which is rare to see on a links course. Cabo del Sol is a Jack Nicklaus creation and opened in 1994 with his vision to design a Mexico-style Pebble Beach. Finally, Querencia is a Tom Fazio brainchild, which opened in 2000 and is marked by views of the Sea of Cortez, a desert plateau, and a plunging canyon on the par-3 eighth.
Querencia is a private course, but Cabo del Sol is open to the public. To access Diamante, several high-end resorts have preferred tee times.
12. Have a Farm-to-Table Meal
Fresh food and innovative cuisine are pillars of Mexican hospitality. But the area around Los Cabos, in particular, is taking it a step further with gorgeous farm-to-table restaurants and menus. Around Cabo San Lucas in particular are three very distinct dining options that truly harness the land to create memorable dining experiences.
The first is Flora Farms, a sprawling 25-acre organic farm known for its gorgeous, pastoral surroundings and wonderful open-air restaurant. The farm grows flowers, vegetables, and herbs, all of which are used in the menu design. It's a feast for the eyes, as well as for the belly at Flora Farms.
The second is Acre, which is part hotel, part organic working farm, and part restaurant. The rooms here are designed like treehouses suspended up on long posts. Open-air showers, crisp linens, and palm tree canopy views are complemented by a spectacular pool scene, as well as a restaurant that prides itself on using much of what is grown on the farm.
The area also has Tamarindos, yet another farm-to-table experience, nestled at the foothills of the mountains and surrounded by bucolic farmland. The restaurant sits in a farmhouse that dates back to the 19th century. Cooking classes are very popular here, and the property even has exquisitely decorated farm-side bungalows that overlook the fields.
Map of Things to Do in Cabo San Lucas, Mexico
More Related Articles on PlanetWare.com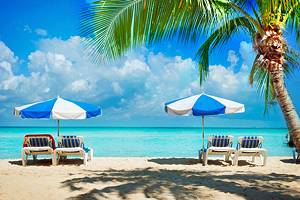 Other Intriguing Resort Destinations in Mexico: If you are searching for a beautiful resort destination for a winter escape, you need look no further than Mexico. On the Yucatan Peninsula, from Cancun, along the Mayan Riviera up to Playa del Carmen and beyond to Tulum, you'll find a string of beautiful soft-sand beaches and outstanding resorts at hotels.