11 Top-Rated Things to Do in San Jose del Cabo
Los Cabos is one of the most popular destinations in Mexico. But in reality, Los Cabos is made up of two destinations: Cabo San Lucas and San Jose del Cabo. Both are wonderful in their own ways, but they are two completely different destinations.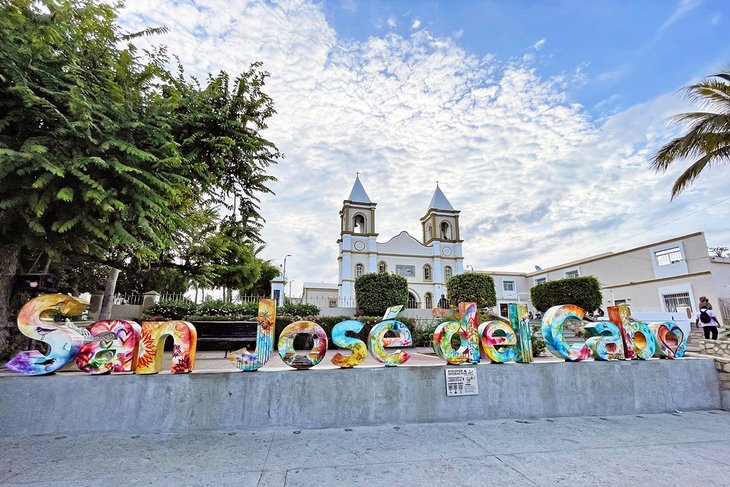 San Jose del Cabo is often considered to be the more "local" destination, whereas Cabo San Lucas caters more to tourism, San Jose del Cabo is a living, breathing city with restaurants, shops, and art galleries, as well as a lot of historic significance.
This isn't to say that San Jose del Cabo does not have tourist-friendly services and things to do. It has wonderful resorts and boutique hotels and some of the most beautiful beaches in the Baja peninsula. In fact, while most beaches in Cabo San Lucas are unsafe for swimming, San Jose del Cabo has a higher concentration of swimmable beaches — and they are stunning.
San Jose del Cabo is also known for its historic buildings, culture, art, and entertainment. And, if you want to experience the excitement and energy of Cabo San Lucas, it is only about a half-hour drive away.
Read our list of activities and attractions to learn about the best things to do in San Jose del Cabo.
1. Playa Palmilla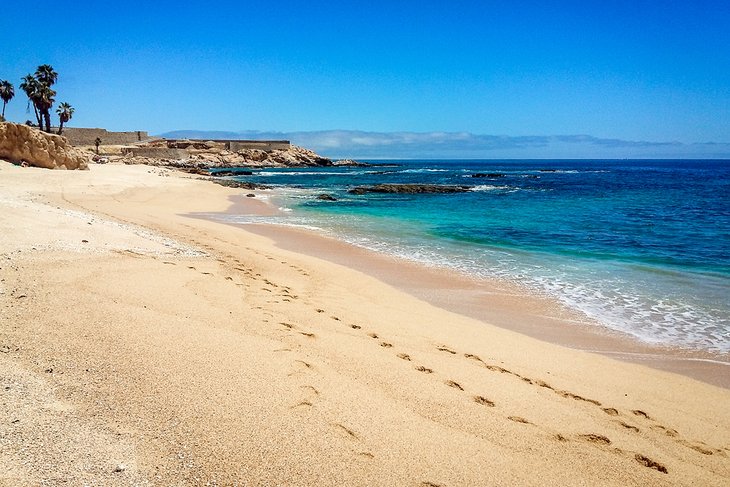 While all of Los Cabos does have some of the most beautiful beaches in Mexico, the reality is that the Pacific Ocean is sometimes much too dangerous for these beaches to be swimmable. But that doesn't mean all the beaches are off limits for swimming. Playa Palmilla, for example, is one of the most beautiful beaches in Baja and just happens to be safe for swimming and snorkeling.
The crescent-shaped bay is sheltered on either end, making it gentle enough for swimmers of all levels to take a dip at this Blue Flag beach. Not only is it popular for swimmers and snorkelers, it's also an active beach for local fishermen and the small selection of palapa-covered beach restaurants serve some of the freshest fish.
Playa Palmilla has plenty of hotels nearby, too, so you can find a spot to stay that is as close to this beach as possible. It's definitely a must-see beach when visiting San Jose del Cabo.
2. Plaza Mijares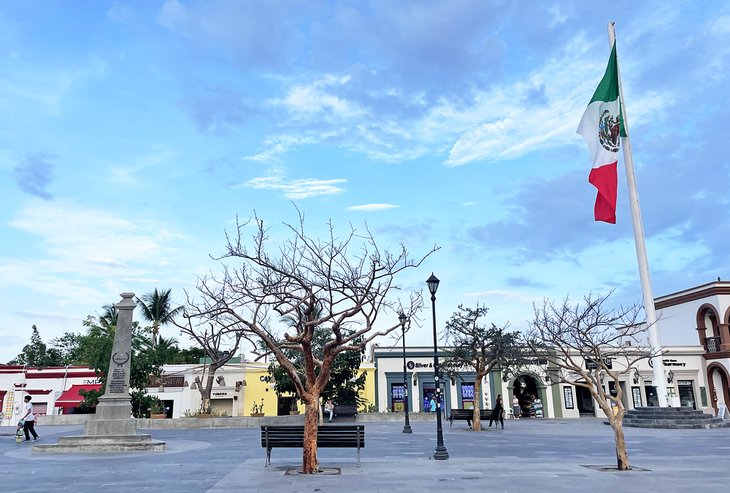 The beating heart of San Jose del Cabo can be found at Plaza Mijares, otherwise known as the main town square or just, "La Plaza" to the locals. This should be the first place to visit for anyone looking to get the lay of the land of the historic core of San Jose del Cabo.
Wreathed in historic buildings, Plaza Mijares is always humming with activity, from vendors and local musicians to artists, skateboarders, tourists, and people simply sitting and enjoying the evening breaks from the heat of the day. La Plaza is a great first stop because it is the gateway to the city's trendy Gallery District and is within walking distance to many of downtown's top restaurants and boutique hotels.
Around the plaza are other important buildings, like City Hall, the church, the Casa de La Cultura, and the soaring flagpole from which waves a massive Mexican flag. Don't forget to snap a picture next to the colorful San Jose del Cabo sign.
Address: Blvd. Antonio Mijares, Centro, 23400 San José del Cabo, B.C.S.
3. Mision San Jose del Cabo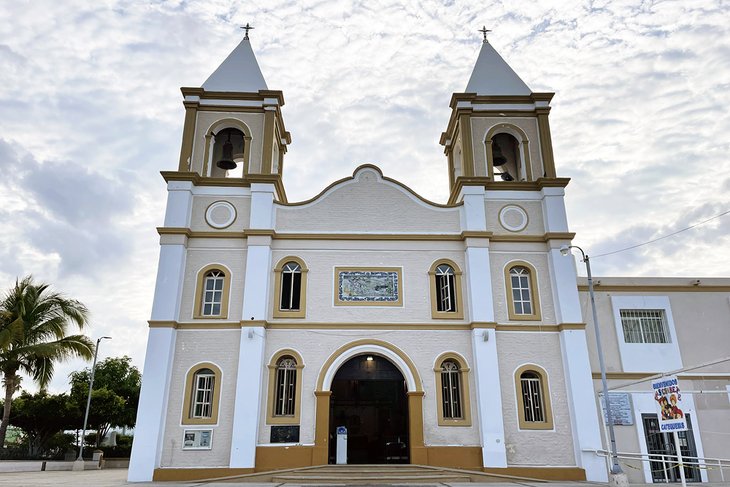 It's actually because of the Mision San Jose del Cabo that the town itself is called San Jose del Cabo. One of the southernmost missions to be built during the Spanish occupation of Mexico, the mission was dedicated to Saint Joseph, or San Jose. Today, it is one of the main historical landmarks in San Jose del Cabo.
The original mission was built in 1730 on the beach, but was changed years later to its location away from the coastline. The original mission was destroyed in 1734 when the Pericu people (the natives of the land) revolted. It was rebuilt, and from that point underwent several iterations and locations before being built in 1918 in its current form. Today it stands proudly overlooking La Plaza.
The church is certainly a historical landmark in the city, but is also an active parish with daily services.
Address: Miguel Hidalgo S/N, Gallery District, Centro, 23400 San José del Cabo, B.C.S.
4. Gallery District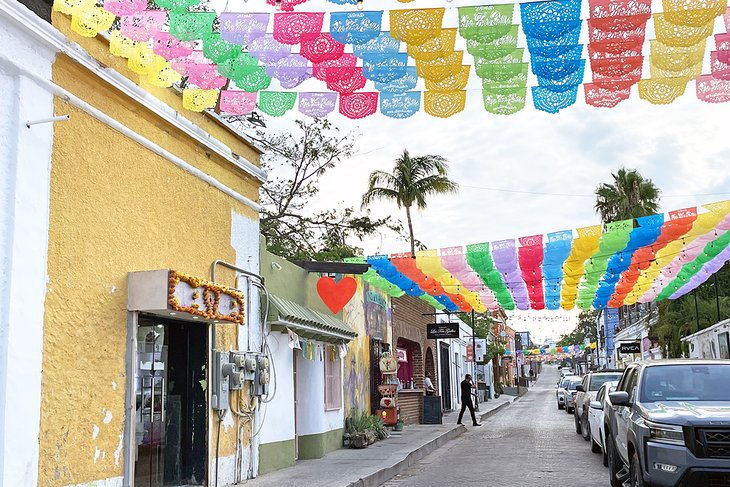 Perhaps the most charming section of San Jose del Cabo, the Gallery District is a grid of cobblestone streets, historic low-rise buildings, canopies of colorful fluttering flags, and art gallery after art gallery.
The trendy district is located near La Plaza and is a walkable section of the city known for its many art galleries, fabulous restaurants, and boutique hotels. In fact, every Thursday from November to June, the shops and galleries take part in the weekly Art Walk and open their doors to visitors for one giant walking art show.
The Gallery District is a pulse of energy, with street performers, outdoor markets, and live music. The Gallery District is so vibrant, you may actually prefer it over the beach. It is what gives San Jose del Cabo its cultural edge.
One of the best galleries to explore is the Patricia Mendoza Art Gallery, which showcases contemporary art by Mexican artists. The beautiful gallery space has a broad brick courtyard in which the gallery will sometimes host social gatherings.
5. Costa Azul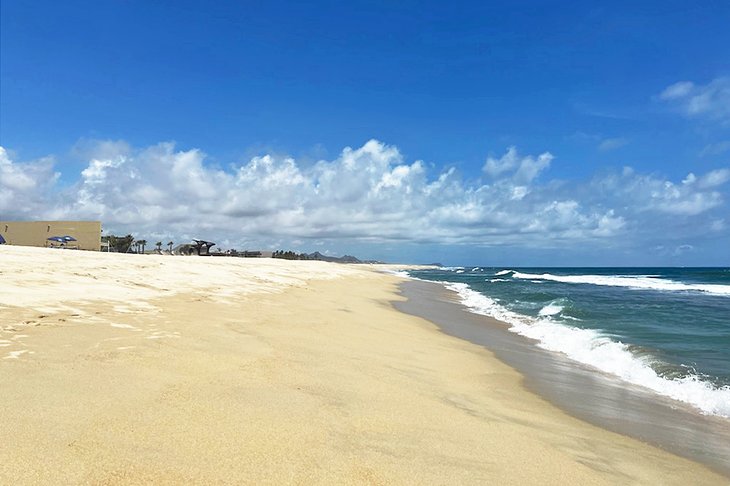 One of the largest beach stretches in Cabo San Lucas, the Costa Azul is simply breathtaking. Marvel at the rolling crash of the epic waves that break along this picture-perfect stretch of golden sand. Backed by hotels and restaurants, this is one of the most popular beaches in San Jose del Cabo.
In fact, this is the beach associated with the Hotel Zone of San Jose del Cabo. Some of the best hotels along the Costa Azul are the Krystal Grand Los Cabos, Hyatt Place Los Cabos, Barcelo Gran Faro Los Cabos, and the Royal Solaris Los Cabos.
Stretching for what seems like forever, you'll have gorgeous views all along the shoreline as you walk the lengthy coast. On the other side of the road opposite the beach is plenty of shopping, restaurants, and stores.
If you want to stay at the beach in San Jose del Cabo, Costa Azul would be one of the best places to stay.
6. San Jose's Estuary and Bird Sanctuary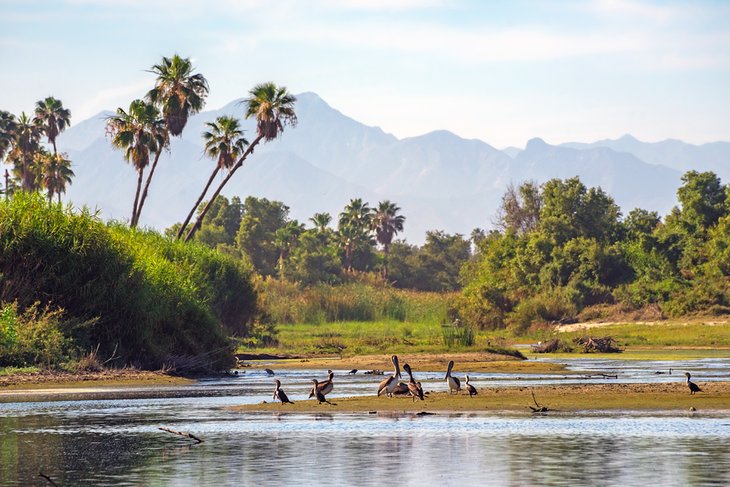 Beyond beaches and historic landmarks, San Jose del Cabo is also a paradise for nature lovers. Yes, snorkeling and diving around San Jose del Cabo is next level, but you'll be able to find all kinds of wildlife on land, as well.
The San Jose del Cabo estuary, not far from the Hotel Zone of Costa Azul, is a veritable treasure trove of flora and fauna spanning more than 15 square miles. The protected area is off-limits to cars in order to keep it pristine. Visitors can, however, kayak and hike while looking at the more than 100 species of birds, fish, turtles, and other animals. A paved pathway runs through a portion of the estuary, as well.
Drink in views of the mountains while listening to the crashing of the ocean behind you as you slip into this protected natural world — a respite from the constantly developing landscape of San Jose del Cabo around you.
7. Plaza Artesanos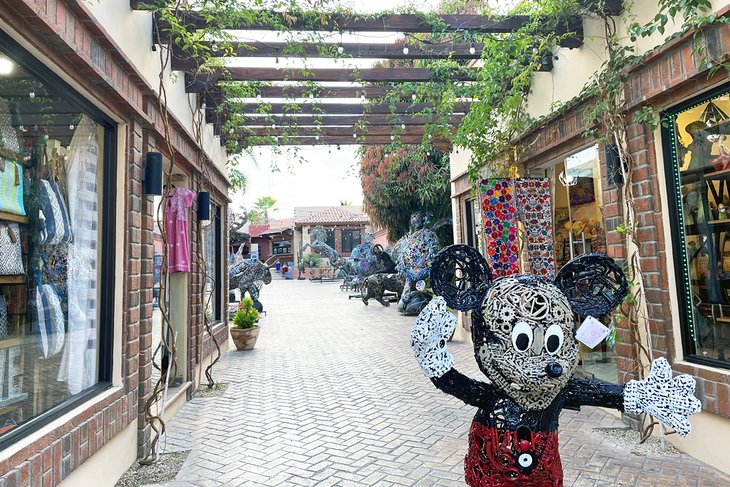 If you haven't noticed by now, San Jose del Cabo is a haven for artists and creatives. The colorful city pops with wonderful works of art. For a high concentration of art in one place, the Plaza Artesanos is home to more than 75 vendors selling everything from ceramics and jewelry to clothing and furniture.
Address: P.º de Las Misiones 1942, Campo de Golf Fonatur, 23406 San José del Cabo, B.C.S.
8. Flora Farms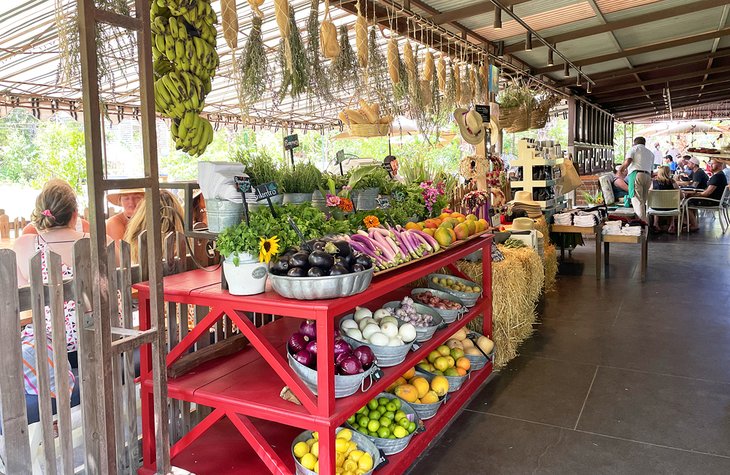 In recent years, San Jose del Cabo has become a champion of the farm-to-table movement, boasting not one, but three farm-to-table experiences just outside town. One of the very best of the bunch is Flora Farms.
Flora Farms is a working organic farm that sits on 25 acres at the base of the Sierra de la Laguna Mountains. The ingredients grown on property are used in the menu at the now on-site Flora's Field Kitchen, as well as the Flora Farms Grocery. This one-of-a-kind dining experience takes place on the farm grounds under an airy pergola, surrounded by thick vegetation, fields, and ponds.
The menu is popping with the freshest produce, as well as other locally sourced ingredients. While visiting the property, you can even book a spa treatment at The Farm Spa.
Address: Carretera Transpeninsular San José del Cabo Km. 30 Las Ánimas Bajas, 23407 San José del Cabo, B.C.S.
9. Take a Tour with Cabo Adventures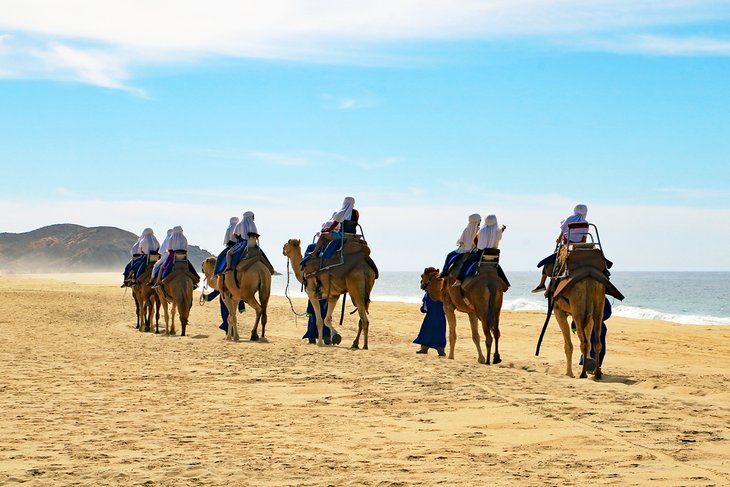 One of the top tour operators in Los Cabos is Cabo Adventures, a tour company that offers a wide variety of ways to get outside and go sightseeing in the destination. In Los Cabos, its top tours include a luxury sailing tour, a camel ride adventure along the beach, ziplining and ATVs, and the opportunity to swim with dolphins
The luxury sailing tour takes travelers on a sailboat or catamaran and includes up-close views of the famous El Arco. Depending on the time of year, you may have the opportunity to spot wildlife, like dolphins, manta rays, and humpback whales.
The dolphin swim opportunity takes place at one of Cabo Adventures' American Humane Certified Dolphin Centers. Guests learn from a Marine Mammal Specialist all about dolphins, before taking part in a 40-minute swim with them. Cabo Adventures has two dolphin centers in Los Cabos, and one is in San Jose del Cabo.
Most of the tours include lunch, as well as transportation to and from your hotel.
10. Cabo San Lucas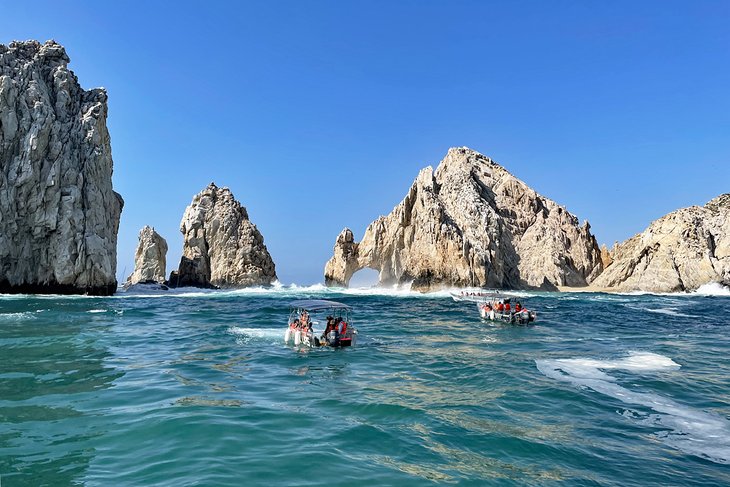 The other part of Los Cabos is the world-famous Cabo San Lucas — the hotel-packed, busy, much more energetic counterpart to San Jose del Cabo. Cabo San Lucas has its own energy and vibe, and offers a different style than that of San Jose del Cabo.
Still, some of the best sites and attractions in the region are here, and it is only about a half hour's drive from San Jose del Cabo, so worth a day trip if you're in town. Getting out on the water is a must, with a boat tour to take you to the iconic rock formations, particularly El Arco, which is what Los Cabos is known for.
Wander the marina to see the multi-million dollar yachts or have a bite to eat at one of the many restaurants. Cabo San Lucas has several beaches that are swimmable, like Medano Beach, and the city is also known for its world-class luxury hotels.
11. Los Barriles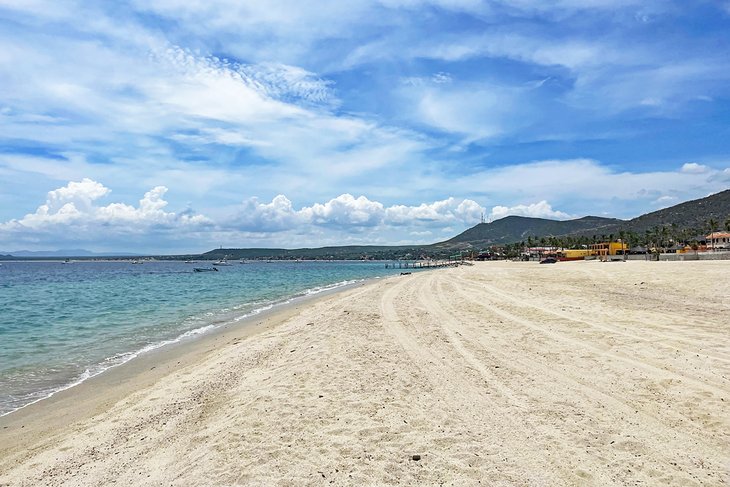 One section of southern Baja that is starting to take off is its tranquil East Cape, which faces the Sea of Cortez. About an hour from San Jose del Cabo, a string of fishing villages along the East Cape makes for a lovely day trip to soak in a different setting and all the lovely blues of the tranquil Sea of Cortez.
Los Barriles is one of these villages, which is certainly worth a visit. Known for its powdery beaches along Las Palmas Bay, Los Barriles is a popular spot for windsurfing and sailboarding, particularly in the warmer months, when the winds are strong here. If you prefer to stay on land, consider renting a quad and riding the hills from beach to beach.
If the season is right, Los Barriles is known for its whale shark population. These gentle giants can be found in the waters all along the Baja peninsula, but Los Barriles is one of the best spots to get in the water and swim with them. It is a once-in-a-lifetime experience.
Map of Things to Do in San Jose del Cabo