11 Best Surfing Spots in Mexico
We may earn a commission from affiliate links ()
With more than 4,500 miles of epic Pacific coastline, it's no wonder Mexico is a paradise for surfers. From the Baja Peninsula down to the border of Guatemala, Mexico has dozens of wonderful surf spots for everyone, from beginners to the most seasoned professionals.
Surfers have been flocking to the shores of Baja since the 1940s, when they'd trickle across the border from California. The first known documentation of surf tourism in Mexico was in 1963, when Mike Hynson and Bill Fury, two of the best American surfers, took a trip down to Ensenada.
Today, the west coast is peppered with beach towns known for their surf conditions. Some, like Mazatlan, Puerto Escondido, and Punta Mita, are packed with amenities, from hotels and surf shops to restaurants and beach clubs. Others, like Barra de La Cruz and Pascuales, are much more remote.
Surfers have their pick of energy, vibe, and intensity all down the coast. So if you're looking to hang ten south of the border, check out our list of the best surfing spots in Mexico.
Note: Some businesses may be temporarily closed due to recent global health and safety issues.
1. Ensenada, Baja Norte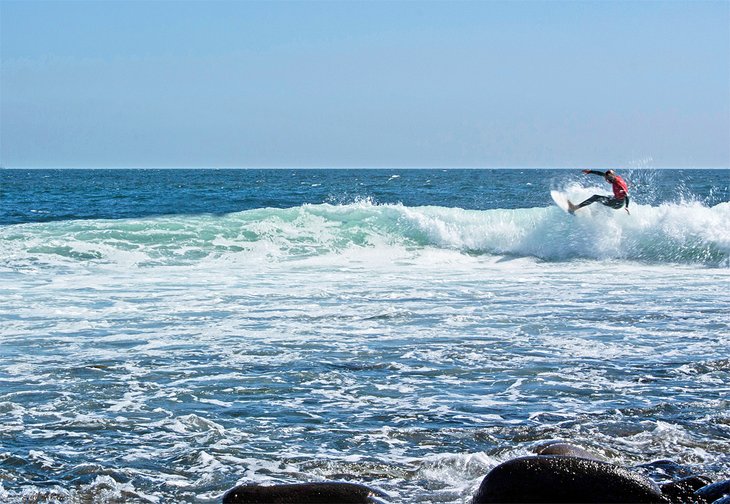 Just 70 miles south of the border with California, Ensenada has been a mainstay of the Mexico surf scene for decades. Surfers from all over the world come to ride the breaks in the colder waters that surround Northern Baja.
The best beach to surf around here is in San Miguel, but take note that it's recommended only for experienced surfers. In fact, Baja's first surf contest, the Baja Surf Club International, was held in San Miguel in the late 1960s, so you know these waves are serious business. Beginners can find their groove on Playa Hermosa, which is known for its gentler, rolling waves.
Note: Just off the coast, you'll find Todos los Santos Island, which is one of the locations for the Big Wave Tour of the World Surf League. Not for the faint of heart, the waves off this island are absolutely legendary.
The one drawback to surfing Ensenada is the number of people who are also surfing Ensenada. It is one of the most famous surf spots in the world, and draws California day-trippers in droves. Insiders will tell you to head down in the fall, when the waves are still pumping, but the crowds have thinned out.
Accommodation: Where to Stay in Ensenada
2. Todos Santos, Baja Norte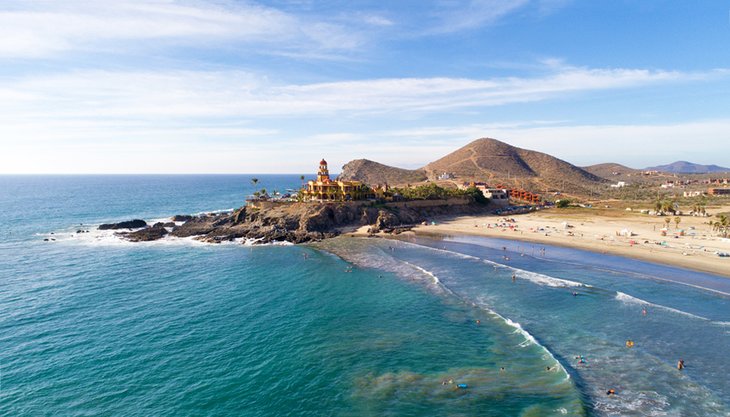 Todos Santos (the town, not the island) has drummed up a reputation for itself in recent years as an artistic escape from the tourist crowds in Los Cabos. But long before it became a cultural haven, it was a surfer's paradise.
Surfers of all experience levels will find a wave to ride in this part of Mexico. Cerritos Beach is perfect for beginner to intermediate surfers, while San Pedrito is reserved for the more experienced wave-riders. Serious surf fans can catch the best waves in the winter or at the end of summer.
The Bahia de Todos Santos was named as the sixth World Surfing Reserve thanks to its high-quality waves, environmental characteristics, and community love for surfing.
You can find many surf schools and surf-oriented retreats in Todos Santos as well, which usually highlight the other gems of the town, like its boutiques, culture, and dining.
Tip: Elevate your trip with a stay at Hotel San Cristobal, a 32-room luxury hotel directly on the beach at Punta Lobos.
3. Barra de la Cruz, Oaxaca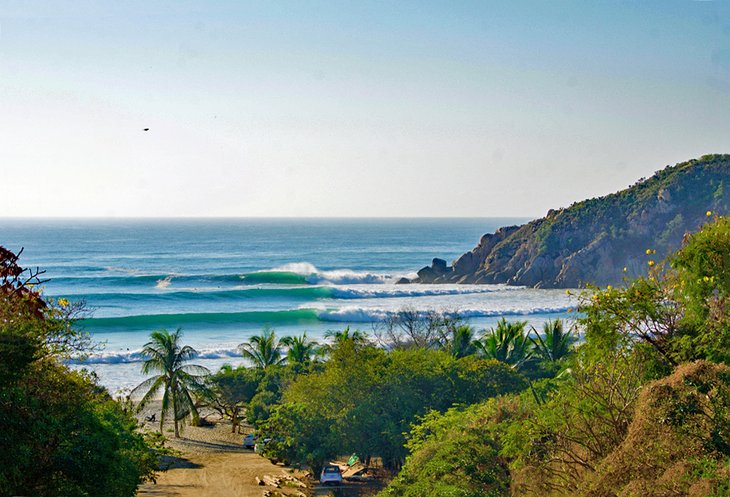 The coast of Oaxaca has some of the best surf not only in Mexico, but in the world. Among the many surf breaks along this part of the country, the most devoted to the sea know all about Barra de la Cruz, a barren beach about 12 miles from the resort town of Huatulco.
Back in 2006, the famous Rip Curl Pro Search annual competition was held here, which is what put this once-secret spot on the map. Before that, it flew well below the radar, save for the few diehard surfers who would camp on its shores in order to catch the early morning waves.
What's special about "Barra," as the locals call it, is that you can't see it from surrounding beaches because it's protected on either side by hills. It's also only accessed via a dirt road, which helps it retain its "secret" magic. That said, those planning to stay in Barra can expect very minimal accommodations and not many services. It's best to bring everything you need in with you.
Today, the village is highly regarded in the surf community for its epic point break. There's not a ton going on in the town, save for surf bungalows and a single beachfront cantina, meaning this is a spot for true surf devotees.
Accommodation: Where to Stay in Huatulco
4. Pascuales, Colima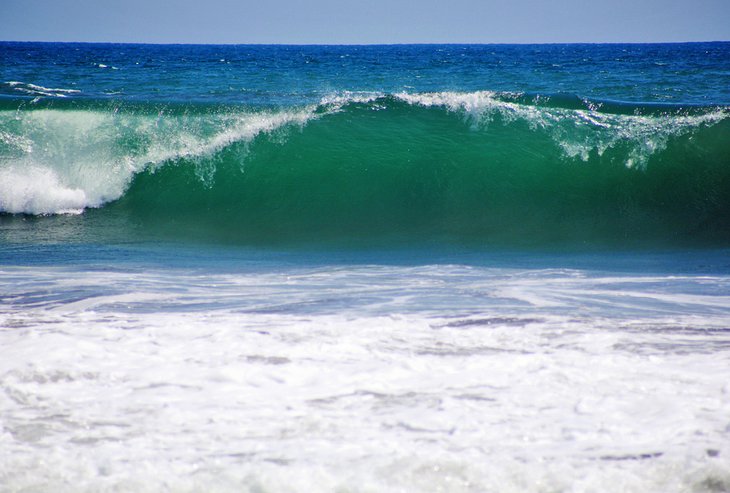 Colima is a lesser-known state in Mexico, far off the tourist trail. Its main coastal city is Manzanillo, which is the gateway to southern Jalisco and its wild, southern coast, known as the Costalegre. But the state of Colima itself has plenty to offer surfers, specifically the Boca de Pascuales, which is renowned for its superb breaks and picture-perfect tubes.
Beginners, take note: Pascuales is for professionals only, as the beach is known for waves that max out at more than 25 feet. April to September is the most popular time to hang ten in this wild, untamed part of Mexico's Pacific coast.
Pascuales is one of the most advanced beach breaks along the Pacific Coast, but its tough-to-reach location is what keeps it a favorite among diehards. Those who put in the effort, however, are rewarded with some of the most visually stunning waves in the entire country – and there's a high likelihood you may even have them all to yourself.
5. Puerto Escondido, Oaxaca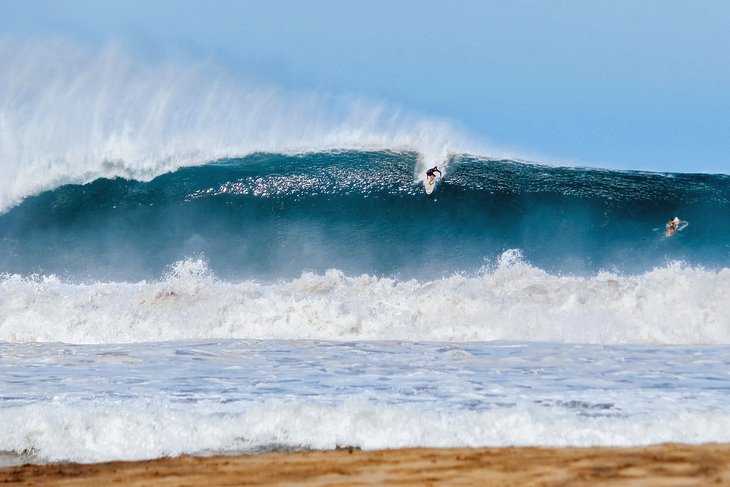 When it comes to famous beach breaks, there is none more iconic than Playa Zicatela in Puerto Escondido. Puerto Escondido, on the coast of Oaxaca, is a world-famous surf town, where surfers from all over the world come to chase the epic waves.
Crashing waves and idyllic conditions make this a prime spot for the pros, but there are plenty of gentler spots in the area for beginners to learn (tip: try Playa Carrizalillo). For those with master skills, the Mexican Pipeline right off Playa Zicatela is a dream surf spot for experts from around the world.
The biggest waves are in May and July, when they can climb more than 30 feet. That said, you'll find pumping surf year-round in this laid-back, still semi-secret pocket of Mexican coast.
Puerto Escondido is very well equipped for its loyal following, with locally owned beach hotels, beachfront restaurants, and tons of other activities, from horseback riding and wellness rituals to bioluminescent bays and hot springs.
Accommodation: Where to Stay in Puerto Escondido
6. Troncones, Guerrero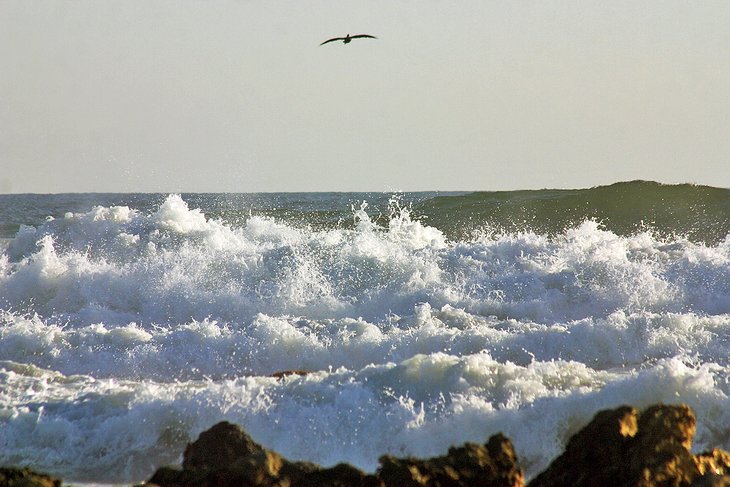 There's not much you're doing in Troncones, Guerrero aside from surfing. But that's why it's a favorite hideaway for wave-chasers. This sleepy seaside town is known for its devoted beach community and surf hot spot, not far from the popular resort towns of Zihuatanejo and Ixtapa.
The town doesn't offer a ton to do, but what you're really here for is the surf. Local shops offer lessons and board rentals. A lot of activity centers around the Troncones Surf Club and Hostel, which is one of the more popular places to stay. It's not exactly a luxury hotel, but it's definitely a notch or two above traditional hostels. It's not uncommon to find a group of surfers hanging here after an intense session.
Close to Troncones is Punta Saladita, which is even sleepier than Troncones, and is known for its wave called "Ubilam," which is a favorite among longboarders.
Accommodation: Where to Stay in Troncones
7. Playa La Ticla, Michoacan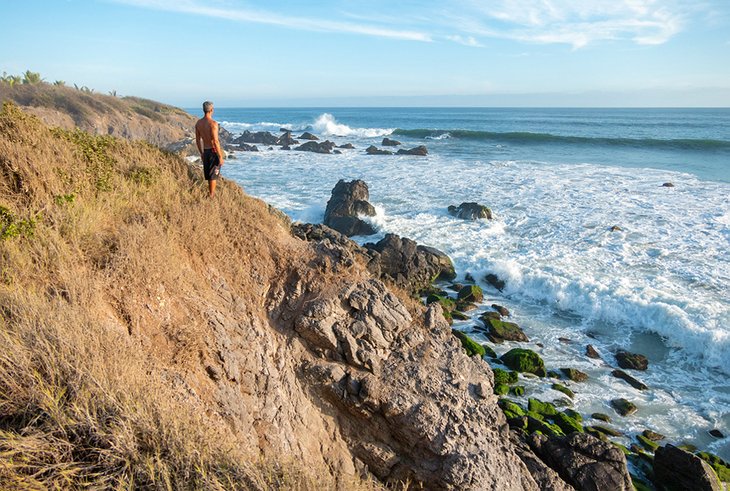 Michoacan is one of Mexico's western states that has a bit of a mixed reputation. First, not only is it stunningly beautiful and far less developed, it's also virtually free of tourists. Without a major resort destination or cosmopolitan city, Michoacan has retained its authenticity and pristine nature, with miles of deserted stretches of beaches with epic, beautiful waves.
Playa La Ticla is a surfer's paradise, with basic facilities conducive to eco-friendly, back-to-nature travel, where the focus is on surfing, refueling over a fish taco, and crashing out early only to rinse and repeat the following day.
The downside of Michoacan is that it has seen its fair share of problems related to cartels and drug gangs. And while the coast is much safer than it has been in a while, it is best to travel during the day and to always stay in the hotel areas. This wouldn't be the state in which to venture off into the unknown.
8. Mazatlan, Sinaloa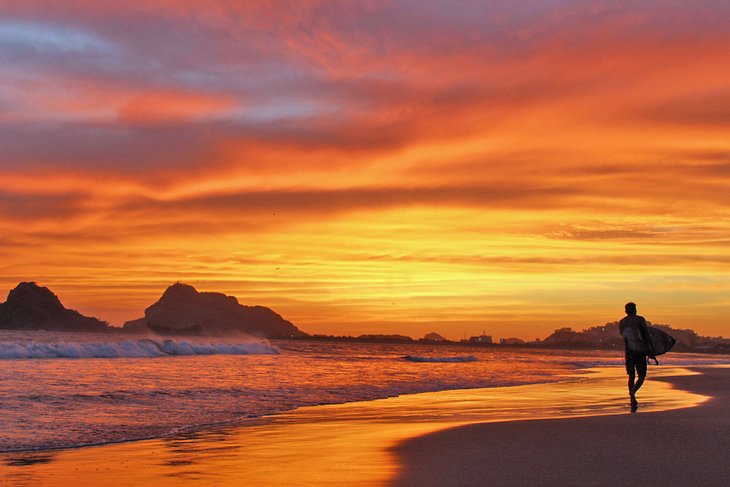 Mazatlan, located in the western state of Sinaloa, is a treasure trove for surfers of all levels. From Playa Los Pinos, which is great for beginners, to the pro-pleasing waves at Olas Altas, there's a scene for everyone looking to surf.
But Mazatlan is so much more than a surf spot. It's a really unique and wonderful tourist town. It's one of the only colonial cities in Mexico that sits on the sea, with dramatically painted colonial buildings, beautiful churches, and tree-fringed plazas. It has a historic theater, a baseball stadium, and plenty of shopping.
Surfers and landlubbers alike can enjoy the historic downtown with its cobblestone streets, boutiques, and restaurants, as well as the laid-back beach vibe along the shore. Mazatlan also has the longest malecon in Mexico, which is the best spot in the evening to catch that fiery Mazatlan sunset.
Accommodation: Where to Stay in Mazatlan
9. Punta Mita, Nayarit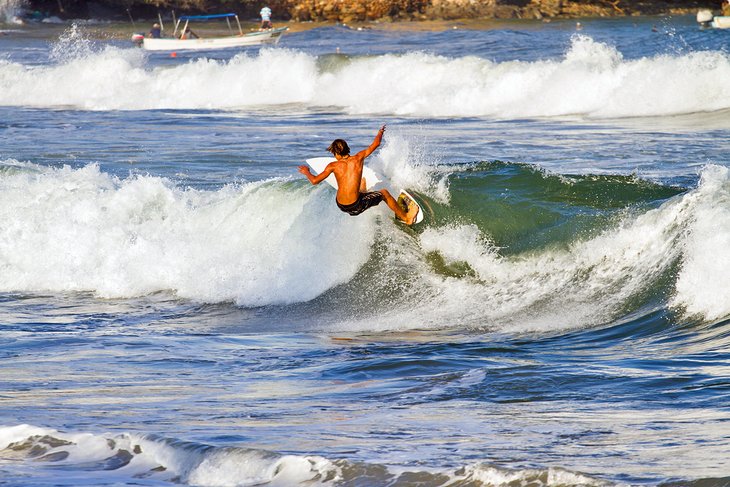 Punta Mita is the luxury capital along Mexico's Pacific Coast, and the crown jewel of the Riviera Nayarit, home to five-star names like Four Seasons and The St. Regis. But there's much more to Punta Mita than A-list accommodations. It happens to be one of the top spots for surfing in Mexico.
Longboarders love La Lancha, a reef break in Punta Mita, home to what feels like an eternal wave. There's also The Cove, which has faster waves for seasoned professionals.
Tip: If you're looking for more affordable accommodations, keep going north to Sayulita, a small surf-town-turned-boho escape in Nayarit, which has its own amazing surf conditions that play well with the laid-back beach vibe. The waves here are gentle and great for beginners as well.
You can take it a step further and head to San Pancho, the next town up, which is even sleepier than Sayulita.
Accommodation: Where to Stay in Punta Mita
10. East Cape, Baja California Sur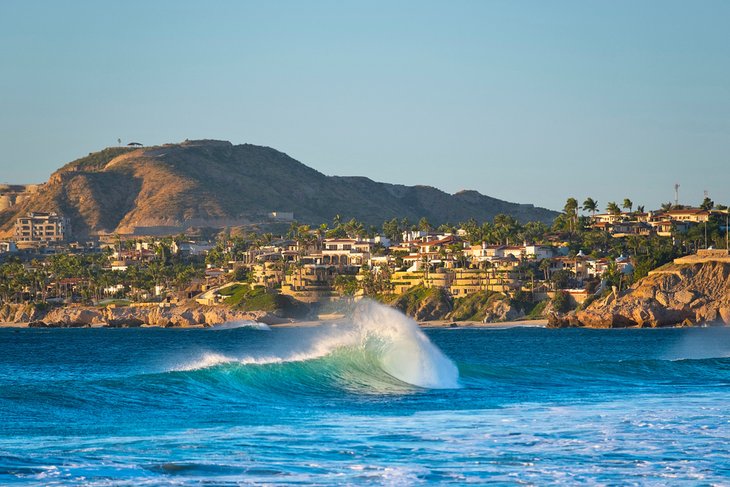 Southern Baja is a visual stunner, with rugged, rocky desert that meets the cobalt-colored sea. This is why it has morphed into one of Mexico's top luxury destinations (Cabo San Lucas, anyone?). But on the other side of the peninsula, facing the Sea of Cortez, is a relatively untapped destination known as East Cape, which just happens to be one of the top surf spots in Baja.
South-facing East Cape is famous for its right point breaks at spots like Shipwreck and Nine Palms. It's not uncommon to see vans of surfers camped out for days on end catching perfect wave after perfect wave. Head up the coast for more adventurous surf at spots like El Rincon and Punta Arenas.
East Cape has recently opened a new Four Seasons resort, so it's only a matter of time before the word gets out and inundates this once-undeveloped stretch of shoreline. Get there while you can.
11. Salina Cruz, Oaxaca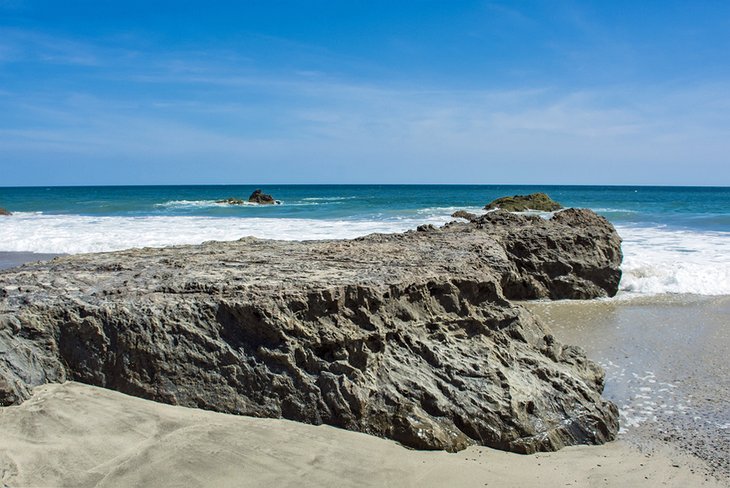 Yes, that's right. It's another surf spot in Oaxaca. Believe us when we say that this is one of the best states for surfing in the entire country. Salina Cruz, near Barra de la Cruz, is a prime spot for surfers, specifically Punta Conejo, known for its consistent righthand waves.
Salina Cruz has plenty of surf schools and tours that operate in and around Salina Cruz, so you can make a visit as hands-on or hands-off as you wish. The best time to surf Salina Cruz is the summer, from June to August, with consistent swells (but also consistent tourists). September through November is quieter in terms of foot traffic, but the waves continue to impress.
Accommodation: Where to Stay in Salina Cruz