12 Top-Rated Things to Do in Puerto Escondido
Author Meagan Drillinger lives for her annual trips to Puerto Escondido, and considers it one of her favorite beach towns in the country.
Set on the coast of Oaxaca, Puerto Escondido is one of the best worst-kept secrets in all of Mexico. We say best/worst because while it is a far cry from the populated shores of Cancun, Los Cabos, and even Tulum, it is fast on the rise to become the next most popular beach getaway in the country. That's probably because of the number of things to do in Puerto Escondido.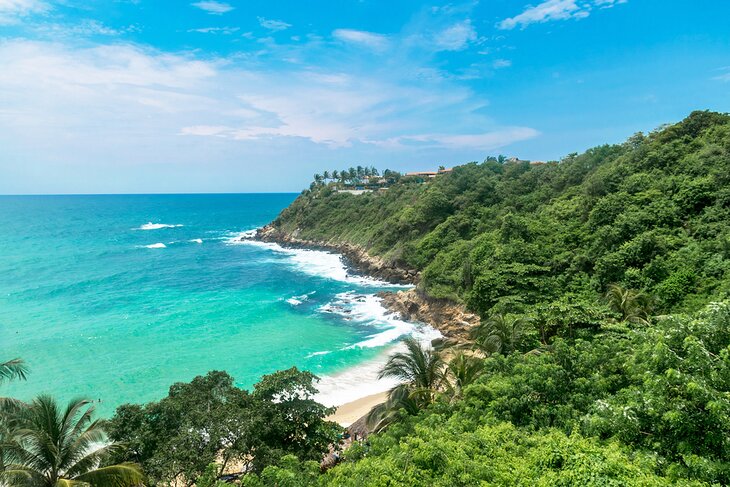 For now, tourists who are already in the know flock to its expansive shores to get lost in nature, eat fabulous food, break a sweat, or simply unplug and relax. Puerto Escondido is one of the more populated communities on the coast of Oaxaca, but that's not saying all that much. Still, in recent years, the rise of design hotels and Airbnbs, food markets, and barefoot luxe beachfront restaurants, have started to put it on the map.
Puerto Escondido's tourist attractions and things to do make it incredibly special. It has some of the best surf spots in Mexico, and also in the world. It's also rich wildlife, hot springs, and ancient culture. The destination is at a tipping point, however, before it plunges into the depths of mainstream Mexico. So if you want to visit before it becomes the next "it" spot, you're going to want to go now and check out our list of the top things to do in Puerto Escondido.
1. Surf the Waves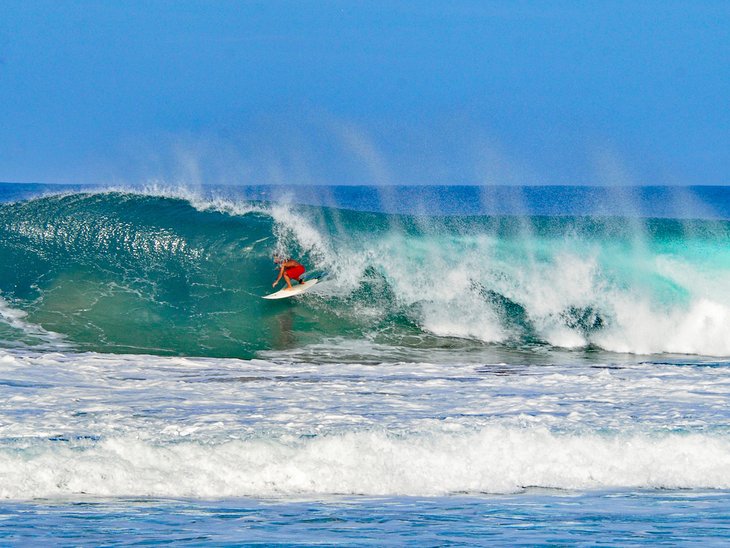 Today Puerto Escondido is visited by travelers with all sorts of interests. But what put the beach town on the map was the incredible surf conditions. In fact, the coast of Oaxaca, and Puerto Escondido in particular, is one of the top surf destinations in the world, so it's no surprise surfing is one of the top things to do in Puerto Escondido. The locals were practically born with surfboards under their arms, and surfers of all levels have been making the trip to Puerto Escondido since at least the 1960s, if not earlier.
The reason? Puerto Escondido is home to what is known as the Mexican Pipeline, which is one of the top 10 surf spots in the world. The biggest waves start going off between April and October as the swells come from the South Pacific and the East Pacific. The main break is at the northern end of Playa Zicatela, resulting in hollow waves. Not to get too technical, but the configuration of the ocean floor near the bay, combined with weather, means that often these waves are the biggest in Mexico.
And when it's going off, it's going off. We're talking waves around 10 feet. Keep in mind that Playa Zicatela is designed for serious surfers. Other nearby beaches, like Playa Carrizalillo or La Punta provide gentler breaks that are better for beginners. Zicatela is serious business, but it will be some of the best surfing you ever experience.
2. Hit the Beach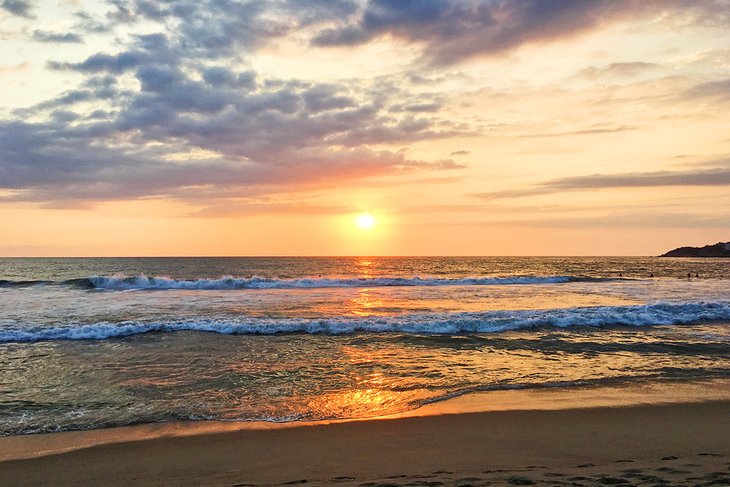 Of course, you don't have to have an interest in surfing to enjoy the beaches in Puerto Escondido. They are, after all, some of the most beautiful beaches in all of Mexico.
The first beach you'll meet as you head into town is Playa Zicatela. It's the largest and most developed beach (though "developed" is a strong word), and this is where you'll find the majority of travelers. It's not hard to see why. The expansive stretch of wide, sandy beach is backed by a string of beach hotels, restaurants, and boutiques. The vibe swings decidedly bohemian, though with a much more affordable price tag than other "boho" spots in Mexico. That's the beauty of Puerto Escondido - it hasn't reached maximum capacity tourism yet.
After Playa Zicatela, beach bums love to hike down the 150-plus stone steps to the turquoise, crescent-shaped beach of Carrizalillo. The gentle waves here are optimal for surf beginners, but mostly you'll see people swimming, sunbathing, or snacking on fresh seafood or ice cream at one of the several beachfront restaurants.
La Punta is yet another beloved beach spot in Puerto. It's located at the very southern tip of Playa Zicatela, and has developed into its own type of bohemian community. La Punta's roads are not paved, and you'll be lucky if you find an ATM. Still, the hipsters have descended and the addition of a new food park means it's only a matter of time before La Punta becomes much more mainstream.
3. Swim in the Bioluminescent Lagoon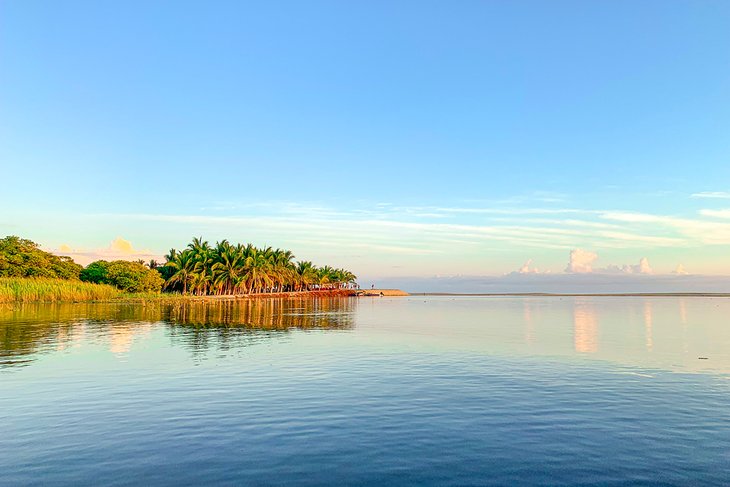 Not far outside downtown Puerto Escondido is a lush, tropical lagoon called Laguna de Manialtepec. It is one of five major lagoons along the Pacific Coast of Mexico. What makes Laguna de Manialtepec special is that it is home to a phosphorescence phenomenon. It's one of the few places in the world where it is possible to experience this natural wonder.
At certain times of year, particularly when the moon is new and the sky is inky black, it's possible to swim with glowing organisms in the warm, dark waters, making for a miraculous experience under the stars.
The magic comes from glowing plankton. These dinoflagellate plankton are washed into the lagoon from ocean currents. The ancient tribes of the region believed bathing with them brought special energy and extended youth. Whatever you choose to believe is up to you, but one thing can't be questioned: it's seriously cool.
4. Experience the Wildlife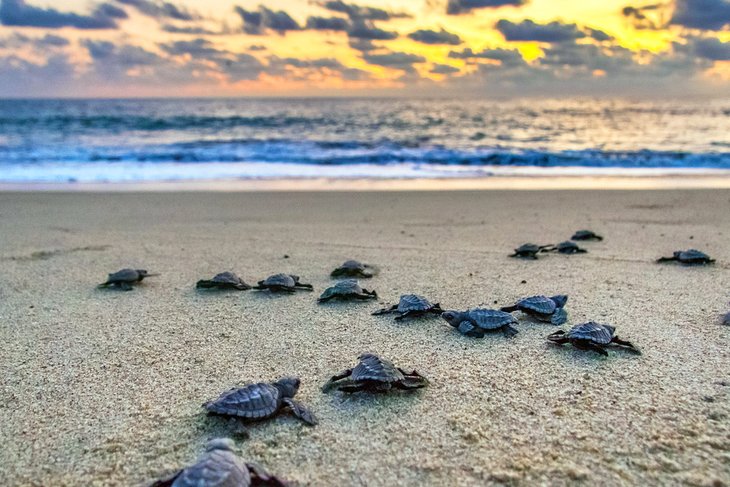 Surrounding Puerto Escondido you can find ocean, forest, mangroves, and jungle. So you can only imagine how much wildlife lives in this part of the country. One of the top things to do in Puerto Escondido is experience all the different types of animals that live nearby.
One of the best ways to experience the wildlife is to get out on the water on a boat tour, where you are almost guaranteed to see pods of dolphins frolicking and leaping among the waves. In fact, Puerto Escondido is famous around the world for its dolphin-watching.
Just offshore, the warm waters are teeming with literally hundreds of dolphins. Some tours even let you hop in the water with them. It's nothing like a controversial "swim with the dolphins experience," as the dolphins are very much in the wild and keep to themselves, but it is spectacular to be snorkeling in the warm waters, watching dozens of dolphins swim below.
You can also opt for a regular snorkel tour or get some gear and go off on your own. The waters surrounding Puerto Escondido are full of beautiful fish and sea turtles.
If you prefer to stay on dry land, you may be interested in the turtle release programs in Puerto. Turtle conservation is one of the biggest projects in this part of Mexico, and volunteers monitor more than 15 miles of beaches to protect turtle eggs. Each day at Playa Bacocho, visitors are invited to help release baby turtles back into the ocean.
5. Go Off Beat at La Punta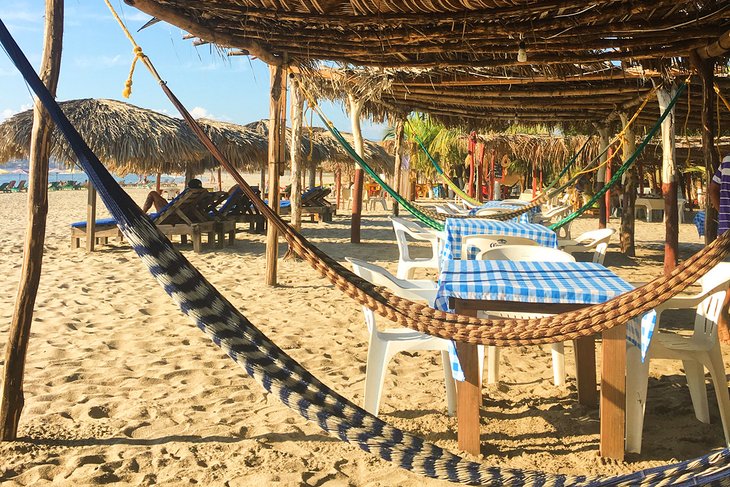 At the southern end of Zicatela is a smaller community that is teetering on the precipice of mainstream popularity.
For years, La Punta was the quieter, less developed, far more bohemian version of Puerto Escondido. If you're looking for beach restaurants with hammocks, dusty dirt roads, and more palm trees than people, this was probably it. That said, droves of boho backpackers, yogis, and drum circle enthusiasts discovered this edge of town, and the transformations have already begun.
Most recently, a food market opened up, serving bites from all the popular restaurants in town. It's bringing late-night energy, live music, and much more to this once-sleepy section of Puerto. La Punta is also the part of town where you'll be able to practice your surf skills, as the waves tend to be much gentler on this end of town.
At night, the sandy beach in La Punta is practically peppered with people on blankets watching the nightly sunsets that set the sky on fire.
6. Hike to Hot Springs
When you come to Puerto Escondido, you get much more than beaches. About 20 minutes from the city, you'll discover the Atotonilco hot springs - a veritable spa right in the heart of the jungle.
The thermal waters, said to be healing, flow from a spring in the earth and bubble up into a variety of pools, hidden underneath a thick canopy of trees. Each pool is a different depth and temperature, and you can ask about which pool is best for whatever ails you at the moment. After a relaxing dip, kick back in one of the many hammocks that dangle from the nearby trees.
The best way to get to the hot springs is on a horseback riding tour through the jungle. Puerto Escondido has several options to help you get there.
7. Explore Smaller Nearby Towns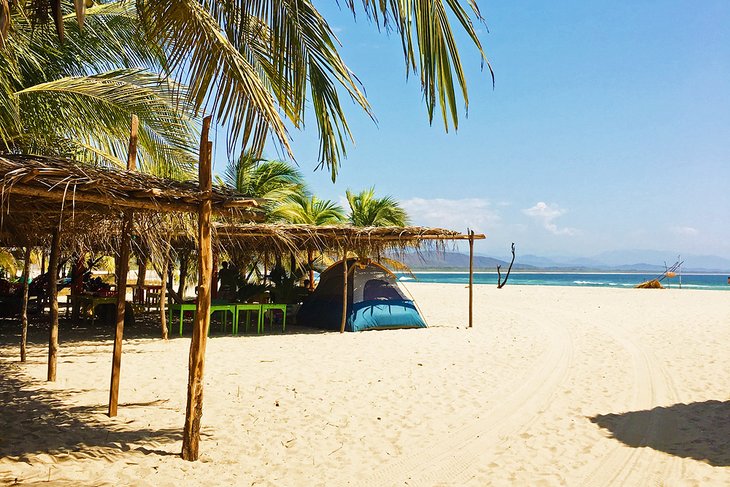 Puerto Escondido is hardly a big town, but believe it or not, there are even smaller beach towns in either direction. Down the coast, off Highway 200, you'll come upon the sleepier beach villages of Mazunte, Puerto Angelito, and Zipolite (among a few others).
These, while very small, tend to be the most popular for side trips from Puerto Escondido. These sleepy fishing villages are known for their rustic beachfront accommodations, beachfront restaurants, and leathery surfers.
To the north of Puerto Escondido, the more intrepid traveler can get really off the beaten path and discover the remote village of Chacahua. Chacahua is a prime surf spot along Oaxaca's coast and is most commonly accessed via a rickety boat ride through Lagunas de Chacahua National Park.
Surfers (and beach lovers) alike can hire a boat taxi to take them through the lush lagoon, through mangrove tunnels, and past flocking white cranes to emerge at the point where the lagoon empties out into the Pacific. The town is truly a strip of sand with a few rustic accommodations, a handful of places to eat, and wide-open beachfront with some of the best surf in the area.
8. Explore Cascada La Reforma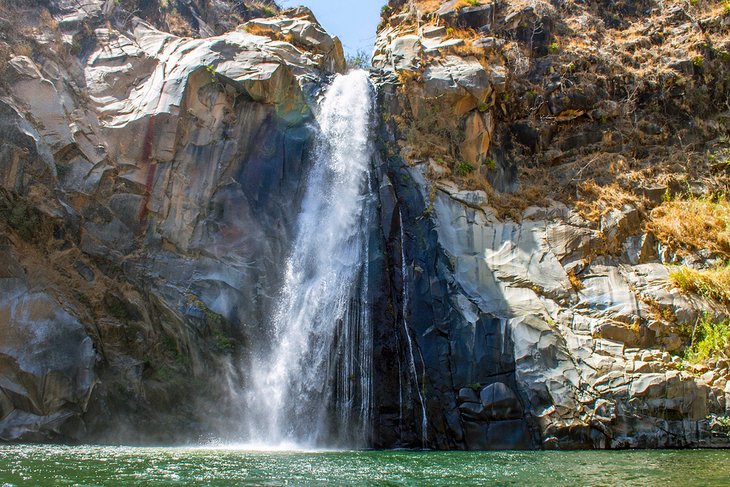 Just under two hours away from Puerto Escondido is a plunging waterfall buried deep in the mountainous jungle. The waterfall is massive, beautiful, and makes for a great day trip, whether you DIY or join a tour.
The plunge from the water fall is about 150 feet down into the churning waters below, where you can take a refreshing dip after the short hike to the waterfall.
9. Try the Restaurants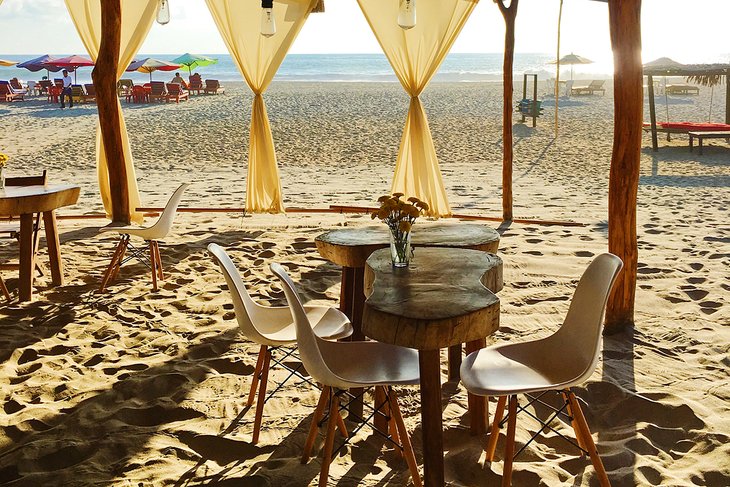 When you visit the state of Oaxaca, you are, by extension, opening yourself up to some of the best cuisine in Mexico. The state of Oaxaca is known around the country, and the world, for some of the most unique Mexican cuisine, with roots that can be traced back centuries into its past.
So when you're in Puerto Escondido, you're going to want to try the food. Puerto Escondido has a growing culinary scene, with restaurants that range from the most casual fish taco shacks to haute cuisine that has scored international attention. Wandering the beach on Zicatela is a good place for casual eats, but bear in mind that this is where the tourists hang, so you may fall victim to higher prices.
Head into town for some of the best eats, like La Juqilena, a women-run restaurant serving up regional delicacies. You'll also find Almoraduz, a relative newcomer to Puerto Escondido, which serves elevated Oaxacan cuisine in a super chill location. And if you like ceviche, you can't go wrong with El Costa, a beachfront lounge-meets-restaurant, serving the freshest seafood with a toes-in-the-sand vibe.
10. Go Shopping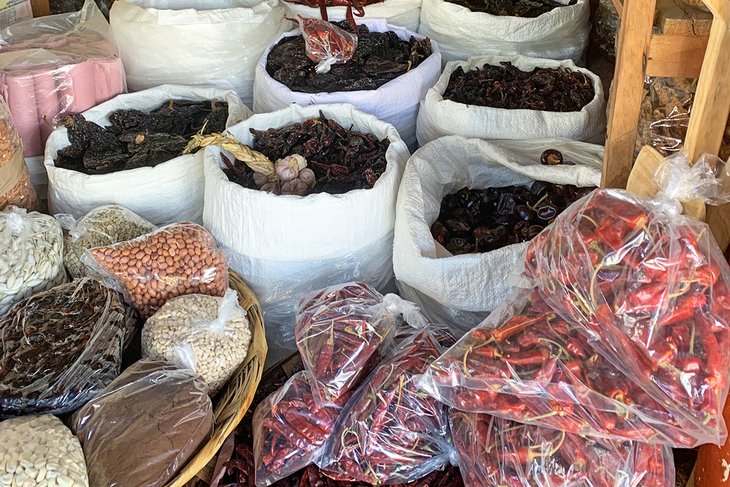 Whether it's local food, souvenirs, or artisan crafts, Puerto Escondido is the perfect place to visit to fill your pockets with things to take home. Souvenirs are the easiest to find, as both Zicatela and the touristy Adoquin section are lined with shop after shop of beach souvenirs. This is where you'll find your beachwear, boogie boards, and knick knacks with "Puerto" scrawled across them.
But Puerto Escondido has a much more local shopping side to it, as well, from locally designed clothing to pottery and local coffee. Head straight to Mercado Benito Juarez in Centro to shop like a local. You'll get the best Oaxacan chocolate, fresh fruit, pressed juices, and even the best catch of the day. On the streets around the market are shops that sell everything from bags of spices to chocolate, fruit, and much more.
The newest shopping experience in Puerto is at Zicatela Market, which opened on Highway 200 after many delays. In addition to fresh fruit, fish, meat, and cheese, the shops are also known for their local pottery, handicrafts, jewelry, flowers, and toys. This market also has some of the best views over Playa Zicatela, and plenty of tables to sit and grab a refreshing snack or beverage.
11. Try Sport Fishing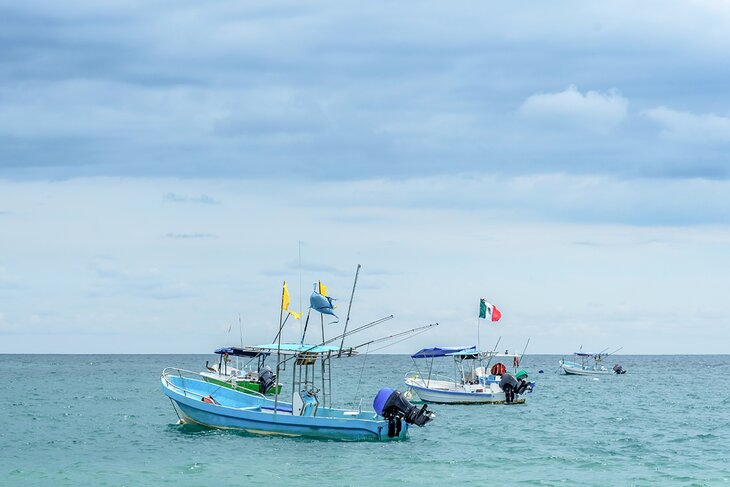 Fishing can be a professional sport in Puerto Escondido if you are there in the right season. In fact, swimming offshore from Puerto Escondido are some of the largest sport fish in the sea.
You can catch blue marlin up to 14 feet long, though you will have to release these behemoths should you manage to catch one. Fish that you can keep, though, include red snapper, tuna, or grouper, and often you can bring the fish you catch to restaurants ashore, which will cook them up for you any way you choose.
It's easy to book a fishing tour in Puerto Escondido. Tour shops are available all over town. It's okay to haggle down to get a better price, too. Just keep in mind that the better the boat, the higher the price.
12. Go to Huatulco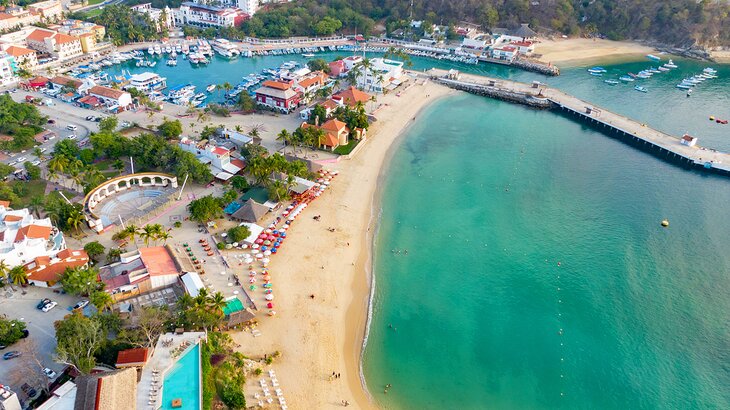 Roughly two hours down the coast from Puerto Escondido is the larger resort town of Huatulco. You may have even flown into Huatulco to get up to Puerto Escondido. Certainly the "busier" sister to Puerto, Huatulco is still a sleepy town, but the presence of more all-inclusive resorts and a marina means that it does attract more travelers.
Huatulco is known for its nine bays, and each one has a different beachy vibe. The "main" town is La Crucecita, known for its proximity to the marina and its many boutique hotels and restaurants.