13 Top-Rated Beaches in Huatulco
Author Meagan Drillinger has spent more than a decade exploring Mexico and has spent months in and around Huatulco.
Huatulco is one of Mexico's most beloved destinations along the Pacific Coast. Still, for those in the know, it remains somewhat of a mystery. The destination is much more than one location, compared to other beach hot spots like Puerto Vallarta or Cancun, which are all in one central location. But no — Huatulco is made up of nine separate bays, home to more than 30 spectacular beaches. In fact, when it comes to the best beaches in Huatulco, you may have a tough time knowing where to start.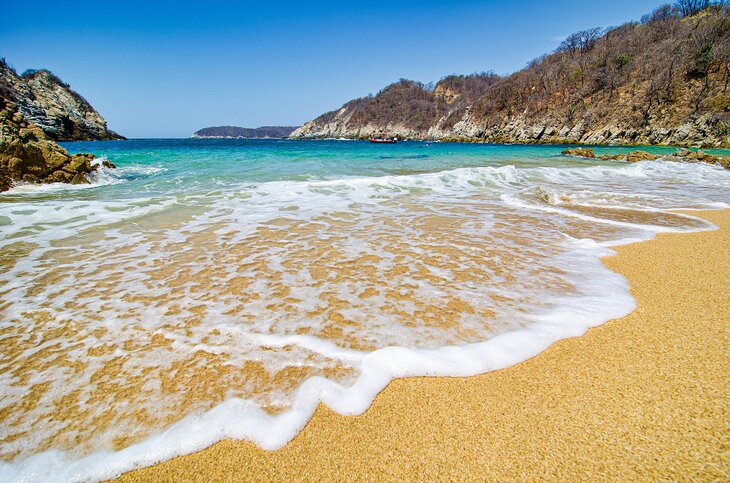 The nine bays of Huatulco, known as the Bahias de Huatulco, run the gamut, from developed hotel hot spots to more rugged, out-of-the-way hidden jewels. Each bay may even be home to upwards of five different beaches. Locals will tell you about their favorites, if you're lucky. But many want to keep the more off-the-beaten-path gems all to themselves.
Whether you're looking for a five-star luxury beachfront resort, or a place where you have to do a bit more legwork to reach, the beaches in Huatulco are, in a word, spectacular. In fact, many are some of the best beaches in Oaxaca.
You can find beaches peppered with beach restaurants and rental services, and others where you may have to bring everything you need for the day yourself. Regardless, you'll likely be rewarded with soft, golden sand, and turquoise and emerald-colored water. This part of Mexico is truly spectacular and still relatively off the main tourist trail.
Design the type of Mexican beach vacation that is perfect for your style of travel with our list of the best beaches in Huatulco.
1. Playa La Entrega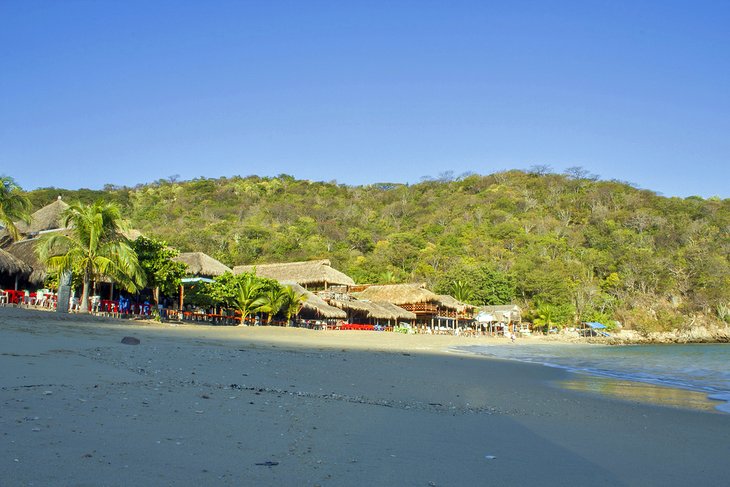 Playa La Entrega is one of the best beaches in Huatulco because it is the perfect spot where beauty and function intersect. Undoubtedly one of the most photographable beaches in all of the nine bays, Playa La Entrega also offers a long list of things to do for visitors and locals.
The crescent-shaped, 1000-foot beach is a five-minute motorboat trip (or 1.5-mile walk) from the main port city of Santa Cruz. The sandy shoreline is backed by a row of thatched seafood palapas serving some of the best and freshest food in the area. But beachgoers have plenty to do in the water, as well, from jet skiing and banana boating to snorkeling and hiring lanchas (small boats) to take you touring the bays.
La Entrega means "The Delivery," which tells the story of how the beach got its name. In 1831, Mexican Independence hero Vicente Guerrero was surrendered to his enemies on this beach. From the beach, he was brought to a town near Oaxaca City and executed.
2. Bahia San Agustin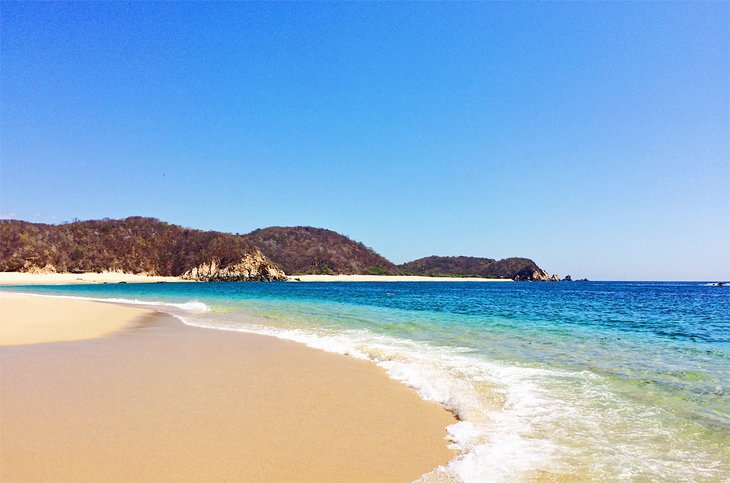 What makes Bahia San Agustin so enjoyable is that only those who truly want to find it put in the effort. It may not be the easiest beach to access, but that is what makes it so spectacular. One of the best-kept secrets along the coast of Oaxaca, Bahia San Agustin is off the beaten path, but the lack of crowds and the company of other serious beach-lovers makes this beach one of the best.
Several miles down a dirt road (20 minutes from La Crucecita), the end of the dusty path reveals a long stretch of palapa restaurants and cabanas. You can even book a room at many of them if you want to spend the night in cheap - albeit rustic - accommodations. Camping is also permitted on the beach.
You'll be skipping the crowds and exchanging them for pure peace and tranquility. Gentle waves make for excellent snorkeling and diving conditions, and the long swatch of undeveloped sand takes you back to a time when you felt like you could truly disappear into nature in this part of Mexico.
3. Playa La Bocana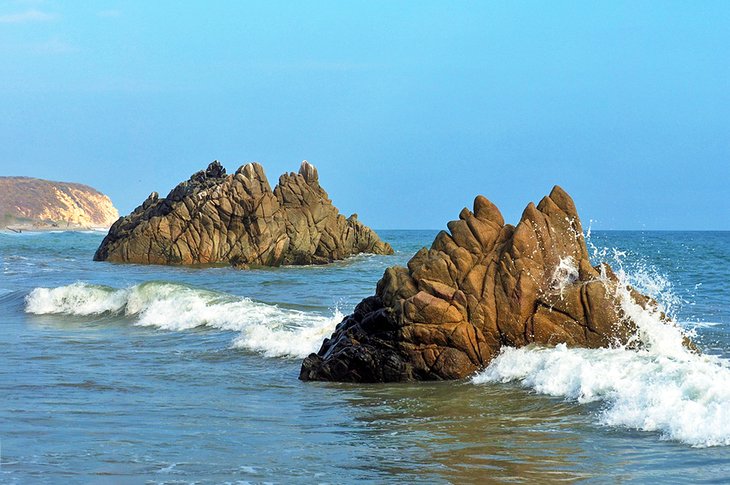 Playa La Bocana sits where the Copalita River spills out into the Pacific. The massive stretch of white-sand beach isn't necessarily tough to find, but it feels like it's another world away. A few restaurants are found close to the shore, but once you walk past their dining decks, it's like you've stepped off into rugged, wild coastline.
For miles, all you can see are craggy cliffs, rock formations, and white-capped waves that crash out along the horizon. Pelicans are a-plenty here, likely because their nests are tucked into the rocky hillsides all around. Services are limited, as mentioned, but two restaurants provide sustenance, whether it's a simple burger, seafood, or a plate of French fries. Of course, you can also bring your own amenities, and park your umbrella on the sand for the day.
Not far from the beach is the Montecito Beach Village, a collection of luxury villas tucked up on the hillside that overlook the beach below. If you're looking for a splurge near this particular beach, these villas are absolutely worth the extra pesos.
4. Bahia de Cacaluta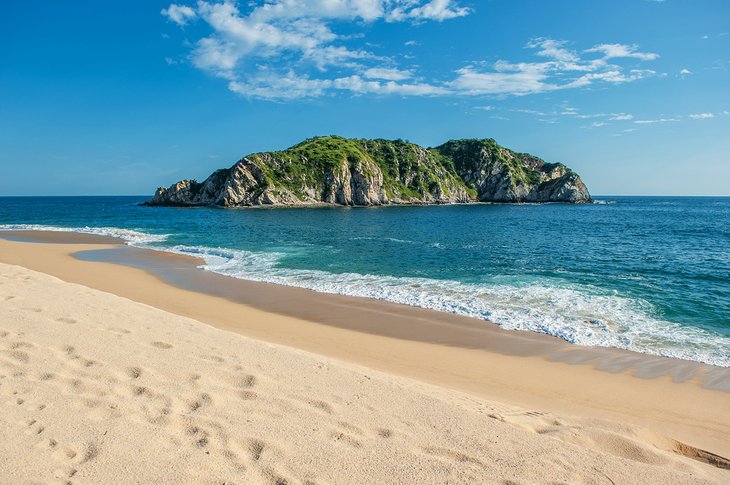 The magnificent stretch of pristine sand that is Bahia de Cacaluta is one of the more impressive of the nine bays of Huatulco. The beach is certainly a prize to be on, as it is one of the least accessible for most visitors. It may be a challenge to reach, but the prize is two of the best, purest pieces of beach real estate you'll ever see.
To reach the bay, you have two options: by boat (easiest) or on foot. It's a 20-minute hike, so it's not too challenging. Still, a boat trip is decidedly easier. What you're rewarded with is an enormous sand-filled playground that you may even have all to yourself. If you recognize the beach, perhaps it's because you've seen the iconic Mexican film, "Y Tu Mama Tambien," which was filmed here.
The bays two beaches include Cacaluta Beach, which is half a mile in length with zero development; and Arroyo Beach, which is smaller and a bit more tranquil, making it easier for swimming.
5. Playa Chahue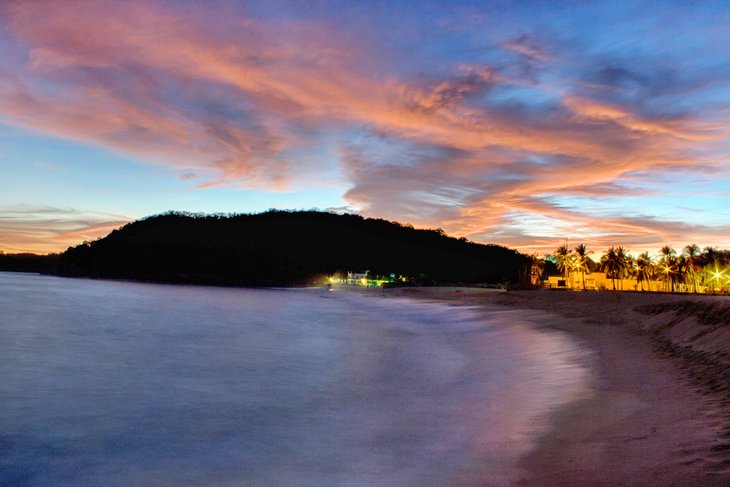 Bahia de Chahue is one of the main crossroads of Huatulco. That's because it sits between the lively village of Crucecita and the port town of Santa Cruz. The bay itself is pretty large and is lined with condos and resorts, but within the bay, you will find several beach options to explore - meaning no one beach is ever too crowded.
The main beach here is Chahue Beach, known for its fine, powdery sand and warm, shallow waters. Waves are never out of control, but an undertow can still be pretty powerful.
If not Chahue Beach, you can explore Tejon Beach, which has undulating sand dunes, turquoise water, and is great for snorkeling.
The third beach is Esperanza Beach, which is the smallest of the beaches. Here, the water is shallow, but again the current can be strong.
6. Playa Organo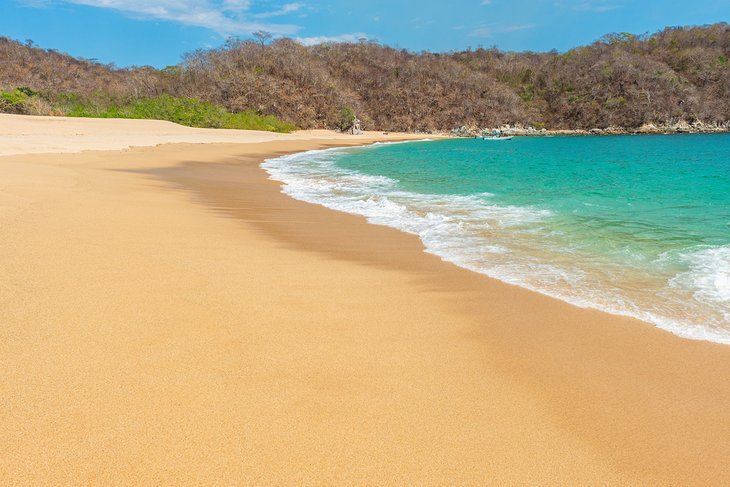 Playa Organo is another secluded, hidden gem of a shoreline near Huatulco. The small beach is marked by a stretch of fine white sand and it draws a mix of locals and tourists who are after the calm, crystal-clear waters.
The beach is easily accessible by boat, from Marina Chahue or Santa Cruz Marina. Those looking for a bit of exercise can set out on foot through the jungle, but it's best to consult with a local guide before attempting that.
In the busy seasons, you won't need to bring much to the beach, as vendors usually set up to sell food and refreshments. In the low season, the beach becomes much more desolate, so plan accordingly.
What's really neat about Playa Organo is that it is part of the national park in Huatulco. It's important to use coral reef-friendly sunscreen and to not remove anything from the park.
While you're at it, the Huatulco National Park is worth an exploration in itself. The park is nearly 30,000 acres and home to more than 9,000 species of plants and animals, including armadillos and deer, pelicans, hawks, dolphins, whales, and turtles.
7. Playa Maguey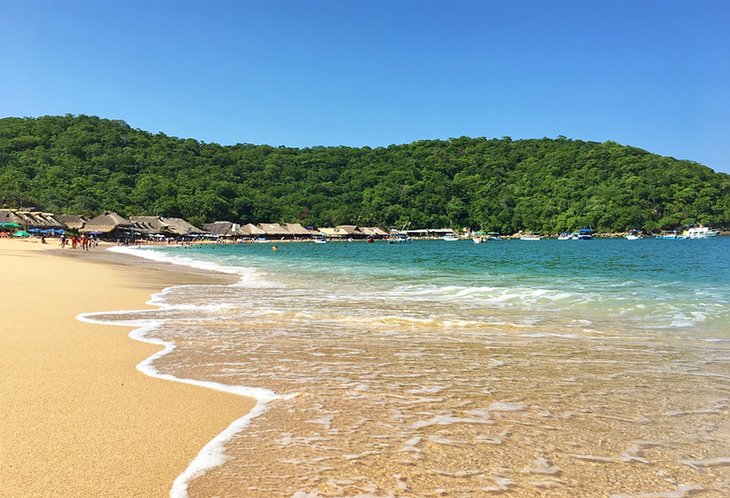 One of the most centrally located beaches in the Bahias de Huatulco is Maguey Beach. By far it is one of the most popular spots in this part of Oaxaca - and while that means it is brimming with activities, it also can mean it's brimming with people.
The large beach is typically buzzing with boat tours, as many of the ones tourists arrange disembark here. Fishermen often bring their catches to the seafood restaurants that line the shores here, too.
As for activities, Maguey Beach has plenty. You can find volleyball and soccer, as well as boat rides, banana boat rides, snorkeling, and more.
8. Playa Conejos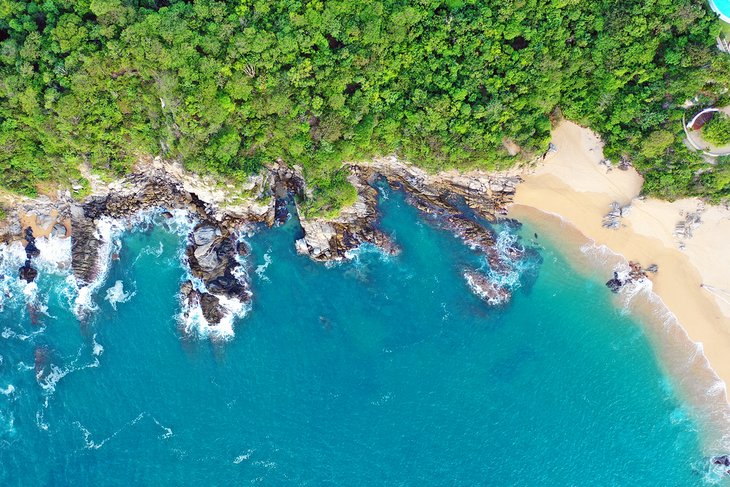 Playa Conejos is tucked within Bahía Conejos, which is one of the nine bays of Huatulco. The bay has four different beaches, and Playa Conejos is by far the most popular. It's easy to see why.
The calm, tranquil beach is perched within the hotel zone of Tangolunda, so you will often see guests from the surrounding hotels lounging right alongside you. It has stunning white sand and blue water that is relatively calm and shallow.
Surrounding the beach are some impressive rock formations, which makes the beach look even more rugged. Services on the shore are somewhat limited, as the beach is dominated by the Secrets Resort & Spa Huatulco, but you'll still be able to snorkel, dive, or swim.
9. Playa Tangolunda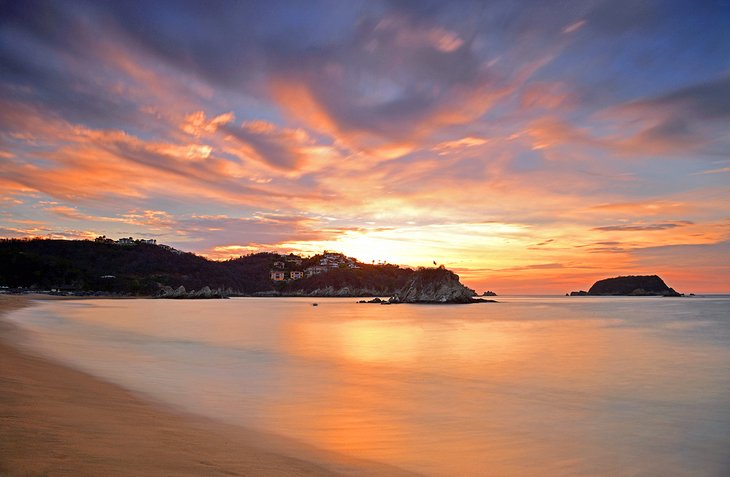 Playa Tangolunda, part of Tangolunda Bay, is one of the more developed beach areas of Huatulco, home to several of the resorts, shopping areas, and residential communities. It is one of the main bays of the destination.
As such, you'll find plenty of amenities along this beautiful stretch of golden coastline. The beach has restrooms and showers, as well as rental huts for paddleboards, sailing, and scuba diving. Restaurants are also abundant on Playa Tangolunda, as well.
Not far from the beach is the golf course, luxury hotels, and a small shopping mall. It is definitely one of the more built-up beaches in the area, but its creature comforts and prime real estate are what make it so popular.
10. Barra de la Cruz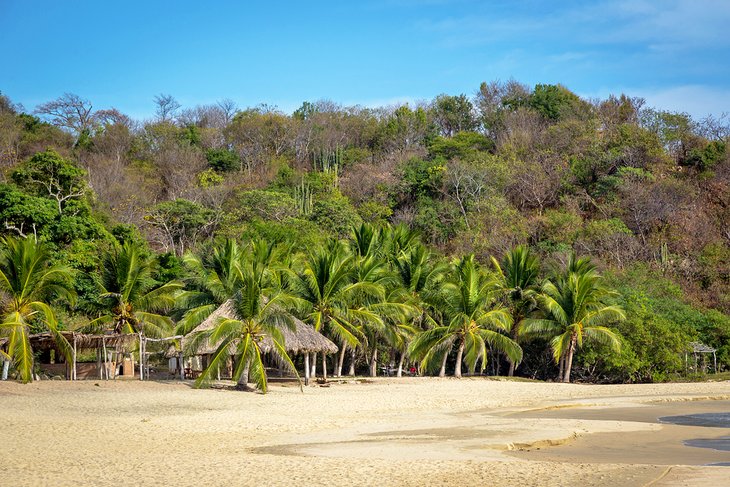 But let's talk a little more about those remote beaches that are absolutely mind-blowing. A favorite among surfers-in-the-know, Barra de La Cruz is one of the top surf secrets along the entire Oaxacan coast. This bare bones expansive stretch of undeveloped beach is perfect for all of those enviable Instagram shots.
To get to Barra de La Cruz, you'll have to travel down Highway 200, which is the spine of the Pacific Coast. Turning toward a dusty road, you'll find a desolate beach that opens up widely to the sea. Two craggy pillars mark the ends of the beach, and in between, you will discover some of the best surf conditions in all of Mexico.
A small village is behind the beach, and you won't find much there save for extremely budget beach bungalows and one or two spots to grab something to eat. The people who make the effort to find Barra are in it for the sun, the sand, and the surf. And they are rewarded handsomely.
11. Playa Santa Cruz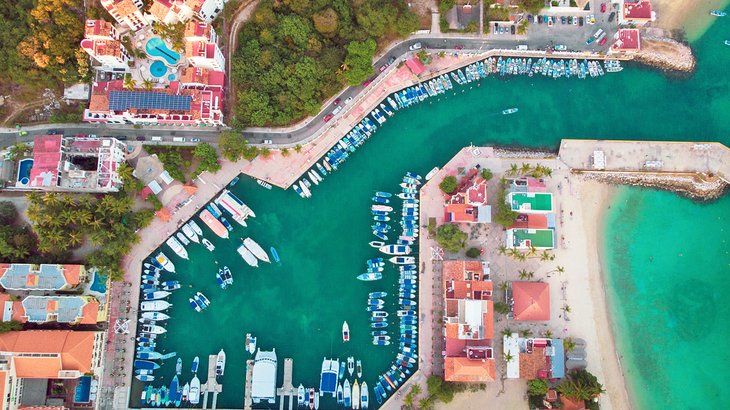 Finally, we have Bahia Santa Cruz, which is probably the most well-known bay in all of the nine bays. It is home to the popular marina and the highest concentration of tourist services. The bay is made up of several beaches (one we've already discussed: Playa La Entrega).
But here, you'll also find Playa Santa Cruz. It is one of the seven that make up the bay, and it is undoubtedly the most popular. You'll find it crowded no matter the time of year, seeing as it is where you'll find the heart of the action, from restaurants and hotels to dive shops and sports outfitters.
Still, the sand and beach itself are lovely, with turquoise-colored water and soft, white sand. The waters are quite calm, so swimmers of all ages are able to get out and make a splash. Activities on the sand range from volleyball to soccer, while water sports include snorkeling, stand up paddleboarding, sport fishing, and more.
12. Playa Tornillo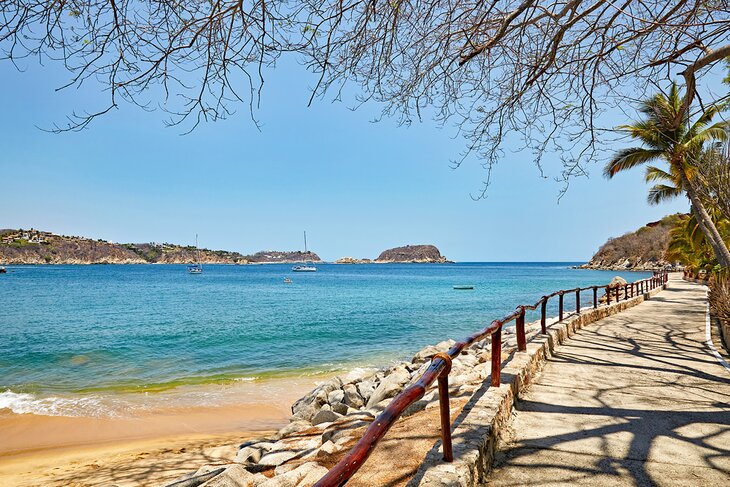 Playa Tornillo is one of the beaches that can be found within Bahia Tangolunda. Technically, the beach is part of Las Brisas Huatulco, so if you are looking for a place to stay in Huatulco, you may want to consider this resort for the beach.
Playa Tornillo is often thought to be one of the prettiest beaches in Huatulco, known for its turquoise-emerald water and calm, relaxing conditions perfect for swimming. It's a popular beach for snorkeling and kayaking, as well.
While technically all beaches in Mexico are open to the public, it's a bit of a challenge to get to this beach if you are not a guest of the resort. Other beaches that you can explore within the resort grounds are Playa El Secreto, Playa Manzanillo, and Playa Ventura.
13. Playa Arrocito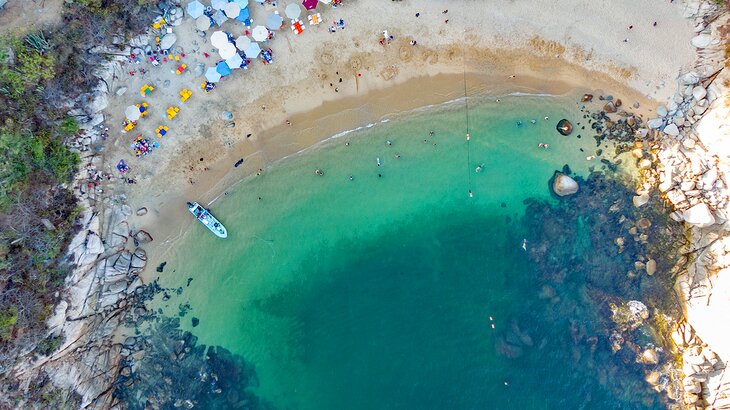 Playa Arrocito is a beautiful beach, but keep in mind that it is definitely one of Huatulco's most popular. That's because the absence of waves and the translucent water is ideal for swimming and floating. Surrounding the beach are rocky outcrops, which make it a visual stunner.
Take note, however, that a swanky residential development called Arrocito Beach Village is about 150 meters from the beach, so this beach may not be as quiet as some of the other beaches on this list.