11 Top-Rated Things to Do in Zihuatanejo
Author Meagan Drillinger has spent more than a decade exploring Mexico and visits several times per year.
Zihuatanejo has been a laid-back, sleepy hideaway for decades. Leathery surfers walk side by side with local fishermen, while snowbirds browse through small boutiques or have lunch on the sand. Rocky hills protect the teal-colored coves, backed by rows of palm trees. The clay-colored city is an eclectic paradise on Mexico's Pacific Coast, (happily) living in the shadow of its more boisterous neighbor, Ixtapa.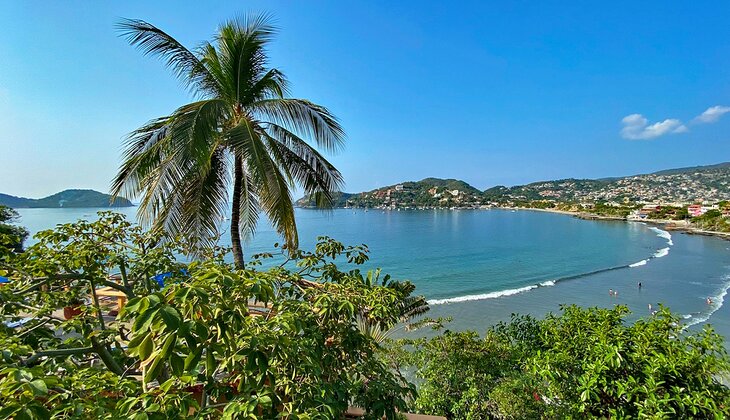 When it comes to the top things to do in Zihuatanejo, the majority of travelers are looking to the outdoors. That's because Zihuatanejo, one of the best small towns in Mexico for tourists, is absolutely beautiful. The bay is protected by craggy hillsides, and the coastline is pocketed with magical inlets and coves. The main things to do in Zihuatanejo are almost always outdoors, whether it's hopping the beautiful beaches, snorkeling with colorful fish, or catching a glimpse of a mighty whale.
While many of the mega resorts, restaurants, and activities can be found over the hill in Ixtapa, residents and visitors to Zihuatanejo appreciate the eclectic blend of local and tourist living. This isn't to say that Zihuatanejo doesn't get touristy. When a cruise ship is in town, the streets can be packed. Still, the charm and energy that Zihuatanejo exudes makes it one of the more magical coastal towns along the Pacific. It's the best of both worlds, if you will.
If you're ready to explore all the best attractions, read our list of the top things to do in Zihuatanejo.
1. Lounge on the Beaches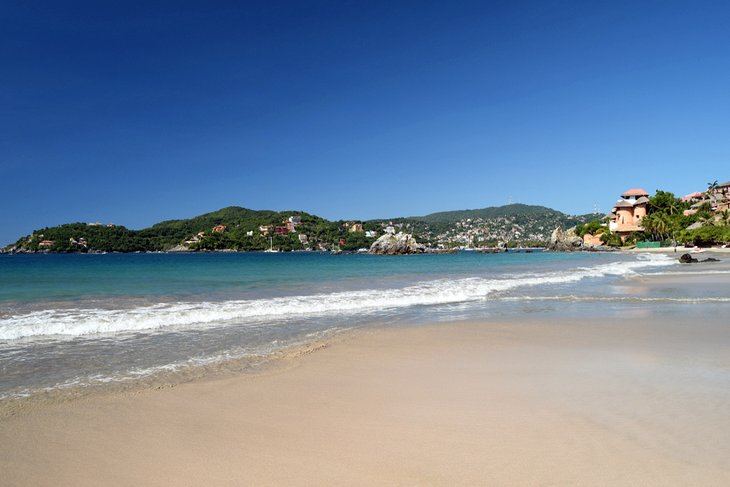 Laid-back is the term you'll most often hear when people describe Zihuatanejo. If there's any action to be found in town, it will surely be found at one of the many beautiful beaches that line the bay and surrounding coves near the sleepy fishing village.
The first one you'll see will be Playa Principal, also known as Playa Municipal. It's the main beach in town, directly in front of the malecon. It's a lovely little spot to watch the sunset or have a snack at one of the many beach restaurants, but the water isn't ideal for swimming because this is where many of the boats park.
Continue down the malecon to discover Playa Madera. This calm stretch of beach is really beautiful - especially at night when you can see the lights of Zihuatanejo twinkling all the way up the hill. You'll find people swimming on this beach without a doubt.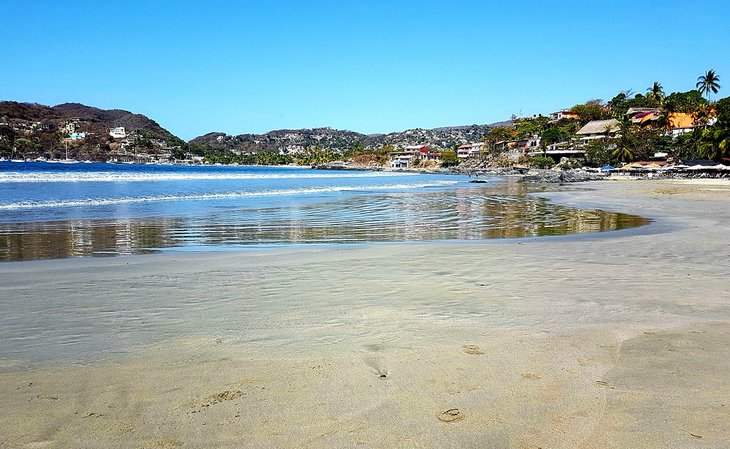 Undoubtedly the most famous beach in Zihua is Playa La Ropa - and it's easy to see why. This wide stretch of powdery sand is always humming with activity. The sand extends for about a mile and is backed by a lovely stretch of palm trees. The water is calm and warm - perfect for swimming. This is where you'll find plenty of activities, from stand up paddleboards to parasailing, and even shopping if you browse the vendors who set up stalls.
Follow a rocky path away from Playa La Ropa to discover Playa Las Gatas. It's much smaller than Playa la Ropa, but it is also much quieter, so if you're looking for a lovely beach to escape the fray, this would be it.
If you head out of town closer to the airport, you'll discover Playa Larga. Undoubtedly the most beautiful beach in the area, Playa Larga is known for being undeveloped. A few boutique hotels dot the coast, but for the most part what you're experiencing here is raw, virgin beach, and some of the most spectacular views in all of Mexico.
2. Take a Boat to Ixtapa Island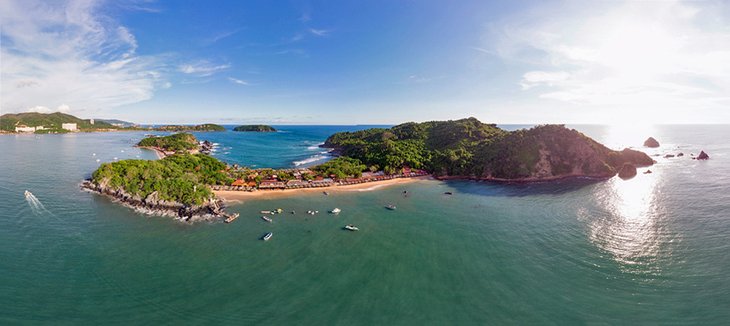 Speaking of beaches, one of the top things to do in Zihuatanejo is take a boat ride out to Ixtapa Island. Ixtapa Island is off the coast of Ixtapa, which is on the other side of the mountains from Zihuatanejo.
A quick taxi ride to Ixtapa's Playa Quieta will make it easy to reach the island. You can arrange for a sightseeing tour to the island, as well, which will include transportation to and from the pier.
The island has three beaches, all of which are close together. The calmest waters are off Varadero and Cuachalalate beaches, while Coral Beach is perfect for snorkeling because of its reef. The beaches here are beautiful and pristine, with a wreath of palm trees and plenty of open space. But in addition to sun soaking, visitors come to Ixtapa Island to explore the coral reefs, which are teeming with brightly colored fish and other marine life. After an afternoon snorkeling or diving the reefs, kick back at one of the small restaurants on the island or swing away in a hammock.
3. See the Ruins at Xihuacan
Mexico is known for its indigenous cultures, and the magnificent jewels they've left behind. When visiting Zihuatanejo, take a step back in time and visit the ruins at Xihuacan, an archaeological city about 30 minutes from Zihua.
The 3,000-year-old archaeological site is one of the newest to open to the public. What's fascinating about this particular site is that it does not belong to one culture in particular. It is believed to have been a ceremonial center used as a place of worship for different gods from different tribes. Tribes like the Cuitlatecas, Tarascans, Mixtecas, Aztecs, Zapotecas, Toltecs, and Olmecs are believed to have all worshiped here.
The site allegedly reached its peak between AD 650 and 900, when it was one of the largest ceremonial centers of agriculture and religious rites. Flooding is the reason why the city slowly became abandoned.
Xihuacan has several major structures restored, including a 45-foot-high pyramid, as well as a ball court. An on-site museum has more than 800 figurines, carved seashells, ceramics, and more.
Address: La Chole, Ixtapa, Zihuatanejo de Azueta, Mexico
4. Go Diving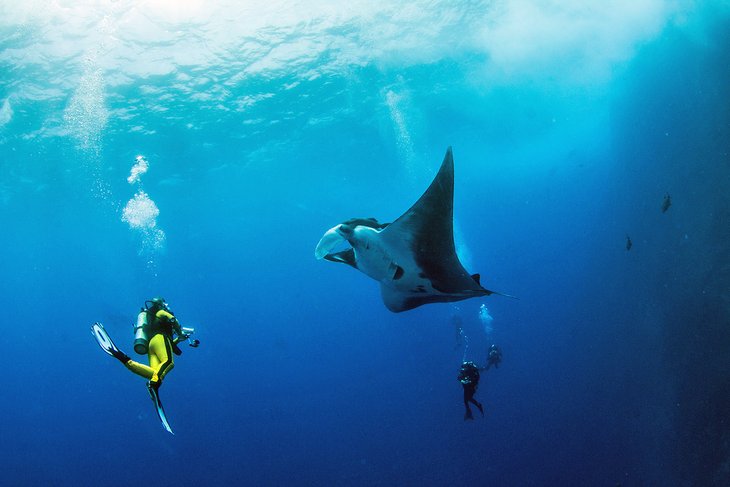 Zihuatanejo is the perfect place for beginner divers to test out their sea lungs. The tranquil current over the coral, coves, and around the cliffs make the waters very easy to navigate, especially for those who are just starting out in their diving careers.
The best time to dive these waters is from November to May when the sea is most calm. The waters surrounding Zihuatanejo stay about 82 degrees Fahrenheit year-round. Peak diving, however, is typically in the winter, when visitors will be able to see dolphins, manta rays, turtles, tropical fish, whales, seahorses, and more. That said, diving off the shore can be limited, so most dives take place off boats farther out to sea.
If you are a more experienced diver, deeper waters can be found, particularly with caves and swim-throughs. But for the most part, Zihuatanejo is the perfect place to visit for a first time dive or for those looking to gain their certifications.
5. Walk along Paseo del Pescador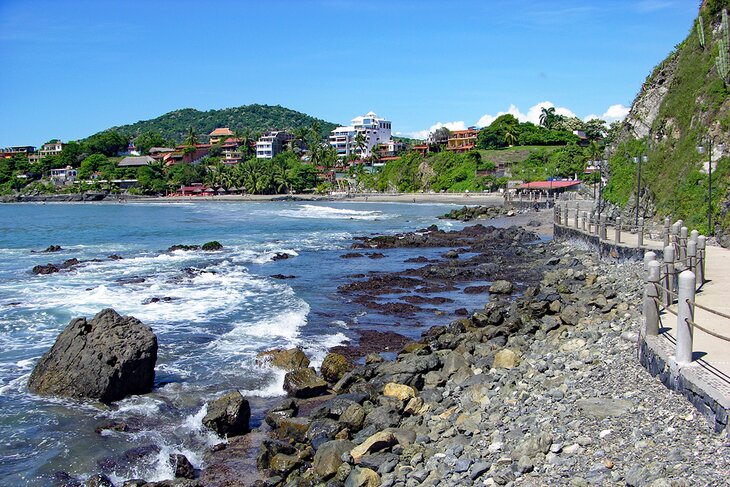 The recently expanded Paseo del Pescador (Fisherman's Walk) is a paved pathway that hugs the shoreline in downtown Zihuatanejo. The sea-splashed path is lined with shops and restaurants, and is always humming with subdued activity both from locals and visitors. At night it is particularly beautiful when lights illuminate the walking path. You'll be able to walk right up next to the sea, hear the sounds of the waves, and watch the lights fade in and out up the hillsides.
The path goes directly past the main square, which comes alive in the evenings with dancing, street food, and live music. Those meandering the path will have stellar views of Playa la Ropa, as well as the rocky hills that protect the small bay.
6. Costa Grande Archaeological Museum
Located near the Paseo del Pescador, near the Olof Palme Plaza, is an intimate museum that provides a welcome break from all that sun and sand. The Costa Grande Archaeological Museum was opened in 1947 and tells the archaeological history of this part of Mexico.
The small museum has six exhibition rooms. The first one is an introduction to archaeology in the state of Guerrero. From here, it passes to the Costa Grande Physiography room. Next it narrows into life on the Costa Grande from 800 BC to AD 100, when the coastline of what would become Guerrero was small villages and plenty of virgin, unspoiled nature. Subsequent exhibition halls cover everything from the impact of Mesoamerican cultures on the region to the creation of the towns as we know them in Guerrero today, and the colonial period when the Spanish were in control of these coastal communities.
For anyone who is interested in Mexican culture and indigenous history, this is an important stop, and a quick one that won't take up too much of the afternoon.
Address: Paseo del Pescador s/n, Centro, 40890 Zihuatanejo, Gro., Mexico
7. Go Cycling
So much of Zihuatanejo's magic comes from being outside, and if you enjoy zipping around on two wheels, you'll find plenty of places to play. Zihuatanejo has five miles of bike paths surrounded by the rocky hillsides of Guerrero.
For biking, Zihuatanejo has two main routes. One goes from Ixtapa to Zihuatanejo, and the other goes from the Ixtapa Marina through an ecological park to Playa Linda. You can combine the two for an even longer adventure. More experienced cyclists will love the ecological park, known as Parque Aztlan, as there are a couple of mountain biking routes that take travelers deeper into the rugged landscape.
8. Take a Whale Watching Tour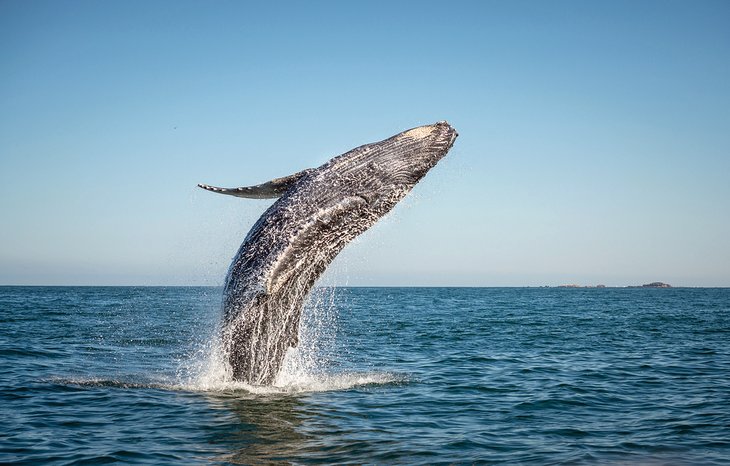 Mexico's Pacific Coast is world-renowned for its humpback whale sightings. These magnificent giants make their way down from the colder Canadian waters to give birth in the warmer waters off the coast of Mexico. Since Zihuatanejo sits on the Pacific Coast, it is directly in the migration line, which means that for several months out of the year the waters are teeming with pods of humpback whales.
When staying in Zihuatanejo, look for the Picante Cruise boats - you'll recognize these catamarans by the red chili peppers painted on the sails. Picante hosts a whole menu of different excursions, like sunset cruises and private charters, but from December through March they also have whale watching expeditions.
These eco-friendly tours go off in search of the humpback whales in the waters surrounding Zihuatanejo. A bilingual marine biologist is onboard for the duration of the trip and helps to educate passengers. If you're lucky, you may even catch a glimpse of a dolphin or two. The tour includes a jump into the sea for a refreshing dip.
9. Enjoy a Round of Golf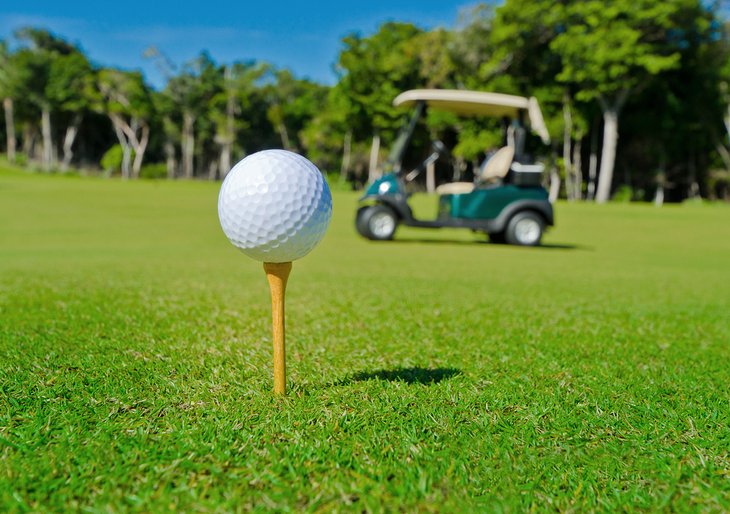 Being so close to the sister city, Ixtapa, puts visitors of Zihuatanejo at the doorstop of two beautiful golf courses. Ixtapa has two world-class, 18-hole courses, just 10 minutes away from Zihuatanejo.
Palma Real Golf Course is a Robert Trent Jones Jr.-designed course. It was opened in 1977 as part of the vision of the masterplanned community that was Ixtapa in the 1970s. The golf course sits on what was once a coconut plantation. The course is a par 72, 6,898-yard course, with pops of character from its lush lagoons and tropical vegetation, overlooking the Pacific.
The second course is the Marina Ixtapa Golf Club, designed by Robert von Hagge, and opened in 1994. Also a par 72 course, Marina Ixtapa Golf Club has 12 bridges, canals, and undulating sand dunes. The entire area spans more than 136 acres.
10. Zihuatanejo Sailfest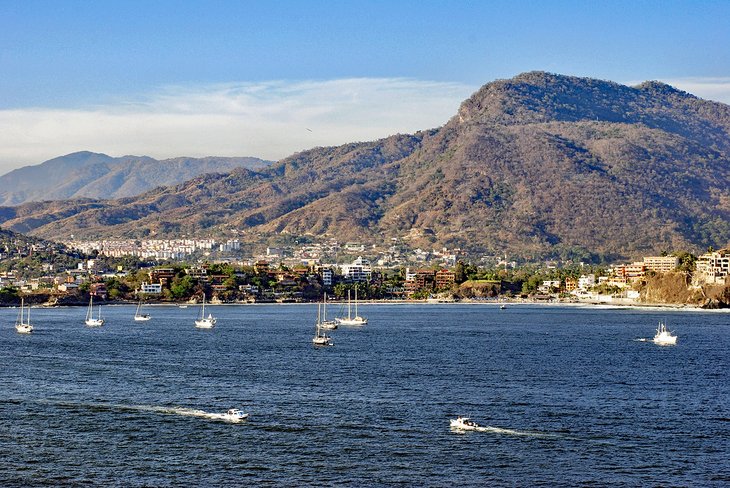 One of the more beloved traditions in Zihuatanejo is the annual Sailfest. In fact, it's one of the premiere annual sailing events in all of Mexico. The six-day event brings together passionate sailboat fans from all over the world in an event that raises funds for the education of the children of Zihuatanejo. It has been in operation for 20 years.
As part of the six days, visitors can look forward to boat parades, concerts, dances, auctions, cook-offs, street fairs, and much more. The entire event is organized by Pro Los Ninos, a non-profit charity that has worked to build classrooms, kitchens, playgrounds, and new schools, and to provide more than 30,000 school meals a year to children who would otherwise go hungry.
11. Take a Day Trip to Troncones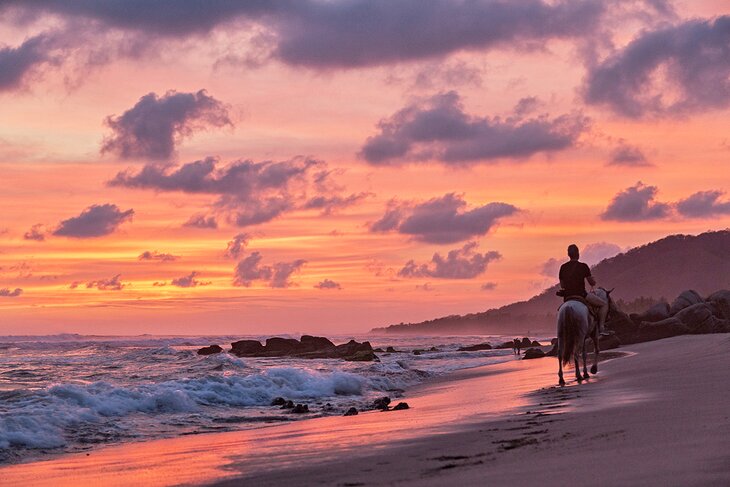 About 40 minutes from the Zihuatanejo airport is the tiny beach village of Troncones. If you thought Zihuatanejo was sleepy, Troncones takes it to an entirely new level. The relatively undeveloped beach village, with a population of about 500 people, is known for one thing: surfing. Troncones is particularly famous for its three-mile stretch of undeveloped beach, which has long been a draw for surfers to this destination.
Troncones Point is the major surfing area here, bringing wave riders from all over the world to the perfect beaches and rolling waves. But even those who aren't proficient in catching waves are still drawn to the laid-back atmosphere.
While exploring Troncones, visitors can also head to neighboring Majahua, which has a smattering of restaurants and a beautiful beach. The entire area is pretty remote and unspoiled, so don't expect a ton of entertainment other than enjoying the pristine scenery.
You probably won't need more than a day in Troncones, as development is really kept to a minimum. But if you did fall in love with the vibe here, Troncones has plenty of accommodations, from beachfront bungalows to more boutique hotels.
Troncones is a taxi-ride away from Zihuatanejo. The ride will take roughly 40 minutes and will cost less than 500 pesos.
Zihuatanejo, Mexico - Climate Chart
Average minimum and maximum temperatures for Zihuatanejo, Mexico in °C
J
F
M
A
M
J
J
A
S
O
N
D

29

20

29

21

29

22

29

23

30

24

31

25

32

24

31

24

31

24

31

23

31

22

30

21

PlanetWare.com
Average minimum and maximum temperatures for Zihuatanejo, Mexico in °F
J
F
M
A
M
J
J
A
S
O
N
D

85

68

84

70

84

71

85

73

86

75

88

77

89

76

88

76

88

76

88

74

87

72

86

70

PlanetWare.com