12 Top-Rated Tourist Attractions in Morelia
Morelia, the magnificent capital of the state of Michoacán, lies on the banks of the Rio Grande de Morelia between Mexico City and Guadalajara, Mexico's two largest cities. Settled by the Spanish after their conquest of the native Tarascans in 1541, Morelia has managed to retain the character of a distinguished colonial town.
Whether you choose to stay overnight or for an extended getaway, the city will delight you, thanks to such highlights as its beautiful main square and the Plaza de los Mártires, with its fine arcades and terraces. Another architectural gem is the Baroque Palacio de Gobierno, with its enormous murals by native artist Alfredo Zalce depicting the history of independence and Mexico's revolution.
Now a UNESCO World Heritage Site, Morelia's historic city center and fine colonial buildings are well worth exploring. Learn more with our list of the top things to do in Morelia.
1. Morelia Cathedral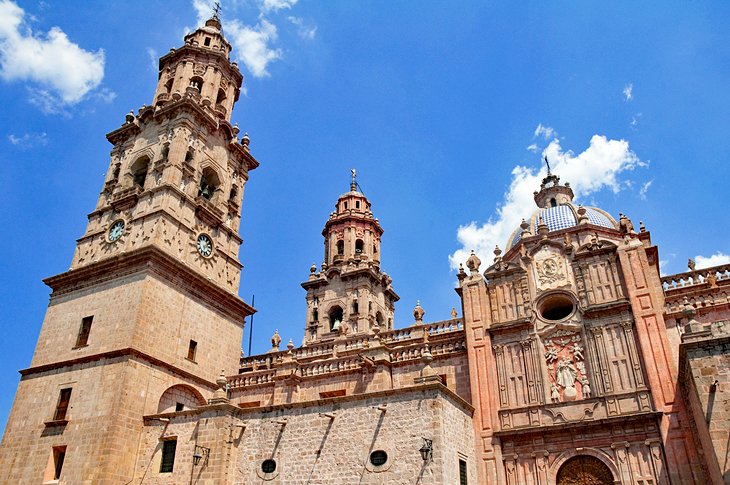 Dominating the city skyline, magnificent Morelia Cathedral (Catedral de Morelia) is a must-see when visiting this fine old colonial city. Set overlooking the city's beautiful main square, this huge structure is notable not just for its size but also for its unique pinkish-brown color, the result of being built of local trachyte stone.
Although construction began in 1640, it took more than 100 years before the cathedral was completed in its now largely Baroque style with a striking azulejo-decorated dome.
Interior highlights include its Neoclassical retablos; a silver font; a crucifix by Manuel Tolsá; and a number of paintings attributed to leading artists of the 18th century, including Juan Rodríguez Juárez, José Maria de Ibarra, and Miguel Cabrera. Also of interest is an Indian figure of Christ wearing a golden crown donated by Spanish King Philip II, and an imposing organ built in Germany in 1903 that is featured during the city's international organ and music festivals.
The cathedral also serves as the backdrop for a spectacular light and firework show that's held regularly.
Address: Av Francisco I. Madero Pte. S/N, Centro, 58000 Morelia, MICH
2. The Government Palace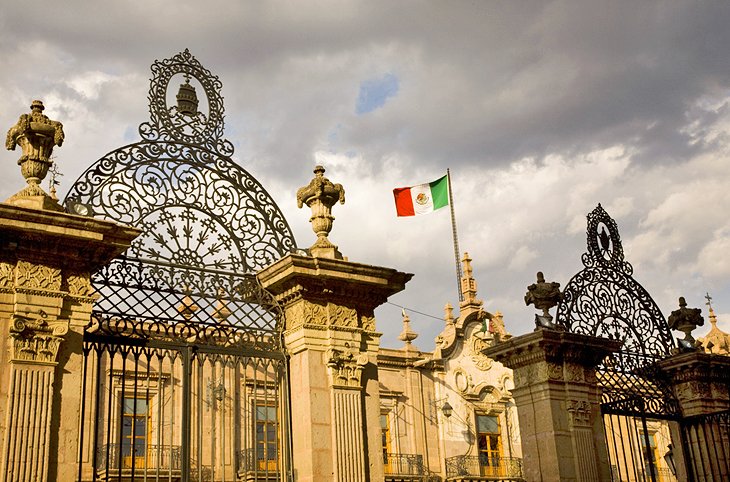 Directly opposite Morelia Cathedral, on the other side of the Avenida Madero Oriente, stands the large Baroque Government Palace (Palacio de Gobierno). Constructed between 1760 and 1770 as a seminary, the two-story building is currently home of the state legislature and boasts one of the finest façades in the city, along with three large courtyards.
Of particular interest are the building's fine murals painted in the 1960s by Alfredo Zalce, one of Mexico's most famous native artists. These enormous scenes depict many pivotal moments in the history of both the state and the country, including the history of its independence from Spain and later reforms, as well as the Mexican revolution.
Address: Avenida Madero Poniente, #63, Morelia
3. Santuario de Guadalupe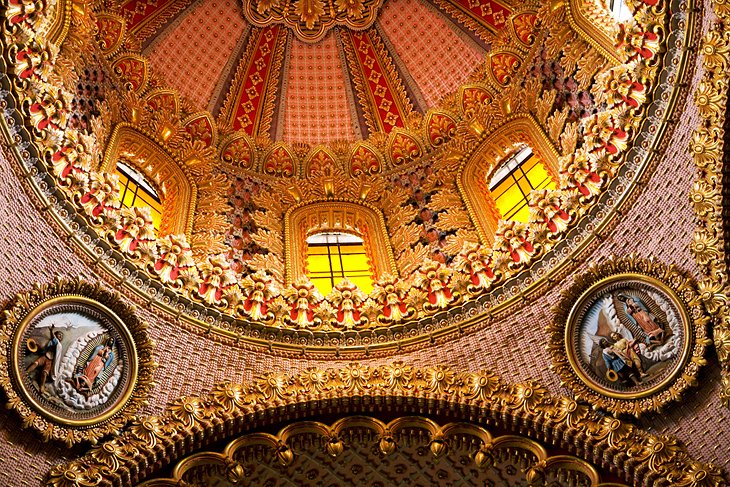 Don't let the fact that its exterior looks a little plain prevent you from visiting the Sanctuary of Our Lady of Guadalupe, known locally as Santuario de Nuestra Señora de Guadalupe. After walking the long cobblestone path leading to this 18th-century church, pop your head inside, and you'll be rewarded with a glimpse of one of the most spectacular church interiors in Mexico. Widely regarded as a national treasure, the interior was sumptuously decorated in the brightest of colors by European and native craftsmen, including countless fine plaster rosettes rising up the walls to the gold leaf covered ceiling.
Once you've had your fill of this remarkable building, visit the nearby Church of St. Francis, built around 1540 and the city's oldest sacral building. Of note are the entrance façade, built in the Renaissance style with Plateresque elements, and the bell-tower with its small dome covered with azulejos.
Address: Vasco de Quiroga, Morelia, MICH
4. Clavijero Palace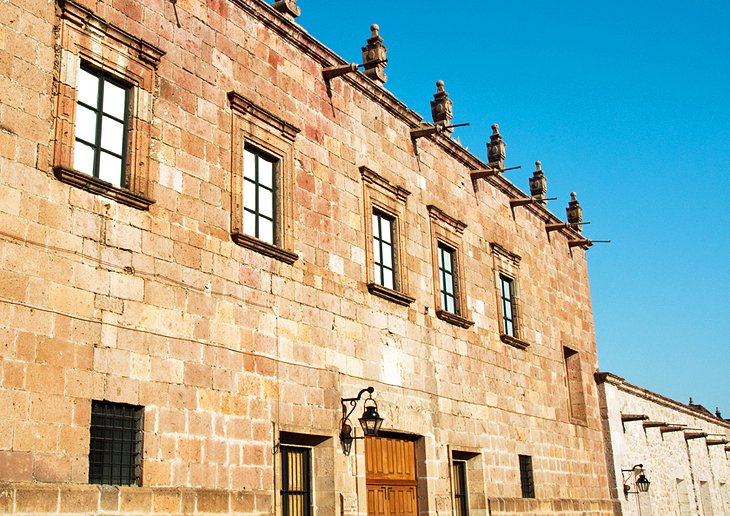 Opposite Colegio de San Nicolás, part of the city's old university, stands the massive Clavijero Palace and its large courtyard. Named after the Jesuit teacher Francisco Javier de Clavijero, part of this immense complex is the Iglesia de la Compañía, a Jesuit church built in 1681 that now houses the city's Public Library (Biblioteca Pública).
Also of interest - especially for those with a sweet tooth - is the Mercado de Dulces, also known as the Sweet Market, famous for its many sugary delights including candied coconut and sweetened fruits and vegetables, as well as traditional local handicrafts.
5. The Church of Santa Rosa de Lima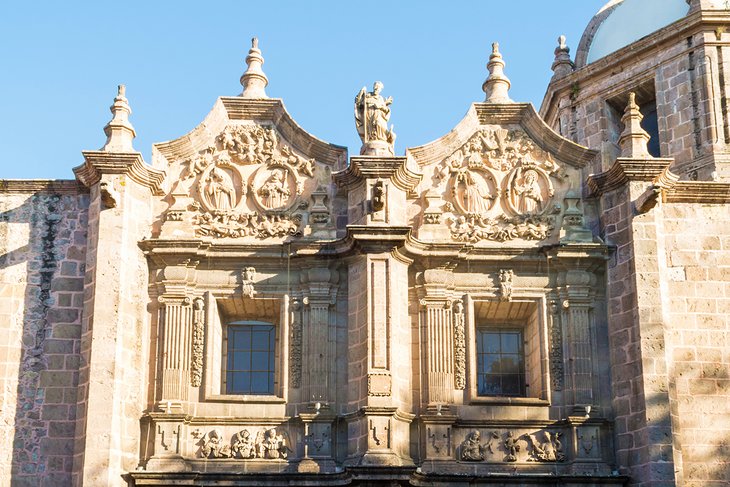 Another of Morelia's religious sites worthy of a visit is the Church of Santa Rosa de Lima (Templo de Santa Rosa de Lima). Tucked away in an attractive little square called Rosas Garden not far from the city center - a pleasant place to visit for its quaint fountain and cafés - this attractive church was constructed in the late 16th century and is notable for its exquisite double portal showing Renaissance influences.
Also of interest is the upper façade and the gilded and painted retablos, dominated by the Baroque style in its Churrigueresque form. A conservatoire, the oldest college of music in America, adjoins the church.
Address: Santiago Tapia, #334, Morelia
6. The Morelia Aqueduct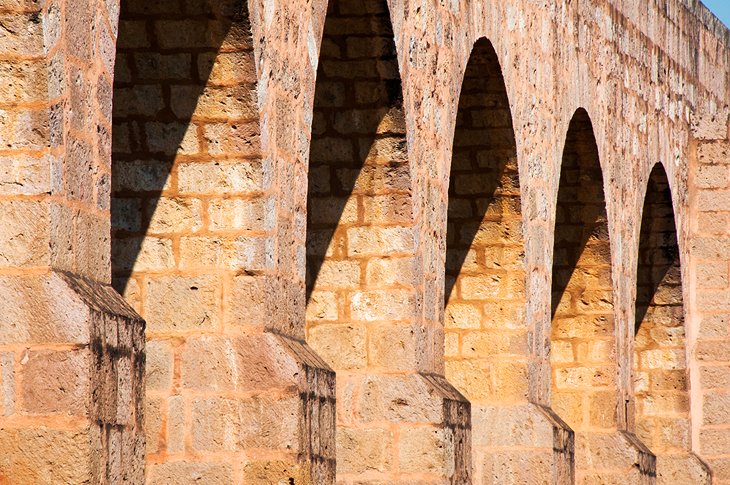 The Morelia Aqueduct (El Acueducto) is one of the city's most important landmarks, and one of the best-preserved examples of its type in the world. Located in the eastern part of the old city center, this remarkable feat of engineering was built between 1785 and 1789 and measures 1,600 meters in length. It is supported by 253 arches, some as high as 10 meters.
Distinguished by its unique pink hue - the result of using locally quarried rock - the structure was commissioned to carry drinking water to the city after a two-year drought, as well as to provide employment for the region's Indigenous population. Some of the best views of the aqueduct are from the cobbled trail that runs alongside a lengthy portion of it, a particularly pleasant experience at night when it's lit up.
7. The House of Culture and del Carmen Convent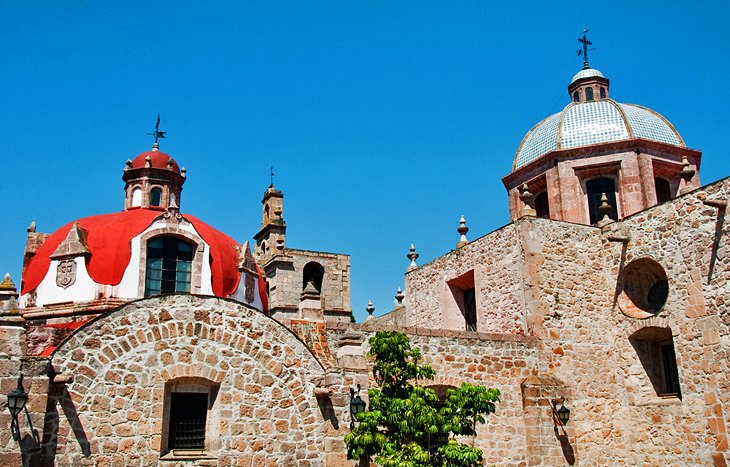 Morelia's House of Culture (Casa de la Cultura), near the early 17th-century del Carmen Church, is a must-visit for those with an interest in the history of the Catholic faith in Mexico. The museum itself is housed in the large former Carmelite convent adjoining the church, a building begun in the late 16th century and which took almost 300 years to complete.
Much of the complex has been fully restored, and in addition to the House of Culture, with its many archaeological objects, the beautiful exhibits in the Museum of the Mask (Museo de la Máscara), and statues of Christ from across Mexico, the facility offers workshops along with a theater and café.
Address: Avenida Morelos Norte 485, Morelia
8. Morelia's Historic Heart: Plaza de Armas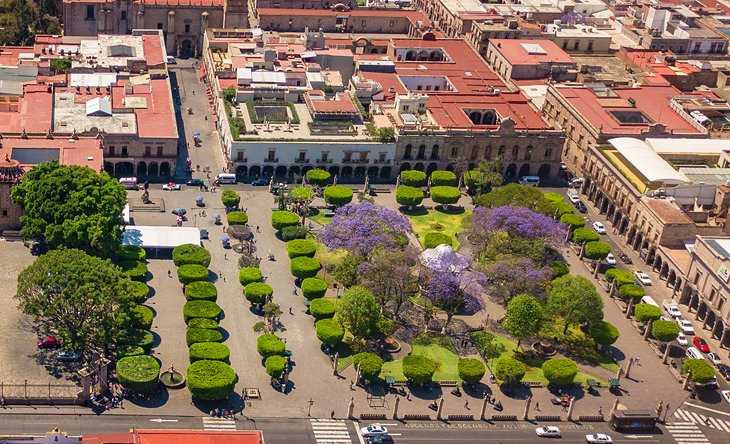 Morelia is unique in Mexico for having seen so little change to the layout and architectural makeup of its historic city center since its establishment in 1541. Of the 200 historic buildings protected under its UNESCO World Heritage Site status in the downtown core, the majority are to be found in and around Plaza de Armas, the city's largest square.
Designed in the 16th-century and remodeled far fewer times than it has been renamed - it was for a spell known as the Plaza of the Martyrs ( Plaza de los Mártires) in honor of executions performed here during the Mexican War of Independence - it's here that you'll find the old Town Hall along with numerous cafés and restaurants, many with fine views over the park and towards the cathedral.
9. The City's Hero: Jose María Morelos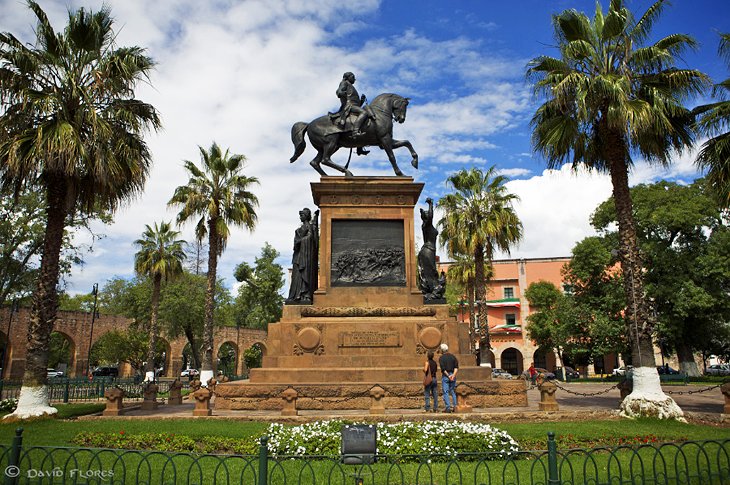 Two buildings in Morelia's old town are now dedicated to the memory of the hero of independence and the city's namesake, Jose María Morelos. The first of these impressive monuments to one of Mexico's greatest heroes is Casa Natal de Morelos, a large rectangular building that looks as much like a fortress as it does the home where Morelos was born. On the corner of Corregidora y García Obeso, this museum displays letters and other memorabilia related to his life and deeds.
The other tourist attraction to visit is Museo Morelos, in his later home at Av Morelos 323, with its displays of Morelos' weapons, uniform, priest's robes, and documents, as well as an adjoining library and auditorium. Also of interest is the wonderful statue of Morelos mounted on a steed and located in (where else) Plaza Morelos.
10. Michoacán Regional Museum
Housed in a lovely mid-18th-century Baroque building that once belonged to Emperor Maximilian I, the Michoacán Regional Museum (Museo Regional de Michoacán) is one of the city's must-see attractions. Founded in 1886, its large collection includes many important Pre-Columbian artifacts, as well as fine paintings, weapons, and furniture from the Spanish colonial period.
Also of interest are the large murals in the building's stairwells, painted by local native artists Alfredo Zalce, Grace Greenwood, and Federico Cantú. Of particular note is Traslado de las Monjas, believed to be the finest painting dating from the city's colonial period.
Another collection worth seeing is housed in the State Museum (Museo del Estado) with displays relating to the state's history, archeology, and ethnology, as well as collections of Indian costumes, precious stones, and minerals.
11. Benito Juárez Zoo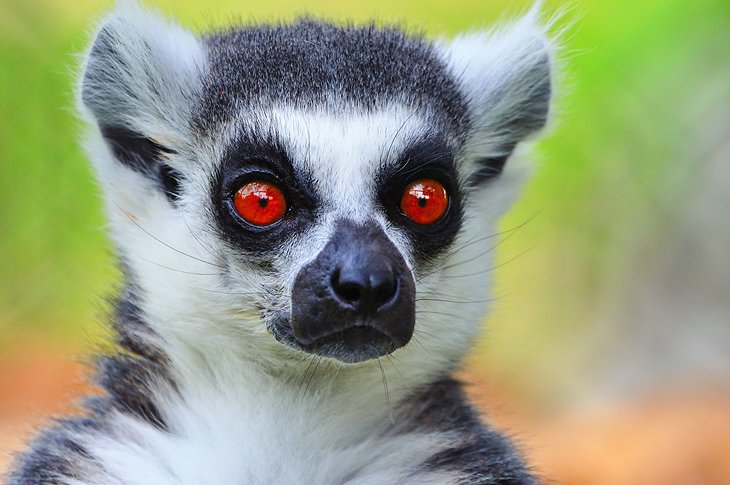 A fun Morelia attraction to visit for those traveling with kids is the Benito Juárez Zoo (Zoológico Benito Juárez). Established in 1970 and named after popular Mexican President Benito Juárez, the grounds were in fact planted some 100 years earlier and make for an attractive backdrop. In addition to its collection of larger animals - including tigers, bears, monkeys, and zebras - the zoo boasts over 530 different species, making it one of the largest such attractions in Mexico.
Also fun for kids is the petting zoo, and exploring the playgrounds and park-like setting, which also includes a good-sized lake offering boat rentals. The zoo also operates a well-stocked aquarium.
Address: Calz. Juárez S/N, Félix Ireta, 58070 Morelia
12. Day Trip to Patzcuaro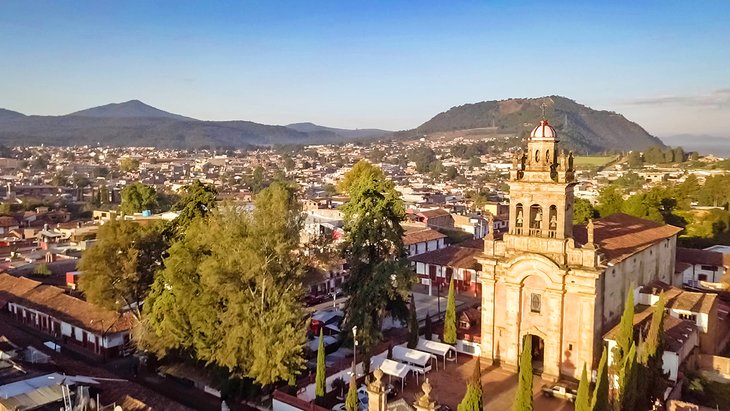 If you thought Morelia was a time warp, just drive an hour southwest to the Magic Town of Patzcuaro, and you'll really feel what it's like to turn back the clock. Patzcuaro is much older than Morelia - it was founded in the 14th century as part of the Tarascan empire. Today the red-tile roofs, white-washed buildings, and winding cobblestone streets help tell the story of its Indigenous past.
Start at the gorgeously manicured Plaza Vasco de Quiroga, and meander the quiet streets. Patzcuaro is known for its artisans who are masters in wood carving and pottery.
If you're able to arrange a visit around Mexico's Day of the Dead (end of October to early November), brace yourself for one of the most vibrant celebrations in the country. Just be sure to pack appropriately - Patzcuaro has a higher altitude, which means that winter can be chilly.
The town is also not far from the Lago de Patzcuaro, which is just three kilometers away. A series of small villages known for their handmade crafts dot the shoreline, and are also worth an exploration.
Morelia, Mexico - Climate Chart
Average minimum and maximum temperatures for Morelia, Mexico in °C
J
F
M
A
M
J
J
A
S
O
N
D

23

7

24

7

27

10

28

12

29

14

27

14

24

14

24

14

24

13

24

11

24

8

22

7

PlanetWare.com
Average monthly precipitation totals for Morelia, Mexico in mm.

18

10

10

10

43

137

175

163

119

53

15

13
More Related Articles on PlanetWare.com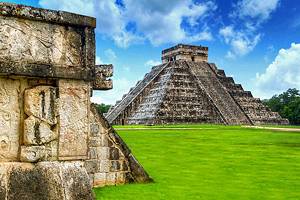 An Ancient Past: Mexico's ancient past can be explored in places like Chichén Itzá near Cancún, an important archaeological site that was inhabited by the Mayans for over 700 years. And Cancún also serves as an excellent base to explore other historic sites, including Tulum, a coastal fort built by the Mayans.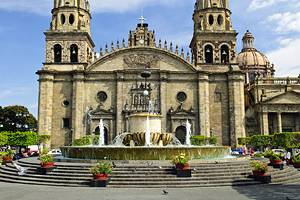 Mexico's Cities: Mexico City is big and chock-full of fun things to do, with attractions such as Constitution Square (Zócalo) and the National Museum of Anthropology being reasons enough to visit. Mexico's second largest city, Guadalajara is not without its own fair share of top-rated attractions, including its lovely cathedral and government palace. Also interesting is Monterrey, popular for its modern feel, seen in places like the Museum of Contemporary Art and the lovely Santa Lucia Riverwalk.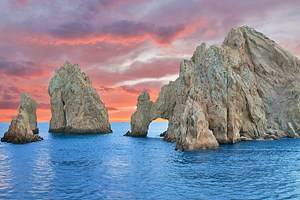 Mexico Travel Ideas: Mexico is famous for its magnificent beaches. Top-rated beach vacations in Mexico include beautiful Cozumel on the Mayan Riviera, popular for its lush vegetation and crystal-clear water. Beach vacations can also be enjoyed in Cabo San Lucas, popular for its beaches and the amazing sunsets over Land's End. For something a little different, check out the old colonial city of Guanajuato, famous for its amazing underground road network.