12 Top-Rated Day Trips from Mexico City
We may earn a commission from affiliate links ()
Difficult though it may be to pull yourself away from the many fine historical sites of Mexico City, the area around this bustling capital contains many wonderful attractions worthy of exploration. While most of the best places to visit near Mexico City can be seen in a day, others are far enough away to require spending at least one or two nights there.
Regardless of the distance, most of these destinations are accessible via public transport or car. Guided tours of particular attractions of interest can also be arranged, either individually or as part of a package (customized tours are becoming increasingly popular), so you can enjoy some of the most beautiful countryside in Mexico, along with charming colonial towns and cities, Aztec ruins, cave systems, and some of North America's oldest historical sites easily and safely.
Discover all the best things to do near the city with our list of the top-rated day trips from Mexico City.
Note: Some businesses may be temporarily closed due to recent global health and safety issues.
1. Touring Teotihuacán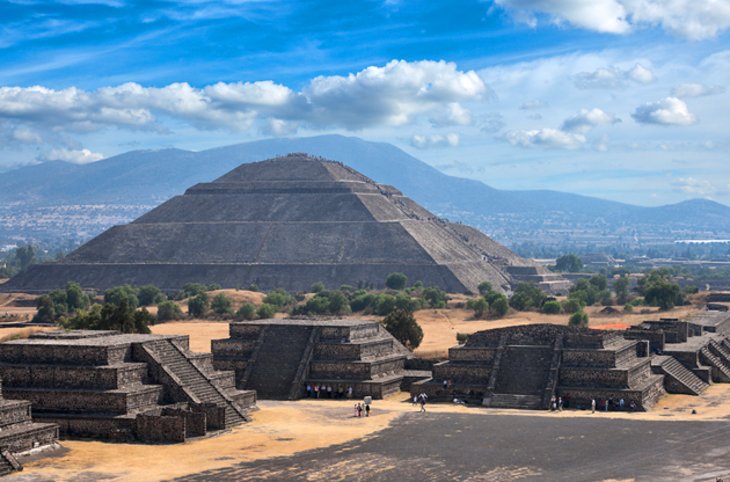 The largest Pre-Columbian site so far excavated in Mesoamerica, Teotihuacán (Náhuatl for "the place where man becomes God") lies 50 kilometers north of Mexico City and makes for an excellent day trip.
On the edge of the high-lying valley of Anáhuac and dating from around AD 600, this once-influential political, religious, and cultural center — now a UNESCO World Heritage Site — was reduced to ruins long before the arrival of the Spanish. There's much to see, from the museum with its displays and large model of the site to the four-kilometer-long Street of the Dead (Calle de los Muertos).
Other highlights include the Moon Pyramid; the Citadel (Ciudadela); and the Temple of Quetzalcóatl, a large pyramid distinguished by its 366 sculptures, a rarity in a city in which very few stone sculptures have been found.
Also of interest is a rather chilling burial chamber with the skeletons of 18 priests murdered during a ritual sacrifice around AD 150.
For those wanting to get a jump on the crowds, consider one of the Early Morning Teotihuacán Pyramids tour with a Private Archaeologist. Highlights include unique insights into the latest discoveries and a chance to climb the Sun and Moon Pyramids before the heat (be sure to wear a hat and comfortable footwear).
2. The Aztec Pyramid of Tenayuca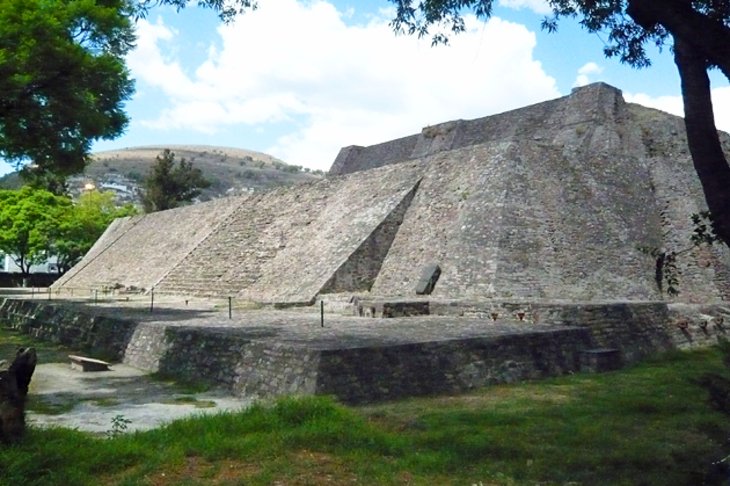 Just 12 kilometers north of Mexico City, and an easy day trip thanks to its proximity to the capital and its public transit networks, stands one of the country's most impressive pyramids, Tenayuca.
Dedicated to the sun cult, the core of this 13th-century building measures 31 by 12 meters across and eight meters high, while successive "casings" (the structure was re-clad every 52 years) saw the final structure measuring 66 by 62 meters across and 19 meters high.
The pyramid bears many similarities to Mexico City's Templo Mayor and was probably used for stargazing as it was aligned with heavenly bodies, a fact indicated by the existence of posts in the pyramid walls at the exact spot where the sun goes down on the vernal and autumnal equinoxes.
Highlights include the Serpent Wall (Coatepantli), which covers three sides of the building and comprises 138 serpent sculptures, and a vault decorated with skulls and skeletons symbolizing the setting of the sun.
Also worth a visit, and just three kilometers away, stands the 10-meter-high temple pyramid of Santa Cecilia Acatitlán.
3. Tula and the Tollán Ruins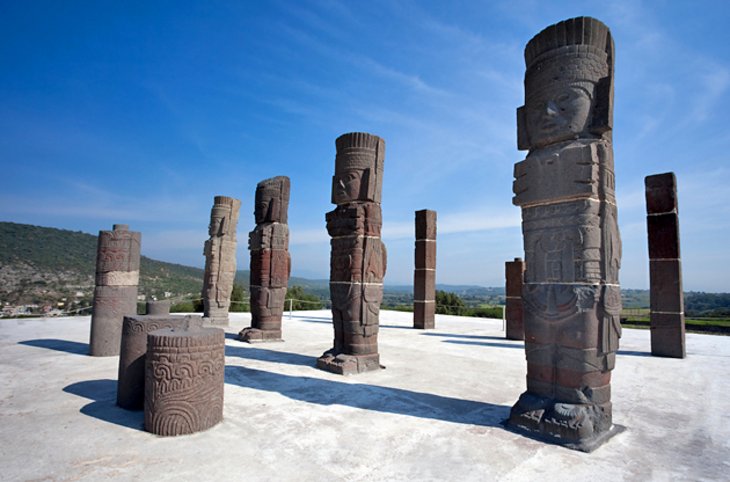 Two hours from Mexico City by road is the city of Tula, home to the remains of Tollán, the Toltec capital, and the perfect excuse for an excellent road trip.
Believed to have been influenced by the Maya civilization more than 1,200 kilometers away in Yucatán, this splendid ancient site was first inhabited around the early 7th century and in later centuries by the militaristic Toltecs, who adopted elements of the artistic skills of the Mayas. They attributed special significance to eagles and jaguars and are also believed to have instituted mass human sacrifices to appease the gods.
Excavations have revealed the city once covered 12 square kilometers and supported a population of 60,000 people. Highlights include a series of intricately carved columns, as well as colossal statues known as the Atlantes, now assembled on the platform of the temple pyramid and used to support the roof of the temple.
Also of interest, and providing a sense of the site's scale, is the main square with its five-story-high stepped pyramid on which the Temple of the Morning Star once stood, and the Burnt-down Palace (Palacio Quemado), formerly composed of several large rooms, columned halls, and courtyards and notable for its two Chac-mool sculptures and a wall with painted reliefs depicting a procession of richly adorned noblemen.
4. Taxco de Alarcon and the Santa Prisca Church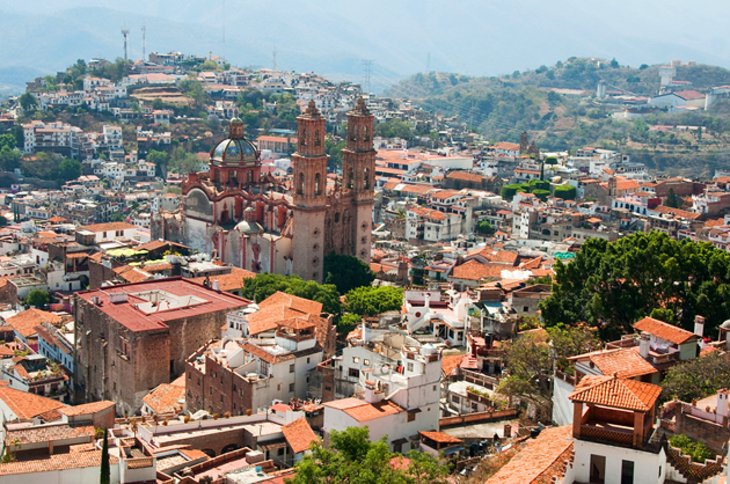 Set in a spectacular location on the side of a series of hilltops 170 kilometers south of Mexico City, Taxco is a popular tourist destination due to its colonial low tiled houses, tiny squares, quaint alleyways, and numerous secluded corners.
Highlights include visiting the beautiful Santa Prisca Church (San Sebastián y Santa Prisca), a picturesque place of worship in Plaza de la Borda, one of the town's smaller squares. Completed in 1758, this masterpiece of Churrigueresque architecture includes a main entrance flanked by a pair of Corinthian columns enclosing a row of sculptures and the Pope's triple crown. The building's elaborate ornamentation includes statues, weapons, foliage, shells, ribbons, and cherubim and is topped by a dome covered with blue and yellow tiles.
The interior is equally delightful with its superbly carved, painted, and gilded scenes depicting figures of apostles, angels, and saints in the middle of richly fashioned motives of flowers and birds.
5. Grutas de Cacahuamilpa National Park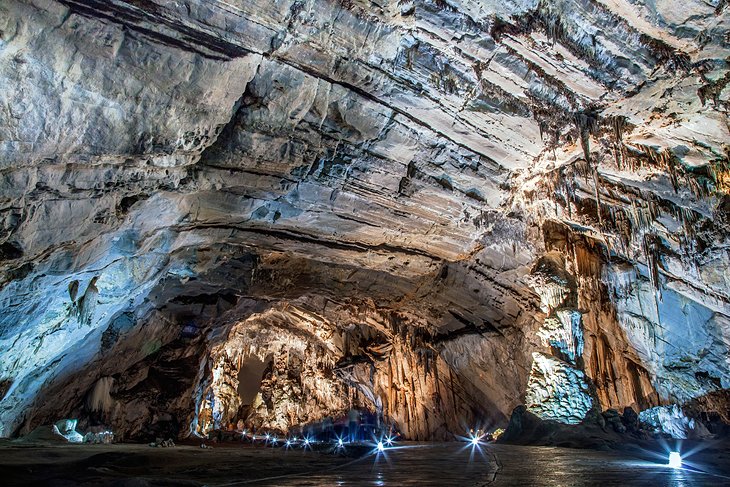 Although located 160 kilometers to the south of Mexico City along an extremely windy route, a sightseeing trip to Grutas de Cacahuamilpa National Park — about 70 kilometers drive from the picturesque town of Cuernavaca — is well worth the effort.
The big attraction in this lovely park is the Grutas de Cacahuamilpa Caverns, one of the world's largest cave systems, along with a smaller network known as the Grutas of Carlos Pacheco. You'll be rewarded with some of the most spectacular subterranean landscapes anywhere, including long tunnels carved out by underground rivers, as well as a variety of fascinating dripstone formations extending through 16 chambers (one of the biggest is 80 meters wide and 77 meters high).
Since their discovery in 1835, numerous tunnels have been driven into the caves to a depth of more than 16 kilometers without even reaching the limits of the cave system. A variety of guided tours are available, including opportunities for rock climbing and rappelling.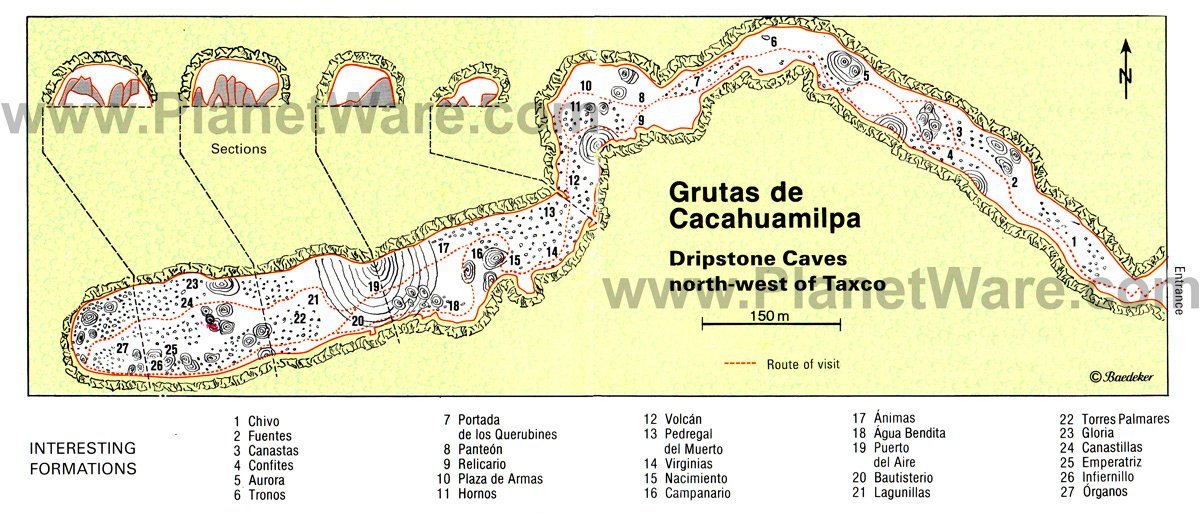 6. The Mexican Highlands: Popocatépetl and Iztaccíhuatl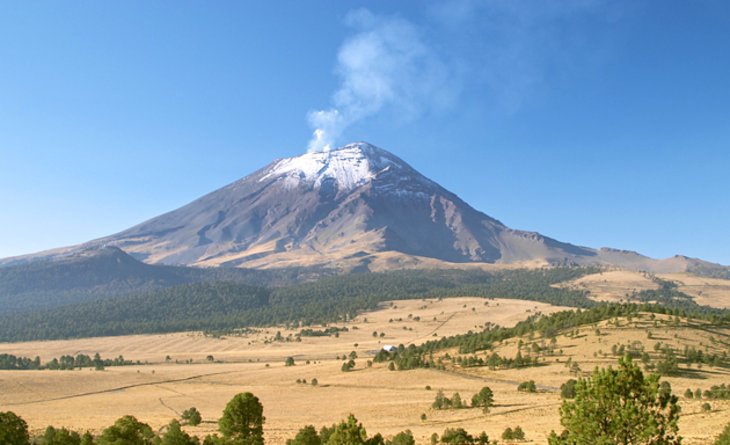 Some of the most interesting scenery within an easy drive of Mexico City can be found in the volcanic belt that crosses Mexico from the Pacific to the Atlantic, forming the southern edge of the extensive Mexican Highlands.
In the early and middle tertiary period, enormous lava flows poured over the land, and during the second phase of eruptions, which began in Pliozän and continue to this day, the enormous mountains of Popocatépetl (5,452 meters) and Iztaccíhuatl (5,286 meters) came into being. These two majestic snow-covered peaks of the Sierra Nevada form the mountain ridge separating the high valley of Mexico and the plateau of Puebla, and since 1994, Popacatépetl has frequently spewed forth fragments of rock, ash, and smoke.
In addition to these spectacular mountains are a variety of interesting manmade structures, including a number of 16th-century monasteries designated as UNESCO World Heritage Sites.
While an ascent of the volcanoes doesn't require great climbing ability, it's best to secure the services of a trained guide with the skills and equipment to ensure your trip is a safe one. A great option is to book an Iztaccíhuatl volcano hiking tour departing Mexico City. Highlights of these full-on 12-hour expeditions designed for outdoor enthusiasts include a three-hour hike to a point just below the 5,181-meter-high summit of the volcano, with plenty of chances to take in the amazing views of the surrounding area.
Also of interest (though part of a separate or alternative day trip is Popocatépetl-Iztaccíhuatl National Park, home to the Paso de Cortés (Cortés Pass), the route Hernán Cortés and his conquistadors took on November 3rd, 1519, as they marched from the coast of the Gulf of Mexico to Tenochtitlán.
7. Touring the Cities of Puebla and Cholula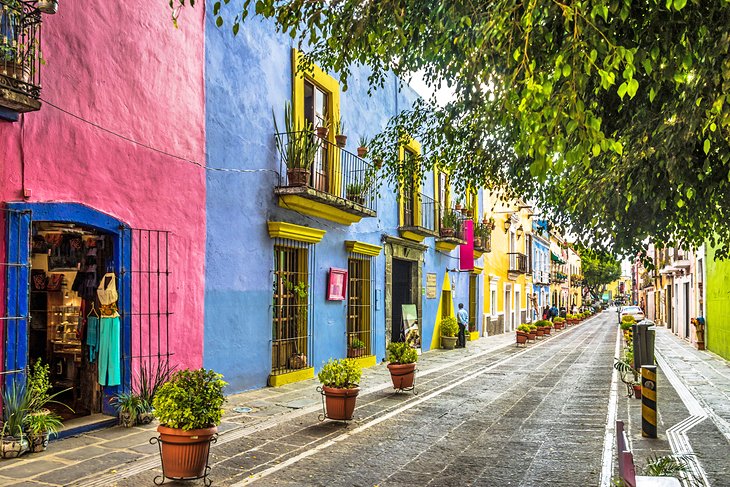 A superb day trip option for those wanting to enjoy a smaller-city experience from Mexico City involves a scenic drive past famous Popocatepetl and Iztaccihuatl volcanoes to Puebla and Cholula. While famous for its numerous beautiful old churches, the must-visit place of worship in Cholula is the Santa María de Tonantzintla, a unique Baroque-style edifice whose design was heavily influenced by the local indigenous populations.
Highlights include a look at the richly decorated interior (gold seems to be everywhere!), an indicator of the wealth of the congregation of this historic building. From here, it's an easy trip to Puebla. Referred to by locals as the "City of Angels," Puebla is a delight to explore, whether for shopping (it has a busy crafts market) or for grabbing a delicious traditional meal from a street vendor or restaurant.
The historic downtown core is also worth exploring, with notable features being the Plaza de Armas, the cathedral, and the Church of Santo Domingo. A great way to experience these two cities is on the Puebla and Cholula Full-Day Tour from Mexico City, which includes a guided tour of these top attractions, a walking tour of Puebla's historical district, and samples of Mexican cuisine.
8. The Convent at Tepotzotlán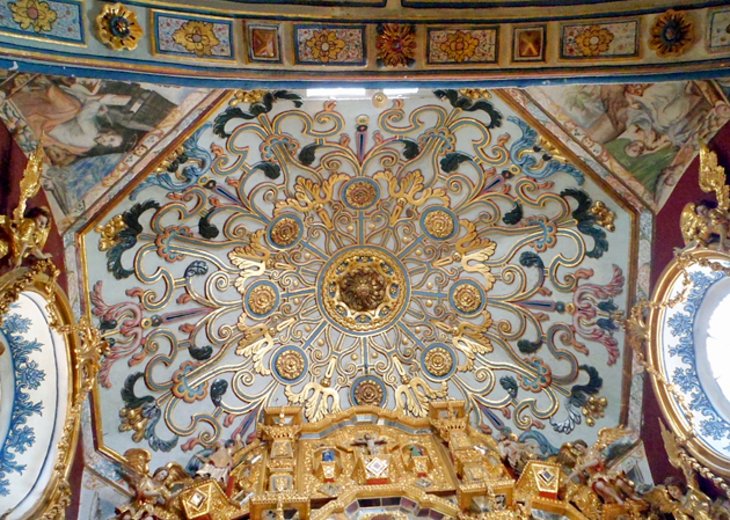 Tepotzotlán, a pretty little colonial town located just 40 kilometers from downtown Mexico City, makes for an easy and fun day trip offering numerous points of interest. Once famous as a center for spiritual instruction, the town's most impressive buildings are its old convent, which now houses a museum of religious art, and a well-restored church considered to be one of the jewels of Mexican Baroque architecture.
The façade of the convent church, built between 1628 and 1762, is among the most outstanding examples of the Churrigueresque style in Mexico and is notable for the harmonious arrangement of its figures, niches, and sculptures.
Other highlights include its seven magnificent altars carved of wood and painted in gold, and a splendid octagonal room, the Camarín, one of the finest examples of Mexican High Baroque art, and exquisite ceiling art painted by local Indian artists.
9. The Aztec Ruins of Malinalco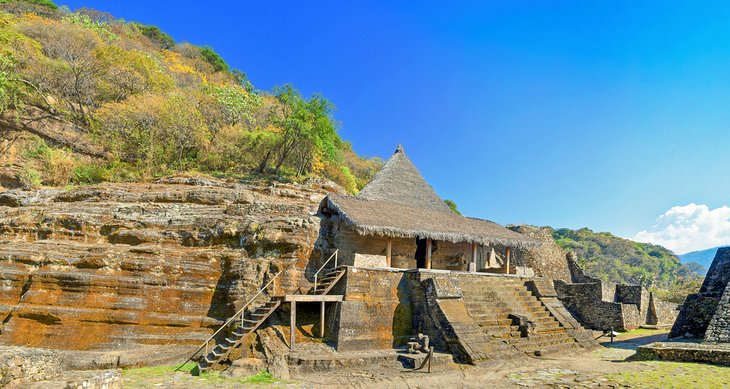 About 95 kilometers southwest of Mexico City is the archaeological site of Malinalco on the Cerro de los Idolos (Hill of Idols). Perched 220 meters above the village of the same name, in a lovely region of green forests and rugged rock formations, this Aztec site is unique for having one of the very few rock-cut Pre-Columbian structures in Mesoamerica.
Highlights include the Templo Principal, hewn from the rock and also known as the House of the Eagle (Cuauhxicalli), used for the initiation of members of the religious military orders known as the Eagle Knights and the Jaguar Knights (evidence of carved jaguars are still visible on the staircase).
Also of interest is the entrance to the circular shrine, carved to resemble the jaws of a snake and flanked by a serpent-throne. Another worthwhile attraction is the much larger Building IV, partly hewn from rock, where a remarkable wooden drum (tlapanhuéhuetl) with finely carved figures and glyphs of the eagle and jaguar associated with the Messenger of the Sun was found (it's now in the museum in Tenango).
10. Spanish-Inspired Morelia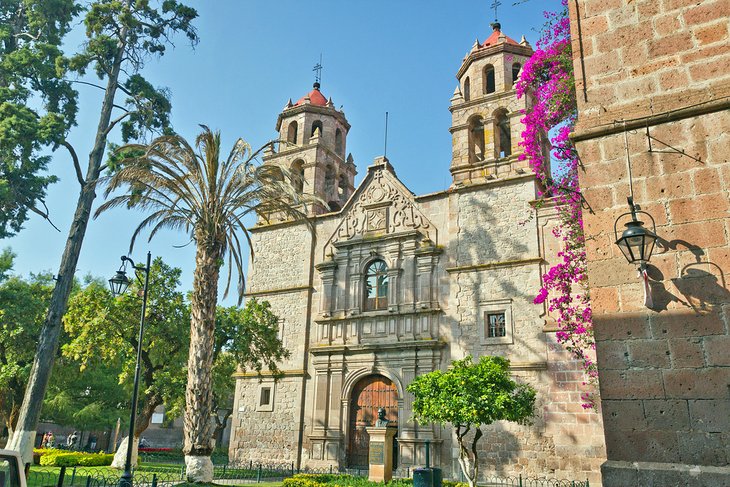 Although 290 kilometers west of Mexico City, Morelia, capital of the state of Michoacán, is worth spending a day visiting if you're looking for fine examples of early Spanish colonial architecture. The city was founded in 1541 on the right bank of the Rio Grande de Morelia, and has managed to retain its distinctive Spanish colonial character.
Begin your visit in the beautiful Main Square (Plaza de los Mártires or Zócalo). Lined on three sides by arcades, its east side is completely dominated by the magnificent 17th-century Baroque-style cathedral, built in pinkish-brown trachyte with a superb azulejo-decorated dome.
Its interior also contains several notable features, including the Neoclassical retablos, the silver font, a crucifix by Manuel Tolsá, an imposing organ built in Germany in 1903, and a number of paintings in the chancel and the sacristy attributed to leading Mexican painters of the early 18th century.
Also of interest is the nearby Clavijero Palace dating from 1660, as well as one of the country's last surviving aqueducts. A distinctive local landmark, the aqueduct was completed in 1789, measures 1,600 meters in length, and is supported by 253 arches.
Read More: Top-Rated Tourist Attractions in Morelia
11. San Miguel de Allende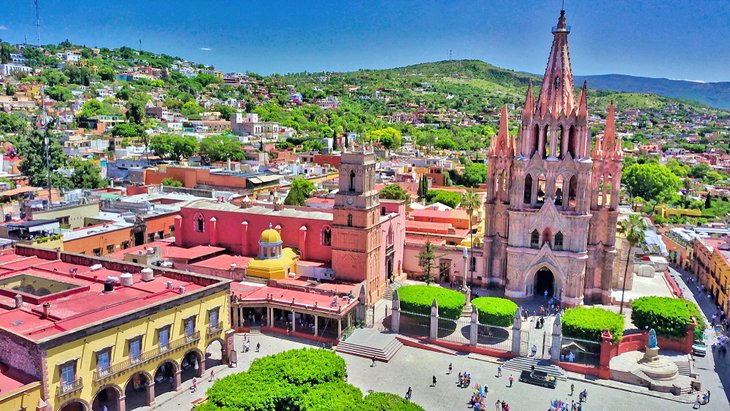 Although located some 270 kilometers northwest of Mexico City, the pretty town of San Miguel de Allende is worth taking the time to explore. Nestled on a hill and extending down into the pleasant valley below, this colonial town is well worth an extended stay in order to properly explore its attractive old houses with their patios and gardens hidden behind simple façades.
Along with its charming townscape, its beautiful surroundings and pleasant climate have attracted many foreigners, either as visitors or permanent residents, resulting in the town becoming a center of intellectual and artistic life (predominantly in the spheres of painting, sculpture, pottery, music, literature, and drama).
A highlight is the exquisite Church of El Oratorio de San Felipe Neri. Founded in 1712, its Indian features are clearly evident on its pink stone façade, particularly in the five statues of saints standing in niches. Also of interest is a painting of the Virgin of Guadalupe by Miguel Cabrera, along with 33 superb paintings detailing the life of St. Felipe Neri, also attributed to him.
Read More: Top-Rated Attractions & Things to Do in San Miguel de Allende
12. Valle de Bravo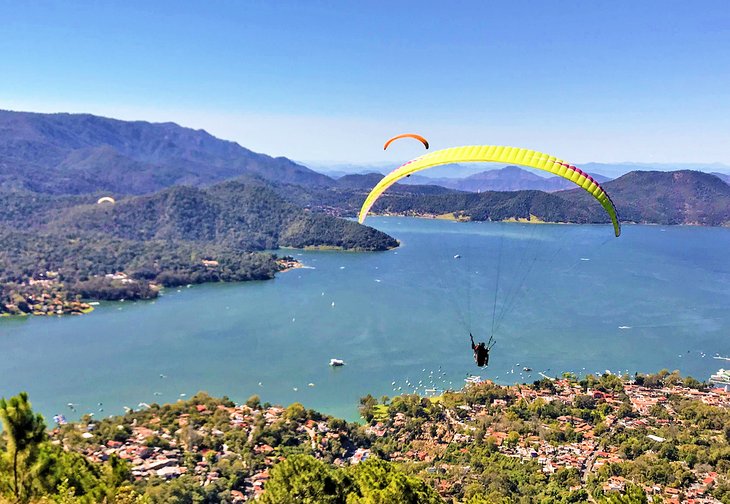 West of Mexico City sits a shimmering jewel wreathed in mountains. The lake town of Valle de Bravo is perched on the shores of the expansive Lake Avandaro, approximately 156 kilometers from Mexico City, roughly a two-hour drive.
Originally the town was settled by the Matlatzinca people, before the Aztecs took over in the 15th century. Later the Spanish established a Franciscan convent. By the 20th century, Mexico's Federal Commission on Electricity transformed it into an electricity hub, which generates electricity and provides a part of the water system that supplies Mexico City.
The lake on which Valle de Bravo sits is manmade, but is truly spectacular to behold. Today Valle de Bravo is a popular weekend getaway for the well-heeled of Mexico City, who are drawn to the colorful country cabins, golf courses, hotels, and, of course, life on the lake.
While visiting Valle de Bravo, visitors will not want to miss the St. Mary's Chapel, known for its historic architecture and Spanish design. The archaeological museum is also a must, as it holds 300 pieces that come from the 3,000 archaeological sites found only in the State of Mexico. A handicraft market is popular, as well, for its souvenirs of wood, clay, blown glass, or wrought iron. And then there is the lake, known for water skiing, kayaking, speedboats, sailboats, and even catamaran tours.
This Discover Valle de Bravo tour gives a little taste of everything. It includes a visit to the Vero de Novia Waterfall, a beautiful waterfall with an impressive 35-meter drop. It also includes a visit to St. Mary's Chapel, a walk through the Barrio de Santa Maria Ahuacatlan, and a yacht cruise around the lake.