15 Top-Rated Tourist Attractions in Oaxaca
In the heart of the state of the same name and surrounded by lush tropical vegetation and the high mountains of the southern Sierra Madre, Oaxaca is one of Mexico's most beautiful cities.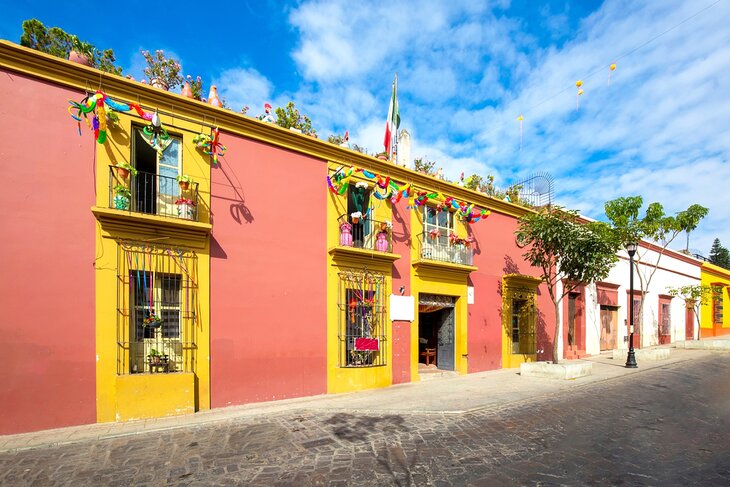 Displaying an attractive mix of both Indian and Spanish elements, this UNESCO World Heritage Site offers many great sightseeing opportunities and rewarding places to visit. It has successfully preserved its unique character and is a delight to explore thanks to its many attractions. Get your camera ready — every facade and street corner is primed and ready for some serious Instagram content.
First settled as far back as 6000 BCE, it was part of the Aztec empire until the Spanish arrived in 1521 and soon after established the royal city of Oaxaca, a name derived from the original Aztec fortress. In addition to its fine architecture, travelers are drawn here for the city's rich cultural calendar, a highlight of which is the famous Guelaguetza, an Indigenous festival held in July with plenty of traditional dancing, costumes, music, food, and crafts.
To learn more about this and other fun things to do in this beautiful part of Mexico, be sure to refer to our list of the top tourist attractions in Oaxaca.
1. Oaxaca Cathedral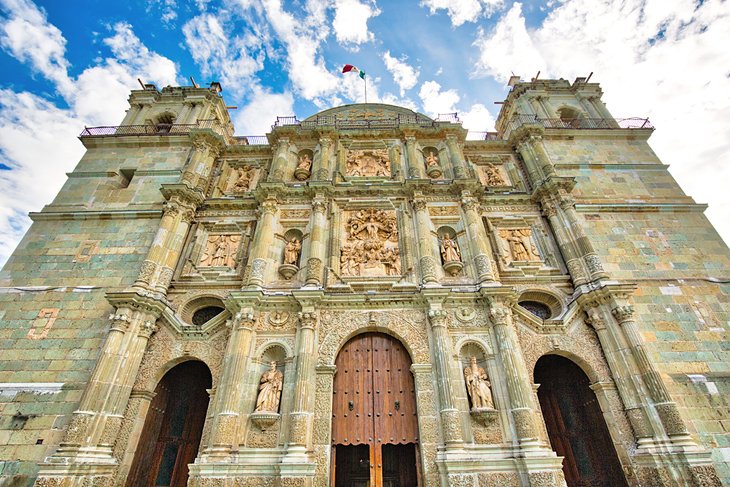 Construction of Oaxaca Cathedral — the Cathedral of Our Lady of the Assumption (Catedral Metropolitana de Nuestra Señora de la Asunción) — began in the mid-16th century and lasted almost 200 years.
Situated on the northwest side of the city's main square, the Zócalo, the cathedral is notable for its sturdy building style with its two low towers, rebuilt in their present style after being destroyed by an earthquake in 1931, a not-uncommon occurrence in the region.
The original clock, the mechanism of which is completely carved from wood, was presented to the church by the King of Spain upon its completion, just one of a number of attractive features of its pleasant Baroque façade with its finely worked figures and bas-reliefs on its columns.
The interior of this top Oaxaca tourist attraction is also worth seeing due to its Neoclassical influences; its eight finely-engraved glass windows; and the organ, parts of which date back to 1712.
Address: Av Independencia S/N, Centro, 68000 Oaxaca, OAX
2. Squares and Markets: Zócalo and Mercado Benito Juárez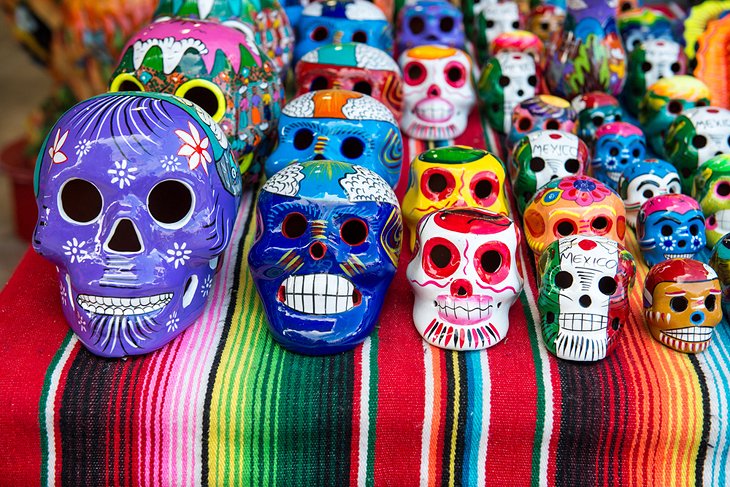 Many of the most important of Oaxaca's best places to visit are to be found in the city's historic downtown core, an area centered around its central square, or Zócalo: the Plaza de Armas.
In addition to its attractive bandstand, its beautiful old trees, and countless cafés, it is here that many of the city's most important festivals and events are held, including the extremely colorful Fiesta de Rábanos — quite literally, the Night of the Radishes — which takes place here on December 23rd each year with festivities such as fireworks, dances, and parades spilling over to Christmas (and yes, there's even a radish-carving contest).
Another important focal point is Mercado Benito Juárez, a colorful covered market that is especially lively on Saturdays when local Indios flock here to buy and sell everything from produce and woven articles to earthenware and leather goods.
Other colorful markets include the daily Mercado de Abastos and the Mercado de Artesanias with a focus on textile goods.
3. Church of Santo Domingo de Guzmán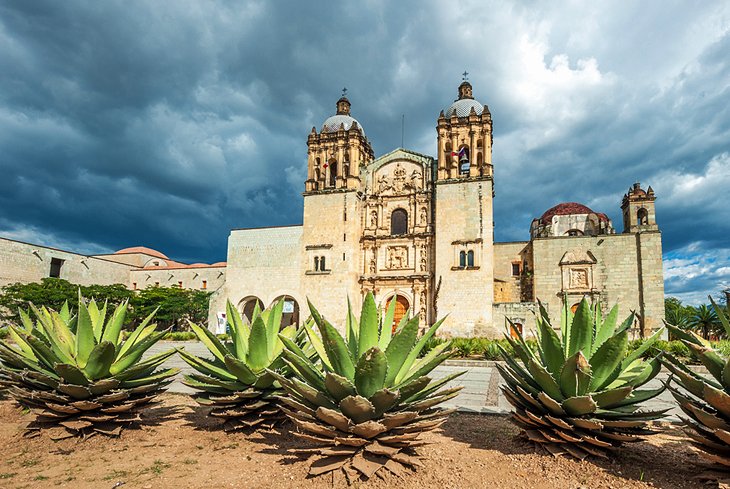 The splendid Church of Santo Domingo de Guzmán (Templo de Santo Domingo de Guzmán), a Dominican church founded in 1575, is well worth taking the time to explore. Along with the adjoining convent — home to the must-visit Cultural Centre of Oaxaca — this impressive structure was built with two-meter-thick walls to make it almost completely earthquake-proof.
Notable for its numerous niches filled with statues, set along its impressive Baroque façade, this large church complex boasts interior walls and ceilings festooned with a wealth of gilded ornamentation and bright sculptures, creating an overall impression that's more palace than church. This is offset a little, though, by the many rustic statues that lend the nave and chapels a distinctive Mexican tone.
Also of interest, in the ceiling above the entrance, is a vine from whose golden branches and leaves grow 34 portraits depicting the family tree of St. Domingo de Guzmán, founder of the Dominican order who died in 1221.
Other highlights include its 11 chapels, the largest and most beautiful being the Rosary Chapel (Capilla de la Virgen del Rosario), which has its own choir and sacristy, and a lavishly decorated altar with a figure of the Virgin Mary that's considered a jewel of Mexican Rococo.
Address: Calle Constitución #101, Centro, 68000 Oaxaca, OAX
4. Monte Albán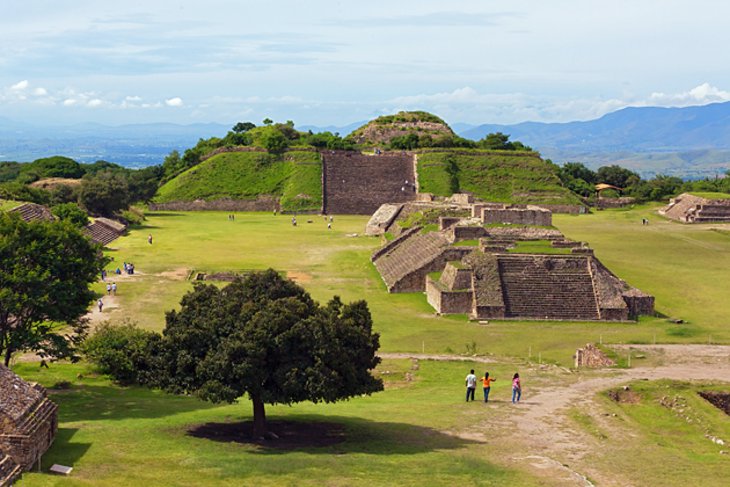 The historic settlement of Monte Albán (Zona Arqueológica de Monte Albán), just eight kilometers west of Oaxaca and easily accessible by tour bus or taxi, covers an area of some 40 square kilometers and for 2,500 years was an important place of worship for a number of different population groups.
The center of the ruins, rising on a man-made platform 400 meters above the Oaxaca Valley, is possibly Latin America's oldest and most impressive Pre-Columbian site. Founded in the sixth century BC, the city was once home to some 35,000 people in its heyday.
Highlights include the spectacular Grand Square (Gran Plaza) measuring 200 meters wide by 3,300 meters long and forming the center of the archaeological ruins, along with the Ball Court (Juego de Pelota), a number of large pyramids, and a palace with an inner courtyard and cruciform tomb.
Expect to spend the best part of a day exploring the ruins and the Monte Albán Ruins Museum with its many sculptures, ceramic figures, jewelry, and displays relating to the excavation of the site.
If time allows, you may also want to include nearby San José Mogote on your list of pre-Columbian sites to visit.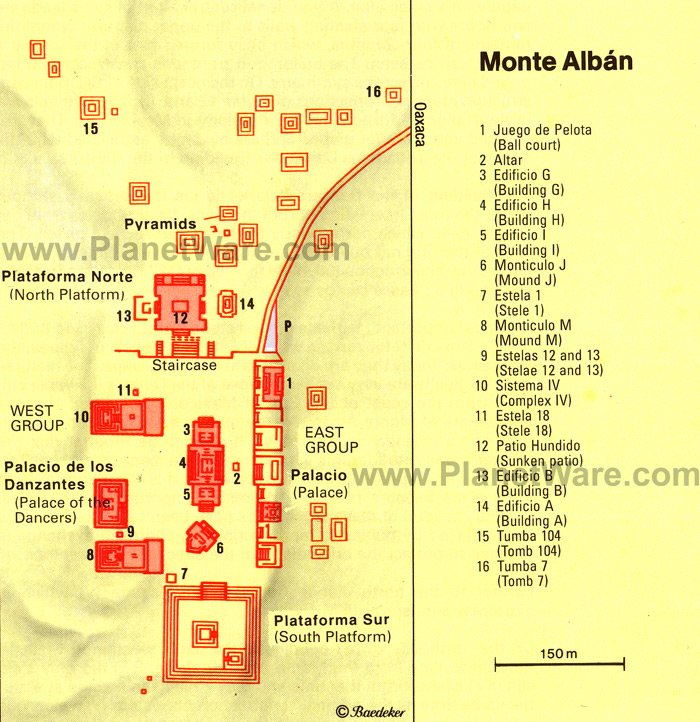 5. The Basilica of Our Lady of Solitude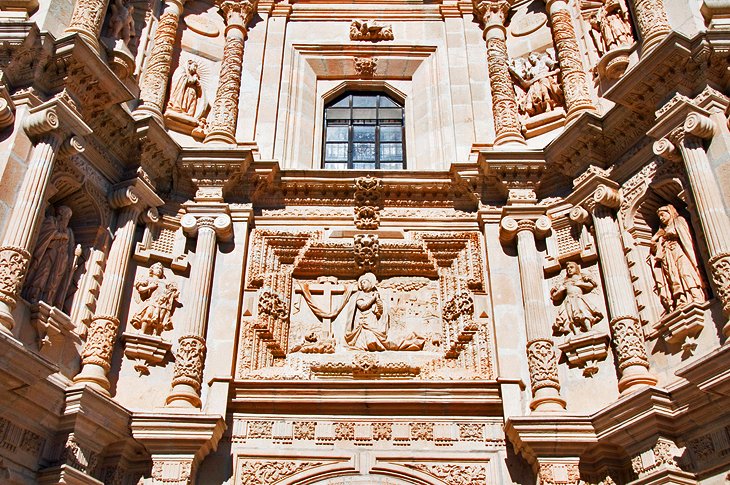 The Basilica of Our Lady of Solitude (Basílica de Nuestra Señora de la Soledad), dedicated to the patron saint of Oaxaca, was constructed of green cantera, a stone unique to the area, between 1682 and 1690 and is one of the city's finest religious sites.
In addition to its attractive atrium built from limestone blocks surrounded by a covered walkway, it's also notable for its figure of the Virgen de la Soledad with her black robe of velvet embroidered with gold and other precious stones, including a large pearl on her forehead. Also of interest is the old Baroque organ, built in 1686 and which is still in regular use.
Other notable nearby churches include San Felipe Neri with its many elaborate altars, San Juan de Dios with an Indian depiction of the conquest, and San Agustin, notable for its façade reliefs of St. Augustine.
Address: El Calvario 107, Centro, 68000 Oaxaca, OAX
6. The Rufino Tamayo Museum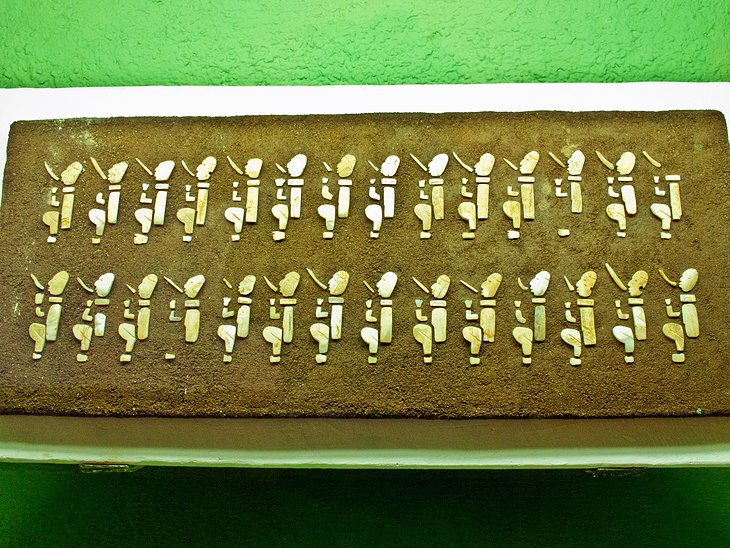 The Rufino Tamayo Museum (Museo Rufino Tamayo), presented to the state by famous Mexican artist Tamayo, lies in an old palace just a short walk away from the Zócalo.
In addition to displaying archaeological objects from Mexico's many Indian cultures, this rich collection of Pre-Columbian art was established to ensure the more than 1,000 historic artifacts collected over Tamayo's lifetime remained intact and safe from illegal traders.
Also worth a visit is the Graphic Arts Institute of Oaxaca (Instituto de Artes Gráficas de Oaxaca, or IAGO), founded by another Mexican artist, Francisco Toledo, and containing numerous fine paintings from across Latin America, as well as a cultural center, a library with many rare manuscripts, and a music library.
Address: Av Morelos 503, Centro, 68000 Oaxaca, OAX
7. Museo Casa Juárez: Fit for a President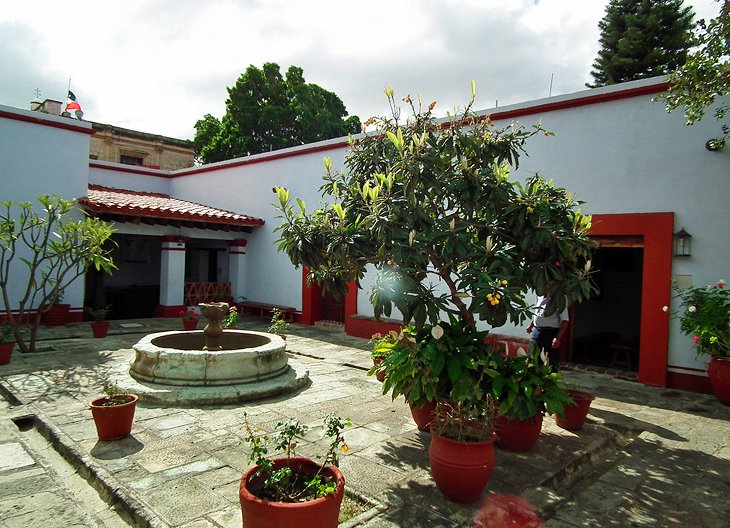 The humble looking home at García Vigil 609, now a museum, is famous in Mexico for being the place where much revered President Benito Juárez lived as a servant from 1818 until 1828. Don't be deceived by the home's rather plain exterior.
Inside, the complex opens up into a large central courtyard and houses Museo Casa Juarez, a large museum containing related memorabilia (the President was in fact born in 1806 in nearby Guelatao).
Fun activities include exploring the museum's portrayal of the daily life of both working and middle classes in the 19th century, as well as the period furnishings in the dining room and kitchen.
Also interesting is the Oaxaca Stamp Museum (Museo de la Filatelia Oaxaca), a fun little attraction that features collections of stamps and artworks from local surrealist artists, along with a gift shop and patio café.
Address: Calle de Manuel García Vigil 609, Centro, 68000 Oaxaca, OAX
8. The Ex-Monastery of Santiago Apóstol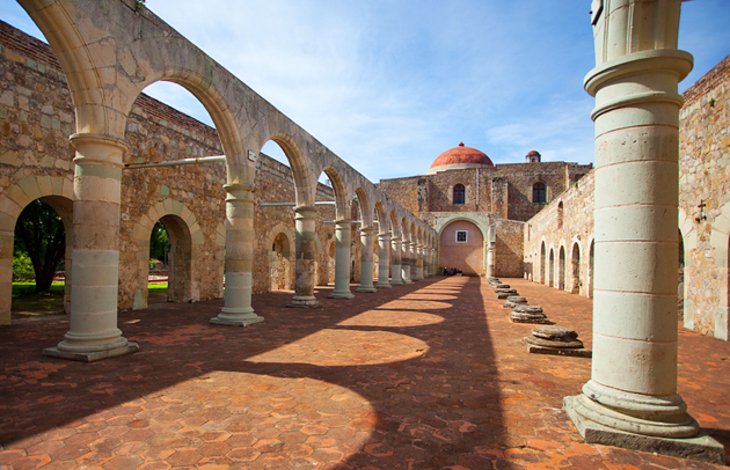 Just 12 kilometers south of Oaxaca is the small town of Cuilapan de Guerrero, once famous for manufacturing cochineal, a brilliant red dye made from the insects of the same name. These days, the town is an important tourist destination thanks to the splendid old Church and Ex-monastery of Santiago Apóstol.
This enormous hillside structure was started in 1555 and is notable for its Renaissance façade and two inner colonnades, part of which collapsed in an earthquake, and a stone pulpit reached by a small flight of steps.
Although abandoned in 1663, its three-meter-thick walls have stood the test of time, as have the murals in the entrance depicting the history of the order. The terrace on the second floor, where the monks' cells were located, offers great views, and, on the rear wall, an interesting stone plaque bears both the Pre-Columbian calendar inscription "10 reeds," as well as the Christian year 1555.
In the church, the only part of the complex still used, the most interesting feature is the tomb of the last Zapotec princess, the daughter of the ruler Cocijo-eza.
9. San Jerónimo and Santa María del Tule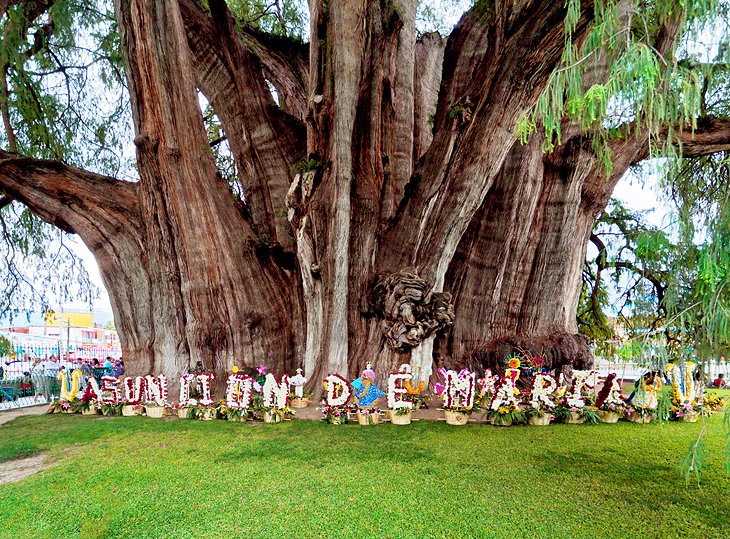 A short drive east of Oaxaca is the small village of Santa María del Tule, famous for the ancient Tree of Tule (El Arbol del Tule). This massive cypress tree, 40 meters wide and 42 meters tall, stands in front of a charming little church and is estimated to be around 2,000 years old.
A farther 10 kilometers away is the equally interesting town of Tlacochahuaya, home to the 16th-century San Jerónimo Church. Highlights include its richly decorated interior crammed full of colorful paintings created by local Indians who portrayed their artistic and religious ideas with paintings of stars, flowers, birds, suns, and angels.
10. Cultural Centre of Oaxaca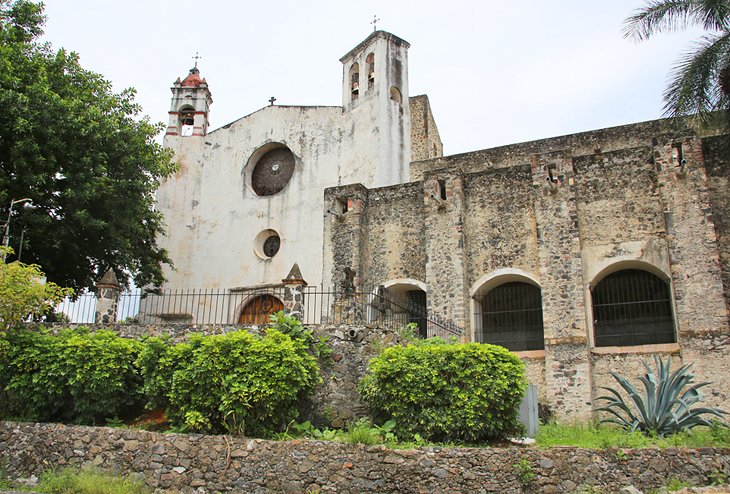 The Cultural Centre of Oaxaca (Centro Cultural Santo Domingo), also often referred to as the Regional Museum of Oaxaca (Museo Regional de Oaxaca), is housed in the former convent Church of Santo Domingo de Guzmán.
One of the top places to visit in Oaxaca, this must-see attraction is well regarded for its excellent collections related to native culture, as well as for its ecclesiastical and secular exhibits from the colonial period. The superb ethnological collection includes costumes, masks, jewelry, ceremonial, and household implements belonging to the Indian tribes from the region, together with archaeological finds from surrounding ruins.
The highlight of the archaeological exhibition is the Mixtec treasure trove of gold, jade, turquoise, and other semi-precious stones found in 1932 in nearby Monte Albán, and from which elaborate bracelets, necklaces, earrings, breastplates, and masks were produced. Historical documents and items from the old church and the convent, including the refurbished old Spanish kitchen, are also of interest.
11. Oaxaca Ethnobotanical Garden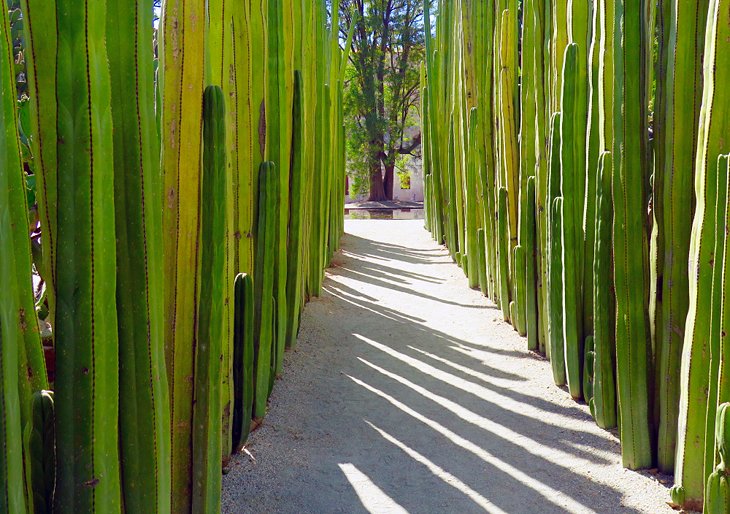 A fun thing to do in summer and spring when its gardens are in full bloom, Oaxaca Ethnobotanical Garden (Jardín Etnobotánico de Oaxaca) sits on nearly 2.5 acres adjacent to the Church of Santo Domingo de Guzmán, and is well worth adding to your travel itinerary.
Created by a group of local artists known for their work with other Oaxaca cultural attractions, the garden sets out to explore the important relationship between we humans and the plant life that surrounds us.
With a particular focus on the state of Oaxaca — both its people and its plants — this attractive and easy-to-navigate garden occupies a part of the old monastery grounds and opened to great fanfare in 1998. Highlights include a wide variety of native species, a rescue area, medicinal plants, as well as species used for centuries in traditional recipes. English-language guided tours are available.
If botany is your thing, consider a visit to Benito Juárez National Park. Located just five kilometers outside the city, it was founded in 1937 and covers a massive 7,000 acres of land and features a mix of pine and oak forests, as well as tropical deciduous trees. A number of hiking paths are available to explore.
Address: Reforma Sur n, RUTA INDEPENDENCIA, Centro, 68000 Oaxaca de Juárez, Oax
12. Museum of Contemporary Art & Textile Museum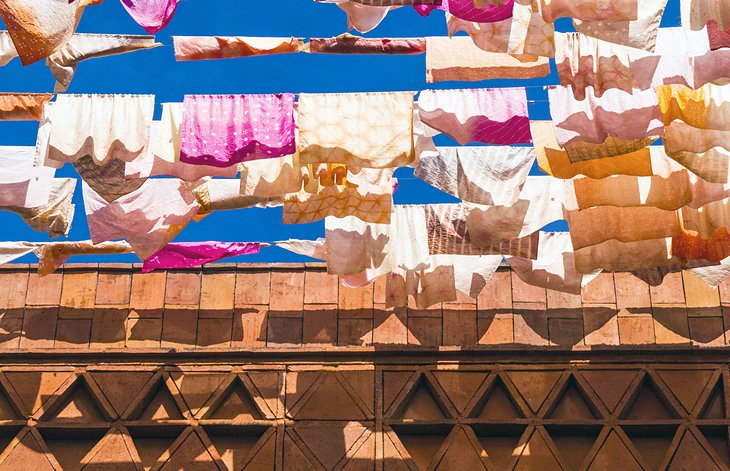 The Museum of Contemporary Art, or MACO — Museo de Arte Contemporaneo de Oaxaca — is a must-visit in Oaxaca for art lovers. With a broad mandate to showcase contemporary art from across the world with traditional local art, MACO features an eclectic array of paintings from locals including Rufino Tamayo and Francisco Toledo, along with creations in disciplines such as graphic art, sculpture, and pottery.
The building itself-an old colonial affair built in the late 1600s-is a delight to explore, whether as part of a guided tour or on your own.
Also of interest is the city's Textile Museum (Museo Textil de Oaxaca). Highlights of what's regarded as one of the top free things to do in Oaxaca include exploring colorful displays of the region's traditional textile crafts, a mix of permanent and visiting exhibits - including examples from abroad - as well as workshops, lectures, films, and a well-stocked library.
Guided tours are available, and a shop is located on-site selling examples of local textiles and related goods.
Address: Calle Macedonio Alcalá 202, Centro, 68000 Oaxaca de Juárez, Oax., Mexico
13. Hierve El Agua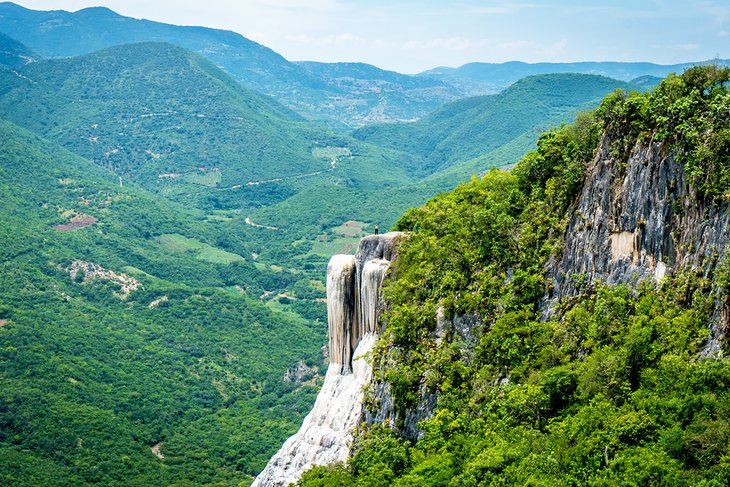 Deep in the jungle-covered mountains outside Oaxaca is a stunningly beautiful natural surprise. From a distance, it looks like a frozen waterfall, flowing in perpetuity from the side of a staggering cliff. In reality, this is Hierve El Agua, a petrified waterfall and series of small, natural pools - and yes, you can swim in them!
Hierve El Agua, which translates to "boiling water," was created from mineral water that pushed through the limestone rock and deposited the seemingly frozen falls over the mountain's edge. The two mineral pools that are at the top of the falls are yellowish in color thanks to the small amount of sulfur in them.
Today Hierve El Agua is one of the top tourist attractions in Oaxaca, but in the past, the effervescent springs were used to supply water to canals and terraces that led down into the valley.
The best way to visit the site is to get there early before the tour buses show up. That way you may even have the entire site to yourself. However, the easiest way to visit Hierve El Agua is to sign up for a tour.
14. Day Trips from Oaxaca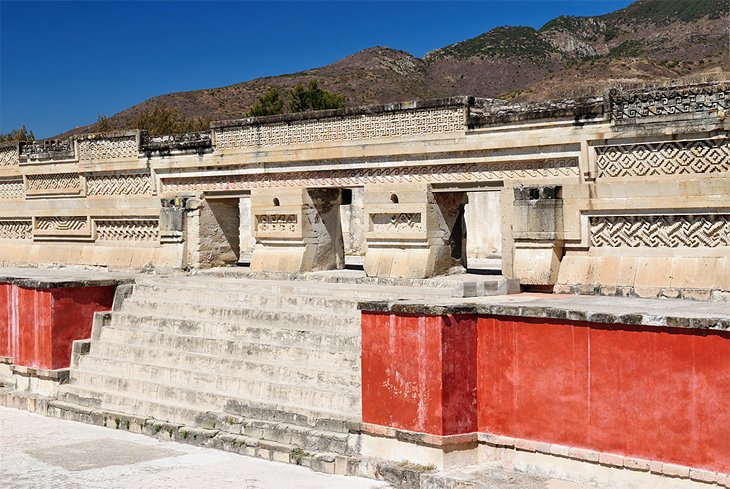 Given Oaxaca's subtropical location in the beautiful Oaxaca Valley, there are many fun day trips and excursions to the splendid countryside surrounding the city. One of the nicest short trips is to the town of Dainzú, just 20 kilometers east of Oaxaca and the location of a settlement inhabited from about 500 BCE until 1400 CE.
One of the most important of its buildings has a pyramid-shaped base and is built in a style similar to that of the north platform at Monte Albán. A few miles farther is Lambityeco with a small pyramid along with seven ancient tombs, including one with two heads and names chiseled into its façade.
Another small town worthy of a road trip is Huijazoo, just a short drive north of Oaxaca, where nine tombs were discovered, the most remarkable being Tomb 5, notable for the serpent mask forming its entrance and an interior furnished with sculpted columns and colored murals depicting rulers or priests and dating from the 8th to the 10th centuries.
Finally, be sure to visit the ruined site of Mitla, on the edge of the village of the same name, just 40 kilometers to the east of Oaxaca's city center. One of Mexico's most famous archaeological attractions, this fascinating site includes elaborate stone ornamentations unsurpassed in the history of Mesoamerica. Sightseeing highlights include the Hall of Columns with its altar, and the Patio de las Grecas, a small inner courtyard surrounded by long narrow rooms where the city's high priest lived.
15. Celebrate the Day of the Dead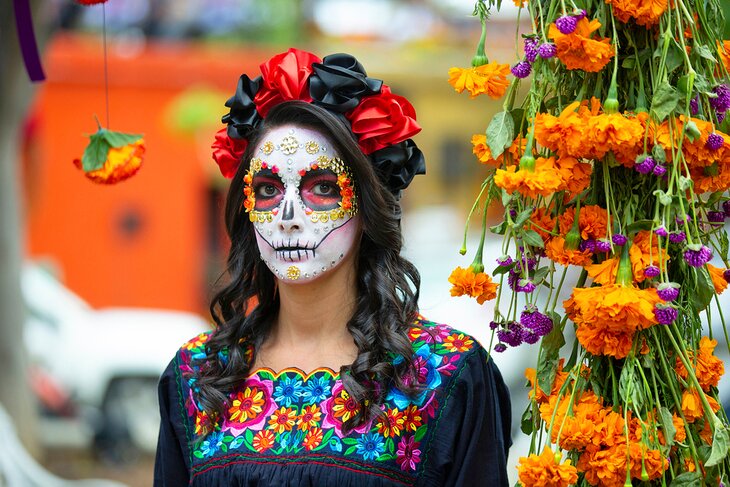 Day of the Dead, or Dia De Los Muertos, is one of the most important traditional celebrations in the country of Mexico. All across the country, Mexicans celebrate this special time of year when, legend has it, the souls of departed loved ones return back to Earth. It's not a time for mourning, but a time for joy and celebration.
Oaxaca's Day of the Dead celebration is one of the most vibrant and colorful in Mexico. During the festival, the streets come alive with parades, large-scale art, and giant puppets. At night, families gather at the local cemeteries and decorate the graves with candles and vibrant, orange marigold flowers.
All throughout the city, visitors will see the beautifully decorated altars dedicated to departed family members. The altars are strewn with colorful flags, photographs, and offerings like favorite food and beverages.
Another image you'll see all over the city is the image of La Catrina, the skeleton woman dressed all in black. It's common for men and women to have their faces painted to look like La Catrina, so you may see hundreds of people with magical face and body paint wandering the streets.
It is truly one of the most vibrant and culturally significant festivals in the entire country, and no place celebrates quite like Oaxaca. Day of the Dead runs from October 31 through November 2.
Map of Attractions & Things to Do in Oaxaca
More Related Articles on PlanetWare.com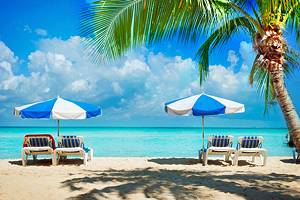 Best Beaches in Mexico: Some of the best vacations in Mexico are to be enjoyed in Cancún, an island-based luxury resort off the north coast of Yucatán known for its many beautiful "playas," or beaches. Another island that's popular with modern-day sun-worshippers, Cozumel-also off the Yucatán Peninsula-boasts lush tropical vegetation and great coral reef-lined beaches. Those seeking great luxury resorts should consider Cabo San Lucas, located near the California Baja Peninsula and with a delightful (though not-too-big) beach area.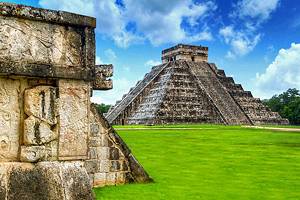 Mexico's Pre-Columbian Past: An easy commute from Cancun's resort area, the historic Mayan ruins of Chichén Itzá date back over 700 years and offer plenty of opportunities to immerse yourself in the history of this fascinating ancient culture. Equally as popular is ancient Tulum, the only Mayan fort known to have been built overlooking the ocean. For those staying in the country's capital, a number of great tours and day trips from Mexico City take in such sites as Teotihuacán and Tenayuca.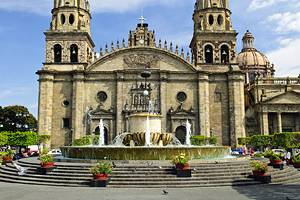 Mexico Travel Ideas: There's no end of fun things to do in Mexico City, the country's capital, from exploring its old Aztec roots to beautiful architecture that dates back to the time of the first colonists. Add to this the many museums, art galleries, old churches, and palaces, and you'll be kept busy for days. Beautiful Guadalajara has also done a great job of preserving its colonial past, and boasts many fascinating historic attractions and points of interest worth exploring. So, too, has Mérida, the capital of Yucatán, famed the world over as the "white city" for the color of garments most preferred by its population.