14 Top-Rated Things to Do in Guanajuato
In the very heart of Mexico, the lovely old city of Guanajuato – capital of the state of the same name – has long been a popular destination for non-Mexicans, whether for vacationing or as permanent residents. Thanks to its valley location, Guanajuato's streetscape is one of narrow, winding lanes and alleys, often suitable only for pedestrian traffic due to their width and flights of steps (some of these lanes are even located underground).
This delightful UNESCO World Heritage Site is home to numerous small plazas, colonial-era mansions, and churches built using pink or green sandstone, along with many excellent museums and art galleries.
Home to world-class events, like the Festival Internacional Cervantino, which attracts artists from across the globe each fall, this beautiful colonial city offers a wealth of things to do.
An easy four-hour drive north of Mexico City's wonderful attractions, makes a fun destination for a day trip or an overnight stay.
Discover the highlights of this beautiful city with our list of the top things to do in Guanajuato.
1. Jardin de la Union and Kissing Lane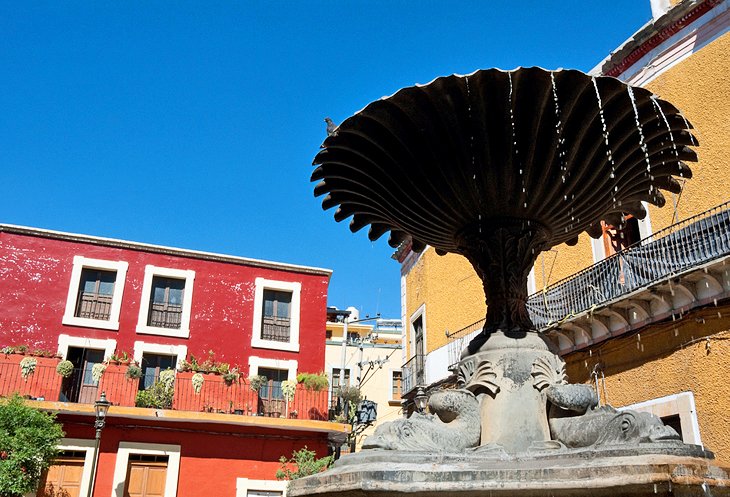 The Jardin de la Union is the heart of historic Guanajuato and serves as the city's main square. Always bustling, this pleasant plaza, with its fountains and flower beds, is ringed by numerous hotels and restaurants, making it a perfect place from which to venture out to explore the rest of the city.
It's also where you'll find a number of architectural gems, from the beautiful old Baroque San Diego Church to the majestic Juárez Theater (Teatro Juárez), which dominates the square (check out the church's museum for its history of the old convent as well as that of the city).
Also worth exploring is Plazuela de los Angeles, which leads to the city's most famous street, the Callejón del Beso, or Kissing Lane, so named as it is narrow enough to allow a loving couple to kiss from windows on opposite sides. These days, the popular thing for couples to do is climb to the third step (as the alley narrows and curves to the right) and secure their eternal love with a kiss.
2. Going Underground: Exploring Guanajuato's Tunnels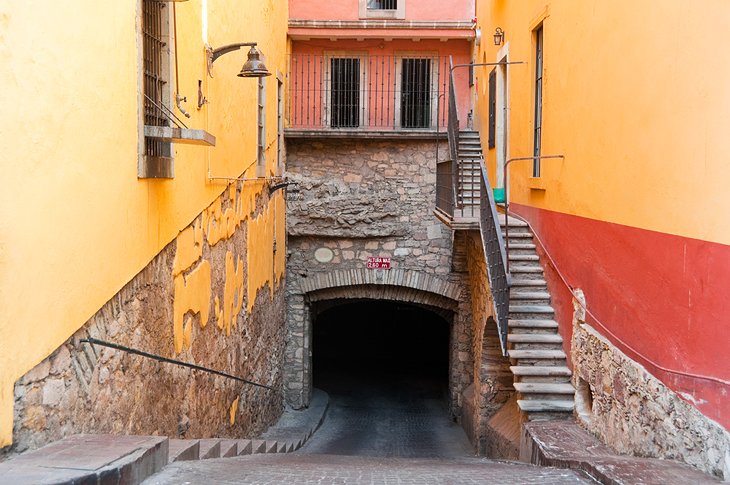 A highlight of a walking tour of Guanajuato is diving into the city's amazing network of subterranean streets and alleys. Built of necessity to handle the often-flooded Guanajuato River (Rio Guanajuato), which once flowed under the city, the tunnels became obsolete after a nearby dam was constructed to control the river upstream.
The extensive network of tunnels that remained were put to good use as roadways, alleviating the congested streets above ground while making them safer and more interesting for pedestrians.
These cobblestone roadways also accommodate pedestrians through a number of well-marked footpaths that are fun to explore. Accessible from stone staircases at numerous locations around the old city, the tunnels are a must-see attraction and can also save time if you need to get from one place to another in a hurry (just be sure you have a map with you!).
3. Teatro Juárez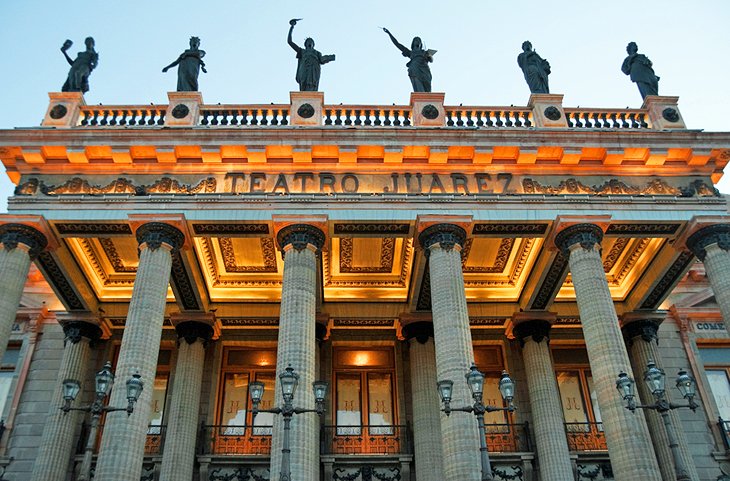 Dominating the Jardín de la Unión, Guanajuato's pretty main square, is the beautiful Juárez Theater (Teatro Juárez), the city's opera house.
Opened in 1930 after some 30 years of construction, this splendid neoclassical building is notable for its massive Doric columns supporting a Romanesque portico adorned with nine bronze statues of the Greek muses, as well as the steps leading up to the building, a favorite meeting place for locals and tourists alike.
The building's plush Art Nouveau interior is also worth seeing for its rich gilded décor, finely carved wood, and stained glass, especially if you can do so while taking in one of the theater's regular musical or dance performances.
Address: Sopena S/N, Zona Centro, 36000 Guanajuato, GTO
4. The Basilica of Our Lady of Guanajuato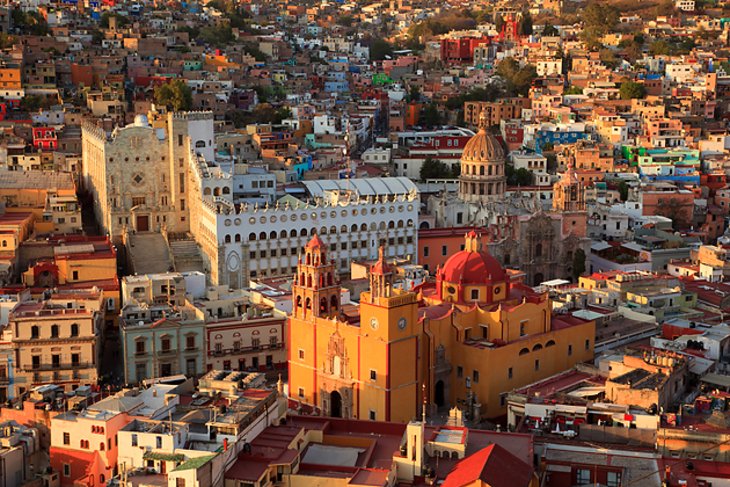 In picturesque Peace Square (Plaza de la Paz), the sandstone-colored Baroque Basílica Colegiata de Nuestro Señora de Guanajuato – the Basilica of Our Lady of Guanajuato – is well worth a visit. Built in the 17th century and much altered thereafter, this attractive building houses one of Mexico's most important relics, the much-revered seventh-century statue of the Virgin of Guanajuato. This carved wooden figure on a silver base was presented to the city by King Philip II of Spain in 1557.
By far the largest building in Guanajuato, the church owes much of its splendor to area miners, who sponsored its construction, a relationship that is marked to this day during annual miners' parades and offerings to the church's patron saint.
In addition to its famous statue, other highlights include its pretty tower, the numerous relics in the main altar presented by the Pope, as well as a number of important paintings by leading Mexican artists.
Other old churches worth seeing are Templo de Belén, built in 1773 and notable for its Churrigueresque façade, and Templo La Valenciana, notable for its three splendid large altars, each of which has been richly decorated in gold leaf.
Address: Ponciano Aguilar 7, Centro, 36000 Guanajuato, GTO
5. Alhóndiga de Granaditas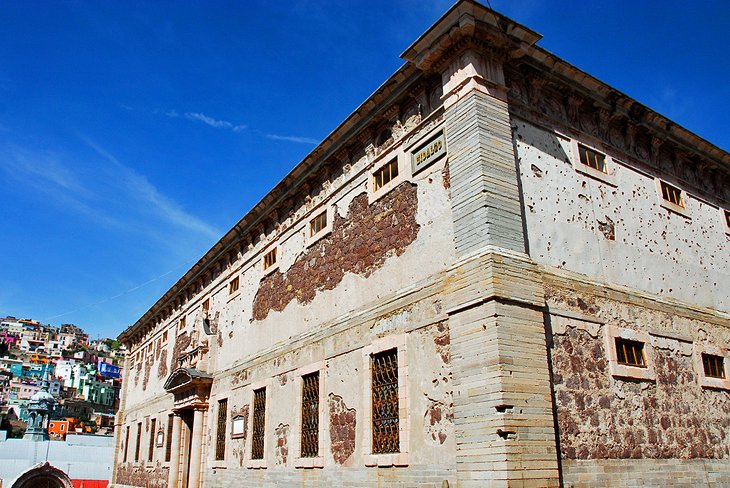 Completed in 1809, the Alhóndiga de Granaditas is one of the largest and most interesting of Guanajuato's historic secular buildings.
Built as a granary and also serving for a spell as a marketplace, the building was used by the Spanish and their loyalist allies as a fortress that was overrun by troops led by Miguel Hidalgo in the first defeat for the colonialists who had ruled Mexico for centuries. A statue commemorating the event and Hidalgo's role overlooks the city from a nearby hillside park accessible by a funicular railway.
The building now serves as the home of the Guanajuato Regional Museum with its displays relating to the battle, as well as the eventual execution of Hidalgo when his head and those of his compatriots were placed atop the building for all to see.
In addition to its displays of colonial-era artifacts, the museum also has a large collection of Pre-Columbian materials.
Address: Mendizábal 6, Centro, 36000 Guanajuato, GTO
6. The Mummies of Guanajuato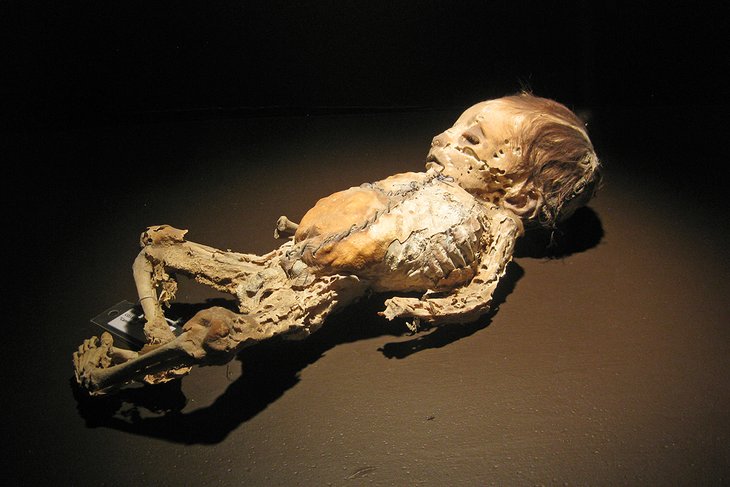 Although a little gruesome, the Mummies of Guanajuato have proven to be one of the city's most popular attractions and remain an important cultural phenomena relating to local customs and traditions.
Consisting of the naturally mummified remains of locals who died during a cholera outbreak in the mid-19th century, the Mummies Museum (Museo de las Momias de Guanajuato) got its start after the bodies were disinterred between 1865 and 1958 for failure by relatives to pay cemetery taxes. Entrepreneurial cemetery staff charged the curious a small fee to see the mummies, and as word spread, it became something of a spectacle enjoyed by tourists from far and wide.
Adding to the somewhat grisly display is the knowledge that some of those buried were still alive at the time, hence the sometimes frightening expressions on their faces. In addition to a few clothed mummies, the museum also claims to have the world's smallest mummy, a fetus.
Address: Municipal Pantheon Esplanade, Downtown, CP 36000, Guanajuato, GTO
7. Museo Iconográfico Del Quijote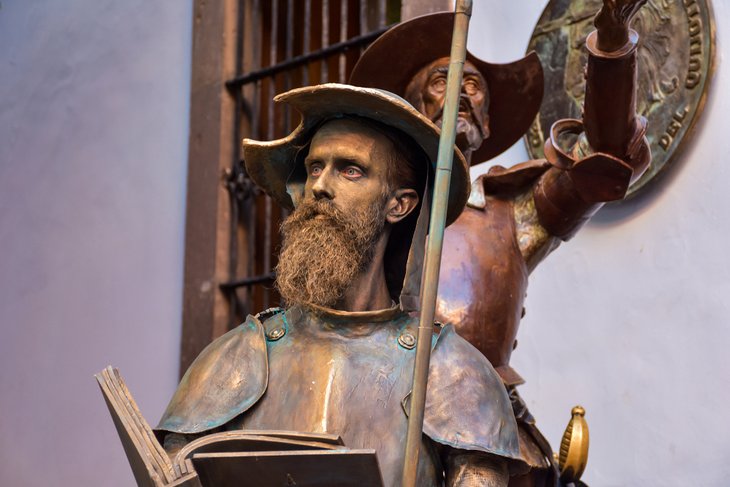 Easily spotted thanks to the statue of its namesake standing welcoming by its entrance, the Iconographic Museum of Quixote (Museo Iconográfico Del Quijote) pays homage to Mexico's long-standing fascination with the writings of Spain's Miguel de Cervantes.
With a focus on displays of artwork and artifacts related to Cervantes' most popular piece of fiction, Don Quixote, the museum is well worth taking the time to explore.
Highlights include numerous paintings and statues, along with tapestries and a variety of commercially available materials relating to the story. Also of interest is the International Cervantino Festival held at the Teatro Juárez and other locations across the city each October in celebration of the works of Cervantes.
Address: Calle Manuel Doblado 1, Centro, 36000 Guanajuato, GTO
8. The University of Guanajuato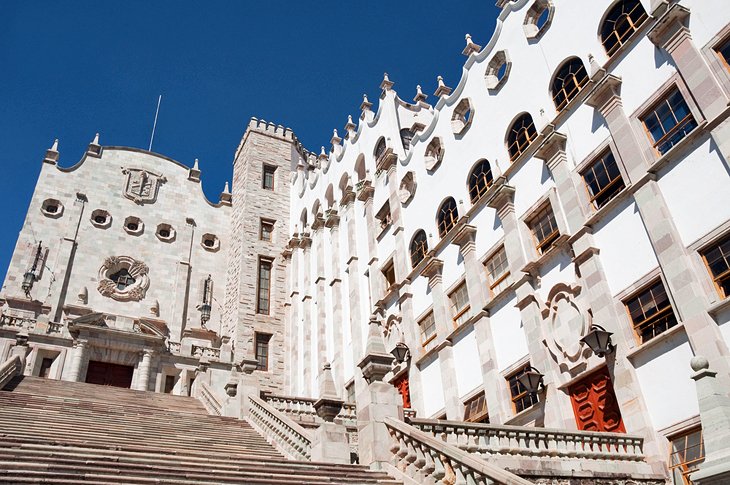 Built by the Jesuits in the 18th century as a school, the splendid University of Guanajuato's city center location opened its doors in 1828 and remains the oldest university in Latin America. Located just a few minutes' walk from Peace Square (Plaza de la Paz), the university is well worth taking the time to visit if only to see the famous staircase leading up to this fine neoclassical structure.
If you're up to it and can make the 113-step climb, you'll be able to see some of the building's splendid interior during a visit to the university's natural history museum, as well as its old church.
Address: 20 De Enero 929, 37000 León, GTO
9. Silver City: La Valenciana Mine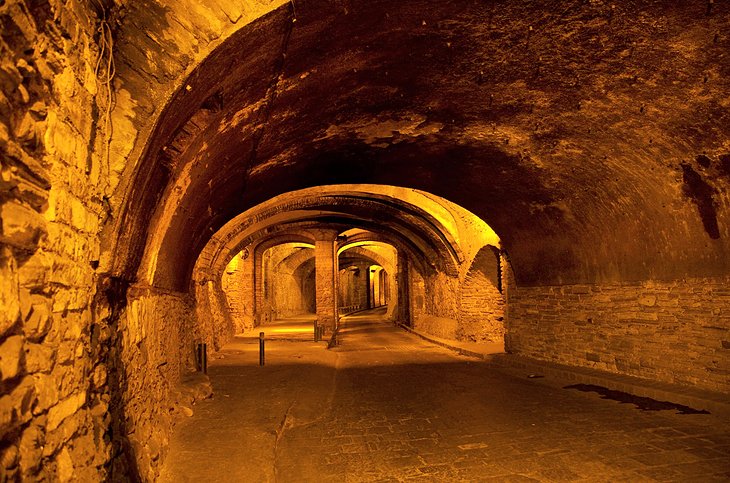 Once the silver mining capital of Mexico and responsible for 80% of the country's production of this precious metal, Guanajuato's long-standing connection to mining runs deep. Today, these old mines - some dating to the mid-1600s - are designated as a UNESCO World Heritage Site and can be easily visited while staying in Guanajuato as they lie just a few minutes' drive outside the city in the village of La Valenciana.
La Valenciana was largely responsible for much of Guanajuato's wealth and the splendid architecture that came with it. Today, a visit to the La Valenciana Mine (Mina La Valenciana) includes a chance to don a mining hat and tour the old shafts as part of an English language guided tour. Highlights include seeing a number of caverns and drilling equipment, as well as historical artifacts and tools used through the centuries.
Afterwards, be sure to visit the opulent San Cayetano Church (Templo de San Cayetano de La Valenciana), an ornate 18th-century basilica famous for its richly gilded altars, carvings, and artwork.
10. El Cervantino: The International Cervantino Festival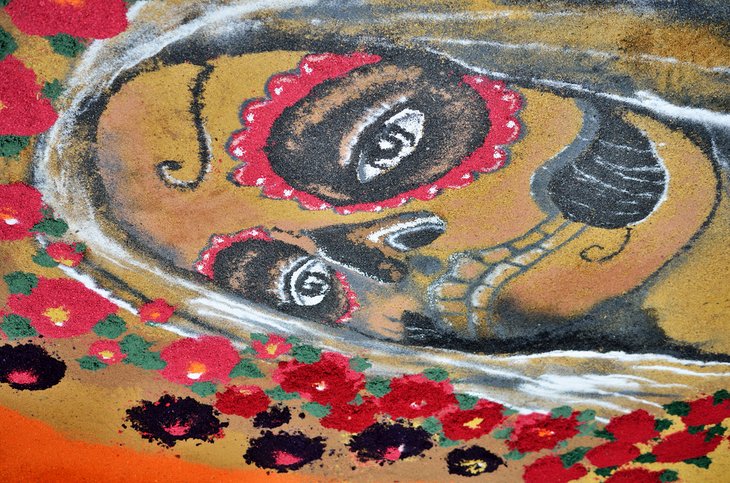 Already a bustling year-round tourist destination, come fall, the picturesque city of Guanajuato really springs to life with the arrival of the annual International Cervantino Festival (Festival Internacional Cervantino).
With key events held at spectacular venues such as Teatro Juárez, in addition to some 50 other locations across the city, this October celebration of the works of Spanish writer Miguel de Cervantes Saavedra – famous for his epic work, Don Quixote – draws upwards of 200,000 visitors to witness numerous presentations of art, music, and theater.
In addition to the performances, many city museums host related exhibits, while numerous cafés and restaurants get in on the act with special menus and demonstrations aimed at celebrating Spanish culture from around the globe.
11. Cristo Rey and Cerro del Cubilete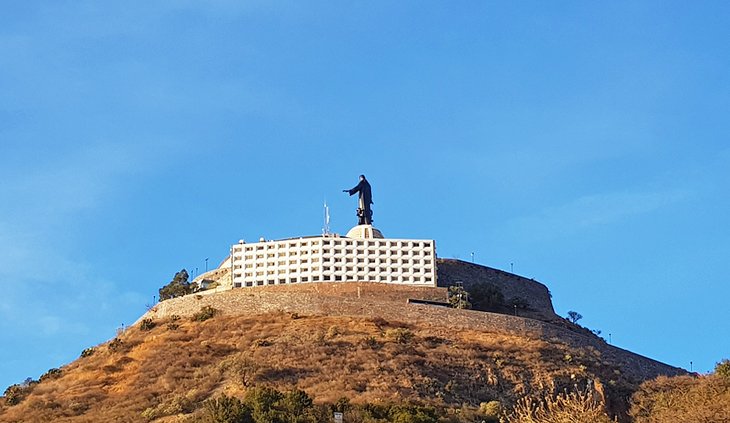 Perched high atop Cerro del Cubilete, an impressive mountain towering some 2,700 meters above sea level, stands Cristo Rey, a huge statue of Jesus Christ. Located just outside Guanajuato and making a splendid half-day trip, the site is the geographic center of the country and is considered to be one of the most significant religious sites in all of Mexico.
The statue itself is 23 meters tall and was completed in 1950, built in an Art Deco style on top of a smaller monument that was destroyed in 1928. Notable features include an altar under a large metal dome from which is suspended a large crown, signifying that said to have been worn by Christ. The glowing natural light that seeps through gaps in the dome add an otherworldly glow to the experience.
Afterwards, be sure to spend some time relaxing and enjoying the amazing views over the surrounding countryside, especially lovely at sunset.
12. The Diego Rivera House and Museum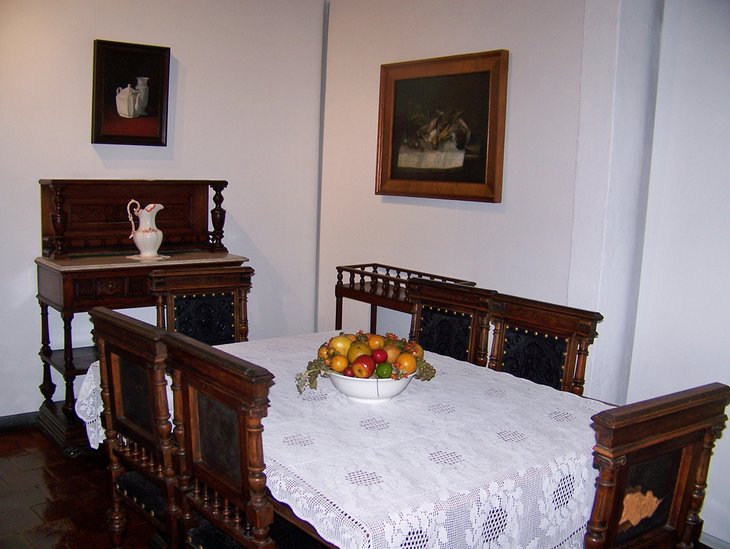 The tortured relationship of famed Mexican artists Frida Kahlo and Diego Rivera has been immortalized in works of art throughout the decades.
Frida Kahlo has become a symbolism for Mexican strength, power, beauty, and tragedy. Her husband, Diego Rivera, is Mexico's most famous muralist and is a symbol of Mexican power. Though the two lived a life of struggle and tragedy together, they are, without a doubt, one of the most famous couples in Mexican history.
A visit to Guanajuato isn't complete without a stop to The Diego Rivera House and Museum. He was born in this very building in 1886, along with his twin brother who died shortly after birth. The building was restored in the 1970s under the guidance of his daughter, Guadalupe Rivera Marin, and became the official Diego Rivera House Museum in 1975.
Within its walls, visitors can discover the recreated rooms meant to portray the first years of Rivera's life. Works of art include portraits of Frida Kahlo, as well as his mistress, Dolores Olmedo. Other works include his pencil and ink drawings, photographs, and enlargements of his more famous murals.
Address: Positos 47, Zona Centro, 36000 Guanajuato, Gto., Mexico
13. The Guanajuato Funicular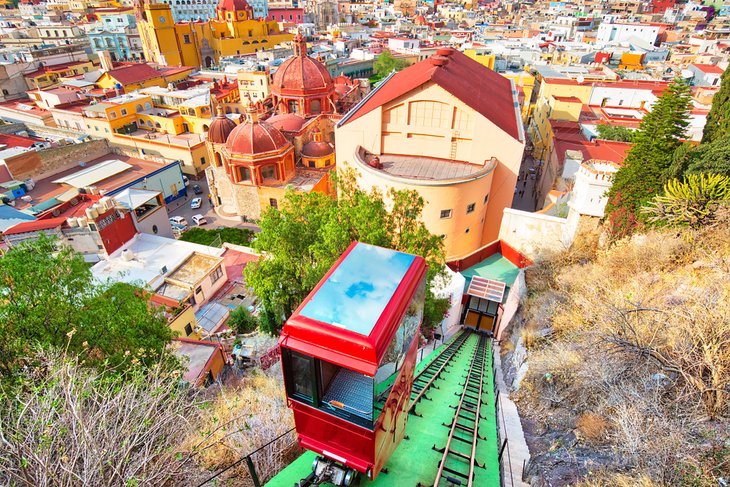 One of the best vantage points of Guanajuato is from above. Gazing out over the beautifully colored buildings, historic rooftops, and church towers gives such a sense of place. You really feel like you have discovered one of the jewels and the true heart of Mexico.
So what better way to see Guanajuato from above? Ride its funicular. The funicular is a cable-car elevator system that is designed to go up steep inclines. Guanajuato's funicular opened in 2001 and is located behind Teatro Juarez.
14. Mercado Hidalgo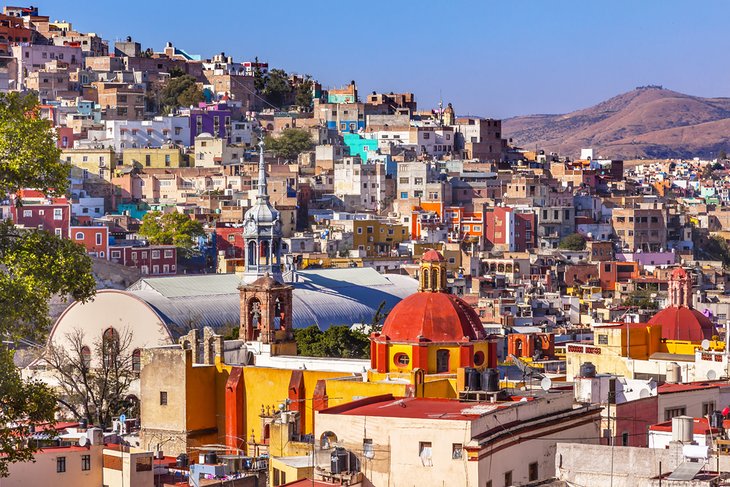 Mexico's market scene is famous around the world. Some of the best markets on the planet can be found in Mexico, and Guanajuato is no exception. The Mercado Hidalgo is Guanajuato's most famous market and is housed within a quintessential iron building. Inside the market hall is a humming collection of stalls that sell everything from produce and food to crafts, leather, and souvenirs.
More than just a fascinating glimpse into daily life in Guanajuato, the market hall has a fascinating history. It was originally intended as a railway depot, designed to make Guanajuato an economic hub of Mexico. But the plans to finalize the station never materialized, and in 1910, it was turned into a market.
The inauguration of the station fell over the same time as the celebration of 100 years of Mexico's independence from Spain and so was named Miguel Hidalgo, who was one of the founding fathers of Mexico's independence.
Address: Av. Benito Juárez Mercado, Hidalgo, 36000 Guanajuato, Gto.
Map of Things to Do in Guanajuato
Guanajuato, Mexico - Climate Chart
Average minimum and maximum temperatures for Guanajuato, Mexico in °C
J
F
M
A
M
J
J
A
S
O
N
D

22

7

23

8

26

10

28

12

30

14

28

15

26

14

26

14

25

14

25

12

24

9

22

8

PlanetWare.com
Average monthly precipitation totals for Guanajuato, Mexico in mm.

18

10

10

13

38

119

158

140

127

41

15

15
More Related Articles on PlanetWare.com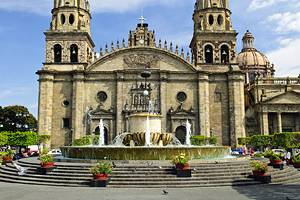 Places to Visit near Guanajuato: As difficult as it may be to pull yourself away from beautiful Guanajuato, try to find at least a little time to explore some of the nearby cities with their many points of interest. Great day trips include Guadalajara's many tourist attractions. This city is popular for its distinctive European flavor seen everywhere, from its wide avenues to its colonial architecture.
And let's not forget the country's capital, Mexico City. There's no end of museums and art galleries to explore, as well as many fine churches, cathedrals, palaces, and parks. (Hot Tip: Both these cities can be reached by an easy one-hour internal flight from Guanajuato.)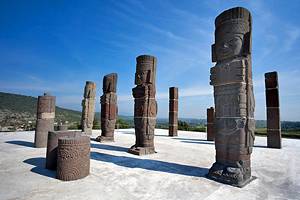 Explore Mexico's Rich History: Mexico's rich history can be seen everywhere. Some of the best ruins to explore near Guanajuato include Teotihuacán, the country's largest Pre-, Columbian ruins. Best combined as a side trip from Mexico City (and three hours from Guanajuato), this UNESCO World Heritage Site includes a first-rate museum, pyramids, and temples.
Although a three-hour flight, if there's room in your itinerary, try to schedule a few days in historic Oaxaca in southern Mexico. Highlights of this ancient Aztec settlement include such historic attractions as the 16th-century Oaxaca Cathedral and the spectacular Monte Albán ruins.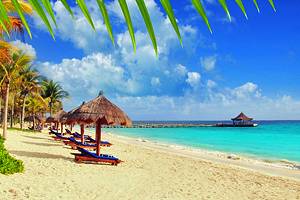 Mexican Vacation Ideas: Looking for other great places to visit in Mexico? Our favorites include relaxing on the beautiful beaches and experiencing the highlights of Cancún and the Mayan Riviera, and exploring the attractions and fine colonial architecture in the Yucatán capital of Mérida, to name but two of so many wonderful places to visit.