11 Best Cheap Places to Travel in May
We may earn a commission from affiliate links ()
In the mood for some pre-summer travel that's easy on your wallet, yet doesn't compromise your experience in a particular destination? Consider booking a trip in May. Just before the major high season, this time of year has plenty of great deals on otherwise pricey locales. May travel bargains can leave more room in your budget for additional vacations later this year.
You can get bargains on trips to some of Europe's top destinations, including Santorini and Istanbul. Tourists who want a beach getaway will be impressed by the value of beach vacations to Grand Cayman and Cancun during the month of May, with no risk of hurricanes to interrupt their travel plans. May is also the perfect time of year if you're looking to check out the famous pyramids of Egypt without breaking the bank.
For inspiration on your next budget-friendly escape, see our list of the best cheap places to travel in May.
Note: Some businesses may be temporarily closed due to recent global health and safety issues.
1. Santorini, Greece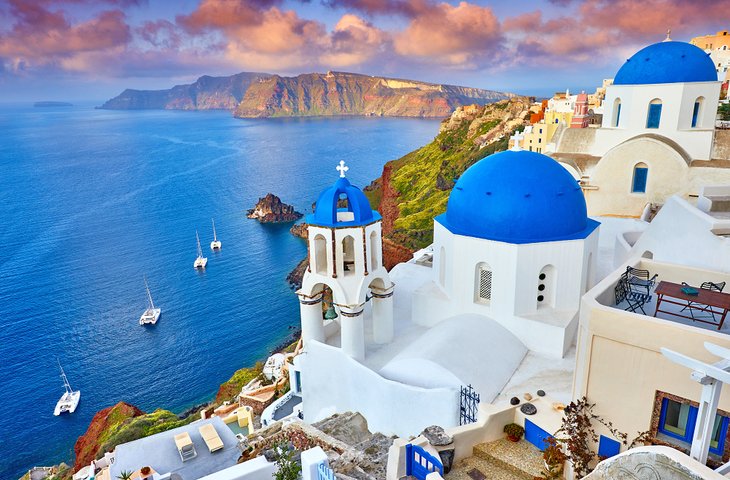 Travelers looking for good value on Santorini should explore a visit in May. That's when flights to the island in the Aegean Sea typically cost around half as much as they do other times of the year. You might also score a competitive rate on a hotel room at one of the best hotels in Santorini, like the villas at Celestia Grand, Atrina Canava 1894's luxe suites, or a room with a view at Petit Palace Suites Hotel.
Experience Santorini's quintessential sightseeing in its capital, Firá. You can wander around winding lanes flanked by the classic whitewashed houses and see the beautiful cerulean churches atop cliffs. Up north in Santorini, upscale Oia oozes romance and draws tourists with epic sunset views.
History buffs should make a point to visit the Akrotiri Archaeological Site while in Santorini in May. Like Pompeii, it features remarkably preserved pathways that were once part of a vibrant town, including the remains of buildings and nearly complete sets of pottery. Afterward, hike down the path from Akrotiri to Red Beach to relax beneath a magnificent wall of rust-hued rocks.
2. Grand Cayman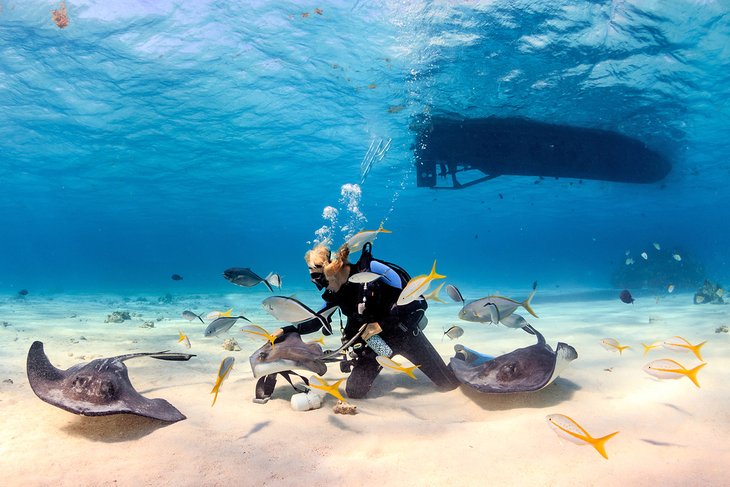 Just after high season but not quite yet hurricane season, May is a sweet spot for affordable trips to Grand Cayman. The Caribbean island is even more chilled-out than usual this time of year, giving you uninterrupted time to enjoy paradise in near solitude.
One of the top things to do in Grand Cayman is swimming with sea creatures at Stingray City. This shallow, sandy area, about 25 miles offshore, is filled with gentle Atlantic stingrays that you can touch and even kiss (the guides will insist that you give them a smooch for a photo!).
Grand Cayman is also one of the region's best diving destinations, if you're looking for a more advanced experience with sea life. Top dive sites off Grand Cayman include the Kittiwake Shipwreck & Artificial Reef and Devil's Grotto.
There's plenty of fun to be had on land in Grand Cayman, as well. Seven Mile Beach offers sublime views of the ocean and the island's striking sunsets. You can shop 'til you drop in the capital, George Town.
Queen Elizabeth II Botanic Park is also an underrated attraction. Not only does it have blooming orchids and lush jungle plants, the botanical garden is also home to giant blue iguanas, a species that is found only on Grand Cayman.
Accommodation: Top-Rated Resorts in the Cayman Islands
3. Costa Rica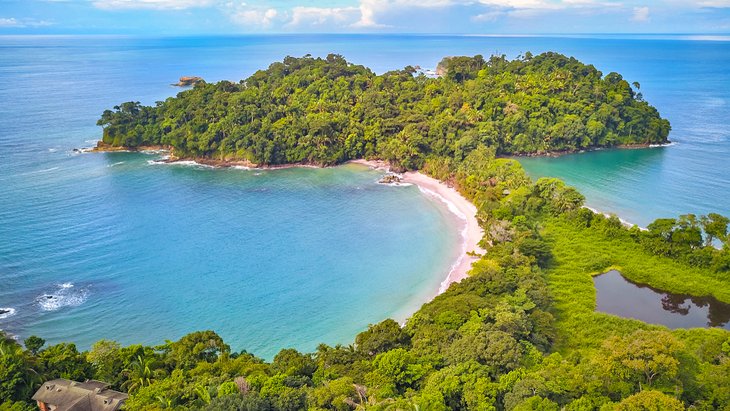 Craving a travel adventure focused on nature and wildlife? You can't go wrong with a trip to Costa Rica in May. It's only the very beginning of the rainy season, so while you are likely to have some chance of showers, you'll get much better prices for weather that's almost as nice as it is earlier in the year.
When it comes to tourist attractions in Costa Rica, Manuel Antonio National Park is at the top of the list of places to visit. The natural escape features a beautiful blend of sandy coastline and lush forest, plus tons of wildlife. Keep your eyes peeled for sloths, howler monkeys, and tropical birds.
Arenal Volcano National Park, another popular attraction, gives tourists the chance to see a 1,633-meter-tall volcano with massive ash columns. The park itself boasts rich biodiversity and is home many of Costa Rica's native species.
For even more wildlife, head to the Santa Elena Cloud Forest Reserve and the Monteverde Cloud Forest Reserve. They're home to some of the most interesting animals in Costa Rica, including jaguars and pumas. The misty environment also sets a soothing atmosphere for exploring nature.
Accommodation: Top-Rated Beach Resorts in Costa Rica
4. New Orleans, Louisiana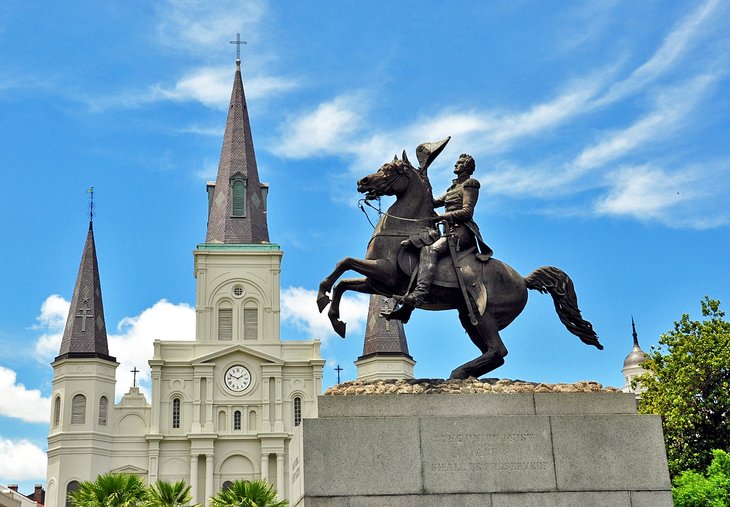 May is one of your last chances to visit the "Big Easy" before the city becomes infamously muggy for the summer, and fortunately, it's also less expensive than other times during high season. Your best bet is to plan your trip to New Orleans during the week, if you're looking to save some money. Expect warm days, breezy nights, and plenty of Creole culture.
Exploring the French Quarter is the highlight for most tourists who visit New Orleans. This historic district brims with French-inspired architecture and heritage buildings, the city's top restaurants, art galleries, and souvenir shops. Bourbon Street buzzes with the sounds of live music all day and all night long.
You might also consider checking out the buskers outside St. Louis Cathedral at Jackson Square, listening to renowned jazz musicians on Frenchmen Street, and wandering around Royal Street.
New Orleans swirls with superstition and spirituality. Get immersed in the local zeitgeist on the New Orleans Ghost, Voodoo & Vampire Walking Tour. Under the light of the moon, a guide will take you around to some of the most eerie sites in the city, telling you stories of hauntings, spells, and mysterious happenings. It's an intriguing (and fun!) way to learn about the culture and history of this city.
Accommodation: Where to Stay in New Orleans: Best Areas & Hotels
5. Istanbul, Turkey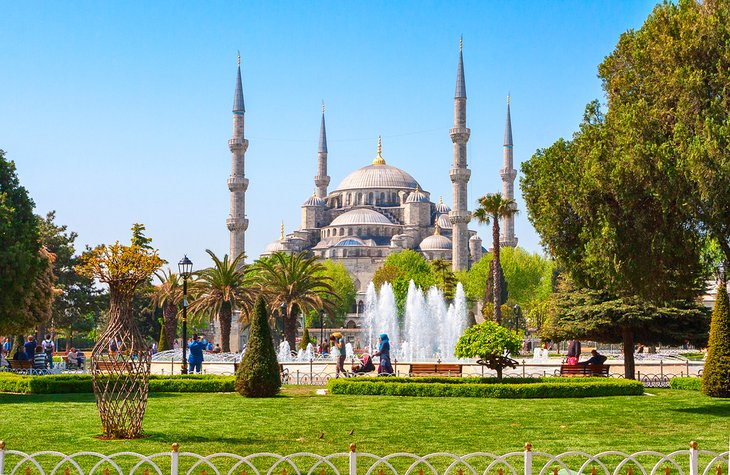 Eager to draw business from the limited number of foreign arrivals, hotels and airlines often offer fantastic deals on trips to Istanbul in May – right before tourism skyrockets for the summer. It's a great time to take advantage of competitive pricing and enjoy vacation-worthy weather (Think: highs of 22 degrees Celsius, lows of 12 degrees Celsius, and hardly any rain) in the Turkish capital.
Even on a short itinerary, tourists can experience many of Istanbul's top-rated tourist attractions in May, as the entry lines should be relatively short. Visit the Aya Sofya, the 1,500-year-old church-turned-mosque, arguably the most recognizable landmark in the city.
Get dazzled by the Islamic art, elaborate courtyards, and highly decorative rooms of the 15th-century Topkapi Palace. Soak up the mysterious serenity (and see the haunting Medusa stones) at the Basilica Cistern. Experience the beauty of the Blue Mosque and hear the call to prayer from one of its seven minarets at dusk.
Don't leave Istanbul without catching the UNESCO-listed Whirling Dervish Show at the Hodjapasha Dance Theater. The dizzying performance is a must-see for tourists who are interested in Turkish culture.
Accommodation: Top-Rated Places to Stay in Istanbul
6. Cancun, Mexico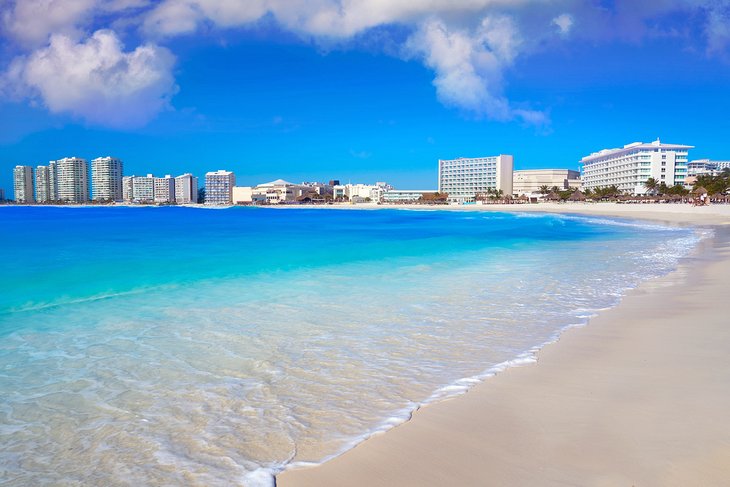 Aside from the occasional shower or two, Cancun has fantastic weather in May. The spring breakers have returned home, and resorts are eager to fill their rooms, dropping their prices to ultra-low rates. It'll be hot, but with Cancun's breezy, uncrowded coastline and breathtakingly clear sea, you won't sweat it.
Beaches top the list of the reasons why tourists visit this magnificent part of the Yucatan Peninsula – and for good reason. They've got wide swaths of sparkling, sugary sand; gentle surf; and ocean water in every shade of blue you could imagine. You'll likely have access to a pristine beach directly from your resort.
But don't get too caught up with the relaxing side of this destination. Cancun also has some spectacular archeological sites that are worth a day trip or two. Chichén Itzá, a three-hour drive from Cancun's resort area, is one of the biggest and best-restored archeological sites in all of Mexico. The 1,000-year-old Mayan attraction has received designation as a UNESCO World Heritage Site and is home to the famous El Castillo pyramid.
For more Mayan ruins, book a trip to El Rey. The archeological site contains dozens of buildings and tombs that date back to AD 900. Look out for the resident iguanas that sunbathe on the structures.
Take the rest of your aquatic adventure to the Cancun Underwater Museum. The quirky diving attraction contains two seabed-based art galleries with hundreds of sculptures from artists in the U.K. and Mexico. More than just an art installation, though, these works are actually helping new coral reefs form. Check it out on a guided snorkeling or diving tour, or on a glass-bottom boat excursion.
Accommodation: Where to Stay in Cancun: Best Areas & Hotels
7. Lisbon, Portugal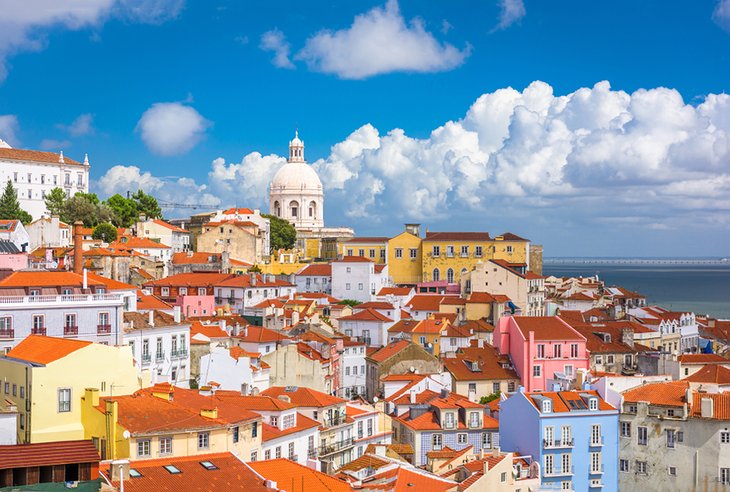 Looking for a deal on Lisbon? Sneak in a vacation to this beloved European city in May, just before prices jump in June, and you'll find that you can get great bang for your buck.
Between its historic attractions, top-notch restaurants, marvelous coastal location, and easygoing culture, the hilly Portuguese capital has something for everyone. Get a view of the entire city and the River Tagus at Castelo de São Jorge, one of Lisbon's most popular tourist attractions. It contains a thoughtful museum and archeological site that offer details on the history of the city.
Another Lisbon highlight is the 500-year-old Mosteiro dos Jerónimos. The UNESCO World Heritage Site celebrates the Age of Discovery and is a fantastic place to visit.
While in the neighborhood, swing by the Torre de Belém. The historic tower has a decorative façade, embellished with maritime designs, and offers lovely views of the riverfront from the top-floor terrace. It's well worth the climb up the steep spiral staircase.
The best sightseeing in Lisbon happens in the Baixa (downtown) district. Take a creaky ride 32 meters up to the Santa Justa Lift, a neo-Gothic elevator that sticks out against the rest of Lisbon's more graceful architecture.
Stroll beneath the landmark Arco de Rua Augusta to eventually reach the Praça do Comércio, a massive riverfront plaza filled with outdoor restaurants and street performers.
As you wander around the neighborhood, keep your eyes peeled for blue-and-white tiles known as azulejos. You can learn more about this unique Portuguese art form (and see some of the earliest-known tiles) at the Museu Nacional do Azulejo.
Accommodation: Where to Stay in Lisbon: Best Areas & Hotels
8. Cairo, Egypt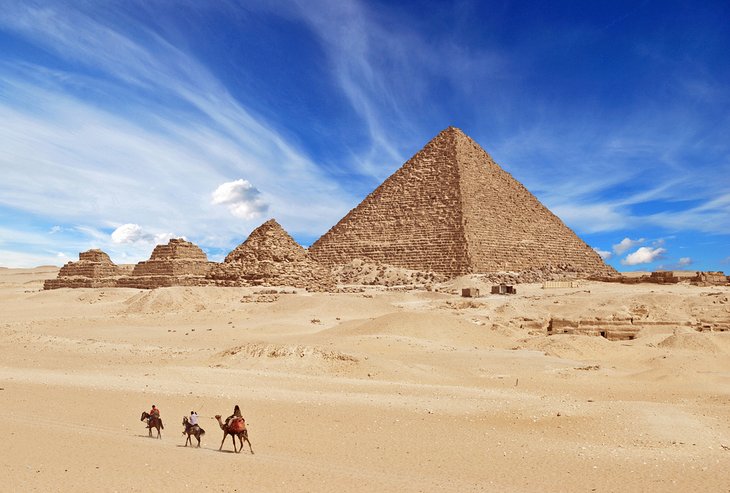 Few, if any, travelers don't have the Pyramids of Giza, the Sphinx, and the Valley of the Kings somewhere on their bucket list. Cross Cairo off yours this May while the temperatures around North Africa are still bearable and the shoulder season creates opportunities for travel deals.
You only need a half day to see the most remarkable pyramids in Egypt, leaving plenty of room in your itinerary to explore other sites.
Step inside the pastel pink mansion in Downtown Cairo to explore one of the best cultural attractions in the world: the Egyptian Museum. The Tutankhamun Galleries are the biggest draw at this museum. They contain the treasures discovered in the Valley of the Kings in 1922, including Tutankhamun's death mask and sarcophagi and the pharaoh's wardrobe collection. The museum also contains quite a few mummies and a collection of ancient Egyptian jewelry that will impress even the most blinged-out tourists.
Continue time-traveling through Egypt in Cairo's other historic sites. Al-Azhar Mosque, which is more than 1,000 years old, is home to one of the oldest universities in the world. Tourists can see parts of Roman towers and tons of old churches, including the church where Mary and Jesus reportedly took shelter when male babies were being massacred by King Herod, in Coptic Cairo.
Another one of the top things to do in Cairo is touring the Citadel at the foot of the Mokattam Hills.
End your experience in this must-visit destination at Khan el-Khalili, a Middle Eastern bazaar with an endless array of shops. Here, you can find traditional souvenirs to take home, including fine textiles, perfumes, metal lampshades, and more.
9. Rome, Italy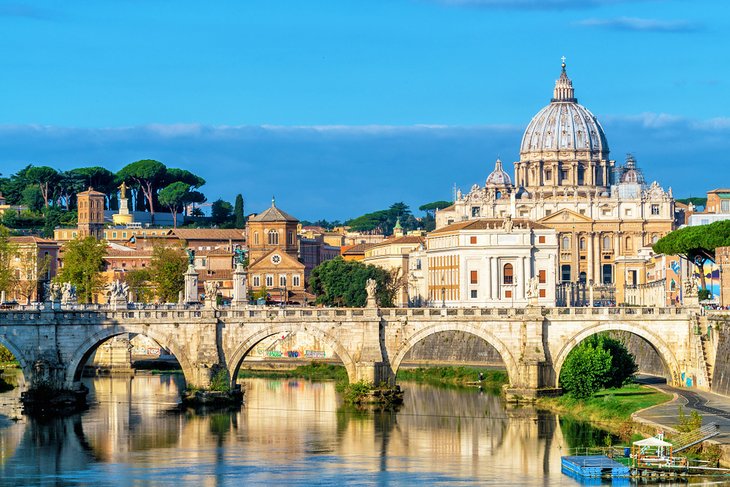 Don't want to wait in a six-hour line to visit St. Peter's Basilica, or endure unwieldy hordes of tourists at the Colosseum? Consider planning a trip to Rome in May.
Not only will you have incredible weather for sightseeing in Rome (highs around 24 degrees Celsius, lows around 13 degrees Celsius), the pre-summer travel season brings far fewer travelers to this popular tourist destination than later in the year. You can easily get reasonable rates on hotels and activities.
With such relatively small crowds, May is the perfect time of year to check Rome off your bucket list. Visit the Colosseum, one of the top tourist atttractions in the world, to see how this Roman antiquity has gone on to inspire today's sports arenas.
Head to the world's smallest independent state, the Vatican, to see the Sistine Chapel, Vatican Library, and St. Peter's Square.
Wander around the Pantheon, a 2,000-year-old monument that features a spectacular 43-meter dome. Finally, toss a coin in the Trevi Fountain –legend has it that the ritual ensures at least one return visit to the Eternal City.
Accommodation: Where to Stay in Rome: Best Areas & Hotels
10. Porto, Portugal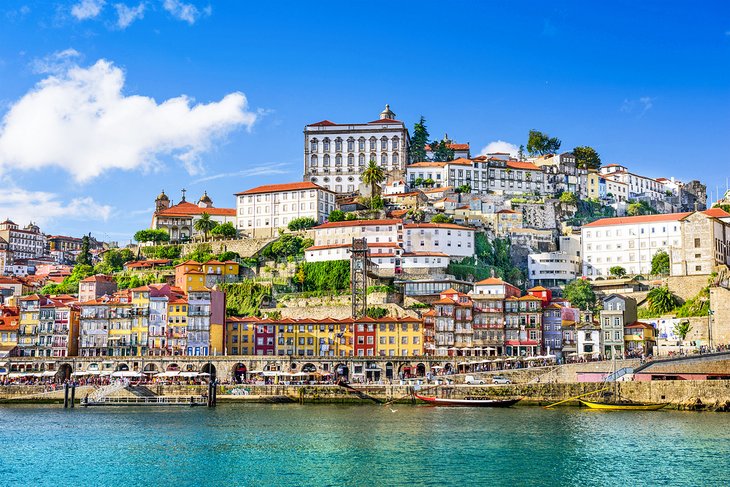 While the cheapest time of year to visit Porto is during the winter, the chilly and rainy weather can put a damper on sightseeing. Instead, consider visiting in May, when the Portuguese city is sunny and warm, and prices are far less than you'd pay during the peak of summer.
During your May vacation to Portugal, you should make a point to visit Porto's popular attractions, like Clérigos Tower, Palácio da Bolsa, Igreja de São Francisco, and the Sé. Plan to spend at least one afternoon basking along the River Douro at Cais da Ribeira, one of Porto's historic areas. Exploring the neighborhood's maze-like alleyways will make you feel like you've stepped back in time.
Porto does see some rain showers during the month of May. Fortunately, the city has lots of fun things to do indoors. Check out the renowned collection of Portuguese art from as far back as the 16th century at the Soares dos Reis National Museum. Catch a performance at the architecturally impressive Casa da Música. And dig into Porto's best cakes and pastries at Café Majestic. Its Art Nouveau design is just as sweet as its baked goods.
Accommodation: Where to Stay in Porto
11. Portland, Oregon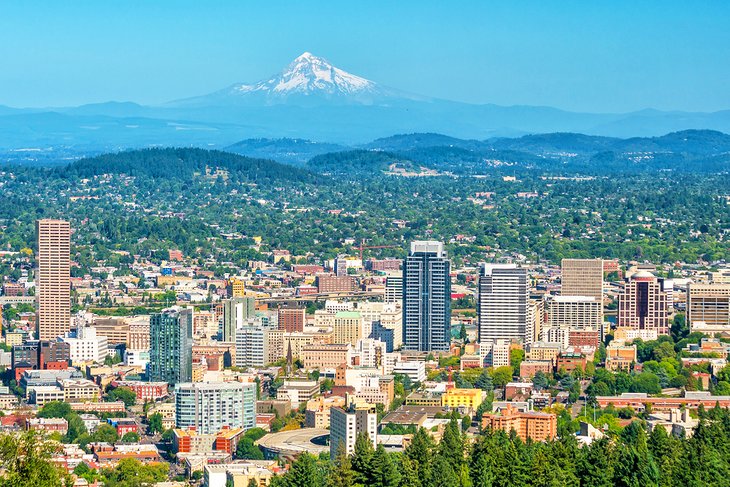 With its epic mountains, lush green forests, and laid-back culture, the Pacific Northwest is a dream destination year-round. Budget-seekers can find great deals on one of the region's most popular cities, Portland, during the month of May – without making many trade-offs. The balmy springtime weather lends itself to days of exploring the great outdoors and enjoying Portland's famous attractions, like the International Rose Test Garden.
While in Portland in May, tourists can go whale watching and hike the trails at Mount Hood. Spend an afternoon enjoying the scenery at Lan Su Chinese Garden, an atmospheric botanical garden built in the style of the Ming Dynasty.
If it rains, make your way to the Portland Art Museum. It has a robust collection of Native American and Northwest art that gives you a deep sense of place.
Visitors who come to Portland in late May can take part in a very special event: the Portland Rose Festival. More than a century old, this annual celebration celebrates Portland's iconic flowers with a rose competition, fireworks, art shows, boat races, and parades. Don't miss it.
Accommodation: Top-Rated Places to Stay in Portland, Oregon