14 Top-Rated Tourist Attractions in Portland, Oregon
We may earn a commission from affiliate links ()
Portland, the largest city in Oregon, straddles the Willamette River and is considered by many to be one of the most desirable places to live in the United States. It's a combination of creative culture and flourishing city attractions that brings flocks of tourists and soon-to-be residents to The City of Roses.
Perhaps to compensate for the damp Pacific Northwest winters, visitors will find a wealth of cultural happenings, musical entertainment, theater, and a selection of other fun things to do in Portland. And those same rains nourish the city's impressive gardens, one of the city's top attractions. Green spaces range from colorful plantings of roses and rhododendrons to a classical Chinese garden.
Portland's proximity to other major Pacific Northwest destinations also adds to its popularity. From the Oregon Coast to Mount Hood and the Columbia River Gorge, epic Oregon adventures are less than two hours in any direction.
Discover the best places to visit in this culture-rich city with our list of the top attractions in Portland, Oregon.
See also: Where to Stay in Portland
1. Washington Park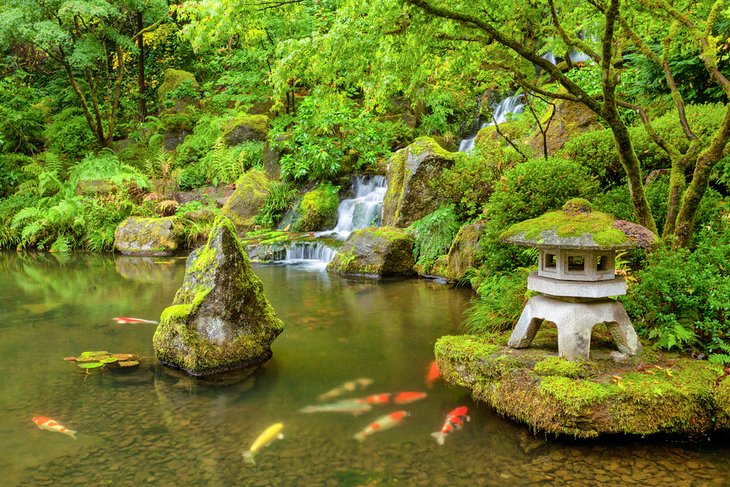 Portland's Washington Park contains a number of tourist attractions, including the famed International Rose Test Garden, a zoo, and museums. A one-time wild land first purchased by the city in 1871, it is located to the west of the city center. Visitors can spend an entire day exploring the park's attractions, and another strolling through the unusual gardens.
The well-known International Rose Test Garden is where new varieties of roses are grown. In the city's mild climate, roses continue to flower into autumn, though visitors will want to catch an annual Rose Festival in May and June.
The Portland Japanese Garden is another all-day escape in Washington Park. It's one of the largest outside Japan and is landscaped on the grounds of an old zoo.
2. Columbia River Gorge National Scenic Area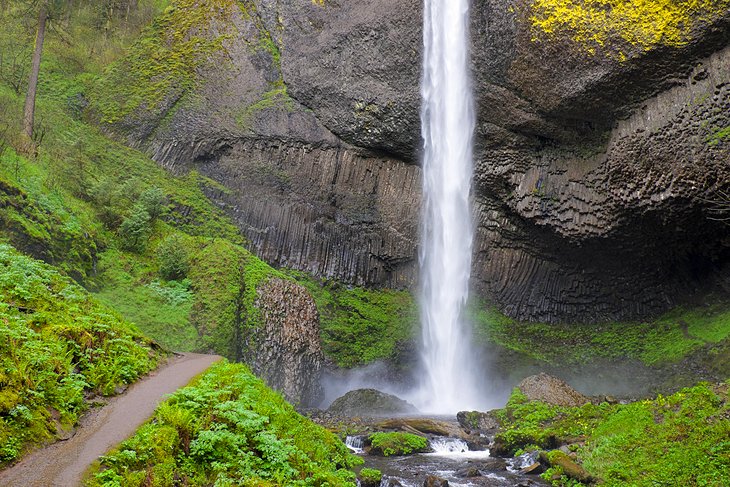 The Columbia River marks the Oregon-Washington state border, and its entire length is a remarkable sightseeing region ideal for leisurely drives and enjoying the outdoors.
The Columbia River Gorge National Scenic Area is one of the top day trip destinations from Portland, covering an immense 292,500 acres along the Pacific Northwest's largest river. The trip takes in locks, viewpoints, and hiking trails.
Many visitors like to stop and photograph the waterfalls that edge the route, including the towering Multnomah Falls (which flows year-round), lovely Oneonta Gorge, and Latourell Falls in Guy W. Talbot State Park.
Other places to visit include Vista House at Crown Point and the Angel's Rest hiking trail. Camping is available in the gorge at Ainsworth State Park.
3. Pittock Mansion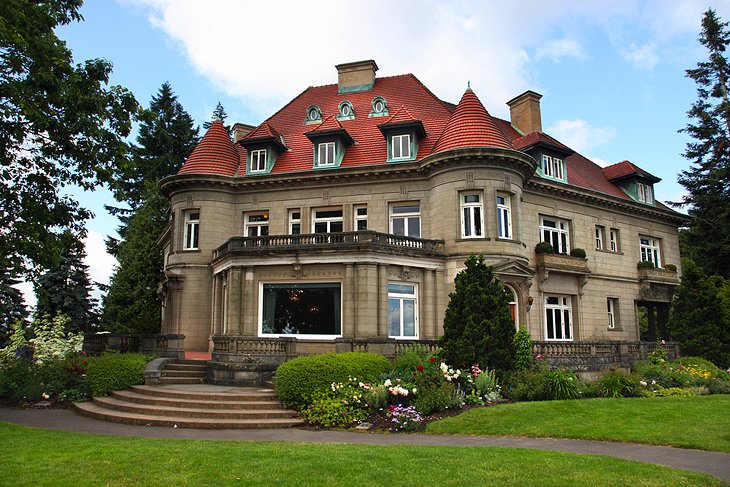 Just west of downtown Portland, this grand home was built in 1914 by Henry Pittock - founder of the Oregonian newspaper. Pittock lived here for only five years until his death in 1919 at the age of 80.
The house, set for demolition in the 1960s, brought the community together as they persuaded the City of Portland to purchase the home. Through private fundraising, the mansion was restored to its full glory, and it is because of this forward-thinking of residents that visitors have a chance to tour this impressive and eclectic home today.
Especially for its day, the Pittock Mansion had many impressive features, including a central vacuum system, intercoms, and indirect lighting. The home is set on 46 acres and at an elevation 1,000 feet above Portland. This allows for exceptional views of the city on clear days.
4. International Rose Test Garden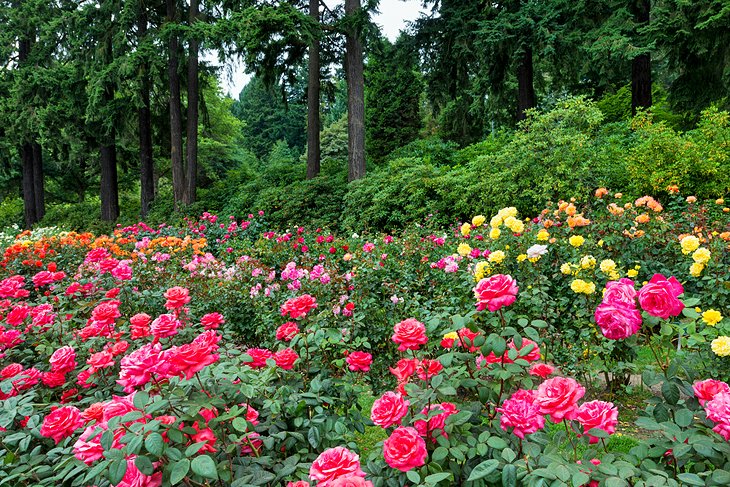 The Rose Test Garden in Portland's Washington Park was founded in 1917 and is the oldest continuously operated public rose test garden in the United States. The grounds are divided up into several sections with many interesting plants and spaces to explore. The garden develops new rose varieties and even miniatures, and past award winners are planted in what is known as the Gold Award Garden, which also features a lovely gazebo.
It's best to visit during the late spring bloom. On blue sky days, Portland's city center and Mount Hood are in clear view from the gardens. Parking is often competitive at the International Rose Test Garden, but the city provides expansive public transit options to reach the park.
5. Forest Park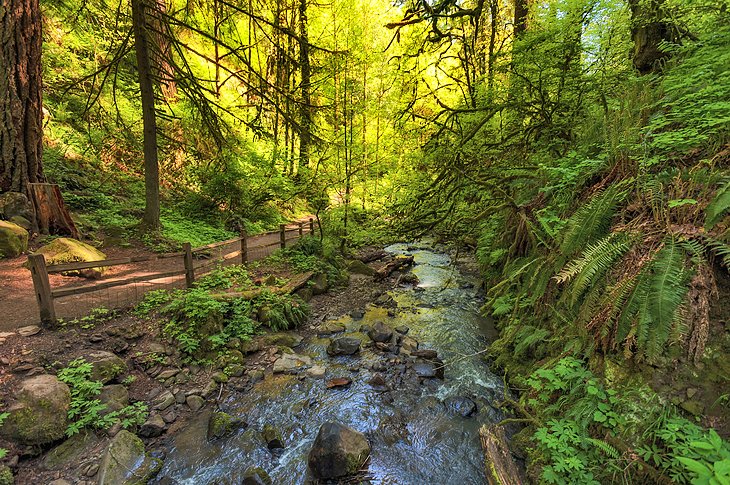 Forest Park flanks the west side of the city and provides more than 5,000 acres of Northwest forest to explore, providing an easy escape from the urban environment. It covers the eastern slope of the Tualatin Mountains and is one of the largest urban parks in the country. The park is easily accessible by car, bike, or public transportation.
The park is home to many of the best hiking trails in the Portland area and contains more than 80 miles of hiking and walking trails. First-time visitors should bring a map to help navigate. The 30-mile Wildwood Trail is popular, as it connects with other pedestrian paths that circumnavigate the city.
6. Powell's City of Books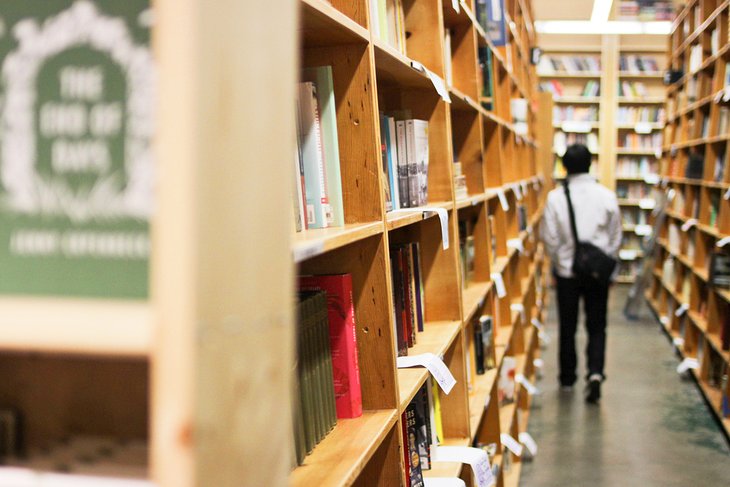 Bibliophiles will love exploring more than a million books at this legendary used bookstore. Shelves mix new titles with used copies for a slightly haphazard but welcoming feel.
Staff picks, clever displays, and plenty of space to lean against a corner and read make choosing a book easier to do. The Burnside location also features a roomy coffeeshop with plenty of space to sit and read your new book selection.
7. Portland Japanese Garden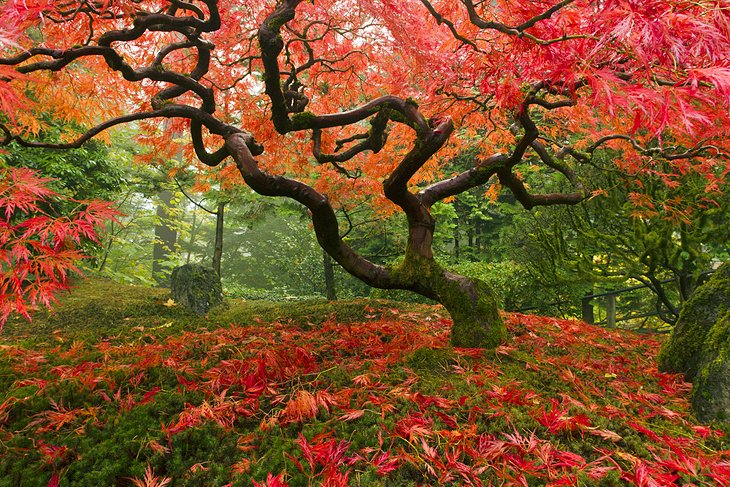 Encompassing 12 acres within Washington Park, Portland's Japanese Garden is located on the grounds of an old zoo. It was first opened to the public in 1961 and built to give the citizens of Portland a place to find serenity in their day and to recognize the growing cultural ties between Oregon and Japan. Both impressions remain today at the Japanese Garden, and the area is beautifully laid out in a variety of styles that offer a uniquely peaceful experience for visitors.
8. Portland Art Museum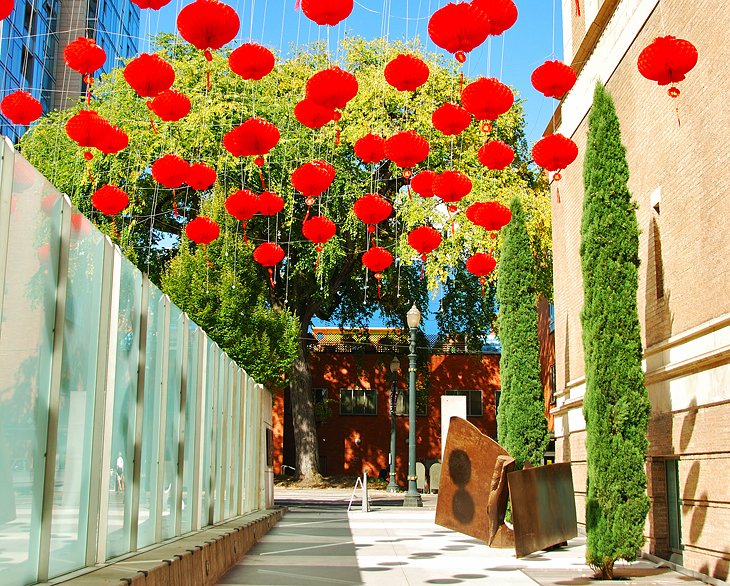 The Portland Art Museum is the oldest museum in the Pacific Northwest, founded in 1892. It has since amassed a substantial and varied collection. The number of items exceeds 50,000, and only a small portion is displayed in more than 112,000 square feet of gallery space.
Highlights include Native American artifacts, graphic arts, English silver, Asian art, photography, and Northwest art. One of the Portland Art Museum's most notable pieces is Vincent Van Gogh's Cart with Black Ox.
9. Lan Su Chinese Garden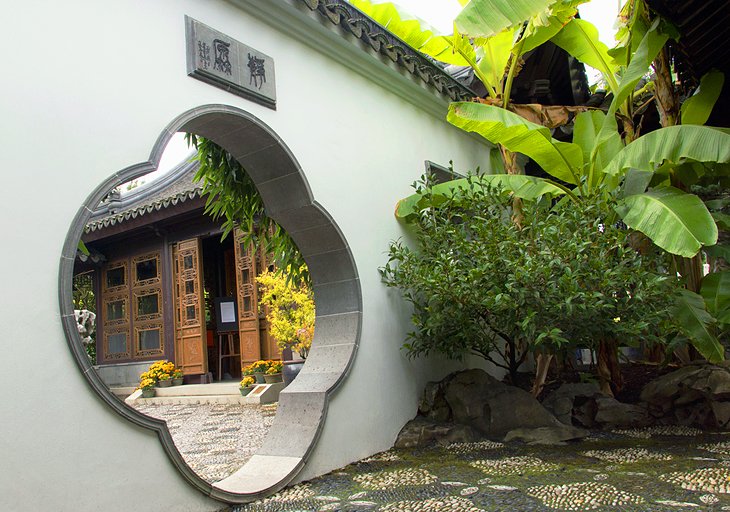 The Lan Su Chinese Garden opened in the year 2000 to shed light on Chinese culture and history after the city developed a relationship with its sister city of Suzhou, China.
This tranquil environment blends rocks, plants, trees, gardens, and a lake on about 40,000 square feet, roughly a city block, of land in central Portland. Artisans came from Suzhou to construct traditional buildings and walkways, and native Chinese plants were imported.
10. Oregon Museum of Science and Industry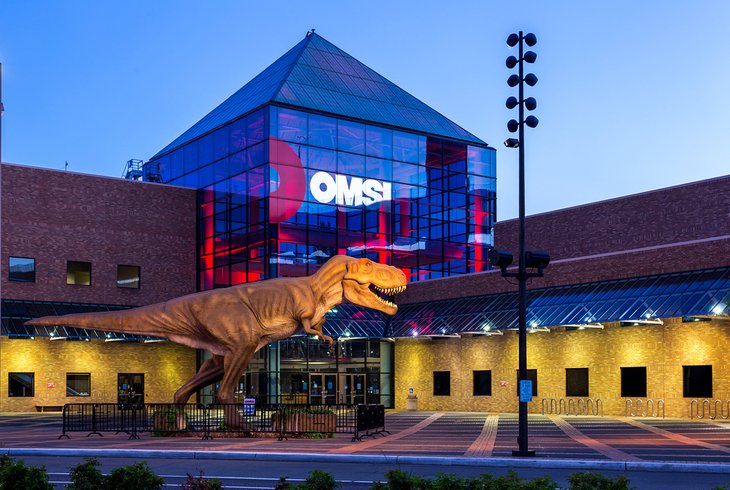 The OMSI complex in Portland includes a theater with a four-story screen, a planetarium, a US Navy submarine, and educational hands-on displays. Among the galleries, visitors find colorful, entertaining, and educational exhibits for young children, as well as hands-on and interactive displays for all ages. Some of the fields cover energy, the environment, health, chemistry, engineering, and technology.
11. Oregon Zoo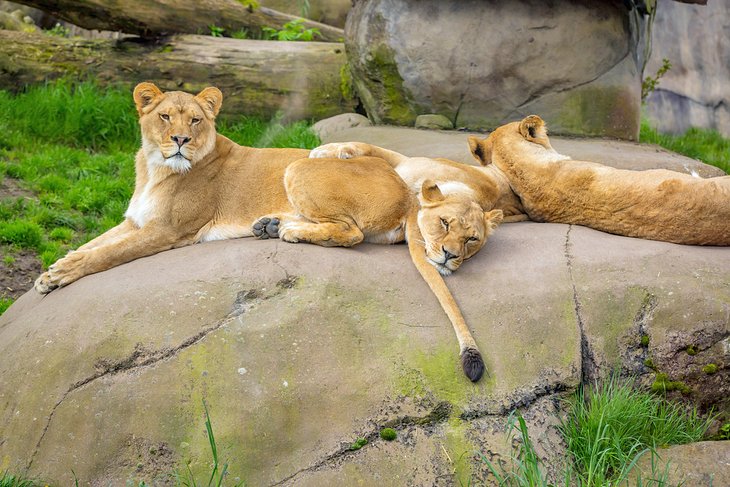 Located in Washington Park, Oregon Zoo features hundreds of species, including many birds and marine animals like Steller sea lions and sea otters. Animals from around the world are represented here, from the African savannah to the Amazon and Arctic. One man, Richard Knight, put together a private collection of animals and began the zoo in the late 1800s.
Visitors may also want to take the time to learn about the Oregon Zoo's conservation programs and research, as one of the primary focuses is on preserving the species of the Pacific Northwest.
12. Crystal Springs Rhododendron Garden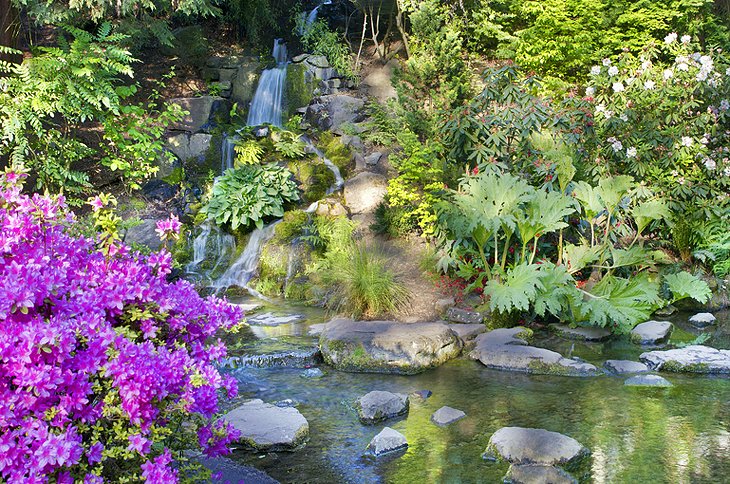 Beyond the Pacific Northwest's rhododendrons, this Portland garden also contains azaleas, Japanese maples, dogwood, and magnolias on almost ten acres of land. While the main attraction is, of course, the spring blooms, when the colors are simply incredible, the spectacle continues into early summer.
The gardens are just as popular for waterfowl, and hundreds of species of birds are spotted in the park throughout the year. In winter, admission is free, and the garden becomes a peaceful place to spend some time.
13. Portland Saturday Market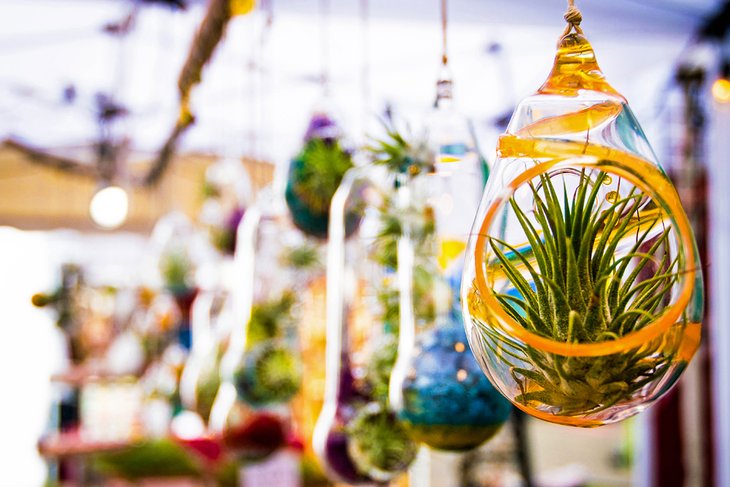 The Portland Saturday Market was founded in 1974 and has evolved to become one of the city's largest open-air artist markets with over a million visitors each year. Today, the market occurs between the beginning of March and Christmas Eve in the Old Town Chinatown district, next to the Willamette River.
Over 250 vendors set up each Saturday morning. These local purveyors sell all types of arts and crafts, ranging from woodworks to jewelry and including illustrations, souvenirs, and home décor. It's completely free to visit the Portland Saturday Market, except for parking. The market is very accessible via bicycle or public transportation.
14. Mount Tabor Park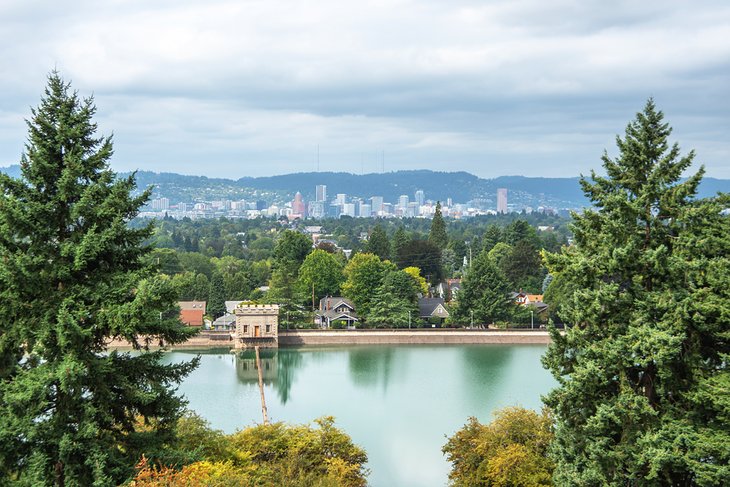 Mount Tabor is a dormant volcano in Southeast Portland surrounded by a city park. It's named after an Israeli peak and has been a public park since 1903. The famous landscape architect, John C. Olmsted helped design the park, which today still features several scenic trails, monuments, and long gardens of native plants.
The park is one of the most popular in Portland to enjoy a sunny day. The park encompasses nearly 200 acres, offering plenty of space to roam and discover something new. A few other park attractions include basketball and tennis courts, statues and public art, and a fantastic sunset view atop the summit.
Where to Stay in Portland for Sightseeing
The best place to stay in Portland for fun and sightseeing is right downtown. The city center is relatively compact, and staying here will put you in reasonable proximity to many of the major attractions. Nearby is Nob Hill with trendy restaurants and boutiques. Below is a list of highly- rated hotels in convenient locations:
Tips and Tours: How to Make the Most of Your Visit to Portland
More Related Articles on PlanetWare.com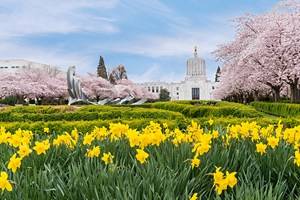 Other Oregon Cities: East of Portland, in the Columbia River Gorge, the city of Hood River is gaining notoriety as the windsurfing capital of the West Coast. South of Portland in the Willamette Valley, the state capital of Salem features great manicured spaces, including an ornate state capitol building. For some Southern Oregon adventures, the Shakespearean city of Ashland entices travelers with its attractions and festivals.