11 Top-Rated Tourist Attractions in Montego Bay
We may earn a commission from affiliate links ()
Packed with all the ingredients for a fun tropical vacation, Montego Bay ("MoBay") is a thriving cruise ship port and a hot spot for value-seeking tourists. Sun-soaked beaches, historic plantations, tropical gardens, and a lush countryside rippling with jungly peaks provide a peaceful escape from the urban grit of the downtown precinct.
Accommodation is abundant. Large resorts and all-inclusive hotels preside over the best patches of sand, and you'll find more guest rooms here than any other part of Jamaica.
Things to do in Montego Bay tick all the tropical boxes. Divers and snorkelers can explore the protected waters of the Montego Bay Marine Park, as well as the reefs fringing the blonde-sand beaches. Fishing, golfing, and guided river rides on bamboo rafts are also top things to add to your itinerary.
Traveling to Jamaica with kids? One of the popular Montego Bay activities for families is ziplining through the jungle, or you can hike to waterfalls for more family fun.
Montego Bay also offers a busy lineup of festivals, concerts, and sporting events. The Montego Bay Yacht Club hosts the bi-annual Pineapple Cup Montego Bay Race, and music lovers flock here each year for Reggae Sumfest.
Need help planning the best places to visit? Read our list of the top attractions in Montego Bay.
See also: Where to Stay in Montego Bay
1. Martha Brae River Rafting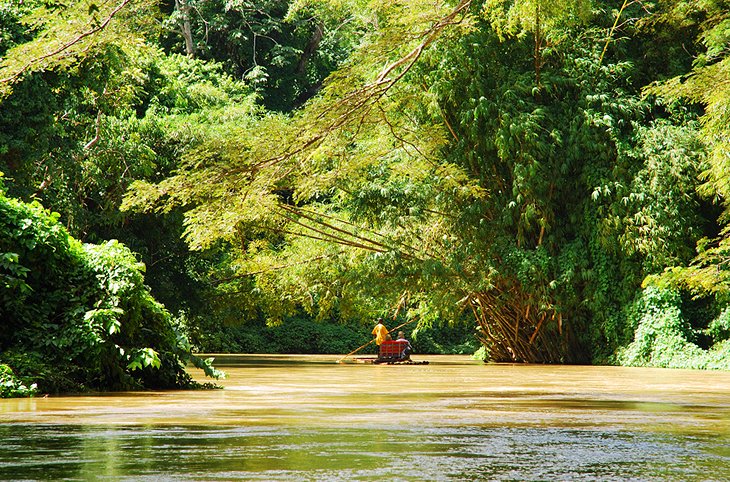 Rafting the Martha Brae River is one of the most peaceful and romantic things to do in Montego Bay. It's also a relaxing way to soak up the lush scenery of Jamaica's countryside.
The trip involves drifting down five kilometers of jungle-fringed river on bamboo rafts poled by local guides. Along the way, you can learn about the local flora and fauna. Some guides also serenade you with reggae songs.
Trips leave from the Martha Brae Rafting Village, about 32 kilometers from Montego Bay. Amenities here include picnic grounds, swimming pools, restrooms, souvenir shops, a lounge area, and a medicinal garden. It's a good idea to bring your swimsuit in case you want to take a dip before or during your rafting adventure.
River tubing is another fun way to float Jamaica's jungle rivers. From Montego Bay, these trips usually take place on the Great River and include an exhilarating chance to shoot some rapids.
Official site: http://www.jamaicarafting.com/
2. Doctor's Cave Beach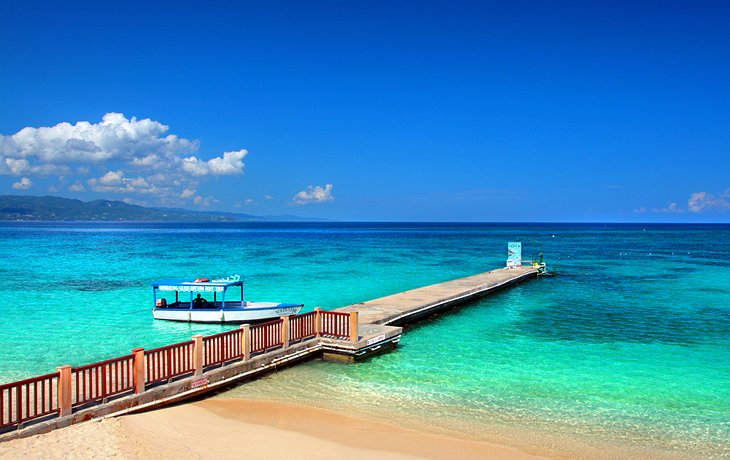 At Doctor's Cave Beach and Bathing Club, white sands fringe clear, calm waters that some believe are fed by mineral springs. In the early 1920s, a famous British osteopath declared that the water had curative powers after swimming here – a claim that helped shape the future of Montego Bay by luring visitors from around the world. Hotels sprung up along the beach, and the area became a tourist hot spot.
Today, the beach is as popular as ever, and it's often crowded with cruise ship passengers, despite the admission charge. This is also a popular place to go snorkeling in Montego Bay.
Amenities at the beach include change rooms, restaurants, and gift shops, and you can also rent beach equipment.
If you prefer to have less people sharing your Montego Bay beach experience, Cornwall Beach is right next door and also offers decent snorkeling and picture-perfect white sand and blue sea.
Address: Gloucester Ave, Montego Bay
Official site: http://www.doctorscavebathingclub.com/
3. Rose Hall Great House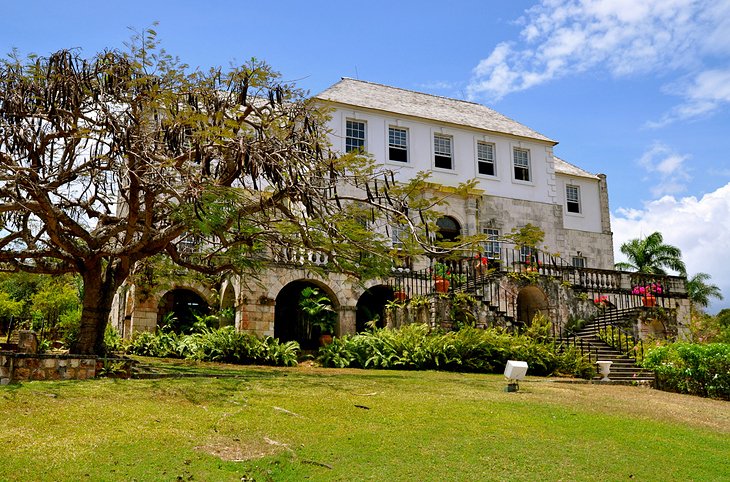 Overlooking the ocean, about 20 minutes from Montego Bay, Rose Hall Great House is a restored plantation home built in 1770. According to legend, Annie Palmer (the White Witch of Rose Hall) ruled here with cruelty and possessed black magic powers that would eventually seal her husband's grim fate.
Today, her home is decorated with furniture from the period, and you can step back in time on a guided tour of the house. If you're looking to up the excitement factor, the spine-chilling candlelit night tour is one of the most unique things to do in Montego Bay. Some claim to have seen the ghost of the White Witch drifting through the Great House.
Address: Rose Hall Hwy, Rose Hall Estate, Rose Hall, Montego Bay
Official site: https://rosehall.com/
4. Dunn's River Falls & Nine Mile Day Trip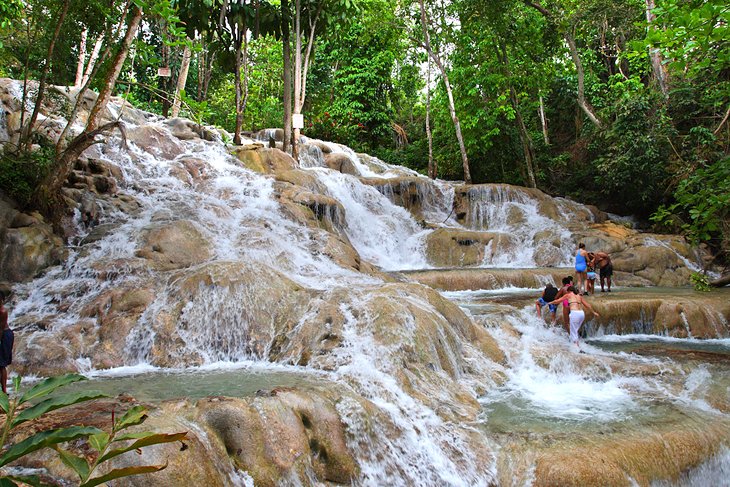 One of Jamaica's most famous natural features, Dunn's River Falls tumble down 180 meters of smooth limestone terraces into the sea. The falls lie about a 90-minute drive from Montego Bay, near Ocho Rios. They are a popular day trip, and you can combine a visit here with a tour of Nine Mile, the birthplace of legendary reggae musician Bob Marley.
The Jamaica Combo Tour: Dunn's River Falls and Bob Marley's Nine Mile tour packs plenty of fun into one full day. The tour begins with an informative guided visit to Nine Mile, where you can learn about Bob Marley's life as you wander through the village. After a traditional Jamaican lunch, hike to the top of Dunn's River Falls and cool off in its terraced pools. If you want to pack even more attractions into your day, you can add an optional night boat ride on the Luminous Lagoon.
5. Jungle Ziplining Tours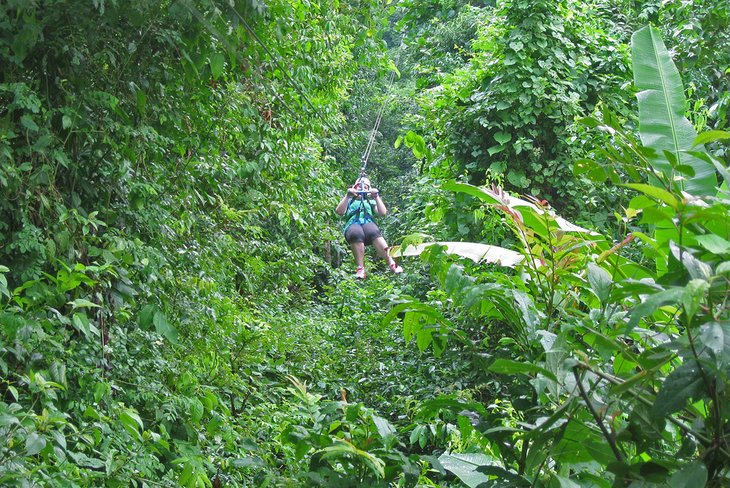 Looking for an adrenaline rush? Sign up for an exhilarating ziplining experience. Flying through Jamaica's jungle canopies also gives you a unique perspective of this tropical island, and it's a fun thing to do with older kids.
The ziplining excursion from Montego Bay to Chukka Jungle Outpost is a popular way to add this experience to your Montego Bay itinerary. Tours include pickup and drop-off from your hotel in Montego Bay.
If you want to pack even more adventure into your day, consider the Chukka Zipline, River Tubing, and ATV Safari Adventure Combo from Montego Bay. On this half-day tour, you'll ride ATVs on rugged trails through a historic estate, soar through the jungle canopy on a zipline, and navigate rapids on a Great River tubing adventure. Hotel pickup and drop-off and a traditional Jamaican lunch are included.
6. Croydon Plantation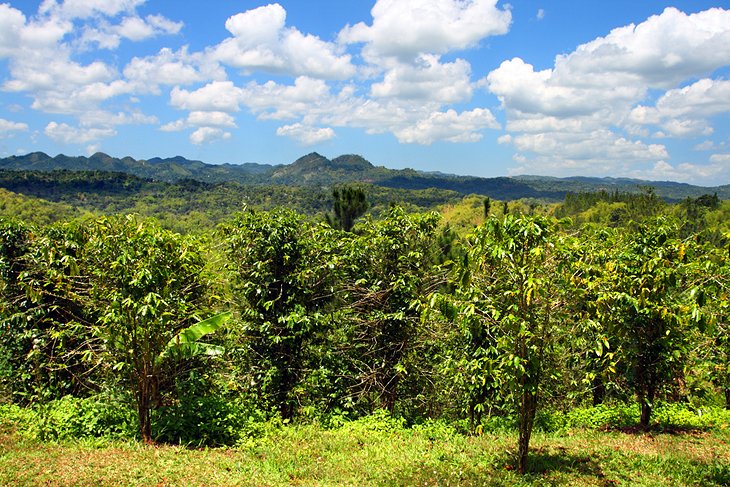 Tucked in the foothills of the Catadupa Mountains, Croydon Plantation is a 132-acre working farm with magnificent views of the surrounding countryside.
The plantation's main crops are coffee, pineapples, plantains, and citrus, and they also produce honey. During the tour, you can learn about the different crops, sample the produce, and sip drinks made from the plantation's fresh fruit as you stroll around the beautiful grounds.
After your tour, enjoy a barbecue lunch topped off with Jamaica Blue Mountain coffee.
7. Greenwood Great House
If you're interested in soaking up a fascinating slice of Jamaican history, head to the Greenwood Great House for a guided tour. Nestled in the hills a few miles off the highway, it was once owned by the family of famous English poet Elizabeth Barrett Browning. The antique-filled home is more than 200 years old and is one of the best-preserved great houses in Jamaica.
Highlights of a tour include the well-maintained antique furniture; a library of rare books; and a fascinating collection of musical instruments, including a rosewood piano, barrel organ, and music box. Almost stealing the show, however, are the panoramic vistas of the surrounding countryside.
Official site: http://www.greenwoodgreathouse.com/
8. Rocklands Bird Sanctuary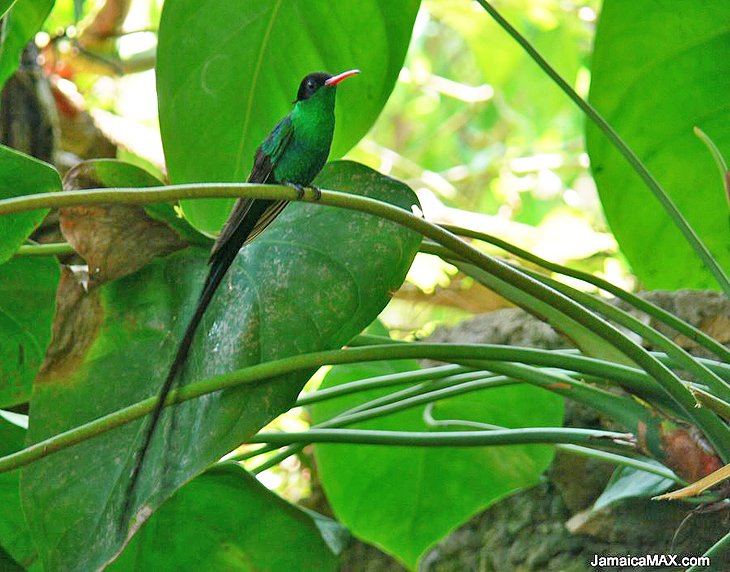 Are you a birder, nature lover, or photography enthusiast? Don't miss Rocklands Bird Sanctuary. At this delightful family-run attraction, you can view, photograph, and hand-feed exotic and endemic birds.
Upon arrival, guests are provided with a bottle of nectar, bird seed, and a comfortable place to sit. Almost instantly, hummingbirds descend to drink from the bottles and perch on your finger, and other birds flock to eat the seed.
Jamaican orioles and banaquits are some of the many species of birds you can see here, and don't forget to look for Jamaica's national bird, the regal long-tailed doctor bird.
Accessed down a rugged, twisting road, Rocklands lies about a 30-minute drive away from downtown Montego Bay.
Address: Rocklands Road, Anchovy
9. Ahhh...Ras Natango Gallery and Garden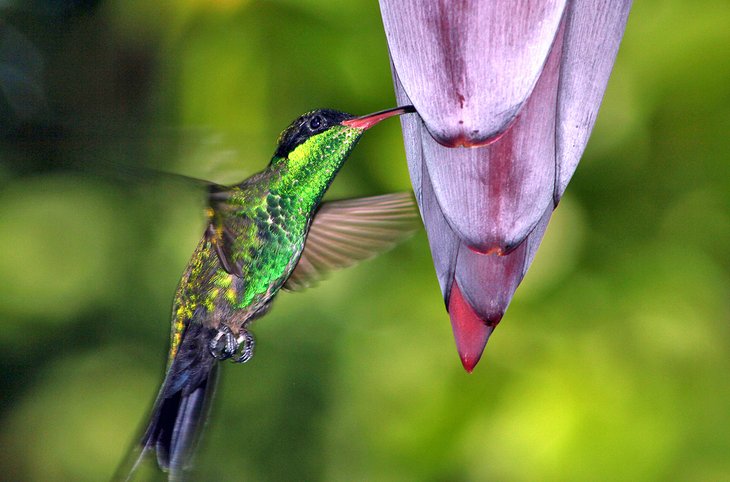 Clinging to a hillside high in the mountains, with spectacular views over Montego Bay, Ahhh... Ras Natango Gallery and Garden is an eco-tourism gem. This outdoor gallery and botanic garden is the labor of love of the Williams family, who strive to recycle and repurpose everything on the property and love to share their garden and environmental ethics with visitors on educational tours.
Orchids, bromeliads, bougainvillea, ginger, fruit trees, and other tropical plants flourish in the terraced rock gardens, and the garden is also a haven for birds, with more than 18 species spotted on the grounds, including many hummingbirds. Art classes are also available.
Entrance includes a free shuttle from Montego Bay about 15 minutes away, and lunch is available for an extra fee. This is also a favorite spot to buy unique, locally-made artwork and souvenirs.
Address: 1 Ras Natango Way, Camrose District
10. The Hip Strip: Gloucester Avenue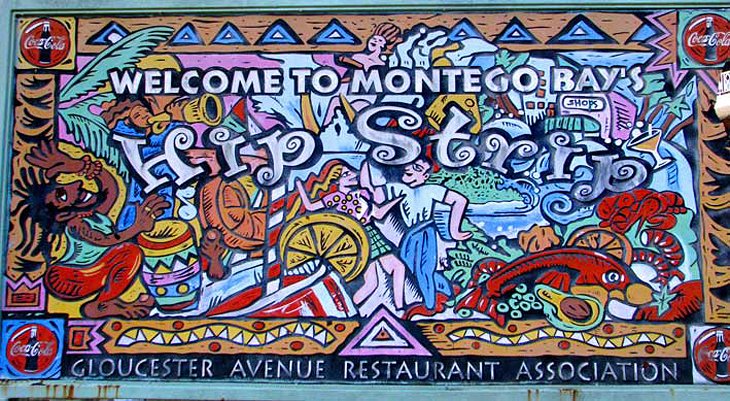 Also known as the "Hip Strip," Gloucester Avenue is a famous street near Doctor's Cave Beach. It's packed with shops, cafés, and entertainment venues, and most days, it heaves with cruise ship passengers.
This is a popular place for tourists to go shopping in Montego Bay – you'll find all the usual souvenirs here. If you're planning on browsing, be prepared to deal with persistent vendors.
Besides a colorful array of kitschy knickknacks and T-shirt shops, you'll also find art galleries and cafés along this bustling strip, and this is a popular stop on the Jamaica nightlife circuit.
11. Sam Sharpe Square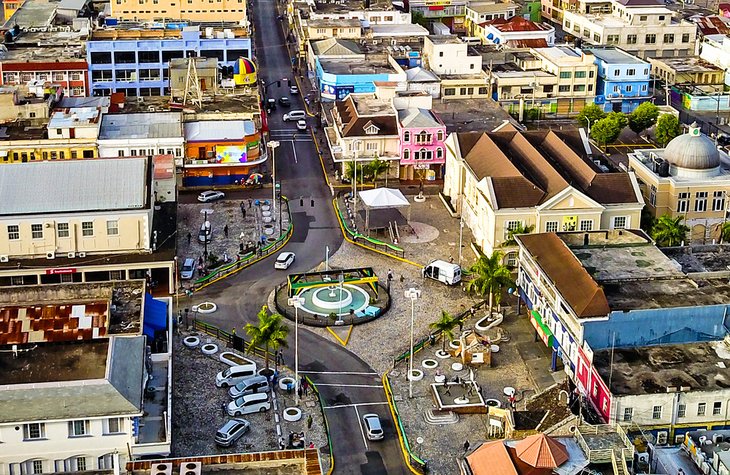 The central feature of Montego Bay, Sam Sharpe Square offers a gritty slice of important Jamaican history.
It commemorates Sharpe, a slave and local Baptist deacon who advocated passive resistance to force the planters to comply with emancipation. Sharpe was hanged in what was then Charles Square. After independence, Sam Sharpe was made a National Hero, and the square was named in his honor. Today, the square is packed with street vendors and traffic, but it's a key place to visit on most sightseeing tours.
Also in the square, the Cage was built in 1806 as an overnight jail for runaway slaves, disorderly seamen, and vagrants.
Two blocks east of the square, lies Burchell Memorial Church, established in 1824, where Samuel Sharpe was a deacon. His remains are buried in the vault.
Where to Stay in Montego Bay for Sightseeing
For first-time visitors to Montego Bay, the best place to stay for seeing all the sights is along the main beach area near Doctor's Cave Beach. Gloucester Avenue, the "Hip Strip," is also near here, with its art galleries, restaurants, and shops. For those seeking a little more seclusion, the stretches of beach northeast and south of town are home to most of the exclusive, upscale resorts. Here are some highly rated hotels in these areas:
Luxury Hotels: Nestled in a 400-acre private estate, about 13 minutes' drive northeast of the Hip Strip, is the family-friendly Half

Moon

. The resort encompasses impressive recreational facilities, including a private beach, an award-winning spa, equestrian center, tennis and squash courts, a children's playground, and a golf course.

Catering to couples, Sandals Royal Caribbean Resort and Private

Island

is a romantic all-inclusive option with a British bent and a Georgian-style great house, while Secrets Wild Orchid Montego

Bay

presides over a peninsula south of town with more than a mile of private beach. Both of these latter resorts lie about 12 minutes by car to the "Hip Strip."
Mid-Range Hotels: Less than 10 minutes from the airport, the beachfront Holiday Inn Resort Montego

Bay

is a great mid-range option with its all-inclusive rates, spa, volleyball courts, and sprawling outdoor swimming pools.

Within walking distance of Doctor's Cave Beach, Royal Decameron Montego

Beach

is popular for its central location, great staff, and good-value all-inclusive rates.

Also near Doctor's Cave Beach, SeaGarden Beach

Resort

is a family-run all-inclusive resort that offers great value for money, as well as an authentic Jamaican vibe.
Budget Hotels: A short walk to town and Doctor's Cave Beach, about two kilometers from the airport, Toby's

Resort

is a value-packed budget option, with two pools, a restaurant, and free Wi-Fi.

Another popular value option is Deja

Resort

on the Hip Strip. Bright rooms, a lovely pool, and easy access to Doctor's Cave Beach are highlights.
Tips and Tours: How to Make the Most of Your Visit to Montego Bay
Half-Day Tour: A fun way to experience the jungle-cloaked interior of the island is on a Jeep Safari Adventure

Tour

. This four-hour guided tour takes you through lush tropical forests in a 4x4 Land Rover while an experienced guide shares interesting details about the island's culture and history. Along the way, you'll have a chance to take a refreshing dip in natural pools and explore the terrain on foot during a jungle river walk.
More Related Articles on PlanetWare.com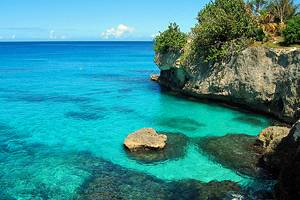 Exploring Jamaica: For information on other areas to stay and things to do in Jamaica, see our pages on Ocho Rios, also a major cruise port, and the relaxed resort town of Negril. Its stunning palm-lined beach is one of the best beaches in the Caribbean. If you are still undecided on your dates and when to go, see our guide to the best time to visit Jamaica.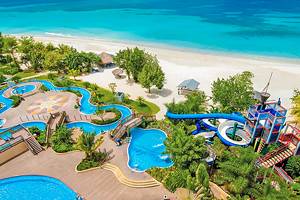 Where to Stay in Jamaica: If you're wondering where to stay in Jamaica, some of its resorts also grace our list of top luxury all-inclusive resorts in the Caribbean. You can pinpoint a resort in your preferred location with our lists of the best all-inclusive resorts in Negril and Ocho Rios.