10 Best Beaches in the Outer Banks
Some people say that the entire Outer Banks is one massive beach, and that would be partially correct. These barrier islands run for roughly 175 miles, a majority of them in North Carolina, and all of them are almost entirely made up of sand.
Assuming all the beaches are the same would be a terrible mistake. Each beach has its own look, feel, and vibe. Some beaches are packed with summer merrymakers playing in the water, others have impressive shore breaks ideal for surfing, some have piers and aquariums, and some of the more remote ones have wild horses roaming about.
Finding your perfect beach will depend on what you like doing. If you want a lively summer scene, head to Nags Head or Kitty Hawk. Want to do some great shelling? Hop a ferry to Ocracoke beach. Looking for a nice pleasant family beach? Walk down the street from your rental home to the beach at Avon.
To best enjoy the beaches and attractions of the Outer Banks, plan to stay at least a few days. The Outer Banks are a perfect weekend getaway or week-long vacation. Rental homes, beachfront campgrounds, beachfront hotels and resorts, and bed and breakfasts are widely available, although it's best to book well in advance.
Plan your summer getaway with our list of the best beaches in the Outer Banks.
1. Nags Head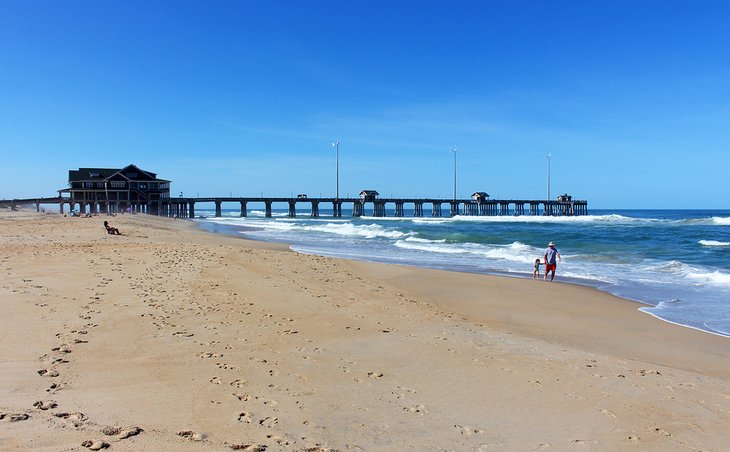 The name Nags Head, supposedly related to pirate activities, may not inspire much of a pleasant mental picture; however, cast those worries aside. People have been coming to this beach since the mid 1850s.
The beach stretches for 12 miles, so it's easy to find your perfect patch of sand and set up your gear. Getting to the beach is easy, with over 30 access points. If you have small children or aren't a strong swimmer, you are in luck - lifeguards are on duty in certain areas.
One of the great advantages of Nags Head is that it's the first beach you come to after you make the long drive across Roanoke Sound. No need to drive any farther north or south along the sometimes congested Highway 12.
Nags Head beach isn't all about sand and surf. One of the best things to do is to take a stroll out onto Jennette's Pier. The concrete structure stretches 1,000 feet out into the Atlantic, and the view up and down the coast from the end is spectacular. The pier is a popular fishing spot (rod rentals available along with bait for purchase), and one of North Carolina's best aquariums is located here.
Accommodation: Where to Stay in Nags Head
2. Kitty Hawk Beach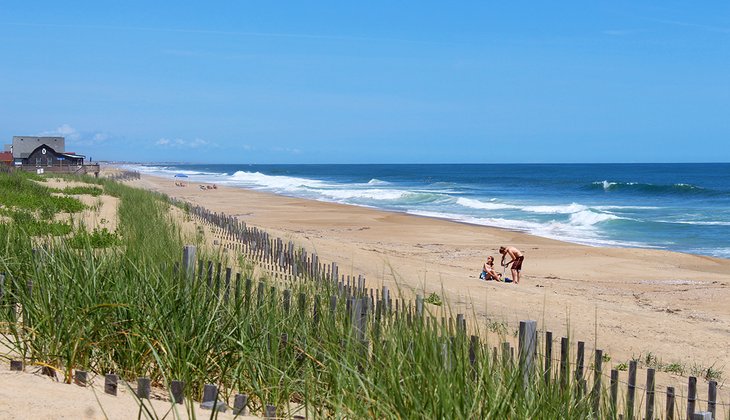 If you are coming to the Outer Banks from the north, the beach at Kitty Hawk will be the first one you come to after you cross Currituck Sound. If you just want to get into the water and lay out your gear on the sound, stop here and go no farther. Access to the beach is via one of 12 boardwalks up and over the sand dunes. Each access point has parking; however, only 266 spaces in total are available for the entire beach, so go early to secure a spot.
The beach is wide and long and has a fun summer vibe, with lots of visitors having a good time playing Frisbee, tossing footballs, or boogie boarding in the surf.
Back from the beach is the town of Kitty Hawk, a lively place full of restaurants, hotels, surf shops, mini golf (putt putt) courses, and grocery stores. If you've forgotten something, don't worry. You'll be able to find it here.
Lifeguards are on duty at the following access points: Byrd Street, Eckner Street, Lillian Street, and the Kitty Hawk Bath House. Lifeguards also regularly patrol other areas of the beach on ATVs.
Accommodation: Where to Stay in Kitty Hawk
3. Avon Beach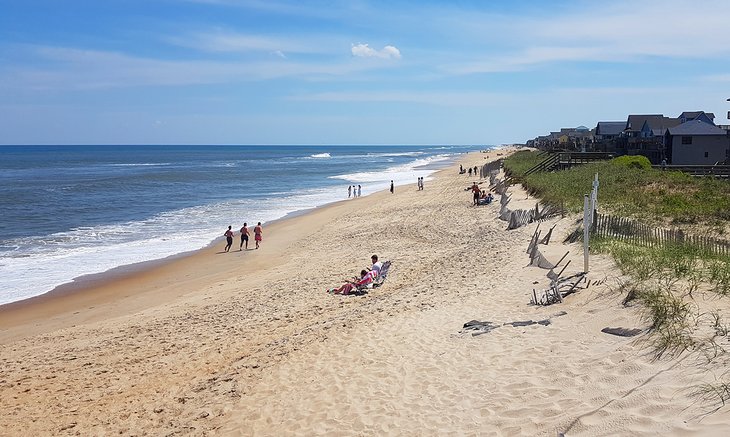 The beach at Avon is a low-key affair and flies below most people's radar. Wide, long, and uncrowded, this beach is primarily the domain of families renting one of the numerous beach houses. Set up close to the water or back farther to the dunes if the wind is blowing. At night, come back down to the beach and collect driftwood for a cheery beach fire.
Although a majority of the beach at Avon is pretty quiet, the one area where a lively scene does emerge is near the Avon Pier. This is a good spot to access the beach, as the large parking lot makes finding a spot fairly easy. Take a stroll out onto the pier; the topsy-turvy walkway is a sight best experienced in person.
The town of Avon is a relatively busy spot, with the largest grocery store in the region, numerous restaurants, and surf shops. Many of the home rental agencies have offices here, and it's likely that this will be where you check in for your stay.
4. Ocracoke Island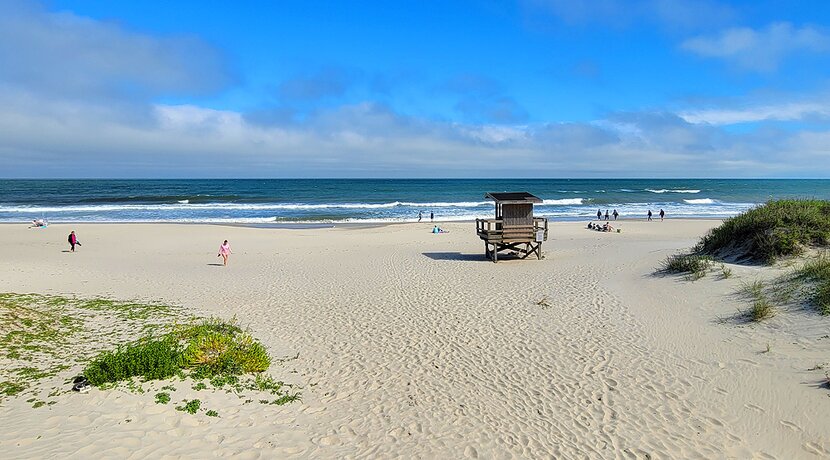 One of the more unique places to hit the beach is Ocracoke Island. It takes a bit of work to get here. Two routes are available: a long drive down the entire Outer Banks then a ferry ride from Hatteras in the north, or a twisty route from Moorehead City to Cedar Island in the south.
However, the investment in time and effort is worth it because once you get here, you'll leave the rest of the busy world behind. The island, part of the Cape Lookout National Seashore, has a 16-mile stretch of beach with absolutely no development on it except a few national park campsites. It's an excellent place to walk, run, swim, and surf. Keep a keen eye out when you are walking along here - the beach is one of the best in the Outer Banks for shelling.
The funky small town of Ocracoke has a few restaurants, hotels, and eclectic shops unlike you'll find anywhere else. It's a relaxed pace of life over here, and you'll probably find yourself slowing down and adjusting to island time without even realizing it.
Getting around is easy. A free tram runs around town, and most people bring (or rent) bicycles and golf carts for longer excursions. If you have a 4WD vehicle, you can drive on the beach after you get your permit.
5. Rodanthe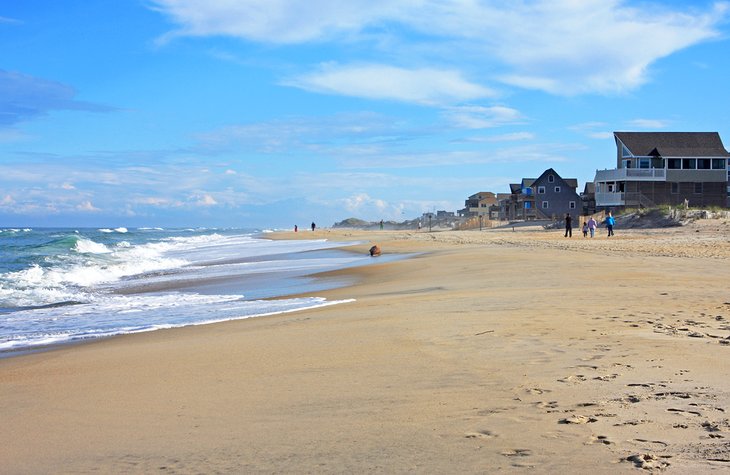 The city of Rodanthe burst into the media spotlight in 2008, when the movie starring Richard Gere and Diane Lane, Nights in Rodanthe, was released. Since then, the house where the movie was filmed was almost lost to storm damage but has been relocated farther inland and now operates as a vacation rental. Today the town has moved on from the spotlight and operates as a bustling summer town serving the needs of summer visitors.
The beaches here stretch uninterrupted and are fairly quiet spots to soak up the sun and surf. You won't find a lively scene here, but you will find families enjoying the best of what the Outer Banks has to offer. This area is one of the best places to camp in the Outer Banks if you are RV'ing.
6. Waves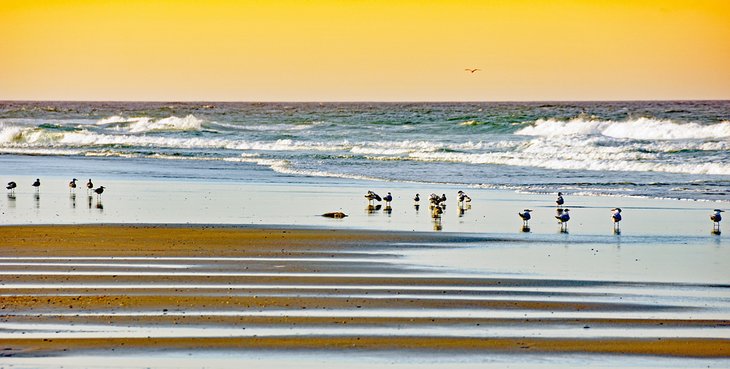 Just south of Rodanthe is the small town with a fitting name for a beach destination: Waves. The town has a nice beach that stretches for miles and is similar in nature to Rodanthe; it's a place where families come to spend their summer vacations. Waves has a fine assortment of places to stay, decent restaurants, and a few things to do for kids.
Waves has a bit of a split personality. On the Atlantic side, it's your traditional beach destination, but on the Pamlico Sound side, it's one of the top places in the Outer Banks to go kiteboarding. If it's windy, stroll over to Real Watersports. Grab a spot on the upstairs patio, and check out the kiteboarders racing across the water of Pamlico Sound.
Another great spot to check out the kiters is at the Salvo Day use area across from beach access ramp #23.
7. Carova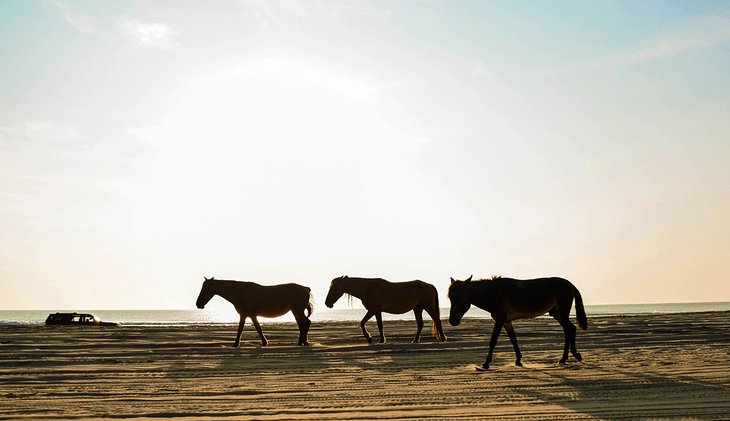 Located at the northern end of the Outer Banks, Carova Beach is similar in nature to many of the other beaches, with soft sand, beautiful views, and great swimming. Where it diverges from the more popular beaches relates to its year-round permanent inhabitants: Corolla wild horses.
The lineage of North Carolina's official state horse stretches back to 1500, when they were released from a sinking ship. Over the years, the herd grew due to the ready availability of food and water, and they expanded up and down the Outer Banks.
However, as development increased, the horses needed their own space and were relocated to Carova Beach where today they roam freely. The only way to see them is to drive along the beach in your own 4WD vehicle or take a tour.
8. Cape Point Beach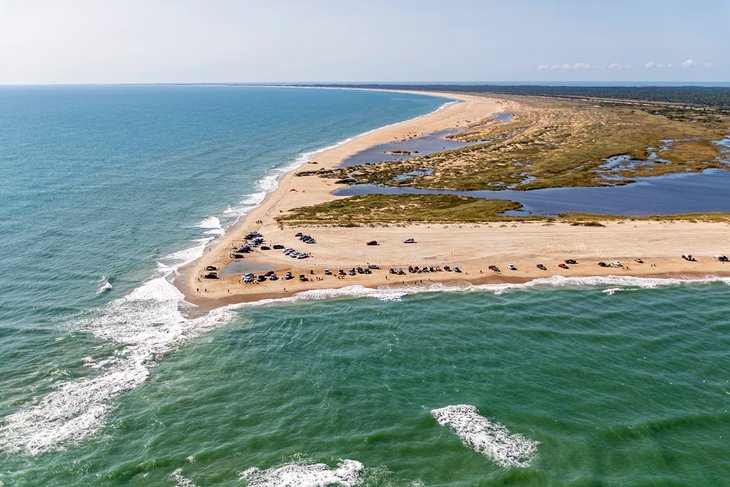 For a bit of history mixed in with your beach going experience, head down to Cape Point Beach in the Cape Hatteras National Seashore. This roughly triangular point of beach extends southwards, which allows for waves on one side and calm waters on the other. Depending on the winds, tides, and recent storms, occasionally a sand spit forms offshore, and the lagoon in between features shallow, warm, calm waters ideal for wading.
If you are up for a bit of adventure, get a beach driving permit and take your 4WD vehicle out onto the sand, park and pull out all your water toys, BBQ, umbrella, and beach chairs. It makes a day at the beach a breeze.
Cape Point Beach is also one of the best spots to go shore fishing. The junction of two offshore currents brings copious quantities of food to the area and attracts a wide variety of fish.
Back from the beach is Cape Hatteras Lighthouse, one of America's most famous safety beacons. Dating from 1870, the black-and-white swirl tower has been moved back from the ever encroaching ocean several times. For incredible views up and down the coast, climb the 257 steps to the top.
Back from the beach is the Frisco campground. If you can secure a spot here, you'll be a short stroll from the far western end of the beach. Another campground, Cape Point, is located closer but is mostly a wide-open grass field with little privacy. The one upside is that it's the cheapest place to camp in the entire Outer Banks.
9. Sandbridge Beach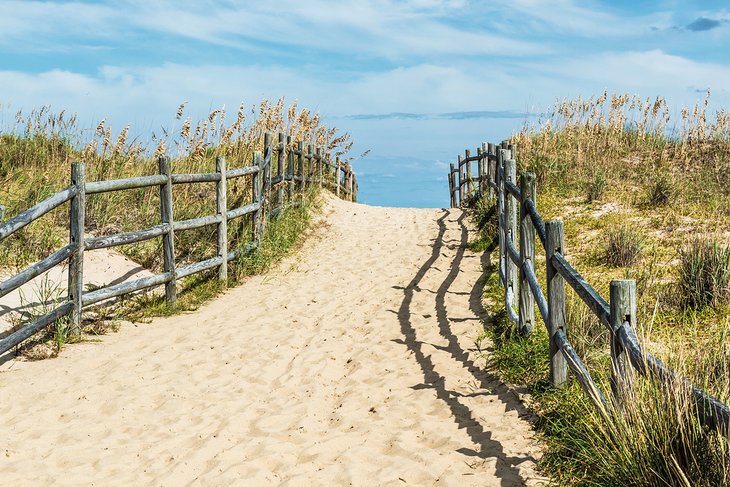 Most people think that the Outer Banks are entirely in North Carolina; however, Virginia does have a portion in the extreme northern end. Sandbridge Beach is significantly closer to Virginia Beach, only a 40-minute drive, making it a popular weekend destination.
This laid-back, relatively quiet, six-mile stretch of beach is uncrowded and relaxed. It's a great spot to spend a weekend or longer in one of the many vacation homes for rent. Sandbridge Beach receives a pretty steady set of waves that are perfect for beginner surfers to learn on. A small pier extends out into the ocean at the southern end of the beach and is a good spot to try your luck fishing.
If you prefer a more undeveloped beach and nature experience, continue southwards from Sandbridge Beach to False Cape State Park. Here, you'll find six miles of pristine beach just waiting to be explored. Note, however, that the only access is via tram, bicycle, or on foot.
10. Portsmouth Island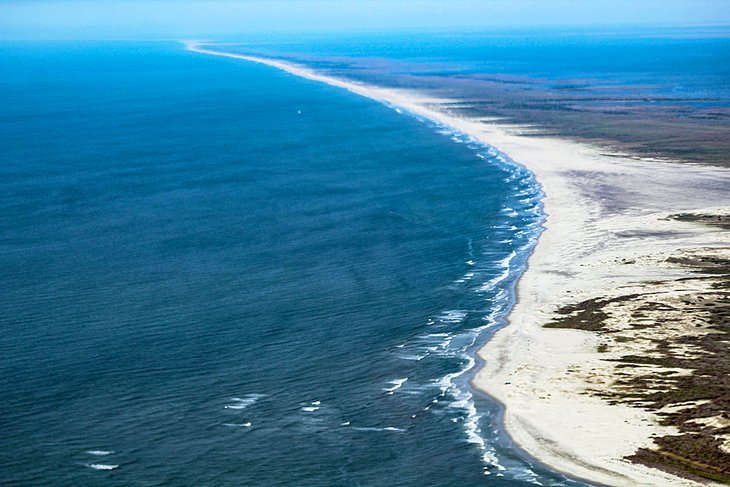 If Ocracoke Island sounds even too busy for you, the beaches of Portsmouth Island might work out just fine. Stretching for 22 miles, this barrier island is rarely more than one mile across and completely uninhabited.
The entire island is one giant campground. Just pick a spot back in the dunes, set up, and settle in. If you'd like a roof over your head, the National Park Service has a few beach boxes and circular homes for rent. Bring some bug spray; the mosquitos and biting flies are legendary!
Popular activities here include the normal beach activities of swimming, surfing, and lounging in the sun plus bird-watching, crabbing, and some of the best shell collecting in the entire Outer Banks.
Take a bit of time away from the beach to explore the ghost town of Portsmouth Village, still standing after all these years due to the heroic efforts of volunteers and the National Park Service.
Portsmouth Island has limited facilities consisting of water taps and a few comfort stations with toilets and showers. You need to pack out all your trash. Note that a 4WD vehicle is the only way to get around on the island, and a permit is required. No limit is set on the number of campers, but the small ferry does fill up on the busiest of days.