13 Top-Rated Romantic Getaways in North Carolina
Author Lana Law has explored many of the quaint mountain towns and coastal destinations in North Carolina, in winter and summer.
Neil Diamond's song, Sweet Caroline, is North Carolina's unofficial theme song for good reason. "Good times never seemed so good" here in the Tar Heel State, especially for those seeking a romantic North Carolina weekend getaway.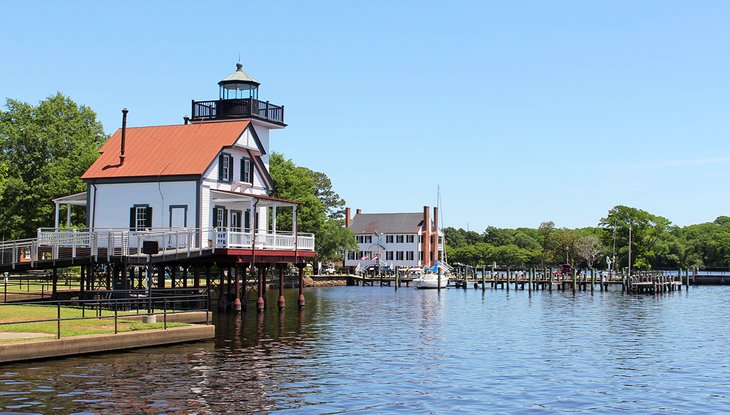 From beachside strolls along the shores of the Outer Banks and the bright city lights and urban landscapes of Charlotte to the old-world charm of Winston-Salem's Moravian Old Salem, or Asheville's bohemian charm, North Carolina offers couples a varied choice of escape destinations, each delivering on the promise of Southern hospitality and a memory-making holiday.
Whether it's a summer trip or a winter break, you can find what you're looking for here. Plan a getaway any time of year with our list of the most romantic places to visit in North Carolina.
1. Crystal Coast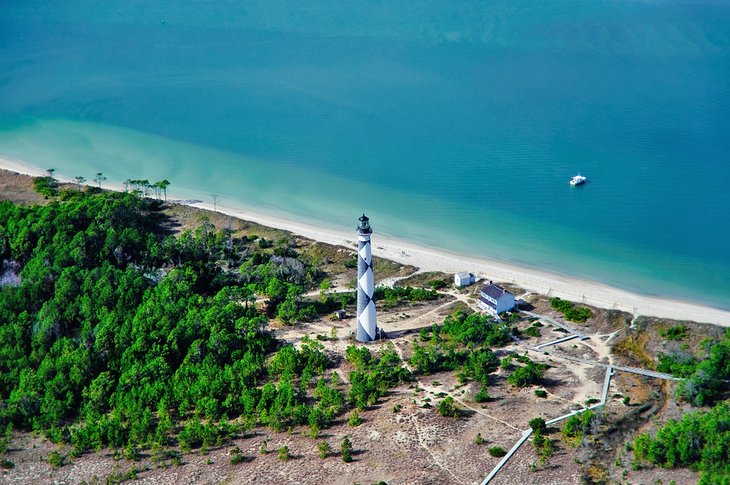 Carteret County is home to North Carolina's southern Outer Banks as well as its vacation gem, the Crystal Coast. Well south of their more frequented siblings, Cape Hatteras and Ocracoke Island, the coastal communities of Emerald Isle, Indian Beach, Pine Knoll Shores, Beaufort, Morehead City, and Atlantic Beach offer couples small-town appeal with big outdoor adventures and plenty of opportunities for romance.
Cape Lookout National Seashore, a 56-mile nature preserve and national park, is a great spot for a picnic. Ferries or charters from the Harkers Island Visitor Center take you on the 30-minute ride across Bogues Sound. You skirt right by the famed Shackleford Banks, a remote wilderness area that is home to the wild Banker horses. These beautiful creatures have roamed the island for more than 100 years.
Upon arrival at the Cape, climb the Cape Lookout Lighthouse. The historic "Diamond Lady" is one of the most picturesque in all of North Carolina and affords 360-degree views of the reserve.
The oak-lined streets of historic Beaufort are wonderful for leisurely strolls. Beaufort, the third oldest town in North Carolina and the 12th oldest in the nation, was the setting for romance novelist and New York Times best-selling author Nicholas Sparks' romantic novel The Choice. The Ride to Remember bike tour, one of several offered by Hungry Town Tours, is a special tour inspired by the book. You'll pedal past crab boats and yachts at the historic marina and past the romantic waterside gazebo. At the Fudge Factory on Front Street, you can slay your sweet tooth with some tasty chocolatey treats.
Overnighting at Beaufort's historic Pecan Tree Inn delivers a quintessential Southern experience. Built into a former Masonic Lodge, the Victorian-flavored bed-and-breakfast has a breezy wraparound porch and immaculate English-style garden - not to mention award-winning breakfast fare.
Sunset at Atlantic Beach is the perfect way to end your day. A hand-in-hand walk along one of the widest and most pristine shorelines in the Carolinas is sure to create lasting memories.
Read More:
2. Winston-Salem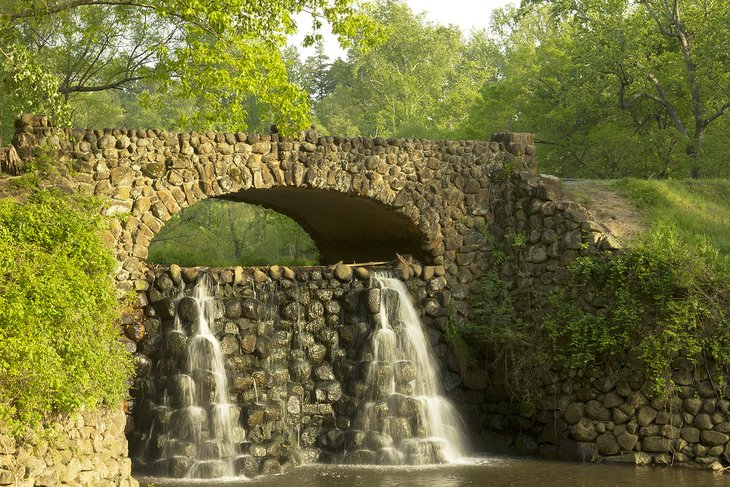 In the heart of the Carolina Piedmont, Winston-Salem is a fun romantic getaway for couples who enjoy a nod to North Carolina's historic past. This historically significant Moravian village of Old Salem dates to the 18th century, with several square blocks of cobblestone streets housing restored residential, commercial, and municipal buildings of the day.
Couples strolling Old Salem discover architectural gems and their backstories from costumed interpreters, who guide them to the Single Sisters House, Miksch House, and the Trade Shops of the Tailors. Winkler Bakery is a favored stop to sample and purchase their legendary Moravian Sugar Cake and super thin Moravian Ginger Cookies.
North Carolina's original Moravian settlement, Bethabara is another worthy historical site to visit. More than 138 acres of parkland make this a top North Carolina tourist attraction, and you can explore the lovingly restored buildings here. Of particular interest is the Bethabara Moravian Church. Dating back to the 1700s, the church is listed on the National Register of Historic Places and still holds services, including weddings, today.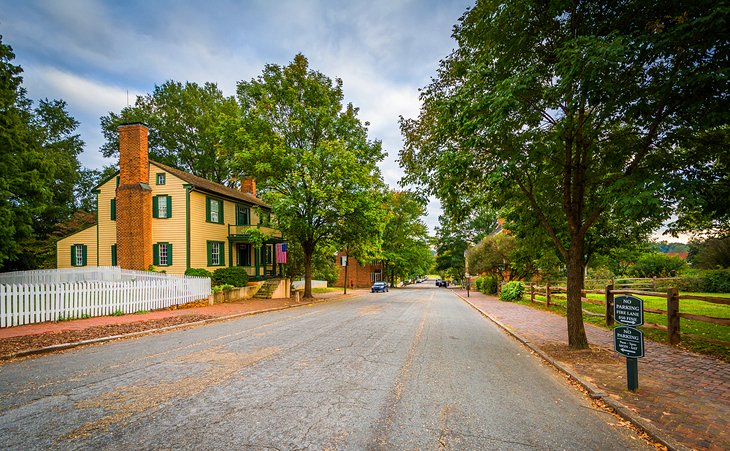 Nearby Reynolda House and Museum of American Art is a top Winston-Salem attraction. Romantic strolls are in order in the expansive gardens as you discover the fully restored 1917 former home of Katherine and Richard J. Reynolds, founder of R.J. Reynolds Tobacco. Their collection of Hudson River School artist masterworks includes those by Frederick Church and Albert Bierstadt.
A short distance away is Reynolda Village, a collection of boutique shops and eateries housed in what were once the working farm outbuildings of Reynolda House.
a/perture Cinema is the place for art films in Winston-Salem. This independent theater screens off-the-radar foreign and independent documentaries and features not readily found elsewhere.
Top off your day with a romantic dinner at Quanto Basta. This authentic Italian home-style restaurant prepares specials just like "nonna" used to make.
3. Chapel Hill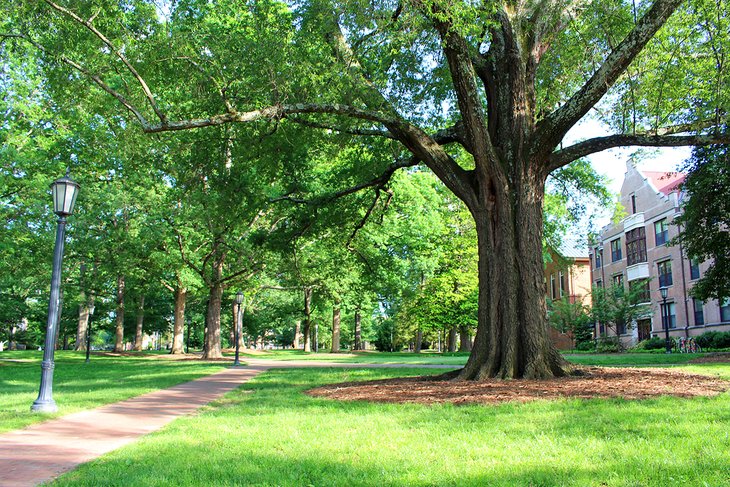 This quintessential college town is the perfect mix of romantic and fun. Wander the grounds of the oldest public university in the country at the University of North Carolina at Chapel Hill. Walk hand-in-hand down the brick pavers, admiring the architecture of centuries-old buildings and soaring hardwood trees. Pause under the Davie Poplar in McCorkle Place, where legend has it couples who kiss on the bench beneath its branches will get married.
Chapel Hill's main drag, Franklin Street is lined with souvenir shops, boutiques, and restaurants. Head to 411 West on Franklin Street to enjoy Italian fare. Pasta is made in-house, and pizzas are baked in a wood-fired oven imported from Italy.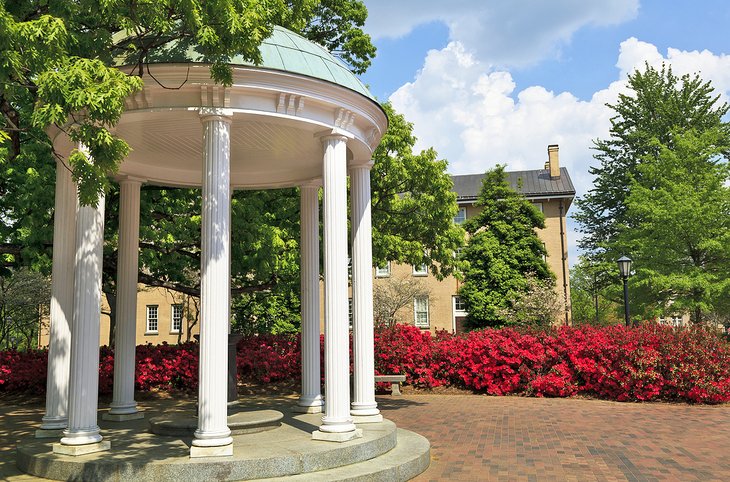 Drive a few miles out into the countryside to Maple View Farm to see a working dairy farm, and pop into the on-site ice cream shop. Choose from a selection of homemade ice cream flavors, or one of the specialty sundaes, and enjoy it in a rocking chair on the front porch. A word of warning, in this college basketball haven: Your order pledges your allegiance. UNC fans swear by Carolina Crunch, while Duke allies go for Devil's Delight.
The Carolina Inn is a romantic spot to pamper your sweetie. The hotel was built in 1924 and is set on the University of North Carolina Campus. Historical charm, modern amenities, and a central location make this a great choice for a weekend getaway.
4. Wilmington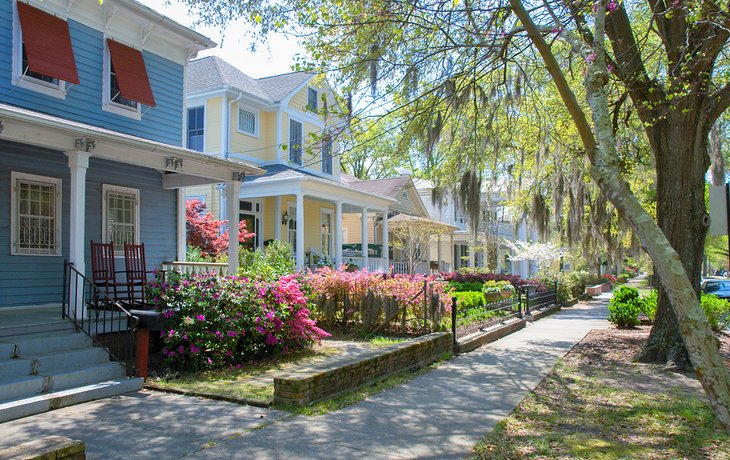 Wilmington is the epicenter of coastal Carolina. Couples capture four-season diversions in this top North Carolina tourist destination. The city's storied Riverwalk, the 80s-designed boardwalk running along the Cape Fear waterfront, is meant for strolling. Here, you can enjoy close-up views of the marina and the historic USS North Carolina.
Wilmington's Historic District extends more than 200 blocks from Market and Water Streets, making it one of the largest in the nation. You can take a carriage tour with Horse Drawn Tours, who provide a historical backdrop and local knowledge of the various shops, buildings, and homes you can see along your waterfront tour.
Be sure to plan for an evening dining out for you and your loved one. The city is also known as a dining hot spot. Local chefs operate innovative and eclectic restaurants using the finest ingredients from the sea and the fertile surrounding countryside to create memorable meals.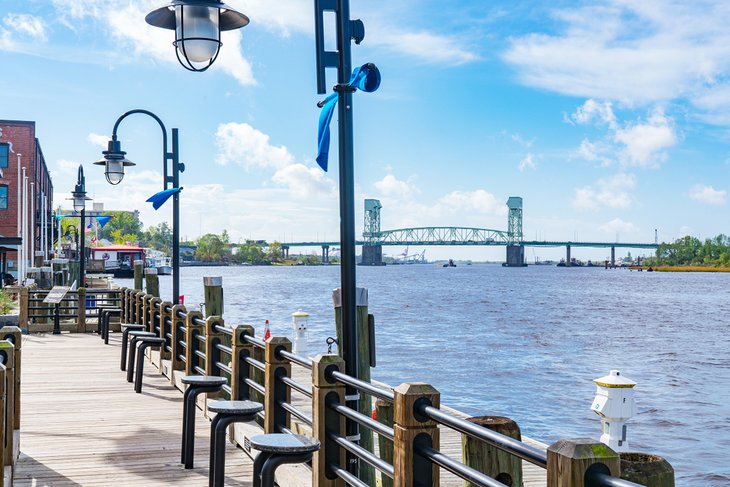 The Bellamy Mansion is a stunning example of Southern antebellum architecture. A visit to this restored 10,000-square-foot manse is one of the most popular things to do in Wilmington. You can explore the Victorian Garden, studded with oyster shell paths and centuries-old magnolia trees.
Cruising the Cape Fear River on the Henrietta III is a tourist favorite. This reproduction riverboat offers a number of themed cruises, including the popular Murder Mystery Cruise. The couple who first solves the crime gets extra bragging rights.
Read More:
5. Edenton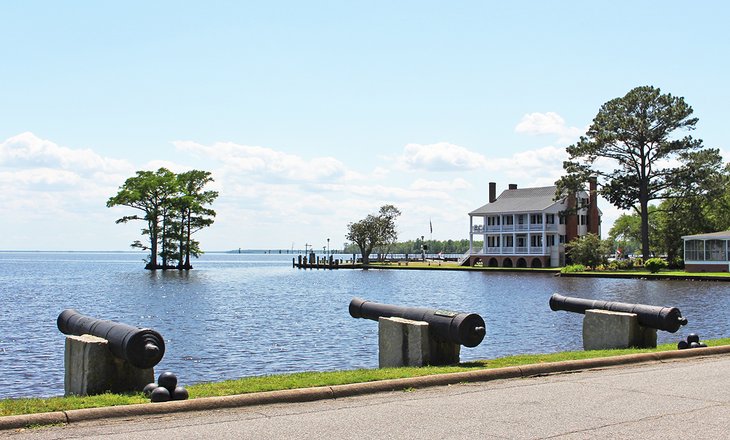 This beautifully preserved Colonial town is a hidden gem on the Albemarle Sound. It lays claim to being the first capital of the Colony of North Carolina, and much of the original architecture remains. Large Victorian homes have been converted into bed-and-breakfast inns, adding to the romance of this bayside town. Visitors can park their car at the inn and walk charming tree-lined streets to the downtown area, which is just steps from Edenton Bay.
Edenton residents take pride in their unofficial title of Prettiest Small Town in the South. The Edenton Trolley Tour is a great way to experience the town and its history. Signers of the Declaration of Independence and the U.S. Constitution lived and worked in Edenton alongside one of the first justices of the U.S. Supreme Court. A restored screw-pile lighthouse sits adjacent to the waterfront park and is open for tours.
Kayaks can be rented from the town for paddling on the bay, or opt for a guided tour via Edenton Bay Cruises. The town even offers rent-free boat slips for two nights.
6. Hendersonville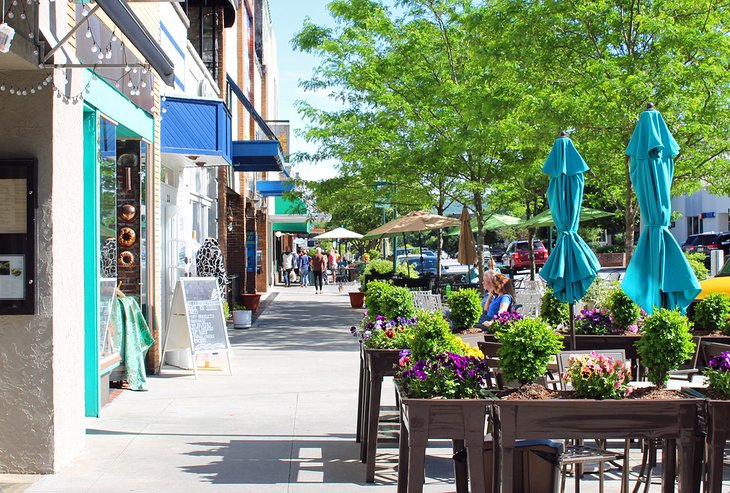 Western North Carolina's Blue Ridge Mountains attract couples who love dramatic landscapes, hiking, and an outdoor mountain lifestyle. Hendersonville is an absolute gem of a small mountain town, with big cultural offerings, great restaurants, and a collection of boutique shops that rivals any big city.
Stroll along Main Street for shopping and enjoy outdoor dining during the warmer months. You can get lost wandering in Mast General Store. Their old-fashioned candy counter hearkens back to old times and penny candies, and they sell an extensive offering of outdoor gear, shoes, and accessories. Mezzaluna offers wood-fired pizzas to fuel up for outdoor adventures. Stop in at the Hendersonville Visitor Information Center for more ideas.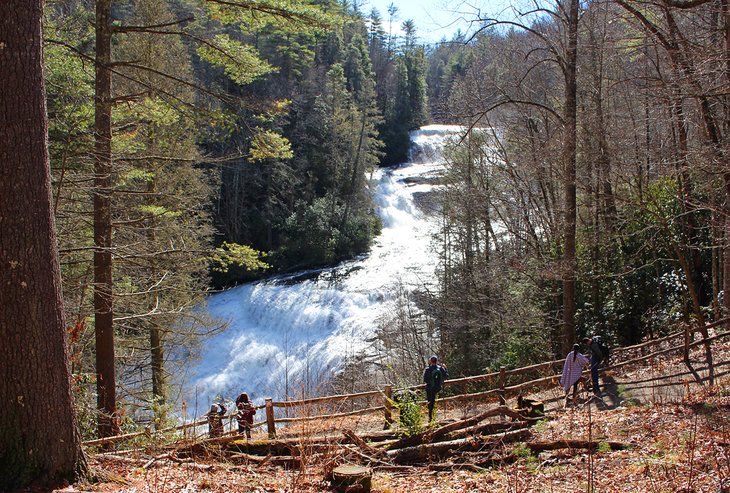 The short drive to the Pisgah National Forest Ranger Station and Visitors Center is worth the time. The rangers will help you plan the perfect hike, providing maps and advice. A popular, moderate hike takes you up close to the scenic Looking Glass Falls, one of several accessible waterfalls in the national forest.
Another great option for beautiful waterfalls and hiking is DuPont State Recreational Forest. This area is home to Triple Falls and was used as a filming location in the movies Last of the Mohicans and the first Hunger Games.
Sunday brunch at Season's at Highland Lake, the restaurant at the popular Highland Lake Inn & Resort in Flat Rock, is a favored local ritual. The resort's lovely grounds are fun to explore before or after a leisurely meal.
Read More: Top Things to Do in Hendersonville
7. Banner Elk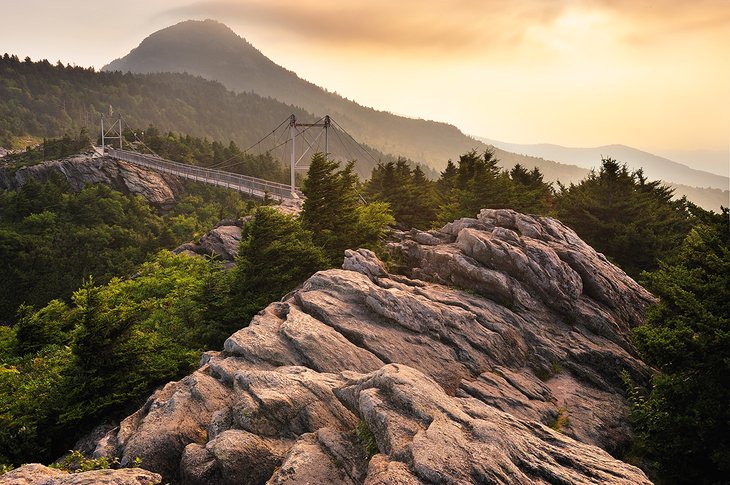 The charming, one-stoplight resort town of Banner Elk in the Blue Ridge Mountains is a great romantic escape. The culinary scene far exceeds the expectations for a town this size. Some of the places to plan a meal around are the highly acclaimed Artisanal; Stonewall's, known for prime rib and seafood entrees; and Sorrento's, serving authentic Italian dishes handed down for generations in the owner's family.
In summer, visit Grandfather Mountain, a nature preserve featuring the Mile High Swinging Bridge at the summit, animal habitats, picnic areas, and miles of hiking trails. In winter, book a cozy room at the Perry House Bed & Breakfast perched on a hill overlooking town.
Two of North Carolina's best ski resorts - Beech Mountain and Sugar Mountain - are within minutes of downtown Banner Elk. Both offer ice skating and snow tubing in addition to skiing and snowboarding.
Year-round, enjoy a downhill thrill ride in a two-person cart at Wilderness Run Alpine Coaster, built by one of Europe's top alpine coaster manufacturers.
8. Blowing Rock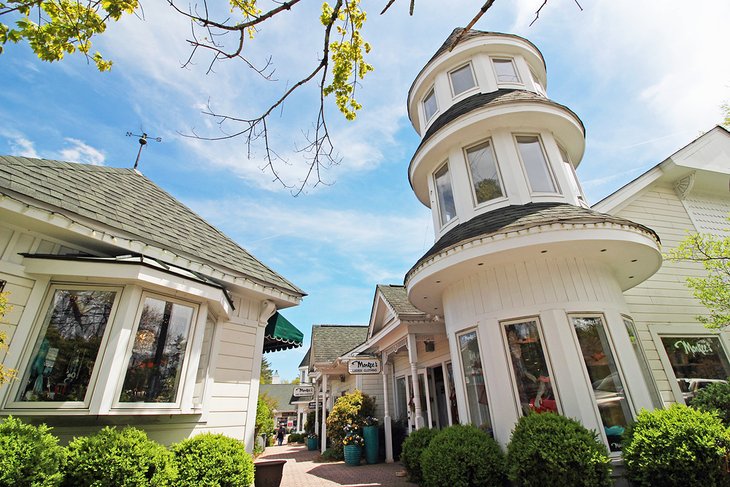 This beautiful town draws its name from a rock cliff that towers over the Johns River Gorge at an elevation of nearly 4,000 feet. Winds at The Blowing Rock flow upward from the rocky walls of the gorge and people say it is the only place in the world where snow falls upside down. The town has been a tourist attraction since the early 1900s and offers up one of the most beautiful panoramic views in the North Carolina mountains.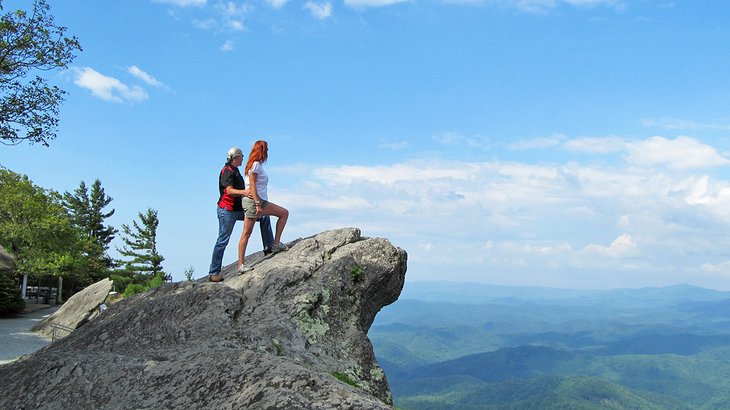 Blowing Rock is a friendly walk-about place with lots of boutiques and upscale shops. There are several award-winning restaurants in Blowing Rock, along with popular inns and bed-and-breakfasts. The Blue Ridge Parkway skirts the edge of town. Also within easy driving distance of Blowing Rock is Appalachian Ski Mountain and Sugar Mountain ski resorts.
Between the town and the Parkway is Chetola Resort, a popular couples' escape. Most of Chetola's 78 acres are secluded. The resort spa offers a variety of treatments for couples, and there are three accommodation options on the property, including the intimate Bob Timberlake Inn overlooking Chetola Lake. The inn is decorated with the furnishings and artwork of Bob Timberlake, North Carolina's most famous living artist. The restaurant also bears his name and offers a wonderful menu, plus to-go picnics for lakeside lunches.
9. Asheville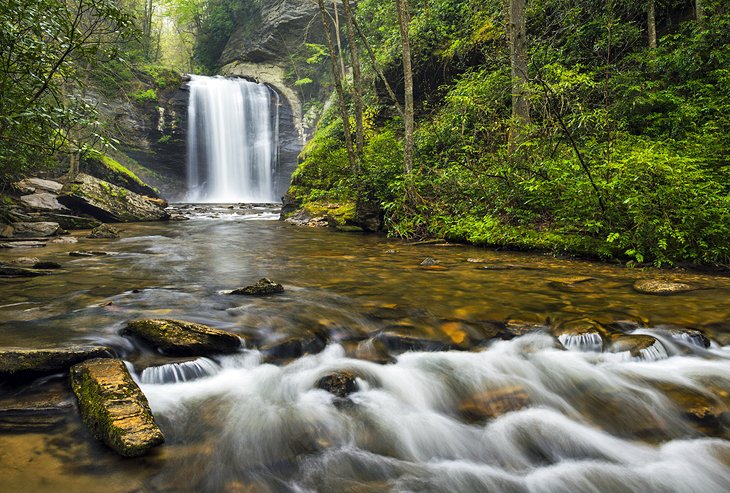 Asheville is a fun, casual city with a bohemian vibe. From spring until fall, street performers line the sidewalks, and the Friday evening drum circles are always popular, both with performers and spectators. The city also has a great selection of restaurants and interesting shops. It's the perfect place for an easy and carefree getaway for couples.
The Biltmore Estate and Gardens is one of the most visited attractions in the state and with good reason. This massive "American Castle" was the former home to American industrialist George Vanderbilt. Numerous tours are offered, with a behind-the-scenes kitchen tour among the favorites.
The Blue Ridge Parkway is accessed just outside of Asheville and cruises along one of the most scenic byways in the country. Head north to the Southern Highland Guild Craft & Folk Art Center to experience true mountain craftwork, from textiles and pottery to baskets and carvings.
For a romantic retreat, head to The Omni Grove Park Inn. With a beautiful setting in the Blue Ridge Mountains, this historic resort has been hosting presidents and celebrities for decades.
10. Highlands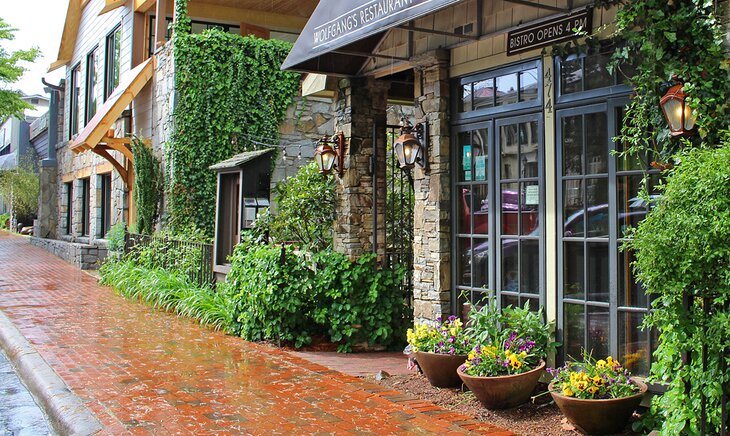 If you feel like a splurge and need a fix of mountain air, Highlands should be your destination. One of the best mountain towns in North Carolina and home to some of North Carolina's most luxe alpine accommodations, the high-end town is the place to splash out in style
Check into the Old Edwards Inn and Spa and let your worries fade away. This stately inn is listed on the National Register of Historic Places and offers a variety of rooms in the main inn and cottages spread around the property.
The town of Highlands is compact and easily walkable. Just wander around, and you'll be surprised at the wonderful restaurants, boutiques, and eclectic shops that you'll come across. After you've had a long, lingering lunch, head back for a nap or take the car and head to Dry Falls, one of the best waterfalls in North Carolina.
11. Southern Pines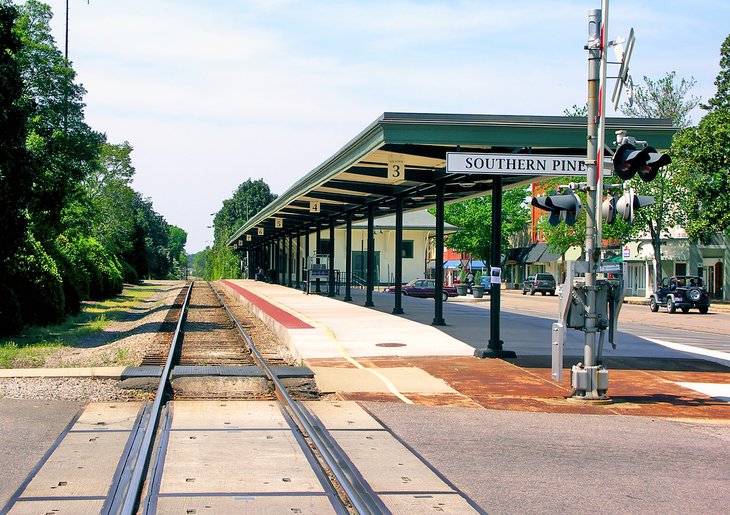 This town's name makes perfect sense. This hamlet of Southern charm seems to be carved out of surrounding pine forests. Founded as a railroad town, the tracks still go right down the middle of Main Street, and passing trains give a familiar whistle throughout the day.
While away an afternoon sifting through your favorite titles at The Country Bookshop. Browse a wide array of locally made and internationally sourced cheeses at Southern Whey. Spend the evening enjoying a meal at Ashten's. The menu toes the line between comfort and elegance, and the Reuben egg rolls are a must-order.
For golf lovers, nearby Pinehurst Resort, with its nine courses, is considered the Home of American Golf. In the heart of downtown, the Jefferson Inn is walkable to shops and restaurants and offers special romance packages.
12. Charlotte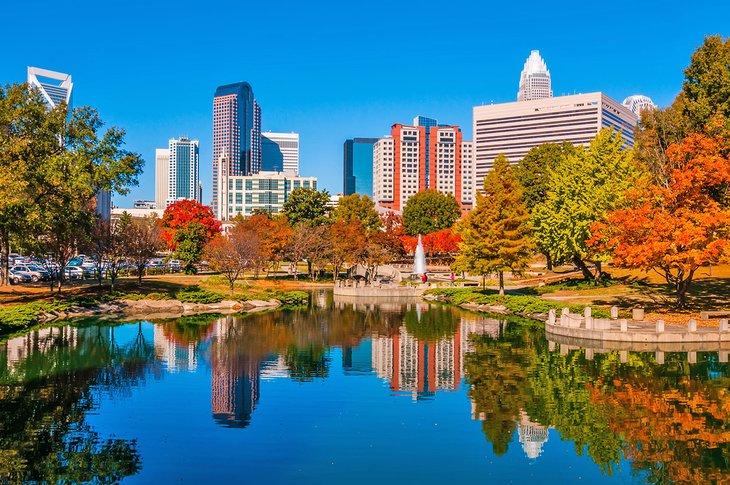 North Carolina's largest metropolitan area, the Queen City offers couples many romantic options for their weekend escape.
Daniel Stowe Botanical Gardens is a place to wander at will along the fountain-lined main promenade and admire the seasonal plantings. The secret White Garden is a favorite with couples for its snowy-colored all-season blooms.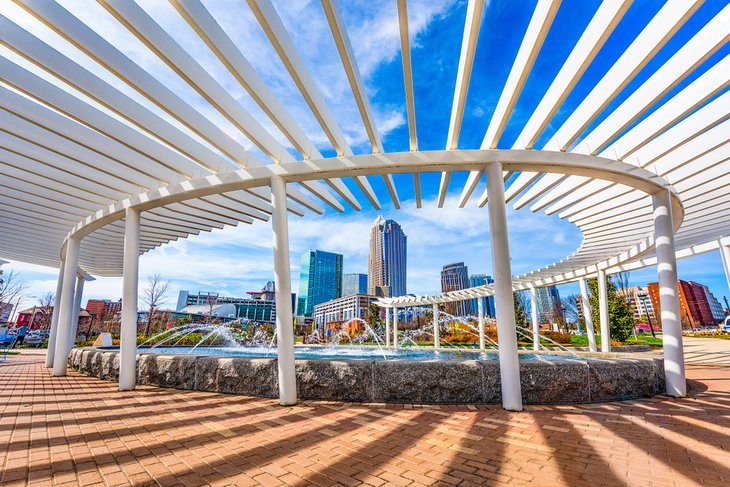 Nearby Belmont is a fun stop to soak in the southern charm of this town's hospitable Main Street, with its quaint shops and charming eateries.
Another fun excursion is a cooking class at Chef Alyssa's Kitchen. Charlotte's own celebrity chef (she's competed against Food Network's Bobby Flay) loves to get couples together for single-day classes, like Comfort Foods Done Right and Healthy Weeknight Meals.
Romare Bearden Park is one of Charlotte's best urban venues and a fun place for couples to take in super skyline views of the city or simply cuddle up and enjoy the fountains and spectacular people-watching.
Charlotte stalwart The Fig Tree Restaurant, in the stylish Elizabeth neighborhood, is an intimate special occasion restaurant that treats couples royally. Set inside an early 1900-era manse, the restaurant delivers a seasonal menu offering continental classics and gives diners plenty of space to get lost in each other.
Your day out is extra special when choosing Discovery Place IMAX Theater as the movie element to your date. Screening several new and classic nature-oriented films daily, Discovery Place gives visiting couples the added bonus of tapping into their inner child at the science exhibits found at the city's premier children's museum.
For a romantic stay, you may want to consider treating yourself to a night or two at The Ritz-Carlton. Or, if your getaway includes bringing along a furry friend, you'll find a complete selection of pet-friendly hotels in Charlotte.
13. Bald Head Island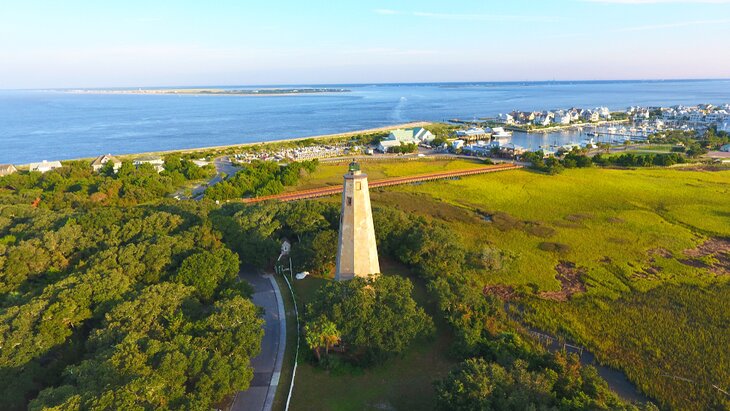 If you've ever dreamed of taking your sweetie on an escape to a beautiful island for a romantic getaway, Bald Head Island is a good place to go. Step on the ferry for the 20-minute ride and let the adventure begin.
Hit the beach and play in the waves while your partner soaks up the sun while losing themselves in the latest paperback thriller. Or, if you both require a bit of activity, hop on your bicycles and ride to the Bald Head Lighthouse and climb the 108 steps to the top for spectacular views up and down the coast.
Does all that sound a bit too adventurous? That's okay — long romantic strolls along the beach are also the norm here, with an obligatory stop at Sandpiper Coffee & Ice Cream for a sweet treat. Lazy mornings can be had watching the sun rise from your patio with a steaming cup of coffee in your hand.
Map of Romantic Getaways in North Carolina