11 Best Coastal Towns in North Carolina
We may earn a commission from affiliate links ()
North Carolina's coastal towns offer a mix of experiences, from quaint historic communities with 18th-century homes and tree-lined streets to thriving beach scenes and fun activity-based destinations for families. The Outer Banks are where many people head, but there are numerous options. Depending on the type of vacation you're after, you can find small towns lining the Atlantic Coast or along the sounds.
These places make ideal escapes from the heat and humidity of summer. Fresh breezes off the ocean and cool waters to swim in make for a refreshing retreat. There are reasons people have been coming to this stretch of coast since the early 1800s. Take some time to discover why for yourself. Begin with our list of the top coastal towns in North Carolina.
Note: Some businesses may be temporarily closed due to recent global health and safety issues.
1. Edenton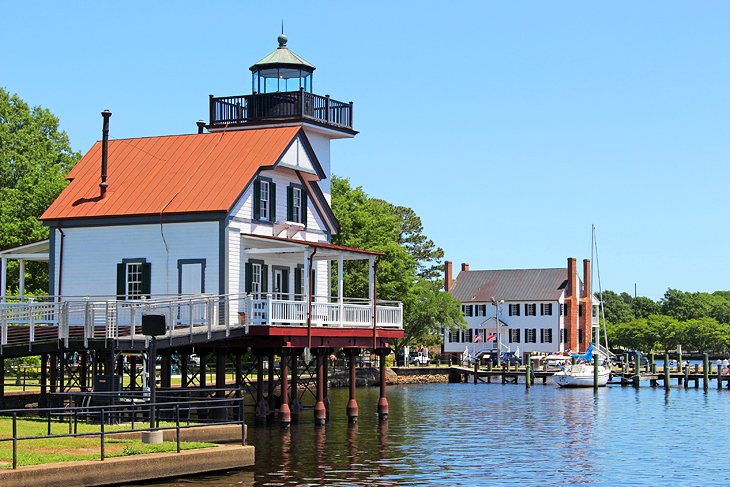 Set on Albemarle Sound, Edenton is a peaceful escape from the stress of everyday life. The first Colonial capital of North Carolina, this 300-year-old town is replete with wonderfully restored historical homes and buildings. Some of these beautiful treasures are now bed and breakfasts, shops, and restaurants.
Most of the main attractions are within walking distance of one another, and many are free to enter. An ideal way to begin your tours is to view a 15-minute video at the tourist information office at the top end of South Broad Street.
One of the highlights is the Chowan County Courthouse. Not to be confused with the replica courthouse, this original structure looks out over a large green space and faces out onto the sound with cannons at the water's edge. The trees you see growing in the water are bald cypress trees, ranging in age from 500 to 2,000 years old.
Most of the action is found at the base of South Broad Street. From here, you can catch the trolley for a tour of the town, take a boat tour on Albemarle Sound, or stop in at the historic Cupola House.
If you are looking for a romantic getaway, Edenton is the perfect place. Book a stay at one of the charming old bed and breakfasts and spend a leisurely day exploring the town.
Accommodation: Where to Stay in Edenton
2. Nags Head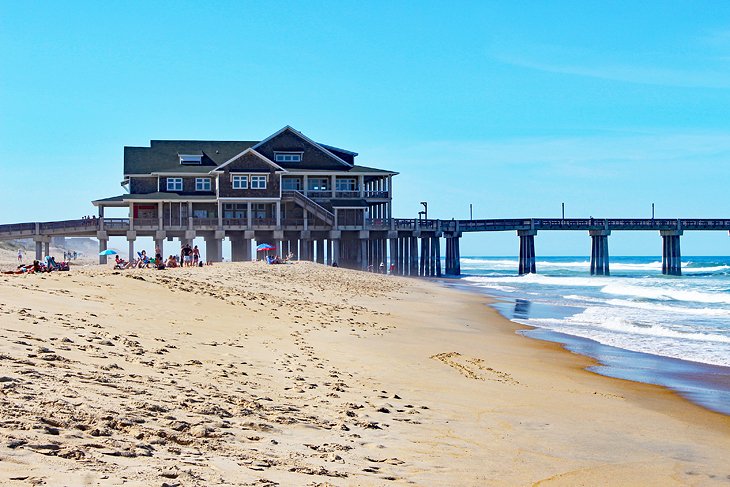 Nags Head is the largest town in the Outer Banks and also one of the best known beach towns. This is a great place for families, with numerous things to do, including mini golf, family-friendly restaurants, and one of the best beaches in North Carolina.
Attractions for mom and dad are in the form of outlet malls, beach shops, Gallery Row, and the Historic District, with its unpainted traditional cedar shake beach cottages.
Nags Head is one of the few towns on the Outer Banks where you can find a good selection of hotels, including resorts. Other forms of accommodation include vacation rentals and comfy bed and breakfasts.
One of the main attractions off the beach is Jockey's Ridge State Park. Fun for all ages, activities include walking, running, and even surfing down the tallest sand dunes in the Eastern United States.
The town has fishing piers: The Nags Head Fishing Pier, which also has a public aquarium, and the Outer Banks Fishing Pier. Fish you might catch here include Spanish mackerel, bluefish, triggerfish, sea mullet, croakers, and pigfish.
Nags Head is well located for easy day trips. Straight south of town is the Bodie Island Lighthouse, and just a few miles north is the Wright Memorial National Monument.
In addition to dining, shopping, and walking, additional things to do include fishing from the boardwalk, crabbing on the sound, cycling along the six-mile Duck Trail, or catching a free show at the Amphitheater. One of the town's major musical events is the Duck Jazz Festival. This free event takes place the second week of October each year.
Accommodation: Where to Stay in Nags Head
3. Duck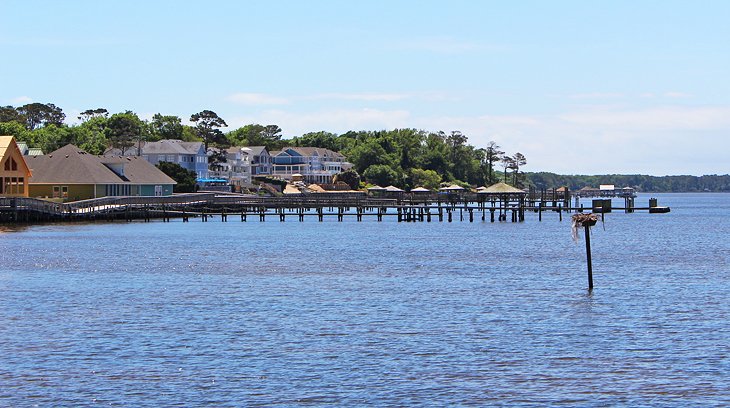 Duck is unique from many of the towns in the Outer Banks. It is a calm, green place with large trees and stately homes. You won't find any big box stores or chain restaurants here, it's all local and sometimes eclectic establishments with a low-key scene.
The main town area of Duck is set on the broad and flat Currituck Sound and is protected from the worst of the Atlantic Ocean weather. Duck is also unique for its extensive, elevated, one-mile boardwalk out over the water that connects various restaurants, shops, and parks while providing great views out over the sound.
A wonderful walk along the Duck Boardwalk starts at the kayak launch parking area and heads south along the shoreline ultimately ending at Aqua Restaurant, where you can have a leisurely lunch on their wonderful outdoor patio.
4. Kitty Hawk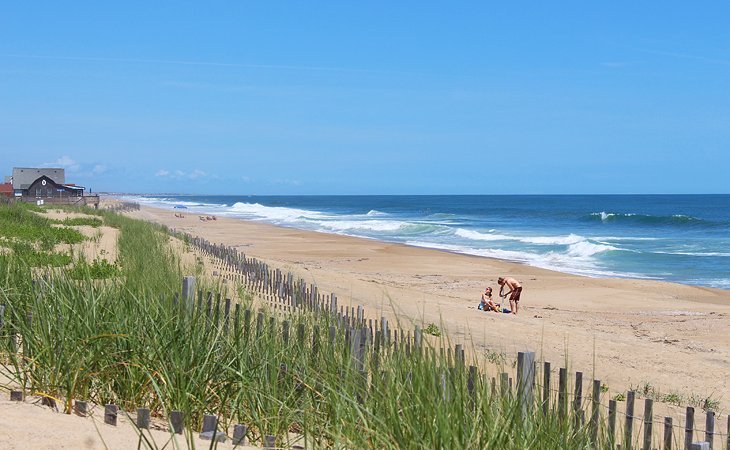 Kitty Hawk is located just north of Kill Devil Hills, and if you are driving along the highway 158, with its big box stores and shops, you could be forgiven for not noticing that you are in a new town. Kitty Hawk is the place where Orville and Wilbur Wright first managed to fly. Just south of town you'll find the impressive Wright Brothers National Memorial.
The beach at Kitty Hawk is long and wide with golden brown sand, ideal for long beach walks. Similar in nature to Nags Head, most of the services are along the main highway. Here, you'll find an extensive assortment of family restaurants, mini golf, a Children's Museum, and beach shops.
One of the most unique features of Kitty Hawk is the large maritime forest in Sandy Run Park. For a change of pace from the beach, you can walk along the wonderfully serene boardwalk, where you'll have a good chance of spotting the local wildlife, including yellow-bellied slider turtles, deer, otters, and egrets. For an even closer look, launch a kayak or canoe and explore the twisty waterways.
5. Carolina Beach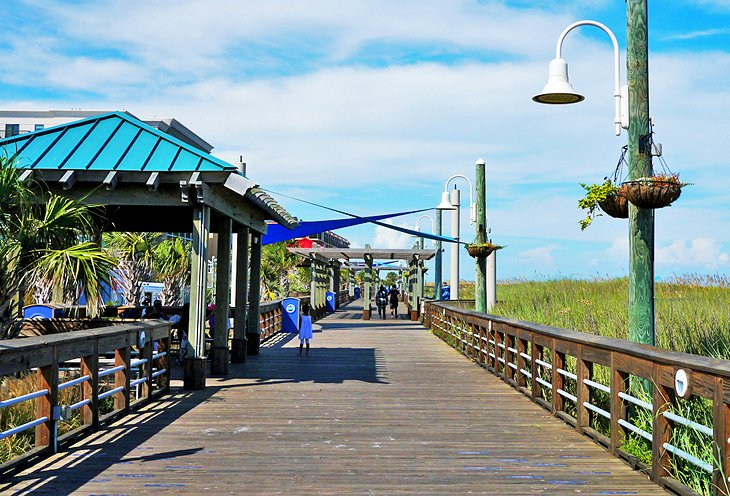 Just a short drive from Wilmington brings you to golden sands and warm waters at Carolina Beach. The famous vintage Carolina Beach Boardwalk is full of fun things to do, including carnival rides, a carousel, an arcade, ice-cream shops, and restaurants with beachfront patios. In the summer, there are fireworks every Thursday night and live music concerts featuring a variety of musicians across the musical spectrum.
Carolina Beach is known as one of North Carolina's top surfing destinations. The beach here is wide, and the sand is soft. Carolina Beach is perfect for families, with the ocean in front and fun and games behind. Camping is nearby at Carolina Beach State Park.
Accommodation: Where to Stay in Carolina Beach
6. Wrightsville Beach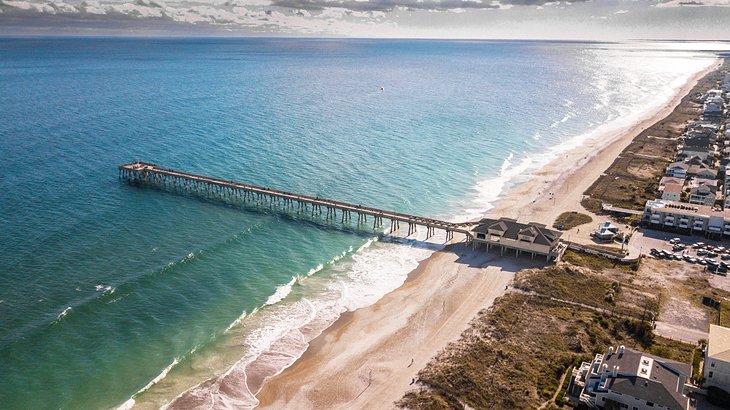 Often described as one of North Carolina's best beaches, Wrightsville Beach, lures visitors with its easy access and wonderful waterfront. The beach is wide, and the water here is clear with an aquamarine color.
The beach is a popular destination for those who like to surf, stand up paddleboard, and kayak, so bring your gear. Some of the attractions around town are the Wrightsville Beach Museum of History and the Fred and Alice Stanback Coastal Education Center.
A farmers market takes place throughout the summer, from the middle of May to the end of September on Monday's beginning at 8am. It's located in the municipal grounds near the town hall.
Wrightsville Beach is just a short drive from Wilmington, so getting here is easy and quick; parking is in well-marked lots, and you can pay by the hour and recharge your time via your phone. The main gathering spot is at Crystal Pier. Here, you'll find people fishing, strolling hand in hand, or just hanging out gazing out at the ocean.
Accommodation: Where to Stay in Wrightsville Beach
7. Beaufort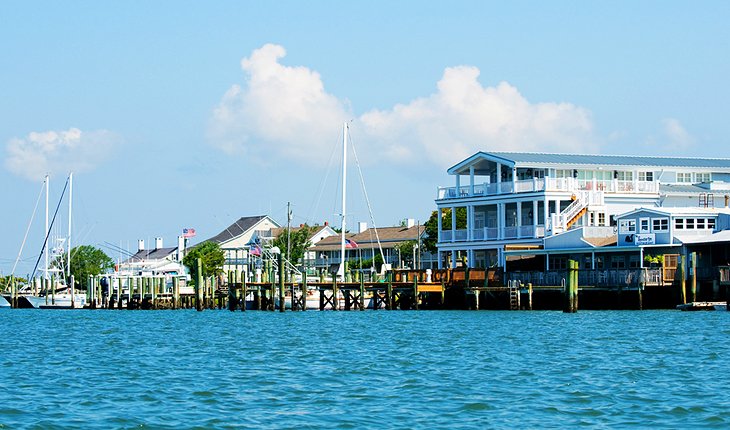 There's a reason people come to Beaufort and almost immediately plan a return trip. Beaufort is full of history and is North Carolina's third oldest town. Surrounded by water on three sides, the town has a maritime feel about it. Homes dating from the 17th century are on beautiful tree-lined streets that entice you to stroll along and think about what life used to be like here over 200 years ago.
Down at the dock areas there is always something to see or do, whether it's a fisherman showing off his catch or people catching up on an outdoor patio. One of the fun things to do here is take a harbor tour, where you'll almost certainly be able to see dolphins racing in your bow wake.
Nearby, the Rachel Carson Reserve has wild horses, birdlife, and turtles among other wildlife. One of the highlights of a visit to Beaufort is a stop at the North Carolina Maritime Museum, where treasures from Blackbeard's sunken pirate ship discovered just offshore are on display.
8. Morehead City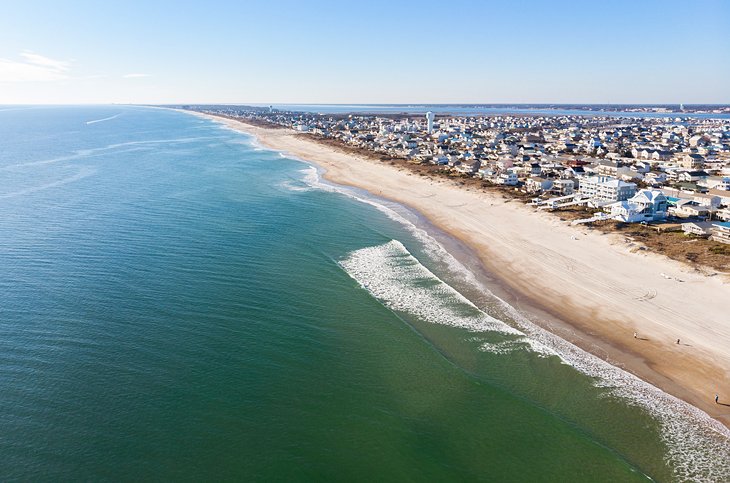 One of the larger towns along the North Carolina Coast, this vibrant outdoorsy place reels you in and makes you want to stay a while. Fishing is king here, with a fine collection of charter boats taking customers out for a day of fishing. Be sure to stop by the weigh-in area in the afternoon when the boats return with their catches, some of which are enormous. In fact, the world-famous Big Rock Blue Marlin Fishing Tournament takes place here each year the second week of June.
All that great fishing translates into great seafood at the many fine restaurants spread throughout the town. Fresh catches are prepared in ways that will delight your taste buds. If you can plan for it, the North Carolina Seafood Festival happens the first weekend in October each year and is considered one of the most popular festivals in the state.
The town itself is easy to navigate by foot. Stroll past the various shops, stop by the waterfront to catch the action, and then retire to a waterfront patio to soak up the views of Sugarloaf Island. Head over the bridge to Atlantic Beach for a little sun and sand.
9. Southport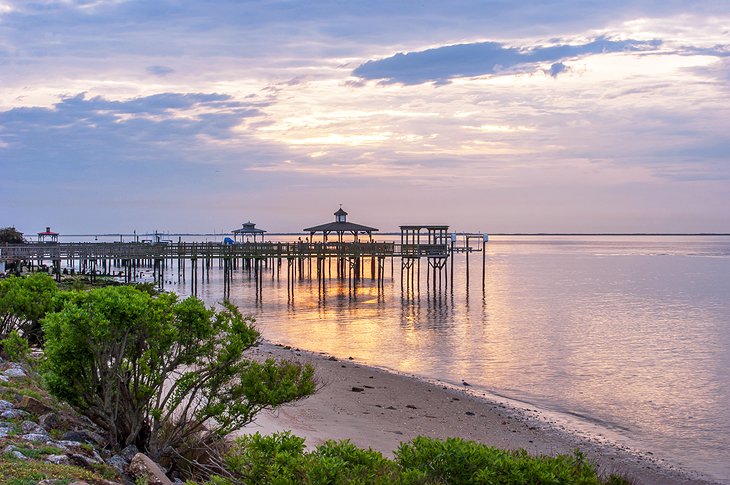 Strategically located at the mouth of the Cape Fear River, Southport has a maritime heritage dating from 1795. The town, listed on the National Register of Historic Places, is wonderfully restored to its original glory, and over 40 movies and television shows have been shot here.
The best way to capture the town's essence is to walk around. The main things to see and do are easily reached by foot, and if you find yourself tired out by the adventure, stop in at one of the restaurants and recharge with a fine seafood meal.
History is everywhere here, from the Old Brunswick County Jail Museum to the Maritime Museum, right through to the Fort Johnson-Southport Museum and Visitors Center. Be sure to check out the Southport Pier and Riverwalk with its great views and fresh breezes. It begins at the City Pier.
A great way to get to Southport from Wilmington is to take the historic Southport-Fort Fisher car and passenger ferry. This 30-minute ride across the mouth of the Cape Fear River is a cheap way to see the seaside scenery and much better than taking the long way around to get to town.
10. Calabash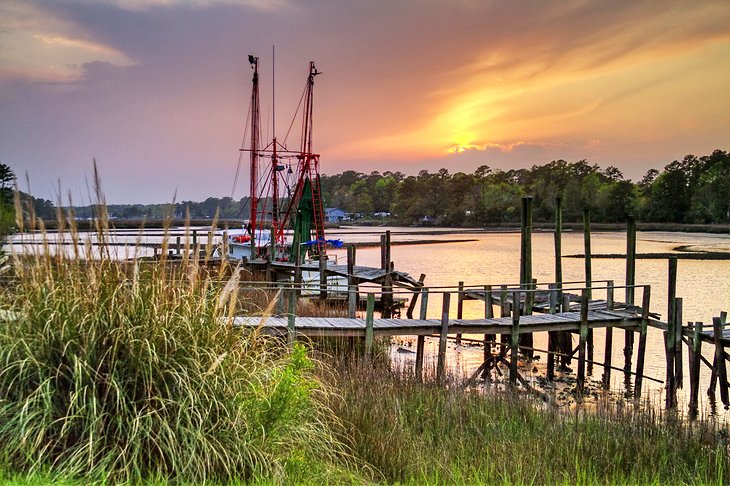 If you are a foodie and like charming small towns, Calabash should be number one on your destination list. The town makes a somewhat outrageous claim as the "Seafood Capital of the World," but there is some substance to the statement.
In addition to dining, the town offers great opportunities for shopping across a wide variety of retail shops. In the summer, every Tuesday, a free concert takes place at the town park, with bands providing a mix of musical styles. It's a fun family thing to do. Vendors set up nearby selling everything from homemade ice-cream to savory dishes.
Activities just outside of town include golfing, dolphin cruises, and deep-sea fishing.
11. Avon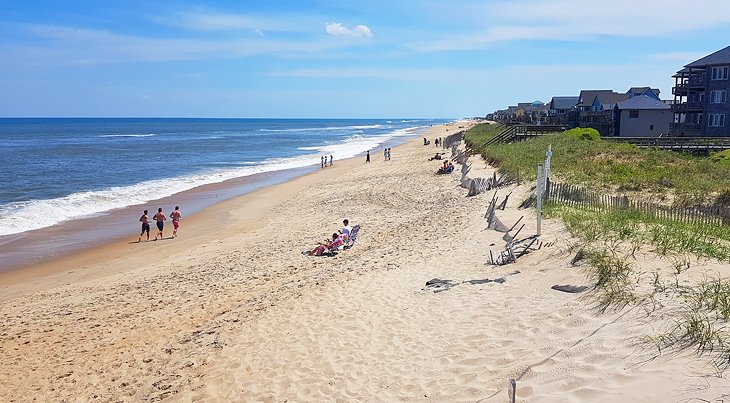 Avon is another wonderful beach town in the Outer Banks that is a great place to base yourself to see the best of the area. Although the town is really a collection of retail stores and restaurants along the highway, it's the stunning beach and nearby attractions that make it a popular place to visit.
One of the most interesting things to see near Avon is the towering Cape Hatteras lighthouse. This black-and-white beacon can be climbed, and the reward for the effort of going up 257 stairs is amazing views up and down the coast.
Just a short distance north of Avon brings you to the tri-cities of Waves, Rodanthe, and Salvo. You'll know you are in the right spot when you see the colorful kites of the kiteboarders just offshore. For an interesting free show, stop in for lunch at Good Winds, located upstairs in the Kitty Hawk Kites complex, where you can sit on the patio and watch the crazy kiters zip across the waves and perform aerial tricks.
Avon is a great place to stop and park yourself. Most of the accommodation is in elevated beach houses that can be rented through one of the local real estate companies. You can check the inventory and house features online and make bookings there as well. If you prefer a hotel room, there are a few places just south of town in Buxton.
More Related Articles on PlanetWare.com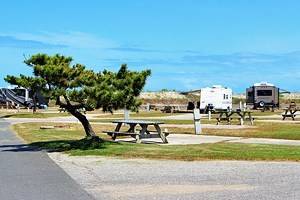 Camping in the Outer Banks: Staying in coastal towns is a great way to enjoy summer in North Carolina. If you want a more outdoorsy experience, you may also want to consider camping in the Outer Banks. The area has several good campgrounds for tenters or RVs.