11 Top-Rated Beaches near Wilmington, NC
Wilmington is a bustling and historic port city located along the southeast coast of North Carolina. The city of Wilmington itself is scenic and historic, with a lovely, winding riverfront complete with a festive Riverwalk, history, art, culture, and a vibrant dining scene. But residents and visitors alike love Wilmington for its proximity to the stunning Carolina coast.
Speaking of proximity, Wilmington enjoys the advantage of being in a strategic position between some of the best beaches along the Atlantic Coast. It is both the jumping-off point for the Outer Banks, which string out to the north along the coast of North Carolina, as well as the beaches of the Grand Strand to the south in South Carolina.
Beaches, beach towns, and beach vibes stem out from Wilmington, designed for every taste, from the buzzing, non-stop energy of North Myrtle Beach, to the tranquility, nature, and silence of Bald Head Island. Less than half an hour from the city itself are a smattering of beaches that make for perfect day trips, if packing up for an overnight is outside the budget. The beaches near Wilmington can cater to every taste, whether it's for a five-star resort or humble coastal camping.
To get the inside scoop, check out our list of the best beaches near Wilmington, North Carolina.
1. Wrightsville, North Carolina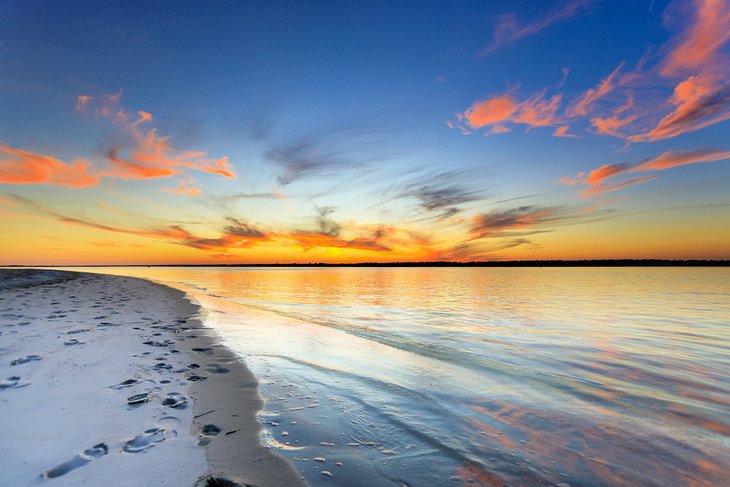 When it comes to picking the best beaches near Wilmington, most locals will give Wrightsville the seal of approval. The town is known for its sweeping, four-mile stretch of sandy beach, which contrasts against the sapphire-colored water. In just four miles, 40 public access points open up to the beach, which means that visitors are unlikely to feel crowded.
Wrightsville Beach sits on an interior island called Harbor Island. Because of its close proximity to the city, it's one of the most beloved beaches in the area and one of the best beaches in North Carolina. It's also one of the more affluent beach towns in the city, so be prepared for prices that swing on the higher end.
Sleepy in the off-season and bustling during the summer months and holidays, Wrightsville has a small local population of less than 3,000 people.
Surfers have flocked here for decades. In fact, it's one of the surf capitals of the East Coast and a prime location for water sports, like kayaking, paddleboarding, and swimming. While even experienced kite surfers and wave surfers flock here year-round, waves are gentle enough for beginners to sharpen their skills.
The town itself is a string of shopping, from surf shops to high-end boutiques, multi-million dollar homes, and upscale hotels.
Getting there: Wrightsville is less than a half hour from downtown Wilmington via the Intracoastal Waterway.
2. Carolina Beach, North Carolina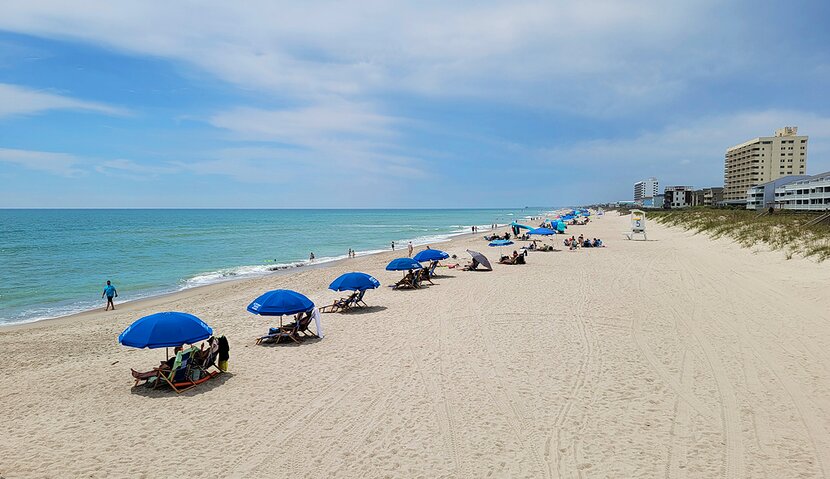 When it comes to all-American beach towns, nothing quite compares to Carolina Beach. It's often described by locals as being "laid-back," and "down-to-earth," with a carefree and whimsical attitude that is so far from pretentious and all about relaxing and having a good time. In fact, compared to other neighboring beaches, Carolina Beach is almost like stepping back in time for a slice of vintage beach vibes.
Carolina Beach is famous for its iconic boardwalk (a historical landmark), which is peppered with restaurants, snack shops, boutiques, and even an amusement park for kids. Locals and visitors can always be seen biking, running, or walking along the boardwalk, as well. Throughout the year the boardwalk hosts a series of events, like nightly fireworks, the Carolina Beach Street Arts Festival, the Carolina Beach Music Festival, and more.
Carolina Beach is one of the top coastal towns in North Carolina. If you like fishing, Carolina Beach is one of the top meeting spots for fishermen, especially from the pier, which extends out to sea. And for those who want a little more than sunbathing, Carolina Beach State Park is veined with hiking trails, dotted with campsites, and even has a marina.
Getting there: Carolina Beach is less than a half-hour drive south from Wilmington.
3. Kure Beach, North Carolina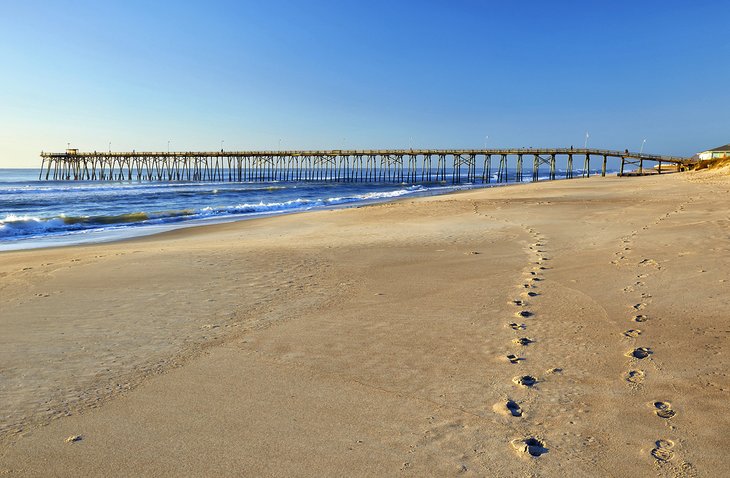 While Carolina Beach and Wrightsville Beach are hubs of frenetic activity, Kure Beach takes the tone down to a sleepy, laid-back decibel. Water sports are the activities du jour here, like scuba diving, snorkeling, fishing, and surfing. Lovely (and colorful) beach homes line the straight stretch of golden sand, and the town has one of the oldest fishing piers on the Atlantic coast.
So much more than a beach town, Kure Beach has plenty of outdoor options, from a Civil War fort to the North Carolina Aquarium's Adventure Reef, which is home to alligators, sharks, stingrays, seahorses, and more. A stroll through town reveals a host of local favorite restaurants. Tip: Freddie's and Jack Mackerel's Island Grill are musts.
Throughout the year, the Kure Beach Ocean Front Park & Pavilion holds many outdoor events, from music festivals to seafood events, and more.
Getting there: Kure Beach is less than 30 minutes from Wilmington. It's the next town over from Carolina Beach.
4. Masonboro Island, North Carolina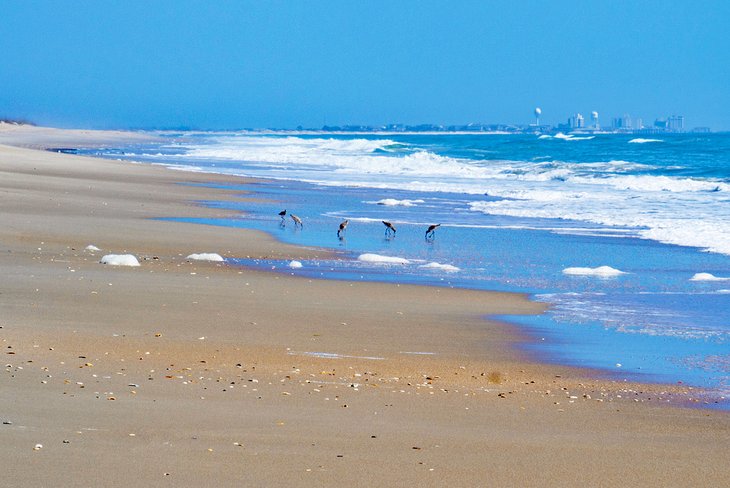 What's special about Masonboro Island is that it's a beach destination that is only accessible by boat. This makes it one of the most pristine beaches in the area, and one of the most adored by nature lovers. Boats, both private and public, typically land at the southern and northern sounds. Once on the island, visitors have at their fingertips a web of nature trails that zigzag across the island and lead out to the stunning, undeveloped beach.
The island, officially known as Masonboro Island Reserve, is one of the largest undeveloped barrier islands along the North Carolina Coast, offering eight miles of pristine playground for nature lovers. Be sure to keep an eye out for the dozens of wildlife species that call this island home. It's also a perfect place for students and researchers to study salt marshes, tidal ecosystems, and other habitats.
If you're interested in camping, basic sites are available, but don't expect any form of luxuries. This is raw, unspoiled camping at its best.
Getting there: Boat ramps with launches to Masonboro Island can be found in and around Wrightsville Beach and Carolina Beach.
5. Topsail Island, North Carolina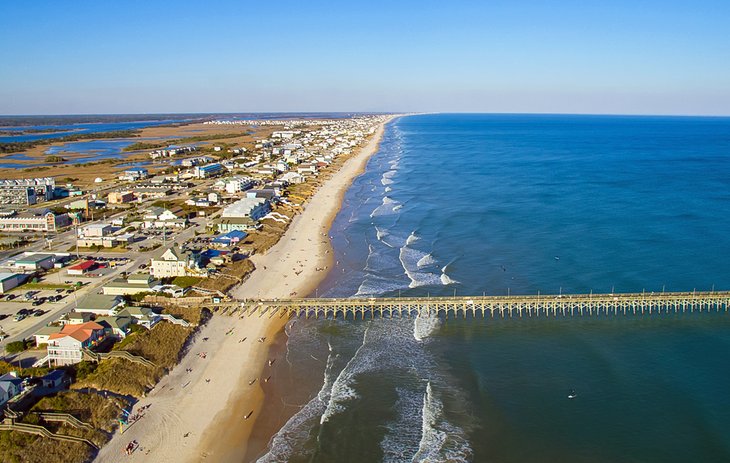 Twenty-six miles of gorgeous beach stretches just off the coast of mainland North Carolina. This is Topsail Island, a skinny slice of beach paradise with a minuscule population. Three beach communities exist along Topsail, including Surf City, North Topsail Beach, and Topsail Beach.
The vibe on the island is pure serenity. It's where locals love to live their under-the-radar existence, and visitors love to unplug from the rest of the world.
Each of three beach towns offers its own atmosphere. North Topsail Beach has water on three sides, making it perfect for outdoor lovers, especially kayakers and boaters, who can cruise the Intracoastal Waterway. Surf City (the most visited destination) has the largest concentration of restaurants and shopping. Topsail Beach, which has a population of under 500 people, is the best for views, pristine shores, and peace and quiet.
In any of the towns, be on the lookout for loggerhead sea turtles that scuttle up the dunes to lay their eggs during nesting season.
Getting there: Topsail Island is about 40 miles north of Wilmington. It used to be accessible only by boat, but today several bridges make it easily accessible by car.
6. Bald Head Island, North Carolina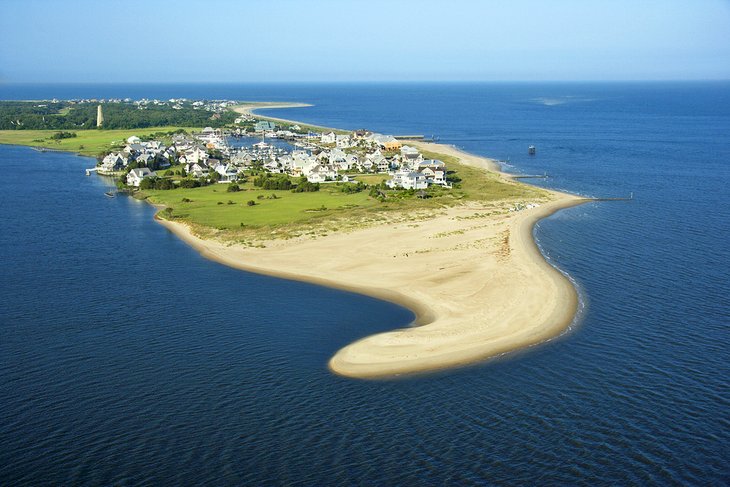 Life's pace slows down on Bald Head Island – way, way down. Maybe it's because 10,000 of its 12,000 acres are protected lands, or maybe it's because cars aren't allowed on the island. Whatever the reason, Bald Head is a North Carolina escape from the hustle and bustle, where locals and visitors can truly unplug and get back to nature amid the endless stretches of sandy beaches and the gently lilting palm trees.
If sitting still isn't your style, adventurists will feel right at home on Bald Head. Kayaking, surfing, and stand up paddleboarding are all the rage. There are also nature trails, forest hikes through the Bald Head Woods Maritime Forest Preserve, and golf. If you're interested in a bird's-eye view, why not climb Old Baldy, the island's 200-year-old lighthouse? It has 108 steps up to the top and looks out over the entire stretch of island.
Getting there: Hourly ferries depart from Southport, NC at the Deep Point Marina. Once on the island, you can rent a golf cart to get around, or catch the tram to your rental house.
7. Emerald Isle, North Carolina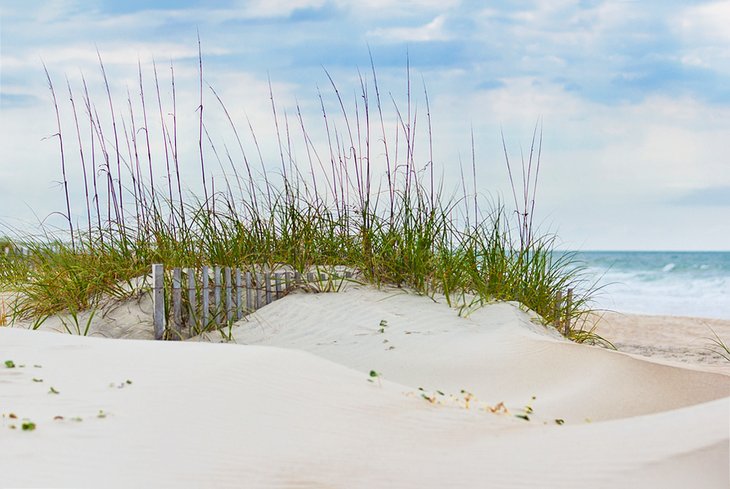 Twelve miles of stunning shoreline wraps this quaint, picture-perfect North Carolina beach getaway. White, powdery sand fringes the shoreline along this quiet, laid-back stretch of coast. Home to a small beach community, Emerald Isle has a small smattering of hotels, rental homes, and campgrounds, but its real draws are the uninterrupted views, endless swaths of sand, and brilliantly blue water.
A wonderful spot for families, Emerald Isle has great restaurants (try the Big Oak Drive-In), as well as the Salty Pirate water park. Emerald Isle Woods Park is lined with numerous hiking and biking paths. You may even be able to spot dolphins swimming offshore.
Getting there: Emerald Isle is along the Crystal Coast at the very southern point of the Outer Banks. It's less than a two-hour drive from Wilmington.
8. Atlantic Beach, North Carolina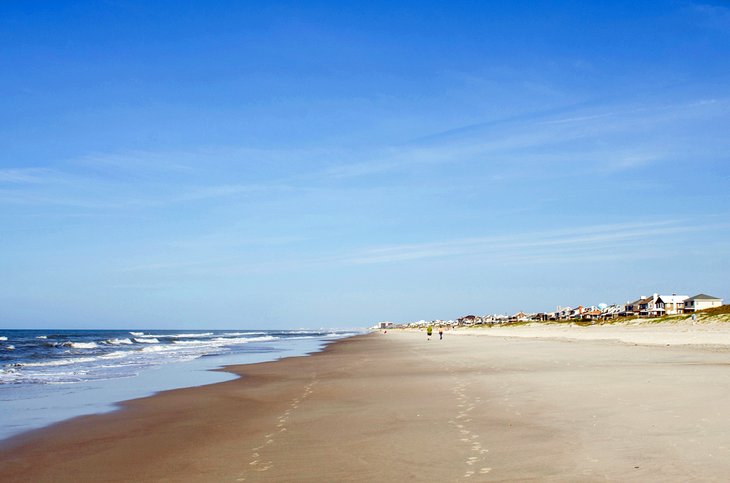 Located along the Crystal Coast (known for the sparkling, translucent waters that hug the shoreline), Atlantic Beach is widely considered one of the best vacation destinations in North Carolina.
Atlantic Beach sits on Bogue Banks island, one of the barrier islands along the mainland. It's peppered with a variety of activities for families, couples, and friends, from ice-cream shops to A-list restaurants. Shopping runs the spectrum, from boho beachwear to high-end boutiques.
In addition to sunbathing and dining, Atlantic Beach is a popular fishing destination, with plenty of piers from which to cast off, as well as a variety of fishing tours available for charter. Surfers find it a haven for catching waves, as well.
If you are interested in nature, the Fort Macon State Park is nearby. One of North Carolina's most visited state parks, the park includes a 19th-century Civil War fort, as well as a swimming area and picnic area.
Getting there: Atlantic Beach is a two-hour drive from Wilmington, a few towns north of Emerald Isle.
9. Harkers Island, North Carolina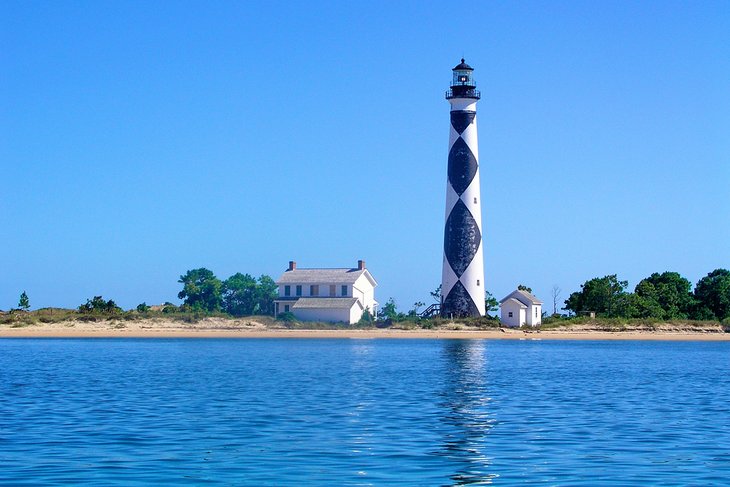 It doesn't get much calmer than life on Harkers Island. Sugary sand and nature trails make this North Carolina beach destination one of the quietest, perfect for kicking back and taking the scenic route. Tranquil water means it's a breeze for swimmers, as well.
The island has been populated for centuries, first with Native American tribes, and then settlers. Still, despite the constant flow of inhabitants, it retains its throw-back vibe. The population is around 1,200, and locals appreciate its small-town feel. "Downtown" consists of a few restaurants, a grocery store, and the ferry service to the Cape Lookout National Seashore.
Fun fact: The area is of particular interest to linguists. Many of the residents of Harkers Island are direct descendants of settlers, and because the island is cut off from the rest of the Outer Banks, the dialect is one of the best examples of Old English.
Getting there: The island is just north of Beaufort, roughly a 2.5-hour drive north from Wilmington.
10. North Myrtle Beach, South Carolina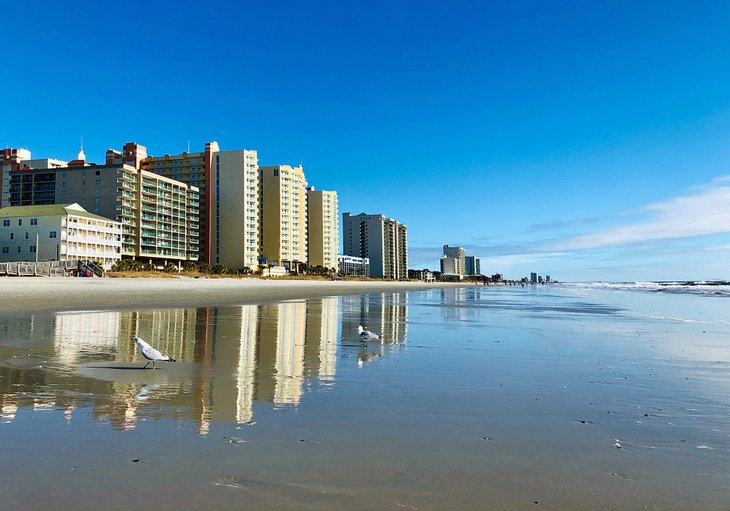 Technically in South Carolina, but not far from Wilmington, North Myrtle Beach is the official gateway to the Grand Strand, a stretch of 60 miles of Atlantic Coast along South Carolina's shoreline. It was founded more than 30 years ago out of four communities. Today, it's an amalgamation of luxury hotels, cottages, and motels, bringing together a wide variety of vacationers.
Along the nine miles of beach are an endless array of things to do. From horseback riding and beachfront dining to wakeboarding and ziplining, it's an activity-lover's paradise.
North Myrtle Beach also has a spectacular restaurant scene and live music venues, like the iconic House of Blues. It's certainly a 24/7 beach destination, so if you're looking for action and entertainment, this would be the place.
Getting there: North Myrtle Beach is an hour and 15 minutes south of Wilmington.
Accommodation: Best Resorts in North Myrtle Beach
11. Fort Fisher State Recreation Area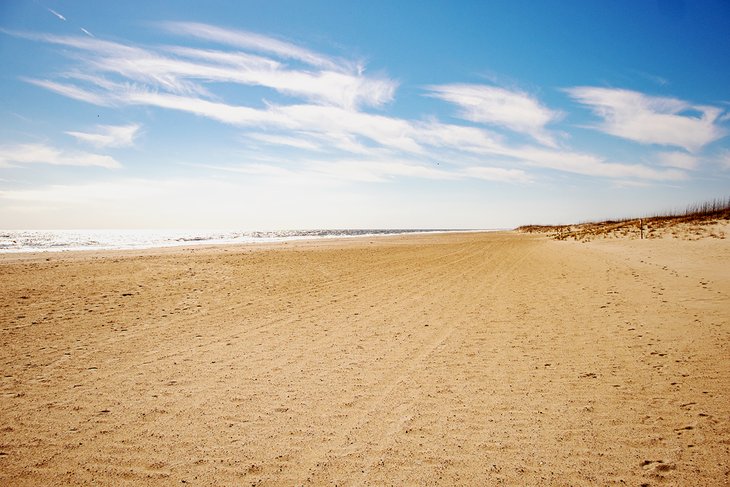 Technically in the town of Kure Beach, the Fort Fisher State Recreation Area is actually a separate beach on its own. The five-mile stretch of Atlantic shorefront is part of the North Carolina State Park system.
You won't find many services here, as the park system aims to keep the beaches as pristine and untouched as possible. What you will find, however, are paths to a perfect, unadulterated swatch of shoreline, and perhaps a loggerhead sea turtle, a piping plover, or both.
You will find that the 287-acre park has walking trails, as well, which wind through the marshlands from the beach to the sound. The ruins of the actual Fort Fisher are also within the park. The ruins were the site of a Confederate fort during the American Civil War. Paddlers may bring their own boats, as the park has a boating ramp and paddling launch.
Those in the know will recommend you take a ride on the Fort Fisher-Southport ferry. You can access the ferry directly from the recreation area. Being out on the water will give you front row views of the Cape Fear River.
Getting there: Fort Fisher State Recreation Area is located near the town of Kure Beach.
Map of Beaches near Wilmington, NC
Wilmington, NC - Climate Chart
Average minimum and maximum temperatures for Wilmington, NC in °C
J
F
M
A
M
J
J
A
S
O
N
D

13

2

16

3

19

7

23

11

27

16

30

20

32

22

31

22

29

19

24

12

20

7

16

3

PlanetWare.com
Average monthly precipitation totals for Wilmington, NC in mm.

115

93

107

75

112

136

194

186

173

82

83

96