15 Top-Rated Attractions & Things to Do in Myrtle Beach, SC
We may earn a commission from affiliate links ()
A visit to Myrtle Beach, aka the "Grand Strand," is sure to entertain and put a big smile on you and your family's faces. Myrtle Beach is all about fun for all ages and the city is purpose built to make sure you have a good time. By day, soak up the sun on the seemingly endless, broad sandy beaches, in the evening head to Broadway on the Beach for dinner, shopping, and a show.
Off the beach you'll find endless to do with the family including mini-golf, water parks, roller coasters, aquariums, and the list goes on and on. Myrtle beach is an affordable family vacation destination with a significant number of large hotels, many beachfront, competing for your vacation dollars.
For ideas on other places to visit in this fun resort town, see our article on the top attractions in Myrtle Beach.
See also: Where to Stay in Myrtle Beach
1. Hit the Beach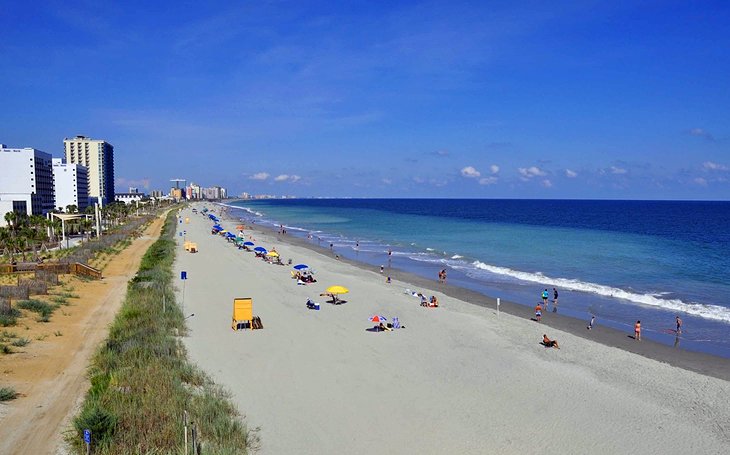 While it might seem obvious, the main attraction in Myrtle beach is the beautiful stretch of white-sand beach along the city's oceanfront, which extends for a total of 60 miles. Fly a kite, search for shells, toss a Frisbee, or let the kids enjoy the water while parents watch nearby.
Adventurers can enjoy a variety of sports, such as boating, fishing, surfing, para-sailing, windsurfing, or scuba diving. Many people come simply to set up a chair and read a book. A nighttime walk on the beach shows off the lights of the hotels with the background sounds of water breaking on the sands.
The Myrtle Beach Boardwalk is where you will find the bulk of the town's hotels, family tourist attractions, restaurants, and souvenir shops. Along the 1.4-mile-long promenade, you will also find multiple stages, which feature concerts as well as arcades and other entertainment. Watch for a variety of special events and annual festivals hosted here, including the Myrtle Beach Seafood Festival, the Carolina Country Music Fest, and others.
2. Go Underwater at Ripley's Aquarium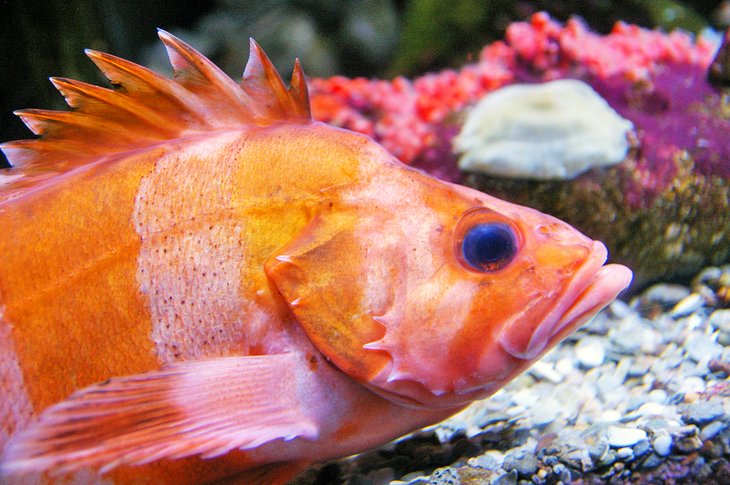 Ripley's Aquarium in Myrtle Beach gives families the unique opportunity to explore a giant aquatic habitat from the inside, thanks to the acrylic tunnel that winds through the Dangerous Reef aquarium. From within this tunnel, visitors can get up close to thousands of fish, including sea turtles, stingrays, and giant sharks. The courageous can opt to actually camp overnight inside the tunnel, and those who are extra-brave can try diving with the sharks.
The aquarium also has a variety of habitats that feature aquatic residents of the Indo-Pacific, like the intricately colored clown triggerfish, an Amazon River habitat, and a stingray lagoon. Visitors can learn more about marine life in the interactive Discovery Center and find out how the immense habitats are maintained by visiting the facility's systems control room. Staff members also present regular shows, including shark, sea dragon, and jellyfish feedings; dive shows; and a mermaid show.
Address: 1110 Celebrity Cir, Myrtle Beach, South Carolina
Official site: www.ripleyaquariums.com/myrtlebeach/
3. Be Amazed at WonderWorks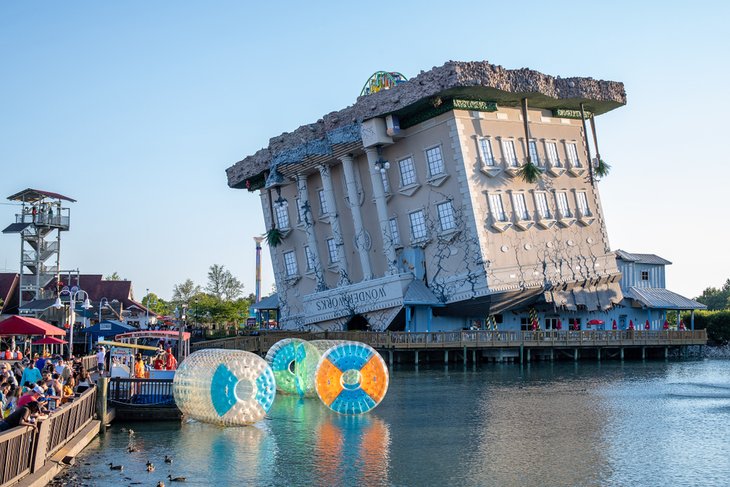 WonderWorks Myrtle Beach takes the concept of a science museum to a new level, engaging kids of all ages in learning while having tons of fun. The interactive exhibits are organized by theme into WonderZones, which focus on topics like natural disasters, physical challenges, lights and sound, space exploration, and art. There is also an area dedicated to the youngest visitors, where they can play and learn with activities like a giant Lite-Brite.
Fun activities include the Extreme 360 bikes experience, an indoor glow-in-the-dark ropes course, and a laser tag arena. The whole family will love the immersive experience of the 6D Extreme theater where motion, environmental effects, and a 3-D film create an exciting thrill ride.
Outside the crazy building, the fun continues with a zipline that soars for 1,000 feet above the water and a ropes course with various challenges all suspended 40 feet in the air.
Address: 1313 Celebrity Circle, Myrtle Beach, South Carolina
Official site: www.wonderworksonline.com/myrtle-beach
4. Catch a Dinner Show at Dolly Parton's Pirates Voyage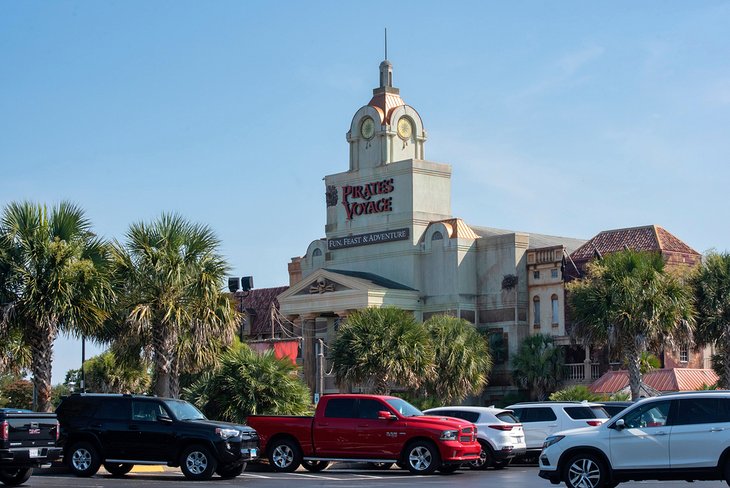 Next door to The Carolina Opry sits Dolly Parton's "Pirates Voyage," a dinner show for landlubbers. Guests are seated in front of a watery stage to enjoy a hearty meal while watching acrobatic pirates from the Sapphire and Crimson crews battle for victory. Sea lions, parrots, and other live animals join the pirates for tricks, comedy, and contests. And audience members can also join in on the fun.
Even though you can purchase tickets at the door, it's a good idea to call ahead to secure the best seats. Also plan to arrive early (but not more than 45 minutes) to get good spots for the pre-show, which is a first-come, first-served general seating show.
Address: 8901 N Kings Hwy, Myrtle Beach, South Carolina
Official site: http://piratesvoyage.com/
5. Take in the View from the SkyWheel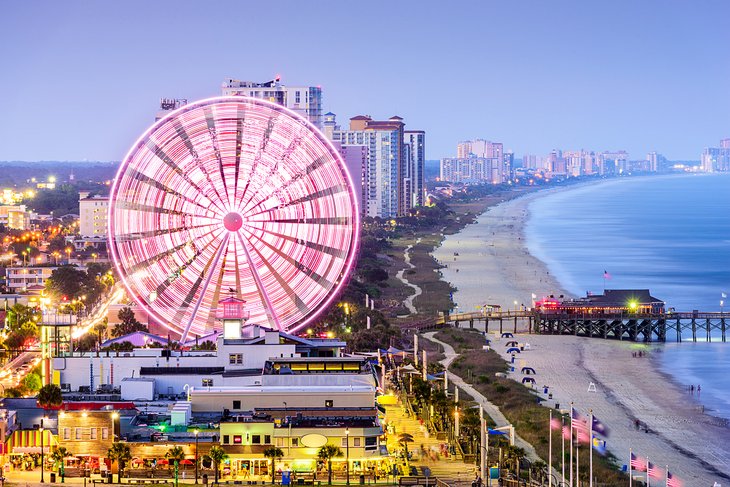 The Myrtle Beach SkyWheel takes guests way up high in its 42, six-person gondolas. The ride offers an expansive view and plenty of photo ops, and the gondolas are climate-controlled for comfort.
If you want to take your experience one step further, reserve the VIP option for a longer ride in a gondola with a glass floor and views from every angle; advance tickets are available online. At night, one million LED lights illuminate the wheel, making it an iconic landmark and point of reference for tourists and locals alike.
Address: 1110 N Ocean Blvd, Myrtle Beach, South Carolina
Official site: www.myrtlebeachskywheel.com
6. Have a Night Out at Broadway at the Beach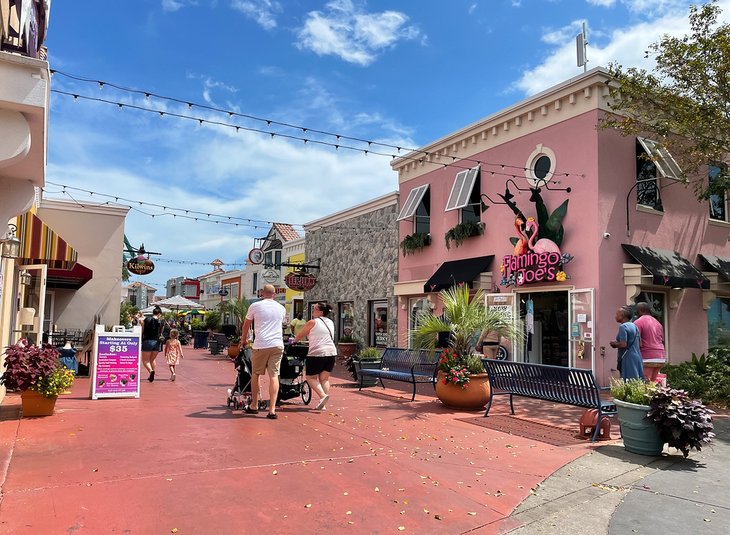 Visitors can find a variety of activities at the family-friendly Broadway at the Beach district, home to attractions such as Old Tyme Portraits, Ripley's Aquarium, and WonderWorks. Other popular activities include mini-golf, a water park, a wax museum, boat rides, and helicopter tours. The Legends in Concert, a celebrity tribute show, is also based here in a state-of-the-art facility.
The area has dining options with classic fare (burgers, pizza, steak, and seafood). On a warm evening, take a paddleboat ride or an after-dark stroll on the Broadway bridges extending over the Intracoastal Waterway. (Pick the bridge closest to Dragon's Lair Fantasy Golf for some light-hearted background music.)
Every Tuesday and Friday and some weekend days later in the season, Broadway at the Beach lights off an impressive fireworks display at 10pm.
Address: 1325 Celebrity Circle, Myrtle Beach, South Carolina
Official site: www.broadwayatthebeach.com
7. Stroll through Brookgreen Gardens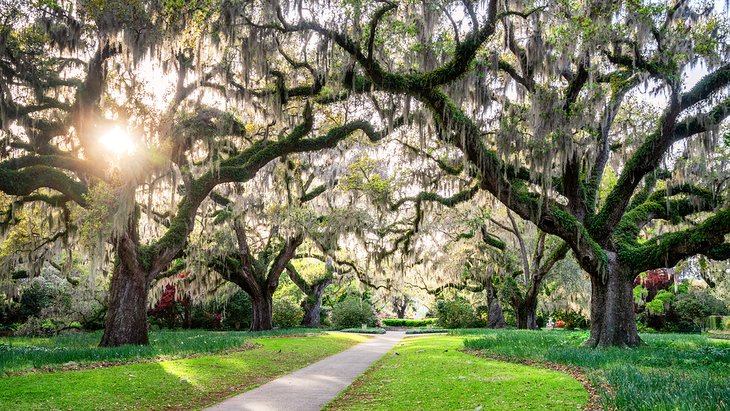 Intricate sculptures decorate the grounds of Brookgreen Gardens, a unique property that merges art and nature in a variety of ways. The 9,127-acre property is home to extensive botanical gardens, which form a natural gallery for the artwork, but is also a history and wildlife preserve.
In addition to miles of paths and quiet resting places, Brookgreen offers excursions on a 48-foot pontoon boat, which floats alongside historic Oaks Plantation rice fields, and other guided tours include more areas of the plantation, including the old rice mill and a Civil War fort.
The remote historic plantation house can also be seen via an interpreter-led tour, which also includes visits to the Alston family cemetery and the remains of the plantation's slave village.
Address: 1931 Brookgreen Garden Dr, Murrells Inlet, South Carolina
Official site: www.brookgreen.org
8. Ride the Roller Coaster at Family Kingdom Amusement Park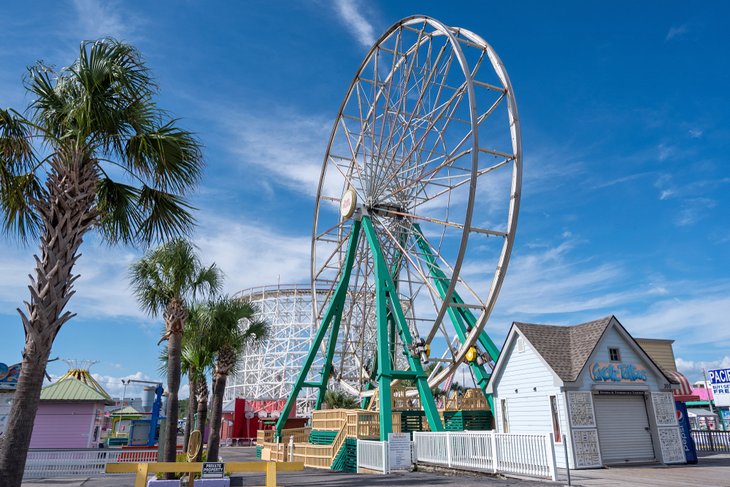 The Family Kingdom Amusement Park offers rides along with the games of chance right on Myrtle Beach's seashore. Whether you purchase individual ride tickets, get a wristband for all-day fun, or just want to stroll through the arcades and soak up the festive seaside carnival atmosphere, this is a fun place for families, couples, and everyone else.
The park gets better every year and has recently added four new rides that include a brand-new steel roller coaster called Twist 'n Shout, the super fun Magic Bikes, and the slightly crazy Jump Around Dune Buggies.
The classic rides remain, with favorites like bumper cars, go-karts, antique cars, a carousel, Ferris wheels, and a kiddie train. Thrill rides include multiple roller coasters, tilt-a-whirl, and a 110-foot free fall Sling Shot.
Cool off at the adjacent Splashes Water Park where you'll find 18 attractions, some of which include a log flume, speed slides, a 430-foot lazy river, and a variety of water flumes.
Address: 300 Ocean Blvd, Myrtle Beach, South Carolina
Official site: www.familykingdomfun.com
9. Learn about Jet Aircraft at Warbird Park
Warbird Park is an educational and free attraction located in the Market Common district of Myrtle Beach at the former Myrtle Beach Air Force Base. Since its privatization in 1993, the base has become a beautiful park, displaying aircraft that was once an active part of operations, and each craft on display is presented with details about its history and significance.
Among aircraft on display, tourists will find an A-10 Warthog Thunderbolt that supported ground troops during Operation Desert Storm, an F-100 jet fighter that saw action between the mid-1950s and early 1970s, and one of the base's A-7 Corsair tactical fighter jets. The park is also home to the Wall of Service, which contains the names of all service members who served at the Myrtle Beach Air Force Base.
Address: Farrow Pkwy, Myrtle Beach, South Carolina
Official site: www.warbirdpark.com
10. Ripley's Believe It or Not!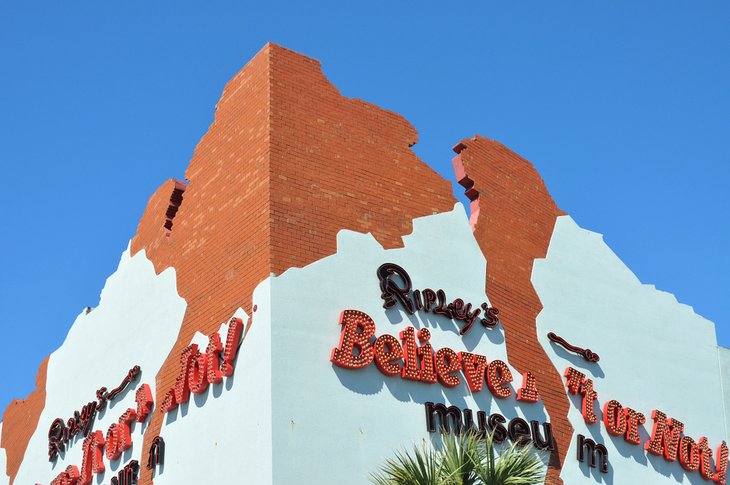 Myrtle Beach has seven different Ripley's attractions in two different locations: Broadway at the Beach and North Ocean Boulevard near Plyer Park. Perfect for a rainy or cool day or just for some pure fun and nonsense, these attractions never fail to provide a good time.
Options include the Super Fun Zone arcade; a 5-D Moving Theater; the spectacular Ripley's Aquarium; a Haunted Adventure; a Marvelous Mirror Maze; the Smash Dash; and the old standby of oddities, Believe it or Not!
Boardwalk on the Beach
Address: 1110 Celebrity Circle, Myrtle Beach, South Carolina
North Ocean Boulevard
Address: 901 North Ocean Boulevard, Myrtle Beach, South Carolina
Official site: www.ripleys.com/myrtlebeach
11. Get Wet at Myrtle Waves Water Park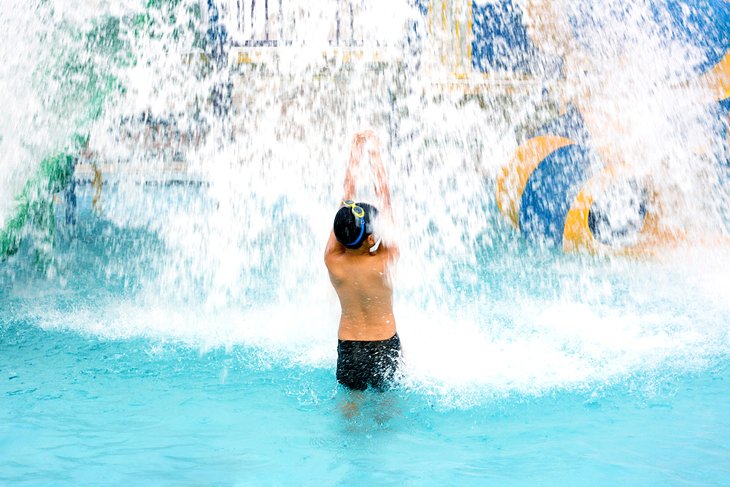 Myrtle Beach is home to South Carolina's largest water park - Myrtle Waves. Over one million gallons of water flow through more than 20 acres of slides, rides, rafts, and chutes. The larger and more heart-stopping slides include Turbo Twisters, the King Cobra shoot on Snake Mountain, and Night Flight, but other tamer options suited to younger children are available. Myrtle Waves has the city's only FlowRider endless surf machine.
Among a thrilling range of water slides, the 20-foot-long enclosed Super Chute slide is for the bravest souls. It will have you screaming before tossing you into the water. Other beachfront water parks include Splashes Water Park and Wild & Water Wheels, which is home to huge waterslides and tube slides, pools, a go-kart track, kiddie and family rides, and mini-golf.
Address: 3000 10th Ave N, Myrtle Beach, South Carolina
Official site: www.myrtlewaves.com
12. Test Your Skills at One of the Mini Golf Courses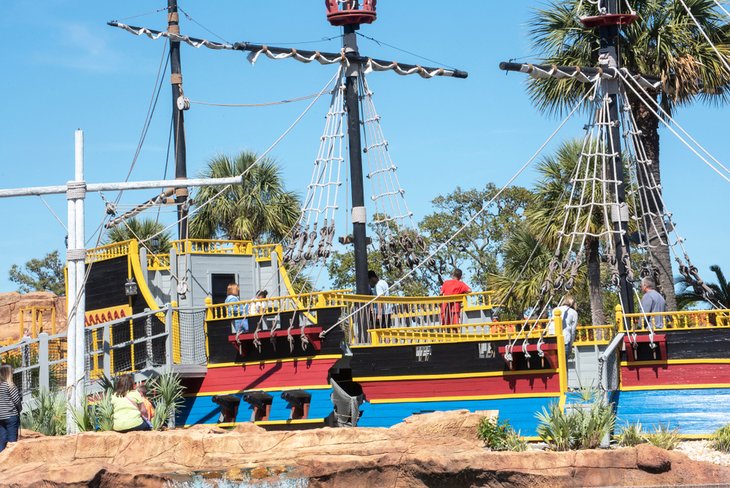 Dozens of mini golf courses are located throughout the Grand Strand. In fact, one could almost make a full vacation out of just playing putt-putt golf. Route 17 business, which runs parallel to Ocean Boulevard, is home to the majority of the area's mini golf courses. Some of the biggies are Mt. Atlanticus, Jungle Lagoon, Treasure Island, and Captain Hook's Adventure Golf.
These mini golf operations are more than just your standard run-of-the-mill golf courses. They have elaborate holes that include ships, caves, jungles, and a surprise or two you might not expect.
13. Go Shopping at Barefoot Landing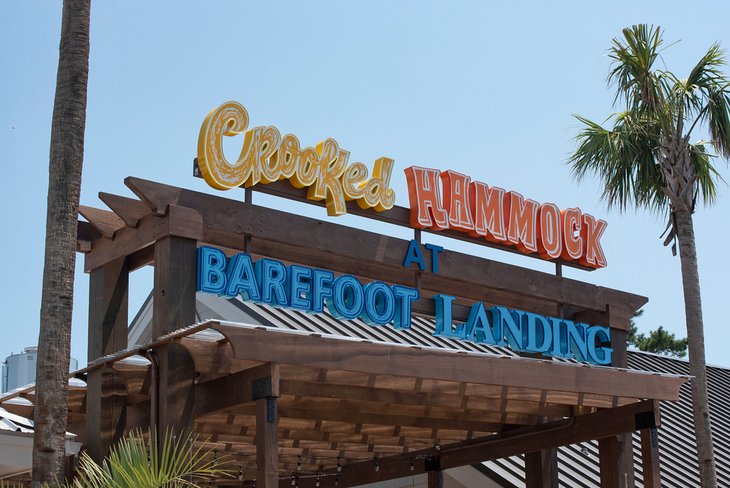 Similar to Broadway at the Beach, Barefoot Landing has quite a selection of shopping, food, and quality entertainment in north Myrtle Beach. During the day, visitors can shop for apparel, jewelry, and gifts or pick from a wide variety of attractions such as Alligator Adventure and Backstage MirrorMaze.
Come evening, catch a show at The Alabama Theater or the House of Blues. Another option (for brave souls) is a Myrtle Beach Ghost Walk. During these Ghosts and Legends tours, guides relate haunting pirate stories for an enthralled crowd.
Every Monday, Barefoot Landing shoots off an impressive display of fireworks at 10pm.
Address: 4898 Hwy 17 S, Myrtle Beach, South Carolina
Official site: www.bflanding.com
14. See a Show at the Carolina Opry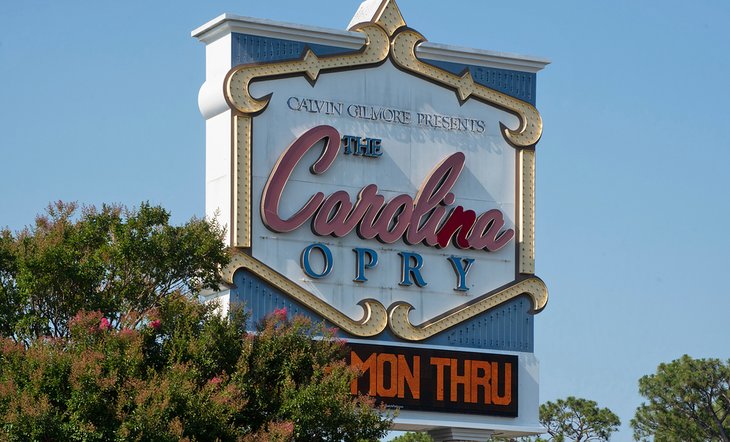 The Carolina Opry has been the go-to place for some of the biggest shows in Myrtle Beach for well over 30 years having staged over 9,000 productions. Loved by locals and tourists alike, the Carolina Opry pulses with music most nights of the year. A trip to the Opry is the beachy South Carolina version of Broadway in New York City.
The Carolina Opry features productions with catchy, classic tunes that will have you clapping and singing along. Each performance showcases talented singers, musicians, comedians, and dancers, including acts from America's Got Talent and American Idol. Tribute bands also feature prominently in the lineup of acts.
Address: 8901 N Kings Hwy, Myrtle Beach, South Carolina
Official site: www.thecarolinaopry.com
15. Hollywood House of Wax
Every tourist town needs a wax museum, and Myrtle Beach is no exception with its Hollywood House of Wax. You'll have no trouble spotting it off Highway 17; just look for King Kong swinging off the Empire State Building.
Inside the wax museum are eerily lifelike wax figures of Hollywood's most famous actors, including Clint Eastwood, Duane Johnson (aka The Rock), and others. You can also get onstage with some of today's most notable musicians and hold a trophy with NASCAR heroes.
The Hollywood House of Wax is located in the Broadway at the Beach complex.
Where to Stay in Myrtle Beach for Sightseeing
We recommend these great-value oceanfront hotels and resorts in Myrtle Beach:
More Related Articles on PlanetWare.com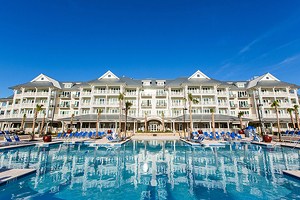 Coastal South Carolina: Heading south down the Atlantic coast from Myrtle Beach, you will find that the city of Charleston has retained its Southern charm. Among Charleston's top tourist attractions are its historic district; the USS Yorktown aircraft carrier; and Fort Sumter, the site of the first shots of the Civil War. Although you may not think of Charleston as a summer vacation destination, there are several excellent resorts here as well.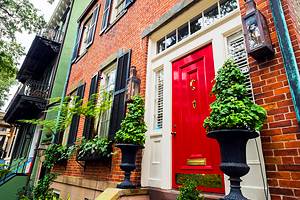 The Deep South: About two hours south of Charleston, just over the border, sits the equally historic city of Savannah. Savannah is particularly well-known for its gorgeous public squares and parks, and every couple visiting Savannah should set aside time for a romantic carriage ride. The sprawling and iconic city of Atlanta is, of course, Georgia's most famous city. Atlanta's top tourist attractions include several places significant in Civil Rights history, including the Center for Civil and Human Rights and the Martin Luther King Jr. National Historic Site.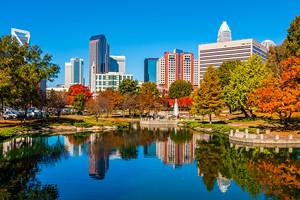 The Other Carolina: North Carolina has several major tourist centers, but the city of Wilmington is perhaps the finest of its coastal cities, home to a large historic district filled with antebellum homes, a lively riverfront arts district, and plenty of fine beaches. About halfway along the border of the sister states, Charlotte is North Carolina's largest city. Top Charlotte tourist attractions include a wide variety for all interests, including the NASCAR Hall of Fame, Rosedale Plantation, and Charlotte Museum of History, as well as a vibrant cultural scene.