10 Top-Rated Campgrounds in the Outer Banks, NC
Camping in the Outer Banks, North Carolina's barrier islands, is a special experience and a perfect summer activity for families or anyone who wants to enjoy the beautiful beaches. Here, you have the rare opportunity to set up your tent or rig up either right on the sand or just steps away from the beach and enjoy the island lifestyle that comes with a trip to this area. Outer Banks camping is the best way to experience this unique region without spending a fortune on accommodation.
You won't be bored. Activities abound, from swimming, surfing, kiteboarding, and fishing, to simply sitting in a beach chair gazing out at the ocean. At night, sit around a beach bonfire, cook dinner on the barbecue, or star gaze.
Camping in the Outer Banks can be found in the national parks and private RV parks, many of which also offer space to tenters. A majority of the large campgrounds are midway down the Outer Banks, in Rodanthe, Frisco, and Ocracoke Island. Beaches are primarily along the Atlantic Ocean, although you do find beaches on the sound side, where you will often see kiteboarders and windsurfers.
Have a read through our list of the best campgrounds in the Outer Banks.
1. Oregon Inlet Campground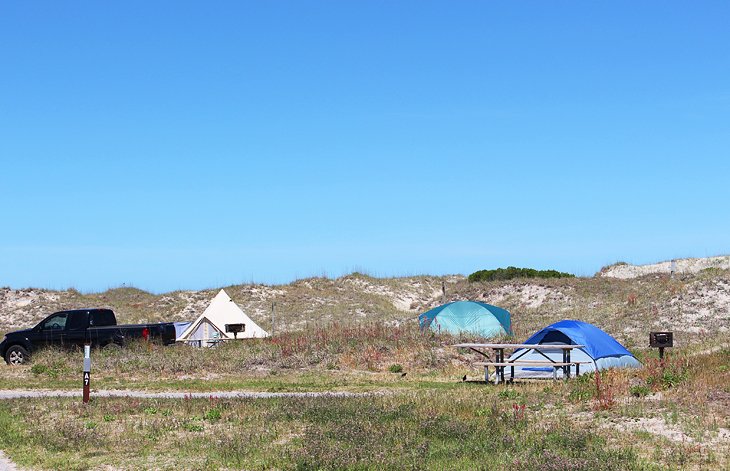 Ideally located midway down the Outer Banks, Oregon Inlet campground is a national park service campground, set on the ocean side of the island. The campground has 107 sites, 47 of which have electricity, and is divided into tent and RV sections. The tent sites are nestled up against the dunes that line the beach. From your campsite, you can easily walk to the beach, but the dunes protect against the ocean breeze
This campground is ideal for campers traveling with boats or other watercraft because the Oregon Inlet Fishing Center is right across the highway. You can pick up any needed boating and camping supplies and launch your craft at one of five boat ramps. Also, Oregon Inlet allows for easy access to the Atlantic Ocean.
From this campground, it's easy to do day trips to the Bodie Island lighthouse, the Cape Hatteras lighthouse, and to the towns of Avon and Kitty Hawk. Campsites are bookable. Note that this is the only NPS campground in the Outer Banks that provides water and electricity (at 27 sites), and the only campground with warm water showers.
2. Cape Hatteras KOA Resort, Rodanthe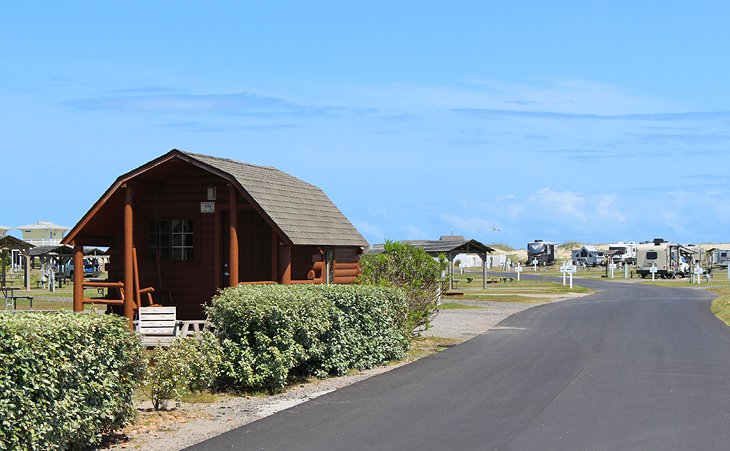 The Cape Hatteras KOA resort has been substantially rebuilt after recent hurricane damage. Now, you'll find much more than full hookups and a patch of grass. The resort has a large pool with easy entry and lap lanes, a hot tub, extensive children's play area, and a double-style waterslide. The resort is pet friendly, with a specific area for dogs called the Kamp K9 Dog Park.
Sites are well spaced, and you have the option of a pull-through site with a prebuilt patio. Those traveling without RVs can also stay in the tent area or rent one of the basic camping cabins. For a bit more luxury, try the suites or deluxe cabins.
Beach access is easy from all areas, and a short stroll brings you out onto the golden sands lining the Atlantic Ocean. The resort has a wide variety of ongoing activities, including an outdoor movie night. You can purchase or rent beach items at the main store, and food and drink are on offer at the Poolside Café.
Official site: https://koa.com/campgrounds/cape-hatteras/
3. Camp Hatteras RV Resort & Campground, Rodanthe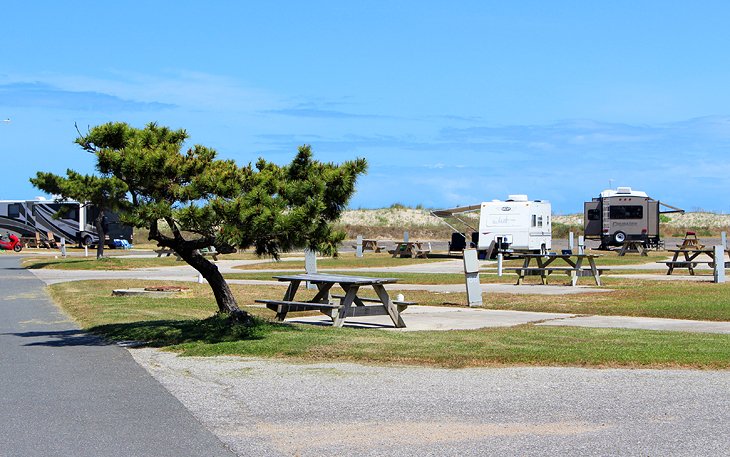 The Camp Hatteras RV Resort & Campground is unique in the Outer Banks because it offers camping on both the Atlantic Ocean and on Pamlico Sound. The resort is spread out over 50 acres and has 400 sites, consisting of a mix of RV, tent, and park model sites with concrete pads and all hookups.
The complex has three pools, a Jacuzzi, a miniature golf course, tennis courts, and a shuffleboard area. A central clubhouse is a great gathering spot for smaller groups, and a conference center is also available for larger gatherings. The campground is pet friendly, and furry friends have their own space to play in the new dog park.
The beach on the Atlantic side is wide and easily accessed via walkways over the sand dunes at the east end of the resort.
Official site: https://www.camphatteras.com/
4. Ocean Waves Campground, Rodanthe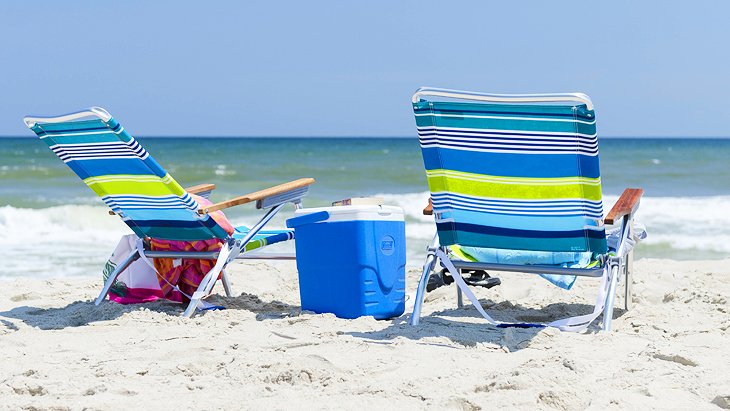 If you prefer a smaller, more intimate style of camping, Ocean Waves is a good option. This family-run campground has only 68 sites but still offers many of the amenities of the larger places. Located in the same area as the KOA and Camp Hatteras RV Resort, Ocean Waves has great access to the Atlantic Ocean beach, easily reached via trails over the dunes.
Sites here have all the necessary hookups, including water, sewer, and electricity, and some of the best RV sites are located in the shade of towering pine trees. Tent campers have some of the best sites right near the beach and have the option of having water and electricity for an additional fee.
Guests have use of the Wi-Fi, swimming pool, and games room. Also on-site is a children's play area. TV hookups are available for an additional daily fee.
Official site: http://www.oceanwavescampground.com/
5. Frisco Campground, Cape Hatteras Island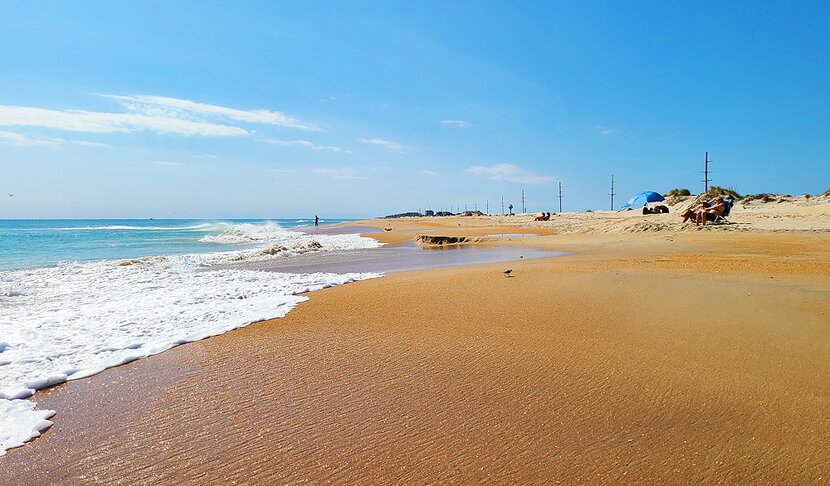 Of the two national park campgrounds on Cape Hatteras Islands, Frisco Campground is considered the better of the two. It offers 127 basic sites with picnic tables and grills set in large bushes on rolling dunes with wonderful privacy and easy access to the beach along a wooden boardwalk.
Sites are reservable but not site specific, and where you decide to set up depends on whether you want a view or would like to be close to the beach. Sites with ocean views are set back on the hills, and those without views are closer to the beach accesses.
The campground is located near the small airport at the southern end of the island, convenient to the Ocracoke Island Ferry, and the small town of Frisco has all the basics you'll need to restock. Central washrooms have cold water showers only, and water spigots are located throughout the area.
Official site: https://www.recreation.gov/camping/campgrounds/251430
6. Frisco Woods Campground, Cape Hatteras Island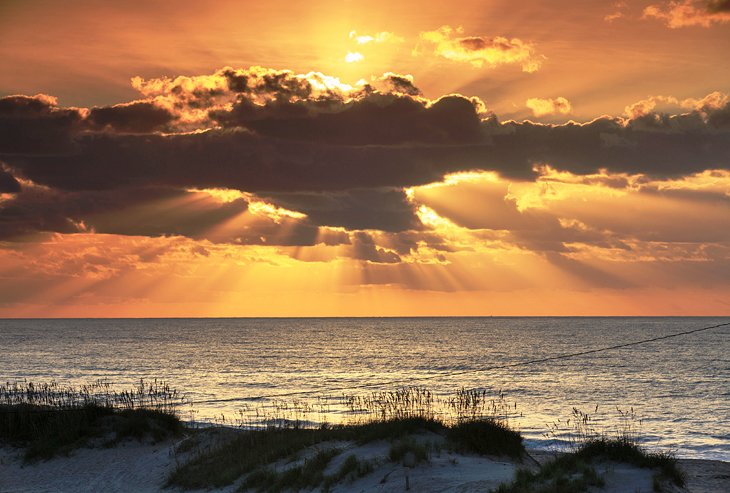 Located on Pamlico Sound at the southern end of the Outer Banks, the Frisco Woods Campground is a large facility offering a mix of tent and RV sites, and permanent cabins. This campground is ideal for boaters because they have their own launch, and usage is included with your camping fee. Many of the sites are waterfront, either along the sound or along Canal Creek. Those that are not waterfront have large trees providing much needed shade in the summer.
If you prefer to sleep in a bed rather than on the ground, one- and two-bedroom wood-frame cabins are available. They come with air-conditioning, a front porch, picnic table, and barbecue. Amenities on-site include a pool, kayak rentals, and a coin-operated laundry. Should you wish to take up kiteboarding or windsurfing, lessons are available on-site from local professionals. A camp shop has a variety of camping supplies including, ice, water, and snacks.
Official site: http://thefriscowoodscampground.com/
7. Ocracoke Island Campground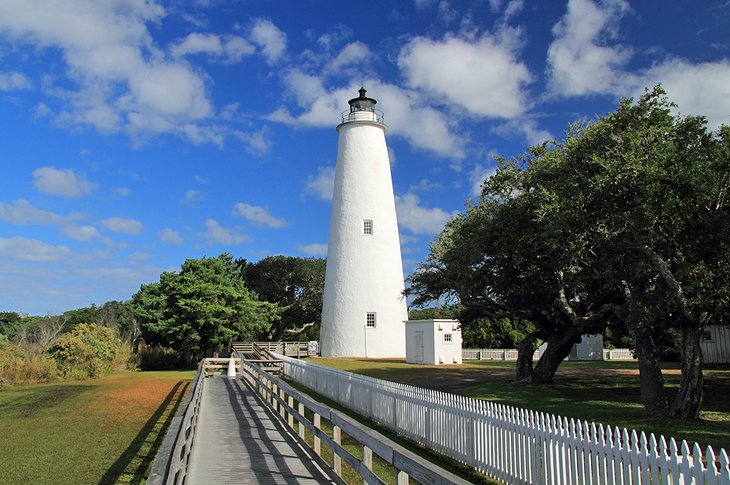 In just under an hour by ferry, you can find yourself a world away, enjoying wonderful beachside camping on Ocracoke Island. The 136 sites are spread out across a grassy area just back from the seashore sand dunes. No water or electricity are available at individual sites, however flush toilets and central water spigots are located throughout the campground. Fires are not allowed at the campsites, but fires on the beach are permitted and offer a great alternative.
Sites are level but there is no shade, so plan accordingly. This is a very quiet campground, where you can appreciate the sound of seagulls and the waves crashing on the beach a short distance away and easily reached via access paths. But, the campground is relatively close to a funky little town with its shops and restaurants if you want a break from camping.
If you plan to camp in a tent, the ground here is very sandy and it can be windy at times. Be sure to bring long tent stakes to hold your tent securely in place. Reservations are accepted here.
Official site: https://www.recreation.gov/camping/campgrounds/232504
8. Portsmouth Island Campground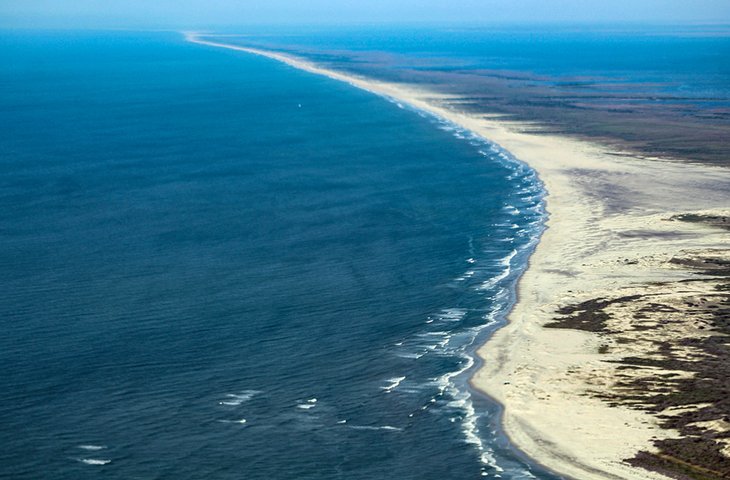 If you want to have a camping adventure without the crowds, Portsmouth Island is the answer. Dispersed camping with no set sites is the setup here. Drive along the 13 miles of beach until you find your piece of paradise. The best sites are just beyond the dune line or in the maritime forest. Find a path and follow it to locate your hideout.
Be sure to bring your fishing rod and shelling bag. Due to its relative isolation, Portsmouth Island has some of the best shore fishing and shelling along the entire Outer Banks. If you aren't keen on roughing it, the National Park Service has some limited beach boxes and circular homes for rent.
Although there is no limit on the number of campers on the island, ferry space fills up fast, so it's best to make a booking. No services are available on the island. Be sure to bring everything you need plus a few extras.
Official site: https://www.nps.gov/calo/planyourvisit/camping.htm
9. Cape Point Campground, Cape Hatteras Island at Buxton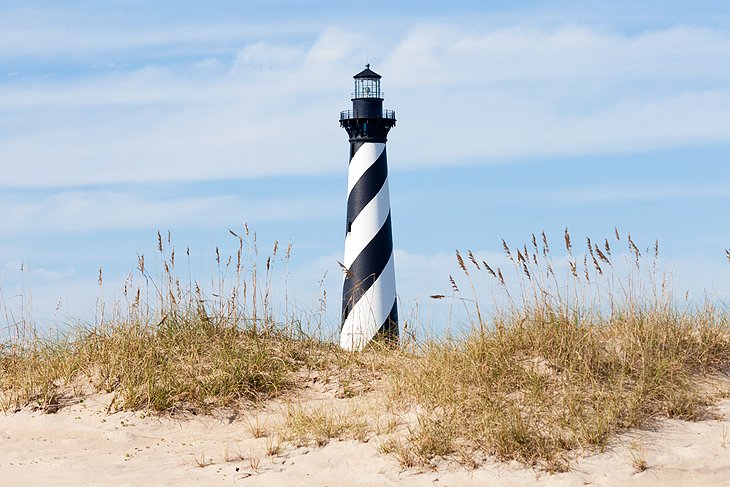 If Frisco is full, Cape Point is a good backup. It also has the added benefit of being the cheapest national park campground along the Outer Banks. This campground has 202 sites and is spread out in a wide field of grass with limited privacy, however the grass and wide-open spaces are the perfect habitat for white-tailed deer, which are frequently seen here.
This is basic camping, and no reservations are accepted - all sites are first come, first served. To access the beach, you will need to drive about a mile to a public parking spot and walk out to the ocean. Each site has a concrete parking pad, picnic table, and barbecue; water taps and bathrooms are spread throughout the area. The towering Cape Hatteras lighthouse is easily spotted from the campground.
10. Rodanthe Watersports and Campground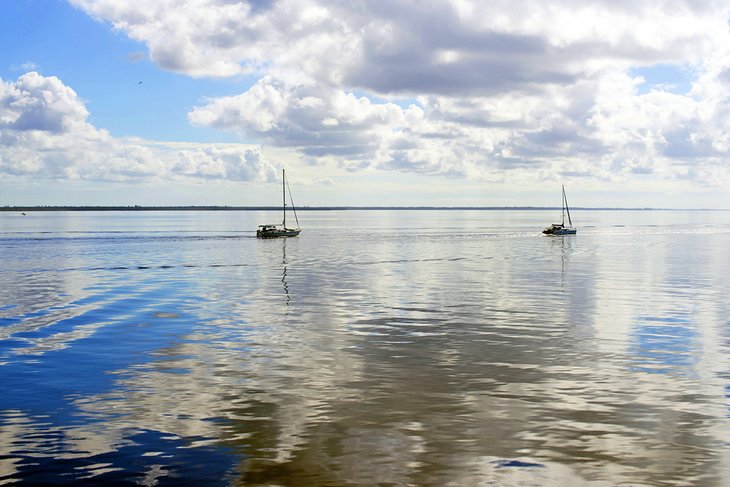 Located in the bustling town of Rodanthe and central to everything is Rodanthe Watersports & Campground. This is a small, family-run operation with only 25 sites. If you can get in, you might be lucky enough to secure a water's edge spot and be able to catch the sunset from your picnic table.
The campground faces inland towards Pamlico Sound. If you want to hit the beach, it's within walking distance, as are the main attractions of town, including restaurants, shops, and the fishing pier. Sites are close together and come with electricity, water, and a picnic table. Note that the campground has very little shade. The campground is pet friendly, but a fee is charged for your furry friends.
If you can tear yourself away from gazing out at the sound, the campground offers surfing and sailing lessons. Water sports gear rentals, including stand up paddleboards, kayaks, sailboats, surfboards, boogie boards, bikes, beach chairs, and umbrellas, are available on-site.
Official site: http://rodanthewatersports.com/
Where to Stay if Campgrounds are Full or the Weather is Bad
If the weather is not cooperating with your OBX camping plans, or you have not made reservations and find the campgrounds are full, you can find hotels in some of the towns along the Outer Banks. Two good locations are Nags Head, near the north end of the OBX, and Buxton, on Cape Hatteras to the south. There is much more hotel selection and much to entertain families around Nags Head, with shopping, mini golf, and other family activities.
Hotels in Buxton: The Inn on Pamlico

Sound

is a popular mid-range hotel overlooking the water in Buxton. Rooms are large and airy with big windows and beautiful views. For something a little more in the budget range, try the Cape Pines

Motel

, also located in Buxton. This property offers large rooms and suites and has a pool.
Hotels in Nags Head: The Surf Side

Hotel

is a popular beachfront hotel with an indoor and outdoor pool, perfect for families. Oceanfront rooms have balconies and incredible views. For something more budget oriented, try the Seahorse Inn and

Cottages

. This property is located not far from the Pier in Nags Head and within easy walking distance of the beach. Rooms are large and come in different configurations, with good options for families.
More Related Articles on PlanetWare.com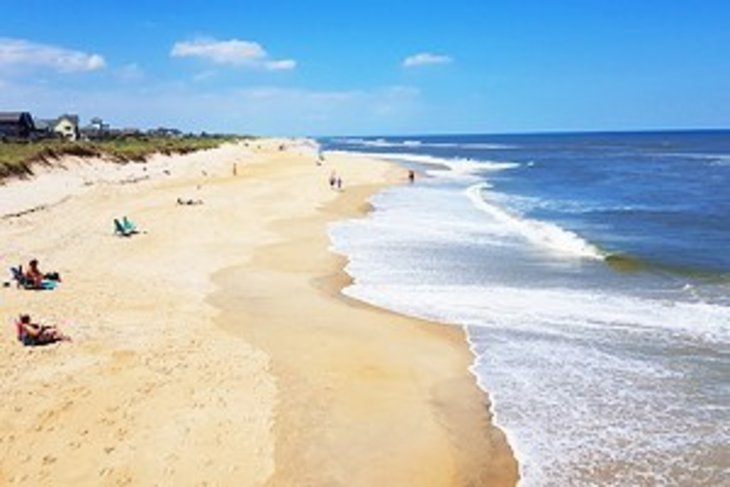 Beaches in the Outer Banks: If you are camping in the Outer Banks, it's likely that the beach is a big consideration. To familiarize yourself with beaches and amenities nearby, have a look through our article on the Best Beaches in North Carolina.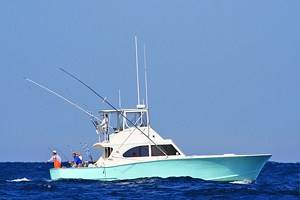 Fishing in North Carolina: People visiting the Outer Banks are often drawn here for the fishing. For a look at some of the fishing options in the state, see our articles on the Best Rivers for Trout Fishing in North Carolina, or our piece on Deep Sea Fishing in North Carolina.