11 Top-Rated Rivers for Trout Fishing in North Carolina
Author Anietra Hamper has spent time trout fishing on some of North Carolina's most pristine waterways.
The pristine mountain streams in western North Carolina are the kinds of scenic respites that anglers yearn for in their quest for idyllic trout fishing. Brook trout are the native species. They are smaller in size and generally found in tiny streams. Rainbow and brown trout are not native to the state, but they are stocked in many creeks and rivers that suit their larger size.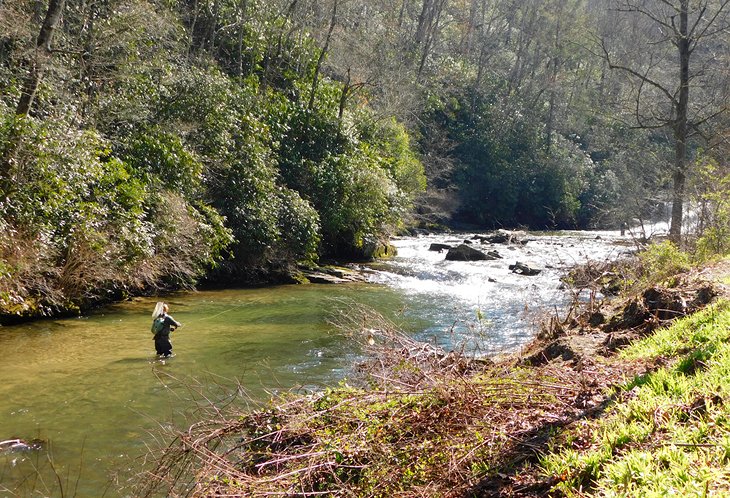 The majority of North Carolina trout fishing happens in the mountains. Spring and fall are considered prime trout fishing seasons, and that's when the state stocks brook, rainbow, and brown trout, but anglers can enjoy successful outings on the water almost any time of the year.
The secret of North Carolina trout fishing is that the cold water flowing from the mountain streams and rivers creates ideal habitats for the fish to thrive, giving anglers thousands of waterways to navigate. The bonus is the stunning and pristine natural mountain backdrops.
Throw a fly into the quiet waters of the Oconaluftee River, located on the Cherokee Indian Reservation, or discover why Hollywood used the Mitchell River House, located on the Mitchell River, as the setting for the Nicholas Sparks movie, The Longest Ride.
If you want to make a few days or a week out of fly fishing, step onto the Western North Carolina Fly Fishing Trail, where 15 streams with abundant trout opportunities are anchored by the Tuckaseegee River.
To get to the trout waters in western North Carolina it is best to fly into Charlotte, rent a car, and drive to the Banner Elk area or Dobson in Surry County.
It is important to note that are different classifications of trout waterways across North Carolina, each with specific restrictions, like types of lures that can be used, catch-and-release only, and more. Anglers should be aware of those designations on whatever waterways they plan to fish and obtain a proper North Carolina fishing license and trout permit from the North Carolina Wildlife Resources Commission.
Another great resource is North Carolina's trout fishing page, which has one-stop-shopping for information on fisheries, regulations, and fishing maps. Find the best places for your trip with our list of the top rivers for trout fishing in North Carolina.
1. Watauga River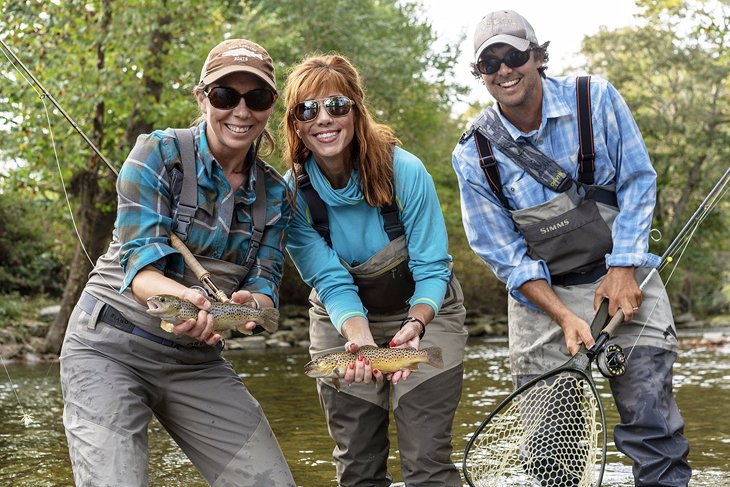 It did not take long to catch my first iridescent rainbow trout in the Watauga River in Banner Elk as guide Matt Maness, with Foscoe Fishing Company, led me into a small pool on the fringe of a straight, fast-moving current. Matt's wife, Shannon, joined us and in a short time, we were pulling in two browns at a time.
This river is ideal for fly anglers of any skill level because it is easily accessible from the Banner Elk and Boone areas and offers a wide footprint for fishing. It is stocked in the fall with 2,000 brook trout, 2,000 rainbow trout, and 1,000 brown trout.
Our success was likely from Maness' 15 years guiding on this river and knowing how to assess the landscape and conditions before we ever cast the line to determine what methods and flies we should use. He first looked to see if the trout were hitting the top of the water or not to decide whether we target topwater or below.
Matt turned over submerged rocks for an indication of the current hatches, which dictate the flies we select. Today, it's small stoneflies. Tomorrow, it could be completely different. We use a roll-casting technique to land the fly into a fast current near the bank. There's quick success when the fly floats through a deep pool and an active rainbow trout takes hold.
We have several more catches in the same spot before the trout are onto us, and we wade downstream a bit, this time trying a shallower pocket with slower-moving water. It does not take long to attract a hearty brown trout. Within a few hours, ending just before dusk, we catch and release more than seven brown and rainbow trout of varying sizes.
"The Watauga River is great for both beginners and experienced anglers because it is a wide stream and it is hatchery supported. I like it for guiding, but there are lots of wild waters for people who want the extra challenge," said Matt Maness, professional fly fishing guide with the Foscoe Fishing Company.
The Watauga River is one of the best waterways to target for trout in North Carolina in part because there are many public access points, like the ones we used at Valle Crucis Community Park and the Watauga River Gorge Access area. The river is also ideal because of its high elevation and many cold-water feeder creeks coming off the mountains.
Matt suggests that anglers targeting the Watauga on their own for trout utilize a map of the area or a Gazetteer to locate the smaller waters before wading out into the streams. The small town of Banner Elk is used to catering to anglers. In fact, it is one of the top-rated mountain towns in North Carolina.
Lodging at centrally located places like the Best Western Mountain Lodge makes it easy to head in any direction for streams, with an early breakfast available for anglers. For a taste of fresh trout after a long day on the water, stop by Stonewalls Restaurant in Banner Elk where they offer daily specials like fresh trout almandine.
If you are looking for some guidance on fly fishing as well as a place to stay, the Chetola Resort at Blowing Rock is the first Orvis-endorsed fly fishing lodge in North Carolina (there are two in the state), featuring lodging and guided trips. The Chetola Resort's fly fishing packages include waders and equipment. Chetola's guides go to these public streams: Wilson's Creek, Watauga River, and Helton Creek, and also have access to private trophy waters in the Boone/Blowing Rock area.
Read More: Top-Rated Mountain Resorts in North Carolina
2. Linville River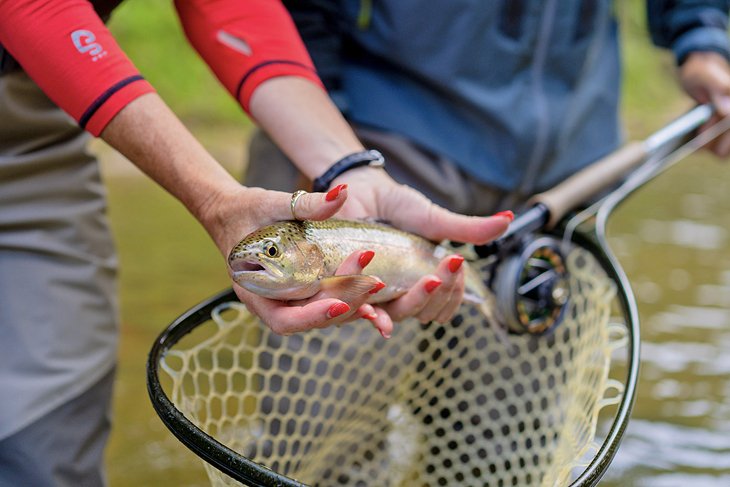 Another notable river system for trout is the Linville River. It is unique for its moderate flow of water in higher elevations. It is a mid-sized waterway with both wild and stocked trout. The upper Linville River section starts at the Linville Gap near the town of Crossnore in the Blue Ridge Mountains.
The river is known for large populations of rainbow, brown, and brook trout that feed especially well on varying flies and lines. The brand Perfect Flies has a collection of flies that are successful, specifically for this river.
While the Linville River is considered a top trout river in North Carolina, it is not the easiest to access or navigate. Wading is necessary, but the wild river system poses a consistently changing landscape and challenges.
One of those spots is the popular stretch of the Linville Gorge that drops 1,800 feet from the Linville Gorge Trail, which runs along the waterway and is the best access point. Anglers who want to access this spot should be prepared for a hearty hike into the gorge, which also means taking plenty of snacks, water, and clothing layers with you. This waterway is quite remote, but ideal for experienced anglers who are looking for that kind of serenity.
You can fish the Linville River year-round, but the best time to go is in the fall, when your chances are best for large brown trout.
3. Davidson River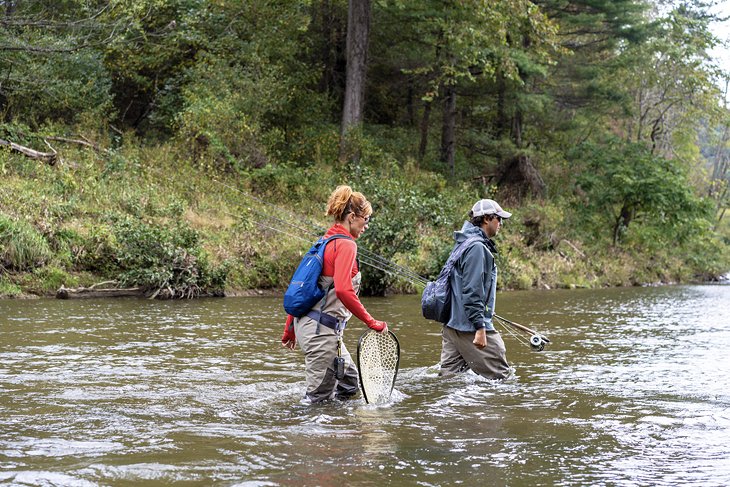 Fly fishing anglers enjoy the Davidson River in the Pisgah National Forest for its wild and stocked trout opportunities and its easy accessibility. It provides excellent fishing year-round, with both wild and stocked rainbow, brown, and brook trout.
The Davidson River is located near Asheville, with many public access points, and it is close to the interstate. The section above Avery Creek is a managed wild trout stream and is catch-and-release fly fishing only. Below Avery Creek the stream is regularly stocked by the state, meaning it is more heavily fished but there is also an abundance of trout to catch.
The lower section is also frequently utilized by recreational canoers, kayakers, and tubers, so anglers should take note of that possible interruption. It is considered a freestone mountain stream, so a wide variety of aquatic species and insects feeds the trout.
This gives you broader opportunities to try flies like Blue-winged Olives, White Belly or Olive Matuka Sculpin, Light Cahills, and Little Yellow Stoneflies. You can fish the Davidson River year-round, but the best seasons for trout fishing are fall and spring.
4. Western North Carolina Fly Fishing Trail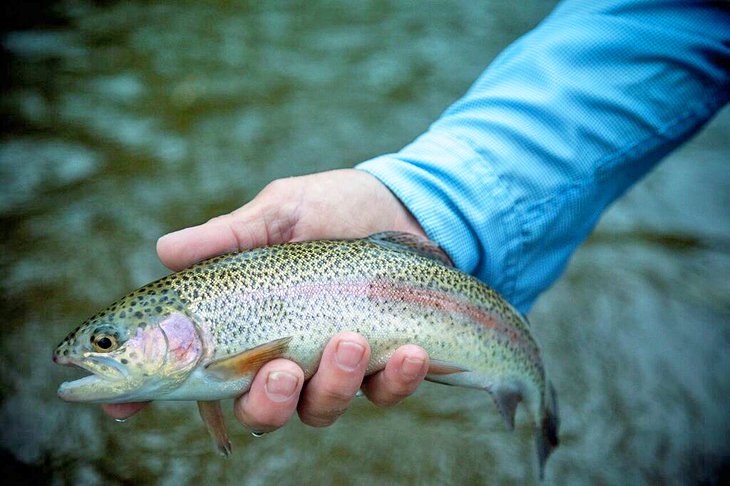 The Western North Carolina Fly Fishing Trail in Jackson County is a network of 15 trout streams anchored by the Tuckaseigee River. It is the first fly fishing trail in the United States, with more than 4,600 miles of streams that have wild and stocked rainbow, and brown and brook trout. With 31 public access points, the trail is easy for fly anglers of every skill level to try.
For those visiting the region or new to fly fishing, there are many outfitters in Jackson County available for hire. The trail features waterways of varying sizes and characteristics, from several prime sections on the Tuckaseigee River to creeks like Caney Fork, Panthertown, and Raven Fork and small streams in the county.
The best way to get an overview of the locations and information about the WNC Fly Fishing Trail is to download a map and GPS coordinates. You can get fly and line recommendations from local bait shops throughout the year depending on when you visit.
5. Mitchell River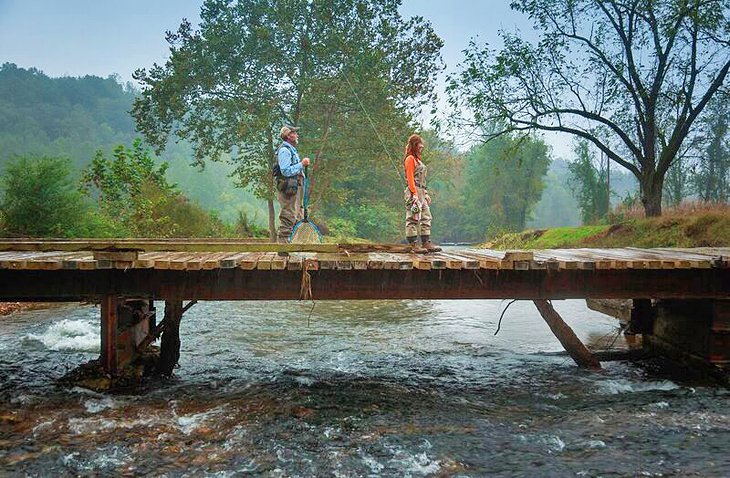 Fishing on the Mitchell River near Dobson is like being in a scene from a movie, with the iconic and pristine North Carolina mountain landscapes and near-perfect stream conditions for fly fishing. Perhaps that is why the Mitchell River House, located on the banks of the river, was the backdrop for the Hollywood movie The Longest Ride.
My Mitchell River fly fishing guide, Marty Shaffner, walks me across one of many small bridges that cross the smaller sections of the river to fish the pools in shallower waters. Marty grew up fishing the Mitchell River in Surry County decades before it became a designated trout stream. He takes me to a few of his favorite spots located upstream of the Kapps Mill dam to try for rainbow and brown trout.
We are roll-casting into the deep pockets that the Mitchell River is known for and alternating our target of fast and slow currents. Marty likes to use a combination of natural and attractor lures on this river, oftentimes on the same line, with enough weight to keep the line in the deeper water.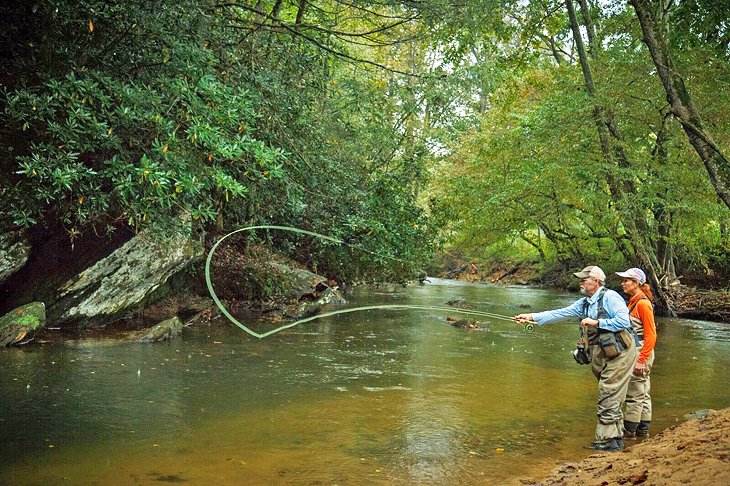 "The rig works so well because it gives the trout a choice of two flies, and I believe that even on days when the attractor fly is seldom taken by the fish, it does draw their attention to the natural imitation. In more pressured waters, the attractor fly can be a subtler attractor, such as a nymph that has flash added to it or just a large stonefly nymph along with the smaller natural imitation," says Marty.
The Mitchell River is designated "Delayed Harvest," so the best times to fish it are March, April, May, October, November, and December when you have the best chances of a good number of trout. There are many public access points, and the Mitchell River is the closest public trout stream to Winston-Salem, Greensboro, and Charlotte, so it offers easy accessibility, especially for anglers coming in from out of town.
To celebrate a successful day on the water, you can relax with a hearty dinner at the Harvest Grill, which has a list of nightly specials and one of the most scenic views in the county.
6. Toe River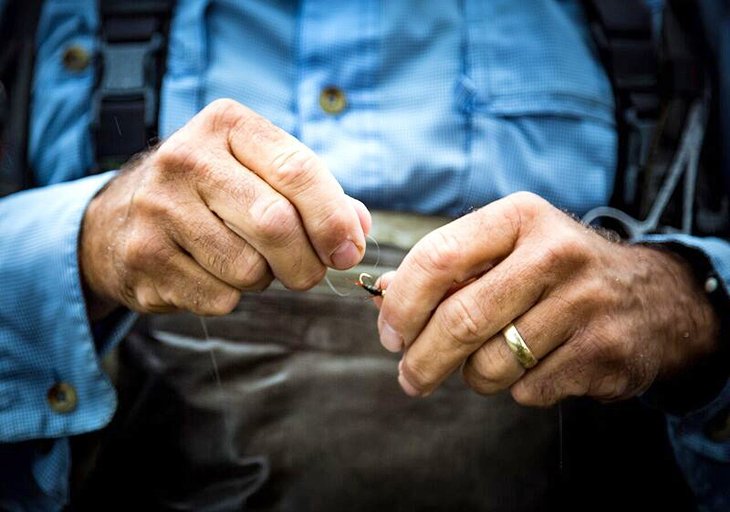 The Toe River in Avery County is a preferred trout stream because it is wild trout water that is not frequently fished. The upper part of the Toe River, near the Blue Ridge Parkway, is a high-elevation area that collects water from Rock Creek, Upper Creek, and Lower Creek, which are also their own designated trout waters.
Rainbow trout in the Toe River are relatively small, but wild brown trout have been caught upwards of 20 inches. You might even catch a native Appalachian brook trout in the headwaters of the upper section. Access to the upper section is not easy due to the rugged landscape. Your best option is to park upstream then hike downstream and fish your way back upstream to your car.
The lower section of Toe River, also called South Toe River, is more accessible, making it more appealing for fly anglers. While there are sections with stocked trout, you can also catch wild trout, including brook trout, in its headwaters.
The Toe River can be fished year-round, but spring is one of the best times to fish due to the hatches of aquatic insects.
7. Wilson Creek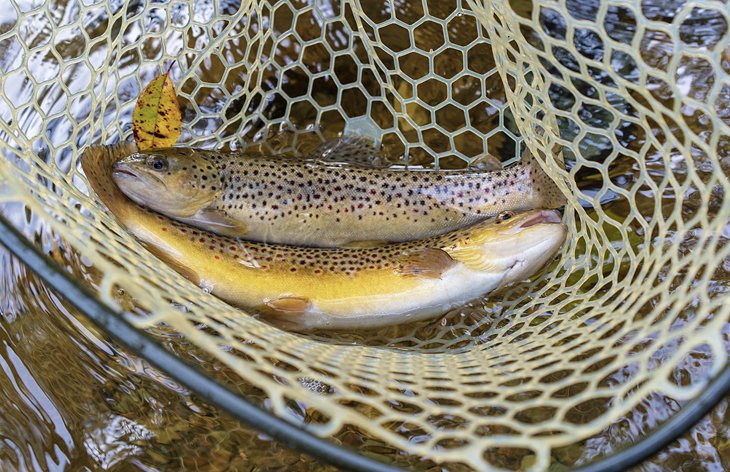 Wilson Creek is a beautiful trout stream, which runs through the Pisgah National Forest. The clear water of Wilson Creek runs from the Blue Ridge Parkway to Edgemont in Caldwell County. The clear water surrounded by rugged terrain offers world-class tour fishing for rainbow, brown, and brook trout.
Anglers enjoy fishing this natural scenic creek because it offers a variety of fishing conditions with its alternating riffles, pools, and runs as it flows downhill. Fish are generally stocked in large pools located just off roadway access points, making it an easy way for anglers to try this waterway. Since the trout in Wilson Creek are often located in the deeper pools, it is important to keep flies close to the bottom.
The exception is when the aquatic insect hatches bring the fish to the surface to feed, which is easy to assess as you wade in the water. Expert anglers of this creek say that fly selection should be based on the last stocking schedule. If it has been recently stocked, your flies should more closely mimic trout pellets than insects. There are many hiking trails that surround Wilson Creek, leading to water access points.
Wilson Creek has a popular Delayed Harvest Section that is heavily stocked. Anglers enjoy this area because of the variety of brook trout, rainbows, and browns that give them great fishing throughout the year.
8. South Mills River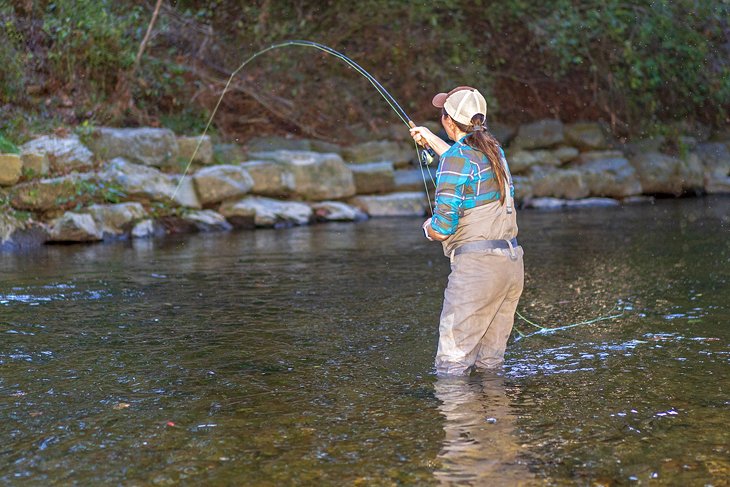 The South Mills River is located in the Pisgah National Forest in Transylvania County and is close to Asheville and Hendersonville. The river is Designated Trout Waters and is known for its wild rainbow and brown trout. The South Mills River is remote and scenic, but that is exactly why some anglers choose it.
The best accessibility is from the trailheads at Turkey Pen Gap or the South Mills Trail that follows the stream. The stream has many deep pools to fish, but you can land some large trout. While the aquatic insect hatch is diverse, there are relatively few that produce in abundance, so it limits your fly options.
Check with the NC Wildlife Resources Commission on specifics that can guide your decisions on what to use at different times of the year. Spring is the best time to fish the South Mills River due to hatches, but fall generally produces large brown trout.
Since it is a remote area, be prepared to arrive with plenty of tackle due to the large number of trees, brush, and other obstructions.
Read More: Top-Rated Resorts in Asheville, NC
9. Nantahala River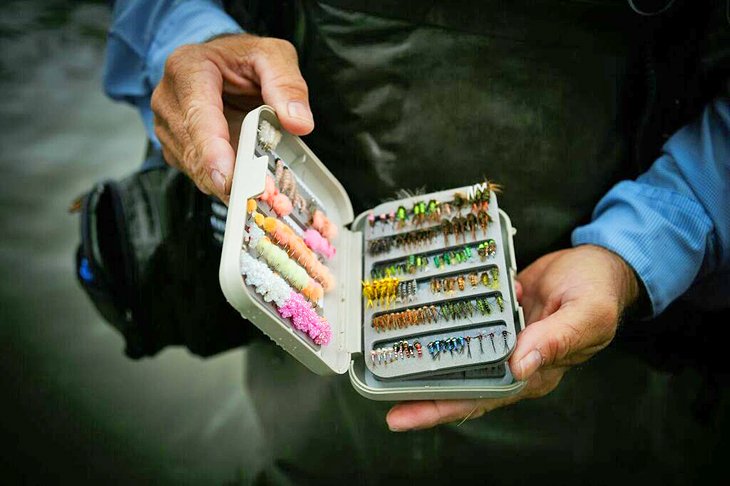 The Nantahala River in western North Carolina is a popular go-to trout water, especially in the lower sections, because of its healthy populations of rainbow and brown trout. It is also heavily stocked.
There are a number of sections to consider when targeting the Nantahala for trout because each has its own designations: Upper Nantahala to White Oak Creek (Hatchery Supported Trout Waters), White Oak Creek section of the Nantahala to the Duke Energy Power Plant (Delayed Harvest Trout Waters) and the Lower Nantahala (Hatchery Supported). You can wade sections of the lower river or book a float trip, which will enable you to cover more territory.
Hatches on the Nantahala change by the month, so fly selection will follow accordingly. Blue-winged Olives and midges are consistent in this river as are non-insects like crayfish and sculpin, which are food for hungry trout.
The North Carolina Wildlife Resources Commission publishes a hatch chart that is especially helpful for anglers to know what flies to utilize and when. There are plenty of public access points for the Nantahala, especially in the lower sections.
10. Oconaluftee River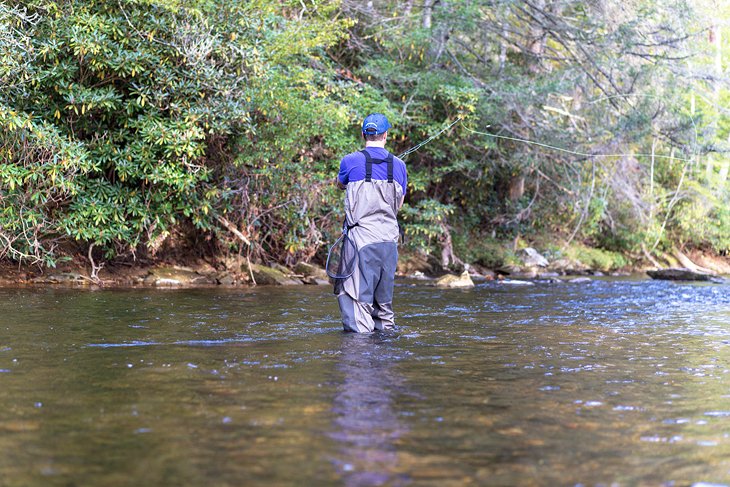 Fishing on the Oconaluftee River in the Cherokee Indian Reservation is one of the most enjoyable trout fishing experiences you can have in North Carolina. First, because fishing on the reservation is special in its own right, and second, because there are plenty of fish to catch. The river is managed by the Eastern Band of Cherokee Indians and requires a special fishing permit.
The reservation sits in the heart of the Smoky Mountains, where rainbow and brown trout are abundant. The Oconaluftee River has more than 30 miles of clear running streams ideal for wading and fly fishing and is the longest private fishery in the eastern United States.
The high elevations cool the melting snow and rain runoff to create ideal trout habitats all the way downstream. Rainbow, brown, brook, and even golden trout are stocked, allowing anglers to experience some of the most untouched scenery in the state surrounded by the Cherokee Nation.
11. Helton Creek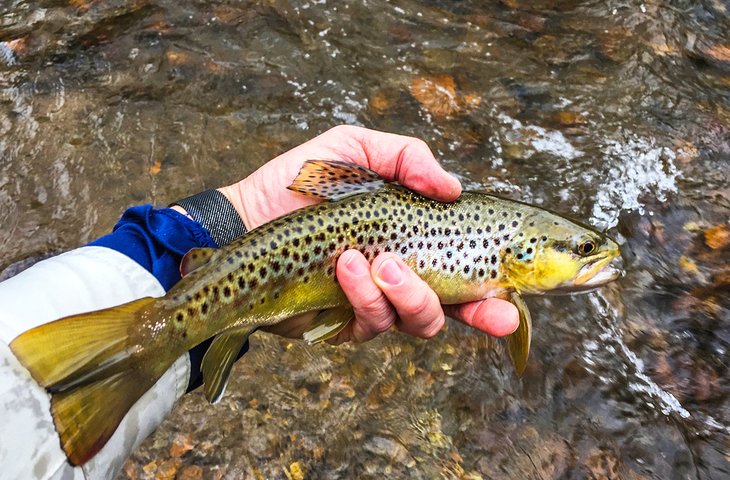 Helton Creek is one of North Carolina's hidden treasures when it comes to trout fisheries. It is a large creek located in Ashe County in the northeast corner of North Carolina. One of the reasons it is a great fishery is the 11 miles of fishing opportunities along the New River to the Virginia state line, teeming with brook, rainbow, and brown trout populations.
The other perk of this creek is that it is one of the longest stretches of delayed-harvest waters in the state, meaning there can be lots of anglers fishing without it feeling cramped. In addition to wild trout, Helton Creek is stocked with more than 19,000 trout per year in the eight-mile section from the Virginia state line to the New River.
Most of the trout are stocked in the cooler months of October, November, March, April, and May. Trout are also stocked in July to support the fishery for anglers, when regulations revert back to hatchery supported under the North Carolina Wildlife Resources delayed-harvest trout program regulations.
Stocked trout sizes are generally over 10 inches, with some fish reaching 14 to 20 inches. There are a number of public access areas along Helton Creek, but some of the best pools for trout are from the Virginia State line to the confluence of the New River.