12 Top-Rated Fly Fishing Destinations in Tennessee
Anglers flock to Tennessee because it offers a full spectrum of freshwater fly fishing opportunities across the state. Tennessee has more than 22,000 miles of streams, 29 major reservoirs, and at least 315 species of fish. The mountainous eastern part of the state offers some of the best fly fishing opportunities, with abundant populations of wild trout living in 845 miles of streams along the Appalachian Mountain range.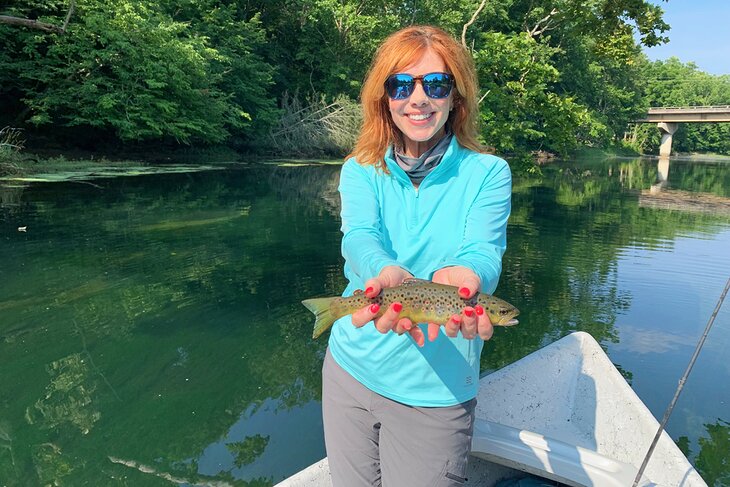 The Great Smoky Mountain National Park has 245 miles miles of natural, free-flowing mountain streams that offer anglers the added backdrop of abundant forests and wildlife. Another 420 miles of fishable waterways are in the Cherokee National Forest. The rest of the Tennessee streams, and access to them, are on private property.
In the lower elevations of Tennessee, anglers can target tailwater brown trout, smallmouth bass, and river muskellunge. Each year the Tennessee Wildlife Resources Agency (TWRA) stocks brook, brown, and rainbow trout in tailwaters, reservoirs, and 80 small lakes and streams throughout the state. It also stocks 34 locations statewide in city parks and along greenways as part of its winter trout program.
Before heading out to experience some of the best fly fishing Tennessee has to offer, it is important to obtain a valid fishing license from the TWRA, understand the limits and regulations for specific waterways, and obtain a map of the area you plan to fish. If you are new to fly fishing, look for classes offered by many tackle outfitters in the state, or hire a guide.
For ideas on where to go, see our list of the best places for fly fishing in Tennessee.
1. Little River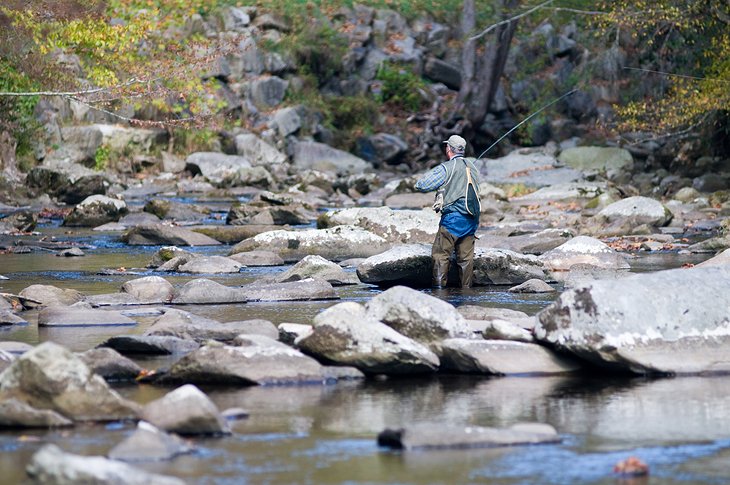 The Little River is not a river at all, but it is one of the largest streams in the Great Smoky Mountains and a prime fly fishing destination in east Tennessee. This stream has five distinct sections, each offering a different kind of experience, from large pools to broken pocket water to headwaters.
The stream has populations of rainbow, brown, and brook trout and smallmouth bass. Many of the trout will be small in size in this stream (4 to 7 inches). Anglers enjoy the opportunities that the varied characteristics of this waterway offer in its different sections. Fishing regulations vary from section to section, so it is important to check with the TWRA before heading out, or hire a guide.
The closest cities with lodging to the Little River are Maryville and Alcoa. You can also stay in Knoxville, which is a bigger city with more lodging options.
2. South Holston River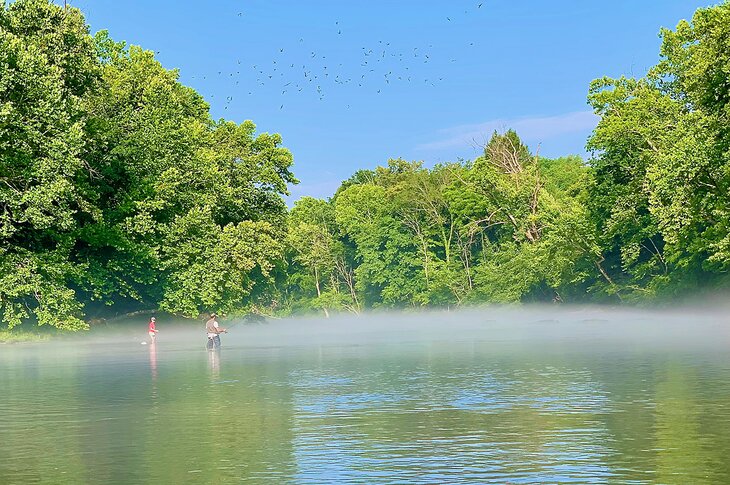 With more than 8,500 fish per mile, the South Holston River is the premier fly fishing destination in east Tennessee. Nearly 85 percent of the fish population are wild brown trout that are caught in good numbers and impressive sizes. Rainbow trout are also present and stocked annually.
The TWRA says it has recorded trout up to 10 pounds in size. Fish that are 16 inches to 22 inches are protected and must be released.
The South Holston River consists of about 15 miles of waterway that are prime for trout fishing. Professional anglers like this river because the clear water, consistent temperatures (45- to 55-degree Fahrenheit), and natural fishery offer year-round fly-fishing opportunities. It is also a great waterway for first-time fly anglers due to the concentrated numbers of wild brown trout, which means a high probability of catching, as well as the ability to fish by wading or drift boat.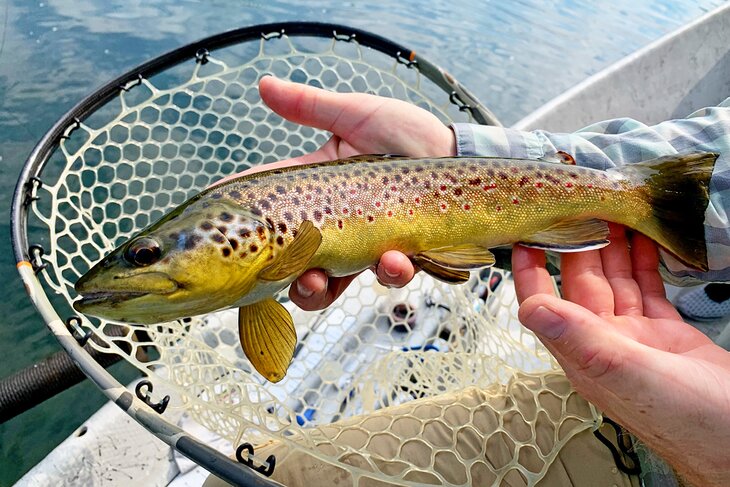 Since the river starts as a tailwater near the South Holston Dam, it is important to find out when water levels may be changing. Controlled dam releases push fast and cold water down the river, which has the potential to create dangerous conditions.
When water levels are low on the South Holston River, anglers can wade in most areas. If you are new to the river system, you might opt to go with an experienced guide from The South Holston River Company, which monitors water levels and conditions to get you to the most productive spots on the river.
Since this is a top fly fishing waterway in Tennessee, you will want to stay in nearby Bristol, Kingsport, or in Johnson City so you can get to the waterway easily and early in the mornings.
3. Abrams Creek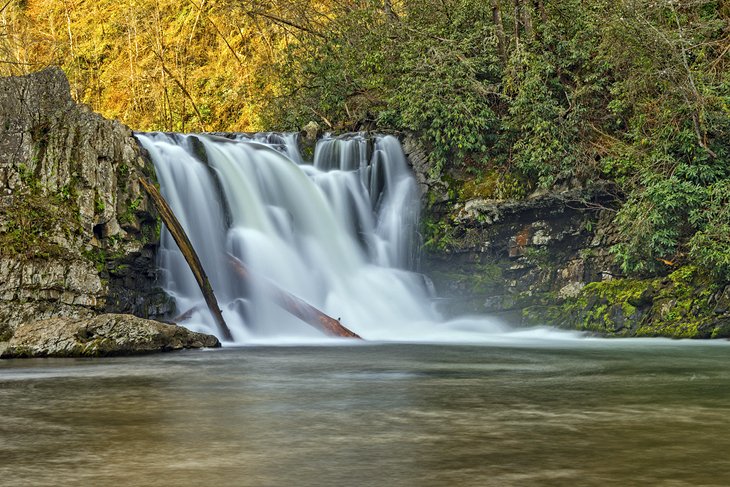 One of the more unique fly fishing destinations in Tennessee is Abrams Creek, which is located inside Cades Cove in the Great Smoky Mountain National Park. Though not the most convenient waterway to access, it is a visual treat for anglers and a popular spot for fly fishing because of the scenery.
To access Abrams Creek, you have to drive through the Cades Cove Loop (an 11-mile one-way road) to the halfway point at the Abrams Falls Trailhead. The creek has large pools and it is more fertile than other streams, resulting in some of the largest rainbow trout in the park.
If you are doing any fishing inside the Great Smoky Mountain National Park, you will want to stay at hotels in Gatlinburg or Pigeon Forge, which are both at the base of the park entrance. There are also many cabins for rent near the park.
4. Clinch River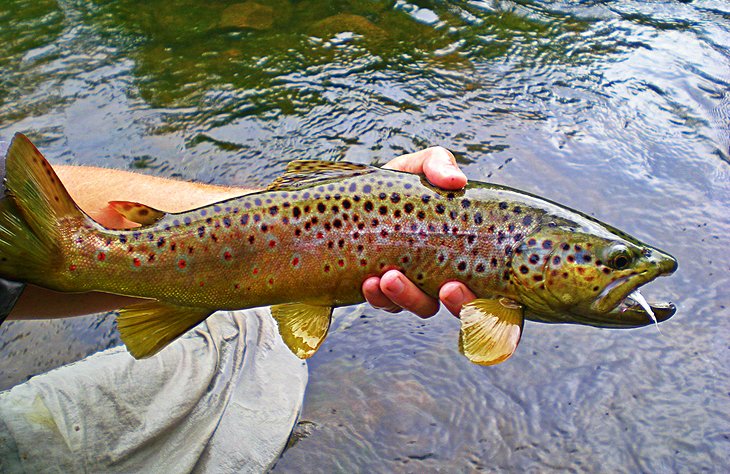 One of the oldest tailwaters for fly fishing in Tennessee is on the Clinch River. It's located in east Tennessee, with 13 miles of tailwater that flows from the Norris Dam to the city of Clinton. This section has ideal fishing conditions with water temperatures around 50 degrees, and populations of large brown and rainbow trout.
Brown trout ranging from four to eight pounds are not uncommon, and the state-record brown trout (28 pounds 12 ounces) came out of this river. The best time to hit Clinch River is mid-week, when fewer anglers are on the water. It can get quite crowded on afternoons and weekends. While this river offers optimal opportunities for wading, water levels can be unpredictable.
5. Hiwassee River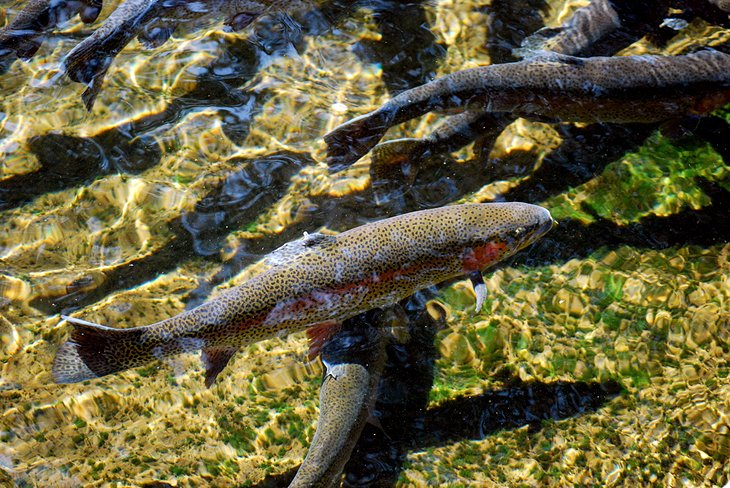 One of the premier waterways for fly fishing in southeast Tennessee is a 55-mile stretch of the Hiwassee River. This remote fishing environment is one of the most naturally beautiful in Tennessee. You will not see roads, houses, cars, or many people while navigating this river system.
The Hiwassee River is known for its large rainbow and brown trout, plenty of bugs to attract fish, and comfortable wading conditions. If you are fishing by boat, it is important to know that the river has many drop-offs and ledges formed by the bedrock, so it requires skilled rowing.
Inexperienced fly fishing anglers should consider hiring a guide for this waterway. There are several towns where you can hire a guide and find lodging and restaurants, including Benton, Athens, Etowah, Decatur, and Cleveland.
6. West Prong of the Little Pigeon River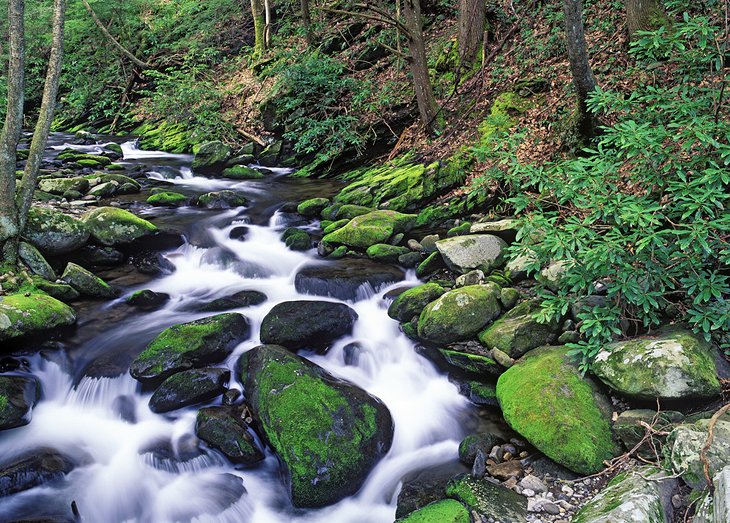 The West Prong of the Little Pigeon River is one of the streams where it is legal to catch and keep brook trout in the Great Smoky Mountain National Park. This stream has large populations of brook and rainbow trout. It is located at a high elevation, with cold and rocky water, so it is an excellent stream to visit during hot summer days.
Some sections of the stream can be strenuous due to the large boulders and plunge pools in the waterway. This stream is easily accessed from the Newfound Gap Road in the park. Inexperienced anglers will want to hire a local guide to navigate sections of the stream. You can find guides and lodging in nearby Gatlinburg and Pigeon Forge.
7. Hurricane Creek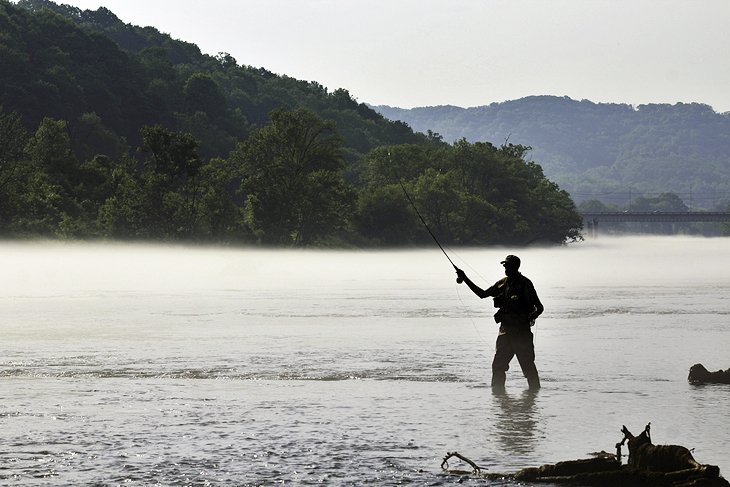 Hurricane Creek in west Tennessee is not only great for fly fishing for various species, but it has the added appeal of a section that runs through the property of country singer, Loretta Lynn.
The best sections for wading are in Houston County and Humphreys County, and there are plenty of convenient access points. Many people come here to target rainbow trout, which are stocked three times in the spring by the TWRA.
Besides rainbow trout, you can expect to find largemouth and smallmouth bass, rockbass, and several species of sunfish, including bluegill. Many of the popular stretches of the creek run through private property, but anglers have landowner permission to fish here. You should check with the TWRA to find out which areas those include.
You can find some lodging in the town of Waverly, which is only a few miles away from the creek.
8. Citico Creek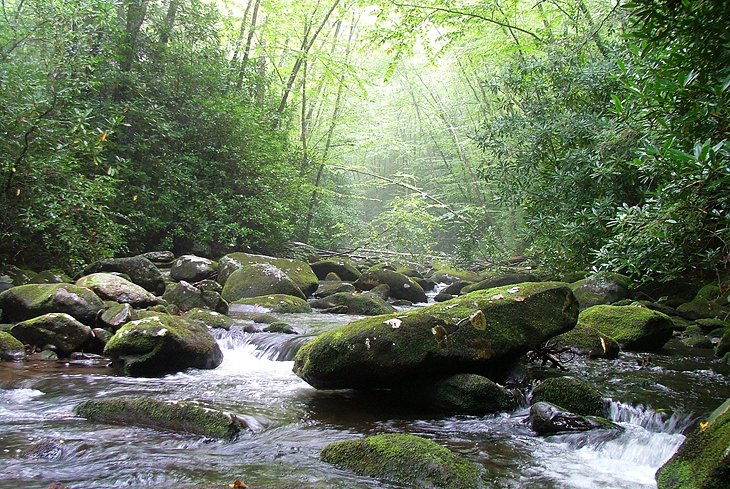 The quiet streams like Citico Creek, which are tucked away in the Cherokee National Forest in eastern Tennessee, provide some of the best wild trout fly fishing in the state. Citico Creek is an ideal place for anglers to enjoy rugged fishing while still having easy access to the water.
Rainbow trout are the most common catches and are stocked annually. The creek features long pools of varied depths. You might also spot some federally endangered fish in the waterway (illegal to catch, but beautiful to see) like the Citico darter, smoky madtom, and yellowfin madtom.
You must obtain a special permit to fish Citico Creek, which can be obtained through the TWRA. Since the area is fairly remote, you can stay nearby in Madisonville, Sweetwater, Maryville or Lenoir City. The closest larger cities from which to base are Knoxville or Gatlinburg.
9. Duck River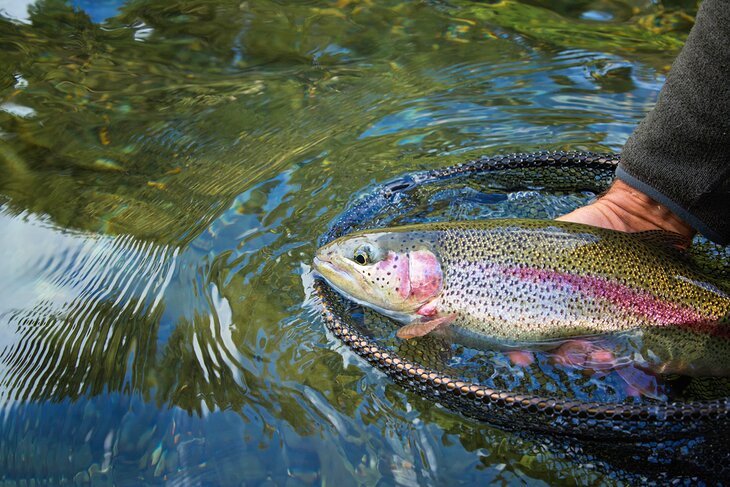 Located in middle Tennessee, the Duck River has more than 30 public access points and opportunities to catch high numbers of fish, making this a top fly fishing location. In addition to brown and rainbow trout, the diversity of species is what makes this river attractive to anglers.
Although this waterway is often classified as a "smallmouth stream," you will find spotted bass, largemouth bass, rock bass, channel catfish, freshwater drum, and sunfish. The TWRA has recorded some fish over 20 inches out of the Duck River. Rainbow and brown trout are stocked annually below the Normandy Dam.
There are a number of towns that border the Duck River where you can stay, including Shelbyville, Centerville, Columbia, and Manchester.
10. Watauga River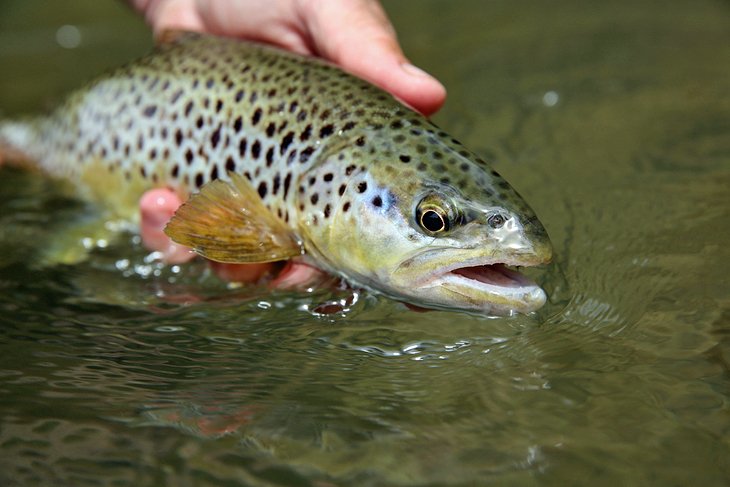 The water in the Watauga River in upper-east Tennessee is so productive that brown trout no longer have to be stocked. A mix of brown and rainbow trout draws anglers here, even from out of state. Wade fishing is popular in the 14 miles of tailwater flowing from the Wilbur Dam.
Rainbow trout are stocked annually, but many anglers come here to target the brown trout that have flourished naturally over the last few years. There is a "Quality Trout Section" on the river imposed by the TWRA that only allows fishing with artificial lures, and there are special restrictions on what you can keep.
You will want to review TWRA restrictions before heading to this waterway. Johnson City is a great place to stay, with many hotel options, restaurants, and places to pick up conveniences for your cooler.
11. Cane Creek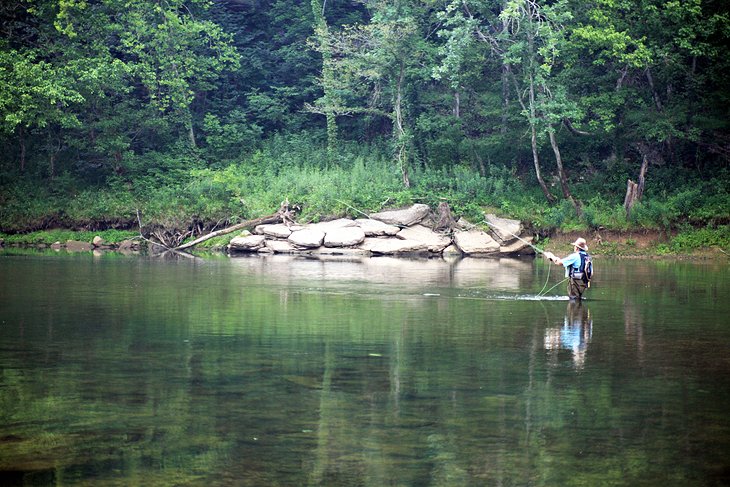 One of the great stream fishing opportunities in Tennessee is at Cane Creek near Cookeville. Fly fishing for rainbow trout is the most popular. The TWRA stocks trout in February, March, and April before the waters warm up in the spring. This creek is great for wading and fishing for a number of species including trout, largemouth bass, smallmouth bass, bluegill, rock bass, and redear sunfish.
Cane Creek follows the road, so you will find many access points to the water. That also means this creek can become crowded during popular times of the year and just after stocking.
During the summer months, water warms into the main tributaries, meaning your best fly fishing success will be in the tailwater areas of the streams, where fish migrate in search of baitfish.
12. Collins River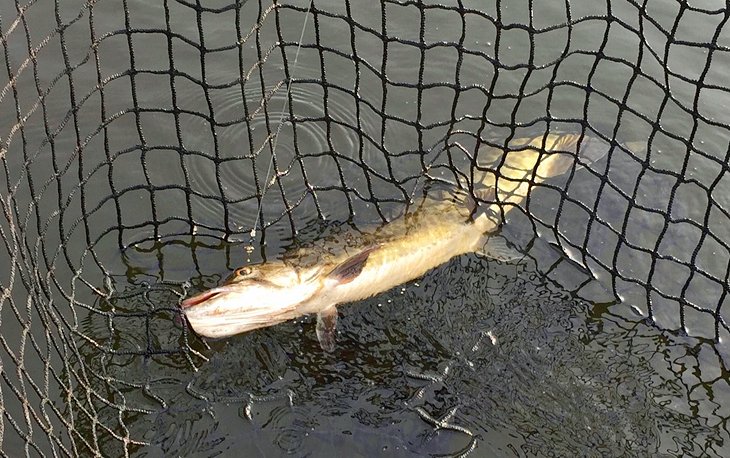 The Collins River provides a unique fly fishing opportunity for musky due to its location in middle Tennessee on the edge of the Muskellunge native range. The Musky Fly Fishing World Championship was held on the Collins River in 2013, so its popularity for musky fly fishing has exploded ever since.
The Collins River flows 811 square miles through six counties. Some of the river flows through private land, but there are plenty of public access areas managed by the TWRA. If you are new to this river, hiring a guide who knows the waterways and state regulations is advisable. Musky are difficult fish to catch, but during fall, the prime time of year, advanced anglers can regularly land one or two per day in the Collins River.
While there are some small towns near the river, your best option for lodging is in McMinnville, which is the closest city with more amenities for travelers.
Map of Fly Fishing Destinations in Tennessee
More Related Articles on PlanetWare.com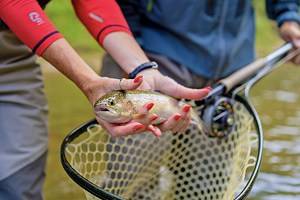 Fishing Destinations near Tennessee: If you are fly fishing in Tennessee, you can extend your trip and cross the Blue Ridge Parkway to tap into some of the best trout fishing rivers in North Carolina, like the Mitchell River. You can also extend your stay to hit locations along the Western North Carolina Fly Fishing Trail.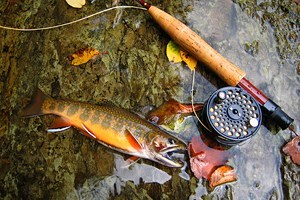 Fly Fishing Farther Afield: There is also premier fly fishing in Pennsylvania, where there are 15,000-miles of designated trout fisheries throughout several regions. West Virginia trout fishing is another option to consider. There are more than 200 stocked waterways throughout the state. For a longer trip, you can plan for fly fishing in Wyoming in places with natural lakes and streams and unforgettable scenery, like Yellowstone National Park and Jackson Hole.