14 Top-Rated Things to Do in Tennessee
Tennessee has so much going for it, you'll never lack for things to do. If you're into music and culture, you are in the promised land. It doesn't get better than attending a concert at the Grand Ole Opry House or the Ryman Auditorium.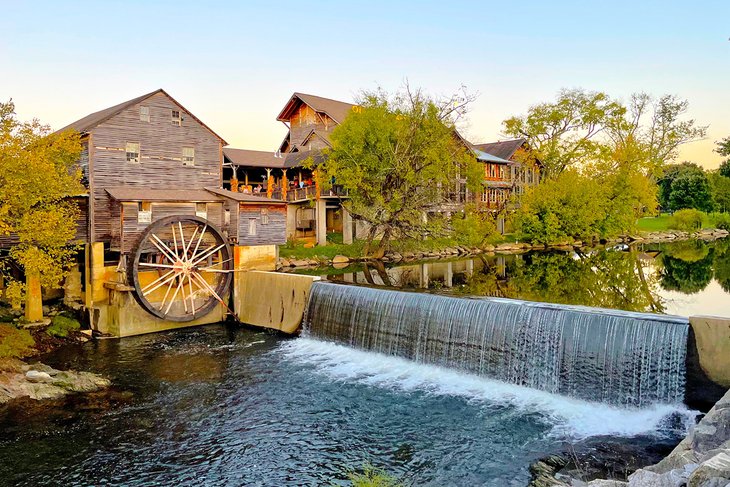 Graceland, the beloved Memphis home of rock 'n' roll king Elvis Presley, delivers on both music and popular culture. Dollywood is another place where you can hear music while grooving on the culture of east Tennessee. Ditto the Country Music Hall of Fame.
There are many ways to enjoy the great outdoors of Tennessee, from hoofing it to the top of old Smoky (Clingmans Dome) to strolling through an urban nature park. Many of the best adventures are found in popular state parks and national parks.
Be sure to visit the Tennessee Aquarium in Chattanooga. In Pigeon Forge, have fun on a ride at The Island, and relive maritime history at the Titanic Museum. It's easy to get around the state, too. Plan your travels and discover the best places to visit with our list of the top things to do in Tennessee.
1. Capture a Sublime View in the Great Smoky Mountains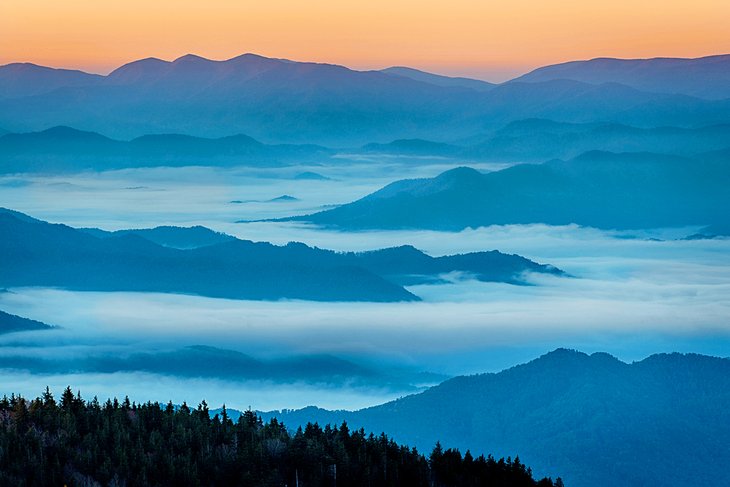 Clingmans Dome is way up in the clouds in Great Smoky Mountains National Park. Wait for the clouds to part, and you will experience a 360-degree view that reaches into seven states. As you step towards the 6,643-foot summit–the highest point in the park–you might catch yourself humming the cheesy childhood favorite, On Top of Old Smoky.
Access Clingmans Dome via a one-hour drive of scenic twists and turns from Sugarlands Visitor Center at Gatlinburg. From the parking lot, walk the steep half-mile paved path to the observation tower. Cross the rugged Appalachian Trail that connects Georgia in the south with Maine 2,000 miles to the north.
Best times of day to visit Clingmans Dome are sunrise and sunset. The air is cooler at higher elevation, so be sure to dress in layers. On clear mornings, witness one of the most sublime views in the Americas.
2. Keep on Rockin' at Graceland, Memphis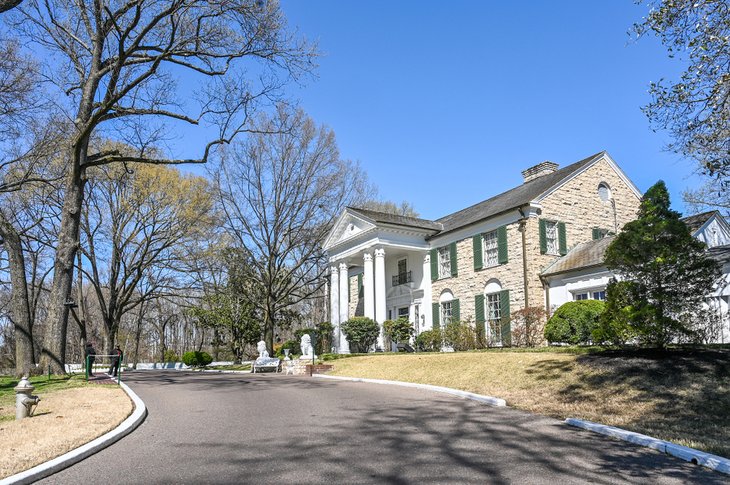 The graceful Memphis mansion that was home to Elvis Presley beckons pilgrims from around the world. Elvis is no longer here, but his spirit lives on in every room of this grand showplace. This is where the King of Rock 'n' Roll lounged, noodled on his guitar, carried out a romance with the teenager who became his wife, and enjoyed his toys (cars and planes). Graceland is also where Elvis died and was buried between his mama and daddy.
Graceland is so many things to so many people. Not just a house, but a temple. Not just a museum, but a tribute to a poor boy from Tupelo, Mississippi who played in a style that was all his own. Not just a burial site, but a shrine. See costumes, awards, and memorabilia from the 1950s through the 1970s. Board the Lisa Marie custom-made jet. Elvis might have left the building, but the beat goes on.
Address: 3717 Elvis Presley Blvd, Memphis, Tennessee
Official site: https://www.graceland.com
Accommodation: Best Hotels in Memphis, Tennessee
Read More: Top-Rated Tourist Attractions in Memphis,TN
3. Make a Day of It at Dollywood, Pigeon Forge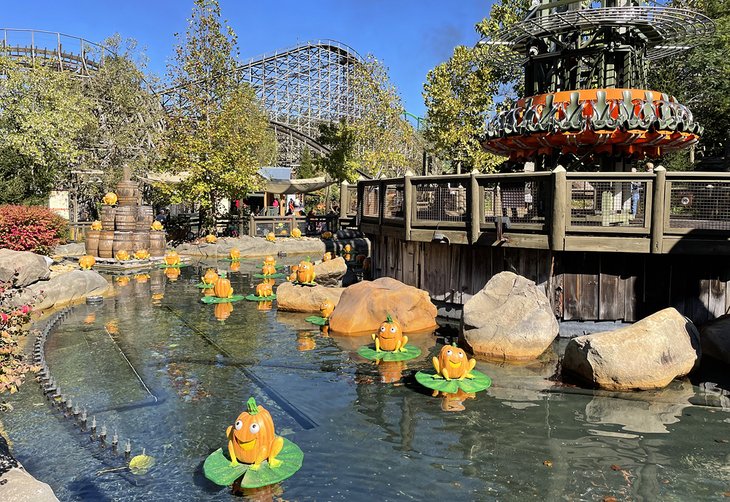 The Smoky Mountains are a dream location, and it's here that Dolly Parton created an epic dreamscape that is as outrageously entertaining as she is. Make a day of it at Dollywood, sampling yummy food, grooving to gospel music, and creating your own souvenir. This 160-acre theme park reflects the welcoming spirit of the woman who created it, so that you feel right at home.
Dollywood is a high-energy amusement park that deserves to be top on your list when you're wondering what to do in Tennessee. Get on board the Dollywood Express, an authentic steam engine train, and ride five miles to get the lay of the land. Hop aboard some of the dozens of rides, nine of which are roller coasters. Visit the specially themed areas that represent the culturally rich area where Dolly was born and raised. Soak up the Southern hospitality and above all, have a good time. That's what Dollywood is all about.
Address: 2700 Dollywood Parks Blvd., Pigeon Forge, Tennessee
Official site: www.dollywood.com
Accommodation: Top-Rated Resorts in Pigeon Forge, TN
Read More:
4. Attend a Concert at the Grand Ole Opry House, Nashville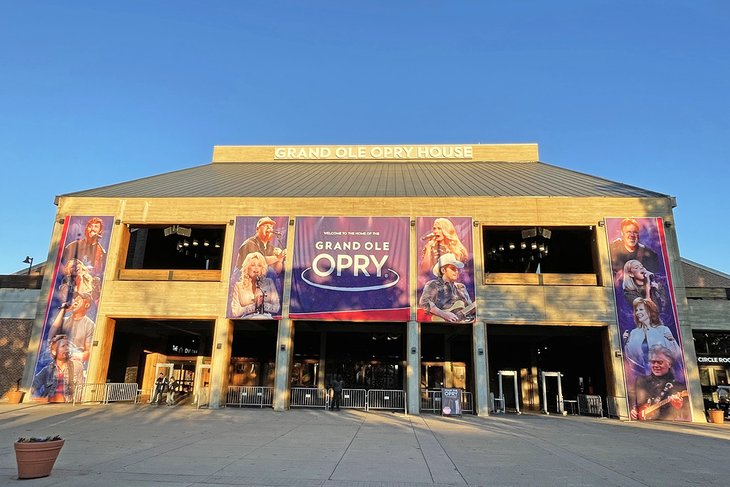 The Grand Ole Opry, the show synonymous with country music, is the most famous happening in Nashville. Most of the year, you can catch an Opry show at the Grand Ole Opry House located within the Gaylord Opryland complex, 10 miles from downtown. For a few months each winter, the show moves to its original home in the Ryman Auditorium, which is just off Honky Tonk Row.
At Grand Ole Opry House, you'll hear top-notch country music performed by stars such as Carrie Underwood, Del McCoury, and the Marshall Tucker Band. Pay extra to enjoy the perks of a guided tour behind the scenes. A premium pass includes a visit with a performing artist in the Opry show. You might get to step into the wooden circle on stage where artists have performed for generations. Your tour might also include a stop in the live television studio where the show is broadcast.
Address: 2804 Opryland Drive, Nashville, Tennessee
Official site: www.opry.com
5. Take Your Seat in the Historic Ryman Auditorium, Nashville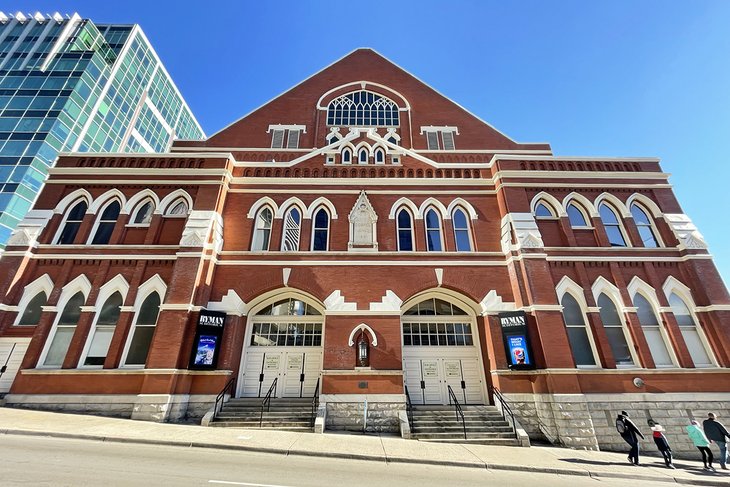 The Ryman Auditorium is best known as the original home of the Grand Ole Opry, and each winter, it still hosts this iconic show. Built in 1892, The Ryman is a stately landmark in downtown Nashville. With its fine acoustics and pews, this fabled performance hall is known as the Mother Church of Country Music, the Carnegie Hall of the South, and the birthplace of bluegrass music–thanks to Bill Monroe and his band.
Johnny Cash met June Carter backstage at the Ryman. Country music superstars Hank Williams, Loretta Lynn, Patsy Cline, Roy Acuff, Dolly Parton, Garth Brooks, and Keith Urban all performed here.
The Ryman is now a performance hall for other genres of music and entertainment. During the 31 years when it was all about the Grand Ole Opry, performers would run to Ernest Tubb's Record Shop on nearby Honky Tonk Row to continue playing. Check out the long-running Midnight Jamboree that is recorded every week at the record shop. It's a fun thing to do and there's no charge.
Address: 116 5th Avenue North, Nashville, Tennessee
Official site: www.ryman.com
Accommodation: Best Hotels in Nashville, TN
Read More: Top-Rated Tourist Attractions in Nashville
6. Discover Royalty at the Country Music Hall of Fame and Museum, Nashville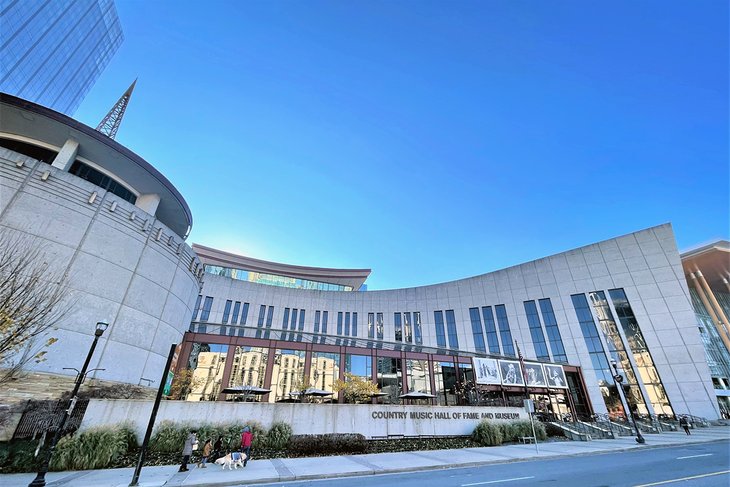 Meet the kings, queens, and assorted royalty of country music at the Country Music Hall of Fame and Museum in Nashville. This architecturally stunning complex may best be appreciated by the numbers. Imagine 500 musical instruments and 2,000 items that fall into the category of costumes, clothing, and accessories. The three-story treasure trove of country music contains 40,000 moving images, 500,000 pictures, and one million clippings referring to 4,500 performers and topics dating back to the 1920s.
The number of artifacts from cars to mikes is countless. As for recordings, there are 250,000. They represent 98 percent of all commercial country music recordings released since the second world war. 'Tis a feast for the eyes and music to your ears.
Explore the hall of fame and museum in chronological order, or lily-dip your way according to your taste and time. From country to gospel, bluegrass to hillbilly, you'll find hours of enjoyment. Sign up for the tour that includes RCA's Studio B on Music Mile.
Address: 222 Rep. John Lewis Way South, Nashville, Tennessee
Official site: https://countrymusichalloffame.org
7. Make a Recording at Sun Studio in Memphis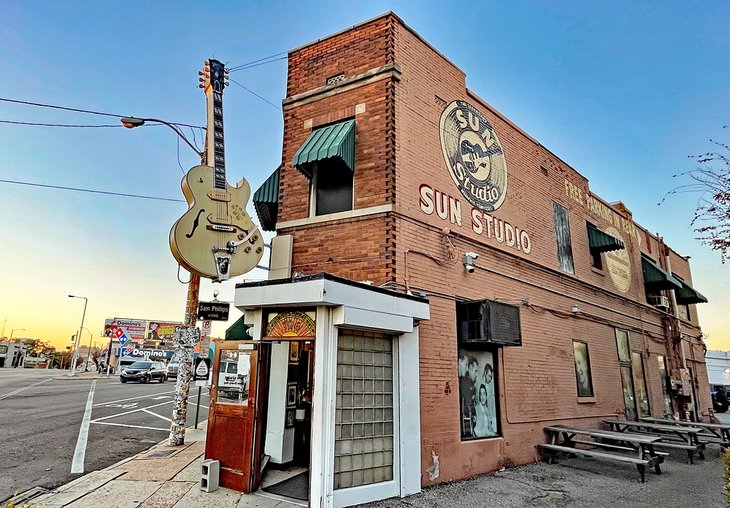 So much history transpired in the unassuming small building known as Sun Studio. The birthplace of rock 'n' roll, located on a busy corner of Memphis, only has three rooms, but they're hallowed ground for fans of the genre. Some say that a tour here gives you goosebumps because you're standing where Elvis Presley recorded. Elsewhere you can hear voices and out-takes, as though the superstars never left. See memorabilia associated with Johnny Cash, Roy Orbison, Jerry Lee Lewis, B.B. King, and Carl Perkins.
Take a guided tour at Sun Studio, and if you feel inspired, stick around until closing time and buy a block of time for your own recording session. Don't worry if you've never done it before, and wonder if you've got the singing chops. When Sam Phillips, owner of Sun Studio, asked Elvis who he sounded like before recording My Happiness in 1953, the 18-year-old wannabe from Tupelo, Mississippi played his calling card. "I don't sound like nobody," he said. To this day, that sum-up remains true.
Address: 706 Union Avenue, Memphis, Tennessee
Official site: www.sunstudio.com
8. Ride the Giant Ferris Wheel at The Island in Pigeon Forge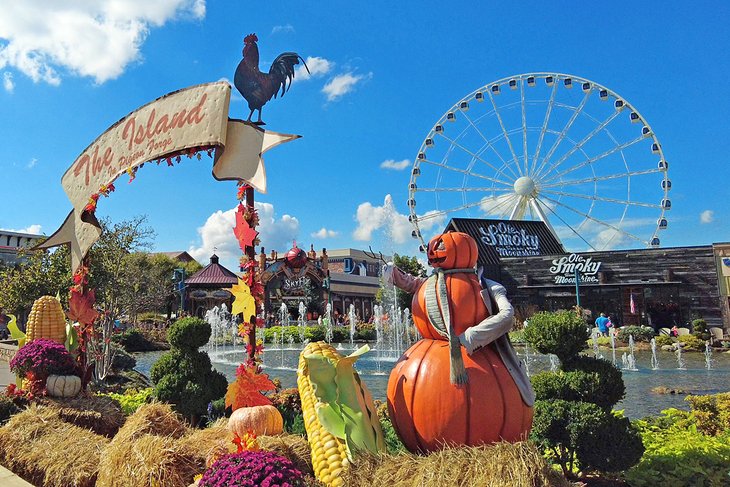 In the heart of the Great Smoky Mountain foothills, The Island in Pigeon Forge is a 23-acre amusement park with all the fixings. Eat, shop, and be entertained in a fun family-friendly atmosphere along the banks of the Little Pigeon River.
There is no charge to access or hang out at The Island. Purchase a beverage and take a seat in a comfy poolside Adirondack chair to watch the Island Show Fountains. Stroll around the park, window shop, and choose which amusement rides and attractions you fancy–or do them all!
For the best aerial view, take a turn or two on the Great Smoky Mountain Wheel. At 200 feet, it's the fourth highest Ferris wheel in the United States. Be sure not to miss free music concerts and impromptu performances. When you've had your fill of Island life, hop aboard the Pigeon Forge Trolley to visit other sights and attractions in town.
Address: 131 The Island Drive, Pigeon Forge, Tennessee
Official site: http://islandinpigeonforge.com/
9. Find Your Story at the Titanic Museum, Pigeon Forge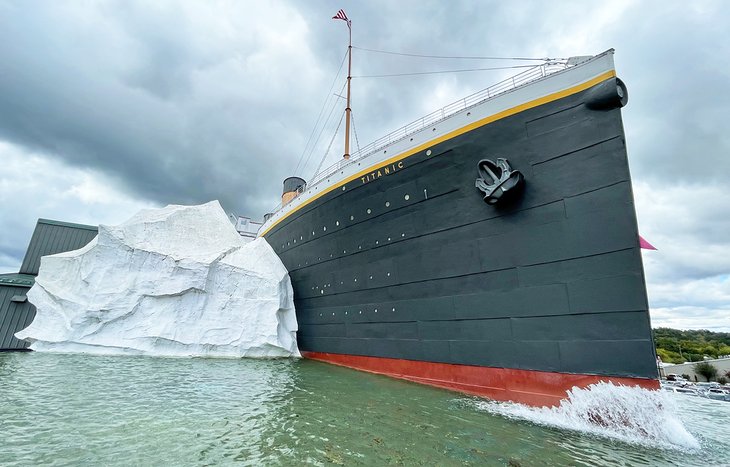 The Titanic Museum appears like an apparition on the hilly landscape of Pigeon Forge. Although not the RMS Titanic that sank with 2,208 passengers and crew to a watery grave in 1912, this half-size replica is a compelling backdrop to one of the most remarkable tourist attractions in Tennessee.
In period dress, staff welcome you aboard for a self-guided discovery of the Titanic, from design to construction to maritime disaster. Twenty rooms exhibit what it was like to sail in first class, second class, and steerage. The exhibit memorializes the women, men, and children who perished at sea, and explains what happened to survivors. A separate audio tour is available for young museum visitors.
The museum hosts the largest permanent collection of 400 artifacts from the RMS Titanic, and enhances the story with archival photographs and interactive displays. Take your own journey aboard the Titanic, and come away with your own story.
Address: 2134 Parkway, Pigeon Forge, Tennessee
Official site: www.titanicpigeonforge.com
10. Take the Plunge at Tennessee Aquarium, Chattanooga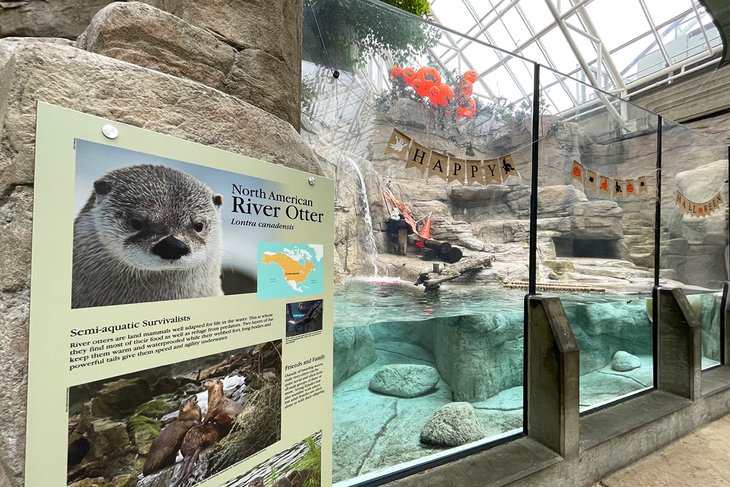 Feel captivated by the underwater dreamworld of the Tennessee Aquarium. Laugh with otters at River Otter Falls as they frolic and slither. Gaze with trepidation at enormous sand sharks swimming by in the Secret Reef tank. Be mesmerized by the eerie illumination of split-fin flashlight fish slipping through dark waters in the Island Life exhibit. A visit to the aquarium will inform you about animals and fish, the places they live, and how we co-exist.
Located in one of the most walkable and scenic locations of downtown Chattanooga, the Tennessee Aquarium is a must-see attraction for you and your family. The aquarium is divided into two separate environments. Start with the Ocean Journey or River Journey, making sure you leave enough time to experience both. Enjoy an immersive cinematic show at the Tennessee Aquarium IMAX Theater only a block away from the aquarium.
Address: 1 Broad Street, Chattanooga, Tennessee
Official site: https://tnaqua.org
Accommodation: Best Hotels in Chattanooga, TN
Read More: Top-Rated Attractions & Things to Do in Chattanooga, TN
11. Behold the View from Lookout Mountain, Chattanooga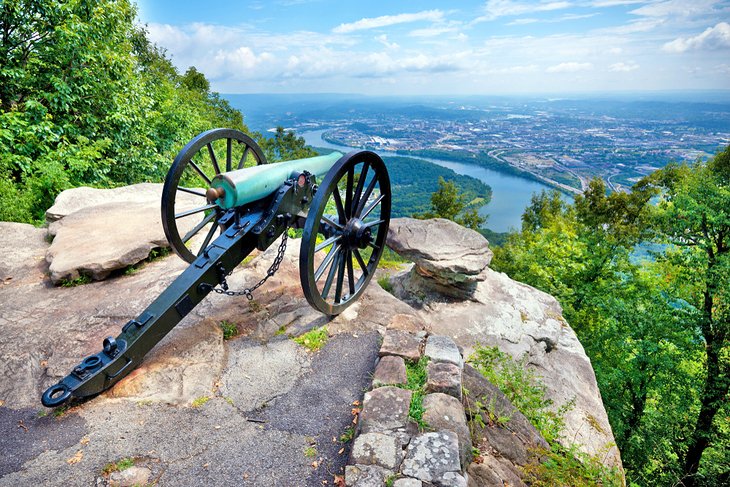 Lookout Mountain brings Civil War history and panoramic views of Chattanooga and the Tennessee River into focus. At 2,389 feet in elevation, Lookout Mountain was a strategic stronghold of the Southern Confederate Army. Nowadays, visitors strategize how to include attractions on the mountain in their travel itinerary.
First stop is Ruby Falls–the celebrated waterfall buried deep inside Lookout Mountain. Ten-acre Point Park at the north end of the escarpment is the scene of "Battle Above the Clouds"–a Civil War memorial managed by the National Park Service. The clifftop view is worth the price of admission.
Walk five minutes from the park to 100-year-old Lookout Mountain Incline Railway, an exciting transportation alternative to climbing to the top.
12. Discover Knoxville's Historic Hub at Market Square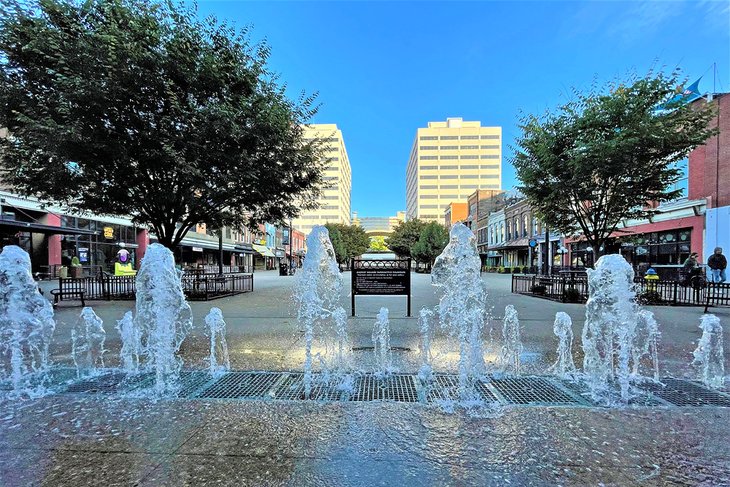 One of the best open-air markets happens on Saturdays in Knoxville's Market Square. Locals and visitors have been gathering here since 1864. Here, you will find items to nibble and take away from more than 100 vendors.
On non-market days, the square is an inviting place to wander, sit on a park bench, and watch children running through the fountains. Appreciate the live music of impromptu buskers and scheduled acts on stage. Plan your visit for a performance of Shakespeare on the Square.
There is something for everyone at Market Square. Enjoy cafés and restaurants before your concert or show at the Tennessee Theatre along South Gay Street. The intimate labyrinth of pathways in Krutch Park and its collection of public art is at the south end of the square.
Address: Market Square Mall, Knoxville, Tennessee
Read More: Top-Rated Things to Do in Knoxville, TN
13. Navigate the Roaring Fork Motor Nature Trail, Gatlinburg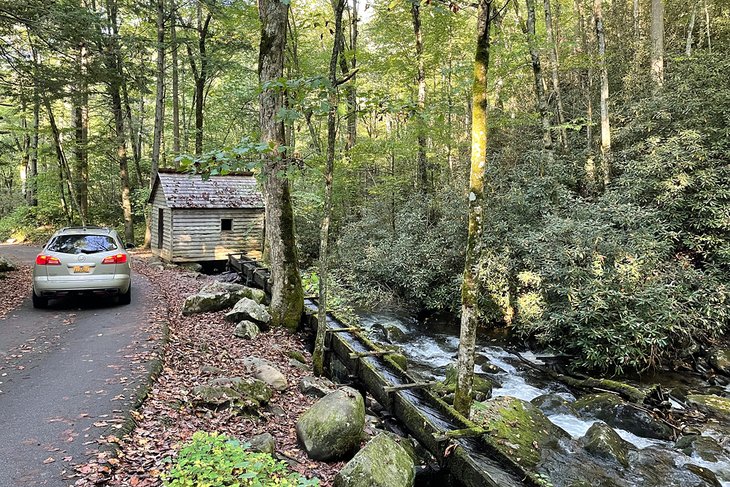 Experience the serpentine 5.5-mile one-way road through Roaring Fork. This byway is one of the most relaxing ways to appreciate scenic Great Smoky Mountains National Park within the comfort of your vehicle. Stretch your legs by parking at a pull-off.
Popular day hikes and social history attractions are accessed from the paved Roaring Fork loop. Hike to waterfalls, cross mountain streams, and observe wildlife in the lush setting of mature rhododendron and mixed old-growth forest. Explore remnants of homesteads that belonged to East Tennessee pioneers. See what remains of their rustic way of life at log homes and grist mills.
A short jog from the Gatlinburg Strip, the Roaring Fork Motor Nature Trail leads you to a more serene and enchanting place than its name suggests.
Address: Great Smoky Mountains National Park, Gatlinburg, Tennessee
Official site: www.nps.gov/grsm/planyourvisit/roaringfork.htm
14. Hike, Bike, Paddle, and Swim at Ijams Nature Center, Knoxville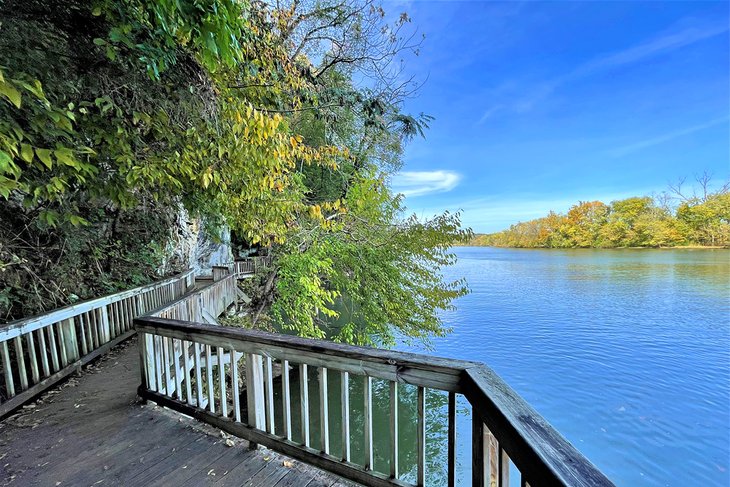 Ijams Nature Center provides recreational opportunities in a 315-acre playground. In addition to viewing nature exhibits in the visitor center, Ijams directs you to:
Trails to hike and bike
Boardwalks to photograph nature and contemplate life along the Tennessee River
Hidden rock quarries to paddle and swim
Steep rock faces to climb
Navitat is a jungle gym–or gym in the jungle–of challenging ropes courses and exciting ziplines. Rent a bike and roll along more than 12 miles of trails at Ijams before connecting to the 50-mile network of biking trails of Knoxville's Urban Wilderness.
Ijams nature programs help adults and youth appreciate ecosystems through outdoor activities. Go bird-watching along the Tennessee River. Sign up for a guided hike with a naturalist. Come to Ijams with the expectation to appreciate nature by experiencing it.
Address: 2915 Island Home Ave, Knoxville, Tennessee
Official site: www.ijams.org/