12 Top-Rated Tourist Attractions in Chattanooga
Chattanooga, located in southeastern Tennessee on the border with Georgia, once an outlying Cherokee settlement, is now a busy city of 150,000 inhabitants, which has forever been immortalized in song thanks to the popularity of the 1941 Glenn Miller hit, Chattanooga Choo-Choo. Visitors can still visit the original railroad station dating from 1909, and railway buffs will enjoy riding the largest steam railroad in the south, the magnificent Tennessee Valley Railroad Museum. A railroad of a different sort, the Lookout Mountain Incline Railway, carries visitors up the steep incline to Lookout Mountain, scene of the battle of Chattanooga during the Civil War and now popular for its magnificent views.
Chattanooga is also home to a large number of superb world-class museums, too, including the Hunter Museum of Art and the Houston Museum of Decorative Arts. And art enthusiasts should also include the Bluff View Art District in their itineraries. This well-preserved historic neighborhood is now home to numerous art galleries and studios, as well as trendy boutique shops, great cafes, and many fine restaurants. Learn more about the best places to visit in the city with our list of the top tourist attractions in Chattanooga.
1. The Chattanooga Choo Choo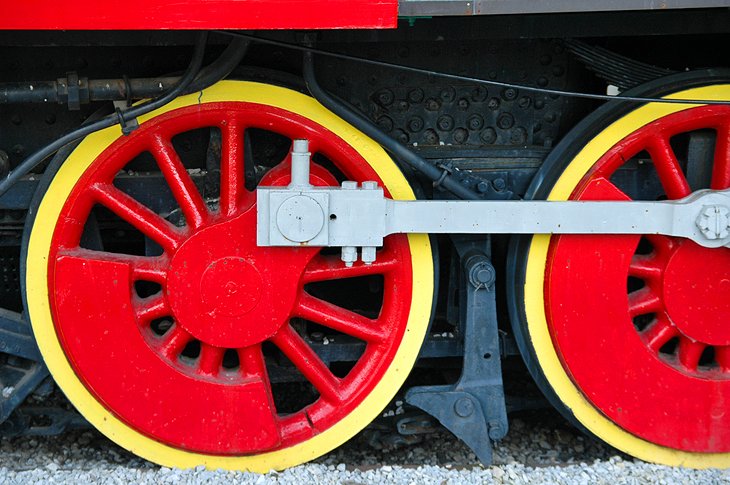 Perhaps the most famous of America's many once crucial train lines, the Chattanooga Choo Choo was a major link between the northern and southern states of the US. It began operating in 1880 and was notable as the first train in the country to provide non-stop service. Today, the line's old Terminal Station is both a hotel - the aptly named Chattanooga Choo Choo Hotel. One of the more unique things you can do is sleep in a restored sleeper. You can also see an antique engine on display, along with shops, restaurants, and a lovely garden.
Address: 1400 Market Street, Chattanooga, Tennessee
2. Lookout Mountain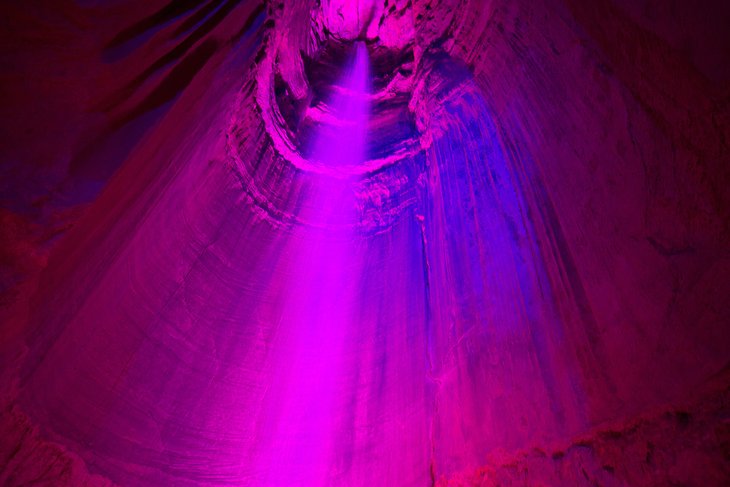 If, as they say, "getting there is half the fun," then Chattanooga's Lookout Mountain attraction certainly delivers. By far the most enjoyable means of arriving at this top-rated attraction is via the Lookout Mountain Incline Railway, a historic funicular railway consisting of trolley-style railcars, which carry guests to the top of the mountain after which it's named. Once here, it's just over a mile walk, or a short drive, if you've parked at the top of Lookout Mountain and instead used the funicular to get to the city far below, to some of Chattanooga's most visited sites. These include Rock City, an incredible 1,700-foot-tall clifftop viewpoint (you can see seven states from here) with a spectacular 100-foot waterfall, a 200-foot long wood-and-wire bridge suspended over a gorge, a climbing wall, and birds of prey demos; and Ruby Falls, the country's deepest cave, boasting a spectacular underground waterfall. From here, you can also easily explore the Battles for Chattanooga Electric Map and Museum with its displays related to the city's important role in the Civil War, and the Chickamauga-Chattanooga National Military Park.
Official site: www.lookoutmountain.com
3. Tennessee Valley Railroad Museum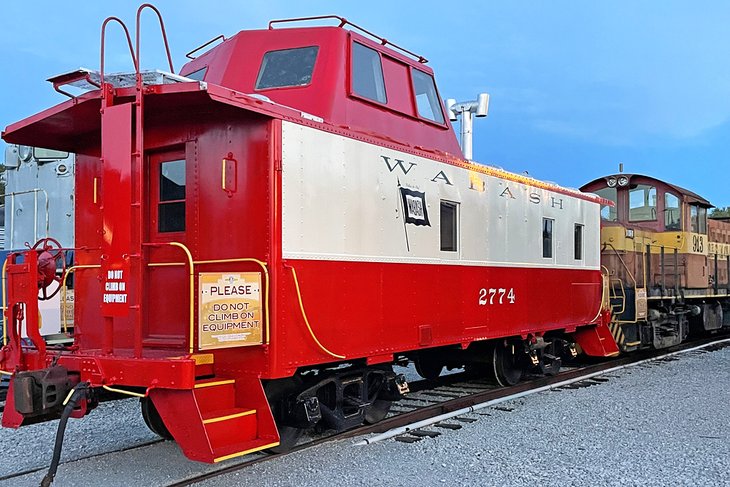 The Tennessee Valley Railroad Museum offers a variety of fun excursions aboard vintage steam and diesel engines, including a chance to ride a 1930s steam train along six miles of track through idyllic Tennessee countryside. The route crosses three bridges and passes through a Civil War era railroad tunnel. Some of the things you can do here include daylong main line excursions, dinner tours, and seasonal events such as the ever-popular Tennessee Railfest. Afterwards, be sure to wander through the extensive collection of rolling stock, engines, and memorabilia. And if you haven't had your fill after exploring the railroads' main site in Chattanooga, head over to the town of Etowah, an hour-and-a-half drive away, where you can partake in the Hiwassee River Rail Adventure lasting from between three-to-eight hours.
Address: 4119 Cromwell Road, Chattanooga, Tennessee
4. The Tennessee Aquarium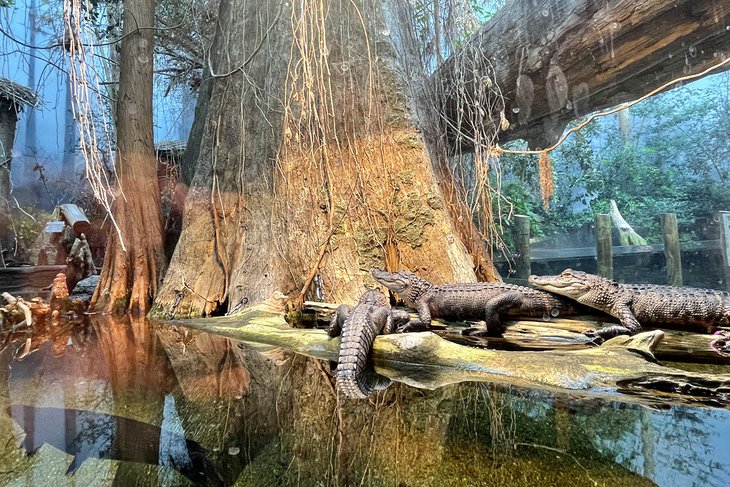 The excellent Tennessee Aquarium has numerous displays relating to the freshwater fish found in the southern US, while Ocean Journey takes guests into the open ocean, where sharks, stingrays, and colorful reef fish glide through coral formations. Visitors can also experience shark and ray touch pools, while the Boneless Beauties gallery includes graceful jellyfish, a giant octopus, and cuttlefish. Also worth visiting is the original River Journey building, which takes guests on a freshwater adventure, with exhibits showcasing the Appalachian Cove Forest, a steamy Delta swamp, and the best known rivers of the world. Also of great interest is the aquarium's excellent River Gorge Explorer, a 70-passenger catamaran trip to the spectacular Tennessee River Gorge, one of the state's most scenic waterways. Also worth checking out is the on-site IMAX 3D Theatre, which regularly features related wildlife and other genre films.
Address: One Broad Street, Chattanooga, Tennessee
5. The Hunter Museum of American Art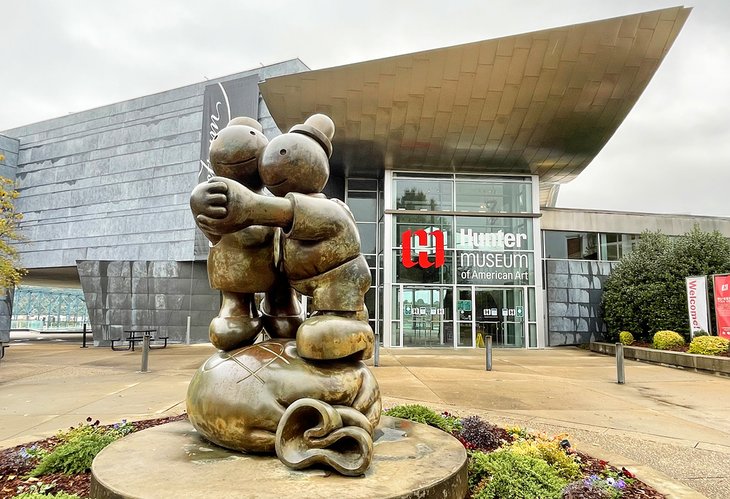 The Hunter Museum of American Art features a fine collection of US art from the colonial period right up to the present day. Exhibits include paintings, works on paper, sculpture, furniture, and contemporary studio glass. Part of the museum is housed in a 1904 Classic Revival mansion, while a newer ultra-modern section sits dramatically atop an 80-foot bluff with commanding views of the Tennessee River. (Admission is free 4pm to 8pm on the first Thursday of each month.) Art of a different kind is included at the Dragon Dreams Museum, which features a collection of more than 2,000 dragons depicted in antiques, porcelain, figurines, and furniture.
Address: 10 Bluff View Avenue, Chattanooga, Tennessee
6. Chattanooga Zoo at Warner Park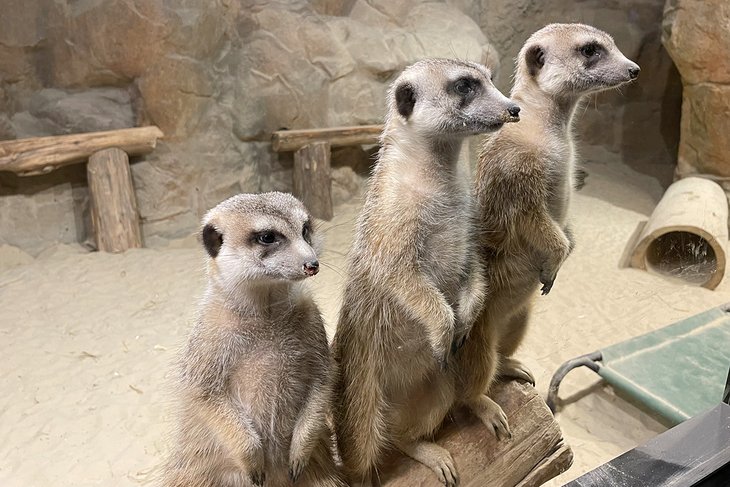 The 13-acre Chattanooga Zoo at Warner Park makes for a fun outing for those traveling with kids. Although opened in 1937, the zoo has undergone many improvements over the years (with a further multi-million-dollar expansion planned), including the addition of its popular Himalayan Passage exhibit, home to the zoo's star attractions: a collection of endangered red pandas and a number of even rarer snow leopards. Other notable exhibits include Gombe Forest, which houses its chimps and includes a fascinating indoor viewing area; Corcovado Jungle, which houses a variety of species, including jaguars and spider monkeys; and an area dedicated to animals from North America, including cougars.
Official Site: http://www.chattzoo.org
7. The Bessie Smith Cultural Center
The Bessie Smith Cultural Center tour begins in east Africa in the 12th century and travels through time to the history of how the African people were enslaved and brought to America. Using interactive displays, this unique attraction - named after the "Empress of the Blues," Bessie Smith - also paints a fascinating picture of conditions for the city's black population. The museum is also an important arts and cultural center, hosting numerous art exhibits, concerts, and performances.
Address: 200 East Martin Luther King Blvd, Chattanooga
8. Battles for Chattanooga Electric Map & Museum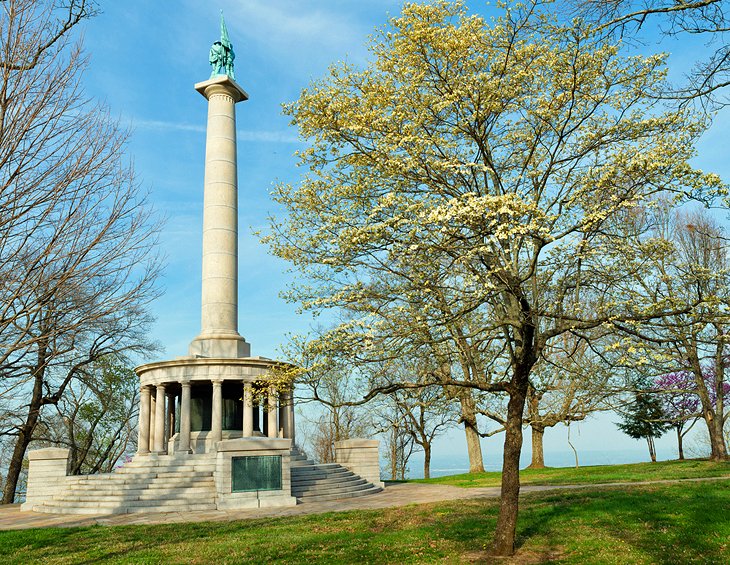 At the Battles for Chattanooga Museum on Lookout Mountain, the city's Civil War history is displayed through 5,000 miniature soldiers, sound effects, 650 lights, and details of the major battles fought here in November of 1863. Also on display is a collection of artifacts, including period weapons. This fascinating attraction is a good jumping-off point from which to explore the actual battle sites themselves, including the memorials on the adjacent Point Park Battlefield, where the Battle Above the Clouds took place. Also of interest to Civil War buffs is the Chickamauga-Chattanooga National Military Park, the country's largest such park.
Address: 1110 East Brow Road, Lookout Mountain, Tennessee
9. Raccoon Mountain Caverns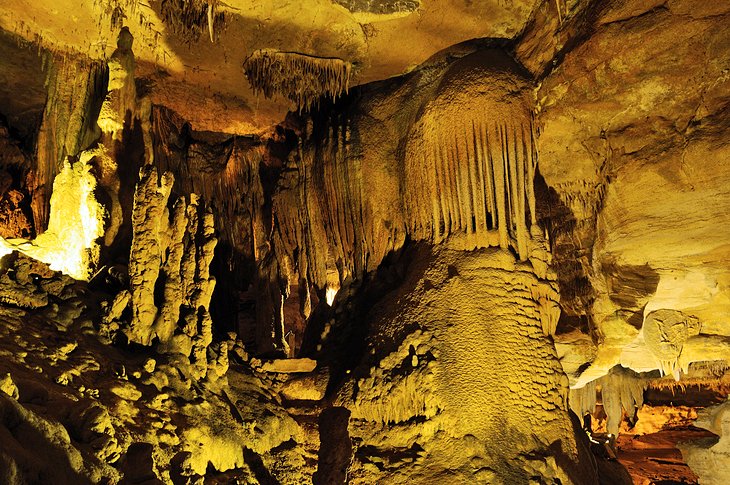 Just a few miles west of Chattanooga, the Raccoon Mountain Caverns consist of a network of spectacular caverns carved from limestone by the forces of nature. They contain formations and fossils in their natural state in more than five-and-a-half miles of mapped passageways, as well as a number of undeveloped areas used for Wild Cave tours (a fun ghost tour is also available). It's a popular site for campers and offers other activities such as panning for gemstones, go-karts, and hiking. Also worth visiting is Ruby Falls, an underground waterfall on Lookout Mountain, its caves featuring interesting geological formations such as stalactites, stalagmites, columns, drapes, and flowstone.
Address: 319 West Hills Drive, Chattanooga, Tennessee
10. A Walk in the Parks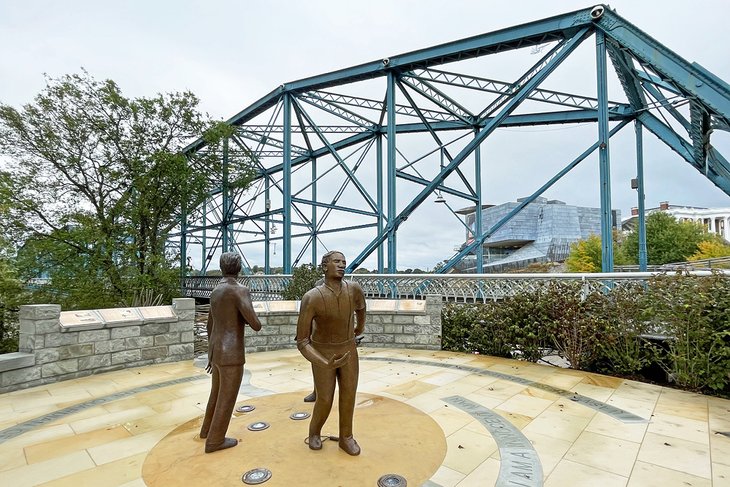 Chattanooga is something of a paradise for pedestrians, and boasts numerous pleasant green spaces and parks just waiting to be explored on foot. A must-do is to stroll along the superb 2,376-foot-long Walnut Street Bridge, built in 1890 and said to be the first civilian highway bridge to have spanned the mighty Tennessee River. After admiring its magnificent river and city views, head to adjacent Coolidge Park, popular with kids for its water fountains and its wonderfully restored 100-year-old carousel. Other open spaces worth exploring include Ross' Landing, notable for its amphitheater and pier; Tennessee Riverpark, a 10-mile walking and cycling path, which follows the river and provides a number of kayak and canoe launch sites; and the Reflection Riding Arboretum and Nature Center, a superb 317-acre educational and nature center, which features an arboretum and 15 miles of trails to explore.
11. Charles H. Coolidge Medal of Honor Heritage Center
The Charles H. Coolidge Medal of Honor Heritage Center honors Americans who served their country with valor as members of the military. Items from the Civil War, the Spanish-American War, World Wars I and II, the Korean and Vietnam Wars, as well as Desert Storm are on display. It's no coincidence that Chattanooga was chosen as the location for this fascinating museum, as the first six Medal of Honor recipients were associated with the city and are interned in the Chattanooga National Cemetery (all told, 32 of these prestigious medals have been awarded to members of the military from Tennessee). In addition to its many fine displays of artifacts, a number of life-like exhibits showcasing the actions that lead to medals being awarded - offered posthumously - are also of interest.
Address: Northgate Mall, Hwy 153 at Hixson Pike, Chattanooga, Tennessee
Official Site: http://mohm.org
12. Houston Museum of Decorative Arts
Located in the heart of Chattanooga's Bluff View Art District, the Houston Museum of Decorative Arts - housed in an 18th-century Victorian home - features fine collections of antique glass and ceramics, furniture, music boxes, and coverlets. Most of the unique items on display are derived from the collection of the late Anna Safley Houston, a famous antiques dealer. This attraction is a must-see for anyone with an interest in exquisite antique glass, who will also be interested in checking out the on-site gift shop.
Address: 201 High Street, Chattanooga, Tennessee
Where to Stay in Chattanooga for Sightseeing
We recommend these centrally located hotels in Chattanooga for their proximity to the top museums and attractions in the downtown core:
Luxury Hotels: Those looking for a little luxury during their stay in Chattanooga would do well to consider The Dwell Hotel. This charming boutique hotel is located in the downtown area just steps from major attractions, like the Hunter Museum of American Art, and offers 16 comfortable, retro-inspired rooms (no children under 12 permitted). Just 10 minutes' walk away from the Tennessee Aquarium, The Westin Chattanooga offers well-appointed rooms with contemporary décor, plus on-site amenities, including a swimming pool with cabanas and dining. Another good option, The Chattanoogan features an indoor pool with a steam room and sauna, a full-service spa, and live music on weekends.
Mid-Range Hotels: Good choices in this category include the Hampton Inn & Suites Chattanooga/Downtown, popular for its convenient location, spacious rooms and suites, as well as its indoor/outdoor pool, and fire pit. The Embassy Suites by Hilton Chattanooga/Hamilton Place is a great choice for families needing additional space thanks to its large and affordable suites and free made-to-order breakfast; other perks include an evening reception, a beautiful lobby, and a kid-friendly indoor pool. Another big name brand hotel worth considering is the Holiday Inn Express & Suites Chattanooga Downtown, just a short walk from the Tennessee River and a great option for its indoor pool and comfortable rooms (pets welcome).
Budget Hotels: While located a little farther away from the downtown core, the following budget hotels are situated close to major arteries and are just a few minutes' drive away from all the action. The Days Inn Chattanooga/Hamilton Place offers free breakfast, friendly staff, and an outdoor pool, while The Crash Pad: An Uncommon Hostel offers a quirky take on hostel-style accommodations, with rustic yet clean and comfortable rooms and eclectic public spaces. Finally, check out the Comfort Inn & Suites Lookout Mountain, a great location for those looking to explore the city's wonderful Lookout Mountain attractions.
Tips and Tours: How to Make the Most of Your Visit to Chattanooga
Messing about on the River: Many of the best things to see and do in Chattanooga are centered around the city's beautiful riverfront. And a great way to get your bearings before venturing off and visiting the city's top attractions is to hop aboard a restored WWII-era landing craft - known affectionately as a "duck boat" due to its ability to travel on land and water - for a one-hour Chattanooga duck boat tour. These informative tours of the Tennessee River head all the way to Maclellan Island and under the Walnut Street Pedestrian Bridge, as well as taking in a few sights on land, including Coolidge Park. Along the way, your guide will share numerous interesting tales of the city and its people.
Do it Segway-style: Another fun way to see the best of this beautiful Southern city is via a superb two-hour downtown historic Chattanooga Segway tour. After a little instruction on how to master these amazing two-wheeled people-movers, off you go, zipping effortlessly (and quietly) past key landmarks like the Tennessee Aquarium and the Tivoli Theater, accompanied by interesting commentary along the way. Another option (or hey, why not do both?) is the North Shore and Coolidge Park Tour, also aboard a Segway. Lasting 90 minutes, this tour follows a slightly different route down Walnut Street (a shopping stop is included) and Frazier Avenue, including Renaissance Park and lovely Riverside Drive. And don't be shy to use your time to ask for advice regarding great places to dine and shop; your guide will be only too willing to provide tips.
More Related Articles on PlanetWare.com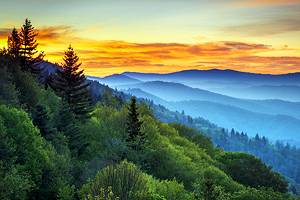 Terrific Tennessee: Just over two-hours' drive northeast of Chattanooga is Nashville, widely regarded as the nation's music capital. It's here you'll find yourself wandering the same streets as so many American music icons, visiting places such as the city's famous Music Row area, home to attractions like the Country Music Hall of Fame, before heading over to check out the remarkable Parthenon, an exact replica of the original in Athens. The same distance northwest is Gatlinburg, the gateway to the Smoky Mountains. Here, you'll be able to enjoy the many fun family-friendly attractions in the city before heading out and exploring the park's magnificent scenery and natural beauty. Although a five-hour drive away, Memphis is another destination lovers of music will want to visit. Highlights include Graceland, home of the "King," Elvis Presley, and the Beale Street entertainment district, where you'll find the Memphis Music Hall of Fame and the superb Memphis Rock 'n' Soul Museum.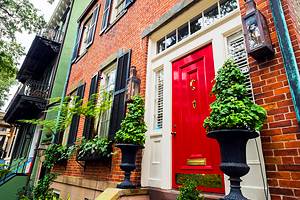 Gorgeous Georgia: Given its proximity to the state of Georgia - it's literally minutes away - Chattanooga is a great place from which to venture farther south to destinations such as the city of Atlanta. The capital of Georgia (and some would say, of the southern states), this bustling city offers plenty of fun things to see and do. Highlights include the vast Georgia Aquarium, one of the largest in the US; the magnificent Atlanta Botanical Garden; and the Center for Civil and Human Rights. Farther south still and you'll find yourself in Savannah, a favorite for its lush green parks and thick canopy of trees almost everywhere you go, as well as its perfectly preserved historic downtown and riverfront areas - it really is like stepping back in time.
More on Tennessee