21 Top-Rated Tourist Attractions & Things to Do in Atlanta, GA
We may earn a commission from affiliate links ()
Atlanta, capital of the "Peach State" Georgia, is in almost all respects the principal center of the American South. The city was originally a military outpost, becoming an early railway junction and rapidly developing into an important commercial town.
During the Civil War, it was an important Confederate stronghold and supply base but was reduced to rubble when captured by Union General William Sherman. These events became the setting for Atlanta native Margaret Mitchell's best-selling novel Gone with the Wind, which won her the Pulitzer Prize.
In recent years, Atlanta has become a major economic and cultural center, as well as an important hub of air traffic. Internationally famed businesses, including Coca-Cola and CNN, have their headquarters here.
Don't expect to find a quiet, romantic Southern city when visiting Atlanta. Instead, visitors will find a rather large, always busy, often congested, yet extremely vibrant American city of close to half a million souls, all seeming to want to be precisely where you are. That said, Atlanta is certainly not without its Southern charm.
There are no end of interesting places to visit in Atlanta, with top tourist attractions ranging from the arts to sports. Along the way, you'll also discover numerous historic sites, state-of-the-art museums, as well as beautiful parks and gardens.
Whatever your interests, you'll be able to plan your visit easily with this list of the top tourist attractions and things to do in Atlanta, Georgia.
See also: Where to Stay in Atlanta
1. Visit the Georgia Aquarium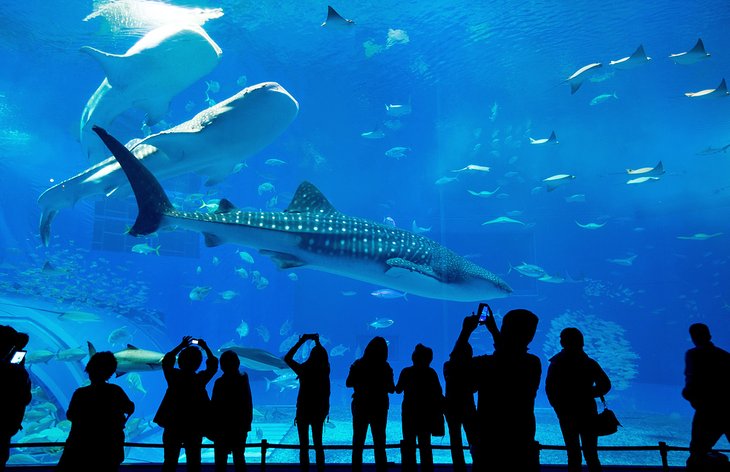 One of the top things to do in Atlanta with kids, the Georgia Aquarium features a wide variety of marine life and some very interesting and interactive activities for visitors. One of the world's largest aquarium, it houses more than 100,000 aquatic creatures, including the largest sharks in the ocean: whale sharks.
You can also see rare albino alligators and watch as trainers interact with California sea lions. One unique option offered by the Georgia Aquarium is the opportunity to dive or snorkel in the tank with the sharks. To participate in the dive program, visitors must have SCUBA diving certification.
2. Take a Stroll through the Atlanta Botanical Garden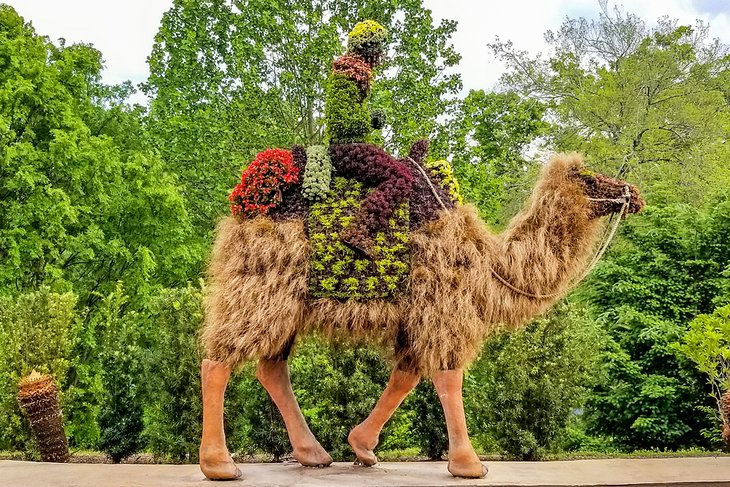 The Atlanta Botanical Garden offers a lovely space through which to stroll and spend a few hours of your time. Highlights of this must-visit Atlanta attraction include a variety of well designed-gardens, including formal flowerbeds and majestic trees that frame the urban landscape of Midtown Atlanta.
The botanical garden is a great place year-round, with something always in bloom. That said, spring is, of course, an amazing time to visit, with a riot of colors. Other notable features include the Orchid Display House in the Fuqua Orchid Center, the Winter Garden, the Japanese Garden, the Conservation Garden, and the Desert House.
3. Tour the Martin Luther King, Jr. National Historical Park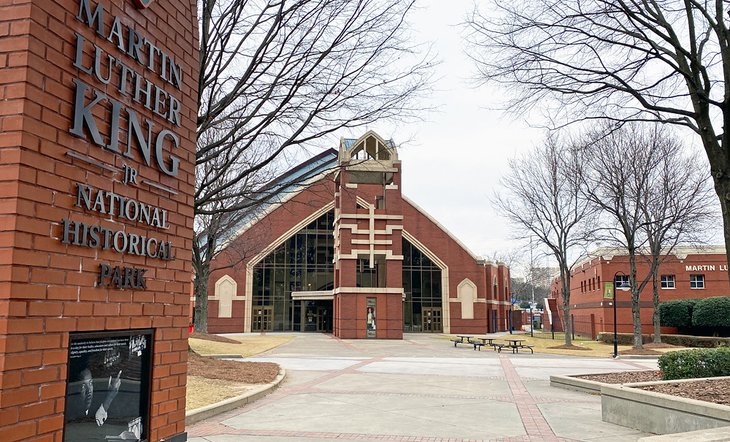 Two blocks on Auburn Avenue are now protected as a National Historic Site. They include the birthplace of the civil rights campaigner Martin Luther King Jr. at 501 Auburn Avenue, which dates from 1895; and the Ebenezer Baptist Church at 407-413 Auburn Avenue, in which he and his father were ministers.
Free tours of Martin Luther King Jr.'s birth home are offered by the National Park Service. There are several other related places to visit within the historic site, too. Immediately adjoining it, in the Freedom Hall Complex, is King's grave. Between his birthplace and Ebenezer Baptist Church is Fire Station No. 6, which played a role in the life of the neighborhood and where volunteers tell stories of life here when King was growing up.
4. Center for Civil and Human Rights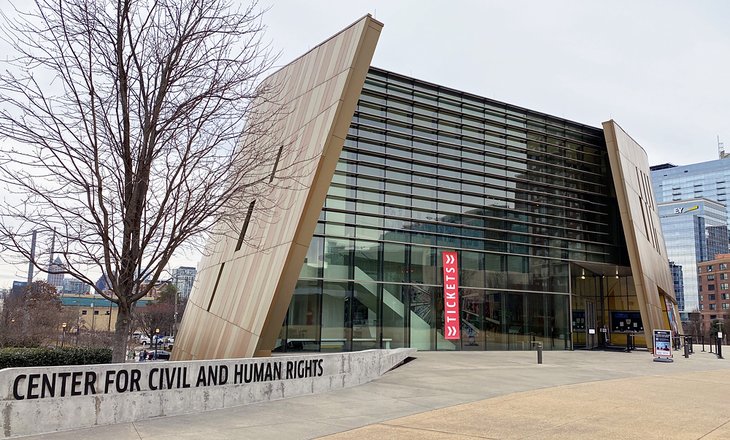 Atlanta's place in the American Civil Rights Movement of the 1950s and 1960s is marked by a beautifully conceived interpretation center/museum that places this epic struggle into the greater worldwide movement for human rights.
The Center for Civil and Human Rights explores the history of Jim Crow laws with actual television newscasts, speeches, photos, videos, personal accounts, and interactive experiences that bring visitors into the struggle. Portraits and stories of their work honor men and women who lost their lives in the struggle.
5. Explore the "Real Thing" at World of Coca-Cola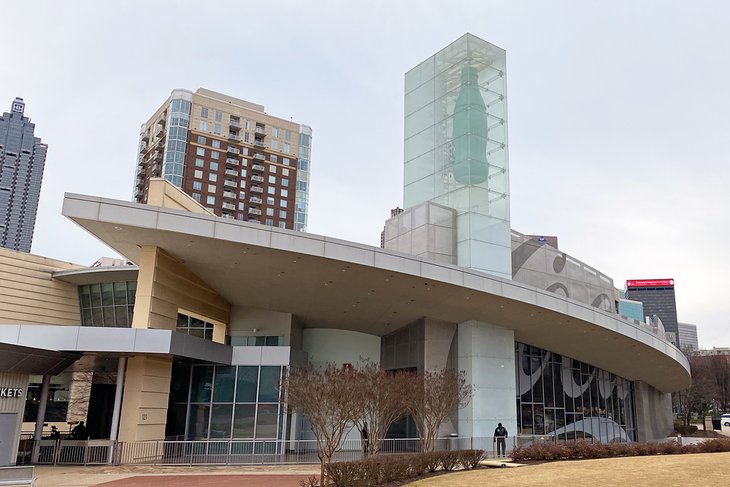 In 1886, a chemist named Dr. John Pemberton devised a syrup designed, or so he claimed, to relieve headaches and other perceived maladies. A friend of his mixed the glutinous liquid with water and carbonic acid, and the result of the mixture soon became the world's most popular soft drink.
6. See a Movie or Performance at the Fox Theatre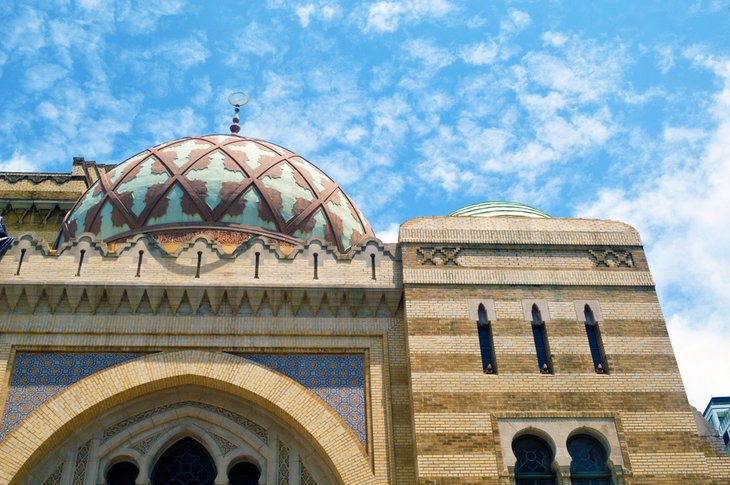 The Fox Theatre was built in the 1920s as the Yaarab Temple Shrine Mosque, with an extremely posh Arabian-themed design. It has had a varied history, with problems during the Great Depression, but has always been a much-loved landmark building since its construction. It is listed on the National Register of Historic Places.
The interior of the theater has seen considerable restoration work over the years in an attempt to maintain its original elegance, including the repair and restoration of the furniture collection to preserve its 1929 appearance.
7. Enjoy a Walk or Jog through Piedmont Park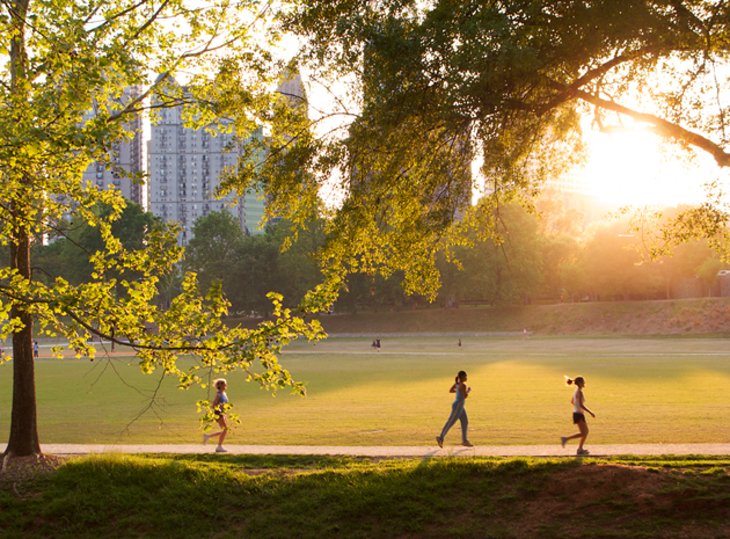 Located just a short distance northeast of downtown Atlanta, Piedmont Park is the oldest and largest park in the Atlanta metro region. The grounds were the site of the Battle at Peachtree Creek during the Civil War.
The miles of walking and running trails through its gently rolling meadows and shady groves include a four-mile loop that passes the park's scenic highlights, natural areas, gardens, and historic sites. Or for an intense workout, join fitness fans on Piedmont Park's Active Oval running track.
In addition to providing walking and running trails, the park has off-leash dog parks, gardens, sports fields, a lake with fishing piers, children's playgrounds, a swimming pool at the Piedmont Park Aquatic Center, and a splash pad for children at the Legacy Fountain.
Local farmers and artisans gather on Saturdays at the Green Market, where you may find everything from fresh peaches, handmade soaps, and smoked meats to biscuits, Irish pancakes, sheep cheese, and sheep milk caramel. Look for chef demonstrations every Saturday from 11am until noon.
8. Atlanta History Center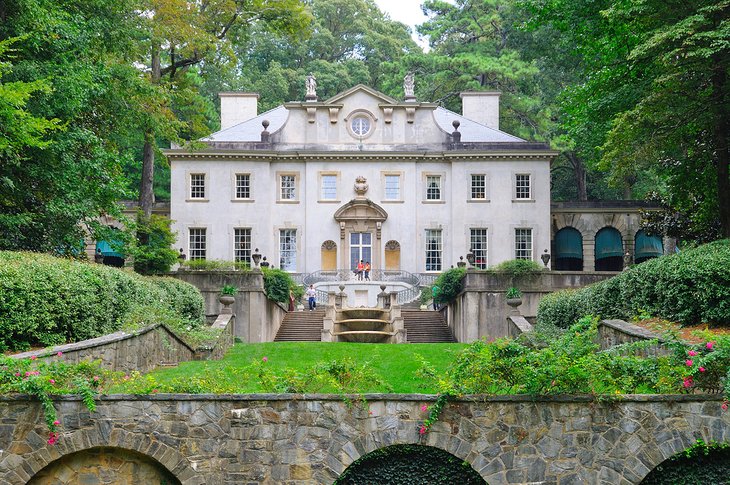 The Atlanta History Center is a large complex that comprises the Atlanta History Museum, Centennial Olympic Games Museum, Swan House, Smith Family Farm, and the Kenan Research Center, along with a number of historic gardens.
The History Museum features changing exhibitions and a permanent collection with topics such as the American Civil War, Folk Art of the South, and various other exhibits related to the history of Atlanta.
The historic houses range in age from the 1860s to the 1920s and offer a glimpse of life during these time periods. The Margaret Mitchell House contains the apartment where Mitchell wrote Gone with the Wind. The guided tour includes a look at this room as well as a brief film and exhibition on Margaret Mitchell.
9. Have Fun at LEGOLAND Discovery Center Atlanta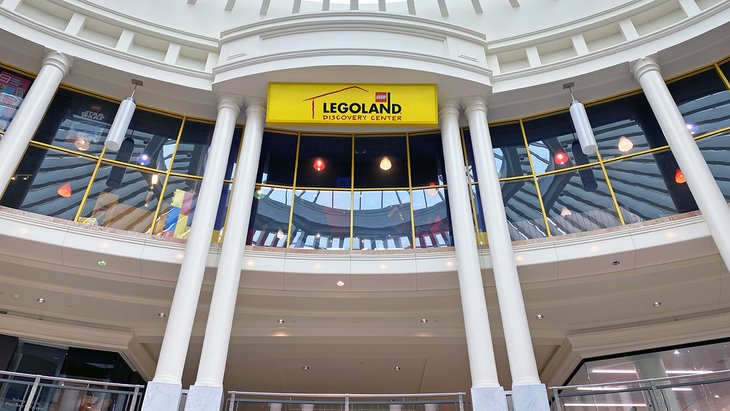 Who doesn't like LEGO? One of the city's top family attractions, the LEGOLAND Discovery Center Atlanta, give fans young and old a great excuse to indulge their passion for these little plastic building blocks.
Located in the high-end Phipps Plaza, a ritzy shopping mall to the north of downtown Atlanta, LEGOLAND Discovery Center Atlanta opened in 2012 and offers plenty of fun activities. Highlights include a LEGO scale model of the city featuring top points of interest, including the Georgia Aquarium and the Fox Theatre, constructed from no less than 1.5 million bricks.
10. Take the Kids to Zoo Atlanta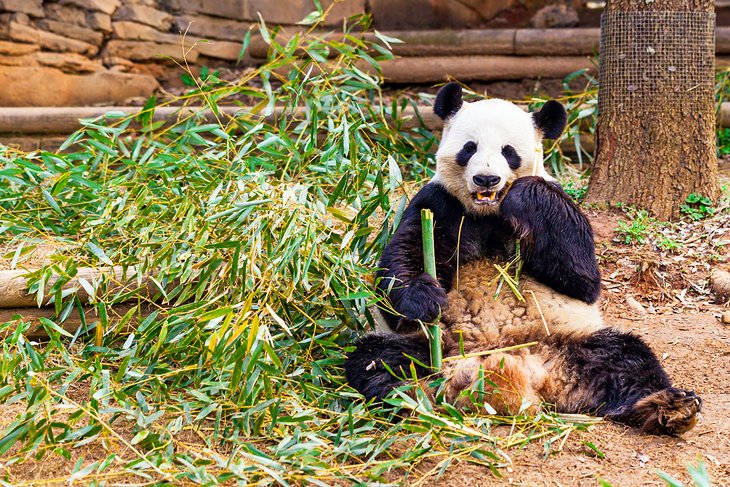 A visit to Zoo Atlanta is another fun family activity to add to your travel itinerary. Founded in 1889, the zoo has, in recent years, undergone a major transformation that has seen it propelled to the top of lists of animal attractions in the USA.
Also known as Atlanta Zoo, its central location in Grant Park makes it easy to get to, with the addition of new parking facilities making for a seamless visitor experience. Among its most popular exhibits are an African rainforest area complete with gorillas and monkeys. Other cute creatures include giant pandas in the Asian rainforest section, as well as an aviary, lemurs, and bears.
11. The Jimmy Carter Presidential Library & Museum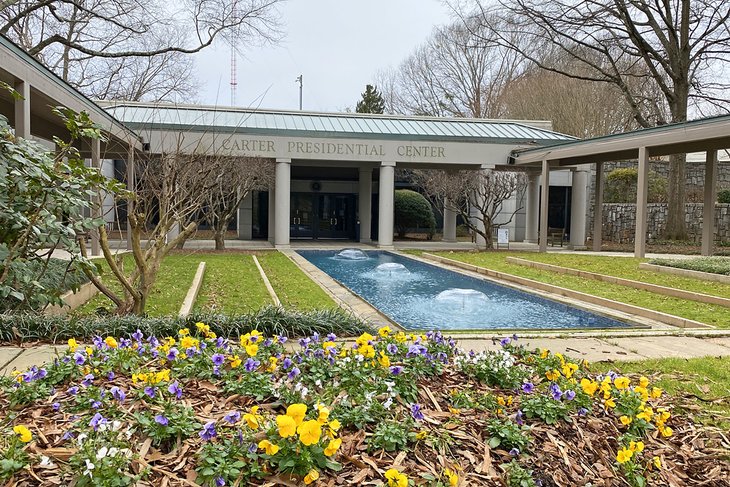 Located in a beautiful park-like setting in the Poncey-Highland neighborhood near Freedom Park, the Jimmy Carter Library and Museum is a must-visit, whatever your political affiliations.
Opened in 1986 and recently renovated, the site is a repository for more than 27 million pages of official papers, as well as large collections of photos and videos related to the 39th US President's tenure. There are also numerous documents and memorabilia related to his personal and family life.
12. High Museum of Art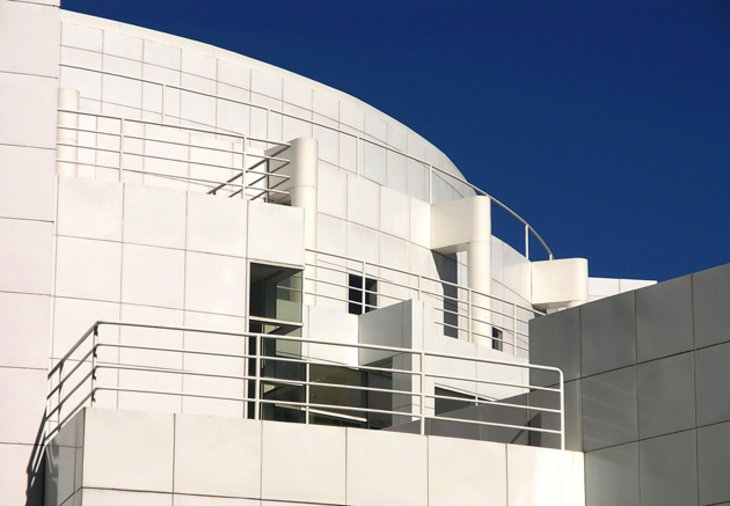 Designed by architect Richard Meier and enlarged with three new buildings designed by Italian architect Renzo Piano, the High Museum of Art is noteworthy both for its architecture and its extraordinary collections of art from the Renaissance to the present day. It is particularly known for its works by 19th-century French masters and an extensive collection of 19th- and 20th-century American art.
13. College Football Hall of Fame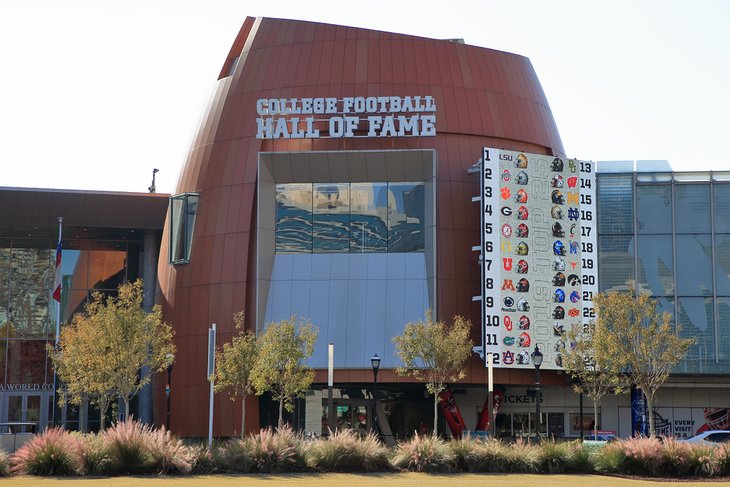 Established in 1951, College Football Hall of Fame is a must-visit for sports enthusiasts when visiting Atlanta. It's located adjacent to Centennial Olympic Park, close to the Georgia Aquarium, ensuring visitors can scratch more than one great attraction off their list with a single visit.
The Hall of Fame's unique football-shaped location only opened in 2014 and features a variety of fun interactive displays and activities suitable for all ages. Almost 100,000 square feet in size, it even includes an indoor football field big enough for kids to run around and blow off some steam.
14. Historic Oakland Cemetery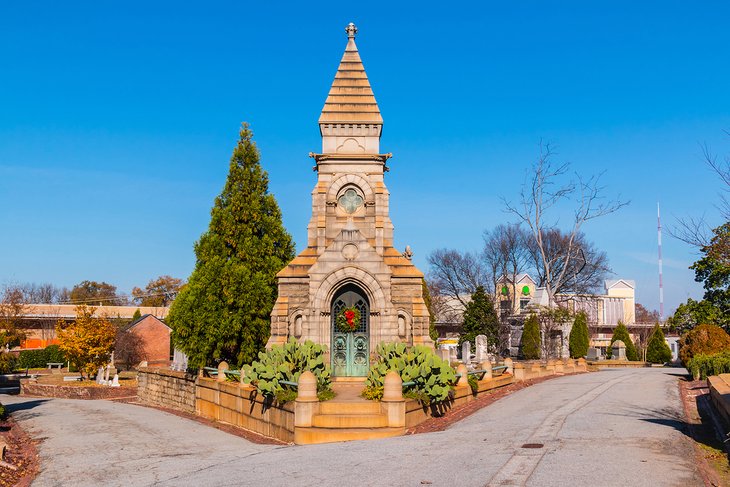 The Historic Oakland Cemetery in Atlanta began as a six-acre burial ground in 1850, and was originally designed as a garden cemetery. Over the years, particularly during the time of the Civil War, the site grew, accommodating those killed on the battlefield.
Eventually the cemetery came to encompass 88 acres, and in 1884 stopped selling plots. In the ensuing years, this once lovely cemetery fell into disrepair, as those tending the plots moved away or died.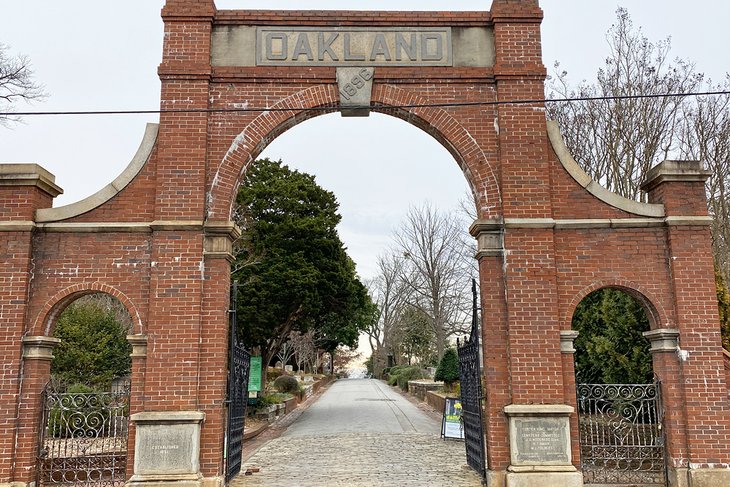 15. Truist Park Tours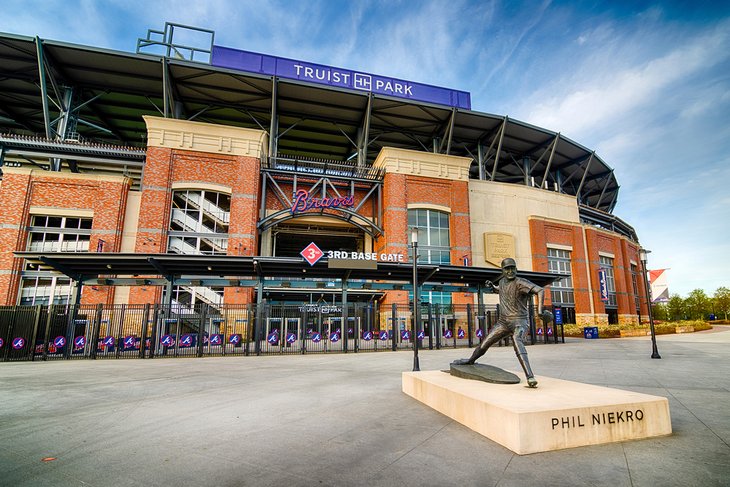 Another must-do for visiting sports fans is taking a tour of Truist Park. Famous as the home of the Atlanta Braves baseball team, this state-of-the-art stadium opened in 2017 and can be visited not only on game days, but as part of a fun tour.
Starting at the Right Field Gate, these must-do tours last around an hour and take in a number of important stadium features. These usually include the press box, some of the VIP lounges and seating, as well as the Monument Garden. Afterwards, be sure to visit the Braves Clubhouse Store for a little souvenir shopping.
16. Fernbank Museum of Natural History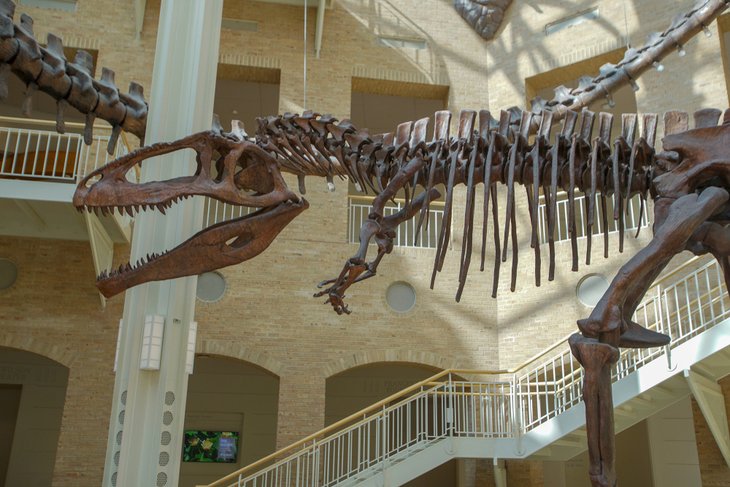 Opened in 1992, the Fernbank Museum of Natural History portrays the nature and environment of Georgia, as well as technical and scientific phenomena with the aid of modern techniques. Some of the most eye-catching exhibits at the museum are the huge dinosaur statues at the entrance and the dinosaur skeletons in the Great Hall.
17. Watch the Dancing Fountains at Centennial Olympic Park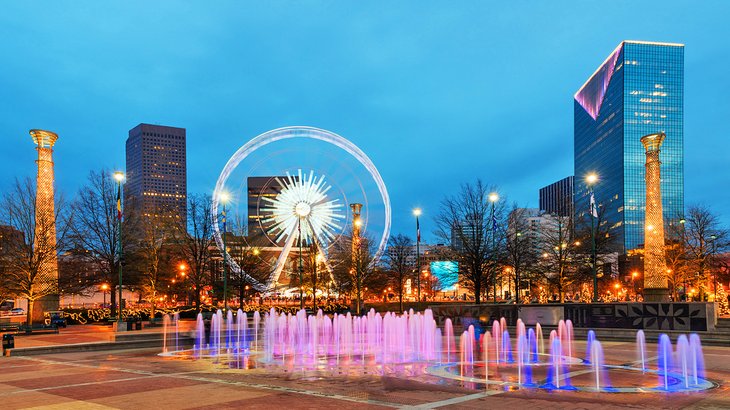 Built for the 1996 Summer Olympic Games, this public park in central Atlanta is located near the Georgia Aquarium and World of Coca Cola. It is the venue for weekly free concerts and for seasonal events, including the Christkindl Christmas Market and the Chinese Lantern Show.
The most popular thing to do in Centennial Olympic Park is watching the dancing fountain, with its choreographed program of water spouts and colored lights set to music. Officially known as the Fountain of Rings, its design is based on the Olympic rings symbol. When it is not "performing," the fountain becomes a splash pad for children to play in. It's also a popular place for joggers to cool off in the summer.
18. Ponce City Market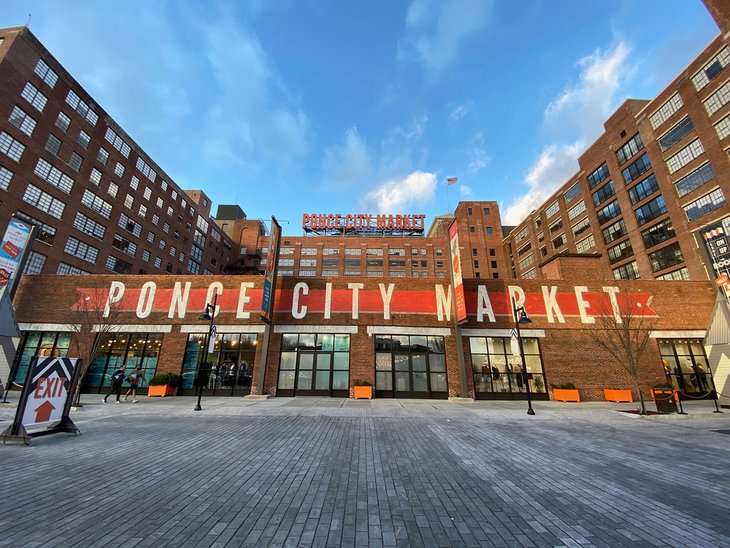 For a change of pace after all that Atlanta sightseeing, head over to Ponce City Market. Set in a former Sears warehouse, this site has been the subject of much urban renewal and redevelopment in recent years, resulting in it becoming one of the city's top shopping and entertainment venues.
In addition to its boutique shops and galleries, the market houses a wide variety of food experiences, from casual cafés to elegant fine-dining restaurants. One of the best places to visit for a coffee or meal is "The Roof." This vast rooftop area features patio seating, event space, and an arcade-style attraction reminiscent of traditional fun fairs.
19. Michael C. Carlos Museum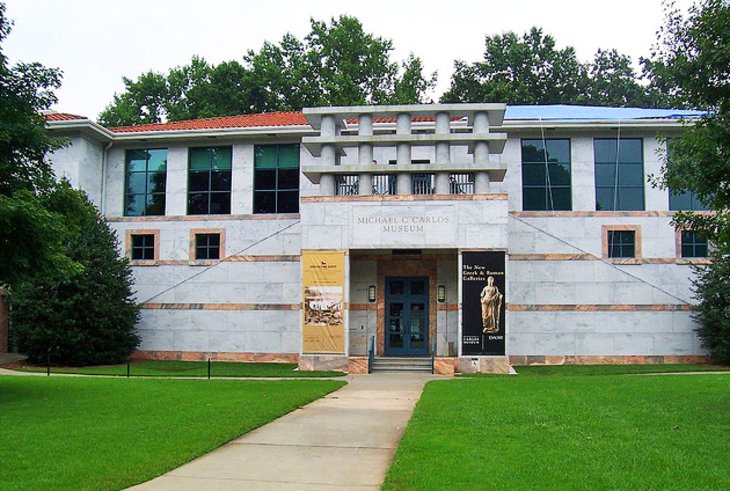 The Michael C. Carlos Museum of Emory University has one of the largest collections of ancient art in the Southeast. Its extensive collection includes 17,000 artifacts from ancient Egypt, the Near East, Greece, Rome, Asia, Africa, and the pre-Columbian Americas. The ancient Egypt exhibits are particularly outstanding.
20. Play Outdoors at Stone Mountain Park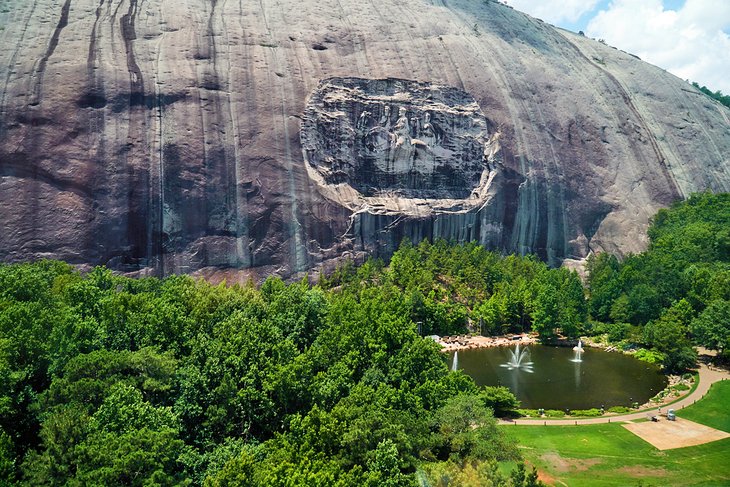 One of the most popular places to visit near Atlanta is Stone Mountain Park, 16 miles east of the city center in DeKalb County. At its center is Stone Mountain, an 863-foot-high mass of exposed granite with a circumference of five miles.
On the east flank of the hill is a now-controversial relief of the three Confederate leaders, President Jefferson Davis and his two generals, Stonewall Jackson and Robert E. Lee, hewn from the rock between 1923 and 1970.
But there is much more to do here. You can climb to the top of the hill or ascend by cable car, and around it runs a 1940s locomotive on a five-mile circuit through the park. There are endurance courses of suspended rope walks and bridges through the treetops, a petting farm for small children, a land/lake tour on a 1940s Army DUKW that includes some local history, a restored antebellum plantation, and a museum with Native American artifacts and exhibits.
21. Center for Puppetry Arts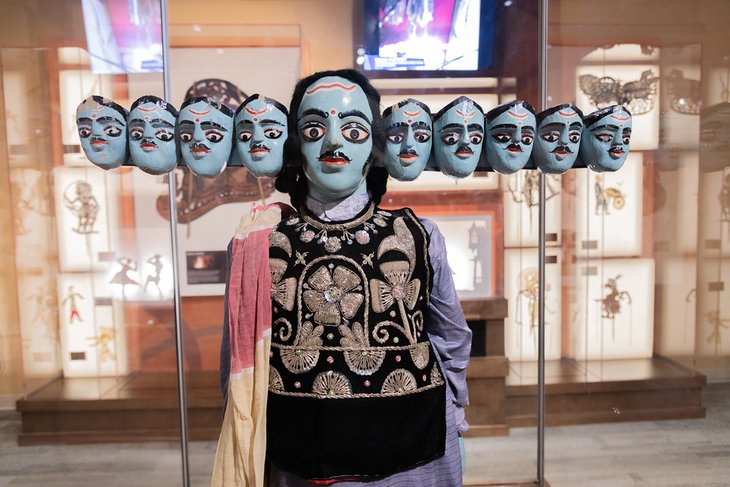 Inviting you to rethink everything you know about puppets, the Center for Puppetry Arts is a hands-on museum with a large collection of puppets from around the world. The Global Collection Gallery traces puppetry through four continents, and through displays as diverse as Chinese hand puppets and African rod puppets, you'll discover the five main types of puppets and learn about some of the world's major puppetry traditions.
The Jim Henson Collection Gallery will delight Sesame Street fans of all ages, with the world's largest collection of Jim Henson puppets, props, and costumes. Many of the puppets from Sesame Street and The Muppet Show are here, along with figures from The Dark Crystal, Labyrinth, and others created by Henson's imaginative mind.
Where to Stay in Atlanta for Sightseeing
For first-time visitors to Atlanta, the downtown area is the best place to stay. Many of the main sights are located here, including Coca Cola World and the Georgia Aquarium. Below is a list of highly rated hotels in convenient locations:
Tips and Tours: How to Make the Most of Your Visit to Atlanta
More Related Articles on PlanetWare.com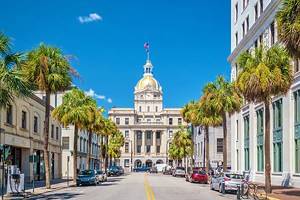 Where to Go near Atlanta: Visitors to Georgia will certainly not want to miss romantic Savannah, with its lovely parks and streets of antebellum homes. Not far north of Savanna is historic Charleston, in South Carolina, where you can also relax on the beautiful sands of Myrtle Beach.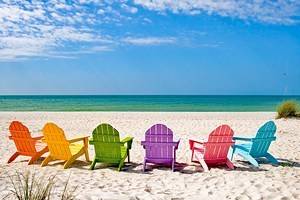 More Places to Visit in the South: To the west of Atlanta and only about three hours by train, Birmingham is in the neighboring state of Alabama. South of Atlanta are the long sandy beaches of Florida; the theme parks of Orlando; and Tampa, with all the beaches and water attractions of the Gulf Coast.