10 Top-Rated Things to Do in Blue Ridge, GA
Widely regarded as one of the best places to visit in North Georgia, the romantic small city of Blue Ridge is as popular to visit by Georgians as it is with out-of-state travelers. First settled in the 1800s as a depot for Georgia's burgeoning railway network, it has taken on a new lease of life as one of the state's most picture-perfect travel destinations.
One of the southernmost settlements in the Appalachian Mountains, Blue Ridge offers no end of fun indoor and outdoor activities. It boasts a variety of unique attractions; vibrant dining and shopping scenes; and spectacular scenery that can be explored on foot, by bike, by car – even by rail.
The city's deep connection to the railroad is hard to miss. Located in the heart of "Rail Town" is its most popular tourist attraction, the Blue Ridge Scenic Railway. Its tracks neatly separate West and East Main Streets, and a vintage caboose now houses the town's visitor center.
Blue Ridge also celebrates its rich cultural history, too. Numerous festivals are held here year-round, from music-themed events like the annual Jazz Festival to a winter film festival. There are also celebrations of local art and artisans, as well as of the region's spectacular fall colors.
To learn more about this fun-to-explore destination, read through our list of the top things to do in Blue Ridge, Georgia.
1. Take a Ride on the Blue Ridge Scenic Railway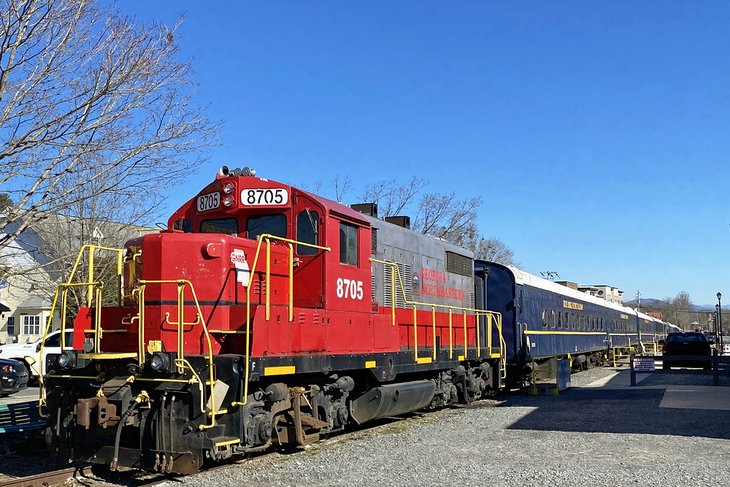 Set smack-bang in the middle of town, the Blue Ridge Scenic Railway is impossible to miss. Attracting close to 80,000 riders every year, this must-ride heritage railway was established in 1998 and travels along a 26-mile stretch of the old Marietta and North Georgia Railroad.
The hour-long outward journey begins at the historic Blue Ridge Depot and follows the Toccoa River to McCaysville, Georgia, and Copperhill in Tennessee. A two-hour break provides ample time to explore these towns before you're picked up for the hour-long ride home again. In addition to pretty river views, you'll enjoy vistas of the surrounding Appalachian Mountains.
For an even more memorable experience, consider booking one of the fun seasonal rail specials. These include a spectacular fall colors excursion, a festive "Holiday Express" Christmas outing, as well as trips during Thanksgiving. You can also upgrade your experience with a "Premier Class" ticket, which includes unlimited soft drinks, sweet treats, and snacks, plus comfy reclining seats.
A new addition to the attraction that's worth checking out enables parties of up to four people to literally peddle a railbike along a 5.5-mile section of the rail line. If visiting in peak season and special occasions, be sure to book this and other rail experiences in advance online to avoid disappointment.
Looking for somewhere unique to stay while enjoying the scenic railway? Consider Blue Ridge Inn, a historic bed and breakfast that was once home to the founder of the original railway. Beautifully restored with many original features, it's just steps away from Blue Ridge Scenic Railway and the excitement of the downtown area.
Address: 241 Depot Street, Blue Ridge, Georgia
Official site: https://brscenic.com
2. Explore Picturesque Downtown Blue Ridge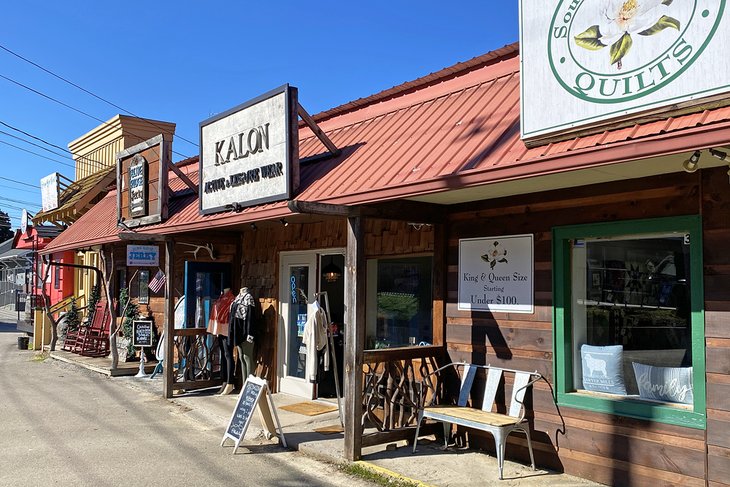 For a community of just 1,200 souls, Downtown Blue Ridge sure offers plenty of fun things to do. Yet despite the fact the city attracts hundreds of thousands of visitors every year, its downtown area hasn't fallen victim to the usual tacky tourist haunts of souvenir shops and junk food.
Instead, both West and East Main Streets have retained their charm, lined as they are with classy fashion boutiques and home décor stores, restaurants, and cafés, as well as craft outlets and antique shops. The well-preserved architecture features mainly red-brick buildings dating from the late 19th and early 20th centuries, with the occasional newer development tending to blend in well.
You'll want to venture to the south end of West Main Street for great photo opportunities that include the town's original courthouse, now home to the Blue Ridge Mountains Arts Association. And just a few yards beyond this, you'll find the excellent Black Sheep Restaurant, which offers superb downtown views from its huge patio.
Official site: www.blueridgemountains.com/things-to-do/mountain-town/downtown-blue-ridge/
3. Enjoy the Great Outdoors in Morganton Point Recreation Area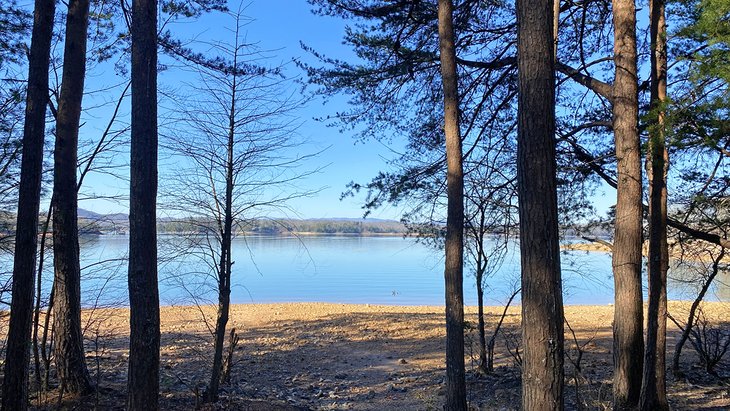 An easy 15-minute drive from the center of Blue Ridge and open year-round, Morganton Point Recreation Area offers a variety of ways to enjoy the great outdoors. Located on the north shore of Blue Ridge Lake, this 3,290-acre site offers plenty of parking and easy access to the water for kayaks, canoes, and paddleboards, all of which can be rented here.
Those bringing motorized watercraft can make use of the paved boat launch, or even rent a fun pontoon boat from Lake Blue Ridge Marina and use it to explore the park's beaches and tree-lined shoreline. It's also a great fishing spot for sunfish, bass, and trout.
Its location within the Chattahoochee National Forest also makes Morganton Point a great place for hikers to base themselves as they explore the area.
Other fun things to do include swimming, picnicking, and barbecues, while a handy store sells snacks, souvenirs, and basic camping supplies. With only 43 campsites available for tents and RVs, try to book ahead in order to secure your spot, especially if you need a site with power and water.
Address: 475 Lake Drive, Morganton, Georgia
Official site: https://gofindoutdoors.org/morganton-point/
4. Visit Blue Ridge Dam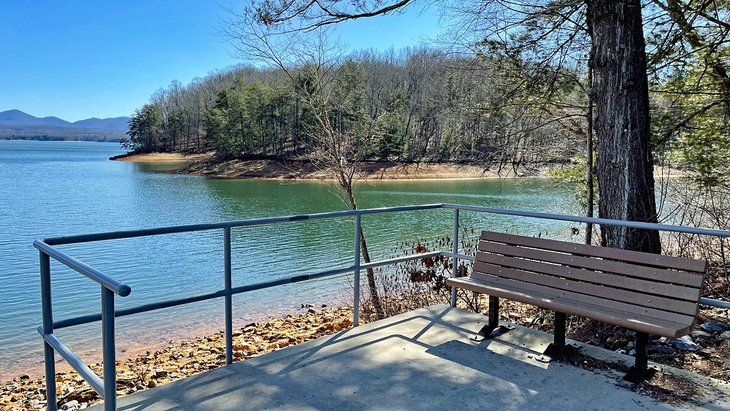 Just five minutes away from Downtown Blue Ridge by car, the drive to Blue Ridge Dam is a must-do. It's a short but scenic route that climbs up into the hills surrounding Lake Blue Ridge, including a section that crosses over the dam itself. Opened in 1931 on the Toccoa River, the building of this large hydroelectric dam led to the creation of Lake Blue Ridge, a 3,300-acre stretch of water now boasting around 60 miles of shoreline.
Stretching 1,553 feet in length and standing 175 feet high, it's certainly an impressive sight. A sizable parking area is provided, with some great views over the dam and lake from a number of dedicated viewpoints. A handful of older abandoned buildings that look out over the lake make for a very scenic backdrop for photographers.
Those wanting to get out onto the water can do so from Morganton Point Recreation Area across the lake, where kayaks and canoes can be rented; or from Lake Blue Ridge Marina, which rents a variety of motorized and non-motorized watercraft. If you're bringing your own boat, a number of boat ramps are also available.
Location: Off Old US Hwy 76, Blue Ridge, Georgia
Official site: www.tva.com/energy/our-power-system/hydroelectric/blue-ridge
5. Pick Your Own Fruit & Adventures at Mercier Orchards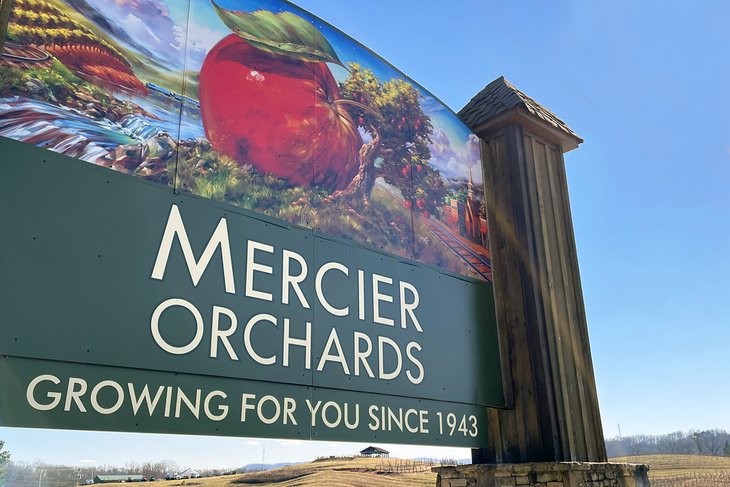 Those wanting to sample the Blue Ridge area's bountiful annual fruit harvest would do well to visit Mercier Orchards. Established in 1943 and owned and operated by the same family ever since, this 300-acre orchard has become something of a staple for tourists and locals alike.
Set in rolling countryside just three miles from the city center, Mercier Orchards not only sells its home-grown produce in its large retail outlet, it also provides pick-your-own experiences, too, including blueberries, strawberries, peaches, and apples. These family-friendly outings include a tractor ride through the orchards, as well as instruction on the best picking techniques. For those wanting to make a day of it, picnic boxes can also be ordered.
If you're just wanting a visit, the farm opens up its orchards on weekends and other special occasions for a pleasant orchard stroll. Catch-and-release fishing on the property's ponds can also be enjoyed. There's also a bakery and café located on-site, which sell a variety of sweet treats, including their popular fried pies. Their on-site store sells other food items, including locally produced jams and honey, as well as souvenirs.
Address: 8660 Blue Ridge Drive, Blue Ridge, Georgia
Official site: https://mercier-orchards.com
6. View the Work of Local Artists at the Blue Ridge Arts Center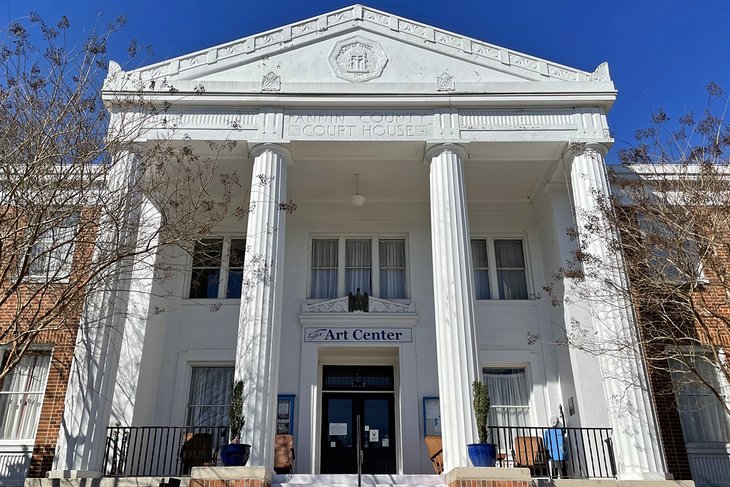 Set in the original Fannin County Courthouse, an attractive structure dating from the late 1930s, a visit to the Blue Ridge Arts Center on West Main Street is time well spent. Admission is free, and the friendly, helpful volunteers and staff of the Blue Ridge Mountains Arts Association are happy to offer information on exhibits and events.
In addition to rotating exhibits featuring the work of local artists, the facility also offers an impressive array of learning opportunities, including workshops, lectures, and events. Featured disciplines include everything from watercolors to photography, quilting to sculpture, pretty much any endeavor, in fact, that encourages creativity. Studios and rehearsal spaces are also available.
Be sure to check the group's website before visiting Blue Ridge in order to try and catch one of the art group's popular outdoor events. These include a concert series along with the popular "Arts in the Park" events featuring vendors and artisans from across the region.
Address: 420 W Main Street, Blue Ridge, Georgia
Official site: www.blueridgearts.net
7. Step Back in Time with the Fannin County Heritage Foundation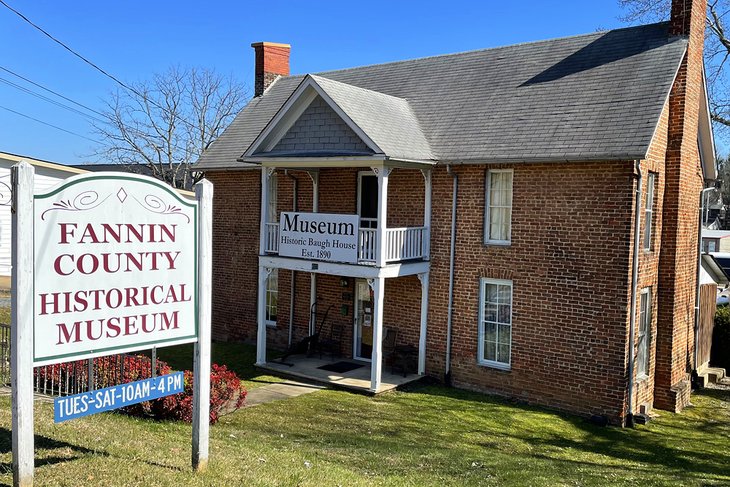 Set in a former 19th-century home, just a few blocks from the downtown core, the Fannin County Heritage Foundation features a variety of interesting exhibits relating to the region's rich history. Established in 1986, exhibits and displays describe significant local events and the people behind them, providing a fascinating insight into the city's development as a railroad town and beyond.
Artifacts in its collections include antique textiles and clothing, as well as memorabilia from the pre-railroad days, when the area had to be reached by stagecoach. A genealogical library is available for those interested in tracing any family connections to the region, as well as a research library for those wanting to dig a little deeper into its history.
The foundation also operates Baugh House Museum, an attractive red-brick home built from clay dug from its own backyard.
Address: 411 W. 1st Street, Blue Ridge, Georgia
8. EXPEDITION:BIGFOOT! The Sasquatch Museum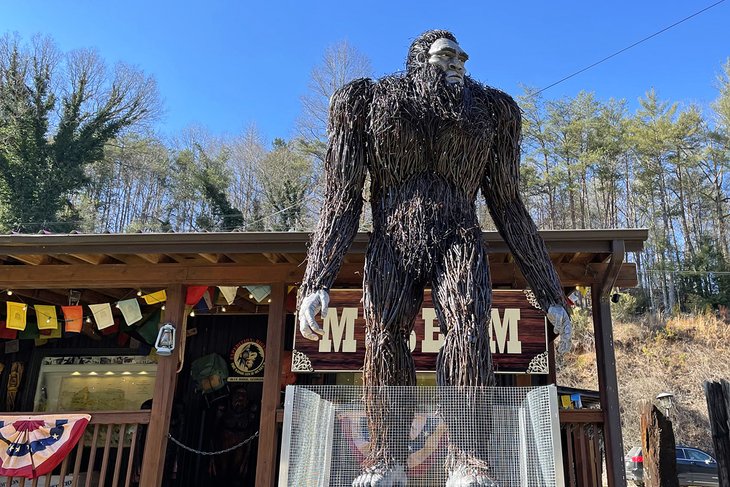 EXPEDITION:BIGFOOT! The Sasquatch Museum is a must-visit for anyone with even the slightest of interest in this fabled creature. And you won't miss it: just look for the life-size metal incarnation of Bigfoot himself that stands outside the attraction.
Billed as the USA's largest collection of authentic Bigfoot artifacts, this fascinating 4,000-square-foot museum also features numerous photos and drawings related to sightings of the elusive ape-like creature. You'll also see a unique research vehicle on display, as well as film "evidence" purported to prove its existence.
It's a fun experience, whatever you might think of the validity of the research material provided. There's also a gift shop on the premises. And don't forget to grab a photo of that steel Bigfoot out front; if you run into the real thing, you'll know what to look for.
Address: 1934 GA-515, Blue Ridge, Georgia
Official site: www.expeditionbigfoot.com
9. Historic Mineral Bluff Depot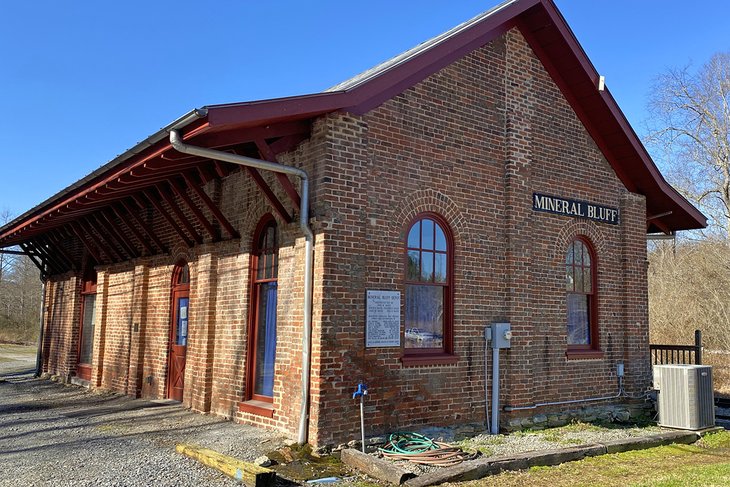 Another railroad-related attraction worth visiting, Historic Mineral Bluff Depot is located 15 minutes' drive northeast of Blue Ridge. Newly added to the USA's National Register of Historic Places, this well-maintained red-brick building was constructed in 1887 and served as a depot for the now defunct Marietta and North Georgia Railroad. At one time, it was connected directly by rail to the Blue Ridge Depot.
The building is also notable for housing an excellent scale model of the old railway lines that operated across North Georgia. The same group who instigated the preservation of the historic depot also organize occasional rail experiences, including a five-mile ride aboard a railroad motorcar. A railroad hand car is also used from time to time, too.
Address: 150 Railroad Ave., Mineral Bluff, Georgia
Official site: https://tsmri.org
10. Take a Drive to Blairsville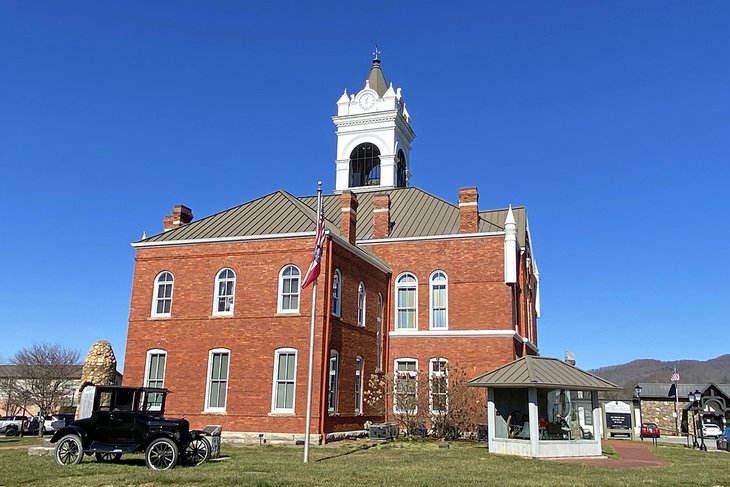 Located midway between Blue Ridge and the equally popular tourist town of Helen, the tiny city of Blairsville makes for an excellent North Georgia excursion. The drive itself is a pretty one, and includes a section of the Georgia Scenic Byway. It's so nice, in fact, that you'll be tempted to follow it all the way from Blue Ridge to Helen.
If you do, be sure to stop and explore Blairsville. This small community of just 700 or so citizens is blessed with what could well be the most attractive city square in the state, adorned as it is with the attractive red-brick Union County Historical Courthouse.
Built in 1899 and carefully restored to its original splendor, the building features displays and artifacts relating to the city's history. A concert series is also hosted here. The Union County Historical Society also takes care of a number of other historic properties, including the 1906 Grapelle Butt Mock House and the John Payne Cabin dating from 1861.
While you're in Blairsville, you may want to make a day of it and visit a few other nearby attractions. Topping the list are Basstown Bald, a recreation area boasting an extensive 80-mile trail network; Vogel State Park, with its picturesque waterfalls; and 4,180-acre Lake Nottely, a popular place to visit for boating, fishing, and hiking.
Address: 1 Town Square, Blairsville, Georgia
Official site: www.unioncountyhistory.org
Blue Ridge, GA - Climate Chart
Average minimum and maximum temperatures for Blue Ridge, GA in °C
J
F
M
A
M
J
J
A
S
O
N
D

9

-3

12

-2

16

2

22

5

26

10

29

14

31

18

31

17

27

13

22

6

17

2

12

-2

PlanetWare.com
Average monthly precipitation totals for Blue Ridge, GA in mm.

147

139

163

126

127

116

137

121

115

83

127

127

Average monthly snowfall totals for Blue Ridge, GA in cm.

4

4

2

0

0

0

0

0

0

0

0

1
Average minimum and maximum temperatures for Blue Ridge, GA in °F
J
F
M
A
M
J
J
A
S
O
N
D

49

26

54

28

61

35

71

41

78

50

84

58

88

64

87

63

81

56

72

43

62

36

53

29

PlanetWare.com
Average monthly precipitation totals for Blue Ridge, GA in inches.

5.8

5.5

6.4

4.9

5.0

4.6

5.4

4.8

4.5

3.3

5.0

5.0

Average monthly snowfall totals for Blue Ridge, GA in inches.

1.5

1.5

0.7

0

0

0

0

0

0

0

0.1

0.5