14 Top-Rated Weekend Getaways from Atlanta, GA
Whether it's fresh mountain air you crave or a cool sea breeze, there are a myriad of places to choose from when looking for a weekend getaway from Atlanta. Within just an hour or two drive, you'll find yourself getting a taste for everything from dramatic mountain scenery and beautiful stretches of coastline to charming old towns offering a taste of authentic Southern hospitality.
Pack your bags and head out of town for a quick family trip, a romantic couple's escape, or a personal retreat for some quality alone time.
Find fun places to visit in Georgia with our list of great weekend getaways from Atlanta.
1. Augusta, Georgia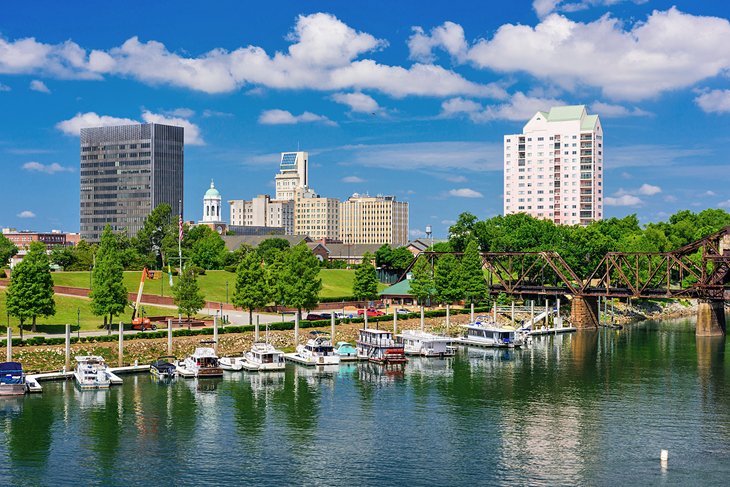 Escaping the hustle and bustle of Atlanta is easy. Pack the car and head east on Route 20, and you can reach the city of Augusta in about two and a half hours. Here, you will find the world-famous Augusta National Golf Course. If golfing isn't your passion, don't worry, this city offers plenty of other activities for a weekend getaway.
Take one of the city's historic tours and learn about the area's rich history and culture. The Trolley Tour or the Black History Tour are two options. Both of them take in iconic landmarks like the James Brown statue, the James Brown Arena, and the downtown murals of the "Godfather of Soul."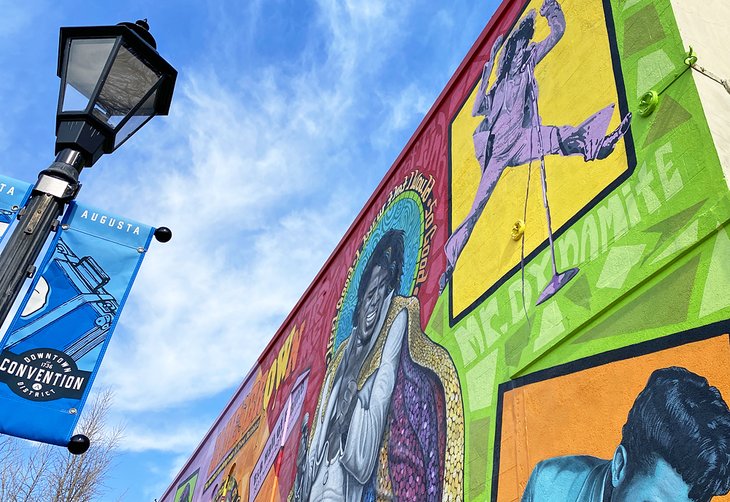 For those seeking adventure, you can go paddleboarding or rent a mountain bike and head to the Forks Area Trail System, where you can ride the 34 miles of wooded trails. After working up an appetite, head downtown where a range of choices awaits. You can sample flavors that span the globe from Italy to Mexico.
On Friday evenings, walk through the local galleries and explore during their First Fridays celebration. The 115-room Hyatt Place offers good value for visitors to Augusta and is conveniently located for easy access to attractions. After a day of touring, relax by the outdoor pool and enjoy a meal at one of the city's many great restaurants.
2. Greenville, South Carolina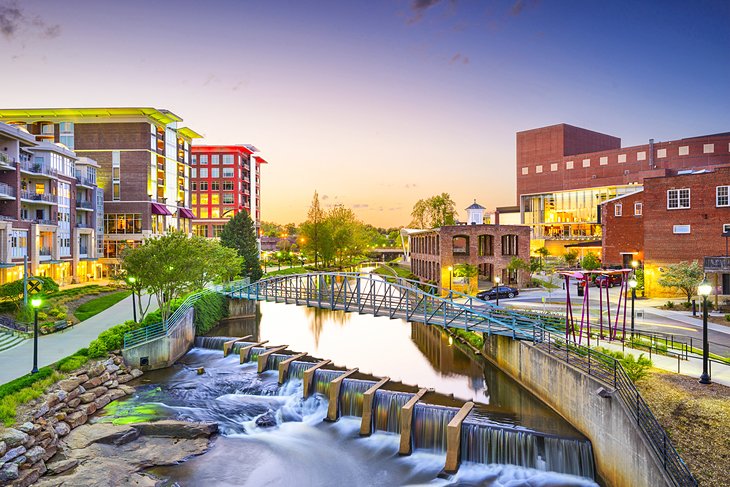 Your weekend getaway from Atlanta can easily cross state lines. About 2.5 hours away lies South Carolina's Greenville. Renting a bike through Reedy Ride is a great way to explore. Head to the Swamp Rabbit Trail and ride through downtown Greenville making stops at some of the unique shops along the way.
Farmers markets are always a great way to test the pulse of a city, and the TD Saturday Market allows visitors to shop like a local, grab some fresh fruits and veggies and other homegrown fare, and have a picnic before traveling farther to the Cottage Grove Vintage Market. Further exploring can take you to Fells Park, where you can test your balance on a suspension bridge and enjoy waterfalls below.
After a day of exploring, the Hampton Inn and Suites Greenville - Downtown - Riverplace is a great spot to finish off an adventure-packed day. The rooms are spacious, the location is prime, and the hospitality is amazing. Be sure to ask for one of the rooms that overlook the Reedy River
3. Chattanooga, Tennessee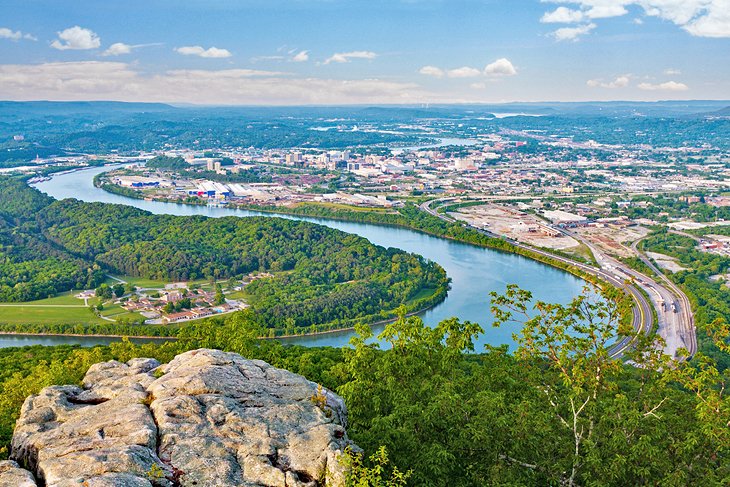 Just a two-hour drive from Atlanta is Chattanooga. This eclectic city is filled with southern charm and hospitality, making it an exciting weekend destination. It always feels a bit more like a getaway when you cross into another state. You can visit one of the world-class museums, like the Hunter Museum of American Art, or check out a concert at Finley Stadium.
If you're traveling with your family, you can explore the Creative Discovery Museum or the Tennessee Aquarium. One of the most popular places to go is the Tennessee Riverpark, where you can fish, canoe, boat, or just walk around the trails and enjoy spectacular views of the river.
For exploring the city, the Hampton Inn & Suites Chattanooga / Downtown is in a great location, within walking distance to the Tennessee River and many attractions.
4. Savannah, Georgia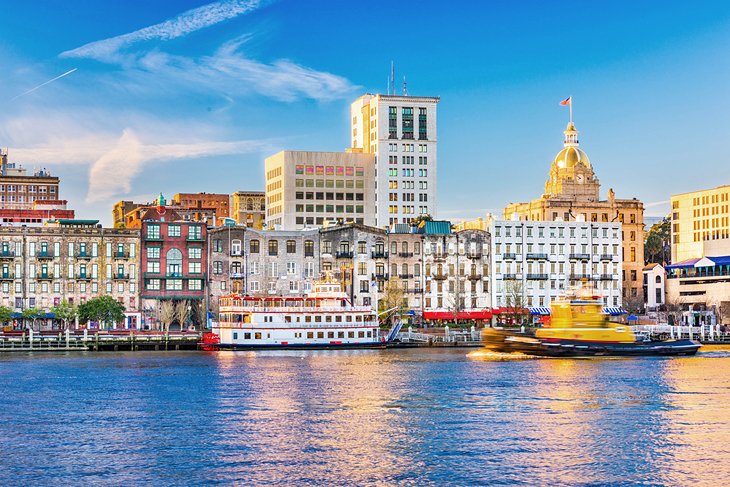 Just a 3.5-hour drive or short flight from Atlanta, a visit to Savannah will transport you to a different world. This beautiful city is full of history, charm, and romance, its elegant parks and perfectly preserved architecture making it a great place to explore on foot. Its historic squares are an excellent place to stroll and experience what Southern living is all about, and offer a unique glimpse into the past.
Dotted throughout the city is a bevy of green space. Take a walk through Forsyth Park with its picturesque fountain and paths covered by Spanish moss. Savannah also boasts many world-class restaurants, vibrant entertainment venues, and plenty of things to do.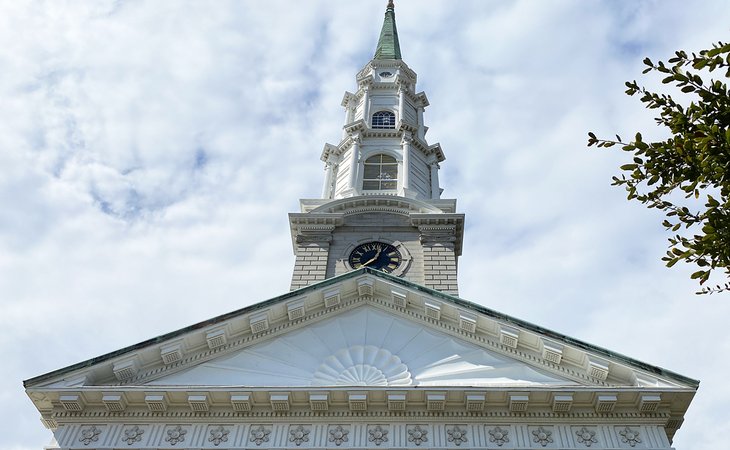 The central historic district is where you'll find many other great places to stay, along with many of the best restaurants.
The city has the added bonus of being close to the beach. Just a short drive away and you'll find yourself at Tybee Island for a good dose of "vitamin sea."
Accommodation: Top-Rated Resorts in Savannah
5. St. Simons Island, Georgia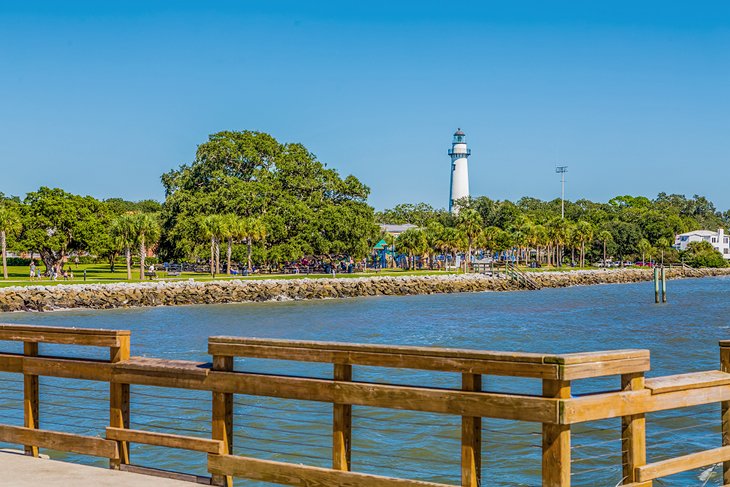 The Golden Isles' largest barrier island, St. Simons Island, is one of those places with magical light. From sunrise to sunset, it captivates and enchants visitors and makes for a perfect romantic getaway.
Highlights of a visit include exploring the island's lighthouse, which has been in operation since 1872. Choosing between a round of golf, deep sea fishing, kayaking, or simply lounging about on the beach make for tough choices for the day's activities. Whatever you choose to do, be sure to bring your camera, as the tidewater estuaries make great photo ops. And set some time aside to visit the Georgia Sea Turtle Center, a hands-on learning center focused on conservation.
For accommodations, check out the Ocean Lodge Hotel. The rooftop restaurant has spectacular views over the ocean, and the facilities are top-notch. It's across the street from the Atlantic Ocean, so there will be plenty of beach time. The complimentary bikes are a great way to explore this charming island.
6. Columbus, Georgia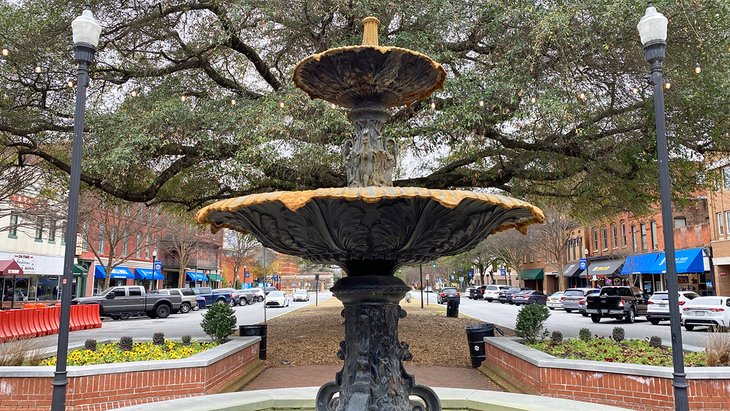 An easy 90-minute drive south of Atlanta along the I85, the city of Columbus makes for a great weekend getaway from Atlanta. Widely regarded as one of the most pedestrian- and bike-friendly cities in Georgia, Columbus is extremely easy to get around, So park the car, and get out and walk – or bike.
The focal point for fun and outdoor adventures is the Chattahoochee RiverWalk. This well-maintained brick and concrete path follows the Chattahoochee River for a distance of some 15 miles, making it extremely easy for cyclists and walkers to get about. Along the way, you'll find world-class museums and art galleries, excellent dining opportunities, as well as outdoor adventures.
As it passes through Columbus the Chattahoochee passes over a series of rapids that provide fun adventures for rafters and kayakers, not to mention for onlookers watching them tackle these river obstacles. Add to this mix zipline adventures and the gentler pursuit of tubing, and you'll not easily get bored.
Those wanting to spend a day cycling or hiking can follow this excellent trail all the way south to the Fort Benning military base. Here, you can visit the excellent National Infantry Museum, as well as Historic Westville with its faithful depiction of an early 1800s antebellum village. A great place to stay that also just so happens to be located on the RiverWalk, City Mills Hotel features boutique-style accommodations in a former flour mill.
Read More: Top-Rated Things to Do in Columbus, GA
7. Pine Mountain, Georgia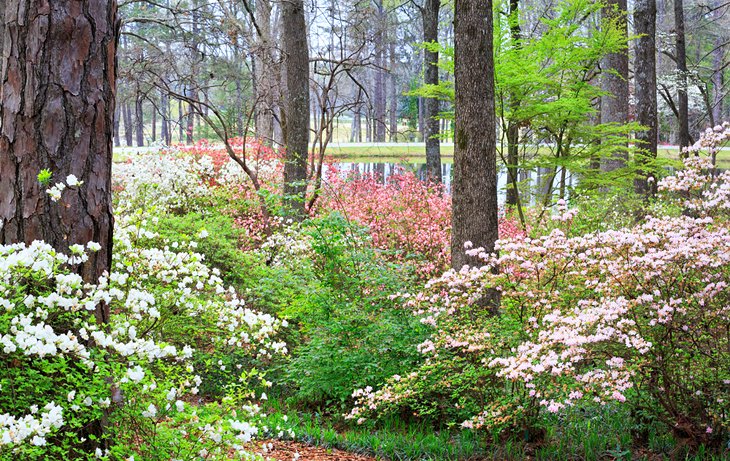 For a peaceful weekend getaway that's less than an hour's drive south of Atlanta, consider Pine Mountain.
Don't let the whispering pines fool you, however, as there are still plenty of things to do. If you want to explore the trails, take a horseback tour at Roosevelt Stables. The Wild Animal Safari is not to be missed.
Visitors can get a historical overview at the Chipley Historical Center. Afterwards, head to Callaway Gardens to view the beautiful florals and walk among the butterflies and stunning stone chapels.
8. Hilton Head Island, SC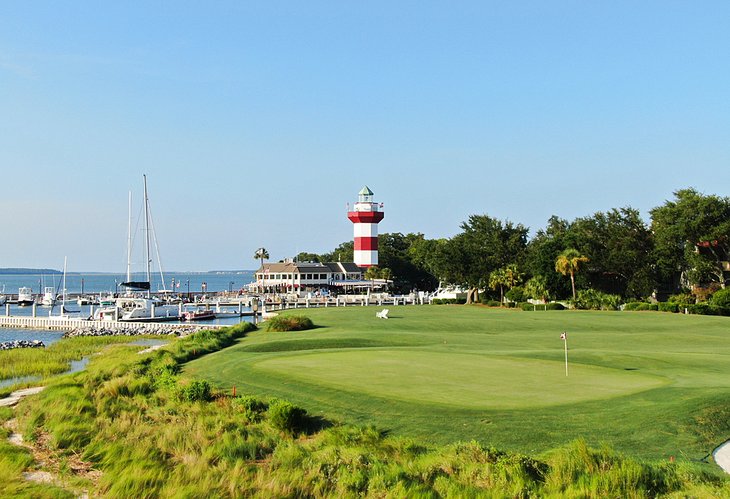 Located on South Carolina's southernmost tip, Hilton Head Island is about four hours from Atlanta by car and an hour and a half by air, making it the perfect place for a nice long weekend. The island is known not only for its 12 miles of sandy beaches but also its extensive bicycle trails, nature preserves, historic sites, and shopping. Visitors can also find an extensive variety of fishing and sightseeing cruises, as well as private charters.
The most popular beach is at Coligny Beach Park, a beautiful space equipped with shady gazebos, swing chairs, and even Wi-Fi. This beach, as well as many others, has a wooden boardwalk and wheelchair accessible paths to the water. Nearby Coligny Plaza is full of restaurants, cafés, and shops. Parking is typically free, and a trolley system connects the major parking centers with the most popular beaches and tourist areas.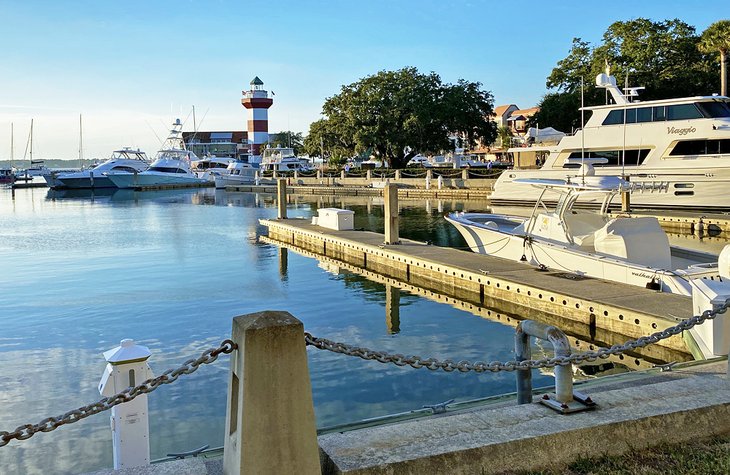 Tourists will want to make time to visit the Harbour Town Lighthouse, also home to a maritime museum, which is located in the Sea Pines Resort area on the southern end of the island. This upscale district is home to high-end shops and boutiques, as well as a marina, 18-hole golf course, and the Coastal Discovery Museum.
Other Hilton Head Island attractions include the Pinckney Island National Wildlife Refuge, Daufuskie Island (accessible via ferry), and the Stoney-Baynard Plantation.
Accommodation: Top-Rated Beach Resorts in Hilton Head, SC
9. Tybee Island, Georgia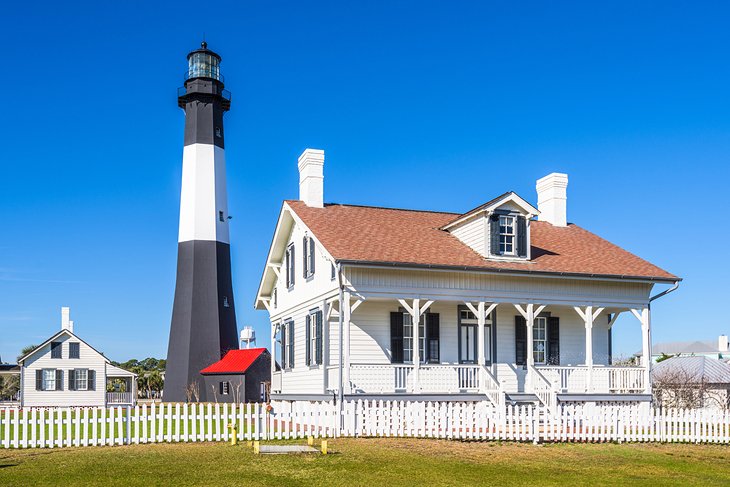 If you crave a beach vacation but are stuck in "Hotlanta," don't stress. Tybee Island is a great place to escape and relax with some surf and sand, and it's an easy 30 minutes' drive from historic downtown Savannah.
Vacationers from Georgia have been visiting the island since the 1800s. You can get to Tybee Island from Atlanta a few different ways. Driving will take you about four and a half hours, the bus will take you five, or you can hop on a quick flight to Savannah and take the short drive to the island.
Once you get here, head to the beach. If you want a less crowded beach, head to Mid Beach. If you want to be close to lodging, restaurants, and entertainment venues, South Beach is for you.
Located next to the Tybee Island Marine Science Center is the Hotel Tybee. Enjoy the natural beauty of the island from the white-sand beaches along with the Tybee Pier and Pavilion just a short walk from the hotel.
10. Stone Mountain Park, Georgia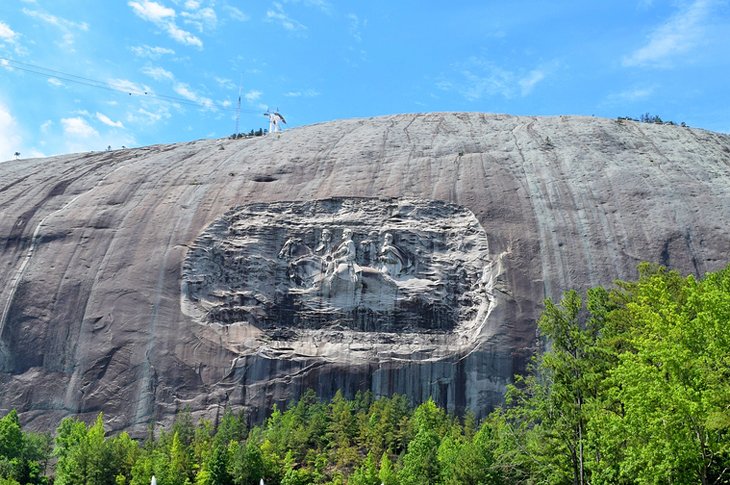 Located only 20 minutes from Atlanta, Stone Mountain seems a world away. This great family getaway is centered around Stone Mountain Park and is named for the gigantic rock in the center of the action. The rock's surface is carved as a monument to the Confederacy, featuring Jefferson Davis and Generals Robert E. Lee and Stonewall Jackson.
The evening laser show is a spectacular hit with kids and adults alike. There's golf, a granite museum, and Summit Skyride cable car leading to the peak. Historic buildings from the late 1700s make up the square and there is water tubing, which is enjoyed by all when the temperatures start to rise.
11. Asheville, North Carolina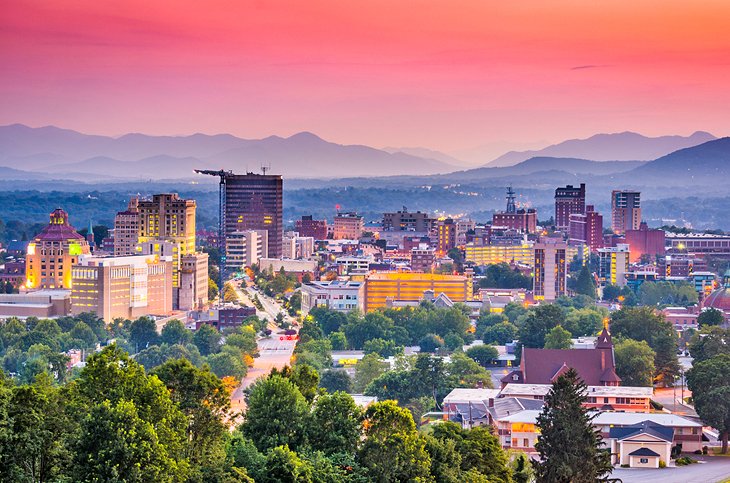 Asheville represents everything you could want in a weekend getaway. This fun and quirky North Carolina mountain town is home to world-class festivals, restaurants, and unique shops.
No trip to Asheville is complete without a stop at the Biltmore. This 250-room mansion is America's largest private home, and each year over a million visitors pass through the doors. While you are here, stop by the Bistro for a bite to eat.
Walk around downtown to take in the beautiful views and some quality street performances or browse the independent shops and galleries and try some of the best restaurants in the south. You will leave feeling rested and recharged from all that fresh mountain air.
The Princess Anne Hotel offers a boutique feel in a quiet section of Asheville. Walking distance to the downtown area and free parking and Wi-Fi are a plus. Rooms feature kitchenettes, which can be a great money saver, and breakfast is included.
Read More: Best Attractions & Places to Visit in Asheville, NC
12. Toccoa, Georgia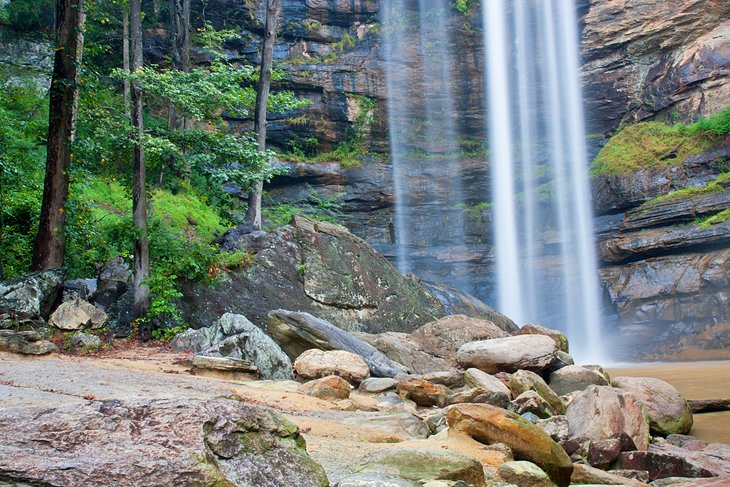 There are many waterfalls worthy of a visit in North Georgia, but Toccoa Falls is one of the most spectacular. Surprisingly, at 186 feet, it's actually taller than Niagara Falls, and as a result draws many visitors each year. The town of Toccoa makes for a great weekend getaway, as it's less than an hour away from the city. There are many hiking trails in the area, as well as additional falls.
The award-winning downtown is home to unusual shops, art galleries, and historic buildings. Stop by the historic courthouse square to see the newly renovated courthouse building. Take a walk across the street to the Cornerstone Antique Market. Don't forget to stop by the Currahee Military Museum to learn about the first paratrooper camp in the US located in Toccoa.
If you want to explore more than the falls, head to Paul Anderson Memorial Park, a pretty spot that pays tribute to the world's strongest man. The Country Hearth Inn is a simple spot for your getaway stay. Rooms have a microwave and fridge, and guests appreciate the free Wi-Fi and included breakfast.
13. Lake Oconee, Georgia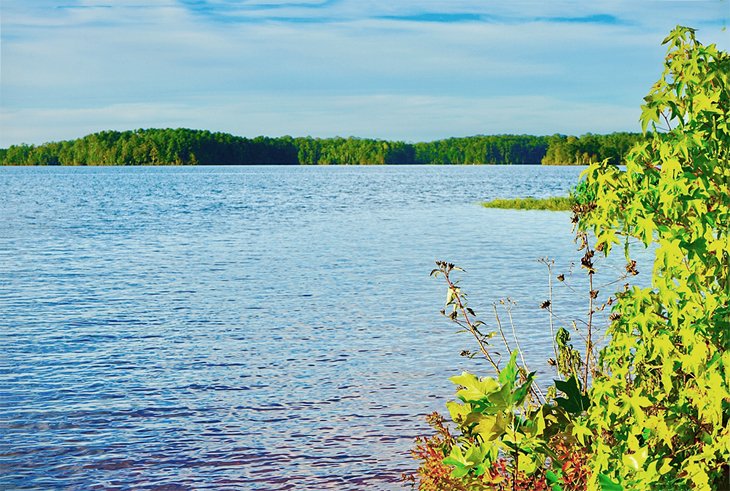 This reservoir is a popular spot for Atlanta residents to visit, escape the city, and recharge. Lake Oconee is about 80 miles from Atlanta.
If adventure is what you crave, head down to Oconee Wild Watersports and rent a Jet Ski or boat to explore the lake. There are also a few golf courses to choose from nearby, like the Great Waters Golf Course. Car buffs can explore the collection of antique automobiles at Memory Lane Classic Cars.
Book a stay at The Ritz-Carlton Reynolds, Lake Oconee to be wrapped in luxury. The lakefront property confirms why the Ritz is known for legendary service. Fish, golf, or have a spa day without leaving the property.
14. Barnsley Resort, Adairsville, Georgia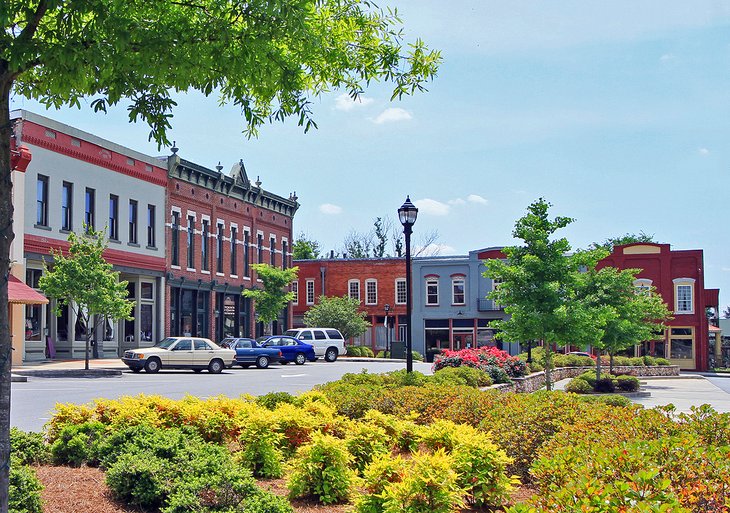 Sometimes, the resort is the destination, as is the case with the Barnsley Resort in Adairsville. Guests can choose one of the freestanding cottages or a guest room or suite at the inn. Either way, this English-inspired haven is sure to please. With over 3,000 acres in North Georgia, this resort offers the outdoor aficionado a nature-filled retreat.
There are so many options to choose from, based on your interests. You can go golfing, horseback riding, shooting, or hiking. If you would rather take the relaxation track, make an appointment at their world-class spa. After a long day of exploring, you can grab a bite to eat at the Woodlands Grill or Rice House. The Barnsley Resort is only an hour and a half from Atlanta and is truly a genuine place for a weekend escape.
Map of Weekend Getaways from Atlanta, GA