9 Top-Rated Things to Do in Ellijay, GA
Although officially designated as a city, Ellijay in North Georgia is, at heart, every inch a small town. Yet while its year-round population measures just over 1,700 souls, the warmer months see the arrival of many seasonal visitors who swell this number substantially.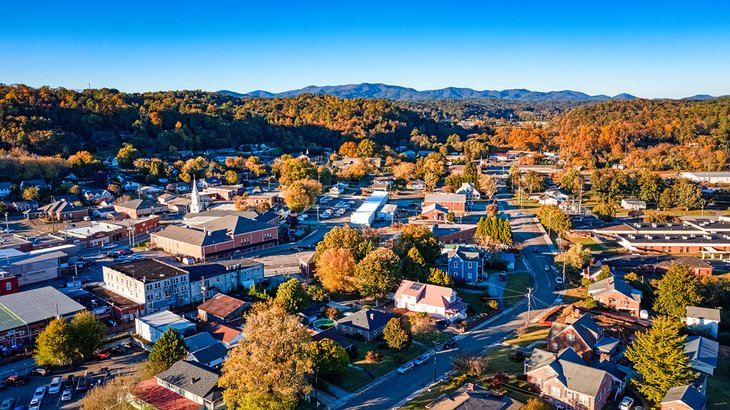 Just a 90-minute drive north of Atlanta, Ellijay's location on the edge of the Georgia Mountains has led to its rising popularity, not just as a place to spend the summer in a cabin, but also as a day trip or weekend getaway destination. Its position on the confluence of the Cartecay and Ellijay Rivers makes it an ideal spot for white water rafting and kayak adventures, as well as much gentler river tubing experiences.
The surrounding hills have also been a big draw for mountain bikers, with plentiful trails leading to Ellijay's growing reputation as the "Mountain Biking capital of Georgia." These same hills burst into a beautiful display of color come fall, making it a great time to hike or take a scenic country drive. Come October, the crowds arrive in droves for the annual Georgia Apple Festival.
Add to this a variety of fun cultural and entertainment attractions, and you'll find no end of great places to visit at any time of year. Narrow your options with our list of fun things to do in Ellijay, Georgia.
1. Visit during the Georgia Apple Festival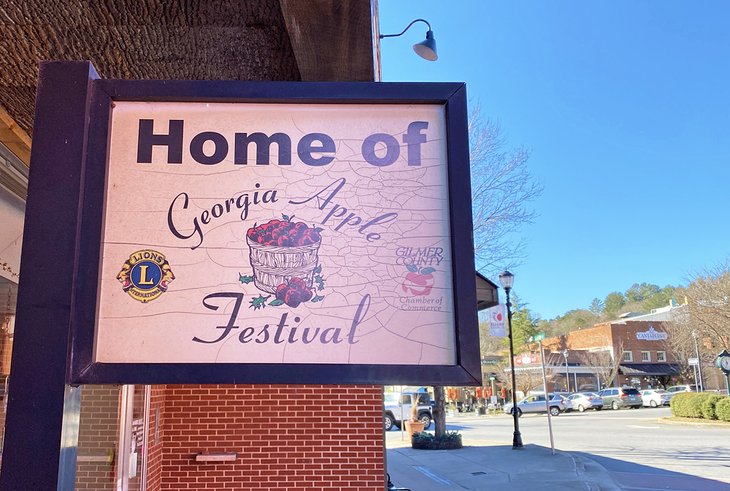 Since its establishment in 1971, the Georgia Apple Festival has celebrated Ellijay's importance as one of the state's leading agricultural regions. Indeed, drive into the city along Highway 52, and you'll pass countless orchards, big and small, selling related produce. It's for this reason that Ellijay is known as the "Apple Capital of Georgia."
Held over two weekends in October at the Ellijay Lions Club Fairgrounds, the Georgia Apple Festival features over 300 arts and crafts vendors, a vintage car show, live music and entertainment, as well apple-inspired food offerings. A celebration highlight is watching the large parade through Ellijay.
The festival also provides a great excuse to get out and about in your car and explore the surrounding countryside. Many of the orchards themselves offer fun things to do during the festival, from fruit picking to wagon rides.
It's worth noting, however, that the roads around Ellijay do get congested during the event, as some 20,000 visitors a day flock here from across the state, and out of state. Parking is tight, and plenty of patience is required. A good solution is to make use of the "parking by donation" options made available at local schools and other amenities.
Address: 1729 S Main Street, Ellijay, Georgia
Official site: www.georgiaapplefestival.org
2. Enjoy a Romantic Break in Downtown Ellijay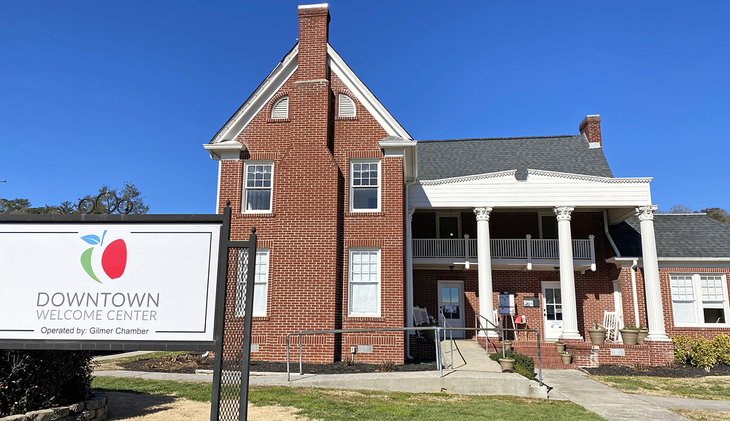 As much fun as it can be to visit Ellijay during the apple festival, it's generally a lot quieter in the shoulder seasons and on weekdays. These crowd-free periods are great times to delve deeper into the many great places to visit in picturesque downtown Ellijay.
Despite its popularity as a tourist destination, Ellijay has managed to remain unspoiled, its original red-brick shops now home to classy clothing boutiques, art galleries, and home décor stores. There are also some great cafés and restaurants worth visiting, including the Ellijay Coffeehouse, for its delicious breakfast sandwiches, and Emily's Restaurant, for lunch or dinner.
You'll also find visit-worthy attractions here, too. These include the fascinating historical exhibits at Tabor House and Civil War Museum, the Gilmer Arts Playhouse, and Gilmer Arts Center with its displays of artwork created by local artists.
Be sure to pop into the Downtown Welcome Center to gather info related to sightseeing and shopping experiences. And for superb views over the downtown, take the time to walk up the hill to Ellijay Cemetery.
Those wanting to make a romantic weekend break of it couldn't do much better than booking a night or two stay at Ellijay River House Bed & Breakfast. Just a few minutes' walk from the town center, this classy red-brick bed and breakfast features luxurious rooms, delicious homemade bedtime treats, and what's quite possibly the best breakfast in Georgia. Be sure to spend time enjoy the charming grounds with their river views, and pop into the colorful "bottle house," a unique structure that's popular for engagements and wedding parties.
Address: 10 Broad Street, Ellijay, Georgia
Official site: https://downtownellijay.com
3. R&A Orchards & Ellijay's Apple Alley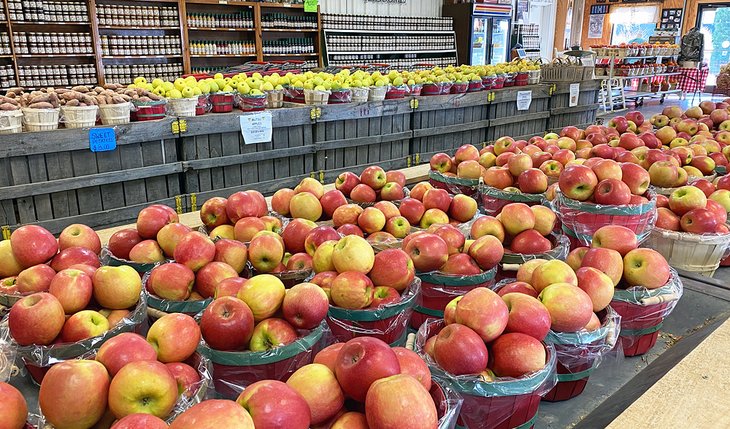 So important is apple-growing to Ellijay that the city is now home to some 11 orchards and farms. They're easy to spot along roads leading into Ellijay, with their large welcoming signs and roadside produce stores having led to the region's State Highway 52 being referred to as "Apple Alley."
One of the best known is R&A Orchards, a family-run enterprise that's been around since the 1940s. R&A boasts over 60 acres of apple orchards and offers fun family picking adventures in season that can include tractor rides and picnics. Even if you miss apple picking season, their large store sells locally grown apples and related treats year-round, including their famous fried fruit pies.
Other orchards worth visiting include Red Apple Barn, which has been around since 1927 and serves up delicious homemade apple fritters; Hillcrest Orchards, with its petting farm; and B.J. Reece Orchards, which also offers a corn maze and pony rides.
Address: 5505 GA-52 East, Ellijay, Georgia
4. Gilmer County Historical Society & Tabor House and Civil War Museum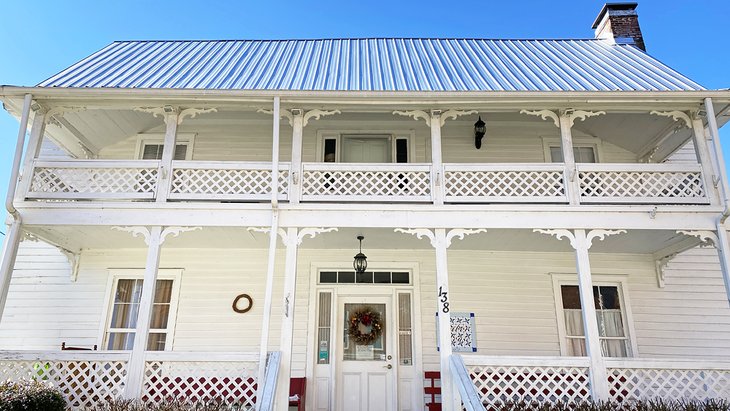 Located just steps away from the impressive Gilmer County Courthouse stands historic Tabor House. Now a fascinating Civil War Museum operated by Gilmer County Historical Society, this former home was built in the 1870s and, as the oldest home in Ellijay, has been preserved pretty much as it would have looked at the time.
Highlights of a visit include displays relating to Gilmer County's human history, including the period leading up to the Indian removals of 1838, and Cherokee history. There's also a large collection of artifacts and military memorabilia. Guided tours are available by informative local volunteers, and a self-guided tour provides ample insight into the museum's exhibits.
Address: 138 Spring Street, Ellijay, Georgia
Official site: https://gilmercountyhistoricalsociety.org
5. See the Local Talent at Gilmer Arts Center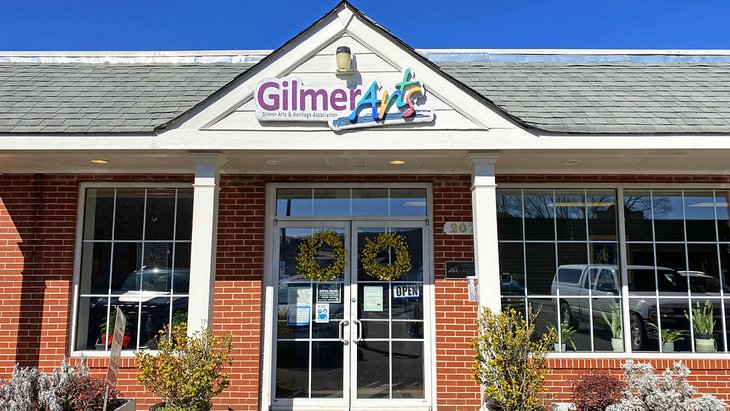 Ellijay's arts community is a vibrant group that encourages local artists and artisans in a wide variety of creative endeavors. Located in the downtown core, the group's impressive gallery space features rotating exhibits of work by local and regional artists, as well as from artists further afield. Open year-round, it also offers studio space and workshops, as well as youth exhibits and learning opportunities.
The group also puts on a number of important art shows and events throughout the year. One of the most popular, held in the peak of spring each May, is the "Plein Air" event. It attracts artists from far and wide who commit the area's lovely scenery to canvas. These works are then offered for sale at a fun auction reception that wraps up the three-day event.
Other events include a juried art event held around the same time, while in August the group's members put on their own exhibit. Other artistic disciplines such as photography, fabric art, and visual arts are also well-represented here.
Address: 207 Dalton Street, Ellijay, Georgia
Official site: https://gilmerarts.com/visual-arts/
6. Go Mountain Biking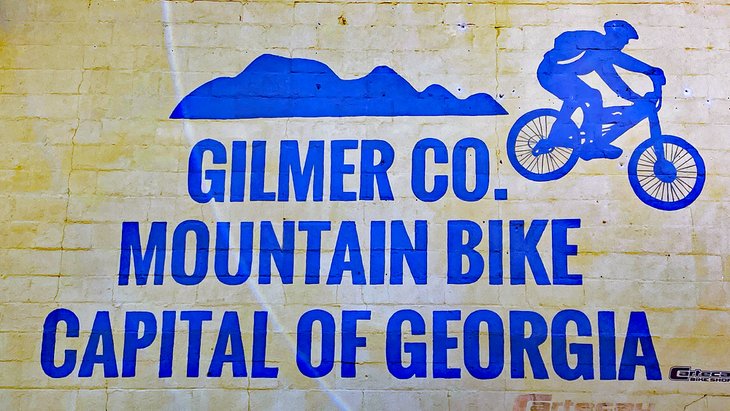 In addition to its apples, Ellijay also has another claim to fame: it's known as the mountain biking capital of Georgia. Ellijay's position at the foothills of the Georgia Mountains, a part of the Appalachian Mountain range, along with its more than 100 miles of trails and bikeable dirt roads, means there's no shortage of fun to be had on two wheels, whether you're a seasoned pro or simply out for the scenery.
In addition to the trails, numerous related businesses have sprung up to cater to the mountain biker crowd. Those wanting a fully immersive experience should consider the Mulberry Gap Mountain Bike Getaway, which offers cozy cabins and camping facilities for those wanting to make a weekend of it. Bike-focused events and competitions are also held in the area, including the fun "Bikepacking Summit," a three-day get-together that's growing in popularity among hardcore and amateur bikers alike.
In need of a bike rental? Cartecay Bike Shop in downtown Ellijay offers rentals, a wide selection of related gear, as well as plenty of great advice about the area's biking trails.
Hikers, too, are spoiled for choice of great places to walk. A highlight is undoubtedly Ellijay's position on the tail-end of the popular Appalachian Trail, as well as the 355-mile-long Pinhoti Trail, which also allows biking.
7. George Link, Jr. Gilmer Arts Playhouse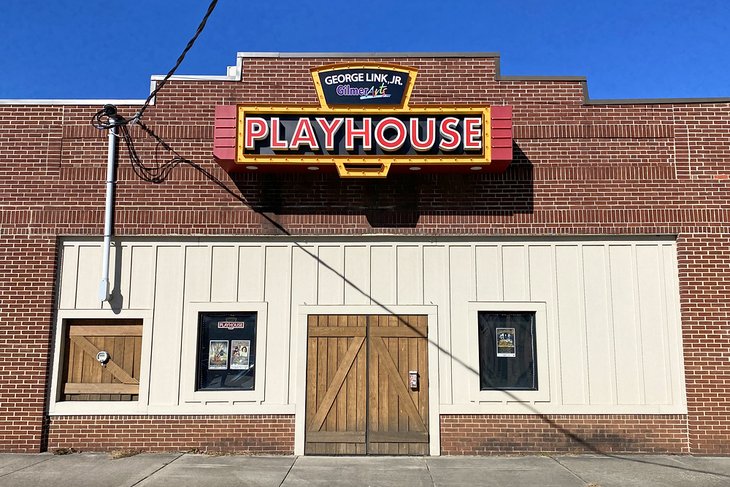 The George Link, Jr. Gilmer Arts Playhouse is another great facility operated by the Gilmer Arts group. Located on Dalton Street in a renovated building dating from the 1940s in the downtown core, the facility serves as a hub for a wide array of local and visiting performing arts talent.
Opened in 2017, the facility is used by local theater groups, the Gilmer Arts Players and The Arts Community Theatre, who host a variety of drama and musical performances throughout the year. Live music concerts are also frequently put on here, as well choir and other musical performances.
Frequent educational programs and workshops are also offered.
Address: 135 N Dalton Street, Ellijay, Georgia
Official site: https://gilmerarts.com/performing-arts/
8. Take a Scenic Drive to Eagle Mountain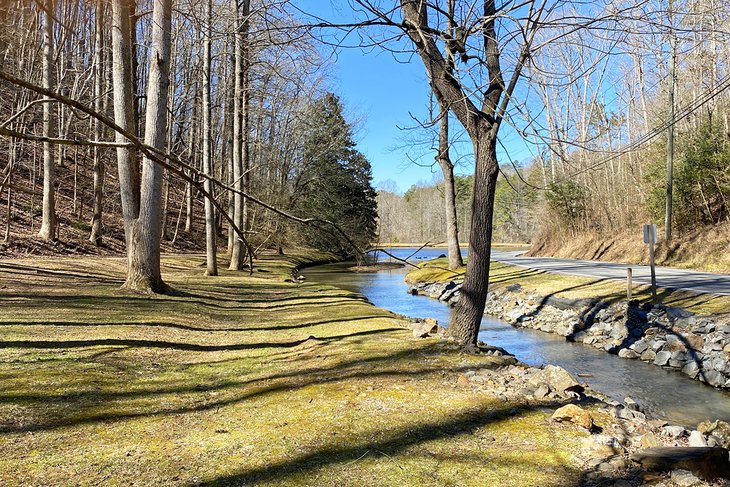 Located just a short distance west of Ellijay, a trip to Eagle Mountain makes for a great diversion. This picturesque community of seasonal vacation homes and mountain rental cabins features one of the most pleasant countryside drives in Georgia.
Winding its way up from Highway 382, Eagle Mountain Drive at first looks a little like you're entering a state park with its gated entrance, which is there more to ensure you drive safely and behave on the road. You may want to start your Eagle Mountain exploration at Build an Ark Animal Rescue. A fun experience for kids in particular, this animal sanctuary not only rescues injured animals, it also educates youngsters on their care with a variety of feeding experiences.
From here, follow the winding, dual lane Eagle Mountain Drive all the way to Lemmon Lane, which will ultimately take you back near your starting point on Hwy 382. Along the way, you'll find plenty of picturesque places to visit, including riverside parks and picnic areas. The Ellijay River here is also a very popular spot for kayaking and tubing.
And drive slowly. The area is teeming with wildlife, including many deer, some of it not in the least alarmed by car traffic.
Address: 27 Eagle Mountain Drive, Ellijay, Georgia
9. Book an Ellijay Mountain Cabin and Enjoy a Fall Color Tour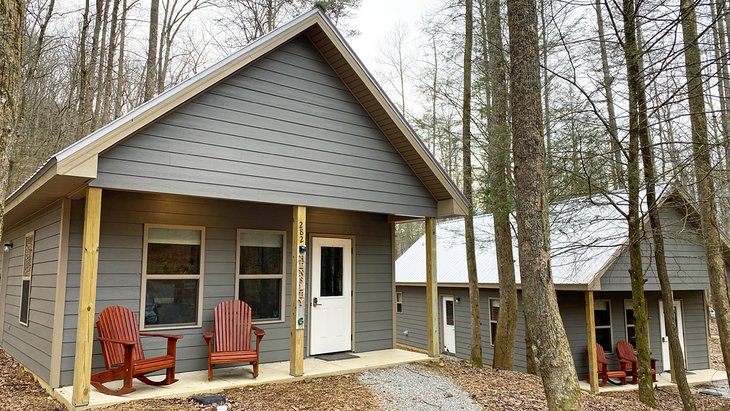 One of the best ways to really get to know the Georgia Mountains surrounding Ellijay is to book yourself a cozy cabin in the woods. It's an especially memorable experience during the region's spectacular fall colors.
Whether you take a drive up into Eagle Mountain or head towards the equally charming community of Blue Ridge, just 20 minutes away, you'll find plenty of places to stop and grab some photos. For even more dramatic views of the region's spectacular fall colors, head to Fort Mountain State Park and make the hike up to the top; the vistas from here are simply breathtaking.
While there are no end of private rental cabins available through rental agencies, there's a lot to be said for booking a weekend getaway (or longer!) with a family-run cabin resort. One of the best is Gingershack Farms. Set on an authentic farm property straddling the burbling Turkey Creek, Ginger Shack's collection of new, cozy cabins offer a peaceful retreat that's perfect for use as a base from which to get in some mountain biking, scenic drives, or simply kicking back and relaxing around a fire pit at the base of a mountain.
Map of Things to Do in Ellijay, GA
Ellijay, GA - Climate Chart
Average minimum and maximum temperatures for Ellijay, GA in °C
J
F
M
A
M
J
J
A
S
O
N
D

8

-2

11

0

16

4

21

8

24

12

28

17

30

19

29

18

26

15

21

8

15

4

10

1

PlanetWare.com
Average monthly precipitation totals for Ellijay, GA in mm.

157

133

169

129

122

118

135

122

101

102

128

128

Average monthly snowfall totals for Ellijay, GA in cm.

3

3

0

0

0

0

0

0

0

0

0

0
Average minimum and maximum temperatures for Ellijay, GA in °F
J
F
M
A
M
J
J
A
S
O
N
D

47

29

52

32

60

39

69

46

76

54

82

62

86

66

85

65

79

59

69

47

59

40

50

33

PlanetWare.com
Average monthly precipitation totals for Ellijay, GA in inches.

6.2

5.3

6.6

5.1

4.8

4.6

5.3

4.8

4.0

4.0

5.0

5.0

Average monthly snowfall totals for Ellijay, GA in inches.

1.1

1.0

0.1

0.1

0

0

0

0

0

0

0.1

0