15 Top-Rated Things to Do in the Great Smoky Mountains
It's hard to feel blue in the Blue Ridge Mountains. There's so much to see and do, including a visit to the Smoky Mountains. The Smokies are as mythical as the blue haze that adds splendor to its mountain peaks. This scenery inspires daydreams, but your mountain high reverie ends when the thrills begin: The icy splash aboard an Ocoee River whitewater raft washes your face; the exhilarating climb up Mount LeConte leaves you breathless; the sudden rush descending the Wild Eagle ride at Dollywood makes you scream.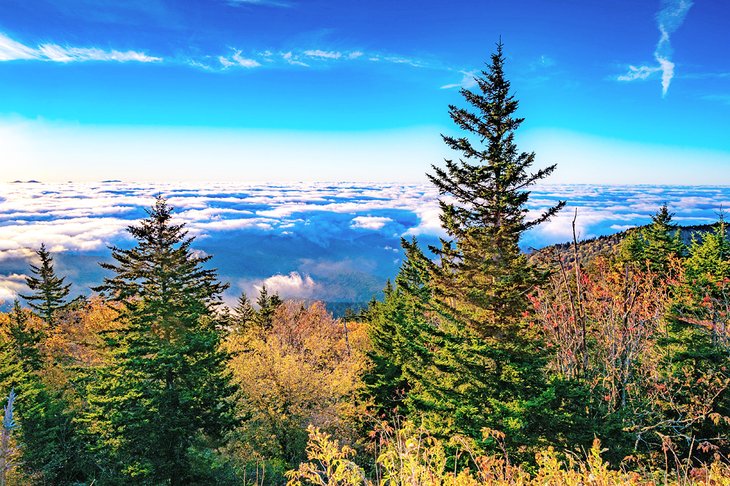 The Smoky Mountains is home to anyone who seeks adventure or needs a break from being busy. It's easy to plan a relaxing escape or holiday getaway to this place. The proximity of the Smokies to many households in the American East means that it can be crowded. Whether you seek mountain air during the heat of the summer, or yearn to see autumn colors, be prepared to share the experience with other sojourners, and plan accommodations in advance.
Visiting for only a few days or an entire week, your time in the Smoky Mountains might start before you even get here. Drive south on the Blue Ridge Parkway onto the steep slopes of Great Smoky Mountains National Park. You'll know when you arrive. The air smells different here. The sights of nature spark something in you. To discover more, delve into our list of attractions and things to do in the Smoky Mountains.
1. Great Smoky Mountains National Park, TN and NC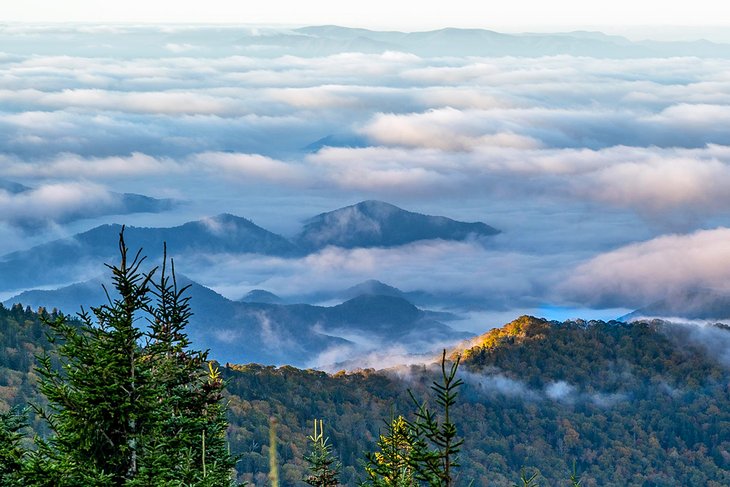 Great Smoky Mountains, the most popular national park in the United States, might become one of your favorites. It's the most popular attraction in the Smoky Mountains and by far the largest, with more than 800 square miles of fun and wonderment.
Most visitors come to the Smokies to follow some of the park's 900 miles of trails on foot, on a bike, or on a motorized set of wheels. You can easily hike a few trails today and find new ones to bag later. Some hikes lead to a waterfall, many cross a meandering creek, and all feature rolling hills, peaceful meadows or treed ravines. Bird-watching, photography, and wildlife viewing are big here in the Smoky Mountains.
Although you might feel isolated in a remote place or get out of cell range while visiting Great Smoky Mountains National Park, conveniences are never far away. Some visitors like to retreat into the hills for primitive sleepovers on the Appalachian Trail. If you prefer, you can easily find lodging in a hotel or a developed campsite in the national park or local RV park.
2. Survey the View from Old Smoky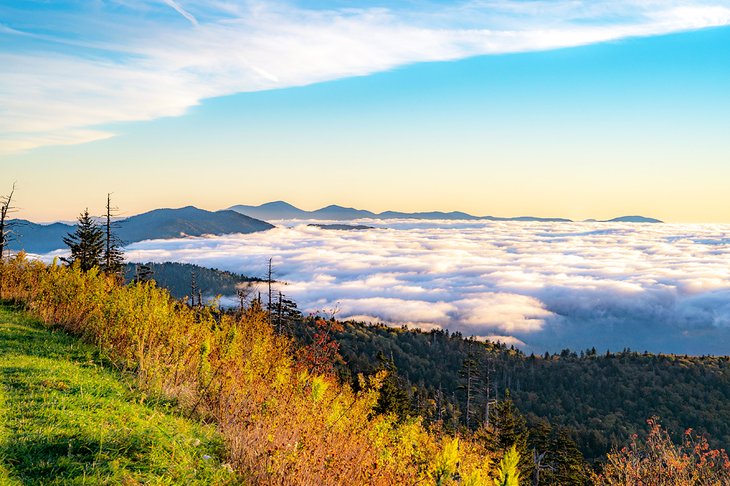 The jingle "On Top of Old Smoky" takes on new meaning when standing above the clouds on Clingmans Dome. Plan your visit on a clear day to increase chances for the view of a lifetime. The Clingmans Dome Observatory Tower lifts you 45 feet higher where nothing gets between you and a 360-degree sightline of seven states: Tennessee, Alabama, Georgia, Kentucky, North Carolina, South Carolina, and Virginia.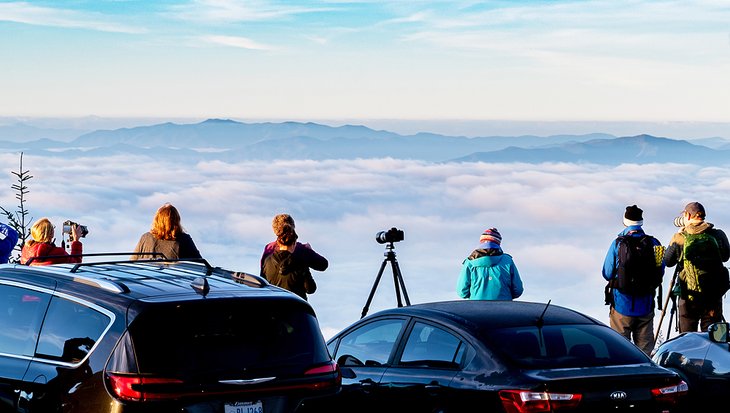 During sunrises with good visibility, professional photographers rub elbows with tourists shooting selfies on this rooftop of the Appalachians. The on-site Visitor Information Center and Store offers Old Smoky souvenirs and gifts that you'll only find here. It is a 23-mile scenic drive from Gatlinburg to Clingmans Dome.
3. Tour the Cades Cove Loop Road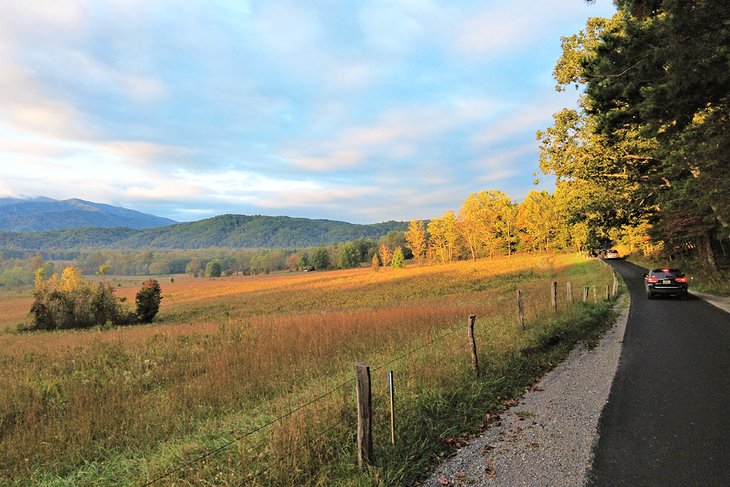 Cades Cove Loop Road near Townsend draws visitors who like to experience nature and scenic views within the relaxed comfort of their vehicle. A smooth, paved auto trail flows one way through 11 miles of rolling countryside. Early morning mist rises from the valley floor–or cove–to reveal green foothills of the Smokies. The glow of light returns when artful shadows are cast by the setting sun.
No tour of Cades Cove is complete without stops. Social history runs deep, as you will see in the churches, rustic homes, and other structures that remain after the last pioneers died in 1999.
In addition to glimpses into the lives of homesteaders, the valley is a thriving habitat for animals and birds. Visitors often see black bear and deer foraging near the road.
A popular hike to the 20-foot plunge of Abrams Falls gets hikers on to the five-mile round-trip trail.
4. Drive the Roaring Fork Motor Nature Trail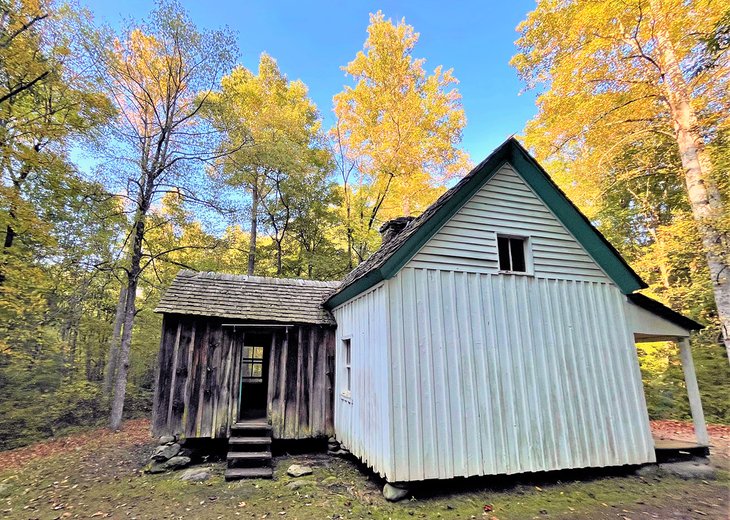 With more than 800 square miles of stunning scenery, Great Smoky Mountains National Park offers spectacular mountain views from the comfort of your vehicle. On the outskirts of Gatlinburg and along the northern park boundary, visitors are encouraged to drive one of the most scenic auto touring routes in the park: Roaring Fork Motor Nature Trail.
This "trail" is a one-way 5.5-mile loop road. Take your time to complete the drive. There's much to see and do all along this paved corridor of gentle lifts and tight turns. Some of the most popular trails and waterfalls are accessed from this road.
Take advantage of the many pull-offs to capture photographs, take a walk, or just rest in the quiet of the forest or along a quiet brook. Keep an eye out for wildlife–bears and deer are common.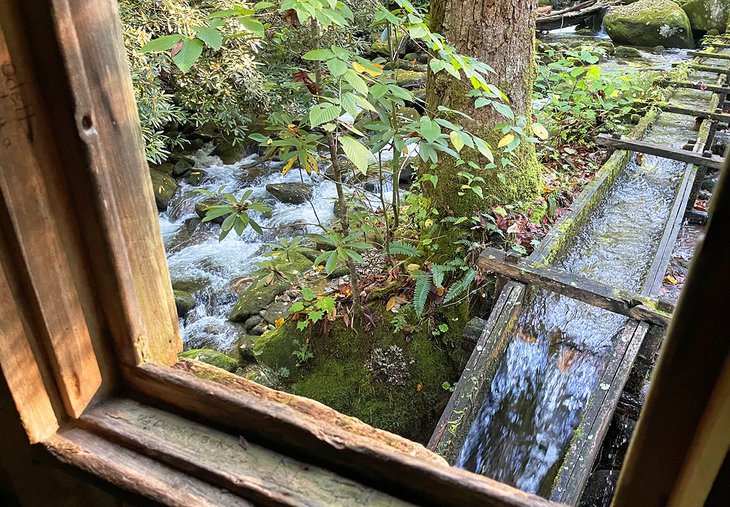 Roaring Fork is the name of the stream that you will see during your drive. At times of the year, the sound from the gushing water reflects its ferocious name. This waterway supplied water to pioneers who farmed and ground grain at the grist mill. Stop to take a close look at the historic mill and other homes and structures you will see en route.
For more information on this and other motor trails in the park, pick up a copy of the booklet, Auto Touring–Great Smoky Mountains National Park.
5. Hike to a Waterfall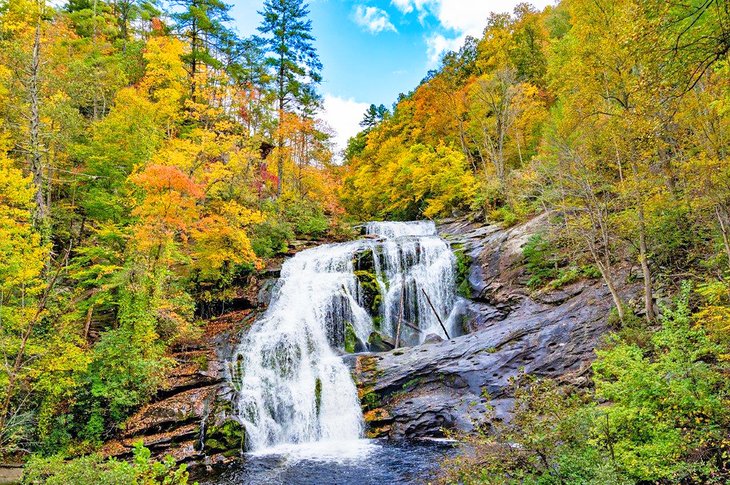 One reason visitors hike in the Smoky Mountains is the reward of a waterfall. Hike the trails to idyllic waterfall settings. Laurel Falls, Rainbow Falls, Grotto Falls, Abrams Falls, and Twin Falls are the best of the hiking trails with waterfalls.
Look for other hikes in the Smokies, and outside the national park. With so many springs, creeks, and rivers, waterfalls and cascades are a central part of life in the Smoky Mountains and well worth visiting.
Mingo Falls, near the park's Oconaluftee Visitor Center, and Bald River Falls, in Cherokee National Forest south of Tellico Plains, are as accessible as they are outstanding.
6. Explore Scenic Riverside Byways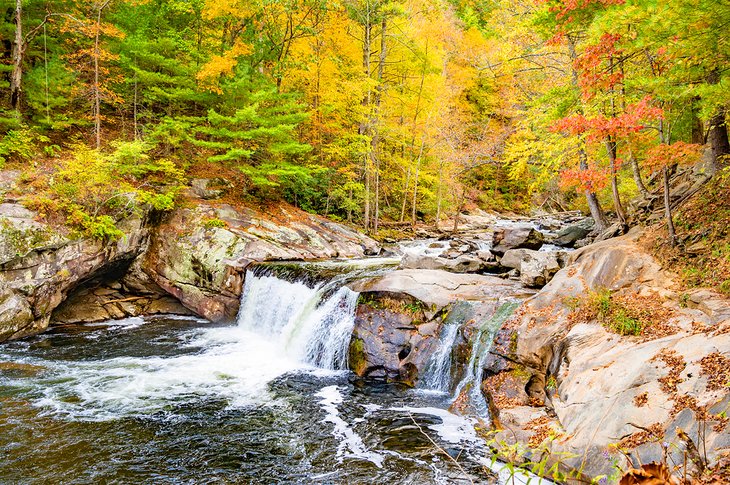 Visitors to Great Smoky Mountains National Park can spend days exploring scenic riverside byways in the park and surrounding areas by car or motorbike and still find new roads to drive. These journeys take time because there are so many pull-offs to take a photograph or cast a fishing line into a back eddy.
One of the more popular routes is the 12.5-mile Little River Gorge Road, which connects Elkmont to Townsend. All along this paved, windy corridor, there are spots for you to safely stop alongside Little River. For a picnic lunch, consider Metcalf Bottoms Picnic Pavilion, which provides riverside parking, picnic tables, and restrooms. Farther east, you come to the parking lot at The Sinks, a picturesque waterfall.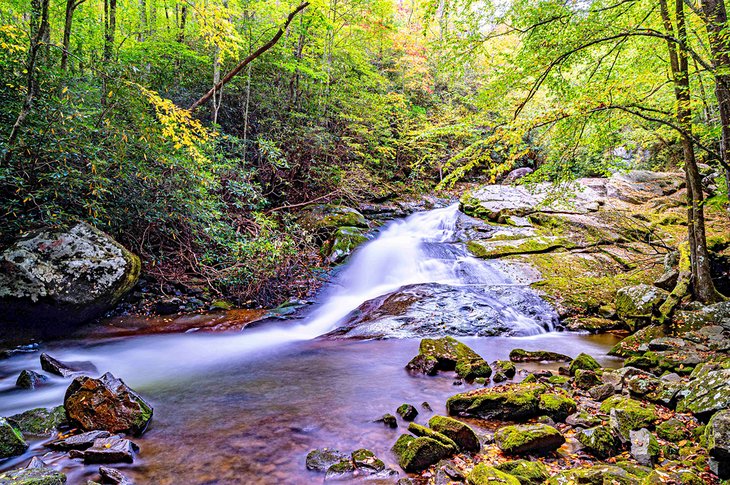 Stop into the Welcome Center at the Great Smoky Mountains at Tremont for information about the self-guided Tremont Logging History Auto Tour. Following up the Middle Prong Little River, the auto tour passes enchanting river scenes. The auto tour ends at a parking lot. Walk across a bridge above the roaring confluence of the Lynn Camp Prong and Thunderhead Prong.
7. Hop on the Blue Ridge Parkway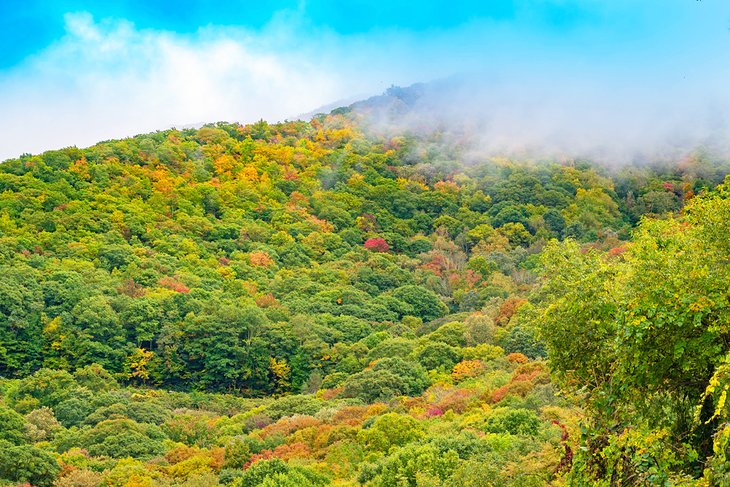 Blue Ridge Parkway is an iconic 469-mile All-American Road. This two-lane thoroughfare crosses high crests, plunges into deep forested valleys, and connects Great Smoky Mountains National Park with Shenandoah National Park.
Blue Ridge Parkway is more of an experience than a drive to get from A to B. There are faster ways to go from Asheville, NC to Pigeon Forge, TN, but taking the Parkway is a lot more memorable. With its mountainous and pastoral scenery, the parkway is a popular escape by car to observe springtime blossoms and colorful displays of autumn foliage.
8. Sightsee on the Cherohala Skyway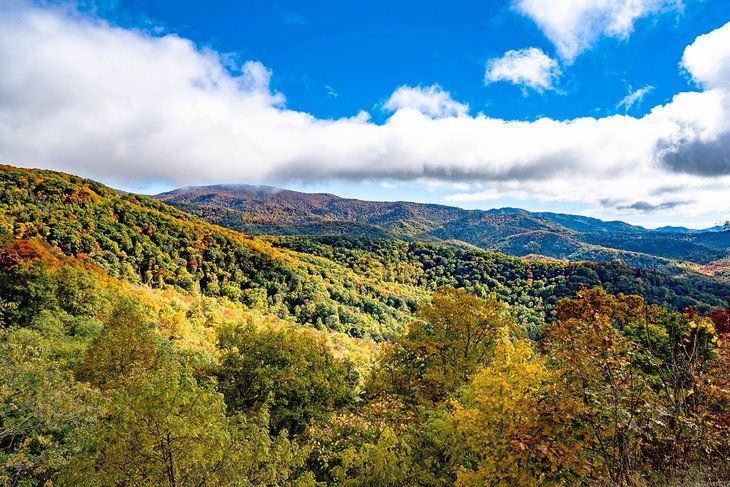 Along the western foothills of the Smoky Mountains, the Cherohala Skyway gracefully skates across the sky for 43 miles. The highest point of the Skyway is 5,390 feet. You can pull off here to appreciate the view at Santeetlah Overlook.
Like Newfound Gap Road in Great Smoky Mountains National Park, the Cherohala Skyway connects Tennessee with North Carolina. Expect less traffic on the skyway than in the park. Spectacular vistas are certain to exceed expectations around every corner.
9. Go Camping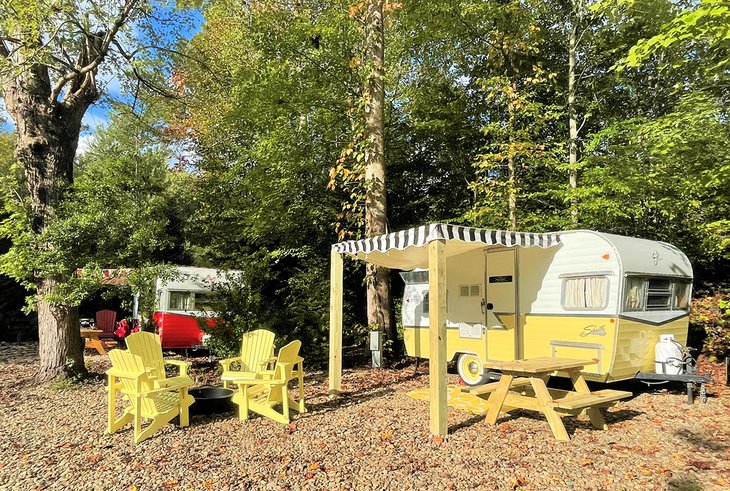 Shelter assumes many forms when visiting the Smoky Mountains but camping probably comes first to mind for most folks. There are different ways to camp, from sleeping in a hammock under the stars to catching Monday Night Football on the big screen inside a 45-foot diesel pusher. Campers will be pleased to find space and amenities to accommodate every need in the Smokies.
The most primitive campsites are located within Great Smoky Mountains National Park, where you can enjoy privacy, a picnic table, and fire pit, drinking water, and restroom facilities. Modern RV campgrounds near gateways to the park are plentiful, family friendly, and have conveniences that will meet or exceed your expectations.
Whether you are seeking a place by the creek to pitch a tent or a flat paved site with full-service hookups, you will see the same stars at night and breathe the same fresh air that supports mountain life.
Read More: Best Campgrounds near Gatlinburg, TN
10. Delight in a Day at Dollywood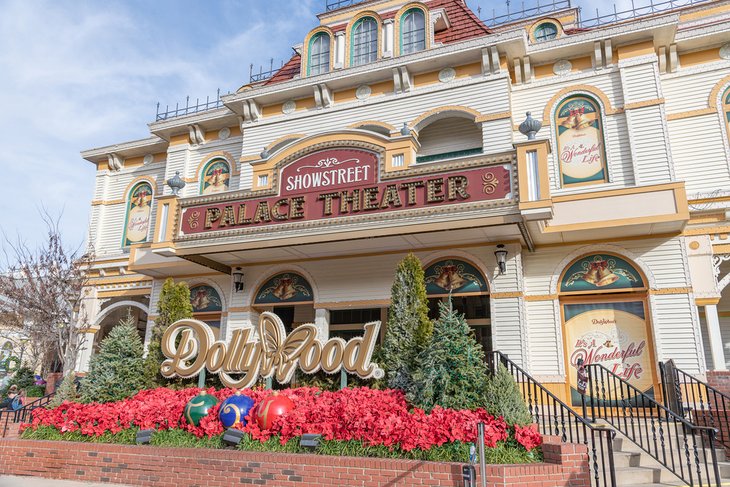 Many visitors anticipating a holiday to the Smoky Mountains look forward to their day at Dollywood. The dream child of country star Dolly Parton, this theme park attracts international acclaim, year after year. No wonder it's the most visited tourist attraction in Tennessee.
Set on 150 acres, Dollywood packs fun and activity into a magical Smoky Mountain hollow. Take as many flights as you want on your favorite roller-coaster ride. Visit a replica of the simple two-room cabin where Dolly got her start in life, then read all about it in the Chasing Rainbows Museum. Expect a warm family welcome from cheerful staff, including the President and CEO who might be helping to keep the park clean and tidy.
11. Get Your Kicks on the Gatlinburg Strip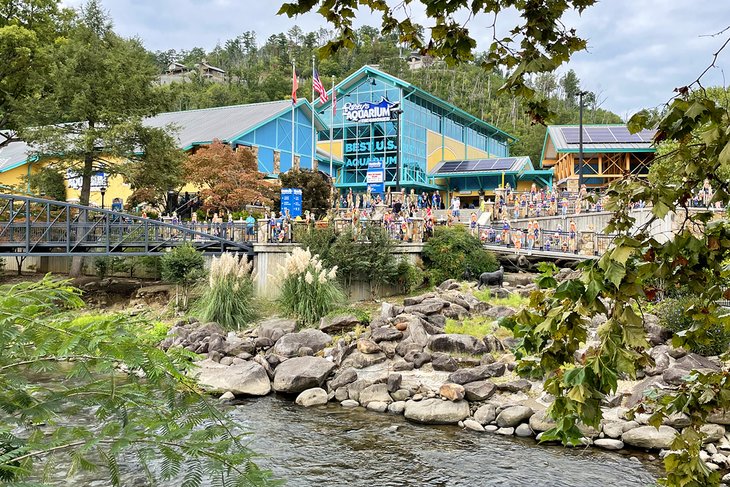 To the uninitiated, the volume of attractions in downtown Gatlinburg is an unexpected surprise. In less than one mile, you can spend a day on the Gatlinburg Strip exploring chairlifts into the hills, amusement rides galore, Ripley's museums, pizza joints, and souvenir shops. It has the best Smoky Mountain scenery of any town in Tennessee.
Take the "chondola" to Anakeesta to spend hours playing in this hilltop village. Designed for fun and entertainment, it is surrounded by the beauty of the Smoky Mountains.
Skylift Park is another attraction that takes you even higher for thrills on its suspended SkyBridge and SkyWalk.
Ripley's Aquarium of the Smokies is an award-winning aquarium that immerses you in the underwater world of oceans, lakes, and rivers. Hobnob with adorable penguins before heading back to the Gatlinburg Strip.
12. Go Caving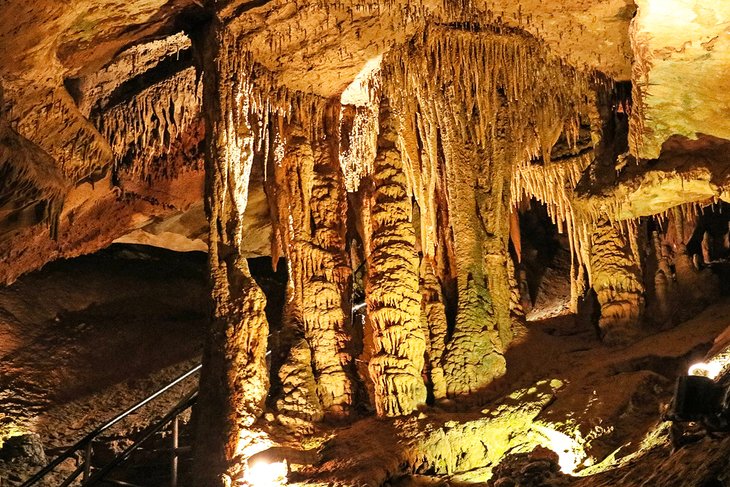 The Smoky Mountains is not all about looking up into the hills. Some visitors prefer to sink below the surface and go caving. Tennessee is blessed with the most cave complexes in the country.
Tuckaleechee Caverns outside Townsend has received numerous awards. Its most notable feature, the Big Room, could accommodate an entire football stadium. This is known to be the largest subterranean space in the eastern United States. In addition to massive 24-foot stalagmites, Tuckaleechee Caverns boasts 210-foot Silver Falls, the highest underground waterfall in the eastern United States.
Forbidden Caverns in Sevierville offers an entertaining 55-minute underground walking tour. This attraction features colorful light shows of naturally occurring formations, streams, and grottos.
13. Shoot a Rapid on the Ocoee River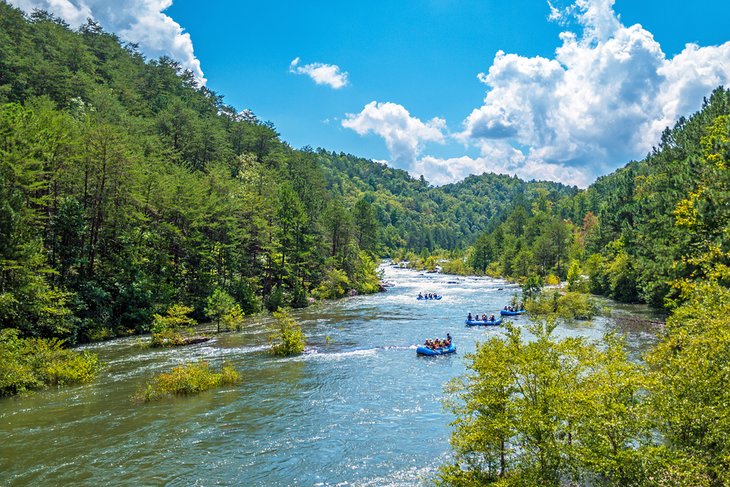 The Ocoee River in the Smoky Mountains was the whitewater paddling venue for the 1996 Olympic Games and is considered one of the best river systems for rafting adventures. If riding a bronco in water sounds like a blast, book a rafting trip to shoot a rapid on the Ocoee River.
Check on trips offered by Nantahala Outdoor Center (NOC) in Gatlinburg. NOC has guided whitewater excitement for more than 50 years, and its onboard skippers are certified in wilderness first aid.
14. Foxfire Mountain Adventure Park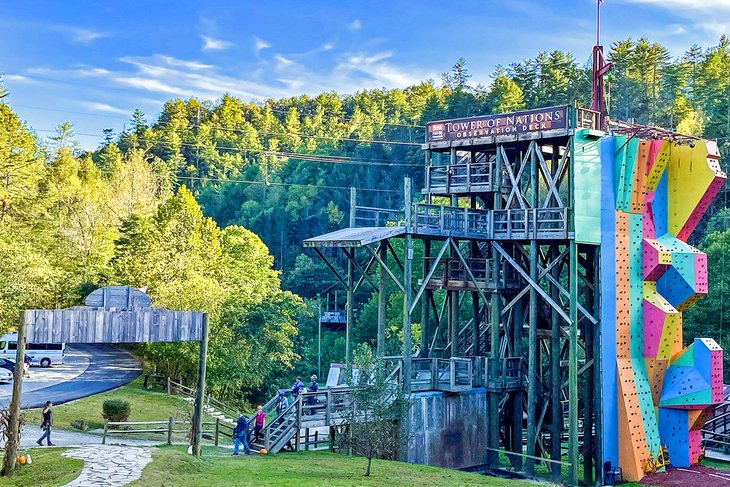 You might have climbed several hills along trails in the Smoky Mountains. What about climbing a cliff, walking on a swing bridge, or soaring down a hillside zipline? Foxfire Mountain Adventure Park in Sevierville is designed to take mountaintop experiences to new heights.
Foxfire Mountain is the hot spot for ziplining in the Smokies. Goliath Zipline is one of the longest and fastest zips in the country. Tours for the whole family combine ziplining with opportunities to learn rock climbing, walk over roped skybridges, and wander trails in Foxfire's lush forest.
15. Great Smoky Mountains Heritage Center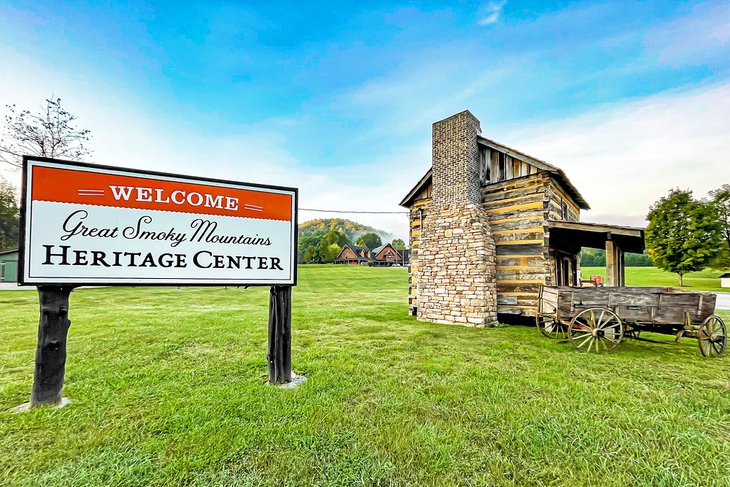 Townsend is home to the Great Smoky Mountains Heritage Center. In addition to a main gallery, the center museum introduces you to a village of 13 historic buildings. Arranged in a pastoral setting, they reflect pioneering life in the Smokies. Some buildings were relocated and reconstructed on-site. All are staged to represent the era they originally occupied.
Permanent exhibits include "Native Americans of East Tennessee Collection" and "East Tennessee Mountain Culture." The large, covered auditorium at the center hosts concerts and other cultural events during warmer months.