14 Best Campgrounds near Pigeon Forge, TN
Camping goes hand in hand for many people when visiting the attractions of Pigeon Forge and nearby Great Smoky Mountains National Park. The supply of first-class RV parks in Pigeon Forge continues to meet rising demand for campground amenities close to all the things to do in the area.
When you roll up to any of the RV parks highlighted on this list, be assured that full-service convenience is available at your site. In addition to your camping comfort, many of these parks make it a priority to provide enhancements that foster a resort-like atmosphere. Given the town's dedication to tourists, Pigeon Forge RV parks do everything possible to welcome you.
With the stunning backdrop of the Smokies, RV parks in Pigeon Forge make the best of the natural features surrounding them. The West Prong Little Pigeon River flows right through town, with many creeks and valleys feeding this central riparian corridor. If enjoying a slice of nature while camping in or near downtown appeals to you, find the right spot with our list of campgrounds near Pigeon Forge, Tennessee.
1. Up the Creek RV Camp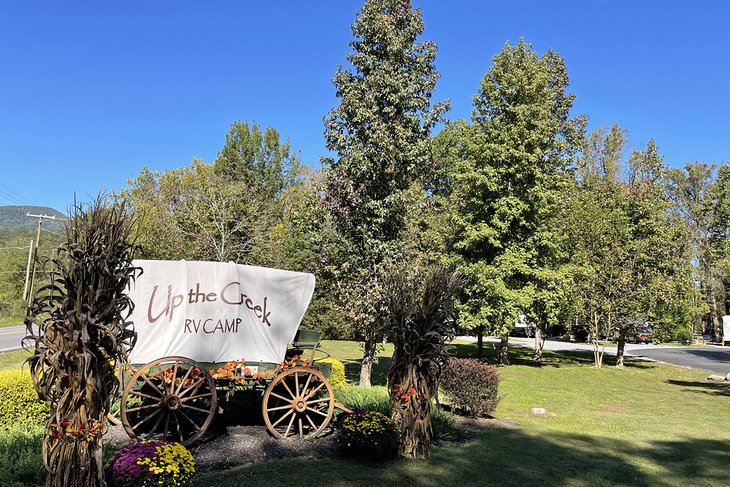 Up the Creek RV Camp has a loyal following of campers who make this country camp their temporary home while visiting Pigeon Forge, 13 miles away. Huddled in the Wears Valley, Up the Creek is situated on two creeks, Walden and Cove, and one of the prettiest open valleys in the Smoky Mountains.
2. Riveredge RV Park and Log Cabin Rentals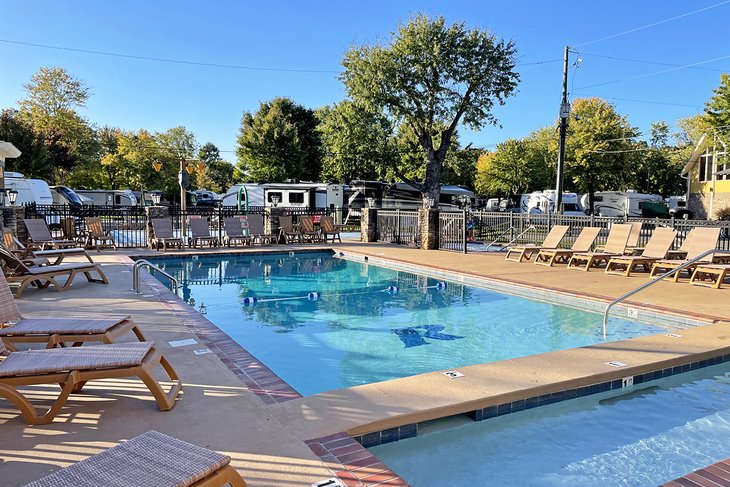 Riveredge RV Park and Log Cabin Rentals is located along the Little Pigeon River at the south end of downtown. This location is ideal for making a quick escape to Gatlinburg and Great Smoky Mountains National Park.
The RV park has 196 campsites–including sites for big RVs–that provide full-service hookups with satellite TV, Wi-Fi, picnic tables, and fire pits. Resort amenities include a bathhouse, heated swimming pool with an eight-foot deep end, and hot tub. Children enjoy the separate splash pad, playground, and 1,800 square-foot arcade.
3. Foothills RV Park & Cabins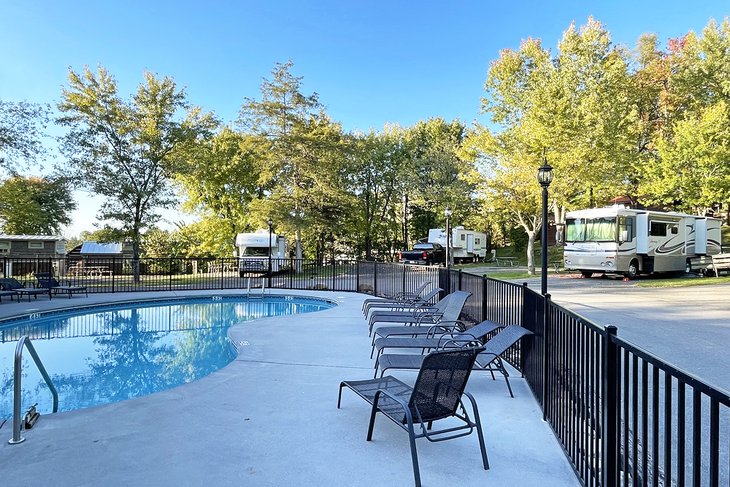 Foothills RV Park & Cabins provides a more intimate setting on a hill at the south end of downtown, less than six miles to Gatlinburg. The park offers furnished log cabins and rustic camping cabins in addition to full-service hookup sites for pulled trailers up to 32 feet and RVs not exceeding 36 feet. All sites are arranged on concrete pads with patios, picnic tables, and fire rings. Wi-Fi and cable are included.
4. Clabough's Campground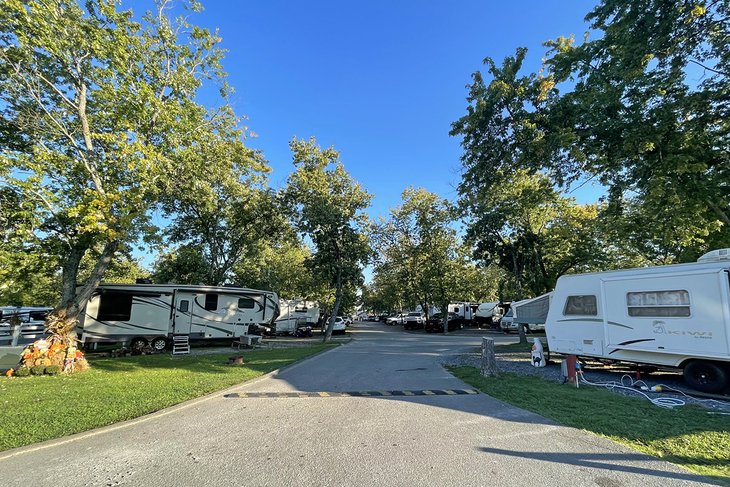 Clabough's Campground is a large RV park and campground only 2.5 miles from downtown and the attractions in Pigeon Forge. Choose from 320 campsites that have access to four bathhouses and three laundry rooms.
Choice amenities include two swimming pools, children's playgrounds, and designated sandboxes, a well-equipped gym and basketball court, a games room, grocery store, café, and large pavilion with tables.
In addition to being big rig friendly and providing full-service hookups at each RV site, Clabough's Campground accommodates tent campers on 10 creekside sites. Every site includes a picnic table and fire ring. Here, you can camp in the shade or more open areas. Sixteen premium RV sites are located beside the creek.
5. Yogi Bear's Jellystone Park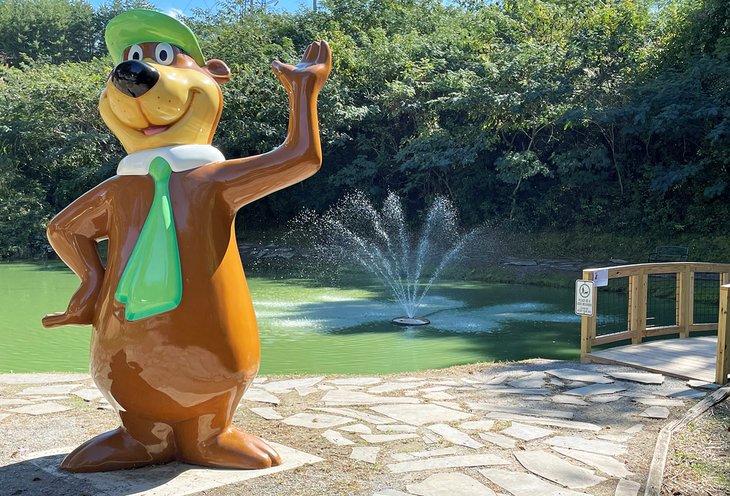 Yogi Bear's Jellystone Park is only a mile from Dollywood and offers a theme-park atmosphere with a cheerful welcome from its Yogi Bear mascot.
With 102 RV sites, reserve early for one of the 11 premium or 39 standard back-in RV sites. Yogi Bear is big rig friendly. Reservations are required, especially during peak seasons of travel in Pigeon Forge.
This RV park is popular for its pools and fishing pond. Your children will enjoy the playground and snack bar.
Visitors without travel rigs can stay in one of Yogi Bear's 15 safari tents. Twenty cabins and six RVs are set up to welcome guests who don't have their own motorhome.
6. Gateway to the Smokies RV Park & Campground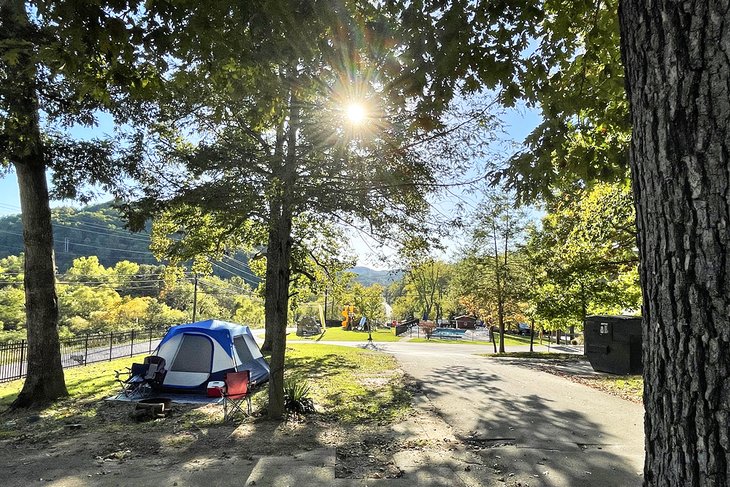 Gateway to the Smokies RV Park & Campground is less than one mile from the busy parkway that runs through town, but feels more like you're camping in the hills of the Smoky Mountains. Gateway staff refer to this as living on the quiet side in the heart of Pigeon Forge. They are right!
This nicely landscaped, mostly shaded park offers 91 back-in campsites with picnic tables, fire rings, cable, and Wi-Fi. Opt for a premium site with a full-service hookup to receive a 40-foot concrete pad and driveway that is 10 feet or longer. Standard sites are situated on gravel or concrete pads. Three standard tent sites on grass or gravel include a full-service hookup. Three primitive tent sites on the grass are without services.
In addition to campsites, you can rent one of nine cabins with varying sizes and configurations.
7. Pigeon Forge KOA Holiday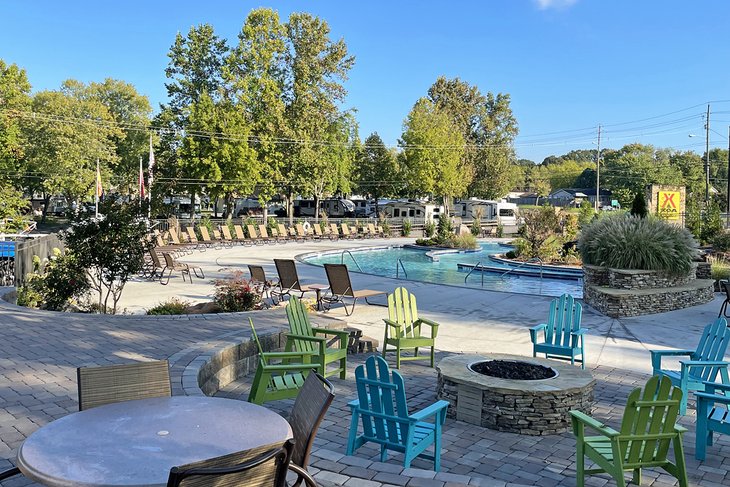 Pigeon Forge KOA Holiday is within walking distance of the Pigeon Forge strip, close to downtown attractions and less than two miles to Dollywood. It's also located along the peaceful banks of the Little Pigeon River.
This park has hundreds of full-service hookup sites, including pull-through sites for big rigs. Deluxe campsites provide more room and are the most popular in this treed RV park. Sites come with a picnic table, fire pit, grill, and cement patio. Riverside campsites for tent campers include water and electric, a picnic table, fire ring, grill, and parking. You can rent deluxe or camping cabins if you don't have your own RV or tent.
All Pigeon Forge KOA Holiday campers have access to restrooms with hot showers and the on-site laundromat. Wi-Fi and superior cell reception are available. Similar to RV resorts belonging to the KOA brand with more than 500 parks in North America, this KOA features luxury amenities with a heated outdoor pool, hot tub, and sauna. The expansive poolside terrace is a comfortable place to lounge and meet with friends.
8. Camp Margaritaville RV Resort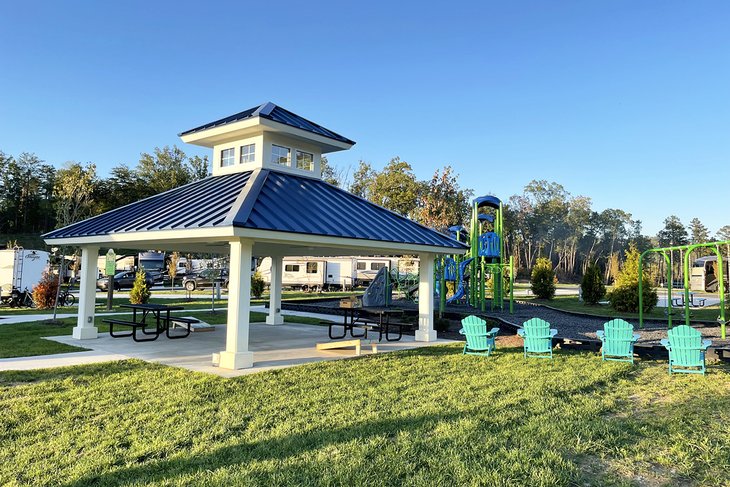 Camp Margaritaville RV Resort in Pigeon Forge is a new addition to this well-known chain of 26 resorts located in 23 cities and seven countries.
The resort offers 176 full-service hookup sites on landscaped lots with grassy areas and concrete pads for RVs. Choose from standard, deluxe, and premium sites that are 30 feet wide and 60 feet long. Two super sites provide 70-foot long pads that are 45 feet wide. For you and the kids, select one of the 11 family sites that surround the children's playground. All sites provide picnic tables, fire pits, Wi-Fi, and access to a modern bathhouse.
What sets this RV park apart from other parks in Pigeon Forge is its elevated location for extended sunsets. It has a sumptuous outdoor pool and hot tub facility with an expansive lounge deck and double-loop waterslide. Enjoy the convenience of the laundromat, store, and dog park.
9. Camp Riverslanding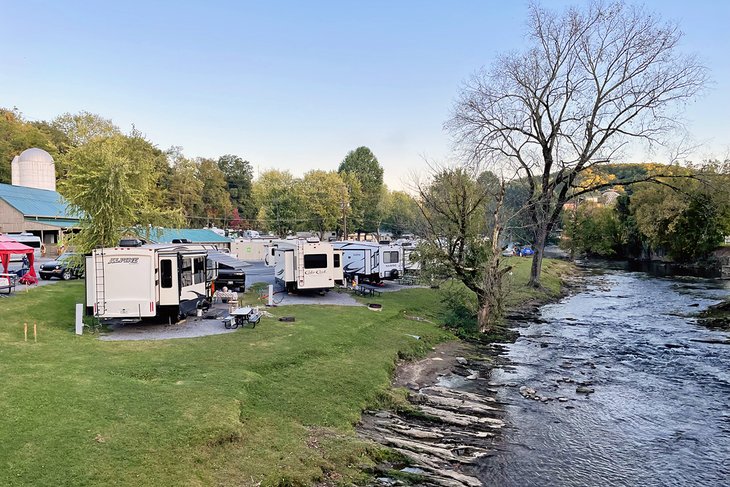 As its name suggests, Camp Riverslanding is centrally located downtown on the Little Pigeon River. Within walking distance of attractions and places to eat, this RV park follows the river. Campers like to fish here or float on inner tubes during lazy summer afternoons.
Camp Riverslanding has 114 back-in, full-service hookup RV sites, 36 of which are on the river. In addition to RV sites, the park rents six new, well-appointed 30- to 34-foot travel trailers that sleep up to four guests. Every campsite is set on a concrete pad complete with a picnic table, fire ring, cable TV, and Wi-Fi. Campers have access to a large bathhouse where there are 10 private rooms with showers. A dog park is onsite.
At Camp Riverslanding Trading Post, you can borrow an inner tube for a relaxing river float. Recreational opportunities are enjoyed in the outdoor swimming pool, splash pad, playground with jump pad, and games room. Friendly competition takes place on the basketball and tennis courts. Campers can access the Pigeon Forge Trolley at three separate stops in the campground.
10. Alpine Hideaway Campground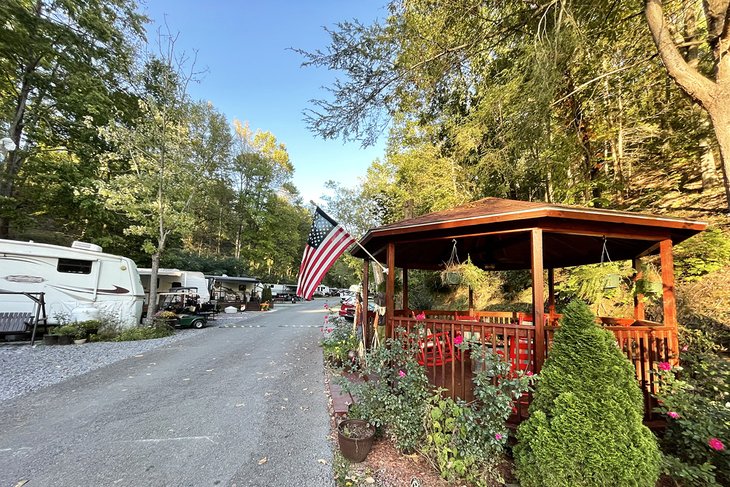 Tucked away in its own treed ravine, Alpine Hideaway Campground has seasonal and short-term campsites with full-service hookups. These sites come with cable TV, limited Wi-Fi, and access to the bathhouse. Eight cabins are available for rent.
11. Pine Mountain RV Park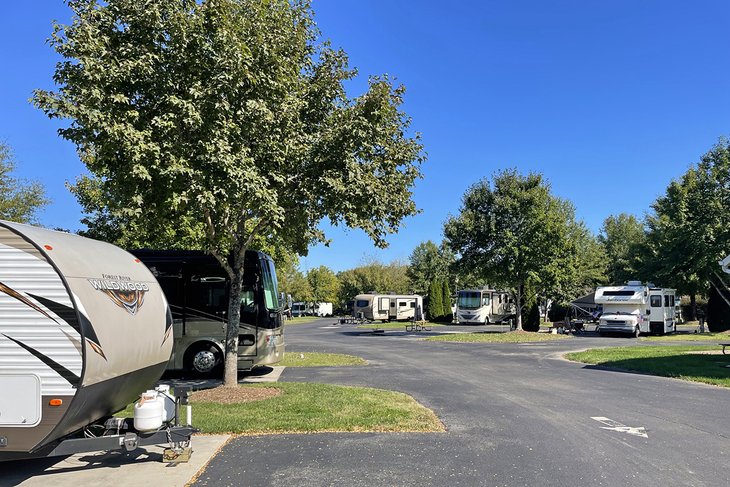 Camping at Pine Mountain RV Park is like staying at two resorts for the price of one. In addition to enjoying the outdoor splash pool, you can freely access the heated pool and splash pool at MainStay Suites across Pine Mountain Road.
Select from one of Pine Mountain RV Park's 60 full-service hookup sites. Twenty sites–including two that are premium–back up to the edge of Mill Creek. For your convenience, choose one of 25 pull-through RV pads. All sites feature concrete pads with a picnic table and fire pit. Wi-Fi and cable are included. Two cabins are available to rent.
Pine Mountain is beautifully landscaped with lush lawns and natural shade. You are welcome to browse the general store, buy something from the snack bar, and use the laundry facilities.
12. Mill Creek Resort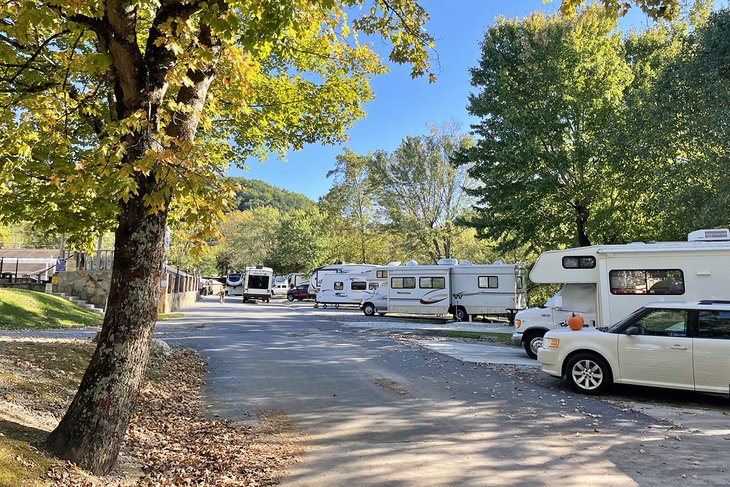 Mill Creek Resort provides you with a Smoky Mountains setting that is a 1.5-mile hop to downtown Pigeon Forge.
This RV resort has 75 full-service hookup sites on paved services. Step out of your RV onto a concrete pad that features a picnic table and fire ring. Wi-Fi and cable TV is available at your site. Resort amenities include an outdoor pool and kiddie pool, playground, and clubhouse. The Pigeon Forge Trolley makes regular stops right outside the office.
13. Pigeon Forge Landing RV Resort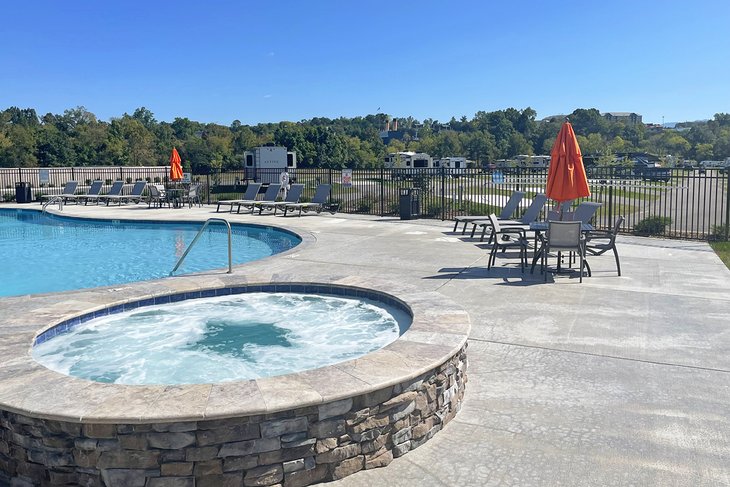 Pigeon Forge Landing RV Resort feels like a little bit of country with a whole lot of luxury. This vast, sparkling new resort is around the bend from Apple Barn and Cider Mill. Across Little Pigeon River, you can see the stacks of the Titanic Museum.
This resort has 260 full-service hookup sites on level concrete pads, and driveways that can handle the largest modern RV rigs. In your site, you have a picnic table, fire pit, TV cable, and Wi-Fi. Choose from executive plus, executive, or premium campsite packages that range from riverside back-in to pull-through sites.
14. Pigeon Forge RV Resort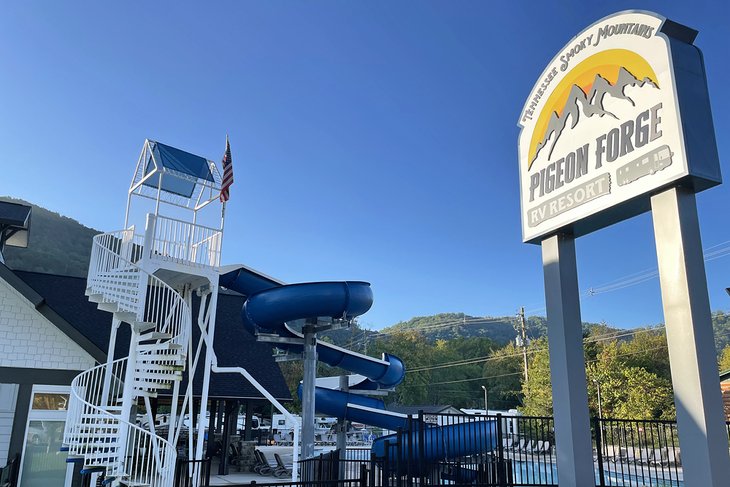 Pigeon Forge RV Resort is 3.5 miles from downtown on the country road heading towards beautiful Wears Valley. The Pigeon Forge Trolley stops at the front gate to whisk you into town and all of its attractions.
With more than 200 RV sites, Pigeon Forge RV Resort offers setups to satisfy campers with big and small rigs. Seventy-five full-service hookup sites are set on concrete pads. Thirty-four sites that back onto Walden Creek have water and electric services, and a dump station is nearby. Every site has a picnic table and fire pit, Wi-Fi, and a cable TV connection.